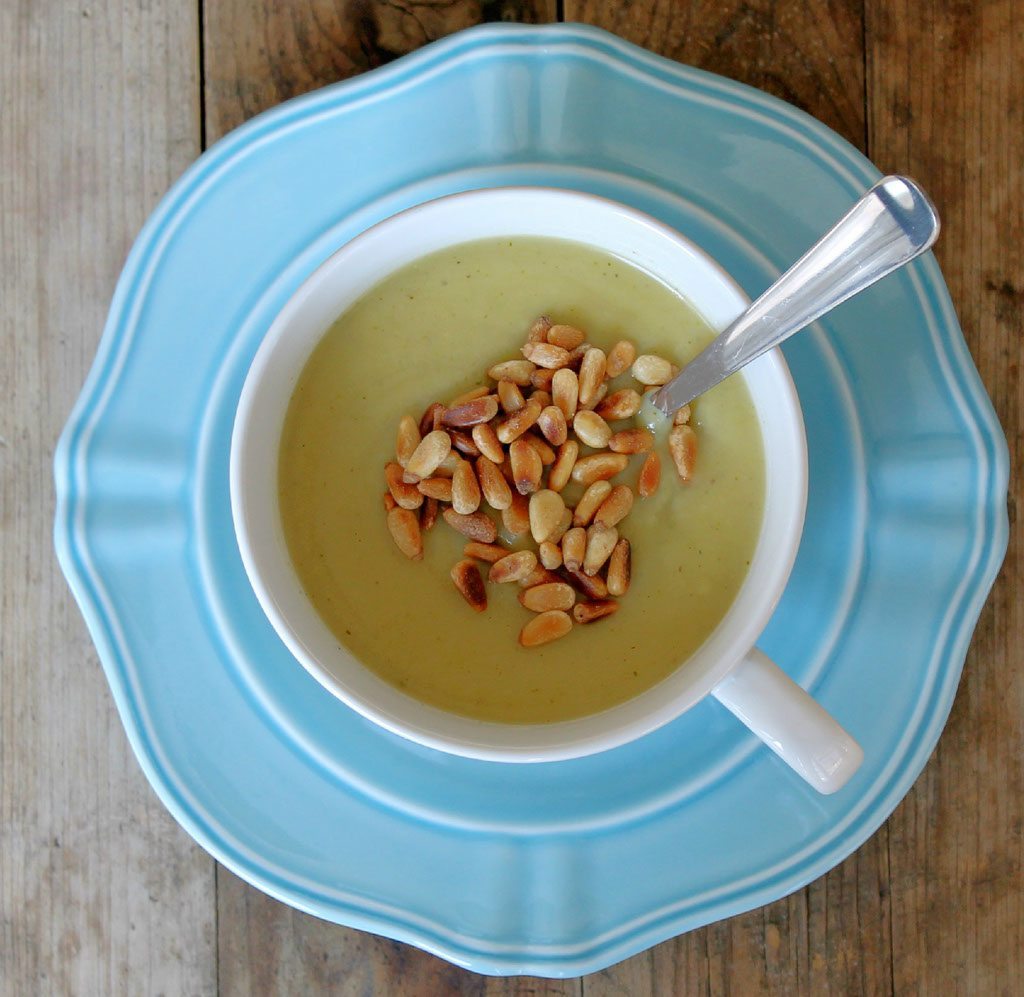 I've made plenty of baked potato soups, plenty of vegetable soups, even some with leeks. But never before last week had I made a simple, classic Potato Leek Soup. My friend Ali, whose Jalapeno Popper Dip inspired these gave me her mom's recipe.
I had some fresh broccoli in the fridge when I was making this, so I threw that in as well, but it's just as good without it. I also decided to sprinkle my soup with toasted pine nuts for some healthy crunch. This soup will now be a repeat in my house as it microwaves very well for a quick lunch AND both my husband and children ate it and loved it! Although the kids declined the pine nuts, but no big deal.
For a vegan version, simply replace the butter with olive or grape seed oil and use vegetable broth instead of chicken.
Potato Leek Soup
Ingredients
2

T.

unsalted butter

1

T.

grape seed oil

4

large leeks

4-6

Yukon Gold potatoes

about 4 cups prepared

1

c.

broccoli florets

chopped

5

c.

unsalted chicken broth

salt to taste
Instructions
To prepare the leeks, slice the tops and bottom root end off and discard. You'll just use the white and light green parts, which look like an enormous green onion. Slice each in half (length-wise) and then in half again. Chop fine. You need to wash them thoroughly. I like using my large OXO Salad Spinner for this. I dump the chopped leeks into the liner bowl that is resting inside the clear plastic bowl and then fill completely with cold water. Let it sit for 1-2 minutes to let the dirt and sediment sink to the bottom. Lift out the salad spinner liner, then dump the dirty water in the sink. I repeat this process 3 times to be sure they are clean.

Heat the butter and olive oil in a soup pot over medium-high heat. Once melted, add the leeks and saute, stirring occasionally for about 5-7 minutes.

Meanwhile, peel the potatoes and chop into about 1-inch pieces. Add the potatoes, chicken broth and about 1 teaspoon of salt to the pot and bring everything to a boil. Reduce heat and allow to simmer for about 15 minutes. Add the broccoli and continue to simmer for about another 10 minutes until both the potatoes and broccoli are very tender.

Remove the soup from the heat. If you have a stick blender, blend the soup until it's very smooth. Or, put the soup in a food processor and puree until smooth. Taste, add salt if needed. Serve topped with toasted pine nuts.