A few simple ingredients make for a standout meal with my Slow Cooker Apple Butter Glazed Pork Tenderloin served over cheesy grits with a side of bacon. Thank you to the Ohio Pork Council for sponsoring this post.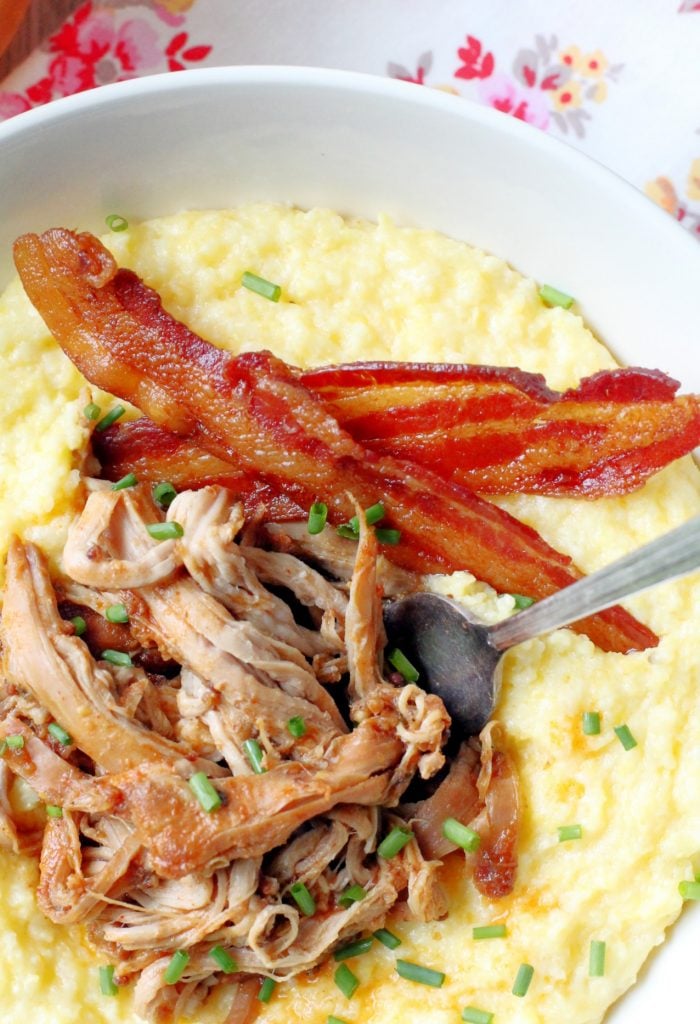 OK so this is my land-locked, midwestern version of a southern classic. I had some pretty stellar shrimp and grits on my family's Florida trip a few weeks back. But I pretty much save that dish for when I'm near the water. When I'm in Ohio I like to buy local and choose Ohio pork for our dinners often. With that in mind I decided that pork and grits needs to be a thing here in my Ohio home.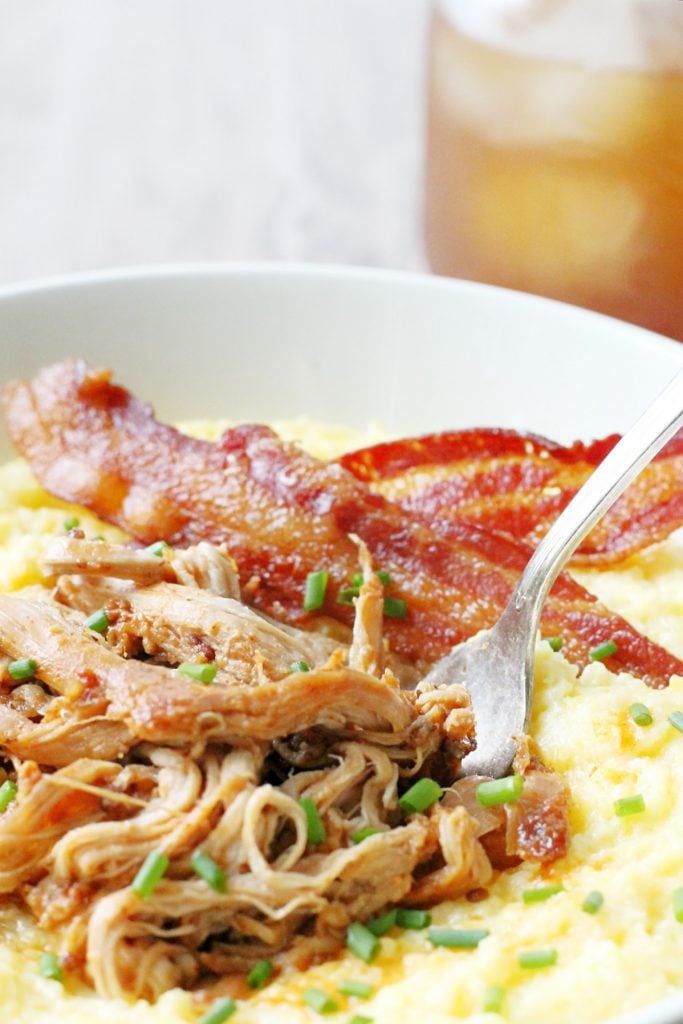 POPULAR VIDEOS
I just love pork tenderloin because it absorbs whatever flavors I choose to add so well. It's a very lean meat but it cooks up juicy and tender every time in the slow cooker with very minimal effort. To pair with my cheesy grits and bacon I decided apple butter should be the star ingredient of my glaze. The dry rub that goes on first has just five ingredients and then the pork is smothered with a mix of apple butter, apple cider vinegar and a little whole grain mustard. The flavor in this dish is superb with a lovely balance of sweetness from the apple butter and salt from the cheddar and bacon.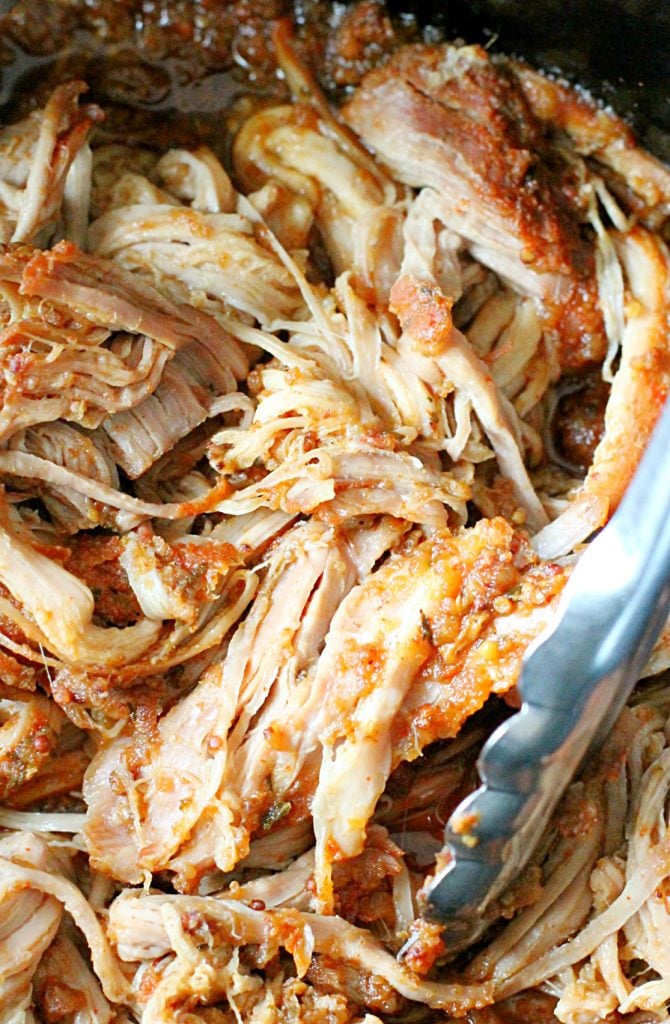 Wouldn't your family just love to tuck into a bowl of this apple butter glazed pork and grits on a crisp fall evening? Fall is my favorite season and now this meal has planted its place in my heart as an all-time favorite. Pork and grits. Make it a thing at your house too!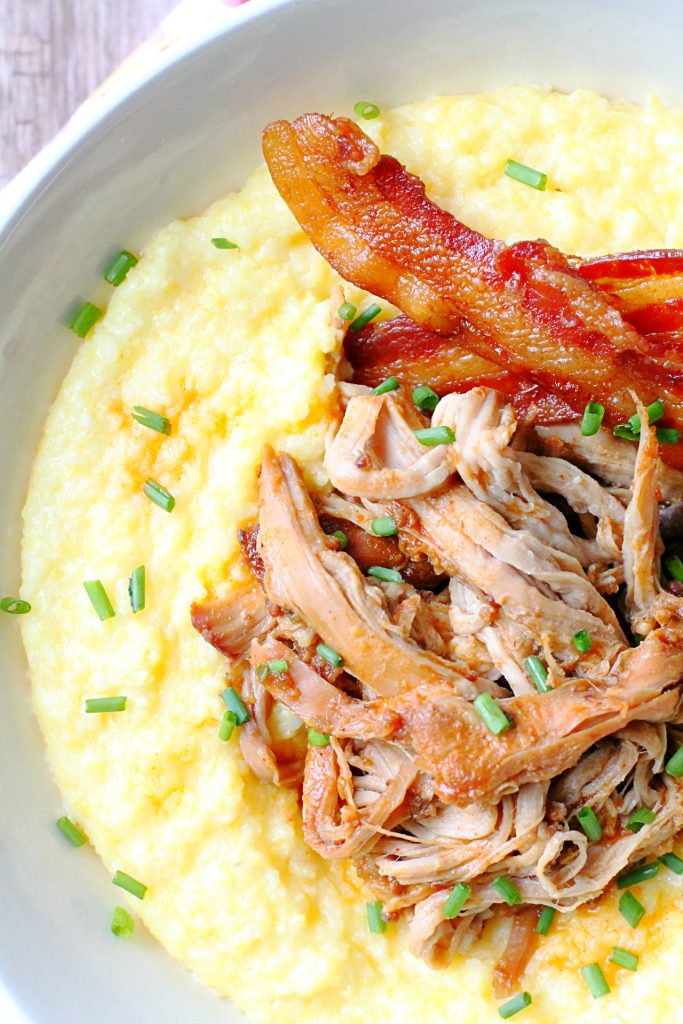 This recipe is featured at Meal Plan Monday, proudly hosted by Southern Plate, Southern Bite, A Southern Soul, and Big Bear's Wife.
This recipe is also featured at Watcha Crockin' Wednesday, hosted by Recipes That Crock.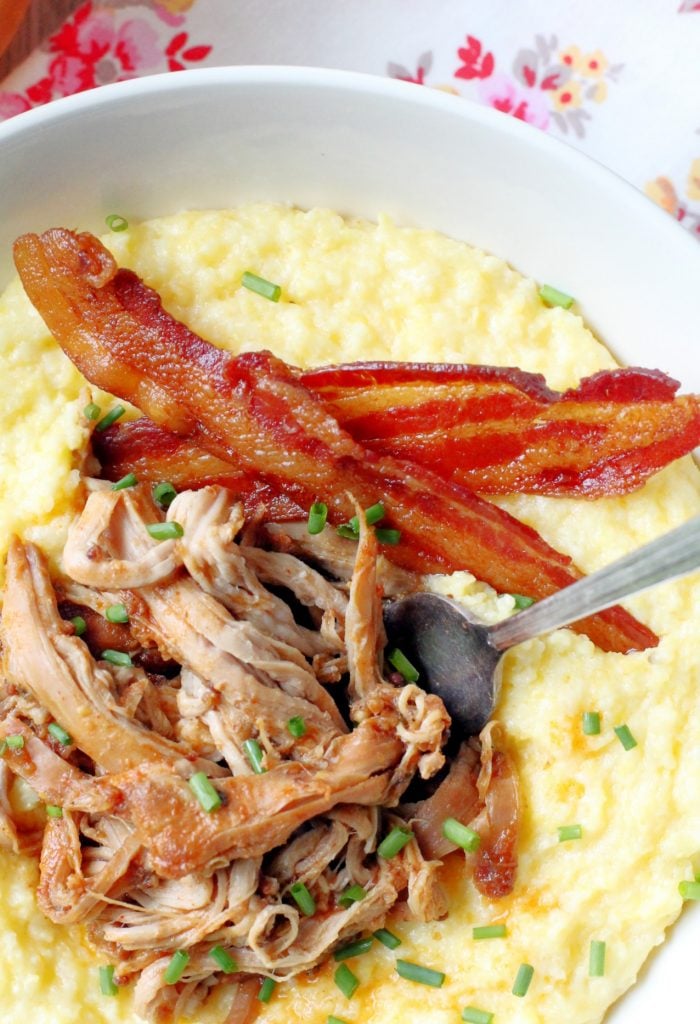 Slow Cooker Apple Butter Glazed Pork Tenderloin
2016-08-24 21:04:02
for the pork
1 (2 lb.) pork tenderloin
1 T. light brown sugar
1 t. paprika
1 t. salt
1/2 t. garlic powder
1/2 t. thyme
3/4 c. apple butter
1 T. apple cider vinegar
1 T. whole grain mustard
for the grits
4 c. water
1 t. salt
1 c. grits (I used stone ground)
4 T. unsalted butter, melted
2 large eggs, beaten
8 oz. sharp cheddar cheese, grated
dash of hot sauce
Instructions
Mix together the brown sugar, paprika, salt, garlic powder and thyme and rub it on all sides of the pork tenderloin. Place the tenderloin in the slow cooker. Whisk together the apple butter, apple cider vinegar and mustard. Pour evenly over the pork. Cover and cook the pork in the slow cooker on low (6 - 8 hours) or high (3 - 4 hours). Shred the meat before serving.
About 40 minutes before serving, preheat oven to 350 degrees.
Bring the water and salt to a boil in a saucepan on the stove and whisk in the grits. Cook according to package directions. Mine only took 5 minutes. Remove from heat.
Whisk into the hot grits the melted butter, shredded cheese, beaten eggs and hot sauce. Spread the grits into a greased casserole dish. Bake, uncovered, for 25 minutes.
Serve the grits topped with the shredded pork and crispy bacon (optional but highly recommended).
Foodtastic Mom https://www.foodtasticmom.com/