Learn how to make frozen, boneless and skinless chicken breasts in the Crock Pot for using in any recipe calling for cooked chicken.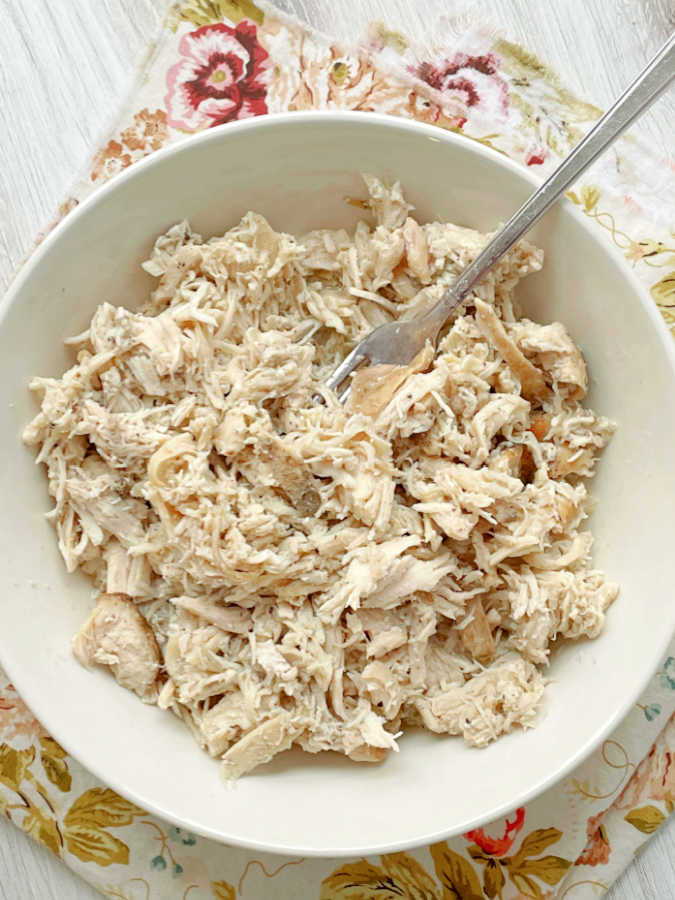 I'm a fan of using rotisserie chicken in recipes calling for chicken. However, I don't have a Costco anywhere close to my house, so I don't have access to really cheap rotisserie chicken on a regular basis. Also, I tend to get a bit squeamish when cleaning a rotisserie chicken from the bones and skin. It seems I throw away a lot of waste from each rotisserie chicken I buy, which I don't love. This is why I am showing you how to make frozen chicken breasts in your Crock-Pot. With so little effort, you can have chicken breast ready to go for adding to any recipe calling for chicken.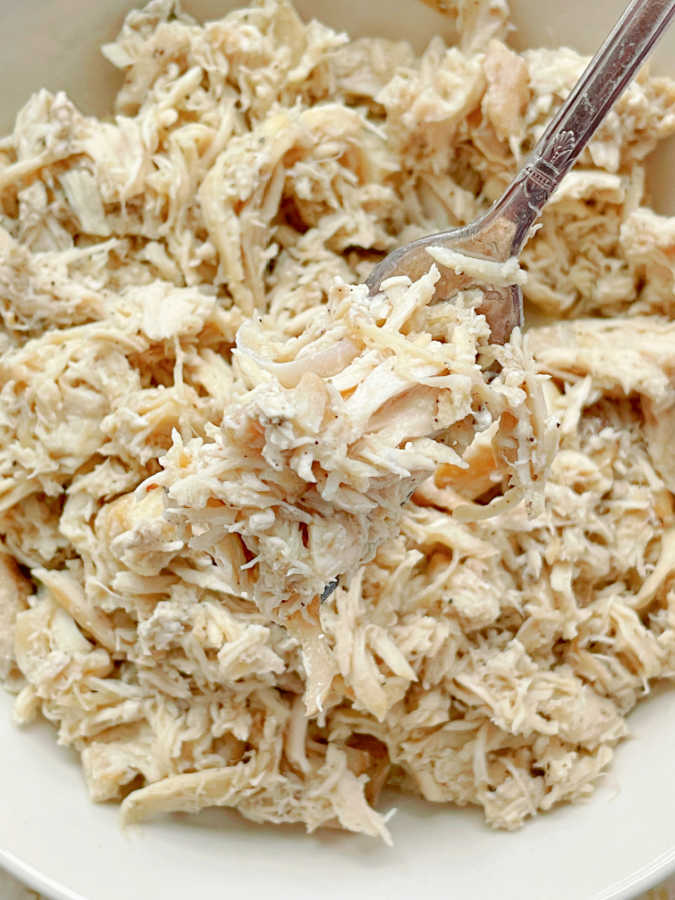 Ingredients for making chicken in the Crock-Pot
Frozen chicken breasts
Butter – this is optional, but fat adds flavor. A tablespoon of butter per four chicken breasts makes your chicken extra tasty and tender.
Poultry seasoning
Salt and pepper
How to make frozen chicken breasts in the Crock-Pot
Simply add the frozen chicken breasts, butter, poultry seasoning, salt and pepper to the insert of your Crock-Pot. Cook the chicken on LOW heat for about 6 hours or HIGH heat for about 4 hours, or until the chicken shreds easily with a fork. The chicken also needs to be cooked to at least 165 degrees F. If the chicken is shredding easily, it will likely register a much higher temperature than 165. But I always check to be safe. There is no need to add extra cooking liquid. The chicken breasts release a lot of liquid as they thaw and cook in the Crock-Pot.
Can you freeze the chicken for a later use once it's been cooked?
This may seem counterintuitive, but it makes a lot of sense. Purchase frozen chicken breasts when they are on-sale and cook a big batch of them. Almost all of your time is hands-off. Shred the cooked chicken and then freeze it to add later to your favorite recipes. A little meal prep can go a long way to make dinner time less of a chore.
Recipes using cooked chicken
Kitchen Tips
I use a 6-quart Crock-Pot to test all of my recipes. Use an 8-quart slow cooker if you'd like to make a bigger batch of chicken.
Digital meat thermometer for checking the temperature of the cooked chicken.
Foodtastic Mom is a participant in the Amazon Services LLC Associates Program, an affiliate advertising program designed to provide a means for sites to earn advertising fees by advertising and linking to Amazon.com. Any highlighted, clickable Amazon link you see is an affiliate link that I may earn advertising fees on.
Thank you so much for being a faithful reader and supporter of Foodtastic Mom. Be sure to PIN and print this recipe!

How to make frozen chicken in the Crock-Pot
Learn how to make frozen, boneless and skinless chicken breasts in the Crock Pot for using in any recipe calling for cooked chicken.
Ingredients
6

frozen, boneless and skinless chicken breasts

1 1/2

tbsp

butter

thinly sliced

1 1/2

tsp

salt

1

tsp

poultry seasoning

1/2

tsp

black pepper
Instructions
Place the frozen chicken breasts with the butter and seasoning in the Crock-Pot insert.

Cover and cook on LOW heat for 6-8 hours, or HIGH heat for 4-6 hours.

Check the temperature of the chicken to make sure, at minimum, it is cooked to 165 degrees F.

Shred the chicken. Use in your favorite recipe.

To freeze: Allow the chicken to cool. Place the chicken into a freezer-safe, zippered bag. Freeze for up to one month.
More Crock-Pot Recipes