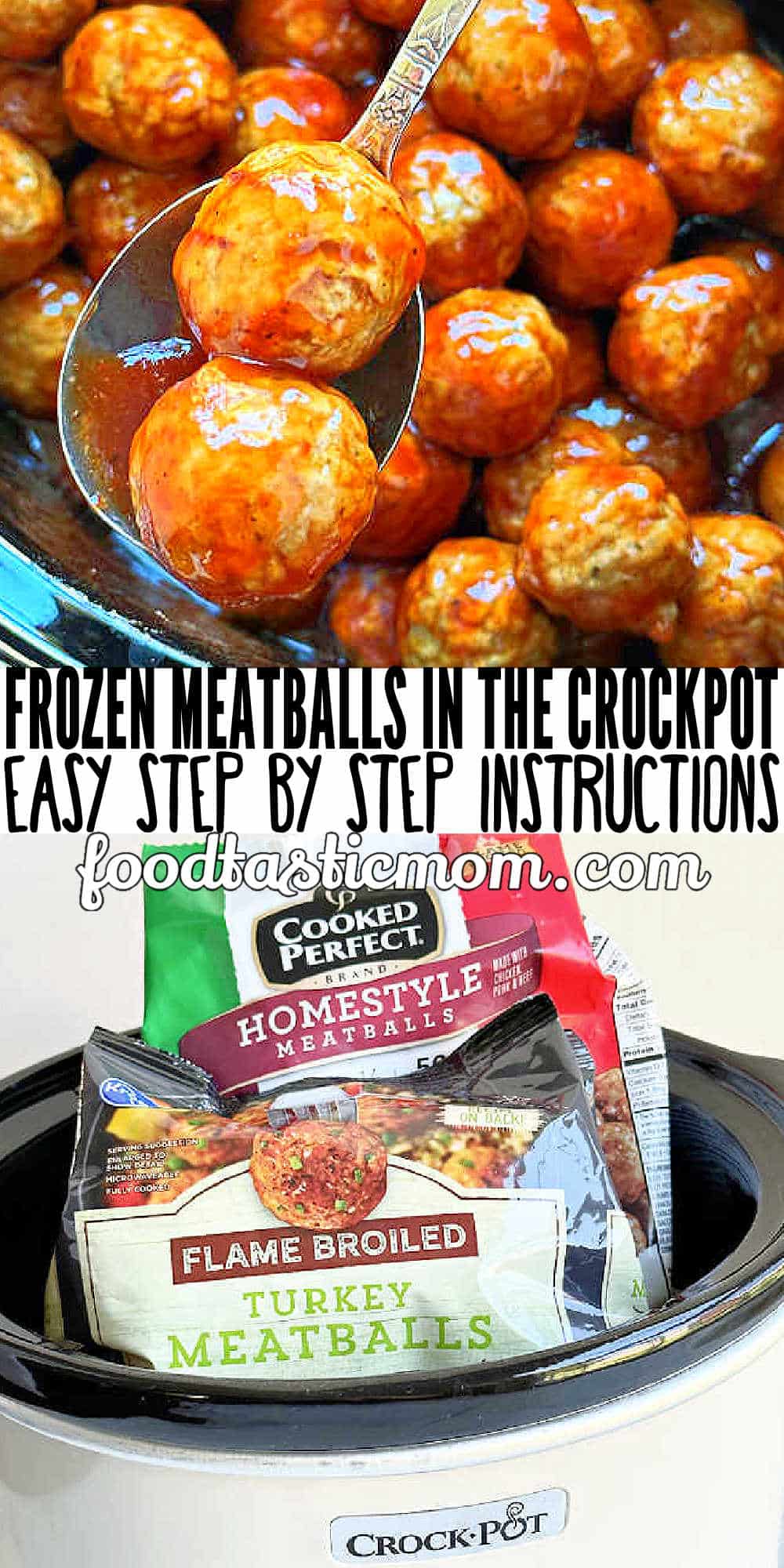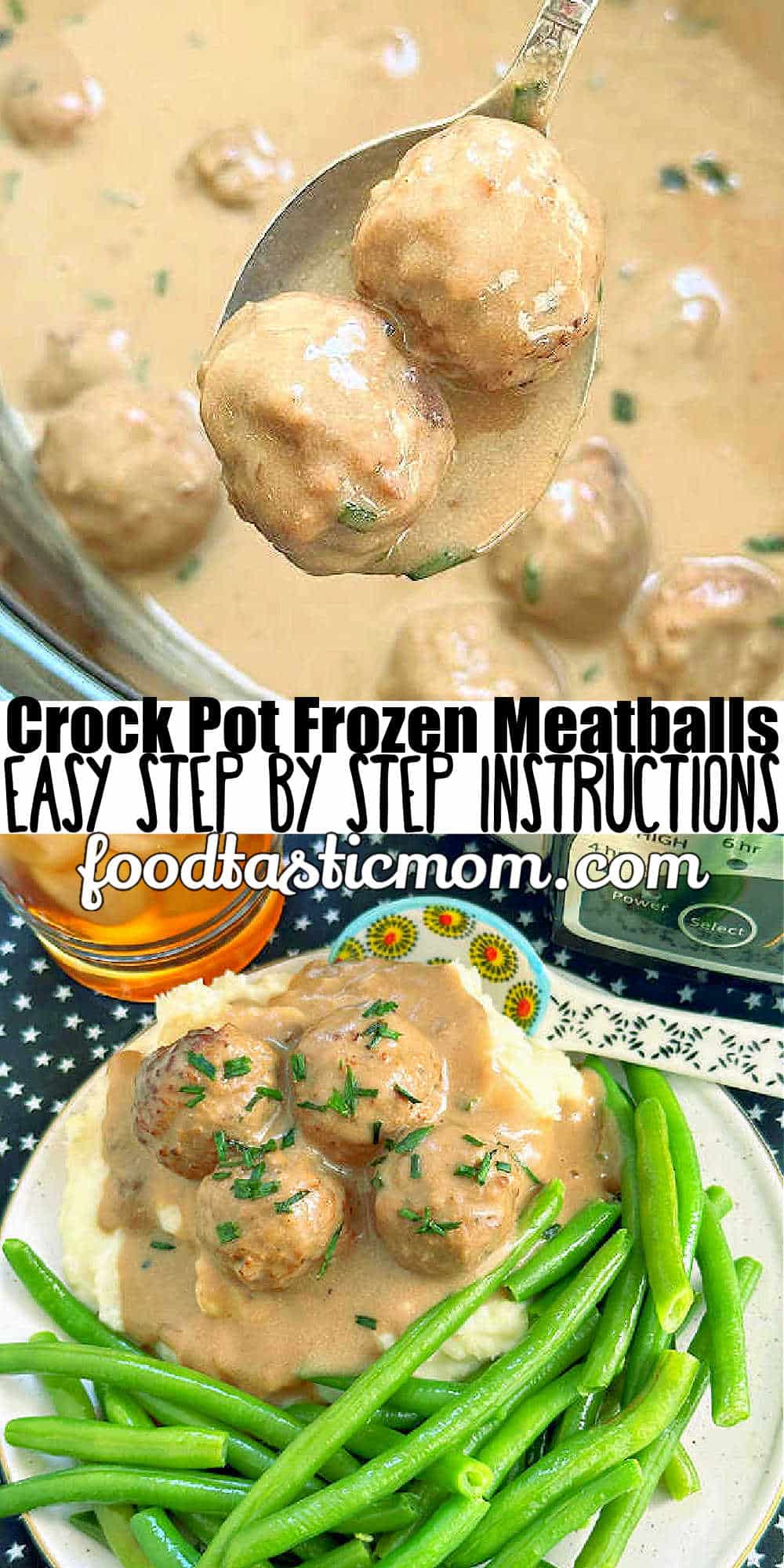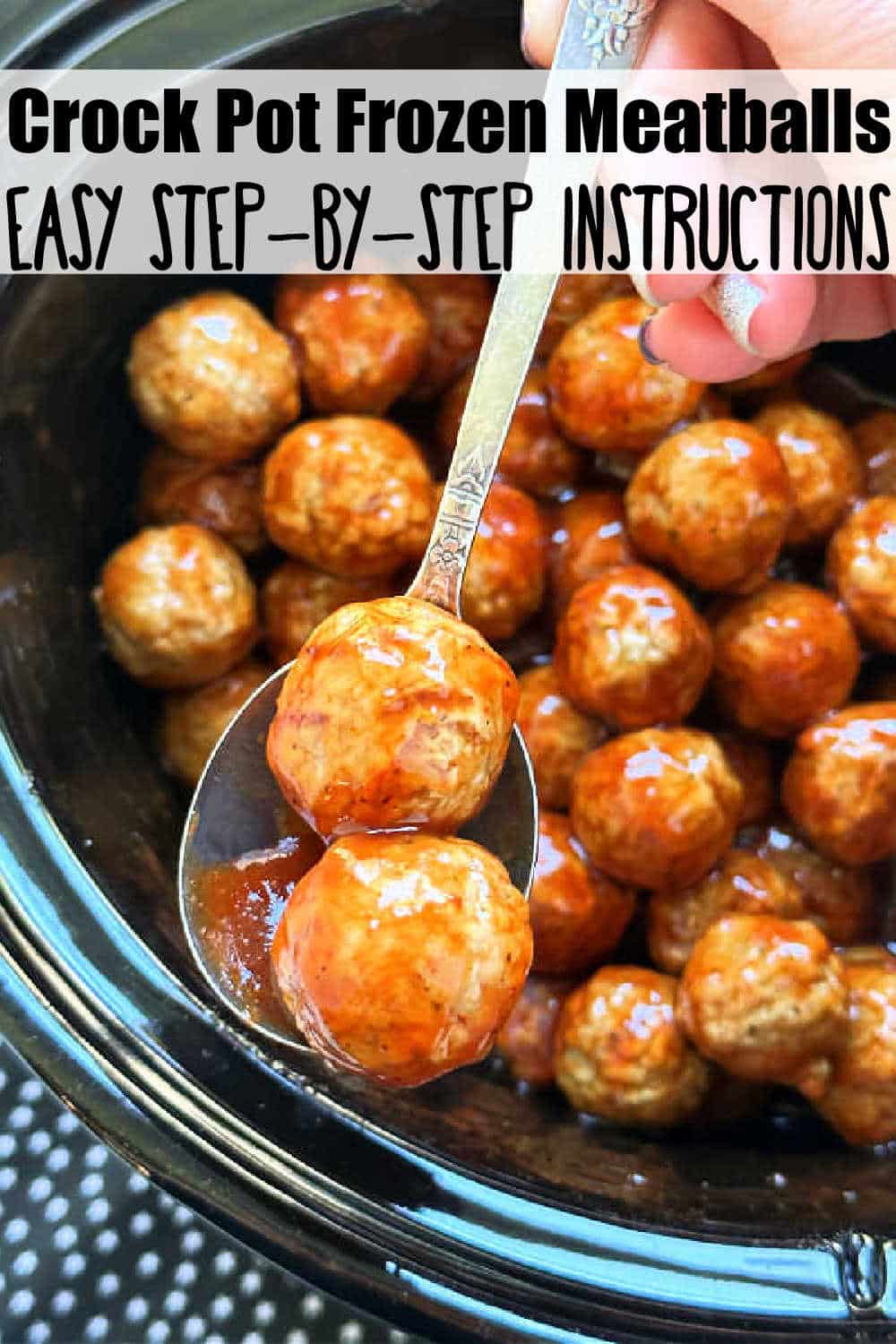 Learn how to cook meatballs from frozen in your Crock Pot, complete with a delicious Swedish meatball gravy made with my microwave roux.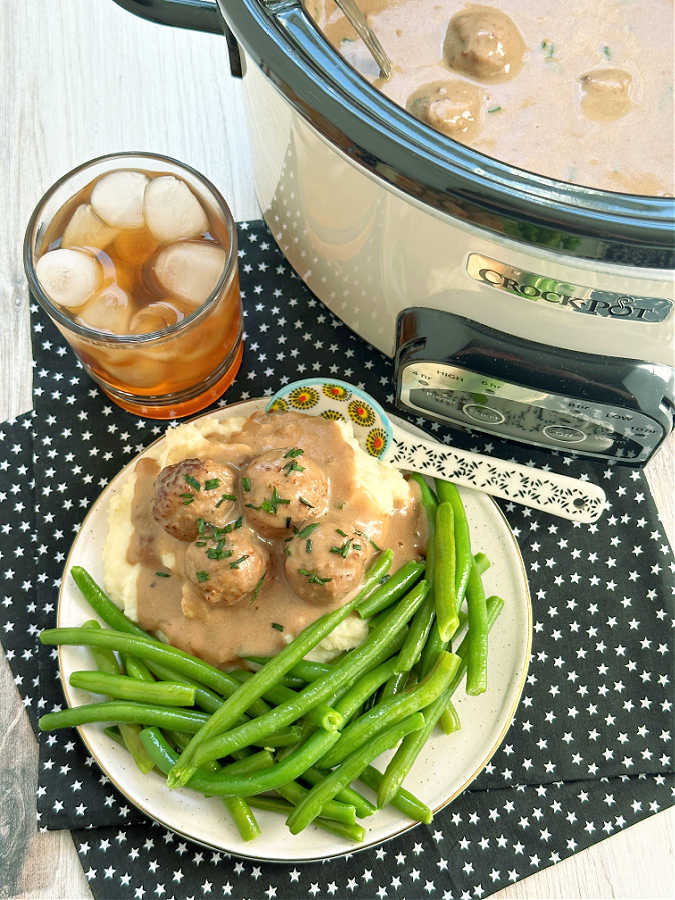 Easy dinners are my saving grace on most days. I love using help from the frozen food section. Meatballs are a favorite in my household, so today I'm showing you how to cook frozen meatballs in your slow cooker (Crock-Pot). Obvious sauce choices might be marinara for dinner, or grape jelly meatballs for an appetizer. But I'm giving you an original recipe to make delicious Swedish style meatballs too! The gravy is thickened with my own (should be patented) method for making a microwave roux with butter and flour. The roux can be mixed with any number of ingredients to make a delicious, thick and rich sauce or gravy.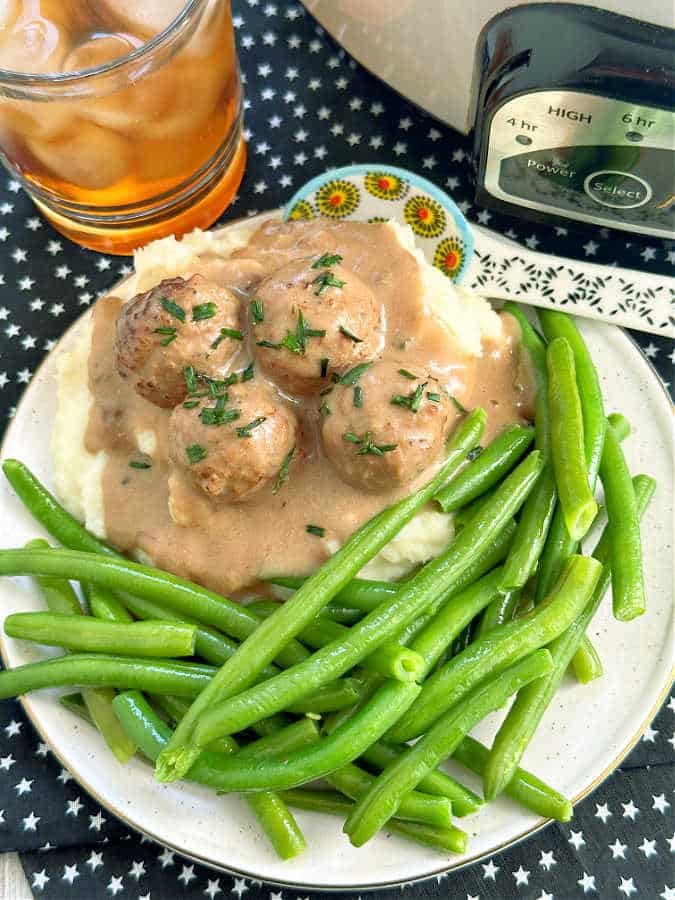 More Microwave Roux Crock Pot Recipes
Why this recipe works
Most frozen meatballs you can buy at your local grocery store are precooked. The low and slow heat of the Crock-Pot helps to keep the meatballs moist as they heat up to a safe temperature for eating. But, you can also cook uncooked meatballs from frozen! The key is making sure to cook the meatballs to a finished temperature of at least 165 degrees F.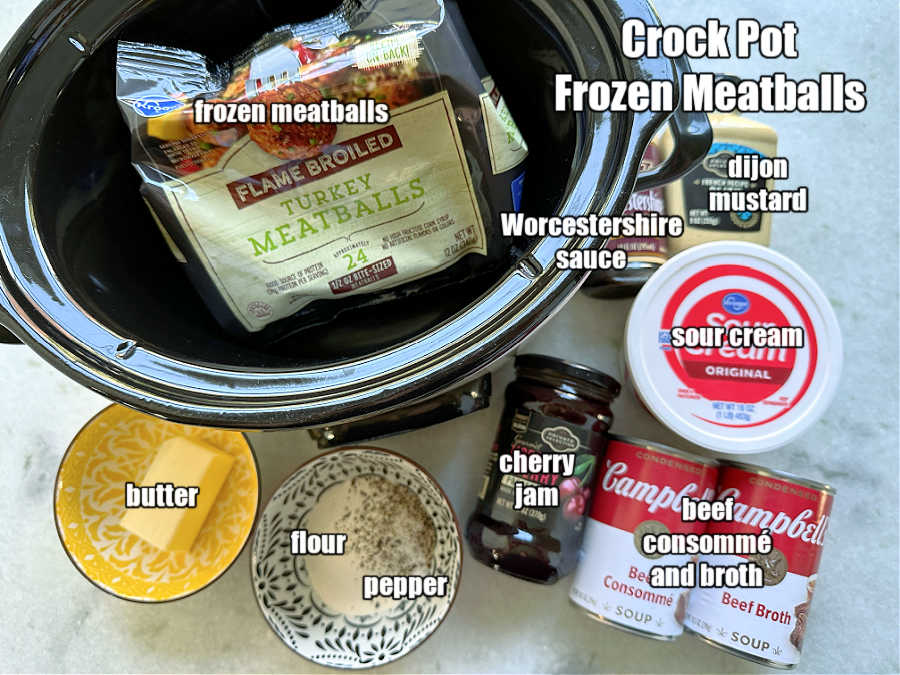 Ingredients for Crock pot frozen meatballs (with a homemade swedish meatball sauce)
Frozen Meatballs – Any type or brand of frozen meatballs will work for this recipe. But I tested this homemade sauce recipe with a 12 oz package of Kroger brand flame broiled turkey meatballs.
Butter – Melted butter combined with flour and heated in the microwave makes a microwave roux, which beautifully thickens sauces and gravies in the slow cooker.
Flour – Use all-purpose flour here. I have not tested this recipe with gluten-free flour. If you do, please tell us in the comments how it works.
Beef Broth – 20 ounces of broth is needed for this recipe. I chose to use a combination of beef broth and beef consommé. But you can use all beef broth instead.
Cherry Jam – I like the combination of sweet and savory in this sauce. Traditional Swedish meatballs are served with lingonberry jam. A good substitute for that is cherry or cranberry. And instead of serving it on the side, I mix it right into the sauce to cook with the meatballs. It's delicious!
Worcestershire Sauce – Adds good, savory flavor to the sauce.
Dijon Mustard – Gives bright and zingy notes of flavor to the sauce.
Sour Cream – Often I prefer to stir in sour cream at the end to thicken cream sauces, instead of using heavy cream. Sour cream adds less calories than cream without sacrificing flavor.
Pepper – I thought only pepper was needed for seasoning, but you can add salt too if you want. I just thought the finished sauce was salty enough because of the beef broth and Worcestershire sauce.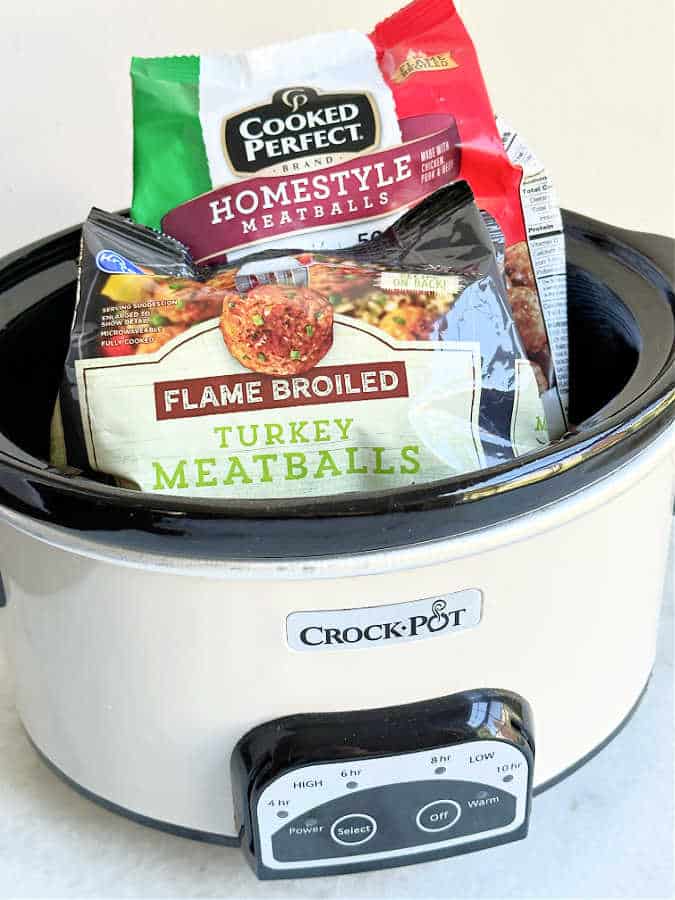 Instructions for making crock pot frozen meatballs
Open the packaging and empty the frozen meatballs into the insert of your slow cooker. Top them with the sauce of your choice. Place the lid on your slow cooker and cook the meatballs together with the sauce on low heat for 6 – 8 hours. Or you can cook them on high heat for about 4 hours.
If you're making the Swedish meatball sauce recipe that I am providing, scroll down to the recipe card for full instructions.
Serving Suggestions
There's a lot of options for how to serve meatballs cooked in the Crock-Pot. Besides the recipe for Swedish style meatballs I've provided for you, here's some other great recipes to check out…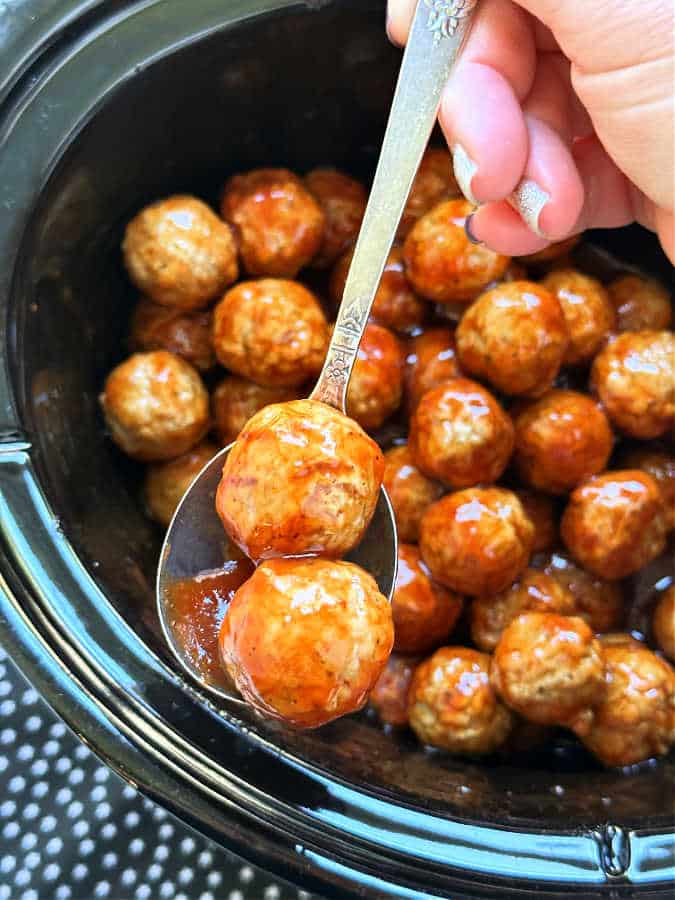 FAQ's
Should frozen meatballs be thawed before cooking?
No there is no need to thaw either precooked or raw meatballs before cooking them in your Crock-Pot (slow cooker). I've successfully cooked frozen chicken and turkey breast in my slow cooker with wonderful results. Again, the most important part of cooking frozen, raw meat is the final temperature. Ground meat and poultry is safe to eat once it has reached a minimum temperature of 165 degrees F.
What temperature should meatballs be heated to?
Meatballs, whether starting off as precooked or frozen, need to reach a minimum internal temperature of 165 degrees F in order to be safe to eat.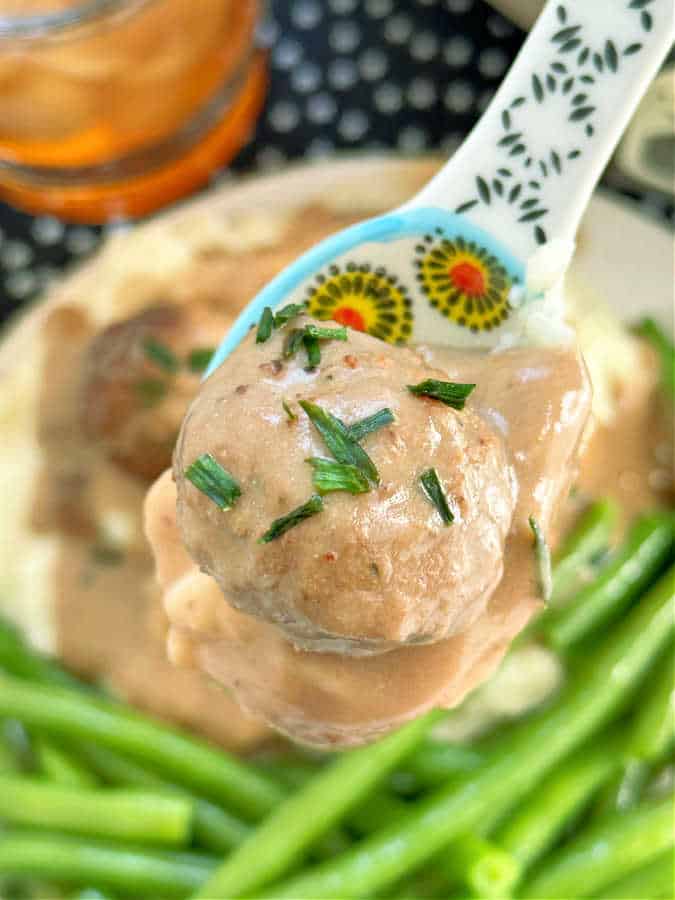 Storage directions
Store cooked meatballs in an airtight container in the refrigerator for up to three days. I don't recommend refreezing the meatballs after you've cooked them in the slow cooker.
Kitchen tools
More meatball recipes
Crock Pot Frozen Meatballs
Learn how to cook meatballs from frozen in your Crock Pot, complete with a delicious Swedish meatball gravy made with my microwave roux.
Ingredients
12

oz

frozen meatballs

3

tbsp

butter

melted

3

tbsp

all-purpose flour

20

oz

beef broth

1/4

cup

cherry preserves

1

tbsp

Worcestershire sauce

1

tbsp

Dijon mustard

1/2

cup

sour cream

1/2

tsp

black pepper
Instructions
Open the bag and dump the meatballs into your Crock-Pot.

In a microwavable bowl or glass measuring cup, melt the butter.

Add the flour and microwave on high power for one minute. Whisk, and microwave for one more minute. Whisk again and microwave for one additional minute.

The flour and butter mixture will be bubbly. Whisk in the beef broth until smooth.

Add the cherry preserves, Worcestershire sauce, Dijon mustard and pepper. Whisk again.

Pour the sauce over the frozen meatballs.

Cover and cook on low heat for 6 - 8 hours until the sauce is thickened.

Stir in the sour cream until smooth. Keep warm until ready to serve.

The meatballs need to have an internal temperature of at least 165 degrees F before eating.

Serve the meatballs and sauce over mashed potatoes or buttered egg noodles, with a side of green beans for a complete meal.
Nutrition
Calories:
452
kcal
|
Carbohydrates:
22
g
|
Protein:
18
g
|
Fat:
33
g
|
Saturated Fat:
15
g
|
Polyunsaturated Fat:
2
g
|
Monounsaturated Fat:
12
g
|
Trans Fat:
0.3
g
|
Cholesterol:
101
mg
|
Sodium:
755
mg
|
Potassium:
424
mg
|
Fiber:
1
g
|
Sugar:
12
g
|
Vitamin A:
455
IU
|
Vitamin C:
3
mg
|
Calcium:
65
mg
|
Iron:
2
mg
Foodtastic Mom is a participant in the Amazon Services LLC Associates Program (Amazon Associate), an affiliate advertising program designed to provide a means for sites to earn advertising fees by advertising and linking to Amazon.com. Any highlighted, clickable Amazon link you see is an affiliate link that I may earn advertising fees on when you click to purchase.
Thank you so much for being a faithful reader and supporter of Foodtastic Mom. Be sure to PIN to Pinterest and print this recipe! Also like and tag 'Foodtastic Mom' on Facebook and Instagram if you make this recipe!