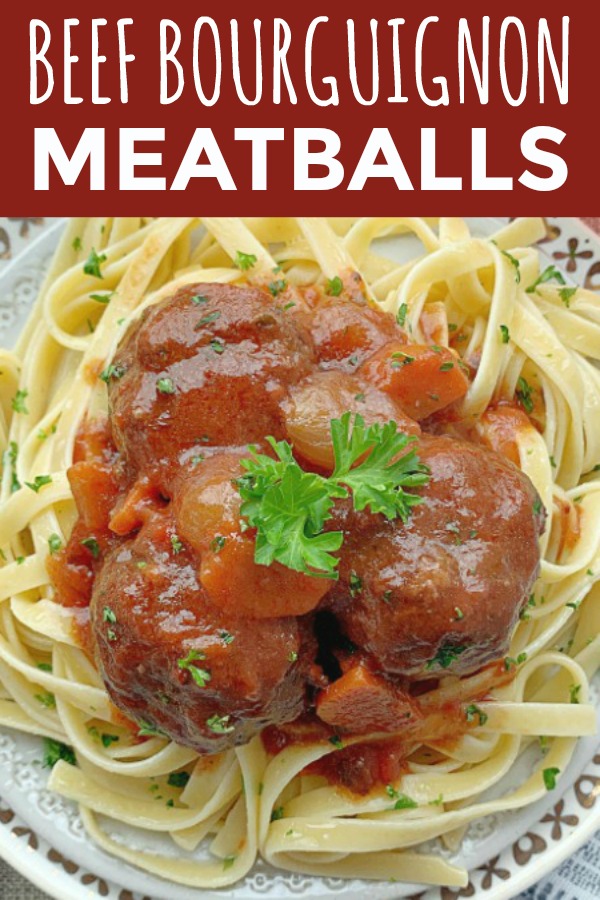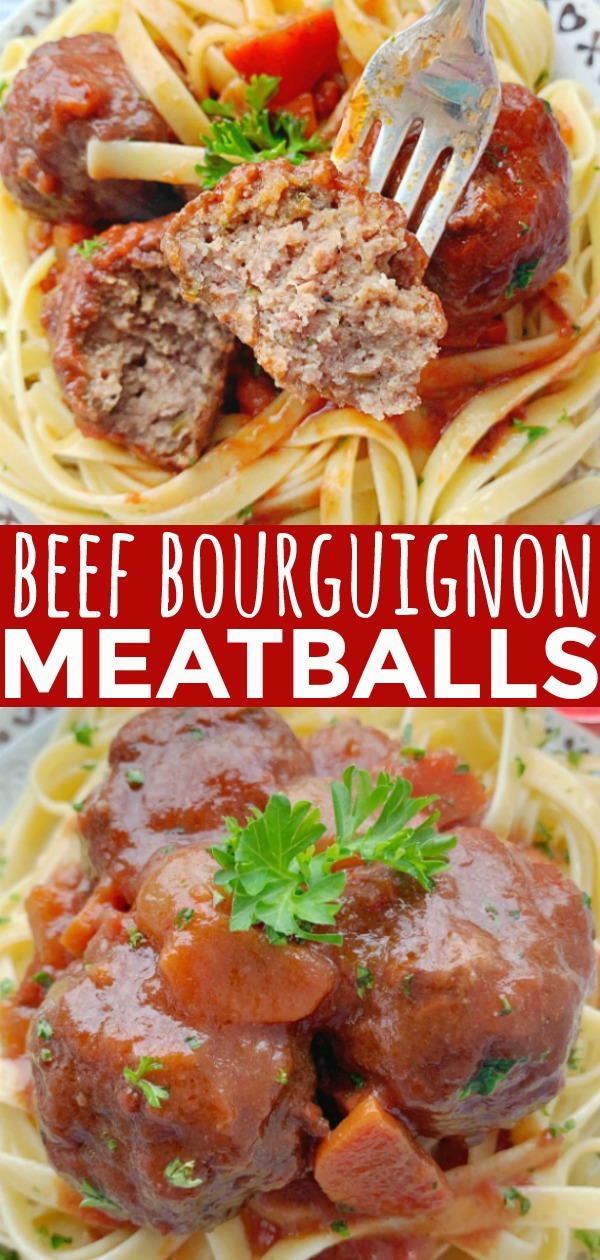 Beef Bourguignon Meatballs are slow cooked in a red wine sauce for a simpler take on a classic dish – perfect for date night in. Thanks to the Ohio Beef Council for sponsoring this post. All opinions are mine alone.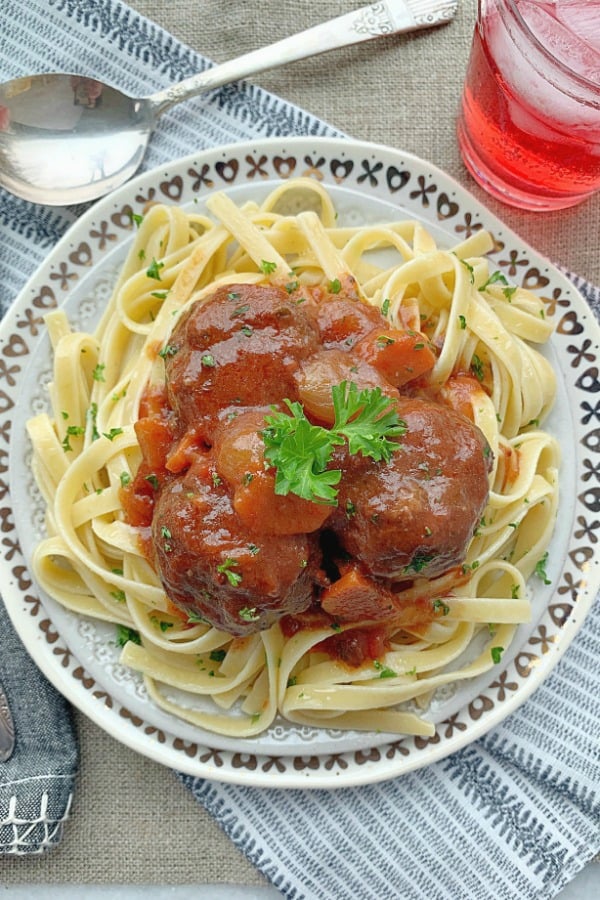 Thinking about a beef-centered dinner to make for Valentine's Day this year for my friends at Ohio Beef, my mind kept coming back to that scene from Lady and the Tramp. You know the one. Where the two dogs are sharing a plate of spaghetti and meatballs and sweetly meet in the middle of a strand of spaghetti.
This is where my inspiration for these meatballs came from. But I didn't want just a plain tomato sauce. I wanted to elevate the dish and so I decided to take inspiration from Beef Bourguignon – also known as Beef Burgundy. Wine and beef are a perfect pairing, especially for a date night at home.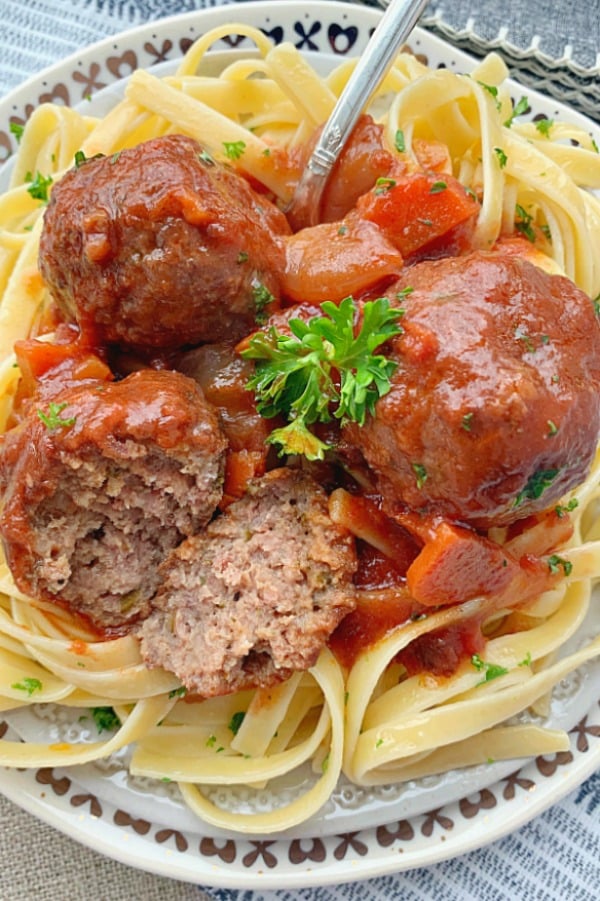 My meatballs start with lean Ohio Beef in the form of ground sirloin. I use a surprising ingredient to help bind the meatballs together – I got the idea from this recipe. Then the meatballs are slow cooked in a burgundy tomato sauce. They look fancy on top of a pile of buttered fettuccini. The cooking of the meatballs is mostly hands-off. This is a very easy meal to prepare – even on a weeknight.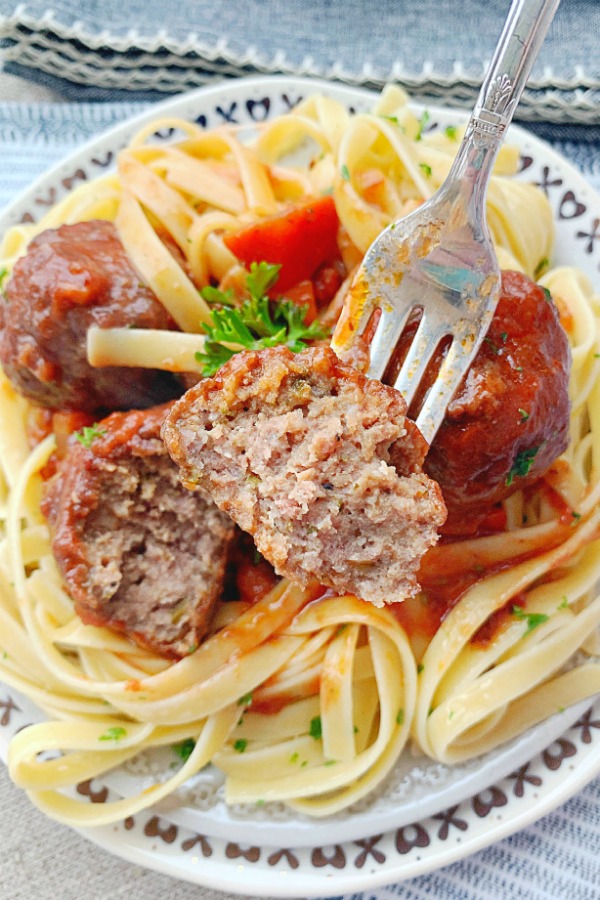 Tips for Beef Bourguignon Meatballs:
I use a large size cookie scoop (3 tablespoon capacity) like this one to help form my meatballs.
An 8-quart slow cooker is best for cooking these meatballs.
One pound of beef will yield 12 meatballs.
I use a meat thermometer like this one to check the internal temperature of my meatballs before serving – they need to be at least 165 degrees F in the middle to ensure they are cooked through.
Use a red wine for the sauce that is also good for drinking – Cabernet Sauvignon, Merlot or Zinfandel are good choices.
To mimic Lady and the Tramp I pictured the meatballs on a bed of pasta, but they would also be delicious with mashed potatoes.
Foodtastic Mom is a participant in the Amazon Services LLC Associates Program, an affiliate advertising program designed to provide a means for sites to earn advertising fees by advertising and linking to Amazon.com. Any highlighted, clickable Amazon link you see is an affiliate link that I may earn advertising fees on.
Thank you so much for being a faithful reader and supporter of Foodtastic Mom. Be sure to PIN and print this recipe!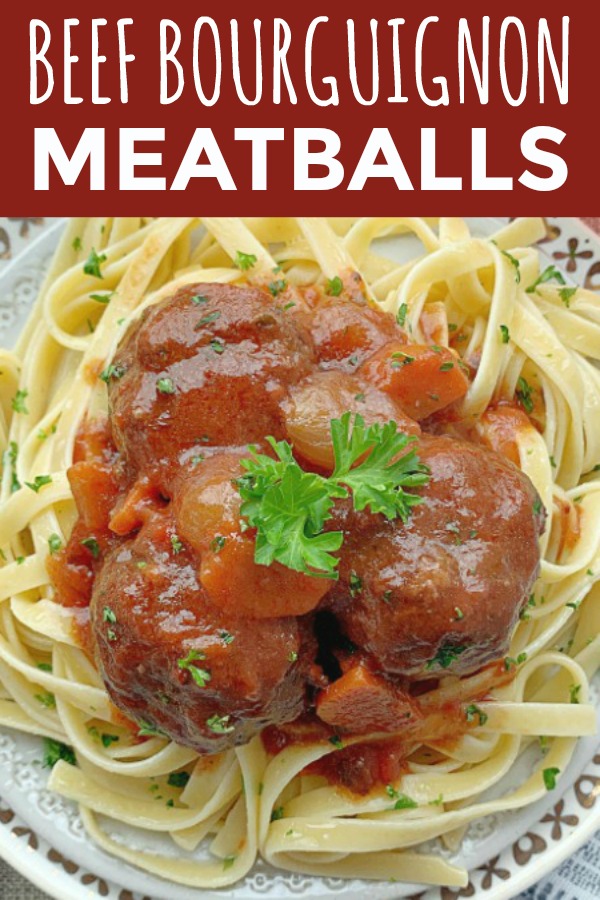 Beef Bourguignon Meatballs
Beef Bourguignon Meatballs are slow cooked in a red wine sauce for a simpler take on a classic dish - perfect for date night in.
Ingredients
Meatballs
1

lb

ground sirloin

90% lean

3/4

cup

milk

1/2

cup

instant potato flakes

1/4

cup

fresh parsley

finely chopped

2

cloves

garlic

pressed or finely chopped

1

tsp

salt

1/2

tsp

thyme

1/2

tsp

black pepper
Sauce
2

tbsp

butter

1

cup

frozen pearl onions

1

large

carrot

peeled and chopped

1

clove

garlic

pressed or finely chopped

1 1/2

cups

red wine

1

15 oz can

crushed tomatoes

2

tsp

sugar

1/2

tsp

salt

1

tbsp

cornstarch

2

tbsp

water
Instructions
Meatballs
Turn the slow cooker to HIGH.

In a large, clean bowl, whisk together the milk, potato flakes, parsley, garlic, salt, thyme and pepper.

Break up the ground sirloin into small pieces and add to the bowl. Use a fork and blend the beef with the milk mixture until combined.

Use a 3 tablespoon capacity cookie scoop to divide the beef mixture into 12 meatballs. Place the meatballs into a single layer on the bottom of the pre-heating slow cooker. You can stack the meatballs if you have to, but it's better if they can be in one layer.
Sauce
In a large, non-stick skillet, melt the butter over medium heat.

Add the pearl onions, carrots and garlic and cook for a couple of minutes, stirring frequently.

Add the red wine. Bring to a boil and allow to cook for a couple of minutes.

Reduce the heat and stir in the crushed tomatoes, sugar and salt.

In a small bowl, whisk together the cornstarch and water until smooth. Stir the mixture into the sauce and allow it to simmer for an additional minute.

Carefully pour the sauce over the meatballs. Do not stir.

Put the lid on the slow cooker and cook on HIGH for 2 hours. After 2 hours, gently stir the meatballs and sauce. Check the temperature of the meatballs to make sure they are 165 degrees F. Turn the heat to LOW until ready to serve.
Nutrition
Facts about Ohio Beef and American Heart Month:
The best gift you can give those you love is a healthy diet. A 3-oz serving of beef provides 25 grams of protein and 10 essential nutrients, wrapped up in one tasty package.
Big things often come in small packages. Aside from being a great source of protein, beef provides essential nutrients in a smaller package than some other proteins. For example, you would have to eat 8 ounces of chicken breast to get the same amount of iron as 3 ounces of beef.
February is American Heart Month! Add lean beef to your diet and your heart will thank you. Research shows that enjoying lean beef as part of a heart-healthy diet can lower cholesterol and reduce heart disease risk.
There are 17,000 beef farming families in Ohio, and 98 percent are family farms. Beef cattle can be found in every Ohio county.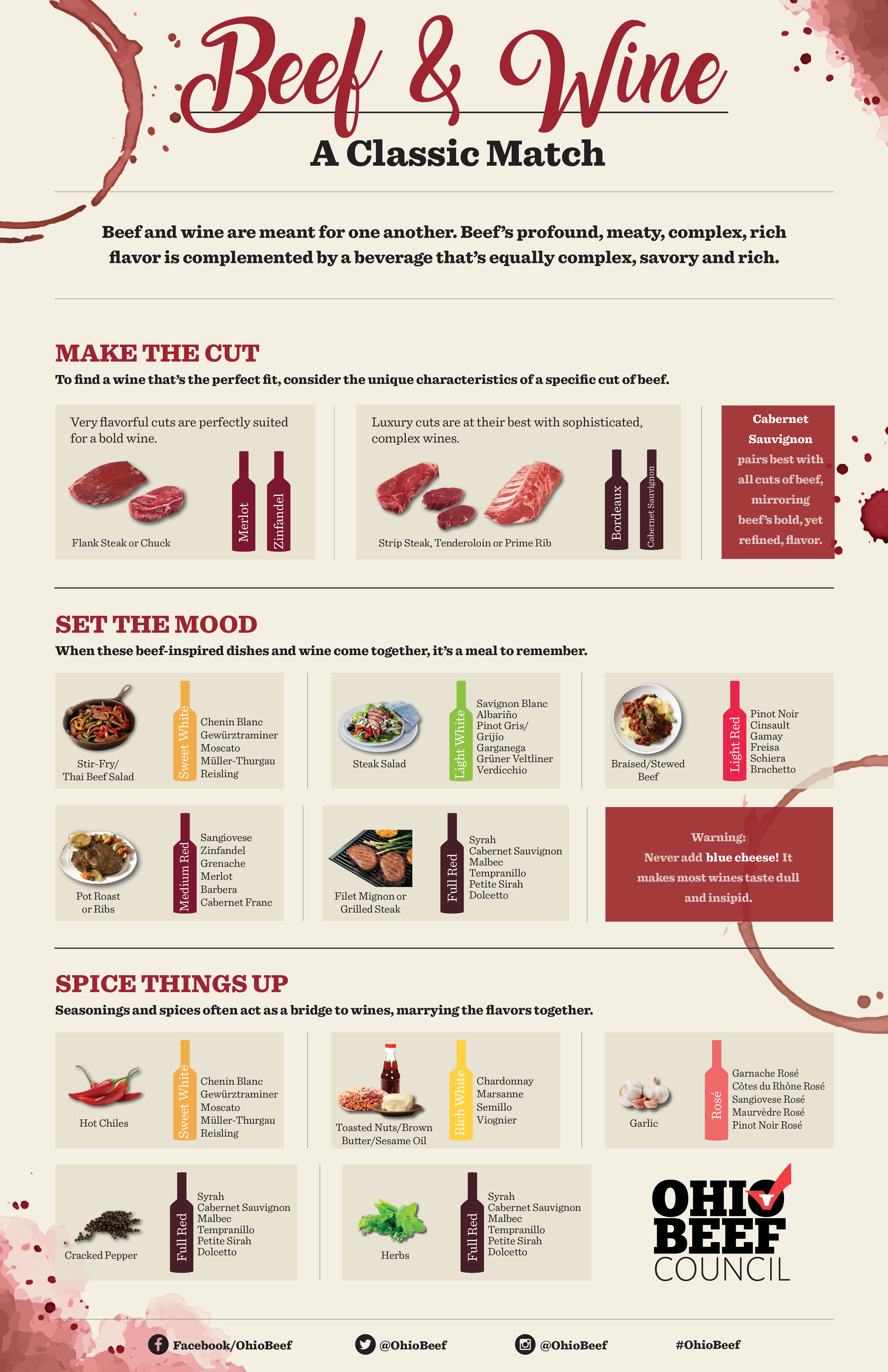 More recipes with Ohio Beef: