Beef short ribs and spicy Italian sausage are slow cooked to perfection in this Slow Cooker Short Rib Sunday Gravy. Thank you to the Ohio Beef Council for sponsoring this post. All opinions are mine alone.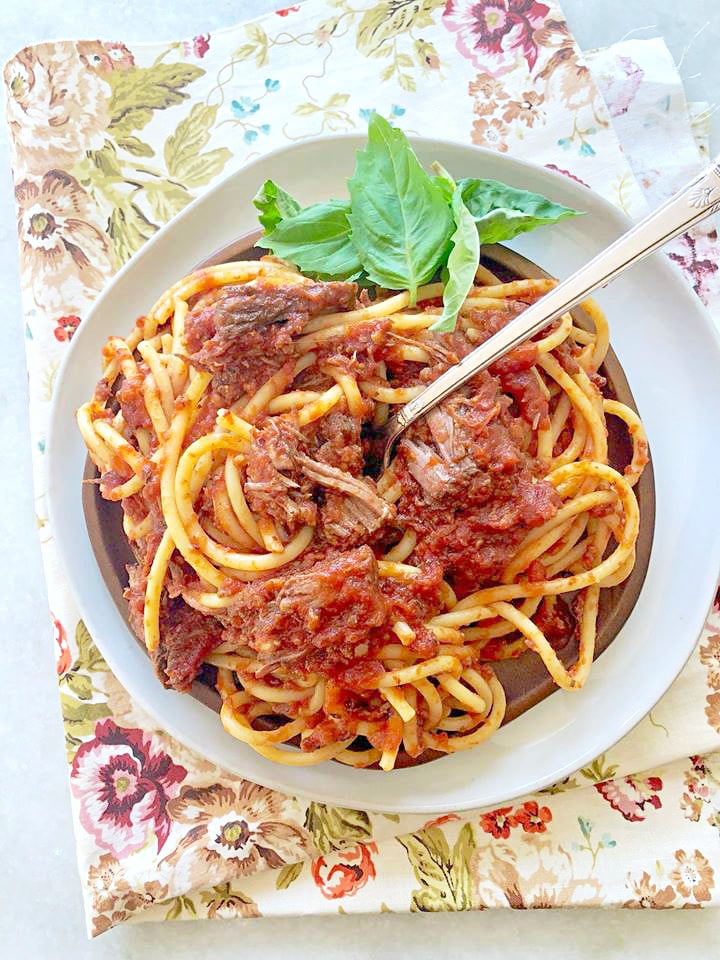 I don't have any Italian ancestry as far as I know, but if I had to pick a favorite type of food to cook, I'd probably pick Italian. I was lucky to visit Italy back before I had children and the food made quite an impression on me. Americanized versions of traditional Italian dishes are obviously not the same, but I still try in my own kitchen to create Italian-inspired dishes that are as delicious as they are simple.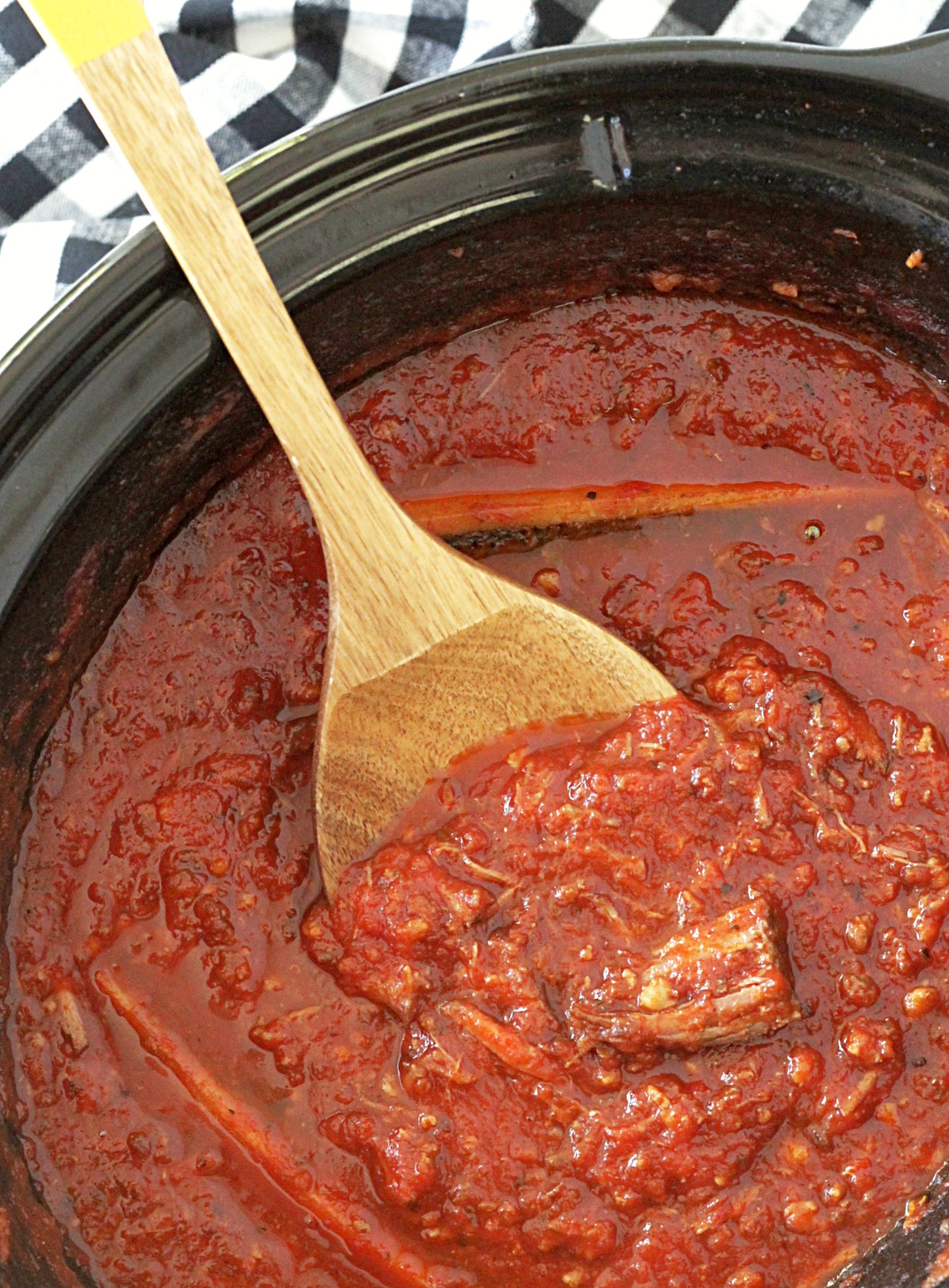 This Slow Cooker Short Rib Sunday Gravy is not quite as simple as the Instant Pot Bolognese Pasta Sauce I recently shared. But it's worth the extra time involved to fix it. If you've never heard of a Sunday Gravy before, I've done a little research to help you understand the term. It's believed to be derived from a Neapolitan Ragù. While a bolognese sauce contains very finely chopped meat, a Neapolitan ragù (or gravy) uses a variety of whole meat. In this case I used a spicy Italian sausage to start building flavor and whole beef short ribs as the star of the show.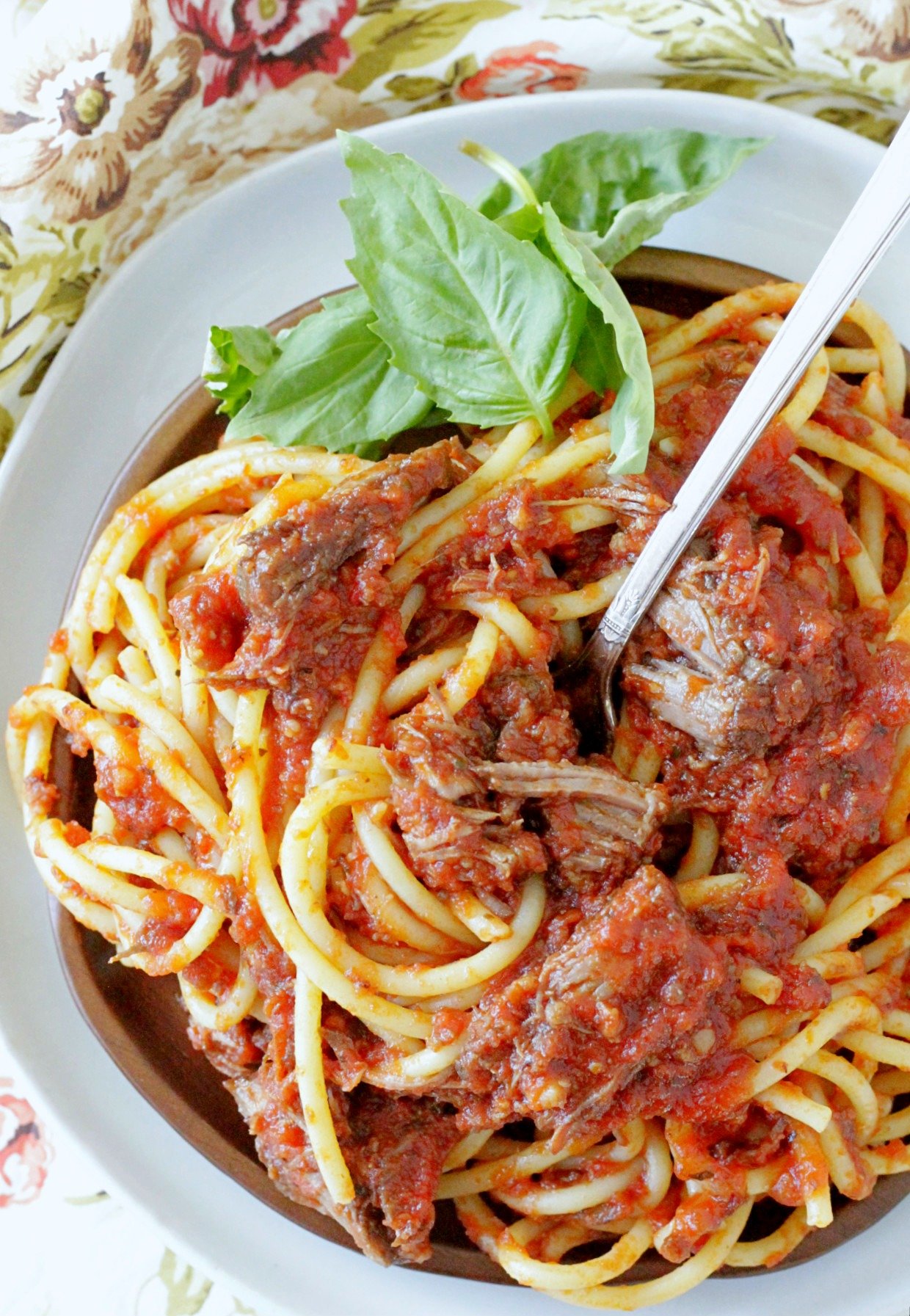 If you truly want to serve this Sunday Gravy on a Sunday I would advise to get the sauce into your slow cooker on a Saturday night and then let the gravy cook overnight. The next day you'll be able to remove the bones and gently shred the beef short ribs into the sauce. Continuing to cook this gravy on low heat until you are ready to sit down to Sunday dinner will only improve the flavor. It is a hearty meal that your family will be able to tell was fixed with love.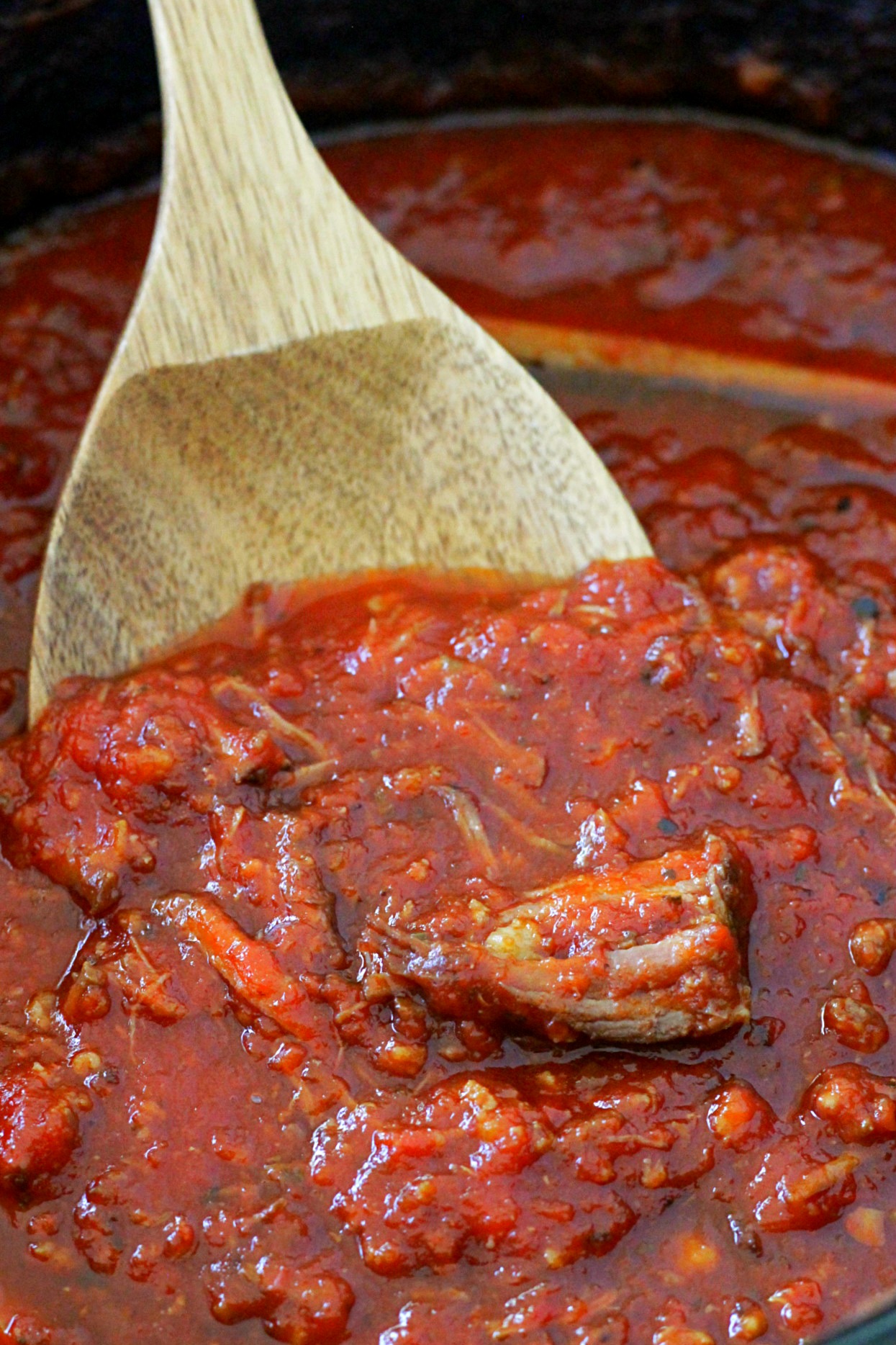 Tips for Slow Cooker Short Rib Sunday Gravy:
I used four, English cut short ribs in my recipe. You could use up to six short ribs for an even meatier sauce.
Cook this recipe on LOW heat, not high. You really want the flavors to build slowly and the short ribs need time to break down and become tender.
I brown the short ribs before adding them to the slow cooker because it boosts their flavor even more.
Preheat the slow cooker. Turn it to low while you are browning your sausage and short ribs and reducing the wine – so the slow cooker is already warm when you add your gravy ingredients to it.
Foodtastic Mom is a participant in the Amazon Services LLC Associates Program, an affiliate advertising program designed to provide a means for sites to earn advertising fees by advertising and linking to Amazon.com. Any highlighted, clickable Amazon link you see is an affiliate link that I may earn advertising fees on.
Thank you so much for being a faithful reader and supporter of Foodtastic Mom. Be sure to PIN and print this recipe!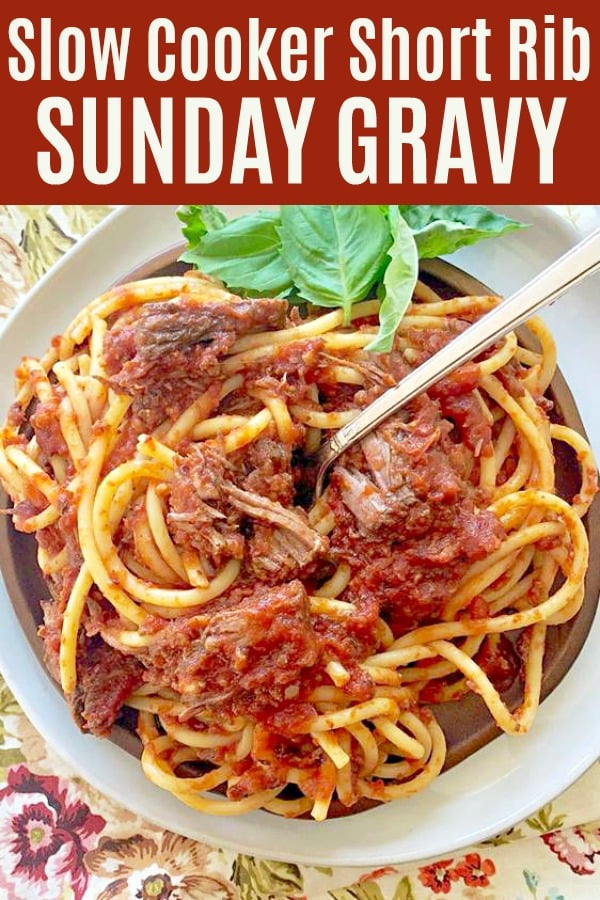 Slow Cooker Short Rib Sunday Gravy
Beef short ribs and spicy Italian sausage are slow cooked to perfection in this Slow Cooker Short Rib Sunday Gravy.
Ingredients
1

tbsp

vegetable oil

1/2

sweet

onion

finely chopped

4

cloves

garlic

minced

8

oz

spicy Italian sausage

4

English cut

beef short ribs

1/2

cup

red wine

2

tbsp

tomato paste

2

28 oz cans

crushed tomatoes

1

tbsp

sugar

2

tsp

salt

1

tsp

oregano

1

tsp

basil
Instructions
Turn an 8-quart slow cooker to LOW heat.

In a large pot over medium heat on the stove, add the oil. When the oil is hot, add the onion and garlic and cook just until the garlic is fragrant, about one minute.

Add the sausage and break up the meat very fine with a spoon or spatula as it is cooking. Once the sausage is cooked through, add it to the slow cooker.

To the same pot, add the short ribs and brown them for a few minutes on both sides. Add the short ribs to the slow cooker.

In the same pot, add the red wine and tomato paste. Whisk to combine. Scraping up all the browned bits on the bottom of the pot as you whisk. Allow the wine mixture to simmer for a couple of minutes, to cook off the alcohol.

Stir in the crushed tomatoes, sugar, salt, oregano and basil. Transfer the wine and tomato mixture to the slow cooker.

Cover the slow cooker and cook on LOW heat for 8 hours.

Gently remove the short ribs. Discard the bones. Shred the meat and stir it back into the sauce. You can continue to cook the Sunday gravy on LOW heat for a few more hours until ready to serve.

Serve the gravy over your favorite pasta.
Nutrition
More information about Ohio Beef:
This October, thousands of families across Ohio will buy beef. Ohioans spend $4.1 billion each year
on beef, which is a healthy, high-quality protein choice.
Although many believe that industrial farming has taken the place of family farms and ranches, 98
percent of beef farms are family-owned and operated. Meet one of the 17,000 beef farming families
in Ohio at www.OhioBeef.org.
Ohio beef farmers are committed to providing excellent care for their animals, protecting the
environment for future generations and producing safe, healthy beef. U.S. beef farmers have
improved sustainability by five percent in the past six years to help feed a growing world population.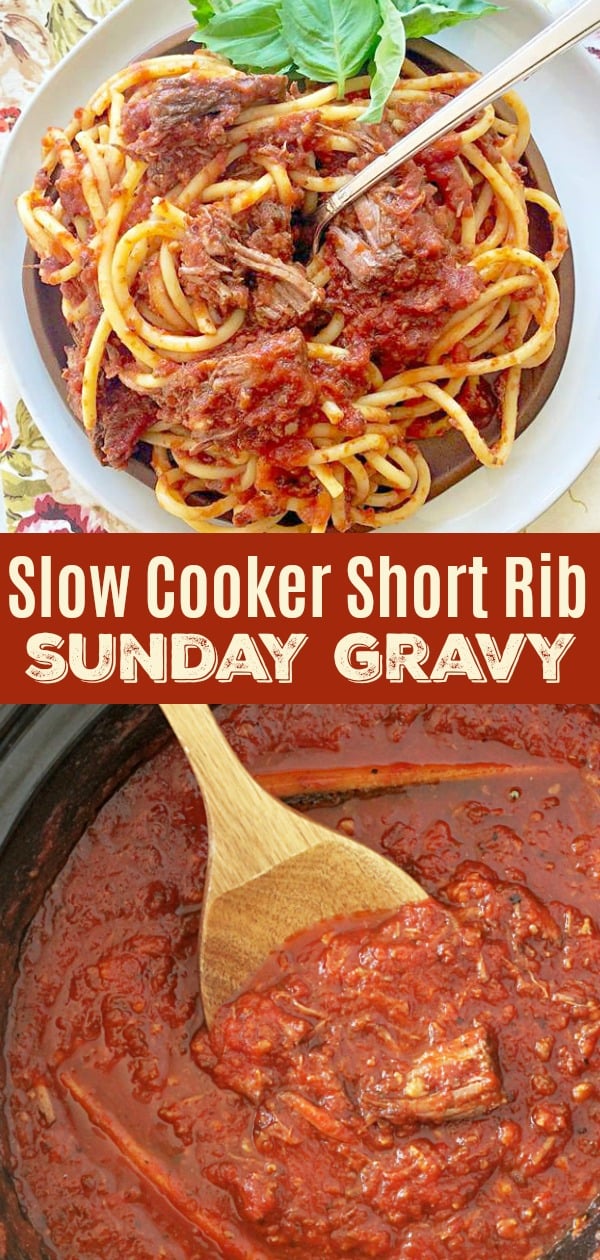 More recipes with Ohio Beef: