I am proud to have partnered with the Ohio Beef Association to bring you this Slow Roasted Beef Tenderloin for the holidays.
Beef Tenderloin is the Rolls Royce of all the beef cuts. It's a show stopper and it's definitely a pricier cut than any of the other roasts. But boy is it worth it when you want an amazingly tender cut of beef to carve at the holiday table (or any special occasion for that matter).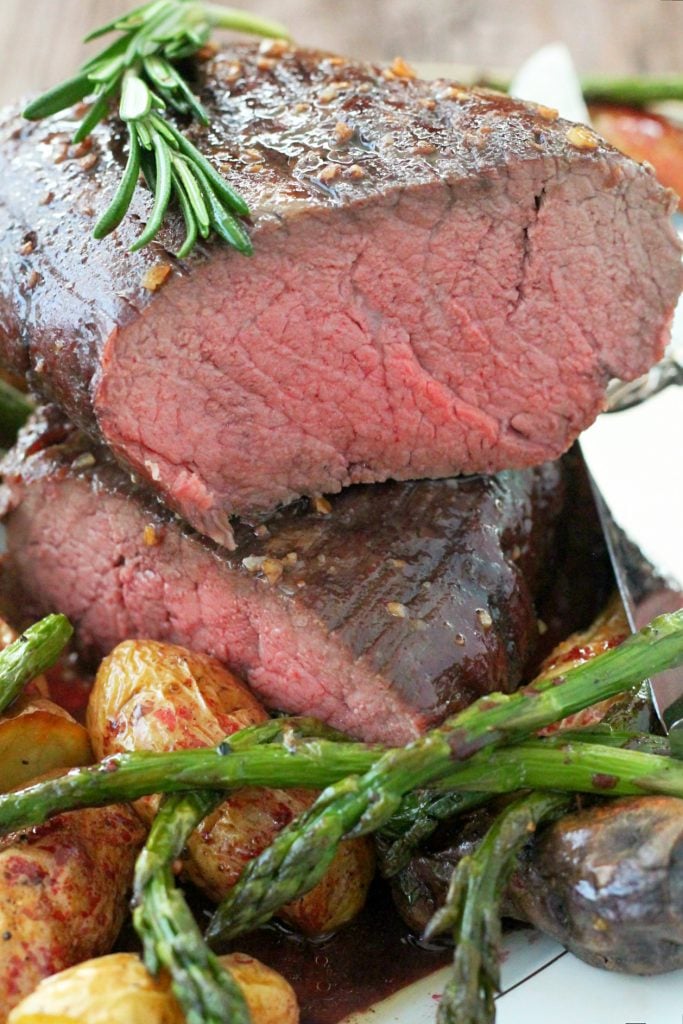 I'll start at the grocery. My butchers are always helpful but even the most knowledgable butcher is going to give you what you ask for and not what you picture in your mind. That's what happened to me. I asked for about a 4 pound whole tenderloin and I got something like this all trussed up and much bigger than I was actually wanting.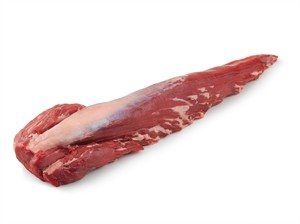 Source: Beef for Foodservice Professionals
I should have done my research. What I actually wanted is also known as a Chateaubriand. It's the best of the best center cut of the filet. Pretty, petite, tender yet very lean.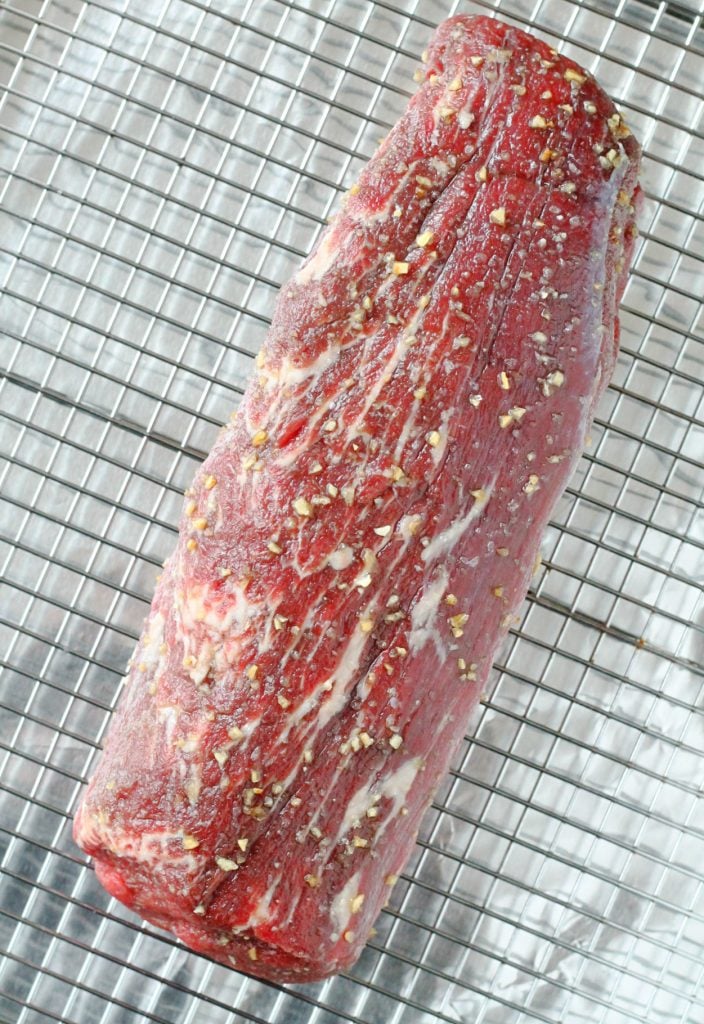 After using sharp kitchen shears to trim the leftover "silverskin" from the outside and cutting the ends away I was left with about 1 1/2 pounds of excellent meat. I cut that leftover tenderloin into large cubes for a Provencal-style stew recipe that I've been wanting to try for a long time. And what that means for you is two recipes for the price of one!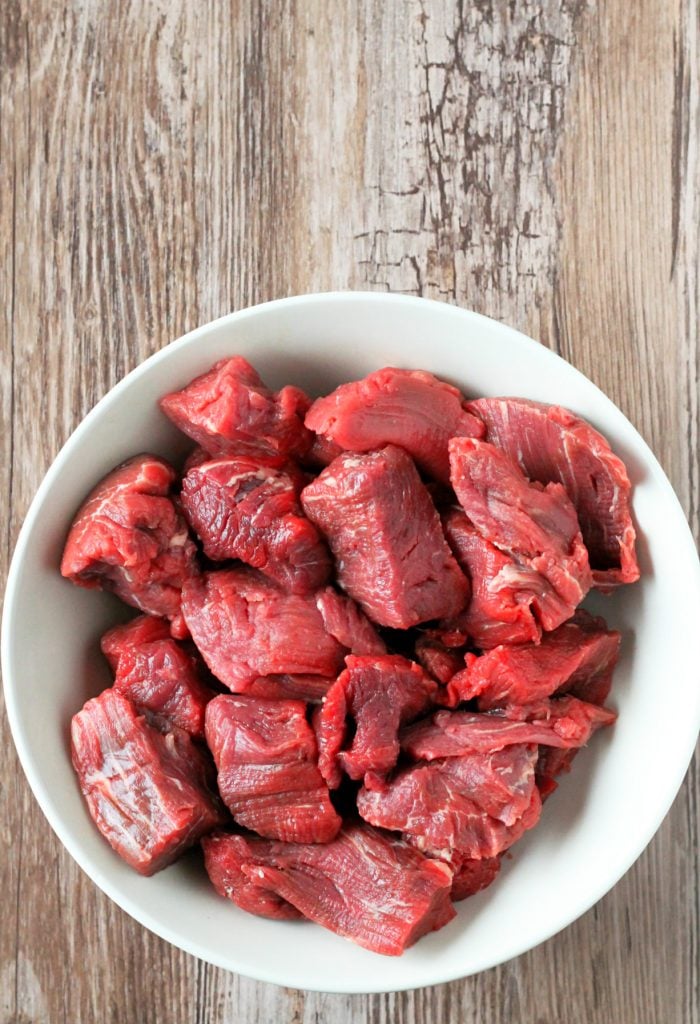 I decided that a pricey cut of meat could stand on its own merits with just a few simple ingredients and the correct preparation. Taking inspiration from THIS article my slow roasted beef tenderloin with garlic salt and red wine butter sauce became a reality.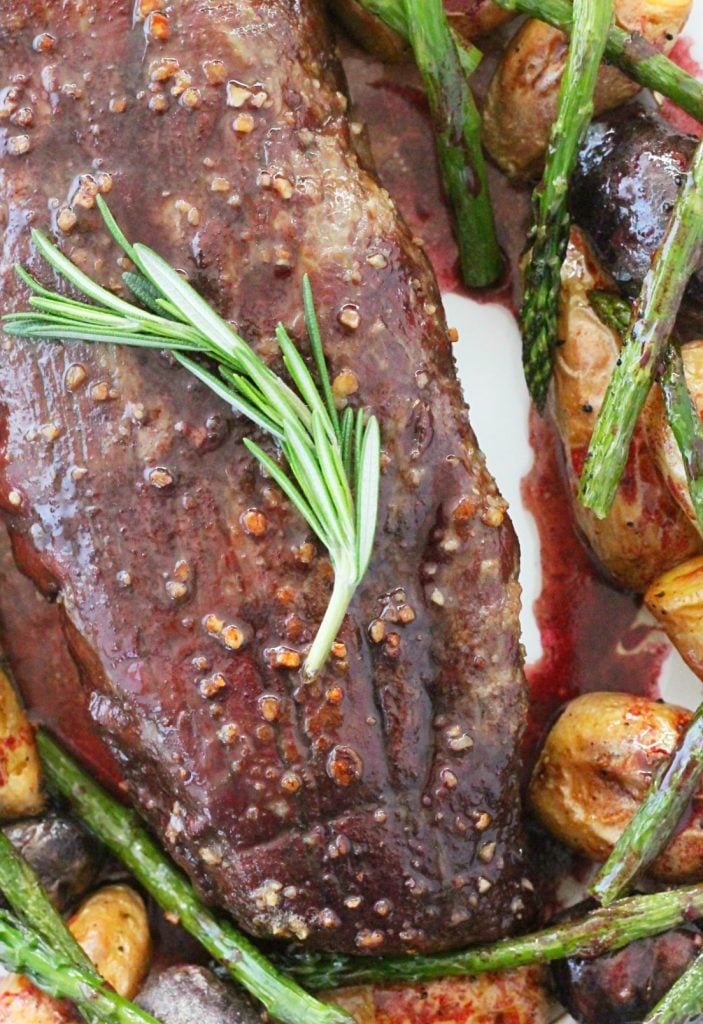 I liberally salted my roast and let it get to room temperature. This process actually begins forming a crust on the roast before it even gets into the oven. A slow roast until the internal temperature is 135 degrees takes about an hour and a half for a three pound roast. It's then quickly seared in melted butter on the stovetop to finish. This greatly enhances the flavor. The butter and browned bits are used to flavor a simple sauce with red wine and just a little mustard at the end. My family was swooning over this roast and yours will too!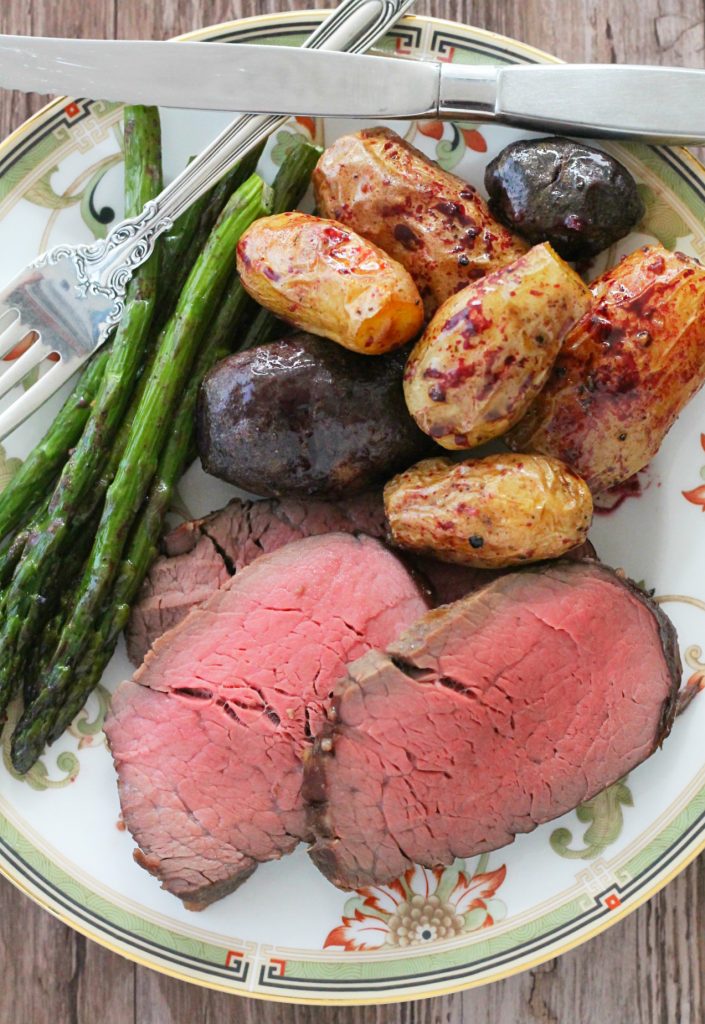 Ohio Beef is all about family too. There are 17,000 beef farms in Ohio, and 98 percent are family farms. Watch this video series from the Ohio Beef Council to see how Ohio beef farmers change their animal care routines as the weather gets colder.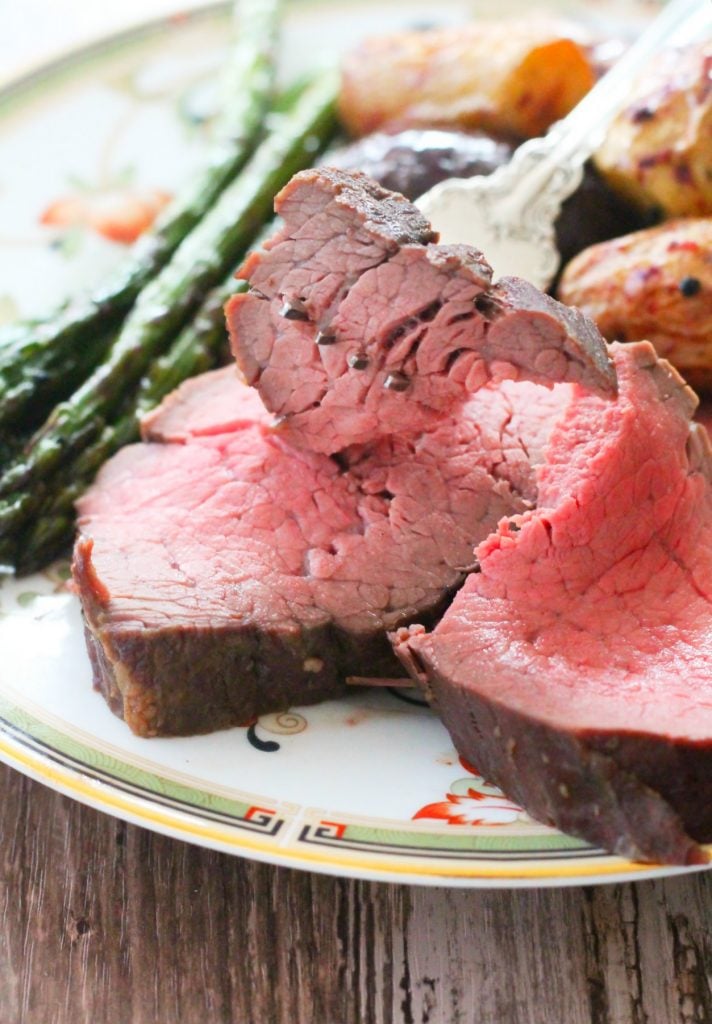 Beef has always been a centerpiece on our family's Christmas table. What do you normally serve your family at the holidays? I hope you'll consider trying this Slow Roasted Beef Tenderloin!
Tips for perfect Slow Roasted Beef Tenderloin:
Allow enough time for the roast to get to room temperature before roasting, about one hour
Use a garlic sea salt grinder to season your roast – I used something similar to THIS
Roast your beef tenderloin so that air can circulate on all sides – I use THIS sheet pan and THIS oven-safe baking rack
Use an instant-read digital thermometer to make sure your beef tenderloin roast is the correct temperature (135 degrees F) in the center – THIS is the thermometer I use
Use a dry red wine for the sauce that is good for drinking too – I used THIS Pinot Noir but a Cabernet or Merlot would work too.
Foodtastic Mom is a participant in the Amazon Services LLC Associates Program, an affiliate advertising program designed to provide a means for sites to earn advertising fees by advertising and linking to Amazon.com. Any highlighted, clickable Amazon link you see is an affiliate link that I may earn advertising fees on.
Thank you so much for being a faithful reader and supporter of Foodtastic Mom. Be sure to PIN and print this recipe!


Slow Roasted Beef Tenderloin
Slow roasting a beef tenderloin is the best method for insuring a perfectly cooked interior with a flavorfully seared exterior.
Ingredients
1

3-pound

center-cut beef tenderloin roast

ask your butcher to trim it for you

1

tsp

garlic sea salt

from a grinder

1

tsp

sea salt

4

tbsp

unsalted butter

1

cup

dry red wine

I used Pinot Noir

2

tsp

Dijon mustard

1/2

tsp

cracked black pepper
Instructions
Preheat oven to 250 degrees. Line a half sheet pan with foil. Place a metal baking rack on top of the foil.

Rub the garlic salt and sea salt evenly over all sides of the beef tenderloin roast. Allow to rest on the counter - 60 minutes.

Slow roast the tenderloin until the center of the roast reads 135 degrees F on a digital thermometer. Mine took about 90 minutes. Start checking your temperature after 70 minutes to be sure not to over-roast it.

Heat the butter in a large (12-inch) skillet over medium high heat until melted and bubbling. Using tongs transfer the beef roast to the skillet and brown on all sides, just about one minute per side. Transfer the roast to a serving platter.

Add the wine to the same skillet and allow it to simmer vigorously for 5 minutes. Whisk in the mustard and add the pepper.

Spoon the sauce over the roast and serve with simple roasted potatoes and asparagus.
Nutrition
Make a complete meal: