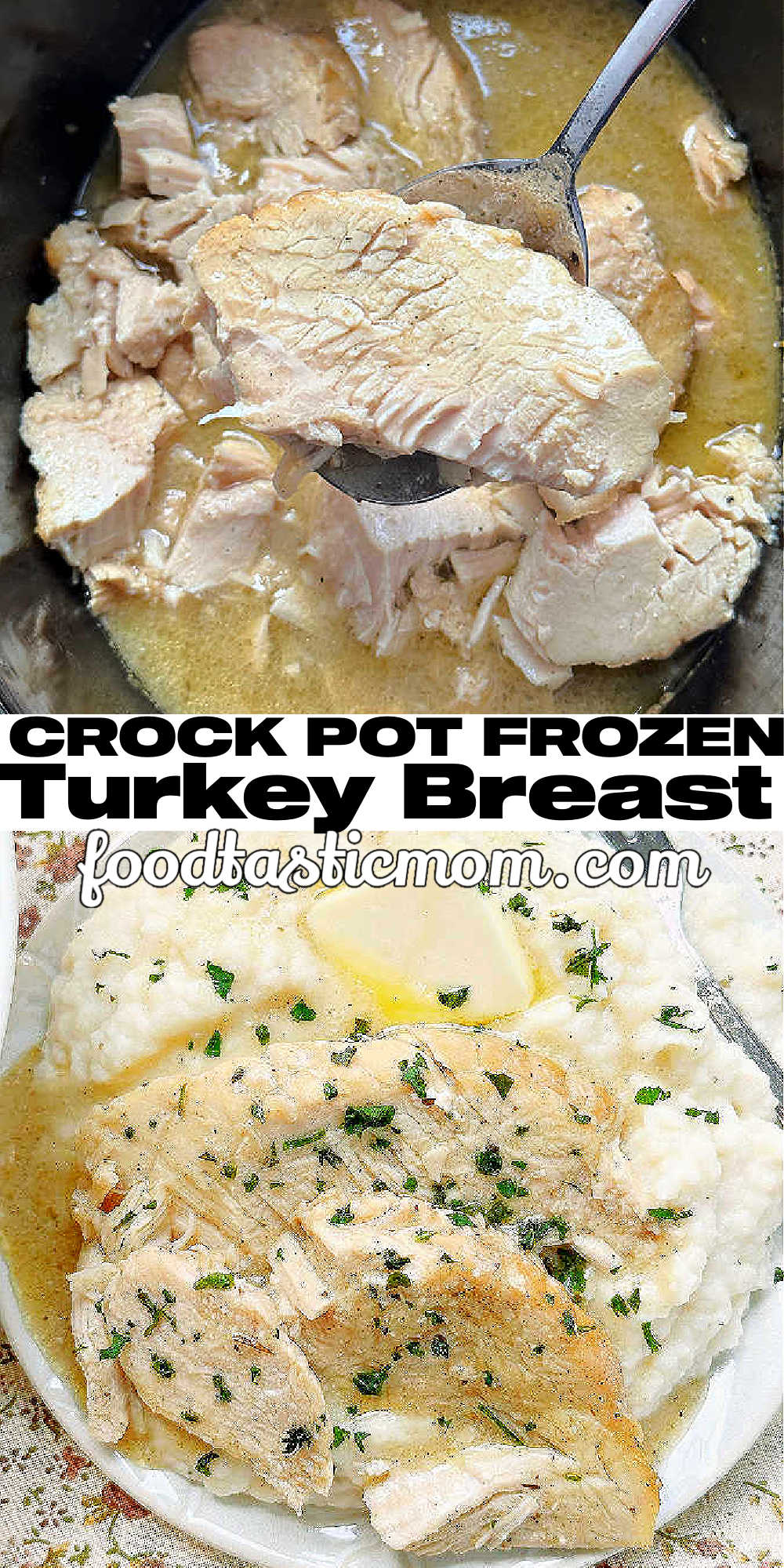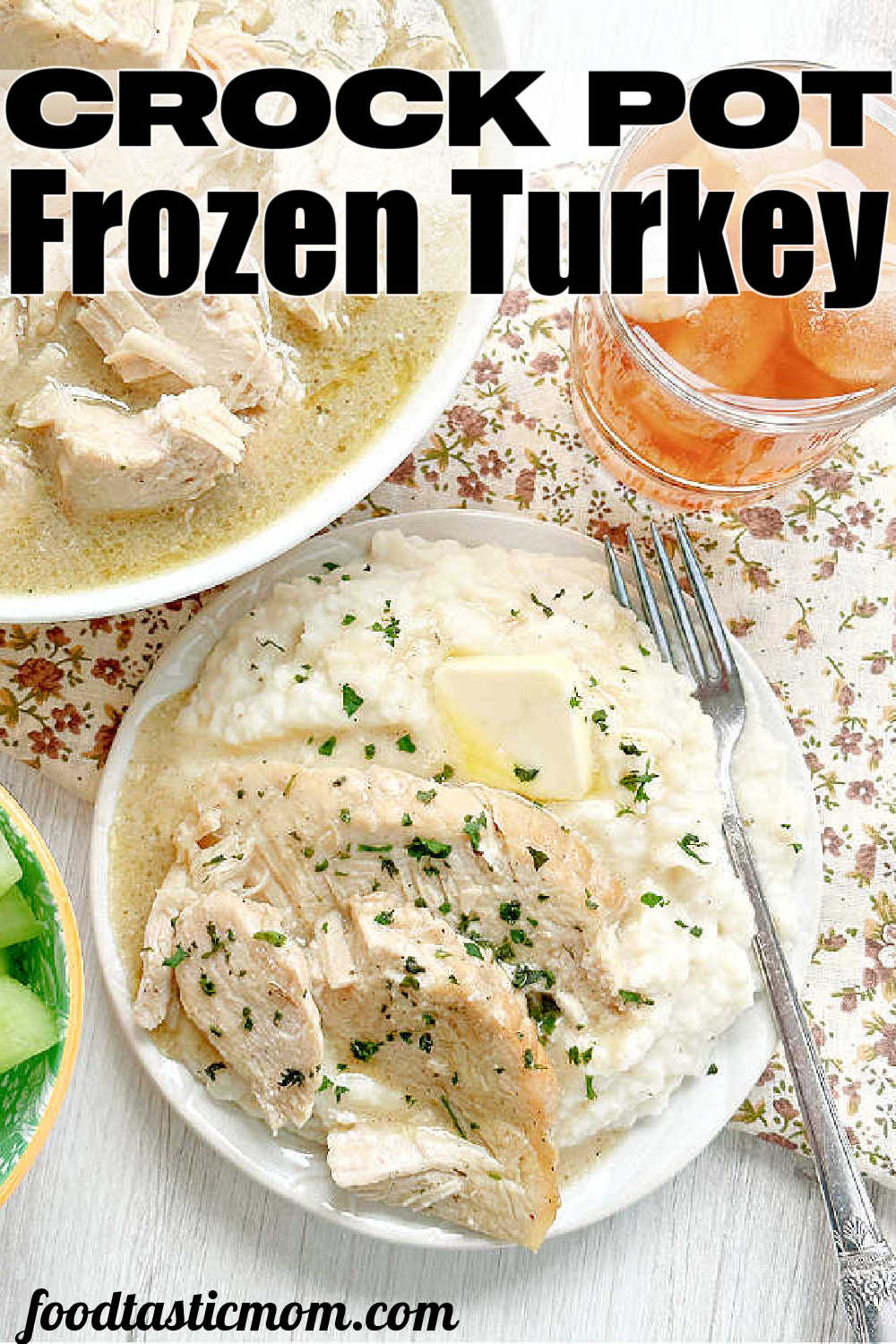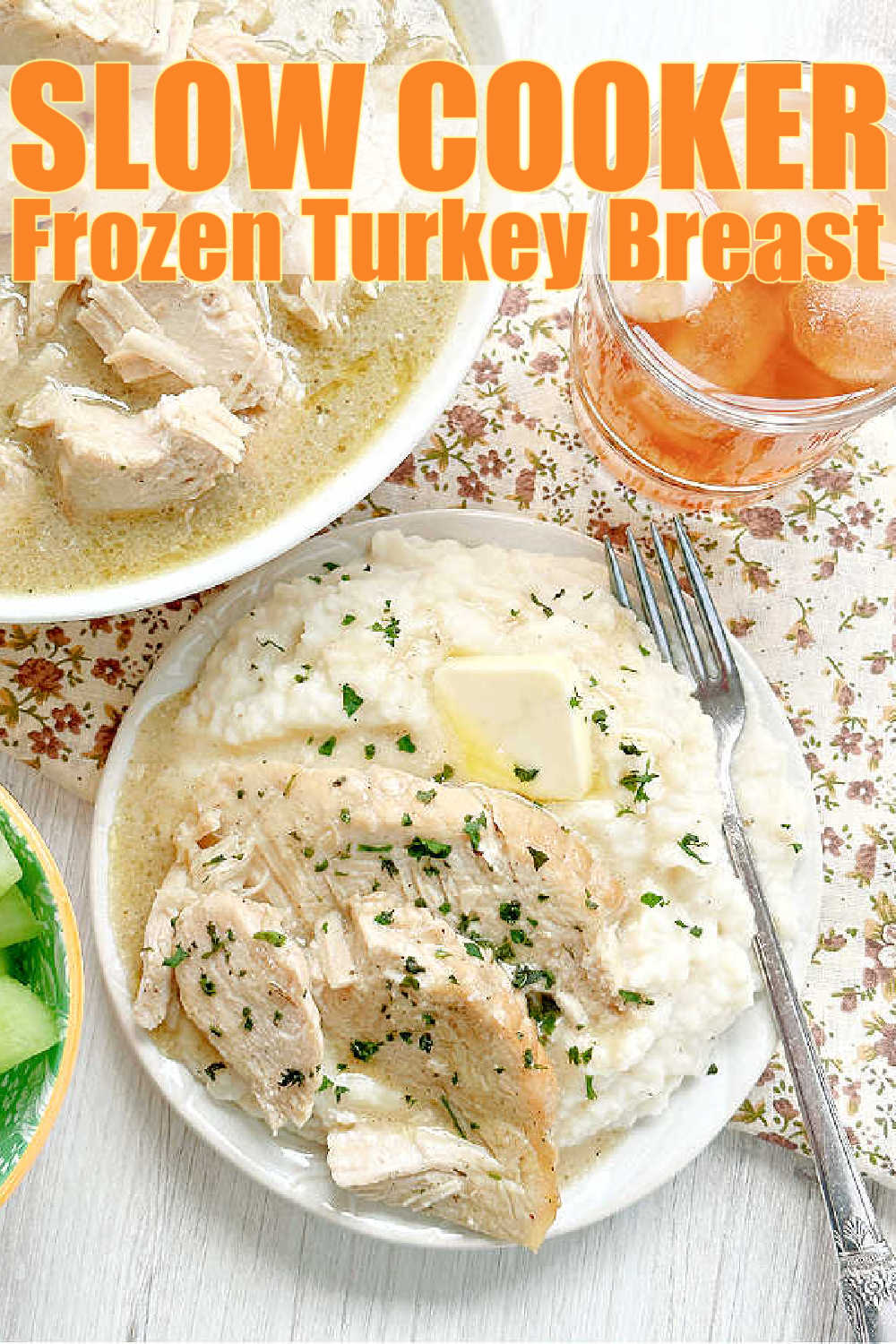 Learn how to cook a turkey breast from frozen in your Crock Pot, complete with delicious gravy made with my microwave roux.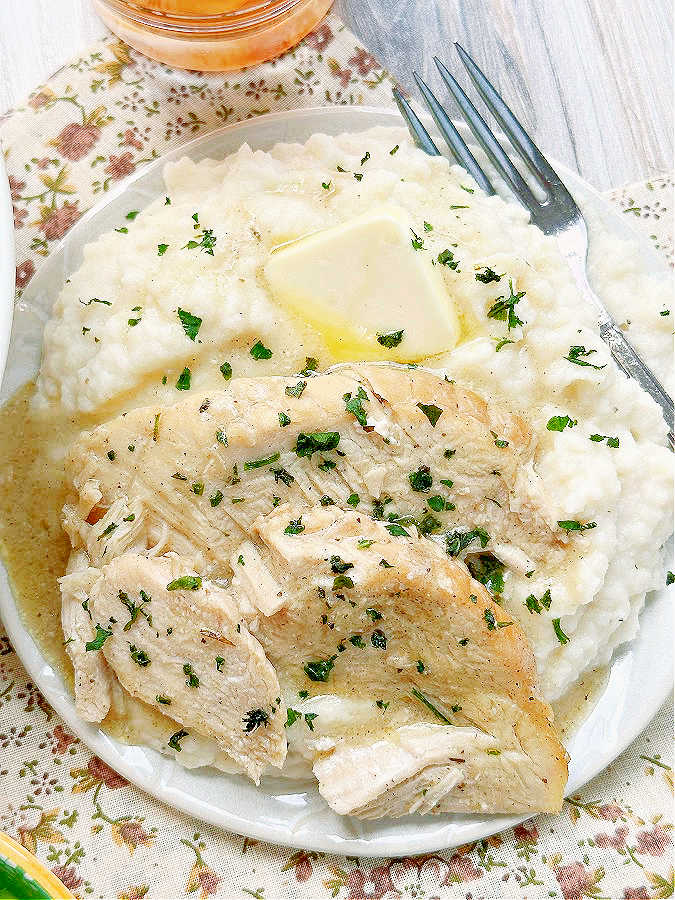 My recipe tutorial for 'How to Make Frozen Chicken in the Crock Pot' is very popular. So I figured my readers would like to know how to cook a frozen turkey breast. It's really quite simple and you even get gravy to go with your turkey!
There's lots of reasons for this recipe. Maybe you forgot to thaw your turkey breast. Maybe you want to make a smaller, centerpiece roasted whole Thanksgiving turkey in the oven for that "wow" factor on Thanksgiving Day. But you always need more breast meat. Or maybe you have a small family (like me) and one turkey breast is more than enough to feed your people. Or also like me, maybe you are craving some roasted turkey, gravy and mashed potatoes and it's not Thanksgiving. Whatever your reason, this recipe is for you.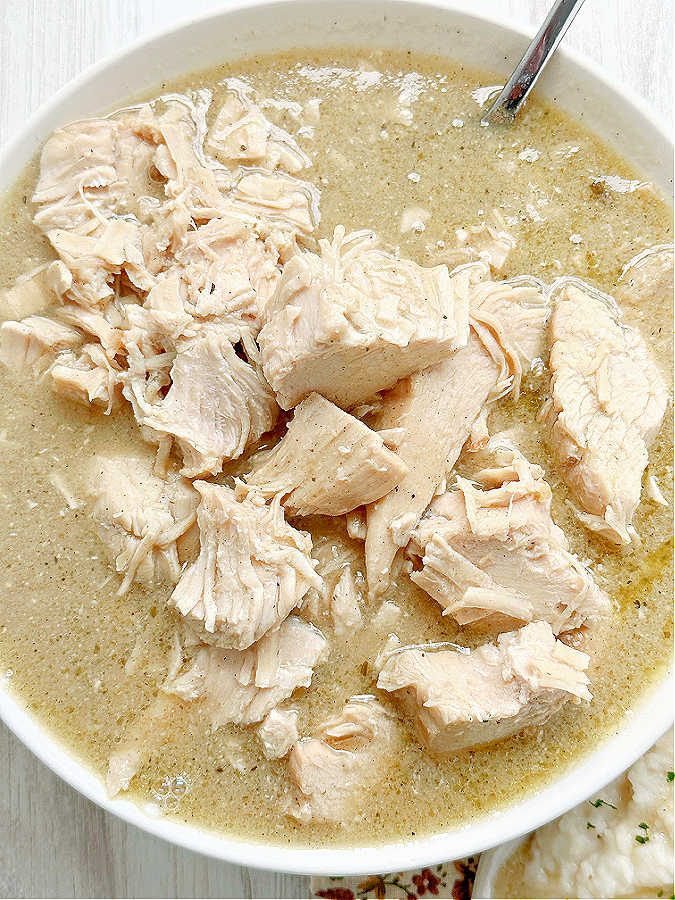 Why this recipe works
The consistent, low and slow heat of the slow cooker defrosts and cooks the turkey breast in one step. You do still have to plan ahead. The Crock-Pot still needs about 8 hours to work it's magic. But once everything is in the pot, you can forget it!
The best part is the finished turkey has gravy to go with it. My microwave roux is the secret to making delicious gravy and sauces in your slow cooker. Microwaving butter and flour together is practically like magic. Just a few minutes is all it takes and you'll end up with perfectly cooked and tender turkey breast swimming in a sea of delicious turkey gravy.

Ingredients for crock pot turkey breast
Boneless Turkey Breast – some of these come packaged with a gravy packet. You can discard this because we are making our own gravy. This is not a sponsored post but as you can see, I used a Butterball Turkey Breast Roast (48 oz pkg, 3 lb turkey) because that is what I found at my local grocery. It was delicious!
Butter – turkey breast is a lean meat and fat adds flavor. Plus the butter helps to thicken the gravy as the turkey cooks.
Flour – Combined with the melted butter and microwaved, it makes the roux which thickens the gravy.
Turkey Broth – if you can't find turkey broth you can substitute chicken broth instead. Canned broth combines with the cooked turkey's own natural juices to help create this gravy.
White Wine – use a dry white wine, like a Sauvignon Blanc or Pinot Grigio.
Herbs de Provence – I like the convenience of using dried herbs, but you can use your own blend of fresh herbs like sage, rosemary and thyme if you prefer.
Poultry Seasoning – helps to add more flavor to the gravy.
Salt and Pepper – beyond these seasonings, feel free to experiment and honor your own tastebuds. You could also use garlic powder, paprika, or onion powder to season the gravy if you want to.
Parsley – I like to sprinkle fresh parsley on my plates for a pop of color to make it more visually appealing.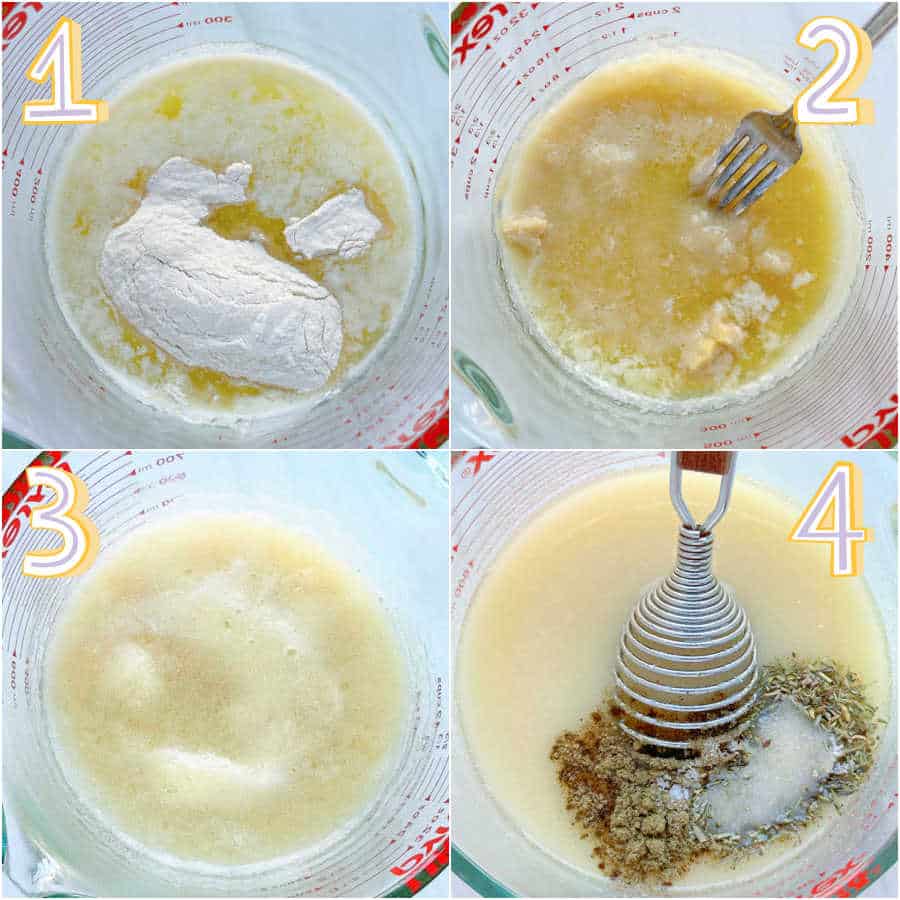 Slow cooker turkey breast recipe
Place the frozen turkey breast in the slow cooker insert.
You'll remove the twine after it's cooked.
Whisk together melted butter and flour, microwave for one minute.
Whisk in wine and microwave again for a minute more.
Whisk in the broth and seasonings.
Pour over the turkey breast.
Cook on low power for 8 hours or until the thickest part of breast reaches a minimum of 165 degrees F when checked with a digital meat thermometer.
Remove the turkey and cut away the string/twine.
Strain the gravy and return it the the slow cooker.
Slice and return the turkey slices to the slow cooker.
Continue to cook on low power until warmed through and ready to serve.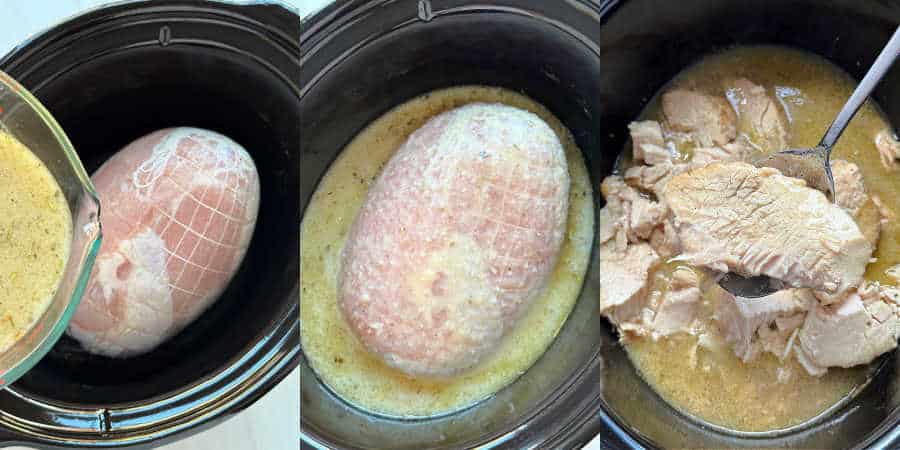 Pro Tips
The turkey breast will likely have some visible fat. I use kitchen shears to trim this away and discard before serving.
The white string wrapping is easily cut away from the turkey after it is cooked, but not before.
If you like your gravy thicker, simply add two more tablespoons each of butter and flour at the beginning of the recipe.
You can make this recipe with a thawed turkey breast as well. It should be ready in about 6 hours instead of 8 hours.
When starting with frozen meat, I prefer to cook on low power and not rush the process. I have not tested this recipe by cooking the turkey on high power.
Suggested Side Dishes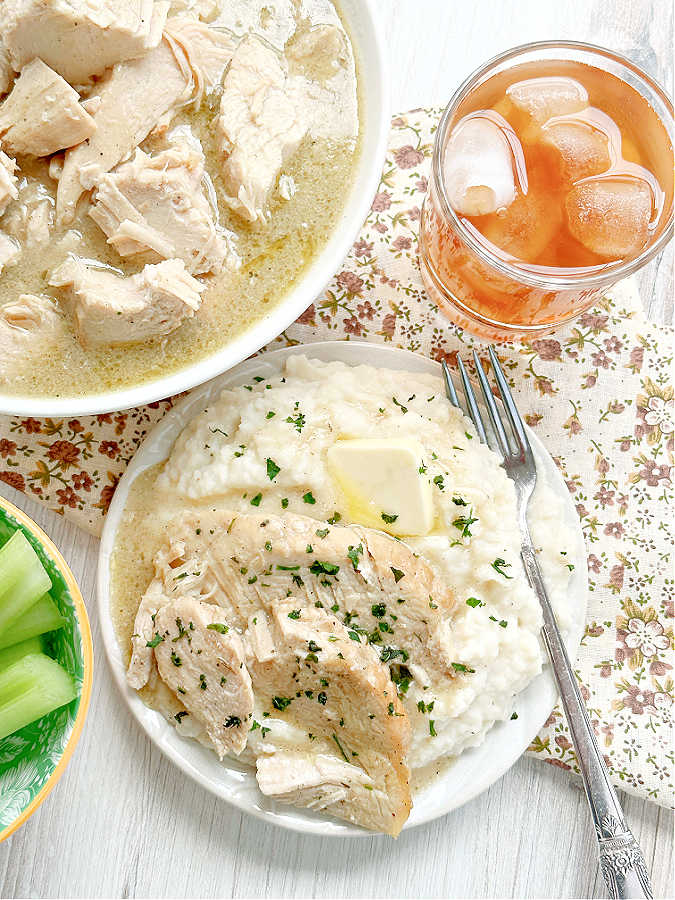 Storage Directions
Store any leftover cooked turkey breast combined with the gravy in an airtight container. It will keep for up to one week in your refrigerator. And for up to one month in your freezer. I suggest making a Turkey Hot Shot sandwich with your leftover turkey breast!
Kitchen Tools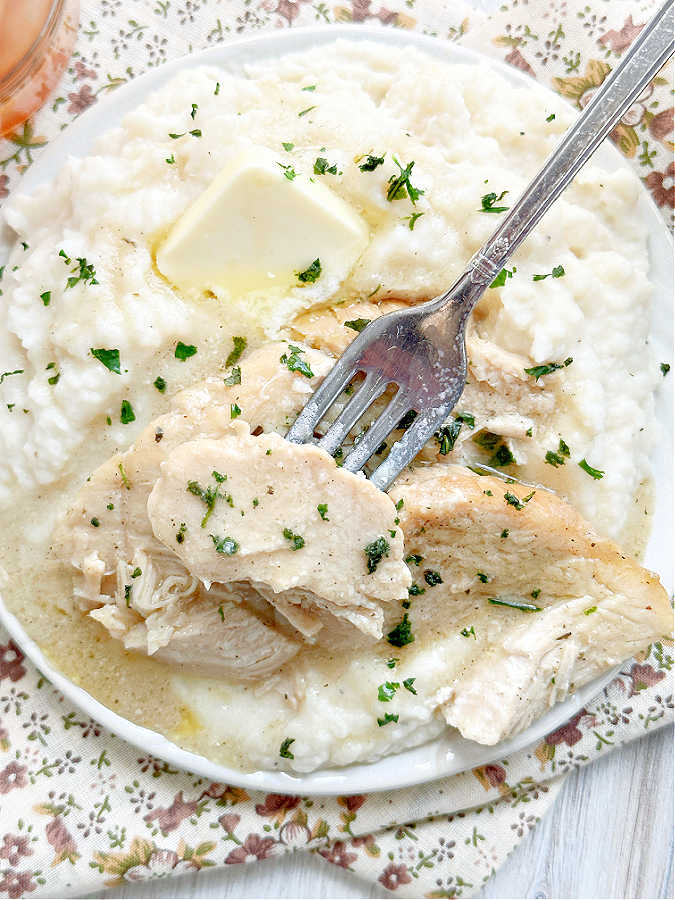 More Crock Pot Recipes
Crock Pot Frozen Turkey Breast
Ingredients
3

lb

frozen boneless turkey breast

4

tbsp

butter

4

tbsp

all-purpose flour

1/2

cup

dry white wine

1 1/4

cup

turkey broth

or chicken broth

1 1/2

tsp

salt

1

tsp

poultry seasoning

1

tsp

Herbs de Provence

1/2

tsp

black pepper
Instructions
Remove the outer plastic wrapping and discard. Throw away the gravy packet.

Place the frozen turkey breast into the insert of your Crock-Pot. There will likely be a twine wrapping around the breast to hold it together. You will cut this away after it is cooked.

In a microwave-safe, 2-cup capacity measuring cup, (or a microwavable small bowl) melt the butter.

Add the flour and microwave for one minute. Whisk.

Whisk in the wine. Microwave for one additional minute. The mixture will bubble up and thicken.

Whisk in the turkey broth and seasonings. Pour the gravy over the turkey breast.

Cover with the lid and cook on LOW power for 8 hours.

Check the the center of the turkey breast with an instant read digital meat thermometer. It needs to be a minimum of 165 degrees F to be safe to eat!

Carefully remove the turkey breast to a cutting board. Use kitchen shears to gently cut away the twine. And also, remove and discard any visible fat.

Strain the gravy and discard any fat that might be floating in it.

Return the gravy to the slow cooker insert. Slice the juicy turkey breast and return it to the gravy.

Continue to cook on low until the turkey and gravy are heated through and you are ready to eat.
Nutrition
Serving:
4
0z
|
Calories:
150
kcal
|
Protein:
20
g
|
Fat:
7
g
|
Saturated Fat:
2
g
|
Cholesterol:
60
mg
Foodtastic Mom is a participant in the Amazon Services LLC Associates Program (Amazon Associate), an affiliate advertising program designed to provide a means for sites to earn advertising fees by advertising and linking to Amazon.com. Any highlighted, clickable Amazon link you see is an affiliate link that I may earn advertising fees on when you click to purchase.
Thank you so much for being a faithful reader and supporter of Foodtastic Mom. Be sure to PIN to Pinterest and print this recipe!