Tuck into a slow cooker turkey hot shot this fall for the ultimate comfort food experience.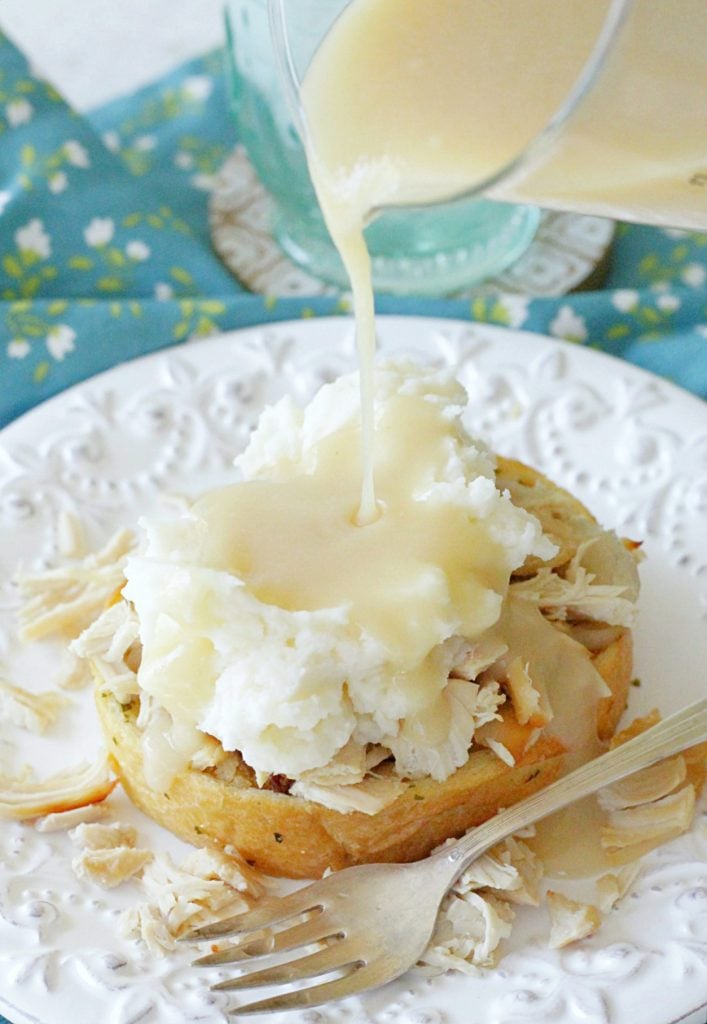 I don't ever really put my slow cooker away but I am ALL about it in the fall and winter. Inevitably toward the end of September in Ohio we get another heat wave but even that doesn't deter me. And I was craving a turkey dinner recently.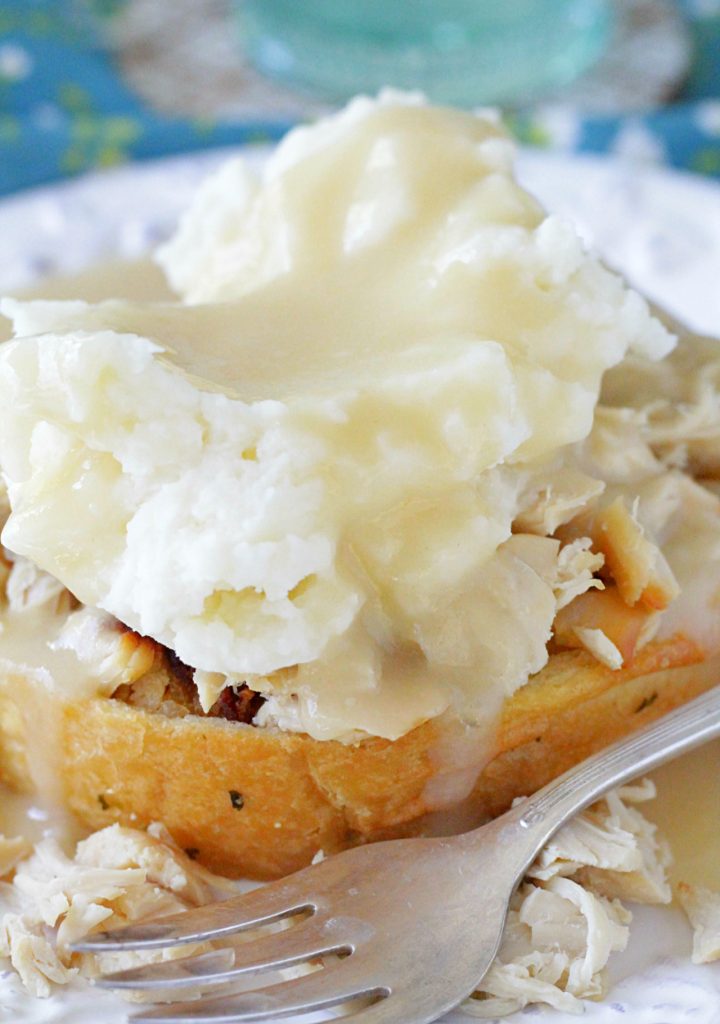 So I went to the store to see if turkey was even available yet and found a nice package of two organic (and not frozen) turkey tenderloins. I was even able to find turkey broth! I layered a sliced onion, some fresh thyme and a quarter of lemon in the bottom of my slow cooker and topped it with the turkey tenderloins and turkey broth, then seasoned it with salt. So simple!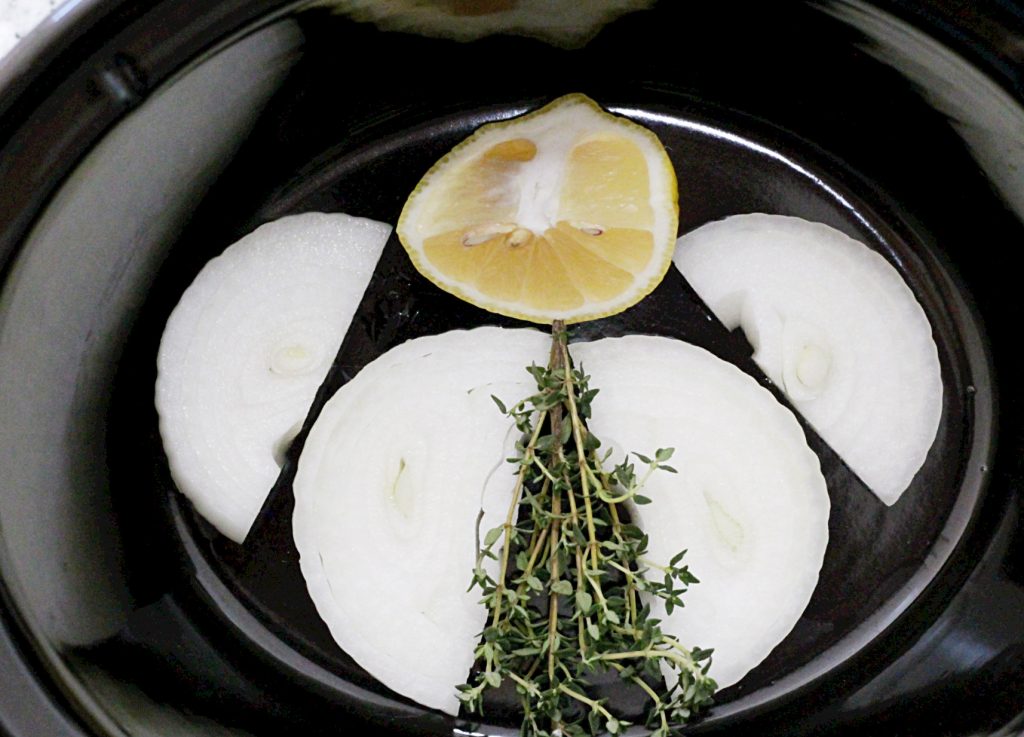 Once the turkey was cooked I used that same broth for my gravy. I decided thick slices of garlic bread from the freezer section would be a flavorful base for my hot shots. I topped the crusty garlic bread with homemade mashed potatoes, the slow cooked turkey and gravy. We all dove in for dinner and I can't remember the last time I have ever been so deeply satisfied by a meal. I was really craving comfort and carbs and this turkey hot shot just totally hit the spot.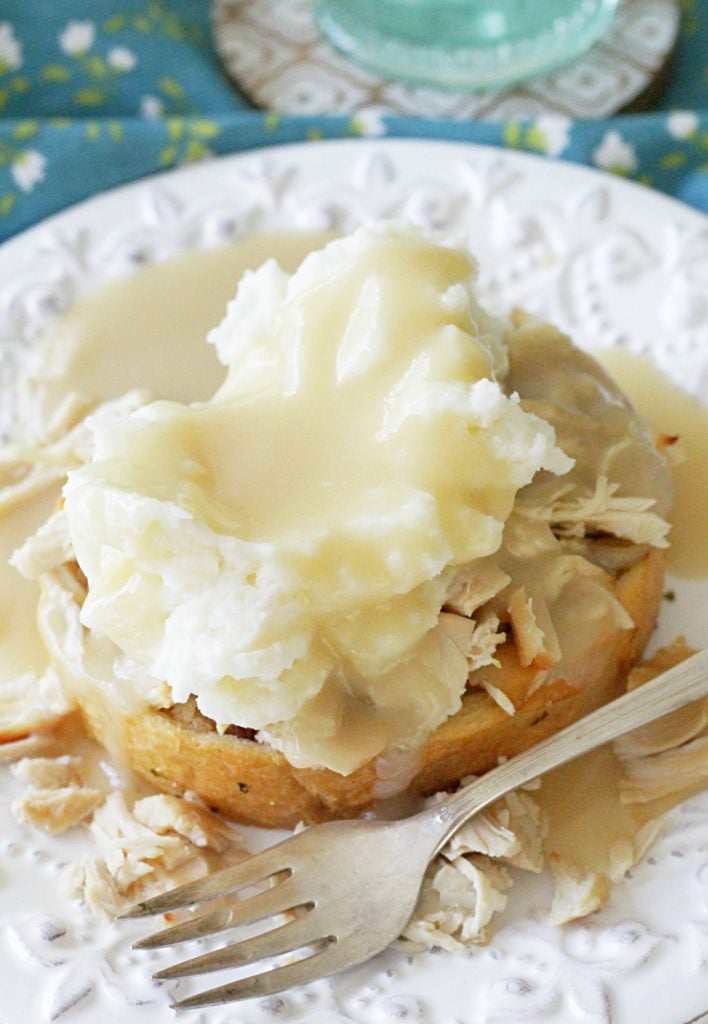 I've been developing a wide-ranging collection of my own slow cooker recipes over these past five years that I've been blogging – and those recipes often appear over at www.allfreeslowcookerrecipes.com If you are into slow cooker recipes (like me) you need to check out their website – I have found it to be the most comprehensive collection of slow cooker recipes on the web.

Slow Cooker Turkey Hot Shot
Total Time
6
hours
10
minutes
Ingredients
2

lbs

boneless, skinless turkey tenderloins

1

sweet

onion

1/4

fresh

lemon

1

sprig

fresh thyme

1

can (26 oz)

turkey broth

or sub chicken broth

4

tbs

unsalted butter

1/4

cup

all-purpose flour

salt

garlic bread or thick Texas-style toast

mashed potatoes
Instructions
Peel and slice the onion. Place the onion slices, 1/4 lemon and thyme in the bottom of a 6-quart slow cooker.

Place the turkey tenderloins on top of the onion, lemon and thyme. Top with the canned turkey broth (or chicken broth if you can't find turkey broth). Season with about 1/2 teaspoon of salt.

Cook the turkey on HIGH for 4 - 5 hours or on LOW for 6 - 7 hours.

Remove the turkey and slice. Drain the broth to remove the onion, lemon and thyme.

Place the turkey back into the slow cooker set on warm. Cover with about 1/2 cup of the drained broth. Cover with lid of slow cooker until ready to serve.

Place a sauce pan on medium-high heat. Melt the butter in the pan and whisk in the flour until smooth. Cook for about one minute.

Slowly whisk in the remaining broth to the butter and flour mixture. Bring to a low boil then reduce heat to simmer. Cook, stirring often, until the gravy has thickened. Season the gravy to taste with salt.

For the hot shots - place garlic bread or Texas toast on a plate. Top with some of the sliced turkey. Top with mashed potatoes and gravy. Serve immediately.