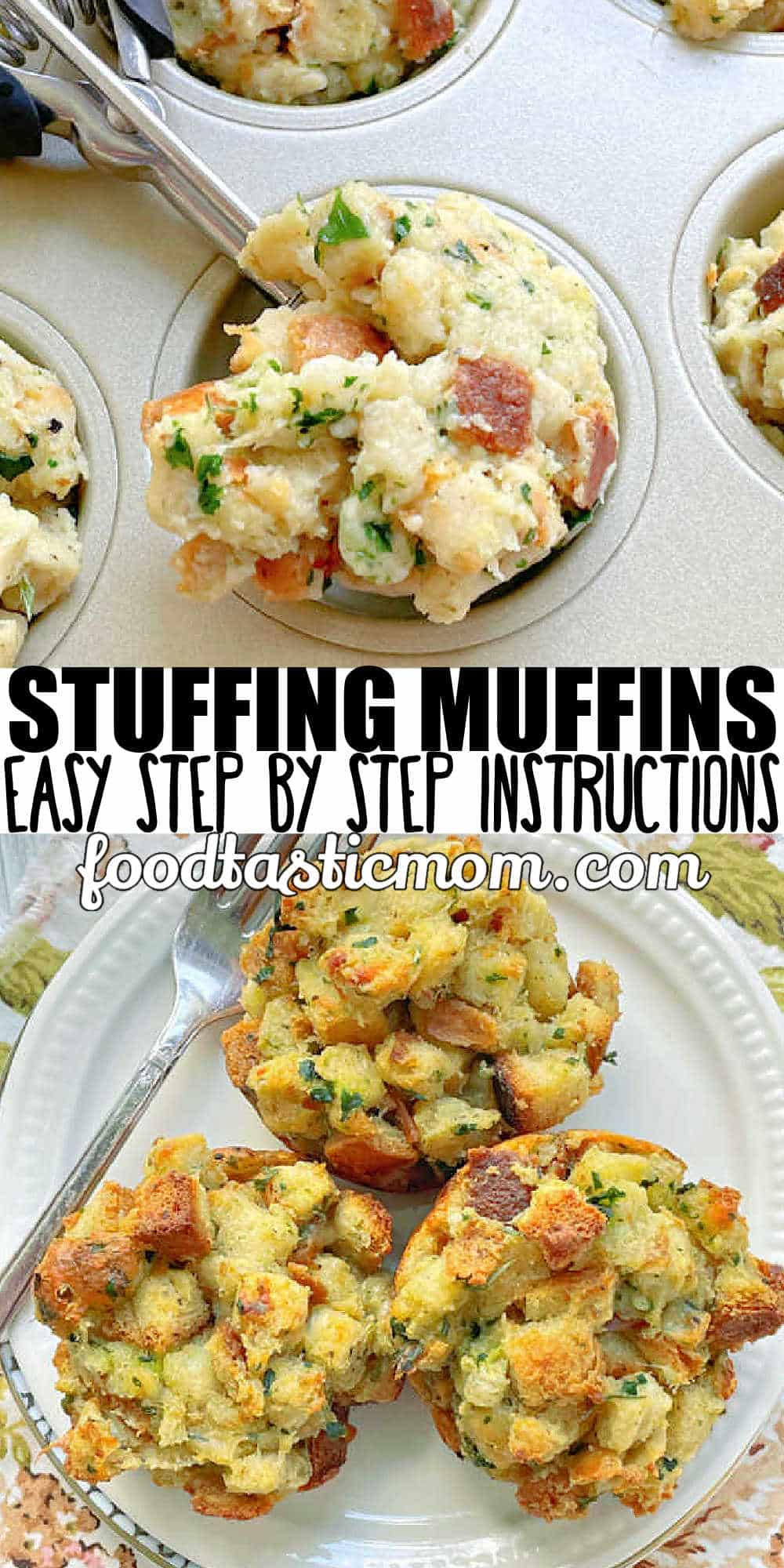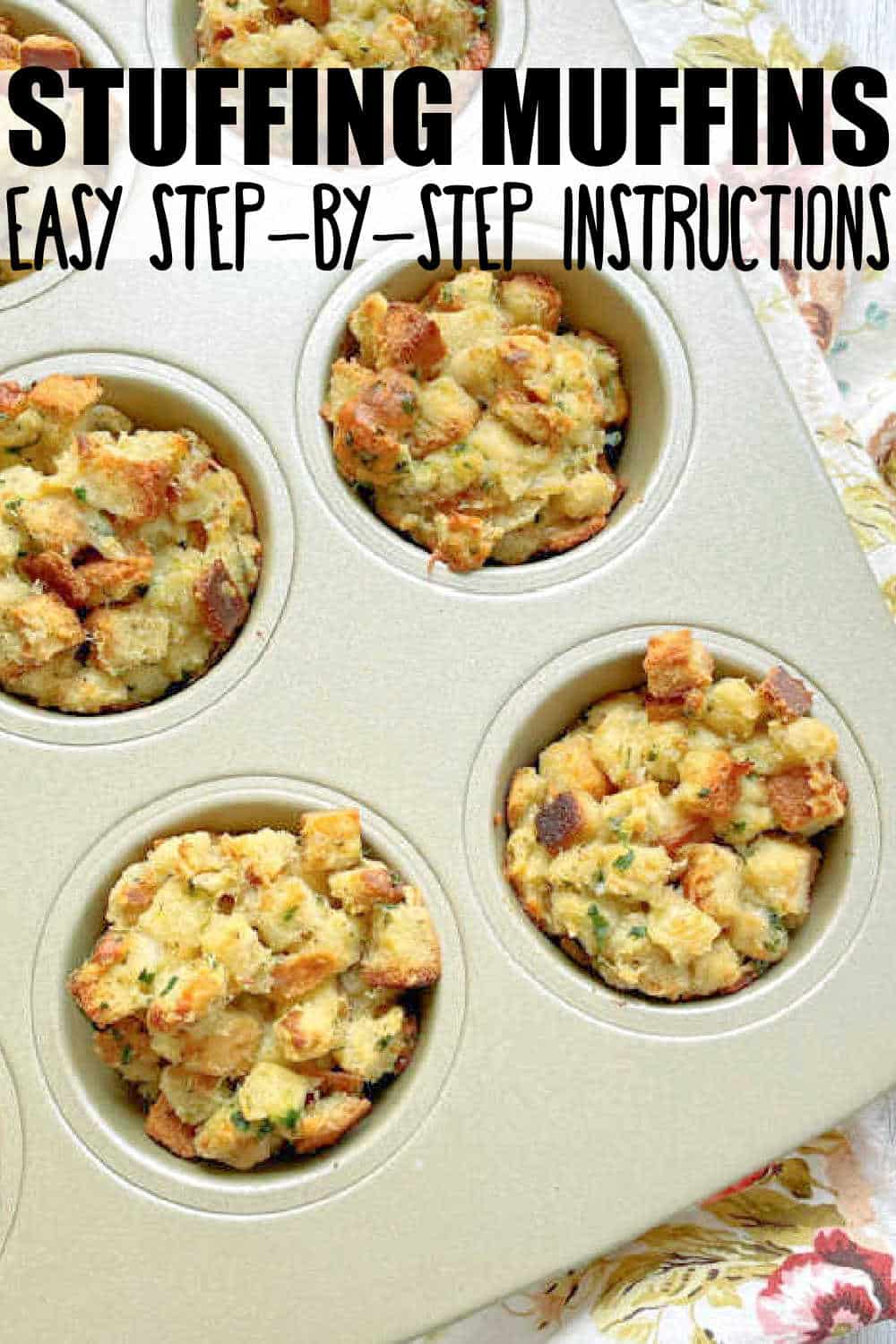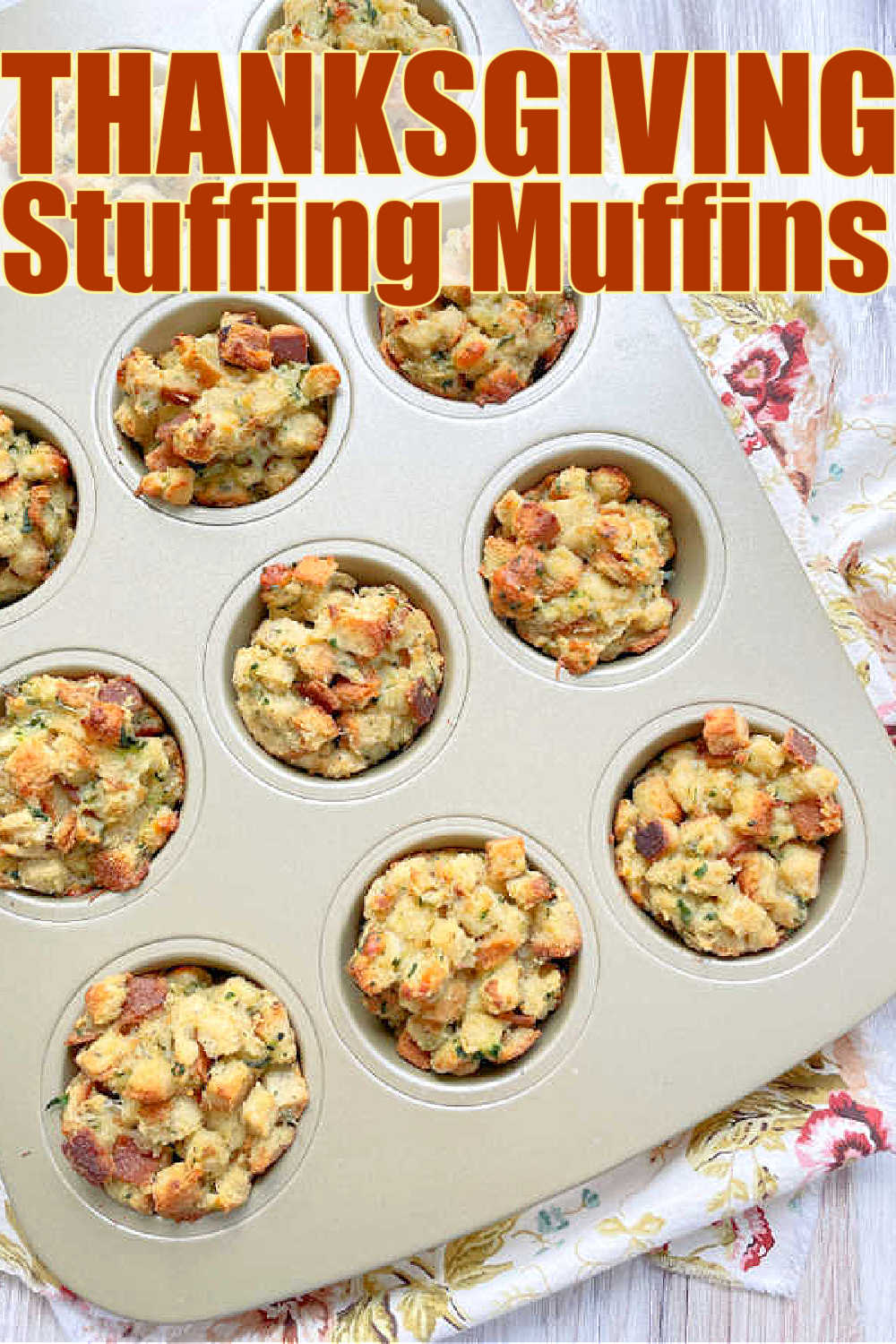 Stuffing muffins are the best way to enjoy Thanksgiving stuffing. Individual portions are simple to prepare and provide more surface area to get crispy.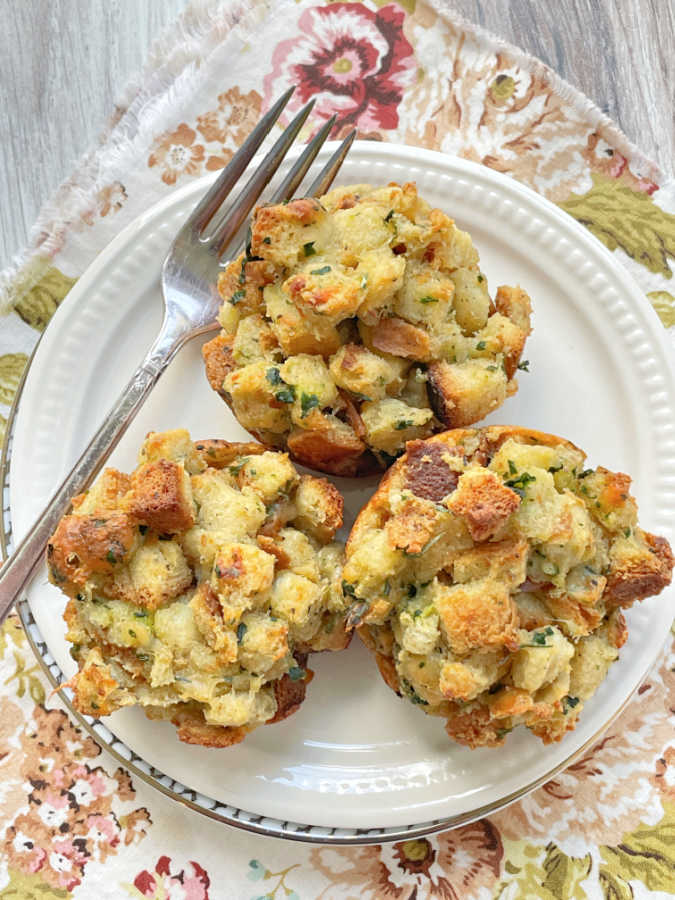 Over the years Thanksgiving has provided me time to experiment. Whether I am in charge of the whole meal or just a couple of sides, I have tried many variations on traditional stuffing. I have added sausage, candied bacon, dried fruit, nuts. But I always came back to my Mom's basic recipe. And then one year, I put that recipe into a muffin tin and I haven't looked back.
This recipe I am finally publishing is actually the most simple I have ever tried. I skipped chopping onion and celery. Instead the stuffing cubes are simply flavored with fresh parsley, lemon and Parmesan. Trust me, these flavors are a perfect pairing to the typical brown, homogenous Thanksgiving plate. And if I'm spending time making my Grandma's homemade rolls, I want the stuffing to be as quick and easy as possible. The turkey, mashed potatoes and stuffing are just a delivery vehicle for the gravy anyway.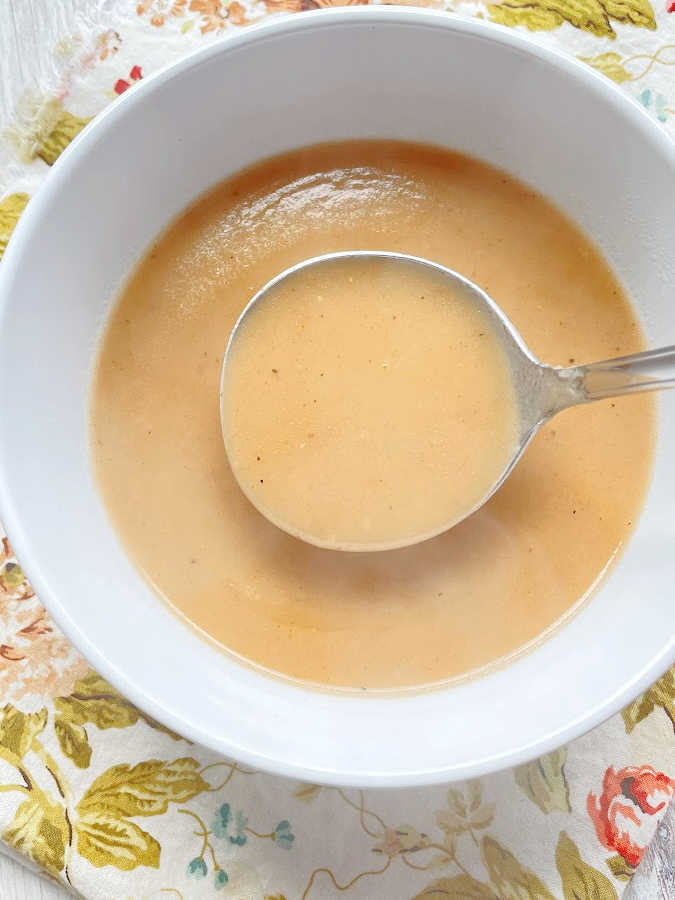 Get my recipe for making homemade gravy with either pan drippings or canned broth HERE.
Why make Stuffing Muffins?
My Aunt and I are big fans of Thanksgiving. And we agree on a couple of things. Gravy is its own side dish, not just a condiment. And the best part of the stuffing is the crispy edges. By baking the stuffing in individual muffin tins, you are increasing the surface area for each serving that is able to get good and crispy in the oven. It makes perfect sense. Plus they look cute on your plate. I would say something about portion control, but it's Thanksgiving and that doesn't apply for this meal.
Ingredients for Stuffing Muffins
Turkey or Chicken Broth
Butter
Fresh Parsley
Parmesan Cheese
Lemon Juice
Salt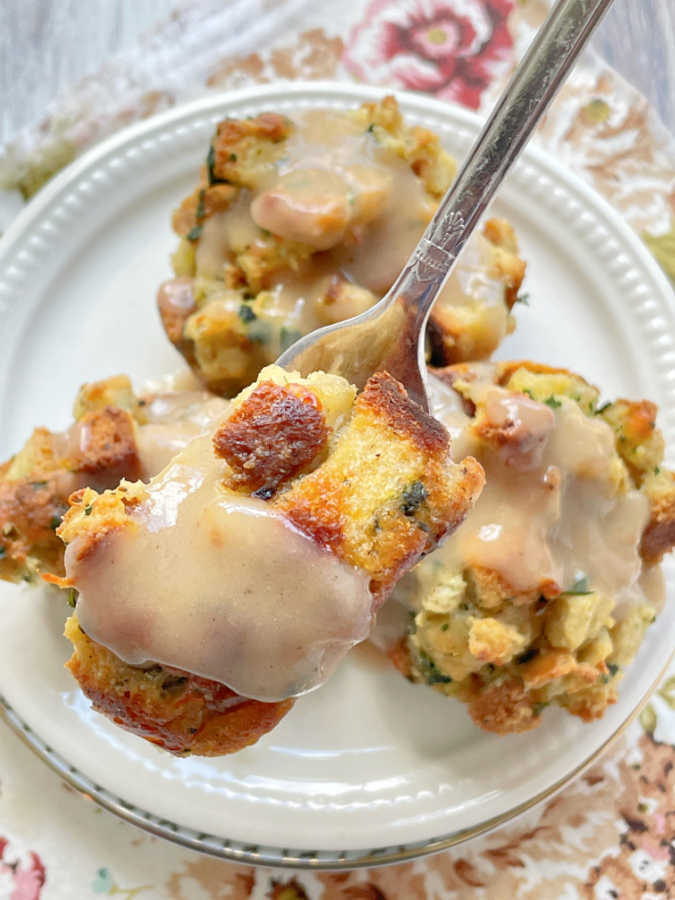 Kitchen Tips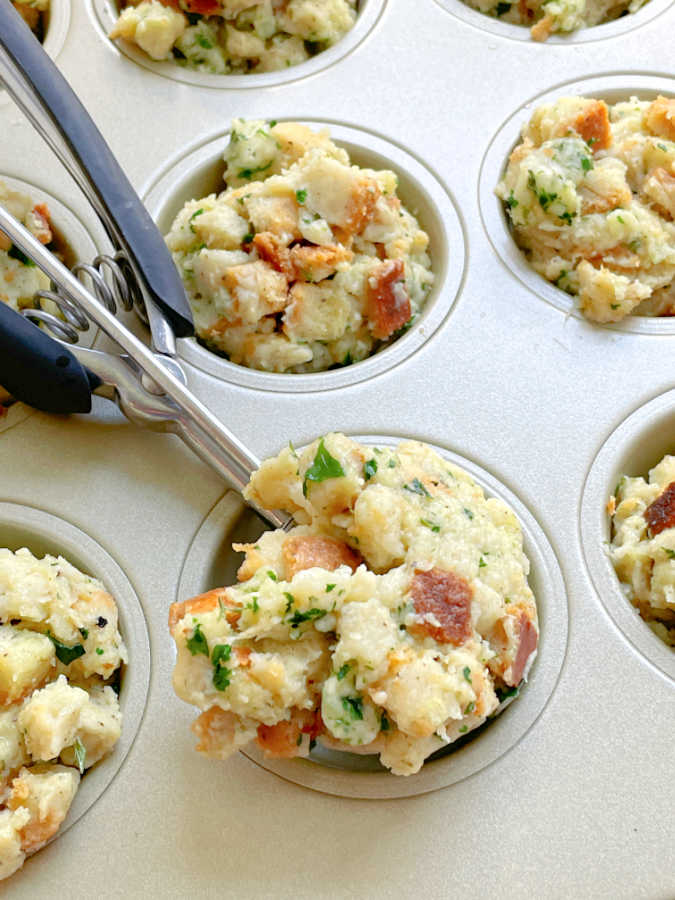 Foodtastic Mom is a participant in the Amazon Services LLC Associates Program, an affiliate advertising program designed to provide a means for sites to earn advertising fees by advertising and linking to Amazon.com. Any highlighted, clickable Amazon link you see is an affiliate link that I may earn advertising fees on.
Thank you so much for being a faithful reader and supporter of Foodtastic Mom. Be sure to PIN and print this recipe!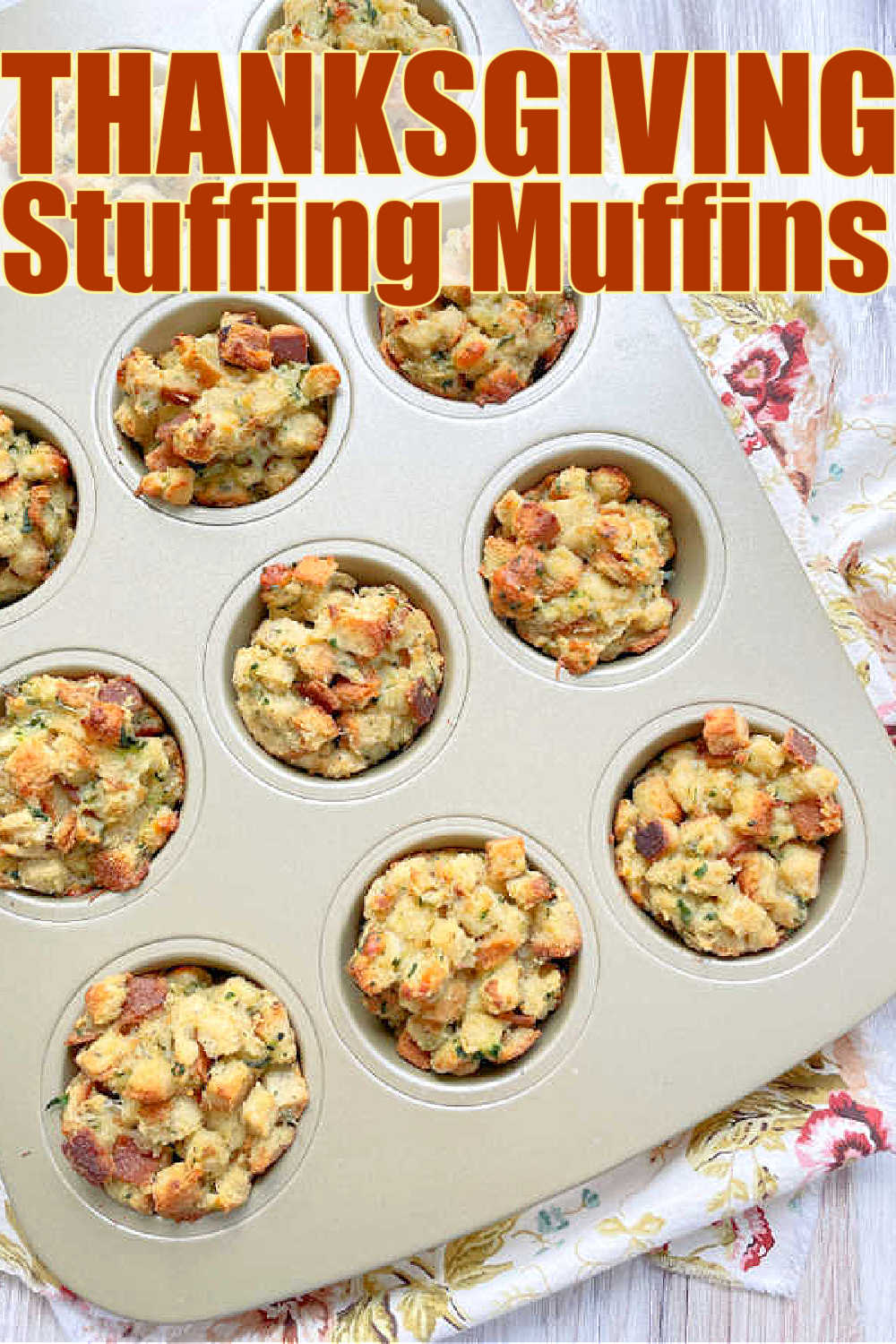 Stuffing Muffins
Stuffing muffins are the best way to enjoy Thanksgiving stuffing. Individual portions are simple to prepare and provide more surface area to get crispy.
Ingredients
12

oz

Pepperidge Farm Herb Seasoned Cubed Stuffing

2

cups

Turkey or Chicken Broth

4

tbsp

Butter

1/2

cup

Parmesan Cheese

2

tbsp

Fresh Parsley

finely chopped

2

tbsp

Lemon Juice

1/2

tsp

Salt
Instructions
Preheat the oven to 375 degrees F.

Toss the stuffing cube mixture together with the parsley, Parmesan cheese and salt in a large bowl.

Microwave the butter and broth together until the butter is melted. Stir the lemon juice into the broth mixture.

Pour the broth mixture over the stuffing mixture and stir until very well combined.

Use a large cookie scoop to transfer the stuffing mixture evenly into 12 muffin cups. There is no need to grease the muffin tin if it is non-stick.

Bake the stuffing muffins for 25 - 30 minutes, or until they are golden brown.
More Thanksgiving Sides