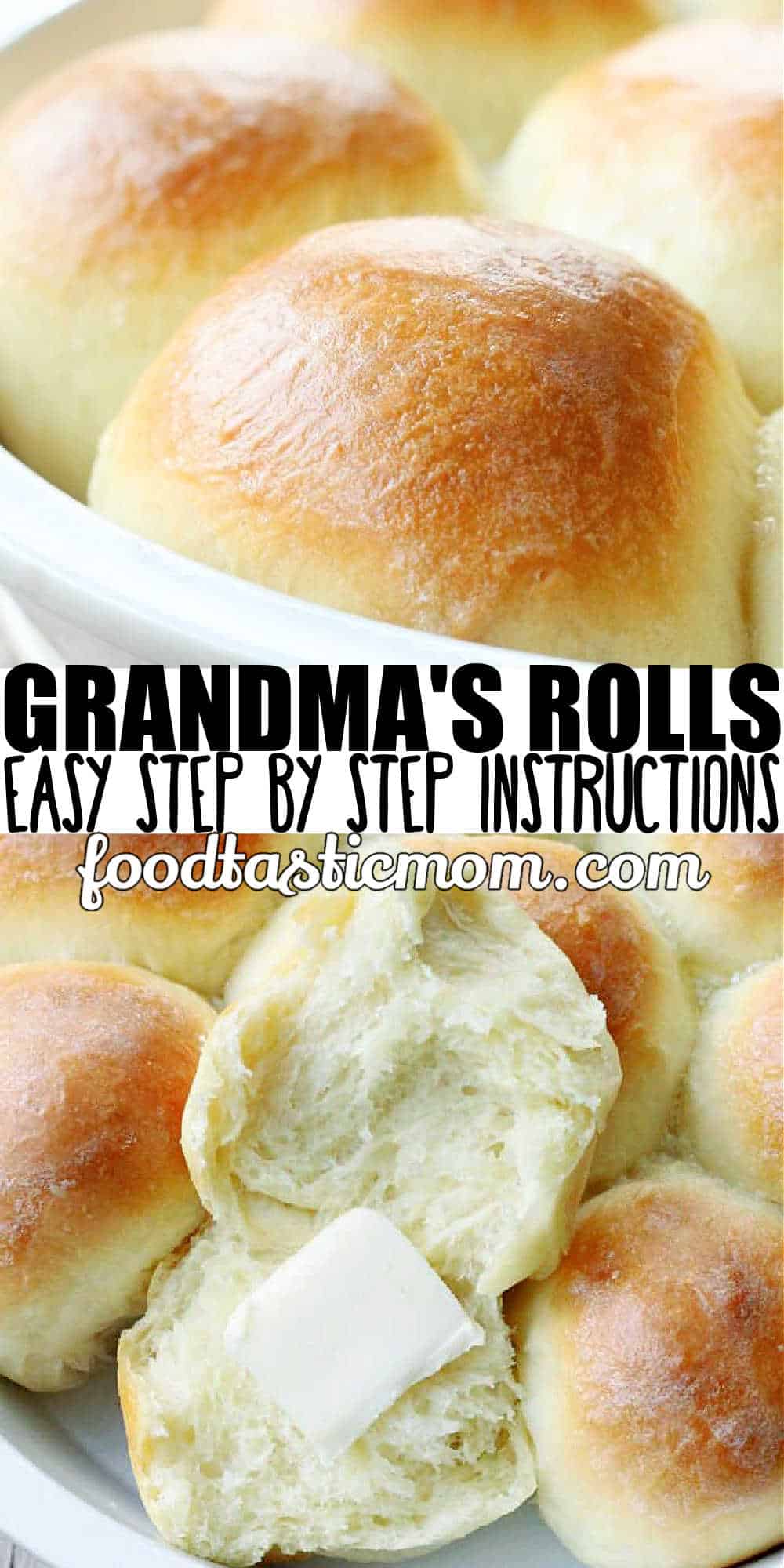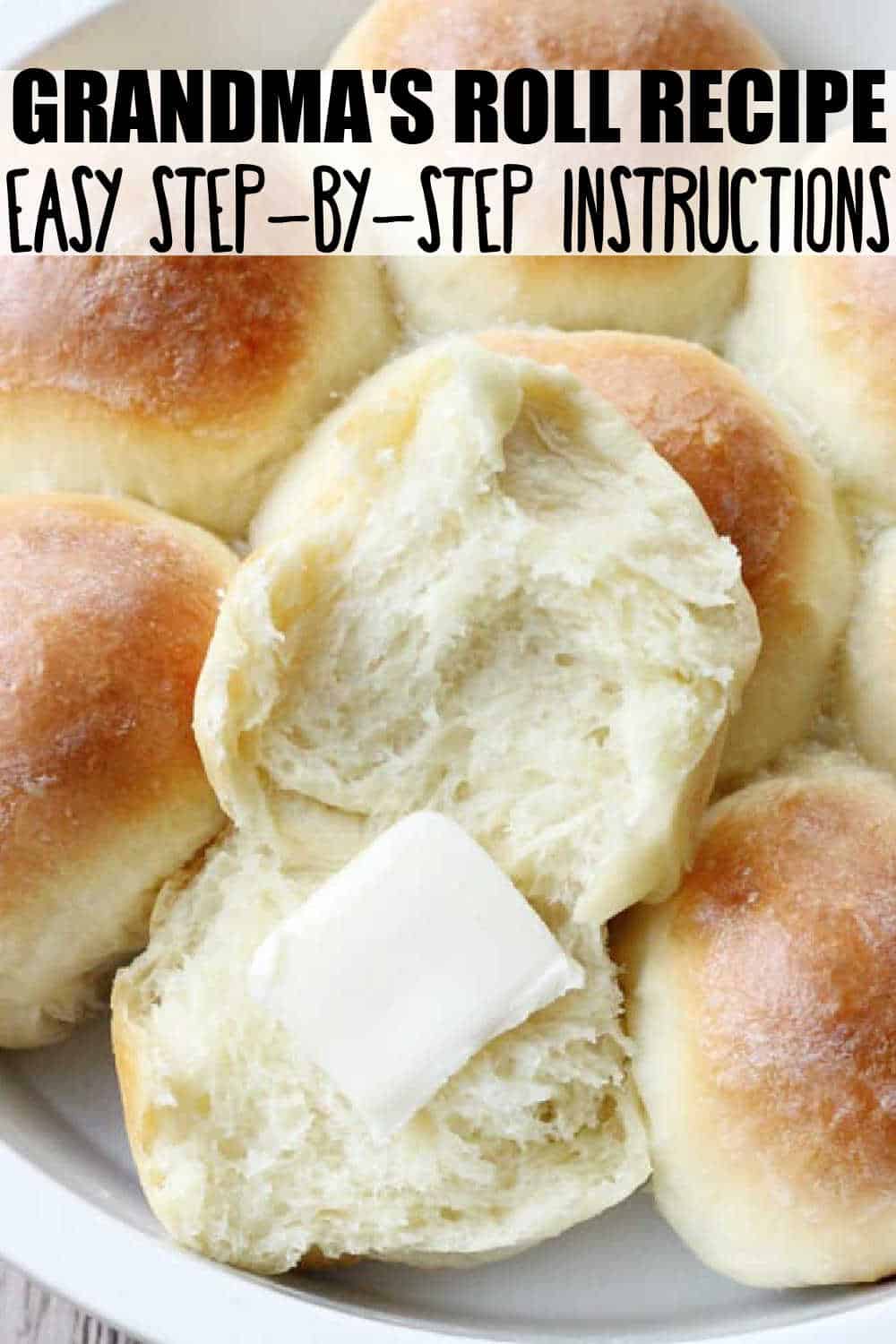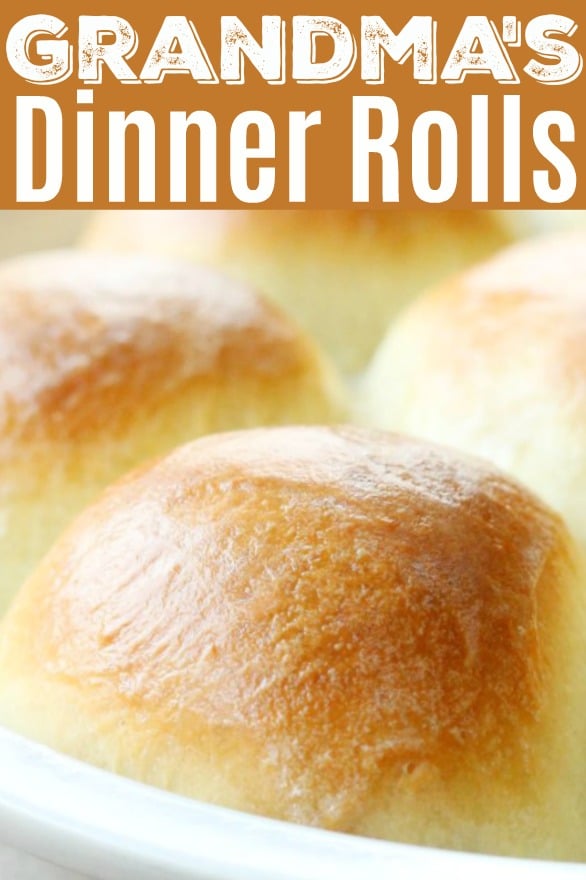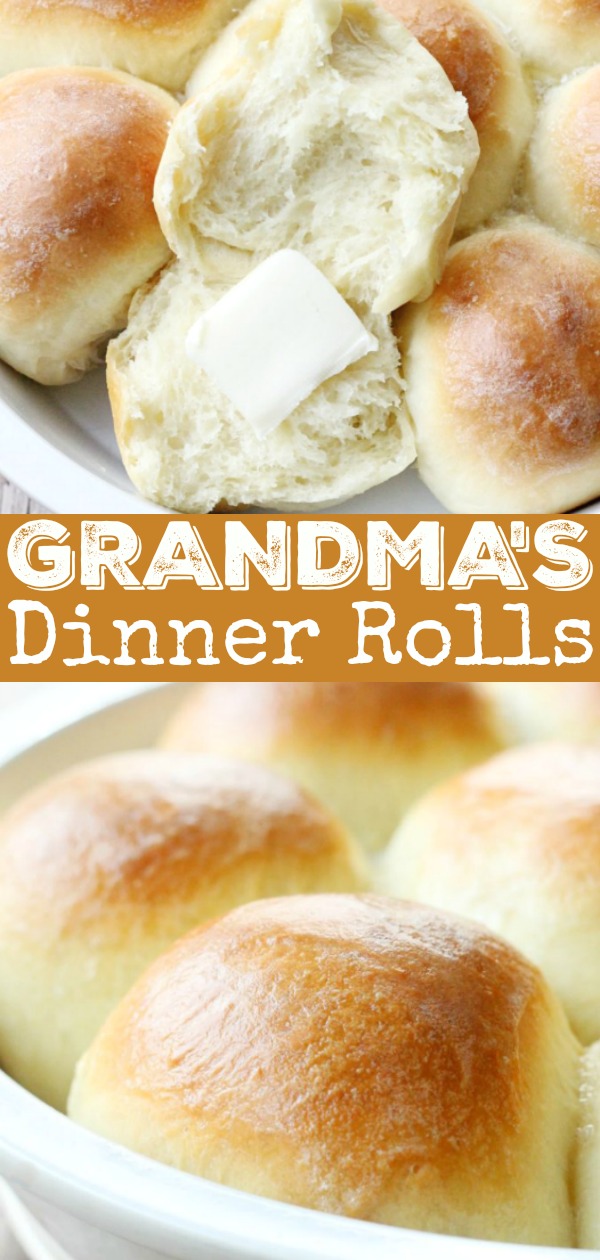 My Grandma's Dinner Rolls Recipe is practically fool-proof. It is the perfect dinner roll recipe for all your holiday meals.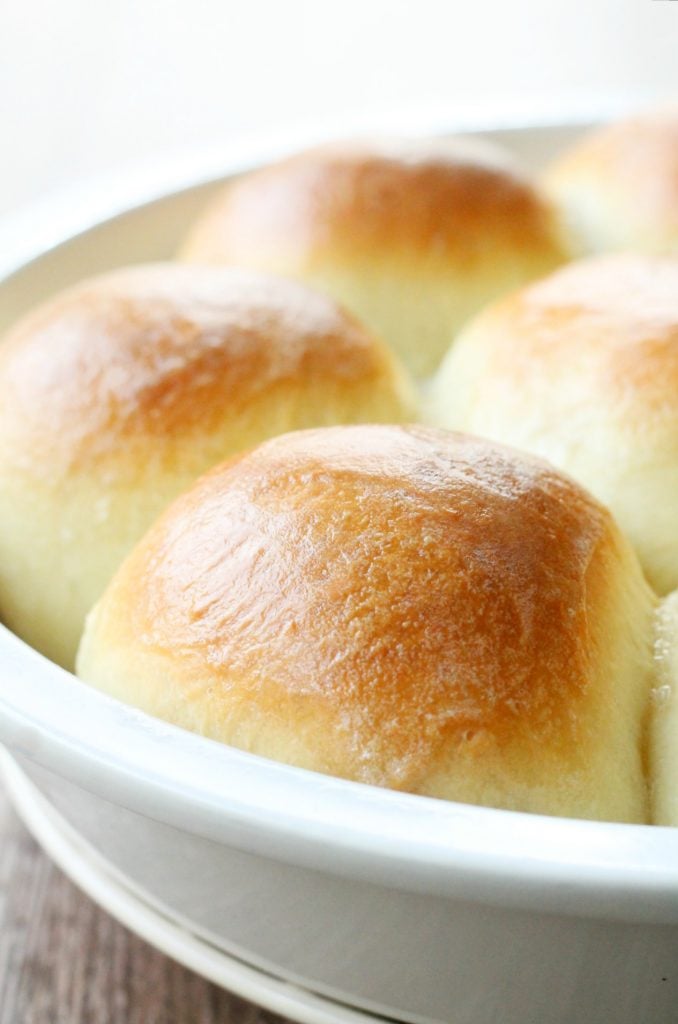 I call these Grandma's Dinner Rolls Recipe because I follow my own Grandma's handwritten recipe card to make them. In researching the ingredients, it seems like it was a popular recipe in the 1950's. But to me this recipe belongs to my Grandma, so I am giving credit to her.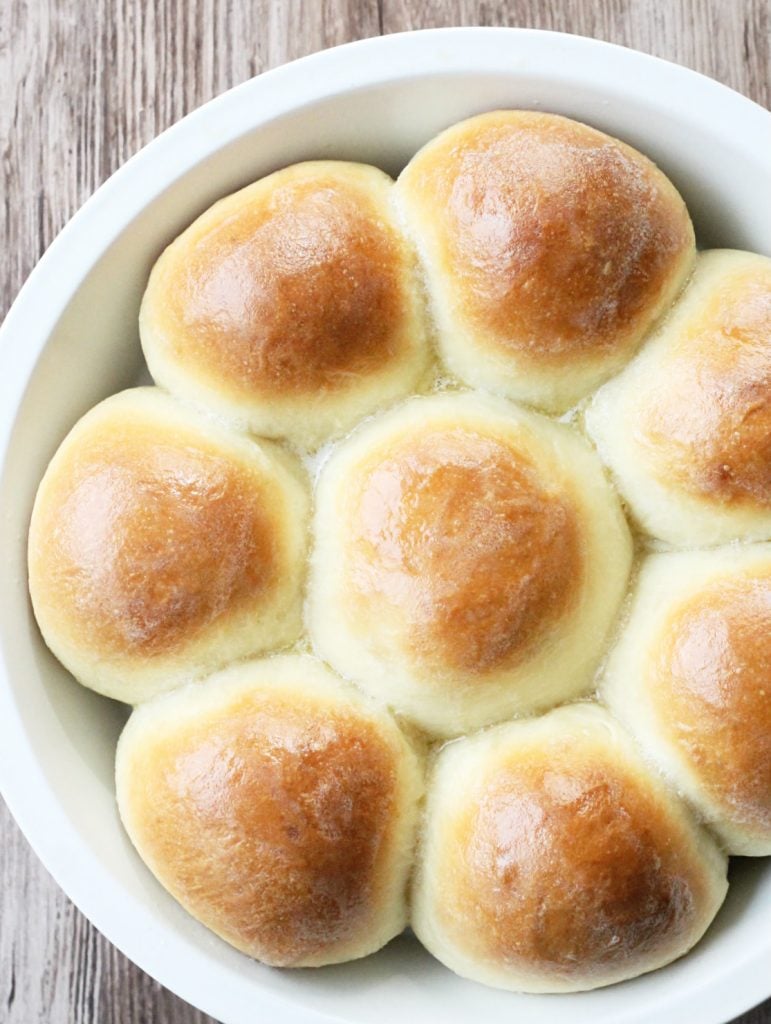 This dinner roll recipe calls for the simplest of ingredients: flour, yeast, sugar, salt, milk, eggs and butter. Using butter is a change I made, as the original did call for shortening, but I am not in the habit of using shortening. I also had to look up how to scald milk and found it can be done easily in the microwave. The reason behind scalding milk in baking is that the whey protein in milk can weaken gluten, causing the dough not to rise properly. Scalding deactivates the protein. (source: The Kitchn)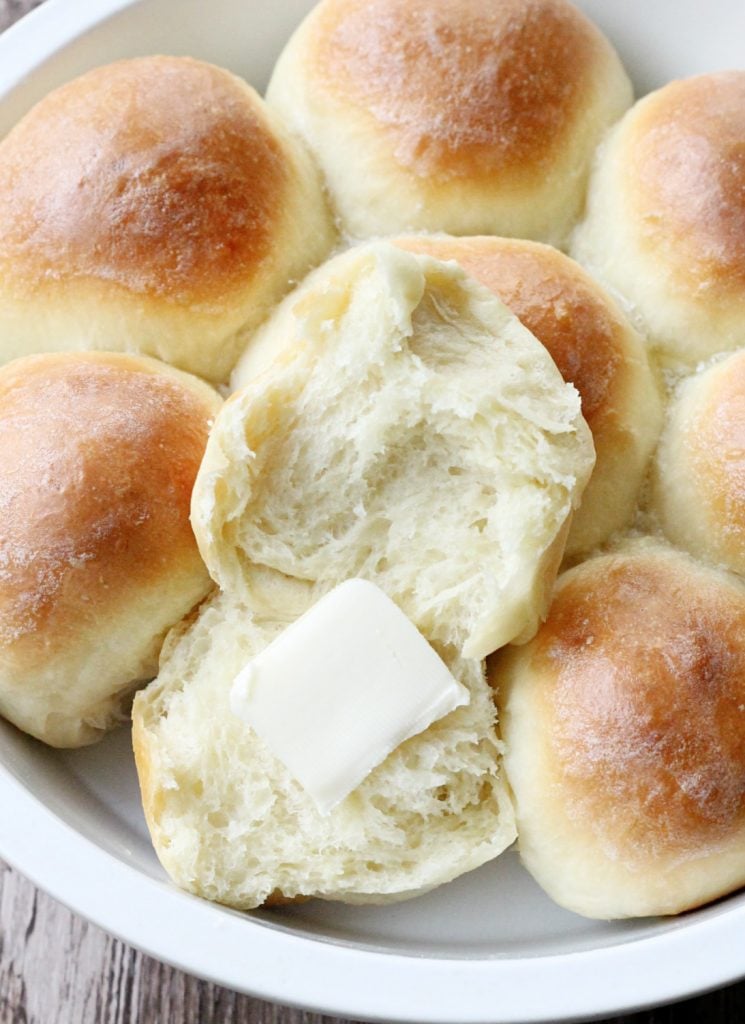 With the butter, egg and sugar in the dough I guess these rolls could be considered a type of brioche dough. They are absolutely delicious and I look forward to making them each holiday season starting at Thanksgiving. Attention novice bakers! This dough can be made in a stand mixer and it is very easy to shape into rolls. As long as they rise properly, they bake perfectly. My daughter has started helping me make them. I think it's cool to have her helping make her great Grandma's rolls.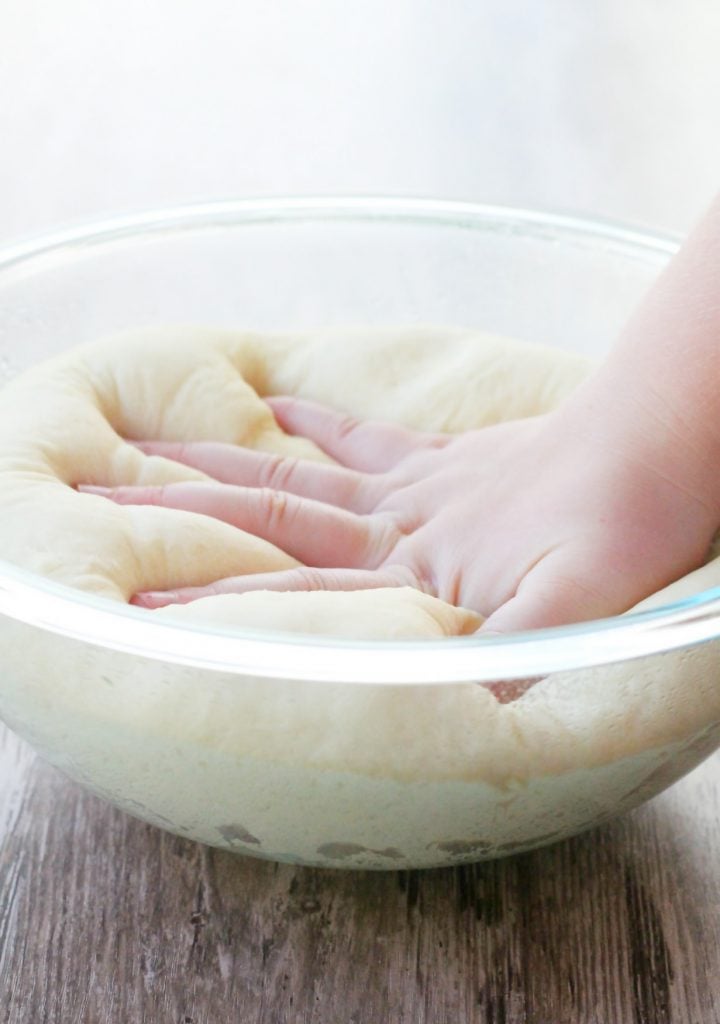 Tips for Grandma's Dinner Rolls Recipe:
You can make these rolls ahead of time. I published a separate recipe explaining the process of making and freezing the rolls HERE.
I use a digital thermometer like this one to make sure the scalded milk is the correct temperature (105 – 110 degrees F) before adding it to the yeast.
This dough browns quickly. It's best to bake these rolls with your oven rack set to the lower middle part of your oven.
Foodtastic Mom is a participant in the Amazon Services LLC Associates Program, an affiliate advertising program designed to provide a means for sites to earn advertising fees by advertising and linking to Amazon.com. Any highlighted, clickable Amazon link you see is an affiliate link that I may earn advertising fees on.
Thank you so much for being a faithful reader and supporter of Foodtastic Mom. Be sure to PIN and print this recipe!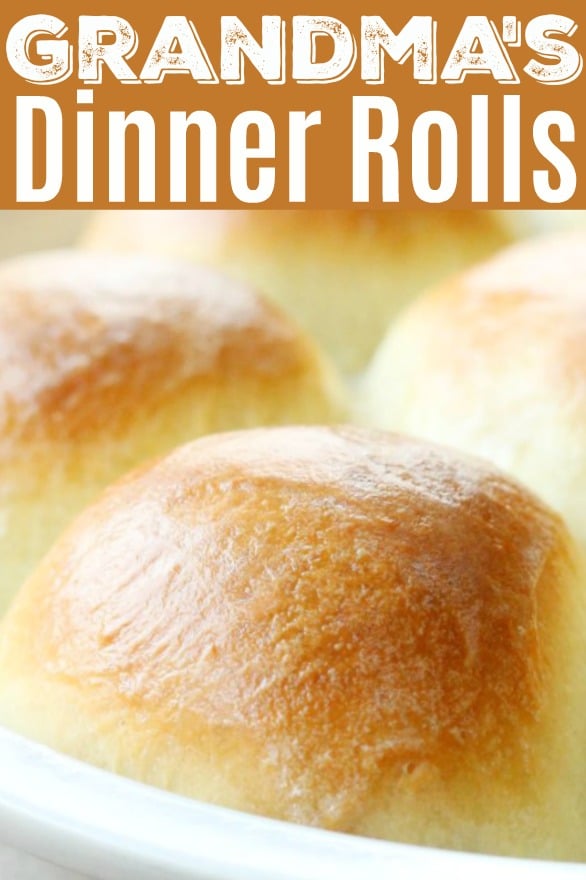 Grandma's Dinner Rolls Recipe
My Grandma's Dinner Rolls Recipe is practically fool-proof. It is the perfect dinner roll recipe for all your holiday meals.
Ingredients
1/4

cup

sugar

2

packets

active dry yeast

2

cups

milk

scalded and cooled to between 105 and 110 degrees F

1

stick (8 tbsp)

unsalted butter

2

large

eggs

6

cups

all-purpose flour

3

tsp

salt
Instructions
Place milk in a microwave-safe glass measuring cup. Microwave for 4 minutes. Place in refrigerator and allow to cool to between 105 - 110 degrees F.

Melt butter and set aside to cool.

In the bowl of a stand mixer fitted with the dough hook, combine the 6 cups of flour and salt.

Remove the milk from the refrigerator and whisk in the yeast and sugar. Allow to rest for 5 minutes.

Beat the 2 eggs into the melted butter. Add the yeast, sugar and milk mixture to the flour and salt and knead on low speed until dough begins to come together. Stop mixer and add the eggs and melted butter. Knead the dough, scraping down the sides of the bowl if necessary, for 6 minutes.

Remove the dough hook and bowl from the stand mixer. Cover the dough ball in the bowl loosely with a towel.

Place the dough bowl in a warm spot and allow to rise for about 60 minutes or until dough is doubled in size.

Gently push down on the dough to deflate. Place on clean counter and evenly divide dough into 8 log-shaped pieces, using a bench scraper or sharp knife.

Cut each of the eight dough logs into four equal pieces, giving you 32 rolls. Gently cup each roll in your hand to "plump" them up a bit in the center.

Place the rolls in well-greased baking dishes, spaced about 1/2-inch apart. Place dishes in a warm spot and cover loosely with a towel. Allow rolls to rise in baking dishes for 60 minutes more.

Bake at 375 degrees for 14 - 18 minutes. Watch closely in the last few minutes to make sure tops don't over brown.

Brush the tops of the rolls with melted butter when they come out of the oven. Serve warm.
Nutrition
More Thanksgiving Recipes: