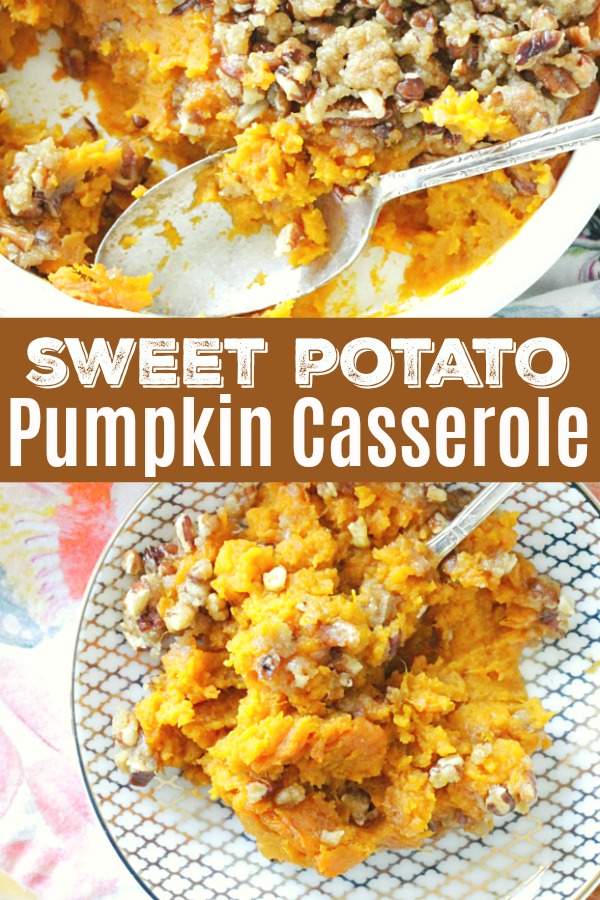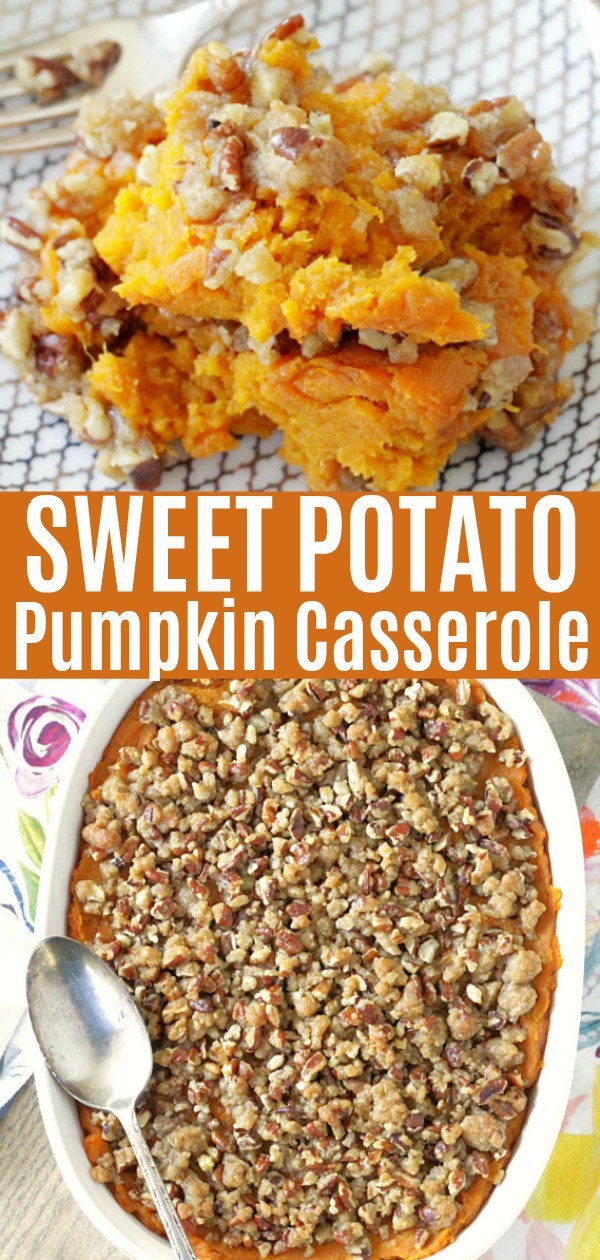 Sweet Potato Pumpkin Casserole is an even better version of one of the most popular Thanksgiving side dishes.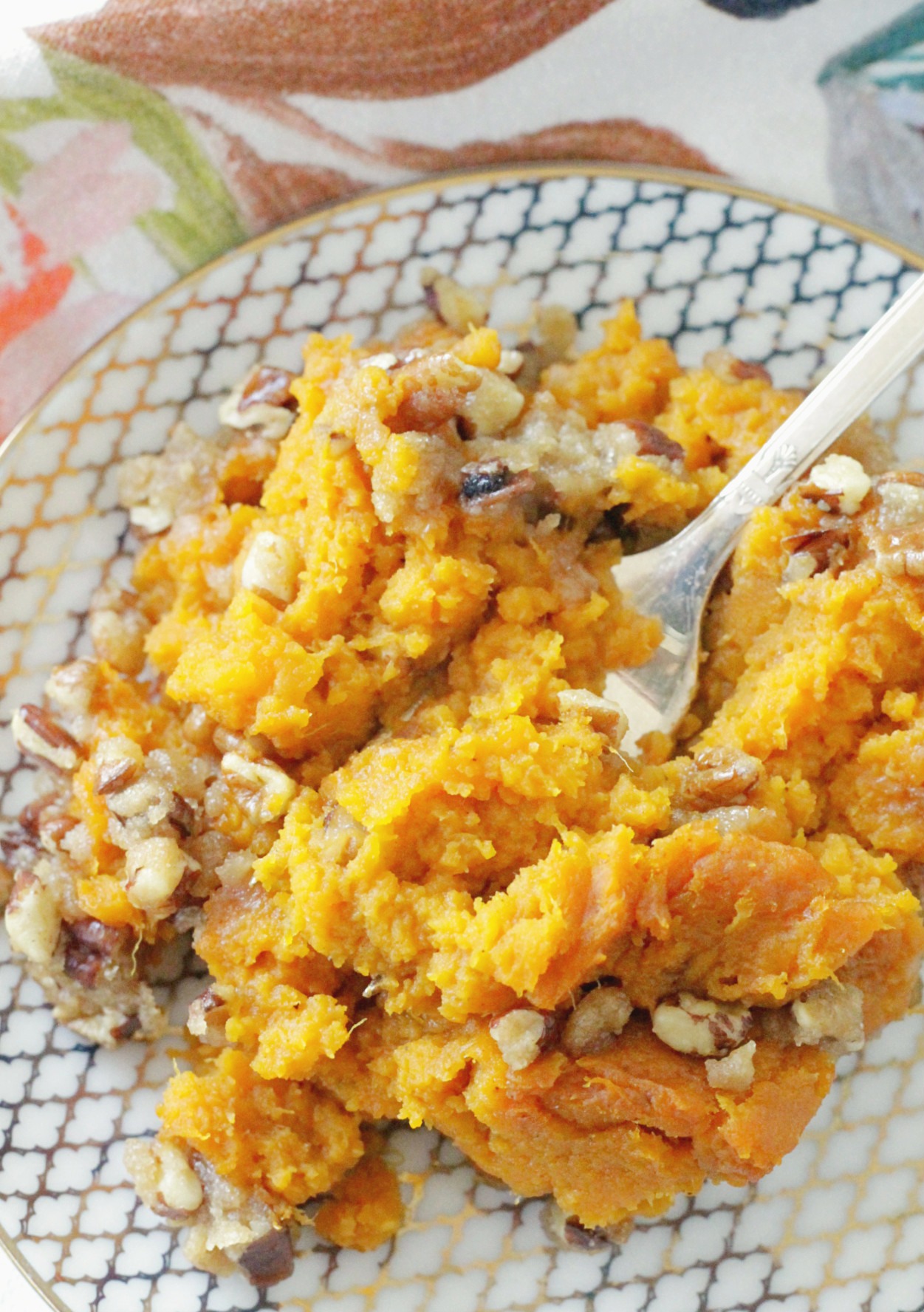 I'm getting a jump start on my Thanksgiving plan this year. Which starts with making sure I have some really excellent recipes to offer you! So far I have published both traditional and unique recipes for your Thanksgiving festivities: Perfect Roast Turkey Breast, homemade dinner rolls (both my Grandma's recipe and a make-ahead version), French Sweet Potato Soufflé, Perfect Cranberry Sauce and Pumpkin Creme Brulee.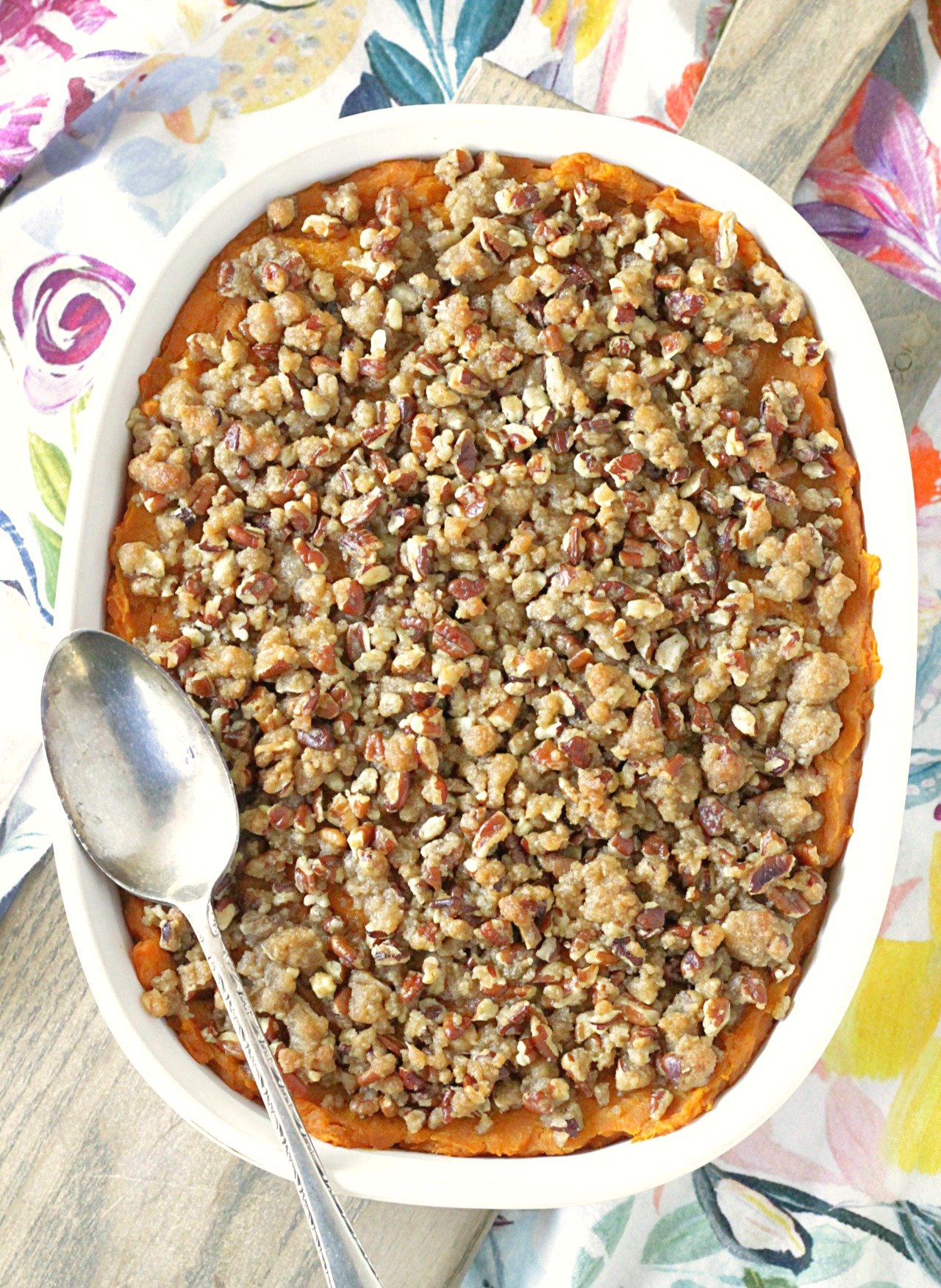 What I noticed in looking back at my previous Thanksgiving recipes is that I'm lacking in side dishes, gravy and a full turkey tutorial. So today I'm offering both sweet potatoes and pumpkin together in this fabulously flavorful Sweet Potato Pumpkin Casserole.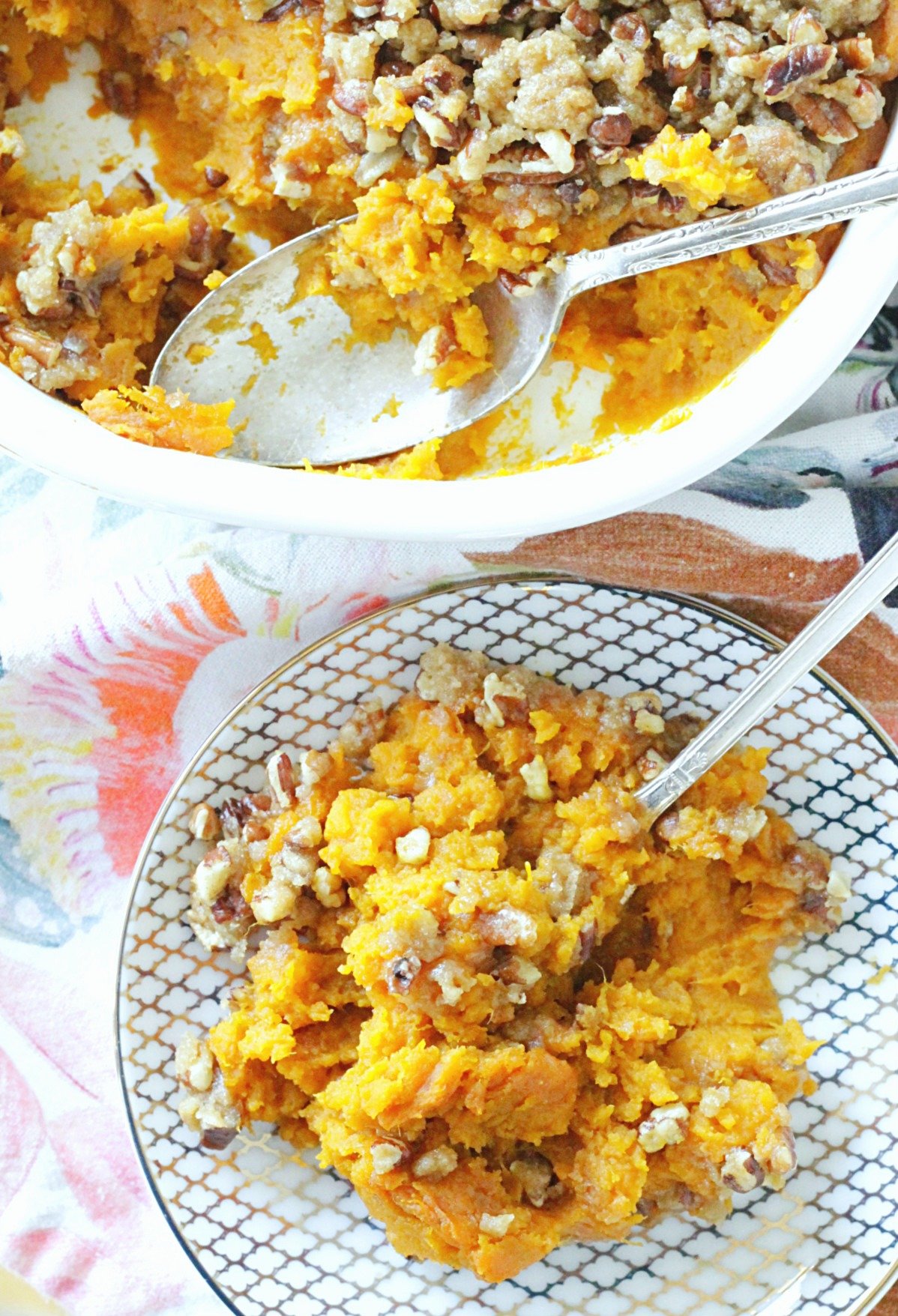 While there are a lot of pumpkin recipes I truly love, pumpkin pie has never been one of them. So at my house, you won't find a traditional pumpkin pie on Thanksgiving. I grew up eating my Mom's Pumpkin Torte (similar to this one) as dessert. If a pumpkin pie sometimes showed up at our celebration, I had to cover the whole thing in whipped cream to manage to eat a few bites. It's just not my thing.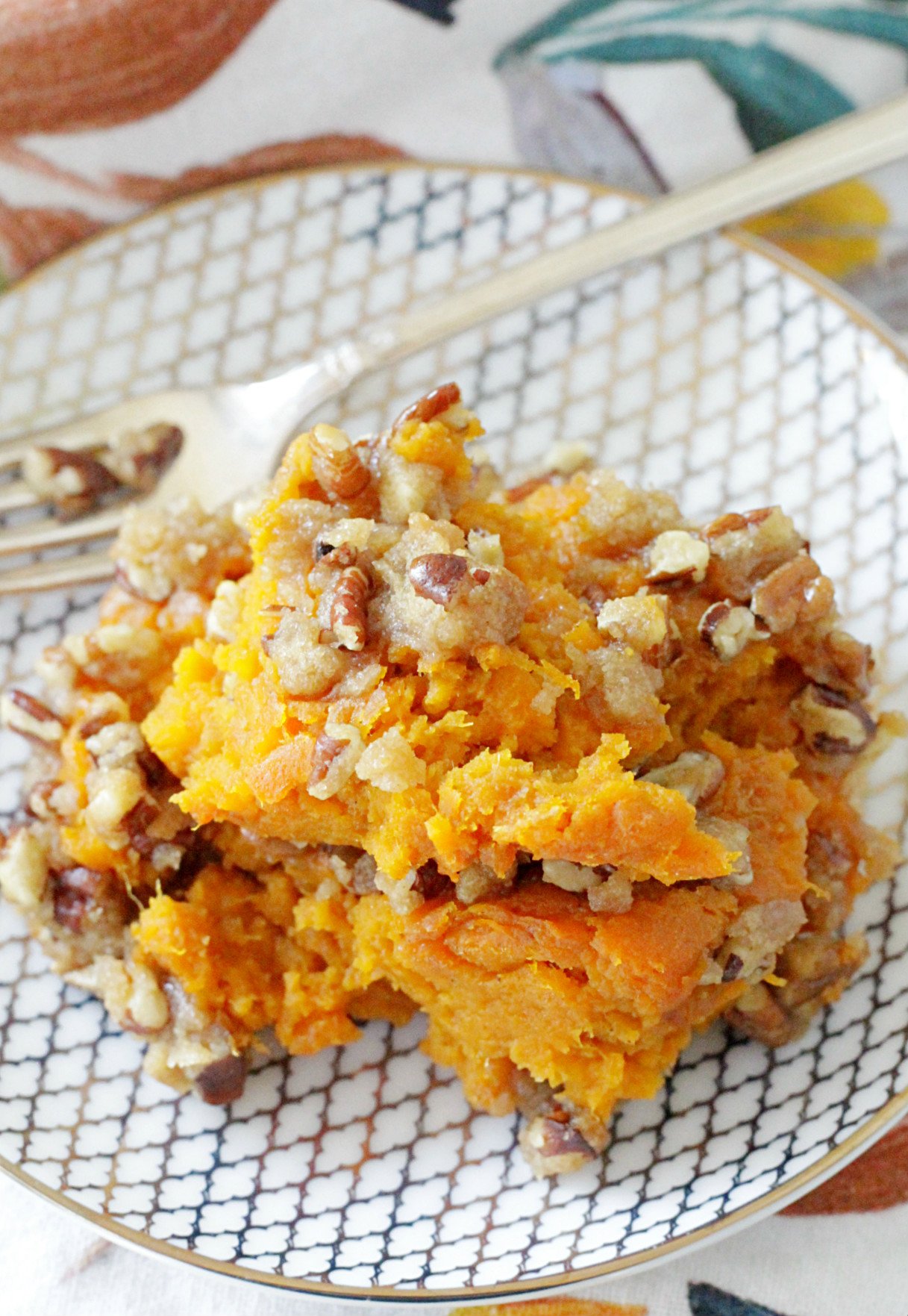 So I really liked the idea of including canned pumpkin in my sweet potato casserole. I started with this recipe and altered it to my own preferences. And it is so good! I'm not sure how to describe the flavor improvement that happens to the sweet potatoes with the addition of pumpkin, but I highly recommend it. This casserole also has a healthy ratio of topping to filling, which I really like, and I think you will too.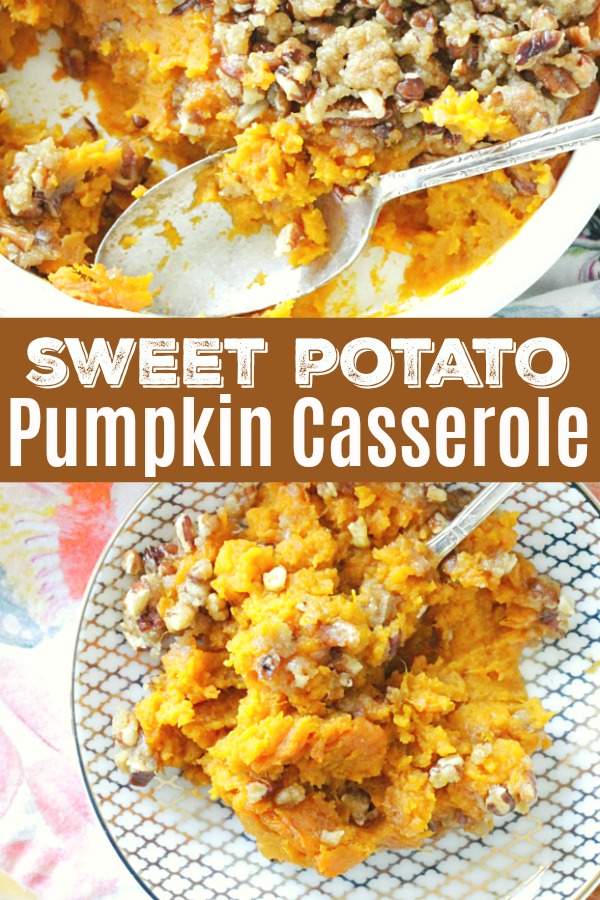 Tips for Sweet Potato Pumpkin Casserole:
Microwaving fresh sweet potatoes is the quickest way to get this casserole ready to go in the oven
If you are short on time you could use canned sweet potatoes
Be sure and purchase pure pumpkin, not pumpkin pie filling
This side dish can be made one day ahead – get the filling and topping in the dish and cover it tightly with plastic wrap to store in the refrigerator – then bake as directed on the day you plan to serve it
I baked this casserole in a dish similar to this one
Foodtastic Mom is a participant in the Amazon Services LLC Associates Program, an affiliate advertising program designed to provide a means for sites to earn advertising fees by advertising and linking to Amazon.com. Any highlighted, clickable Amazon link you see is an affiliate link that I may earn advertising fees on.
Thank you so much for being a faithful reader and supporter of Foodtastic Mom. Be sure to PIN and print this recipe!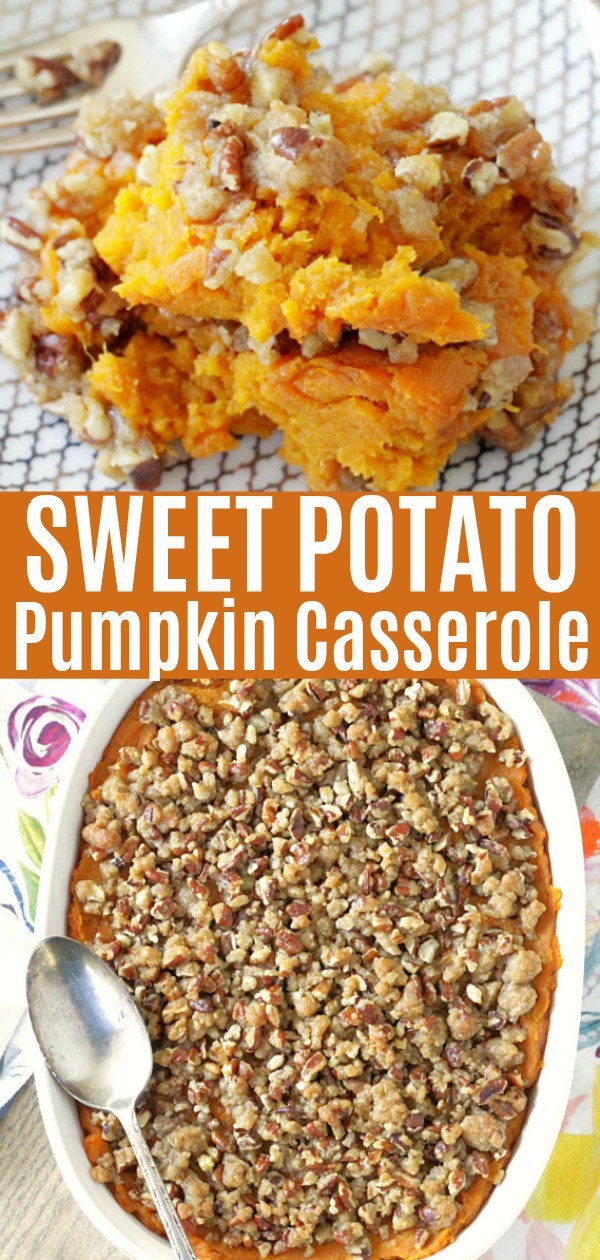 Sweet Potato Pumpkin Casserole
Sweet Potato Pumpkin Casserole is an even better version of one of the most popular Thanksgiving side dishes.
Ingredients
4

lbs

sweet potatoes

1

15 oz can

100% pure pumpkin

1/4

cup

packed light brown sugar

4

tbsp

butter

melted

1

large

egg

beaten

1

tsp

vanilla extract

1

tsp

pumpkin pie spice

1

tsp

salt

1/3

cup

light brown sugar

3

tbsp

all-purpose flour

3/4

cup

chopped pecans

2

tbsp

butter

melted

pinch of salt
Instructions
Preheat oven to 350 degrees F. Grease a casserole dish and set aside.

Peel the sweet potatoes and cut them into 2 - 3 inch pieces. Place the prepared sweet potatoes in a covered, microwave-safe dish. Microwave the sweet potatoes for 15 - 18 minutes, or until the sweet potatoes are tender. Pause the microwave and stir the potatoes halfway through cooking time. Mash the sweet potatoes with a potato masher.

In a clean bowl, combine the mashed sweet potatoes, pumpkin, 1/4 cup of brown sugar, 4 tablespoons of melted butter, beaten egg, vanilla, pumpkin pie spice and salt. Mix very well to combine the mixture completely.

In a separate bowl, combine the remaining 1/3 cup brown sugar, flour, pecans and pinch of salt. Stir together with a fork. Pour in the remaining 2 tablespoons of melted butter. Mix well to combine.

Spread the sweet potato and pumpkin mixture evenly into the prepared casserole dish. Sprinkle the pecan topping evenly over the filling.

Bake, uncovered, for 25 - 30 minutes.
Nutrition
More Thanksgiving Recipes: