Perfect Roast Turkey Breast is for Thanksgiving and those who prefer just the white meat or for a smaller family gathering.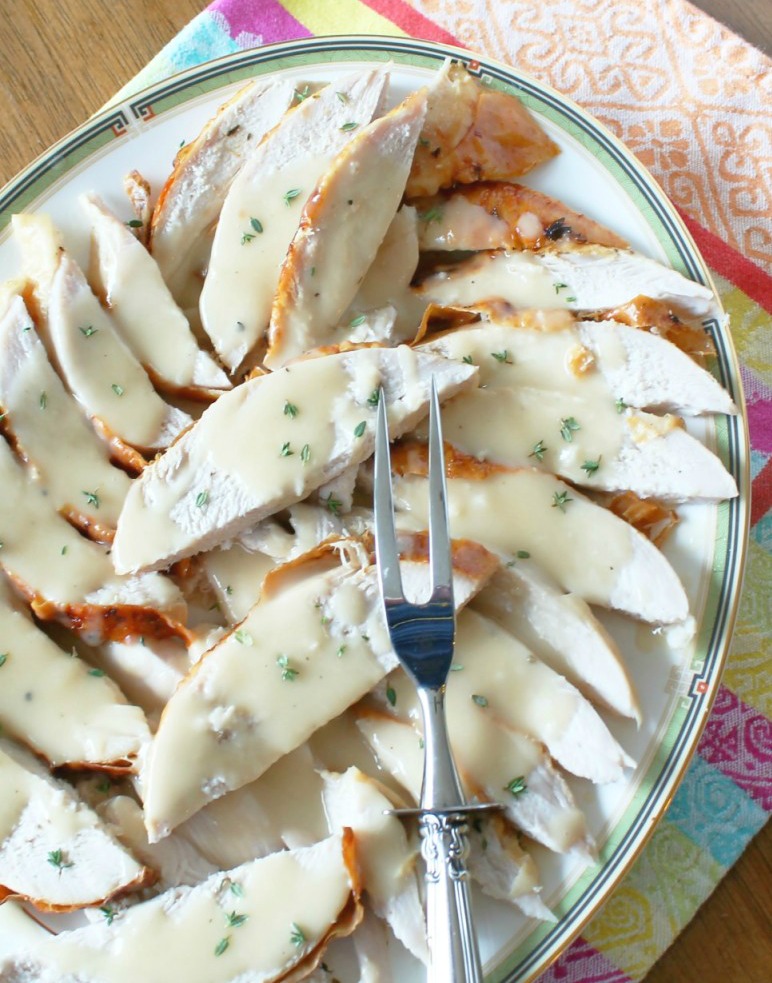 Today I'm showing you how to make a perfect roast turkey breast. I have roasted a whole bird in the past, and I do enjoy the image in my head of the majestic platter being carved table-side like that famous Norman Rockwell painting. For my personal taste and the smallish size of our extended family though, a bone-in breast just works better. I am not a dark meat fan, really no one in our family is. And while turkey is traditionally the centerpiece of the Thanksgiving table, I'm more of a side dish kind of girl. I mean come on… mashed potatoes with rivers of gravy, sweet potato soufflé, fresh baked buttery rolls, ruby red cranberries, and usually a whole table full of desserts.

POPULAR VIDEOS
I am combining multiple sources for my perfect roast turkey breast tutorial: Ina Garten (flavorings and roasting time), The Food Network (dry brine) and my mom (extra turkey broth). So let's get started…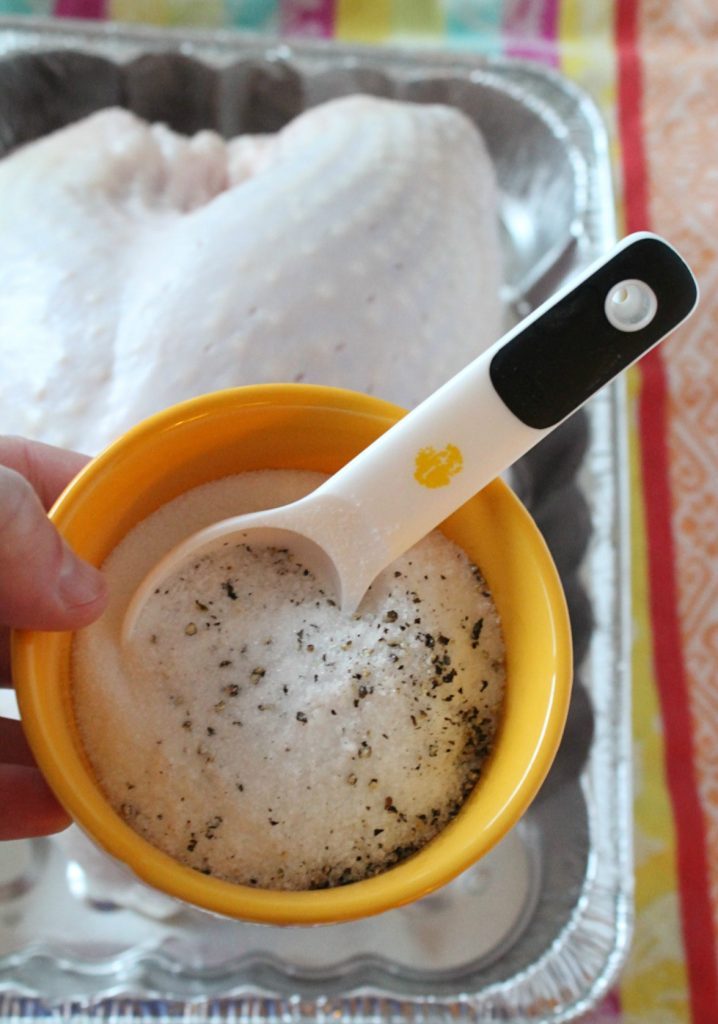 I started with about an eight pound fresh turkey breast. I don't have room for a 5-gallon bucket in my refrigerator, do you? So I decided to "dry brine" it. After washing the turkey breast and drying it with paper towels, I rubbed her with a whole lot of salt, a little sugar and pepper. Then she rested, uncovered in the refrigerator overnight, in a foil pan in case she leaked. The next morning, I took her out of the fridge and let her warm up a bit. I rinsed her really well again and dried her with more paper towels. This step is necessary to achieve a beautifully browned skin in the oven.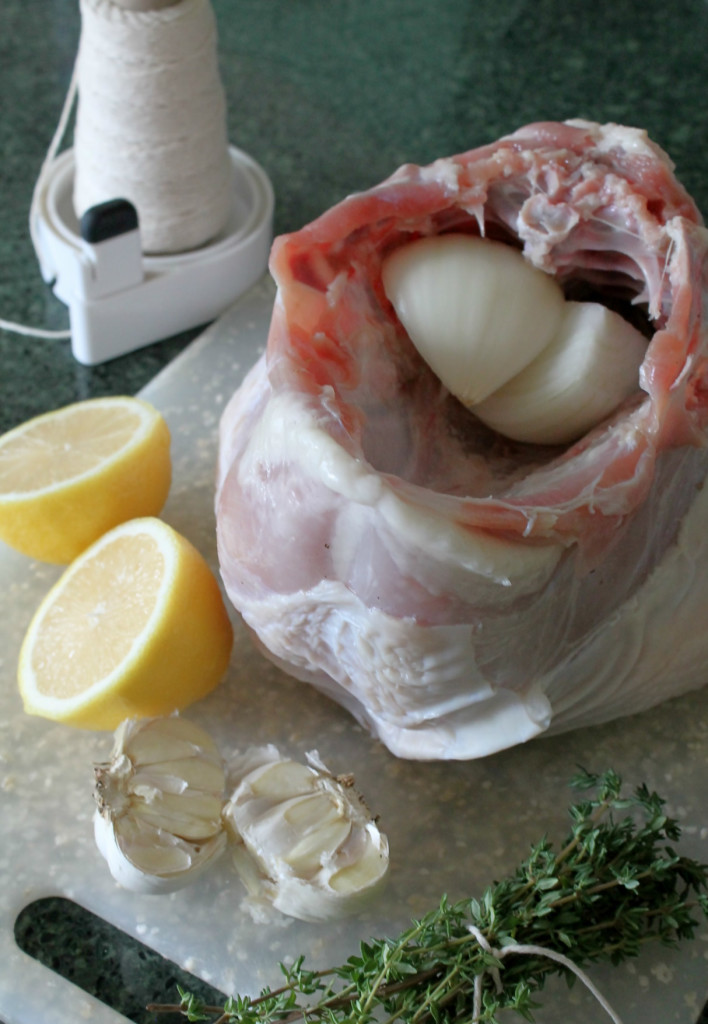 I stuffed the inside of the turkey breast with a half a lemon, a half an onion, half a head of garlic and a bunch of fresh thyme. I trussed her up, kinda like a purse, and then flipped her, breast side up onto the rack inside my roasting pan. A rack is important to keep the bottom of your bird out of the broth and off the bottom of the roaster. You don't want a soggy, yet burnt at the same time, situation underneath your turkey.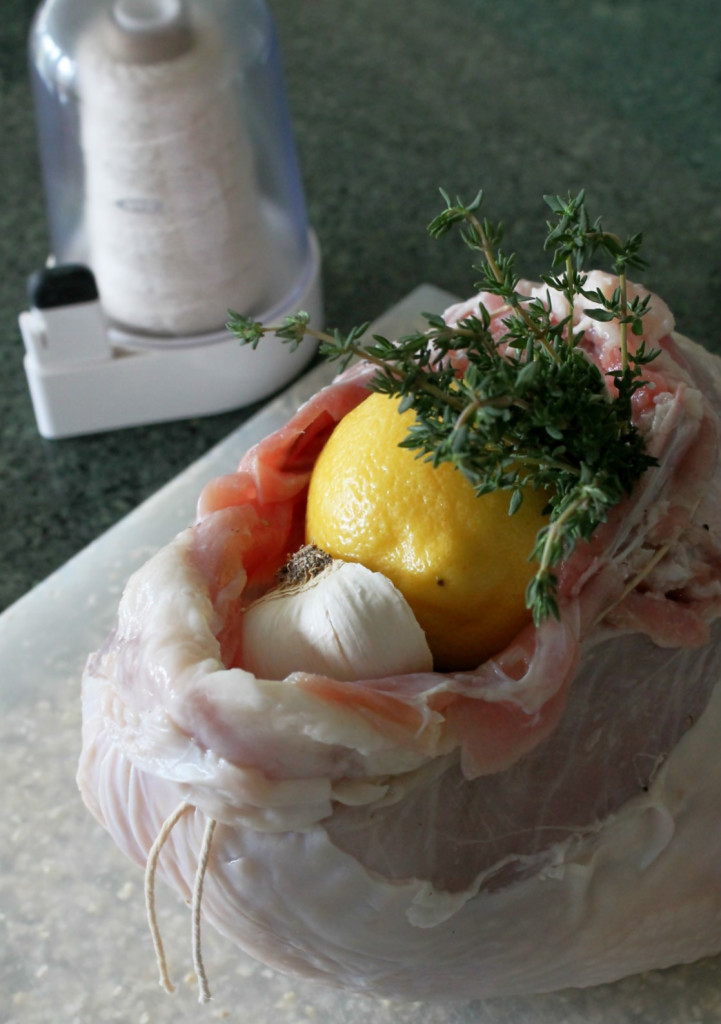 After stuffing your turkey breast with aromatics (but not stuffing you want to eat because that could make you sick), melt some butter and add some more fresh thyme, lemon zest and juice. Brush the entire skin and sprinkle her with salt.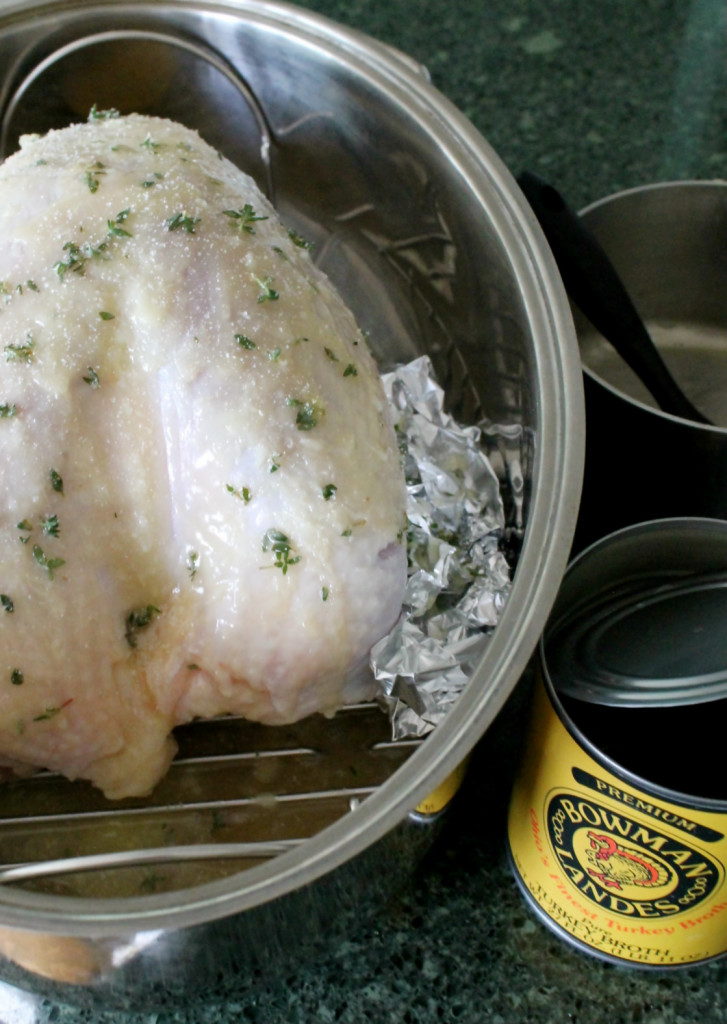 I also found it necessary to prop up my turkey breast so she wouldn't list to one side. A couple of wads of foil did the trick here. I started her in a hot oven, 450 degrees for 30 minutes, then finished her at 350 degrees. All told, she roasted in the oven for a little over two hours and came out looking like this… nice and tan like after a day at the beach!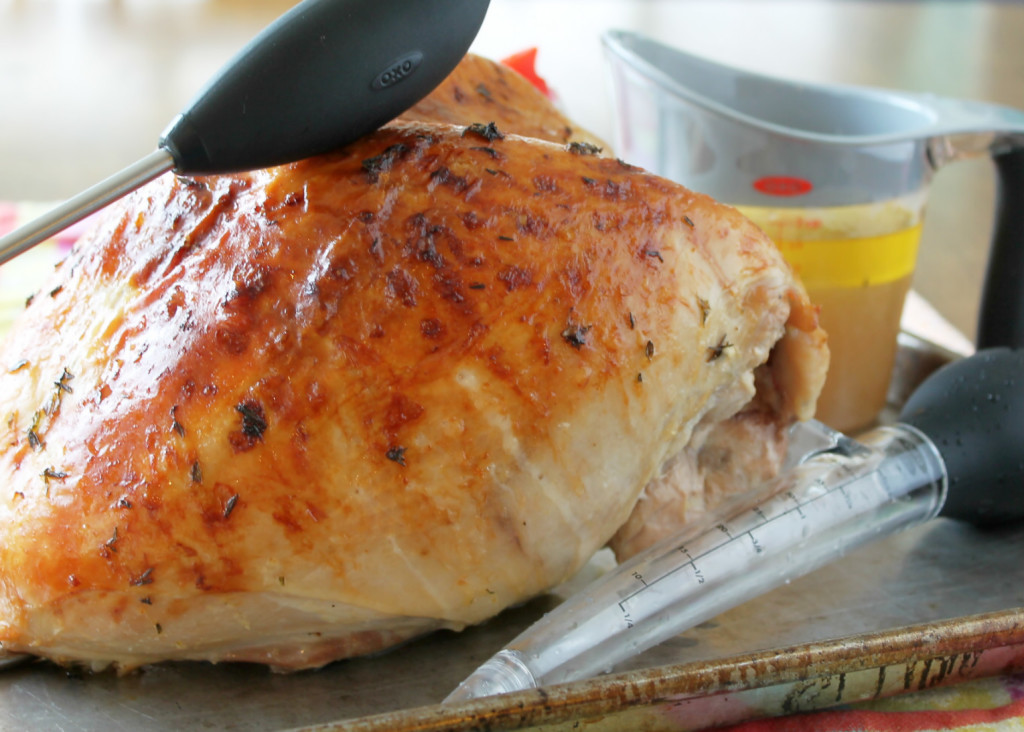 Here's where, on a crazy-busy day in the kitchen, a turkey breast is a good choice. Now she simply rests. I used an OXO poultry lifter to ease her smoking hot self out of the roaster and then tented her with foil. This allows the juices in the turkey to redistribute and gives you time to do other things like make gravy.
It took two pours into the OXO fat separator (my favorite item) to get all the broth out of the roasting pan. It yielded about 3 cups of broth, but I like a lot of gravy. The trick is to buy extra turkey broth. I'm lucky in that my Kroger stocks locally produced turkey broth. Literally the can says it contains "turkey broth". Score! Search it out if you can find it. If you can't use chicken stock.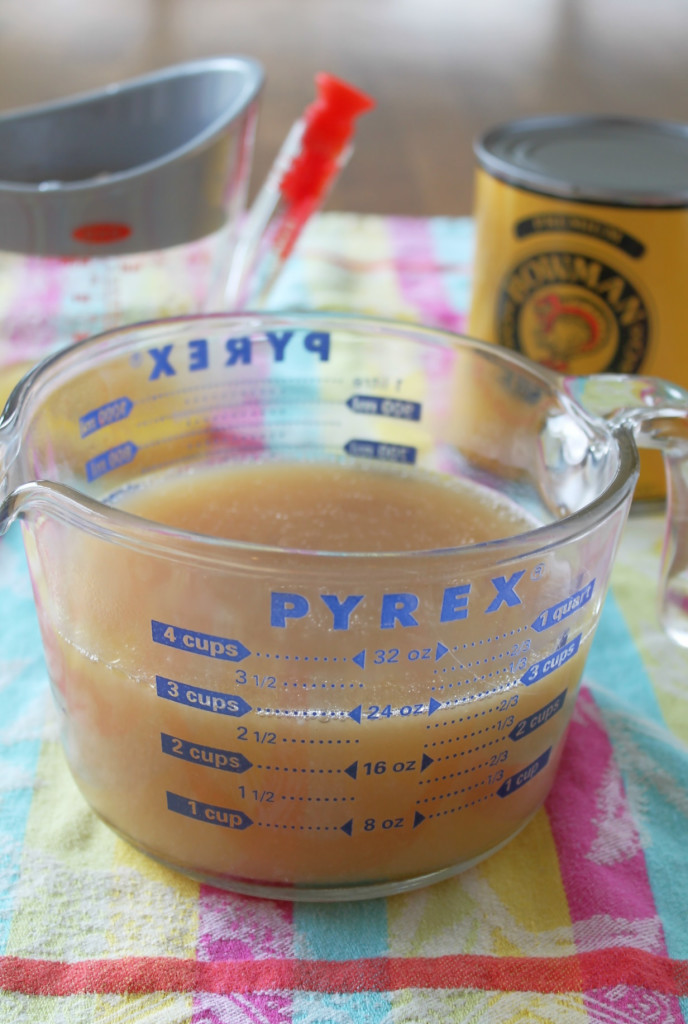 And the gravy is as simple as you can get. Butter and flour to thicken, broth, salt and pepper. The broth that was roasted, by the way, is flavored with that lemon, onion, garlic and thyme. It's a light, bright and simply lovely flavor to compliment what is traditionally a heavy meal. I really do think it's perfect!
PIN THIS RECIPE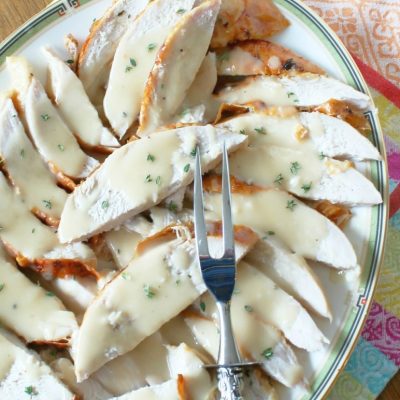 Perfect Roast Turkey Breast
Perfectly roasted bone-in turkey breast with pan gravy.
Cook Time
2
hours
30
minutes
Ingredients
1

7 - 9 lb

bone-in, skin on turkey breast

1/3

cup

kosher salt

1

tsp

kosher salt

1

tbsp

sugar

1

tsp

black pepper

1/2

yellow onion

1

lemon

1/2

head

garlic

2

sticks

unsalted butter

1

bunch

fresh thyme

3/4

cup

all-purpose flour

6

cups

turkey (or chicken) broth

salt and pepper to taste
Instructions
Rinse the turkey breast with cold water and dry with paper towels. Place in a disposable foil pan, breast side up. Mix together 1/3 cup of salt, sugar and teaspoon of pepper. Sprinkle the inside and outside of the turkey breast thoroughly with the mixture. Place the turkey breast, uncovered, in the refrigerator overnight.

Remove the turkey breast from the refrigerator and let rest for about an hour. Rinse well with cold water and dry thoroughly with paper towels. Place half onion, half lemon, half head of garlic and a bunch of fresh thyme into the cavity of the turkey breast. Tie with twine to keep the aromatics in place.

Put the turkey, breast side up, on a rack in a roasting pan. Prop up with foil if necessary.

Pour 4 cups of the turkey stock into the bottom of the roasting pan.

Melt one stick of butter on stove top or in microwave. Add the zest and juice of the other half of the lemon and 1 tablespoon of chopped, fresh thyme leaves to the melted butter.

Brush the entire outside of the turkey breast with the melted butter mixture. Sprinkle the turkey breast with about a teaspoon of salt.

Roast the turkey to start at 450 degrees for 30 minutes. Reduce the oven temperature (without opening the door) to 350 degrees and roast for an additional hour.

Remove the turkey breast and baste. Return the turkey to the oven and roast at 350 degrees for an additional 30 - 60 minutes, or until a meat thermometer reads 165 degrees at the thickest part of the breast.

Remove the turkey breast to a sheet pan and tent with foil until ready to serve.

Meanwhile, strain and separate the fat from the broth in the bottom of the roasting pan. This should yield about 3 cups of broth.

Add the canned stock to equal 4 cups. In a large sauce pan, heat the remaining stick of butter over medium high heat. Whisk in the flour and cook, stirring constantly for about 2 minutes.

Whisk in the turkey broth and continue whisking until the gravy is simmering and thickens. Add salt and pepper to taste.

Carve the turkey breast using a serrated knife and place on a platter topped with gravy and additional fresh thyme.