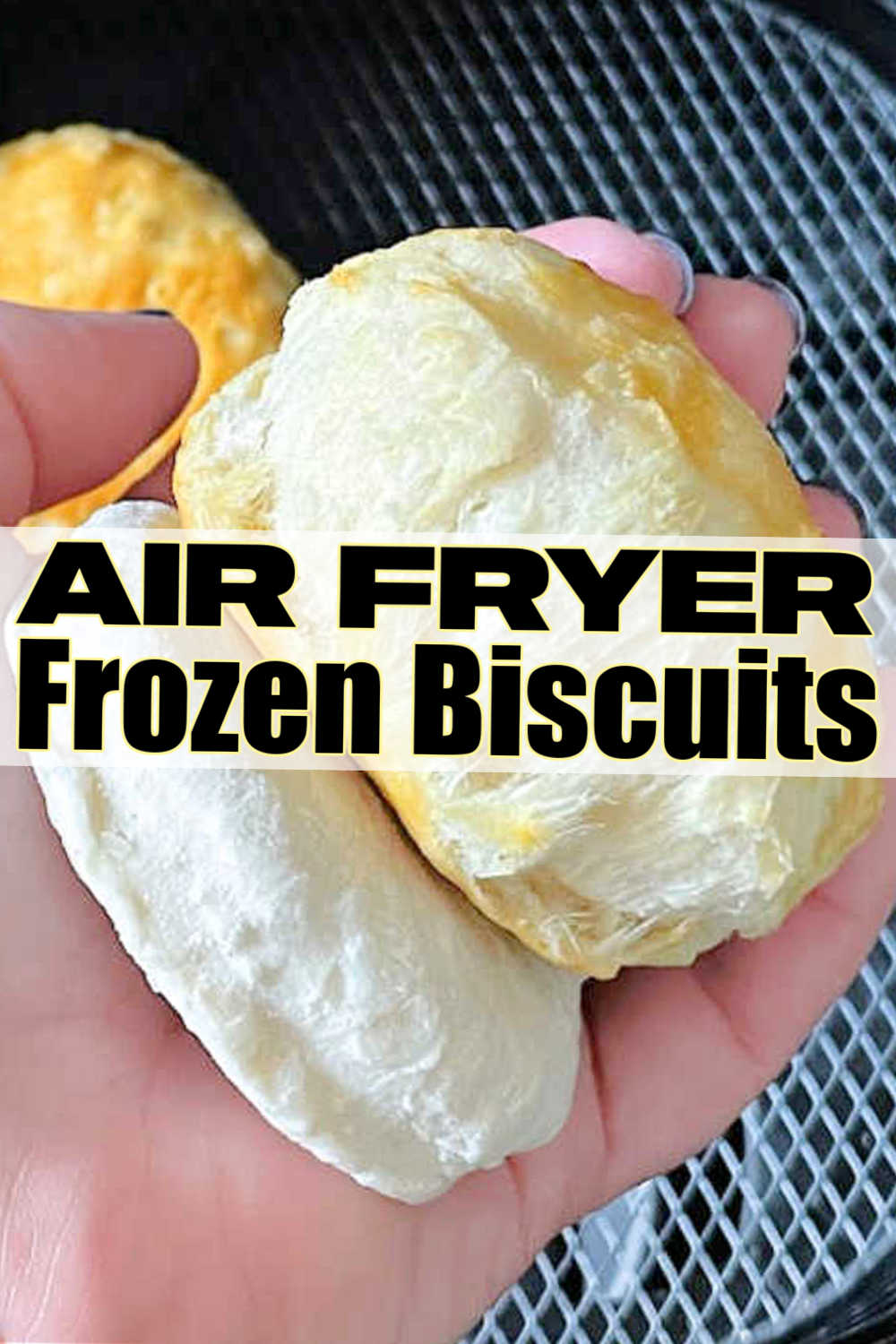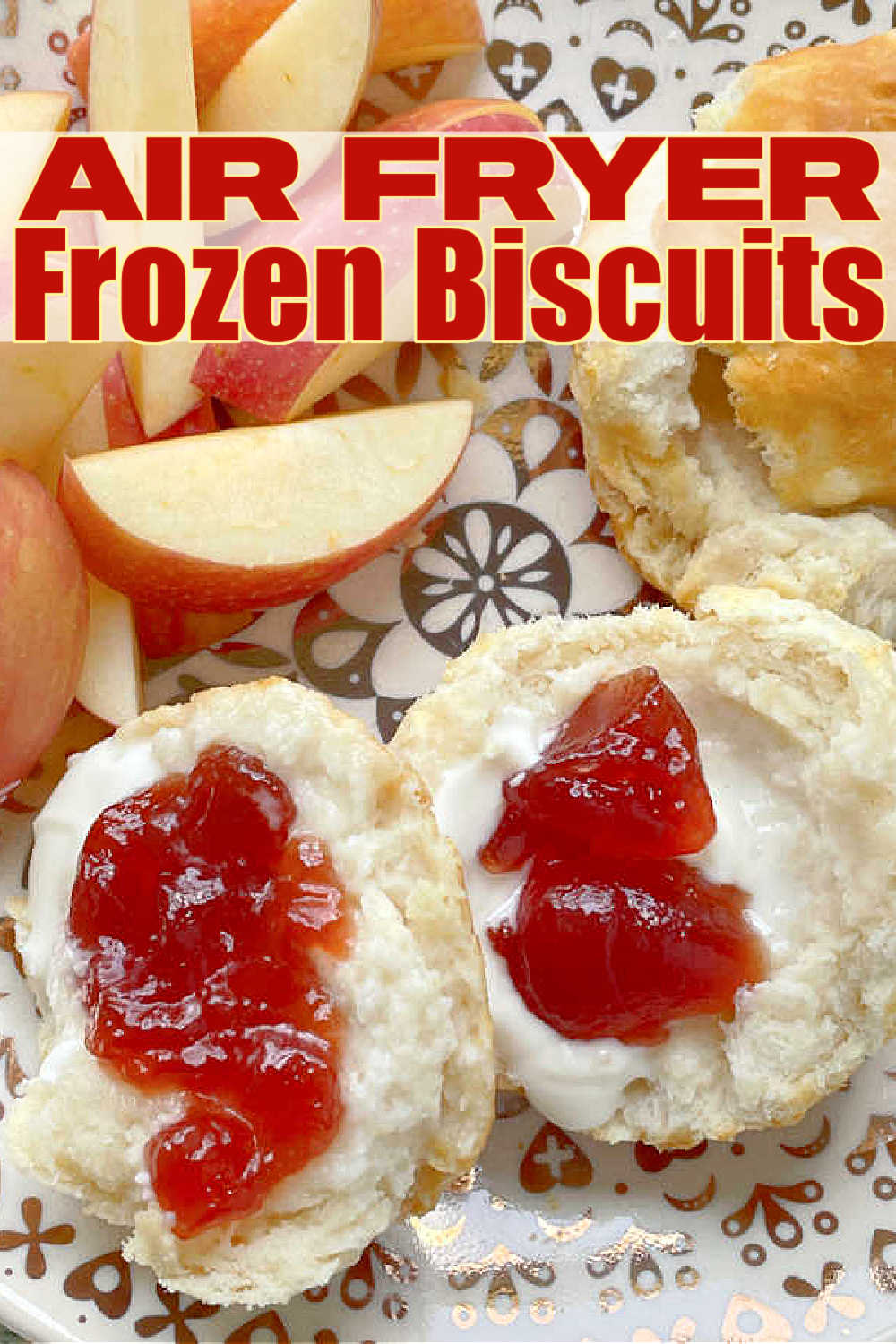 Learn how to make Frozen Biscuits in your Air Fryer for a wholesome snack or delicious breakfast sandwich any time of day.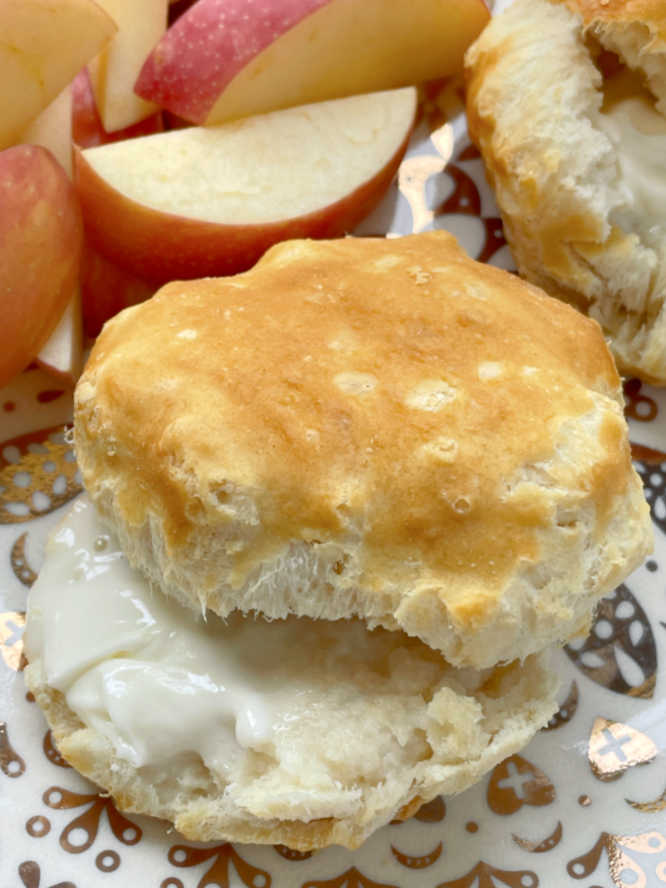 Until recently, I thought store-bought biscuits (Pillsbury) only came in cans. Did you know frozen biscuits exist? That means I can make just one biscuit when a craving hits. I am certainly not going to turn on my oven for just one, tiny biscuit. But I will for sure turn on my air fryer, which will cook a frozen biscuit in about half the time. The texture is amazing too. A little crispy on the outside and tender, pillowy soft on the inside. A buttered biscuit and some fresh fruit is an incredibly satisfying snack.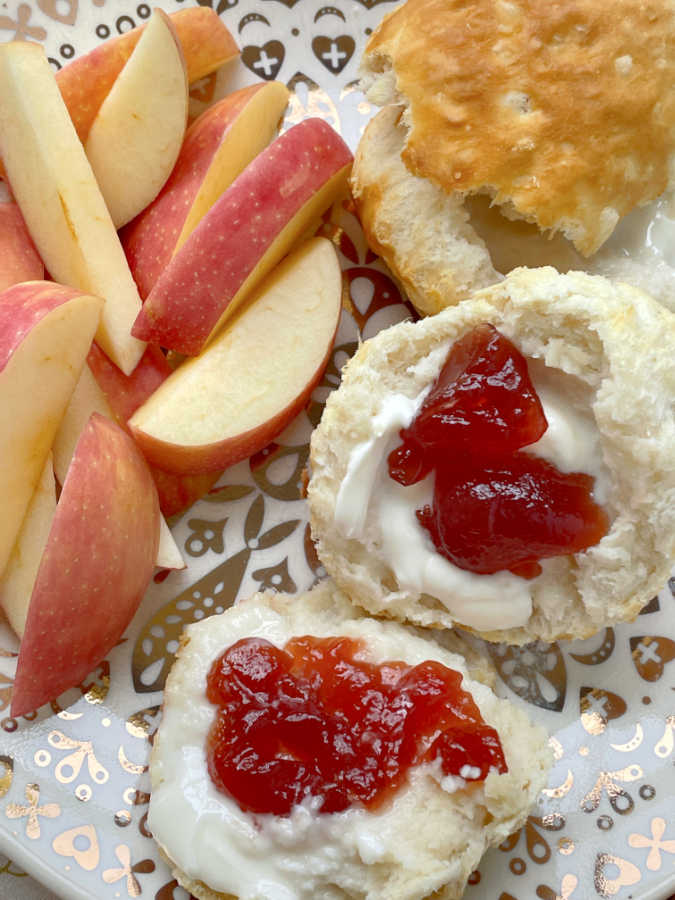 Why Frozen Biscuits are better in the Air Fryer
Cooking only one or two biscuits is now an option
Before learning about frozen biscuits, I would only make an entire can of biscuits (in my oven). That's too many for my household and that's a long time to preheat and bake in the oven, for biscuits that aren't homemade. The point of frozen biscuits is quick comfort food. You're not making them from scratch. You should be able to cook them quicker. And make just one if that's all you want.
They cook in about half the time
Package directions for Pillsbury Grands! Buttermilk Biscuits for the oven say to bake them at 375 degrees F for 22 – 30 minutes, depending on the number of biscuits being baked. Biscuits cooked in the air fryer take much less time, a little less than half of that 30 minute time frame.
The texture is far superior
The constant hot air circulation of an air fryer definitely improves a frozen biscuit. They puff up nicely. The exterior is crispy without being tough or too crunchy. And the fluffy, tender inside of these air fried biscuits is amazing.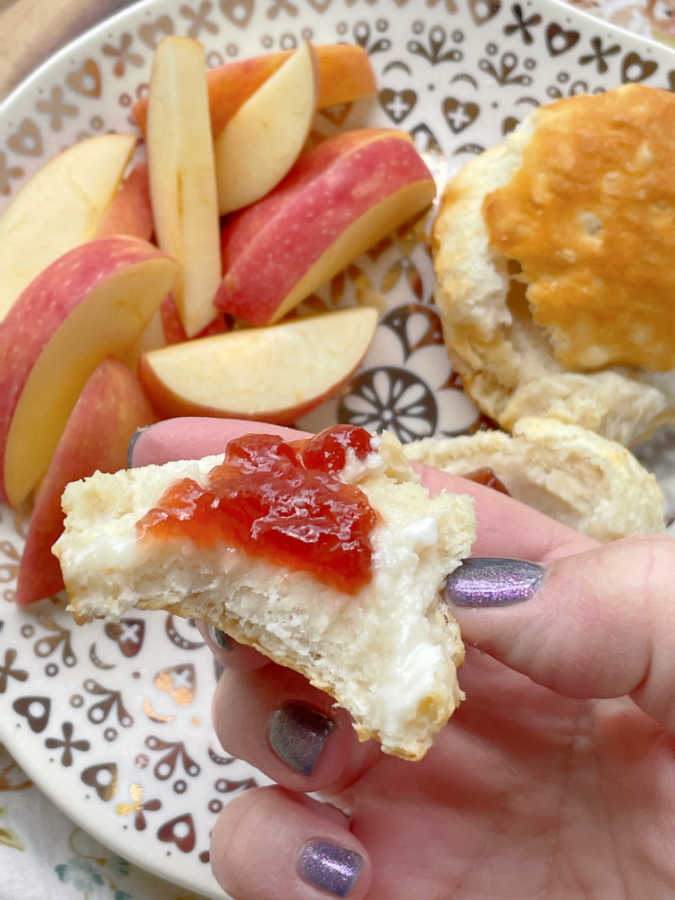 Brands of Frozen Biscuits
Pillsbury are my favorite and usually rank at the top in reviews. They also seem to be the easiest brand to find. Other brands include Mary B's, Mason Dixie and GreatValue (WalMart).
How long to cook frozen biscuits in the Air Fryer
Let me emphasize that different brands of air fryers cook differently. Most frozen biscuit instructions I found for cooking them in the air fryer recommend a temperature of 350 degrees F. I tested this commonly recommended time and temperature in my Philips XXL Air Fryer and the outside of the biscuits were done well before the inside. The inside was still raw.
My recommendation is to cook frozen biscuits in the air fryer at 325 degrees F for about 14 minutes. For me, this time and temperature yielded perfectly cooked, fluffy biscuits.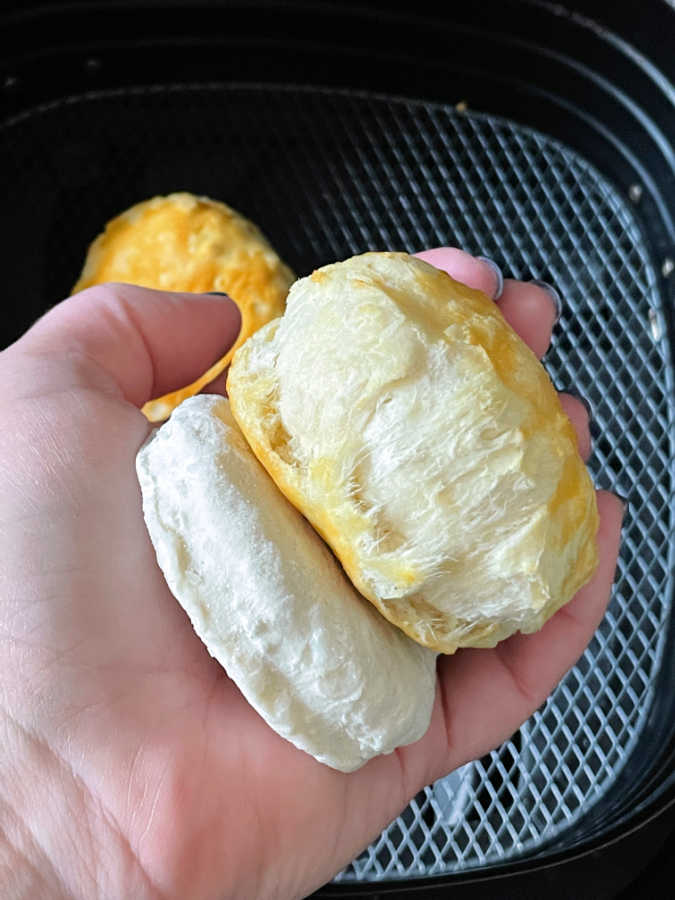 Foodtastic Mom is a participant in the Amazon Services LLC Associates Program, an affiliate advertising program designed to provide a means for sites to earn advertising fees by advertising and linking to Amazon.com. Any highlighted, clickable Amazon link you see is an affiliate link that I may earn advertising fees on.
Thank you so much for being a faithful reader and supporter of Foodtastic Mom. Be sure to PIN and print this recipe!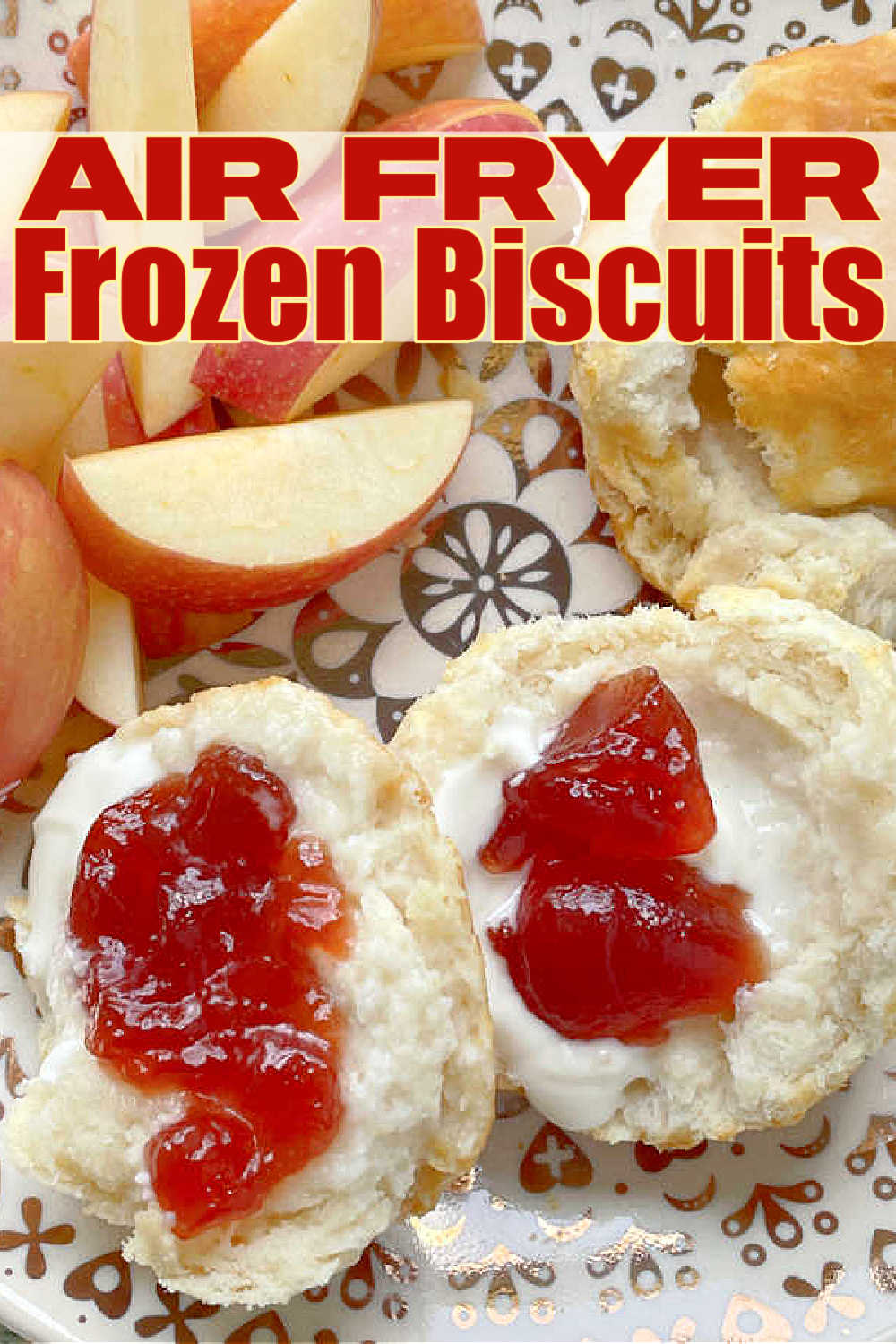 How to Cook Frozen Biscuits in the Air Fryer
Learn how to make Frozen Biscuits in your Air Fryer for a wholesome snack or delicious breakfast sandwich any time of day.
Ingredients
4

frozen biscuits

I used Pillsbury! Grands Buttermilk Biscuits
Instructions
Place four biscuits in the basket of your air fryer. Make sure they are not touching.

Cook the biscuits at 325 degrees F for about 14 minutes, or until the insides of the biscuits are fully cooked.
More Frozen Foods in the Air Fryer