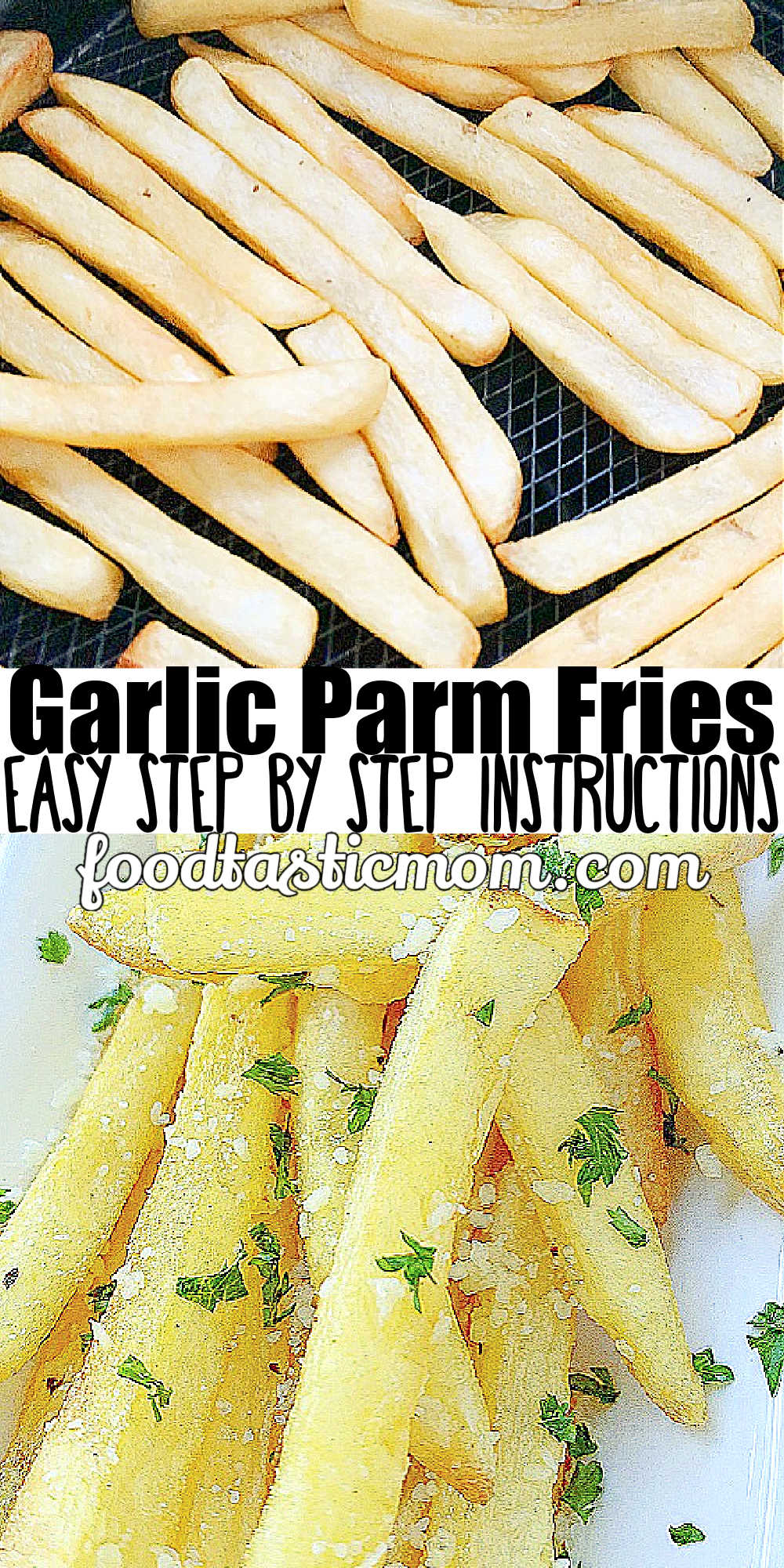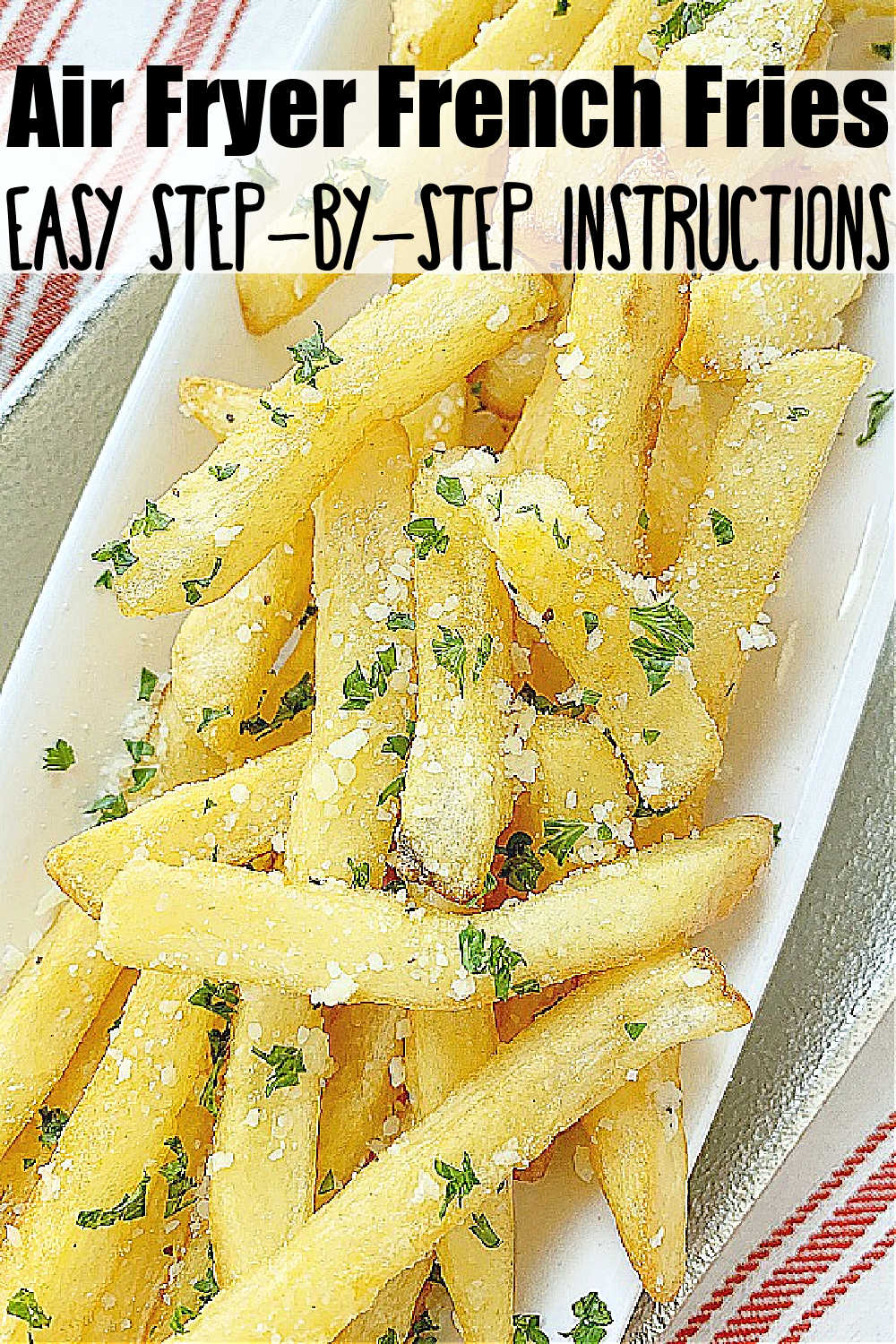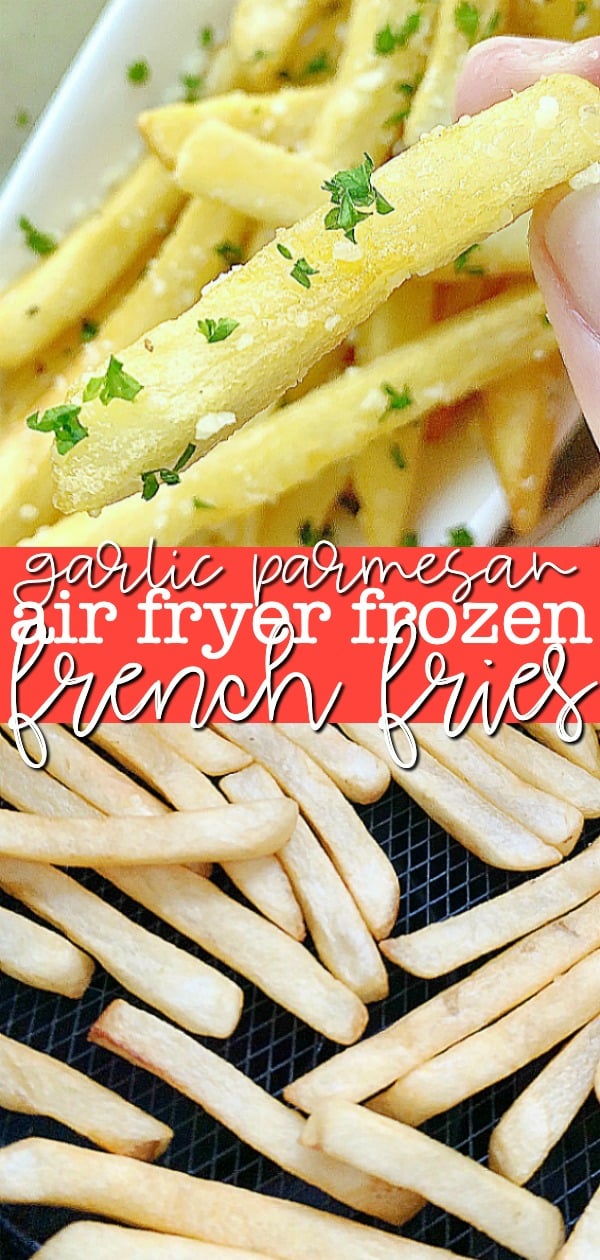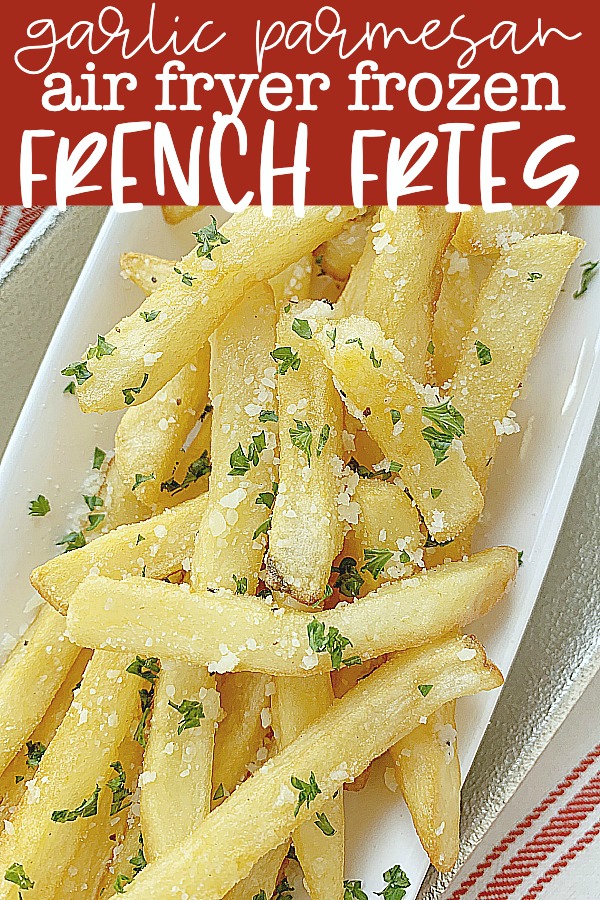 Originally posted on April 2, 2020 and updated on September 6, 2023
Learn how make Air Fryer Frozen French Fries and then make them extra delicious by turning them into Garlic Parmesan French Fries.
If you're going to make something basic like frozen french fries at home, you might as well turn them into something special. You'd think making french fries in the air fryer would be as simple as following package directions. Trust me, it is not. If you put frozen french fries into your air fryer for as long as you do your oven, you're going to get rock hard fries that aren't even edible. Both temperature and time need to be adjusted for air frying frozen french fries. And because I'm extra, I turned these basic frozen french fries into drool-worthy garlic parmesan french fries.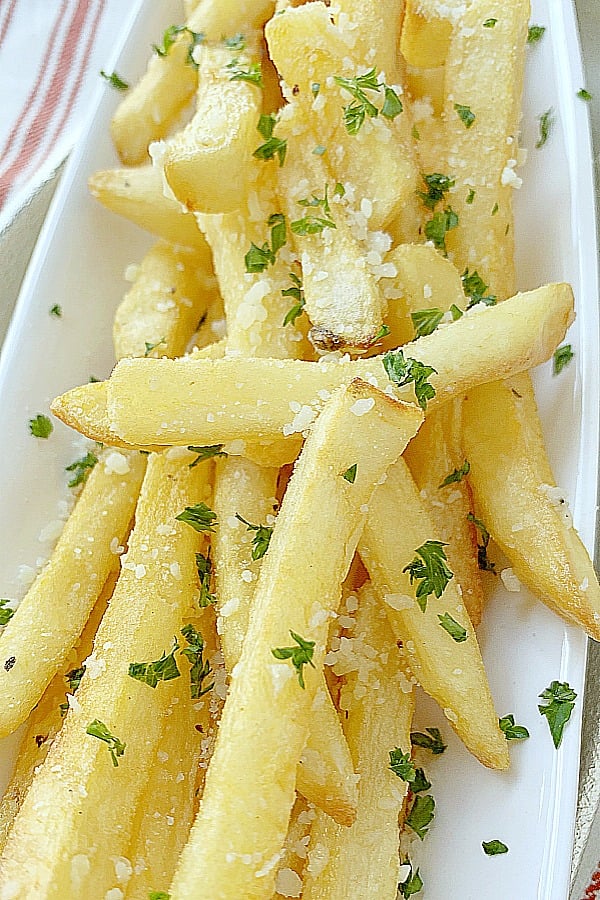 Why this recipe works
The small space of the air fryer and constant hot air circulation is going to make any type of fry more crisp than baking in the oven. A crisp fry mimics deep frying. You can even toss the frozen french fries with a small amount of vegetable or olive oil before air frying to really imitate that oil fried decadence. My second favorite way to serve these fries (besides my garlic parmesan mixture) is sprinkled with salt and malt vinegar. If you are wanting to make some fries from fresh potatoes, check out my recipe for Air Fryer Potato Wedges.
Ingredients for garlic parmesan air fryer frozen french fries
Frozen French Fries – This recipe or guide works for any brand and type of frozen fries. Crinkle cut or fries, shoestring fries or waffle fries. Even sweet potato fries.
Butter – Just a little melted butter tossed with the french fries after putting them into the air fryer basket makes a big difference in flavor. It helps them to taste more like deep fried french fries but with less calories.
Garlic Cloves – Gives the fries a fragrant punch of garlic flavor.
Parmesan Cheese – A classic combo with garlic flavoring.
Lemon Juice – Gives the fries a fresh and zingy flavor.
Fresh Parsley – Adds color and freshness to your fries.
Salt and Pepper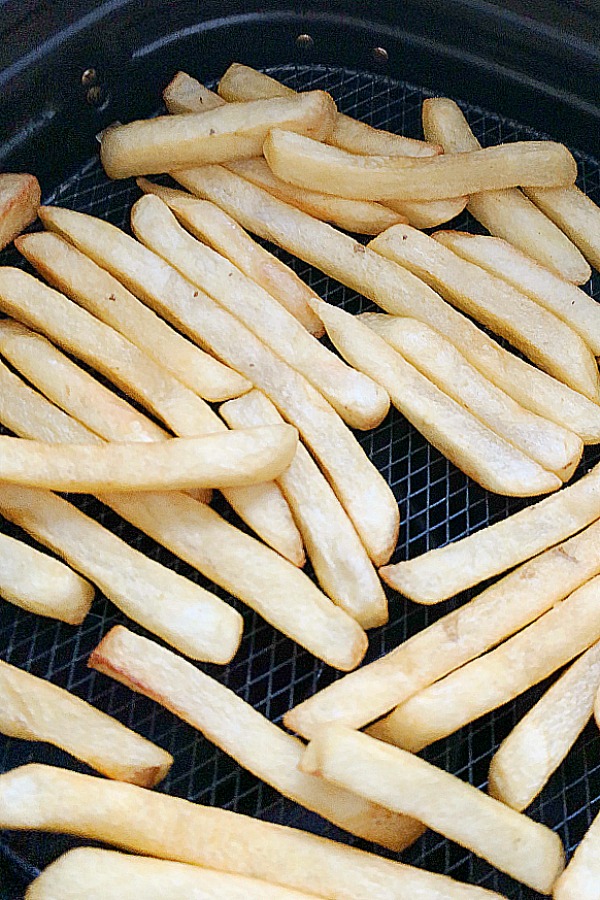 Instructions for air fryer frozen french fries
Depending how many fries you need, you might have to work in batches. Spread the frozen fries in a single layer in your air fryer basket. Fry them at 400 degrees F for a total time of 12 – 14 mins. Be sure to open the air fryer and toss the fries halfway through cooking time.
After the french fried potatoes are hot and crispy, toss them with the butter, garlic and parmesan seasoning mixture.
You of course can season your frozen french fries to your own tastes. Other spices that work well are garlic powder, onion powder, chili powder, Italian seasoning or paprika. And of course don't forget a selection of dips – Ranch dressing, ketchup, honey mustard and/or BBQ sauce.
FAQ's
Are frozen french fries cooked before frozen?
Yes. The fries are steamed first, so the potatoes are not raw. Then they are flask (quickly) fried so that they hold their shape. Then they are flash frozen, bagged and sold.
Do you spray oil on frozen french fries in an air fryer?
I never advise to use a propellant type of cooking spray, like Pam, in your air fryer basket. Over time the chemicals in these types of aerosol cans will damage the nonstick coating of your air fryer basket. Instead, use an oil mist sprayer such as this one. Fill it with your preferred cooking oil, like vegetable or olive oil. You can lightly mist foods in the air fryer in this way.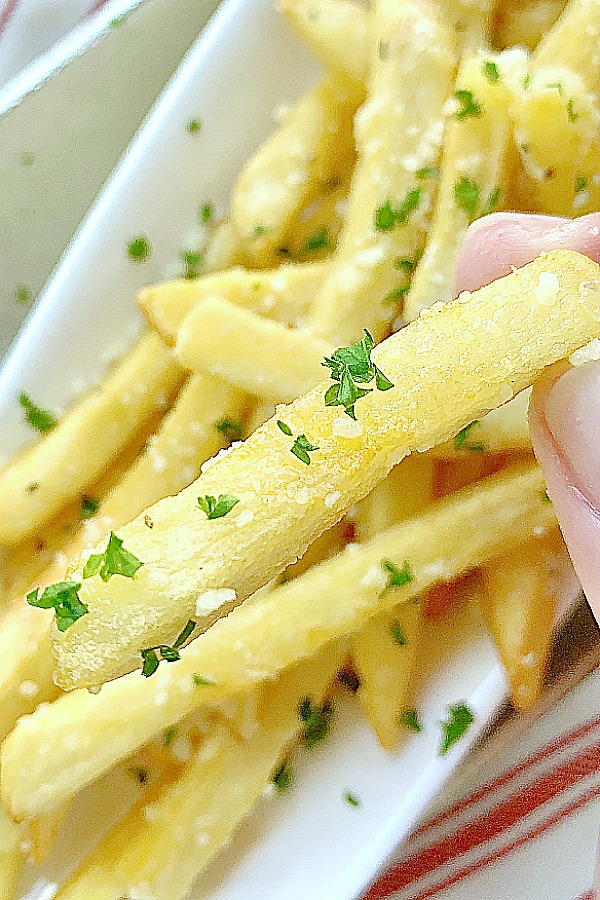 Storage directions
Store leftovers in an airtight container in the fridge for up to three days. Reheat the fries in the air fryer at 375 degrees F for about 5 – 7 minutes. Do not refreeze the fries once you've already air fried them.
Serving suggestions
Air fryer french fries make a terrific side dish, snack or appetizer. Serve them with grilled meats, burgers, hot dogs or fried fish.
Kitchen tools
Air Fryer Frozen French Fries
Learn how make Air Fryer Frozen French Fries and then make them extra delicious by turning them into Garlic Parmesan French Fries.
Ingredients
16

oz

frozen french fries

2

cloves

garlic

unpeeled

1 1/2

tbsp

butter

melted

2

tsp

fresh lemon juice

1

tbsp

Parmesan cheese

1

tsp

fresh parsley

finely chopped

1/2

tsp

salt

1/4

tsp

black pepper
Instructions
In a small skillet over medium heat, dry toast the garlic cloves until starting to brown. Allow to cool a bit and then press them through a garlic press.

Place the french fries into the basket of the air fryer. Cook at 400 degrees F. Toss the fries about halfway through cooking time. Cook until the fries are crispy on the outside and still soft on the inside, about 12 - 14 minutes.

While the fries are cooking, stir together the melted butter, toasted and pressed garlic, Parmesan, lemon juice, parsley, salt and pepper.

Add the cooked fries to a large bowl. Toss them with the butter mixture. Serve immediately.
Nutrition
Calories:
340
kcal
|
Carbohydrates:
35
g
|
Protein:
4
g
|
Fat:
22
g
|
Saturated Fat:
8
g
|
Polyunsaturated Fat:
1
g
|
Monounsaturated Fat:
11
g
|
Trans Fat:
0.2
g
|
Cholesterol:
12
mg
|
Sodium:
900
mg
|
Potassium:
498
mg
|
Fiber:
5
g
|
Sugar:
0.03
g
|
Vitamin A:
144
IU
|
Vitamin C:
8
mg
|
Calcium:
30
mg
|
Iron:
2
mg
Foodtastic Mom is a participant in the Amazon Services LLC Associates Program (Amazon Associate), an affiliate advertising program designed to provide a means for sites to earn advertising fees by advertising and linking to Amazon.com. Any highlighted, clickable Amazon link you see is an affiliate link that I may earn advertising fees on when you click to purchase.
Thank you so much for being a faithful reader and supporter of Foodtastic Mom. Be sure to PIN to Pinterest and print this recipe! Also like and tag 'Foodtastic Mom' on Facebook and Instagram if you make this recipe!