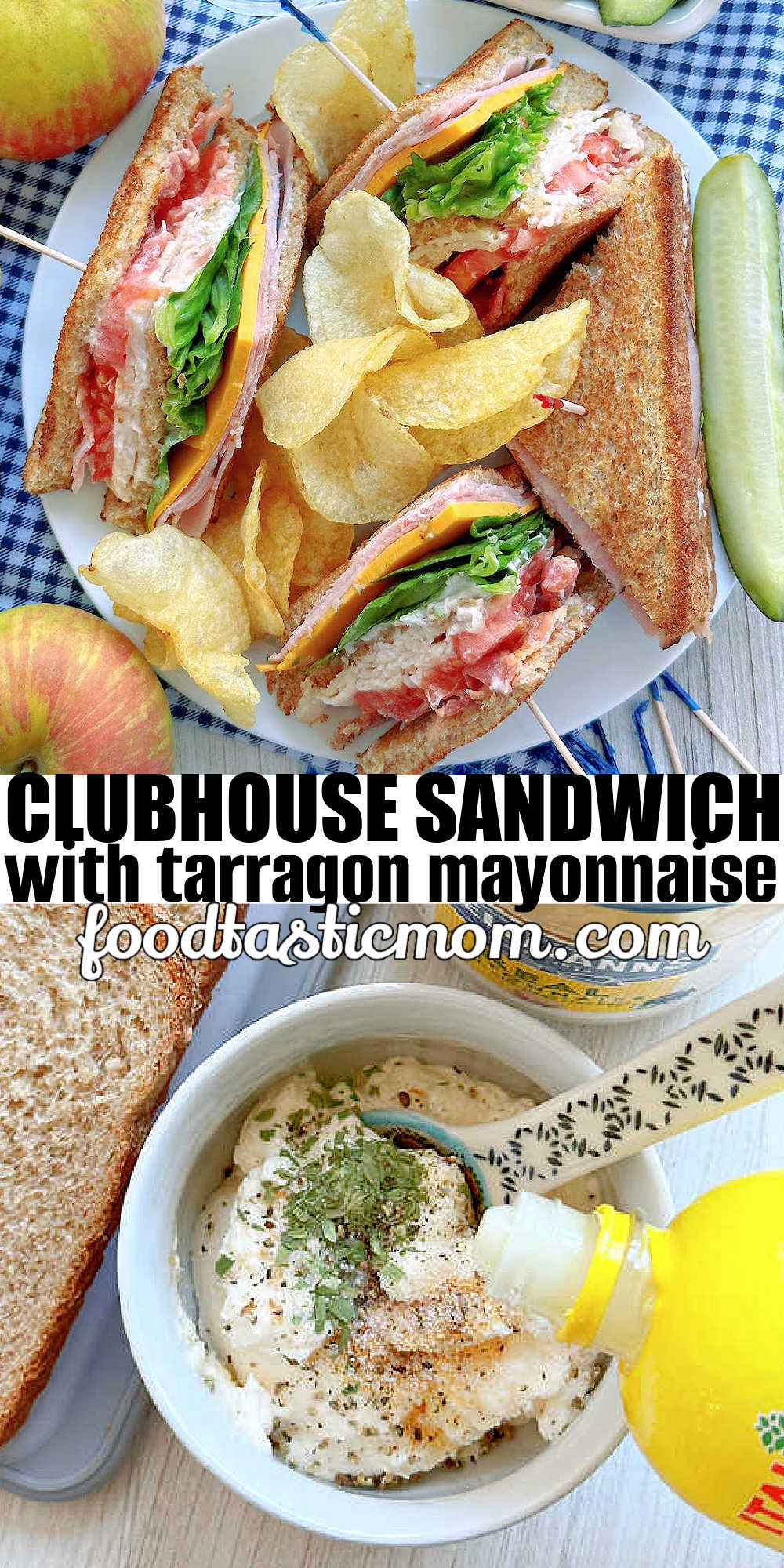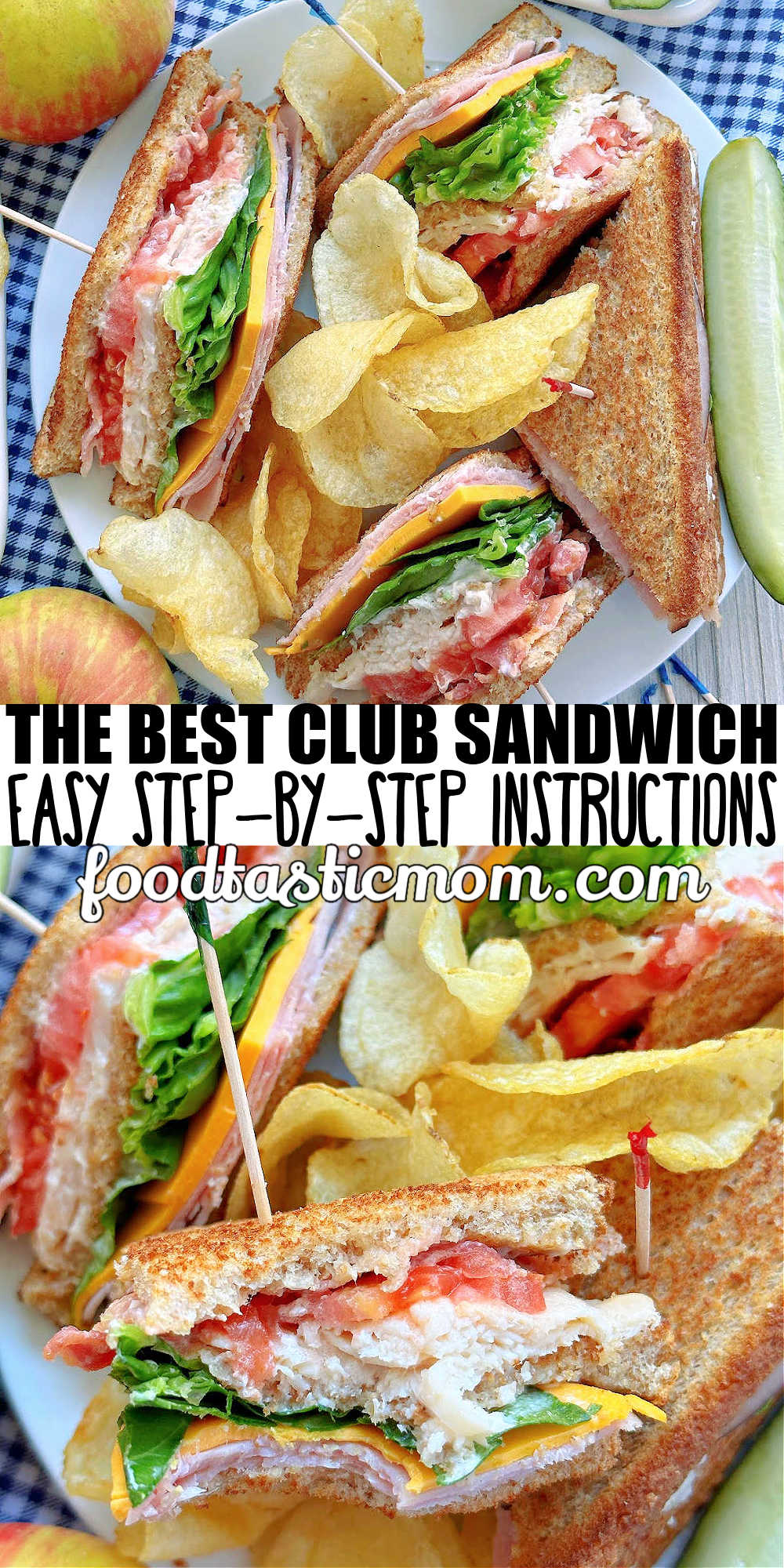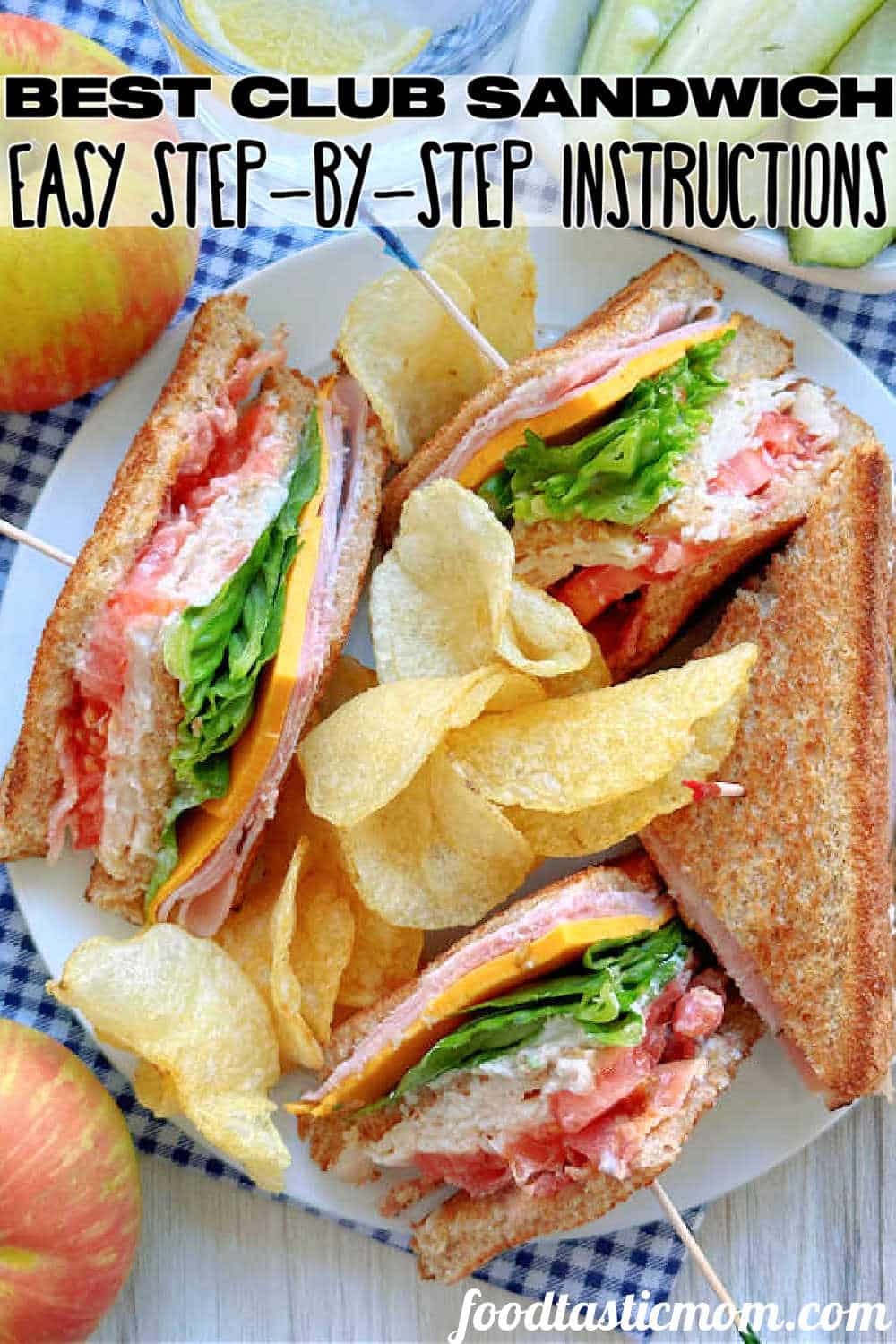 Simple instructions for making a Clubhouse Sandwich at home. Tarragon mayonnaise and buttery toast make this club sandwich the best.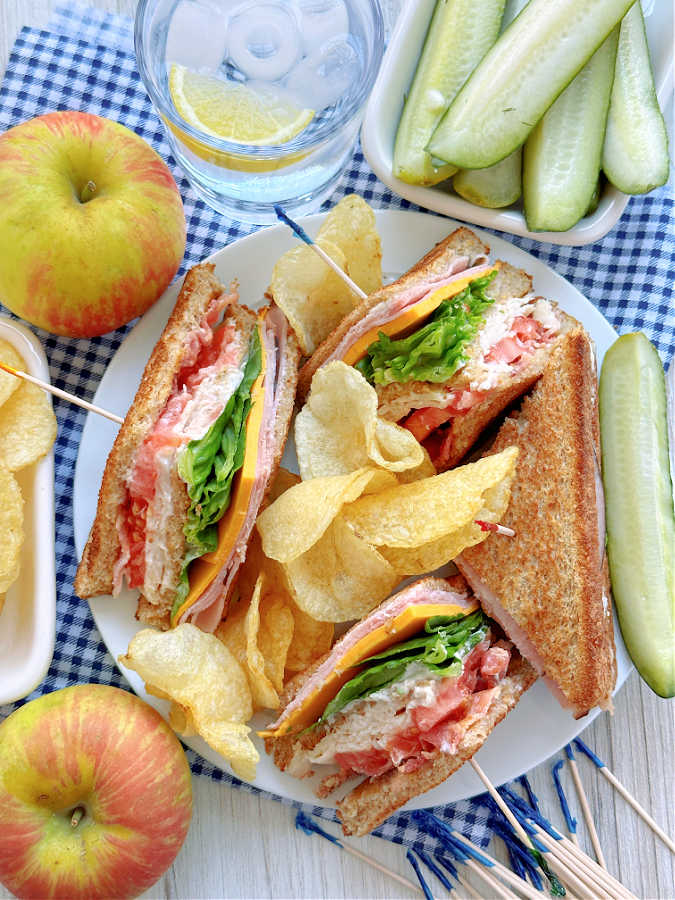 Clubhouse sandwich is a classic right? You might not think you need a recipe. But I spent time perfecting it. You want to know how to make this sandwich at home because it's better than anything you can order out. And you can customize the layers to your own tastes. This traditional club sandwich reminds me of time spent on the golf course with my Grandpa when I was a kid. He and I spent a lot of hours on the course and would always get lunch afterwards. This type of sandwich served with some potato chips and a pickle spear was always a favorite of his and mine.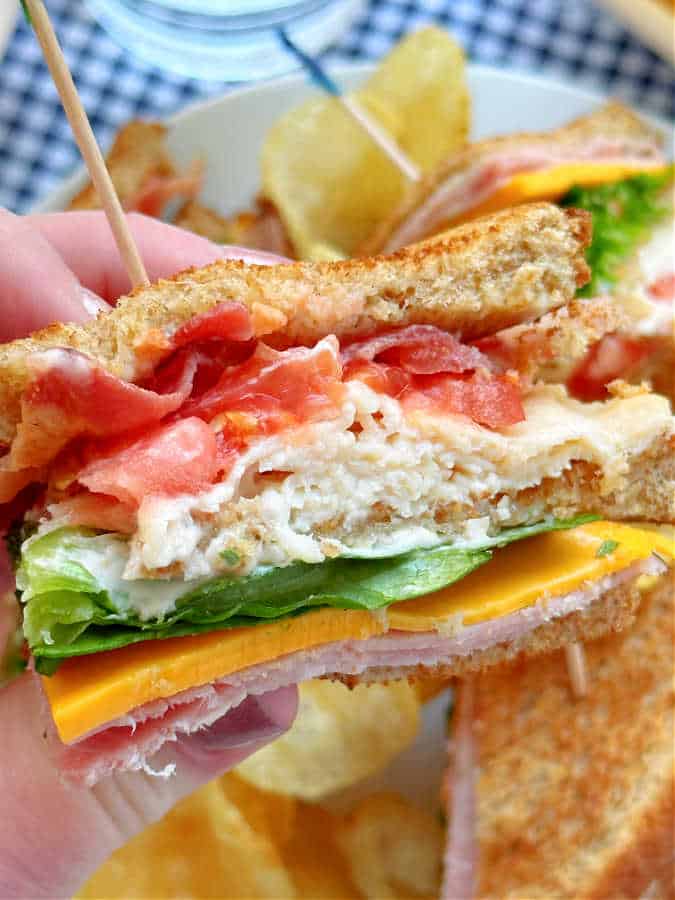 What is a clubhouse sandwich?
The club sandwich has its origins in New York and can be dated back to the late 1800's. To me I've always associated this classic, double decker sandwich with the clubhouse on a golf course. The typical ingredients for a classic club include slices of bread and ham, deli turkey or chicken, several slices bacon, cheddar cheese, juicy tomatoes, crisp lettuce and mayonnaise.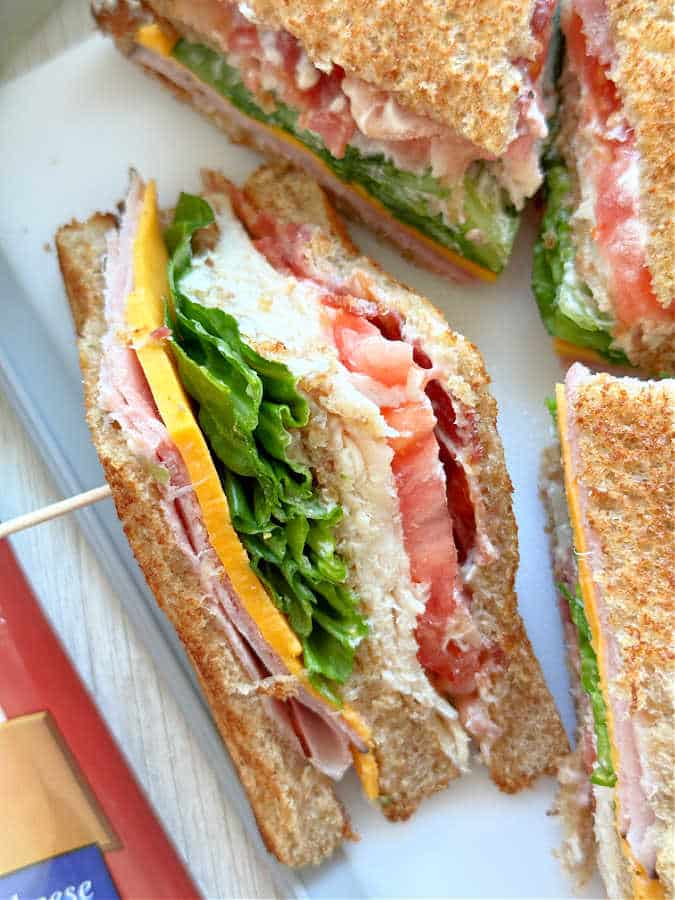 Why this recipe works?
The purpose of my recipe is to solve what I've always felt were the weakest points of a clubhouse sandwich. Dry bread and not enough flavor. My recipe works because of my toasting method for the bread, which includes buttering one side of each slice of bread. This keeps the interior of the sandwich moist and the exterior sturdy enough to be assembled and cut neatly. I tried my sandwich both with butter and without and I can decidedly say that the butter is a big trick to this sandwich.
Then to really amp up the flavor, I mix my mayonnaise with tarragon, garlic powder, lemon juice, salt and pepper. It's truly a game changer for this sandwich. The flavors just sing and really help to harmonize all of the separate ingredients into an extra happy composition. I'm partial to the tarragon flavor but in the summer when tomatoes are at their most ripe, you could replace the tarragon with fresh basil.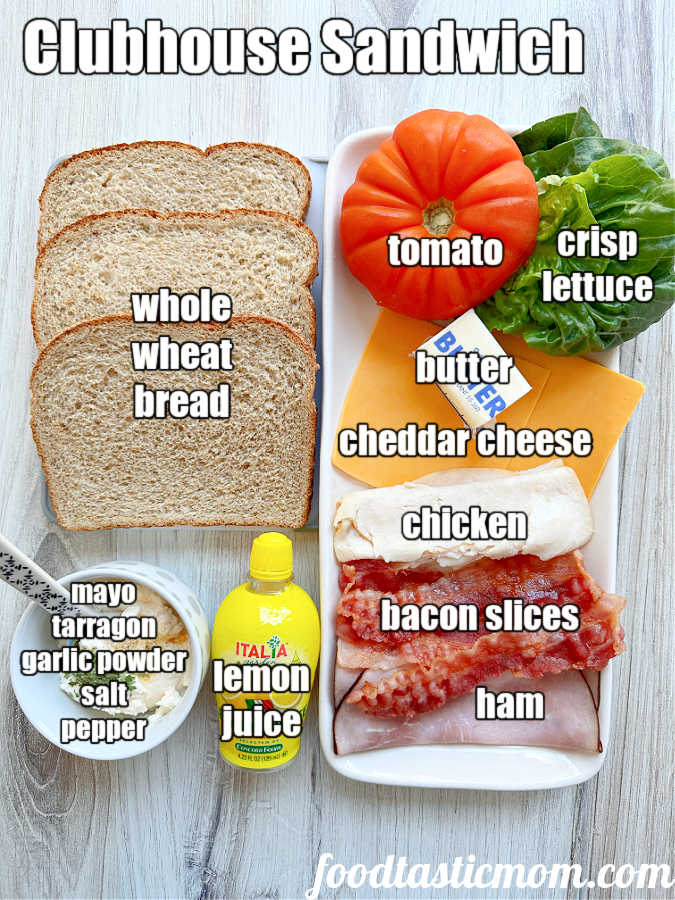 Club sandwich ingredients
Bread – Use a sturdy sandwich bread for the layers of bread. My personal favorite is whole wheat or rye. But you can also choose to use sourdough or other type of hearty, white bread.
Mayo – A thin layer of flavored mayonnaise (in this case tarragon) spread thinly from edge to edge on each slice of bread (interior side) is the key to making this clubhouse sandwich the best.
Tarragon – I use dried tarragon because fresh tarragon can sometimes be difficult to find, depending on the season.
Garlic Powder – More flavor for the mayonnaise. My opinion is that garlic flavor makes everything better.
Lemon Juice – Thins the mayonnaise a little bit for ease of spreading, but adds a nice bright flavor to the sandwich.
Salt and Pepper – Again more flavor is a good thing.
Ham – I prefer using very thin slices of ham. I also like a smoked ham or Black Forest ham. But use your favorite variety.
Chicken or Turkey – The choice is totally up to you. I prefer a thinly sliced deli chicken. But turkey is probably the more popular choice.
Bacon – This microwave bacon is delicious and so convenient for making sandwiches.
Cheddar Cheese – I like a mild slice or two of cheddar cheese. I don't want to overwhelm the other ingredients and flavors with a really sharp cheddar.
Tomatoes – This sandwich can be made any time of year. If you don't have a fresh summer tomato you can set your grocery tomatoes on a sunny kitchen window sill to help them ripen.
Lettuce – Fresh green leaves of lettuce like romaine or little gem are my favorite.
Fancy Toothpicks – To get that classic club sandwich look and to help anchor each quarter of the sandwich after being sliced, fancy toothpicks are essential.
Instructions for making clubhouse sandwich
Mix together the ingredients for the tarragon mayonnaise.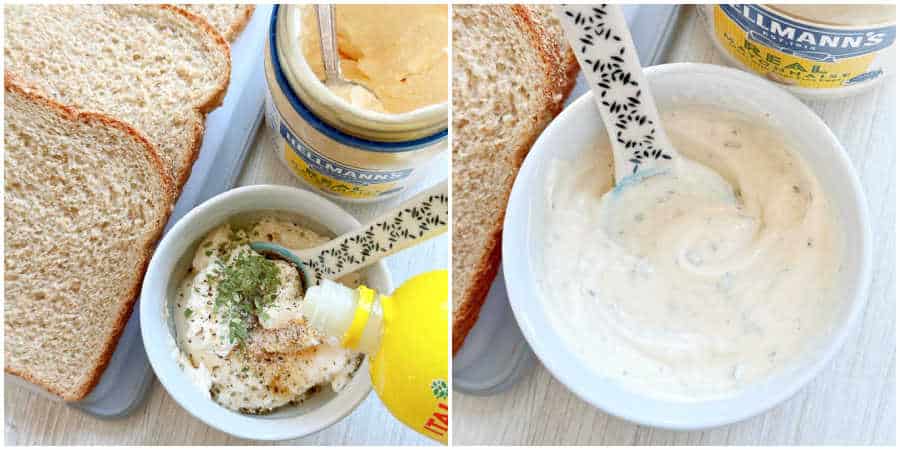 Melt the butter, brush one side of each slice and toast the pieces of bread on a baking sheet lined with parchment paper or aluminum foil under your oven's broiler.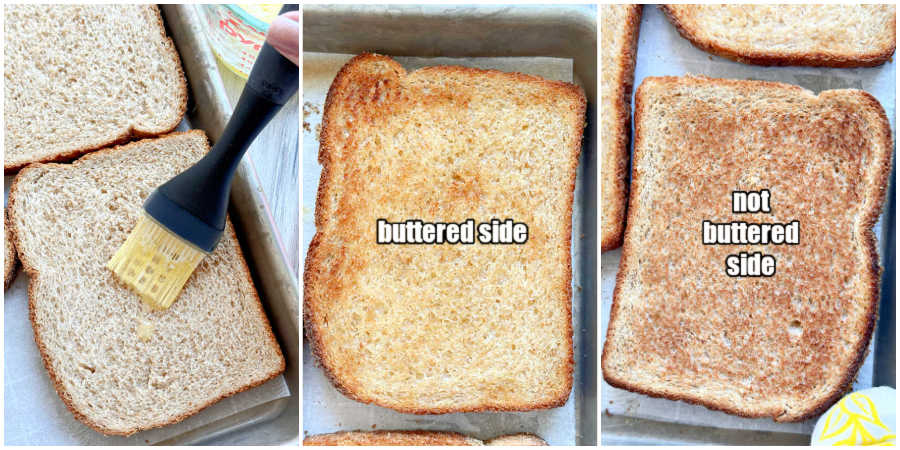 Layer the sandwich according to the picture illustrations.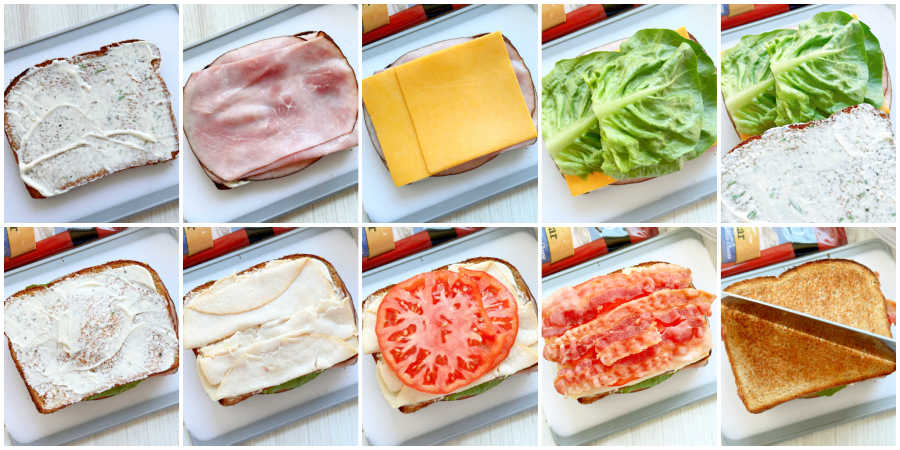 Pro tips
For sandwiches, I really like using microwave bacon for same day preparation. If you prefer, you can choose to cook your slices of bacon the day before you plan to make your clubhouse sandwich. I like to bake my bacon in the oven.
Serving suggestions
Potatoes are the obvious choice to serve with club sandwiches. As pictured with potato chips and dill pickles is my favorite. Here's some recipes for french fries and potato salad. Coleslaw is another good choice.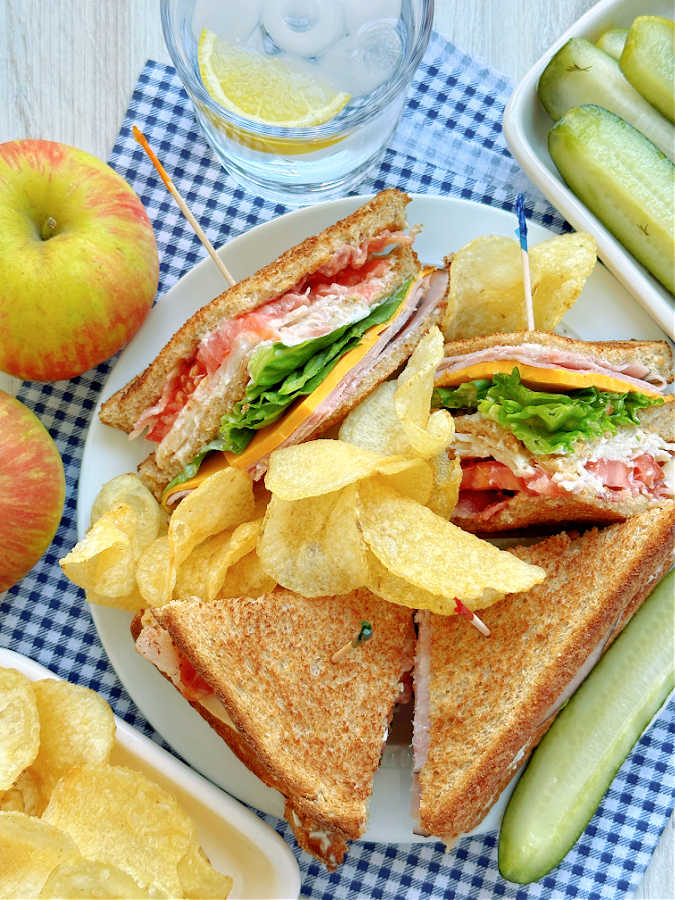 Storage directions
I do not recommend storing leftover, assembled clubhouse sandwiches. The bread will get too soggy when stored. You can however store the ingredients separately, to prepare more sandwiches at a later date. Always store food in the refrigerator in air tight containers to keep them fresh.
Kitchen tools
More sandwich recipes
Clubhouse Sandwich
Simple instructions for making a Clubhouse Sandwich at home. Tarragon mayonnaise and buttery toast make this club sandwich the best.
Ingredients
6

slices

bread

1/3

cup

mayonnaise

1

tbsp

lemon juice

1

tsp

tarragon

dried

3/4

tsp

garlic powder

1/4

tsp

salt

1/4

tsp

black pepper

6

slices

ham

very thin

6

slices

deli chicken

very thin

6

slices

bacon

cooked and cooled

4

slices

cheddar cheese

4

lettuce leaves

4

slices

tomatoes
Instructions
Set your oven to broil. Place an oven rack in the upper third portion of the oven.

Line a sheet pan with parchment paper or aluminum foil. Lay out the six slices of bread on the pan.

Melt the butter in the microwave. Use a pastry brush to apply a light coating of melted butter on one side of each slice of bread.

Toast bread on both sides (about 2 minutes per side, watch closely so as not to burn) until both sides are toasted. One side of each slice of bread will be buttered and one side will not.

In a small bowl, mix together the mayonnaise with tarragon, garlic powder, lemon juice, salt and pepper.

For each sandwich, spread the first slice of bread (on the buttered side) with a thin layer of mayonnaise. Make sure to go all the way to the edges.

Layer on three slices of ham (for each sandwich).

Top with two slices of cheddar cheese (for each sandwich).

Top with two lettuce leaves (for each sandwich).

Spread a thin layer of the mayonnaise on BOTH sides of the middle slice of bread and place it on top of the lettuce.

Then top that second slice of bread with three slices of chicken (or turkey).

Top the chicken with one or two tomato slices and three slices of bacon.

Spread the remaining mayonnaise onto the final piece of bread (on the buttered side).

Place the final piece of bread on top of the bacon (for each sandwich).

Use a sharp knife to slice each sandwich into equal quarters.

Secure each triangle with a frilled toothpick. Serve immediately.
Nutrition
Calories:
910
kcal
|
Carbohydrates:
46
g
|
Protein:
43
g
|
Fat:
61
g
|
Saturated Fat:
18
g
|
Polyunsaturated Fat:
21
g
|
Monounsaturated Fat:
18
g
|
Trans Fat:
0.1
g
|
Cholesterol:
123
mg
|
Sodium:
2536
mg
|
Potassium:
734
mg
|
Fiber:
4
g
|
Sugar:
7
g
|
Vitamin A:
4193
IU
|
Vitamin C:
16
mg
|
Calcium:
392
mg
|
Iron:
5
mg
Foodtastic Mom is a participant in the Amazon Services LLC Associates Program (Amazon Associate), an affiliate advertising program designed to provide a means for sites to earn advertising fees by advertising and linking to Amazon.com. Any highlighted, clickable Amazon link you see is an affiliate link that I may earn advertising fees on when you click to purchase.
Thank you so much for being a faithful reader and supporter of Foodtastic Mom. Be sure to PIN to Pinterest and print this recipe! Also like and tag 'Foodtastic Mom' on Facebook and Instagram if you make this recipe!