These Slow Cooker Short Ribs are fall off the bone tender, savory hunks of meaty perfection.
It's not very often I get to enjoy a personal cooking lesson from a head chef plus get to take home one of the actual recipes used in a high-end restaurant, but this is one of those times. These slow cooker short ribs are perfection!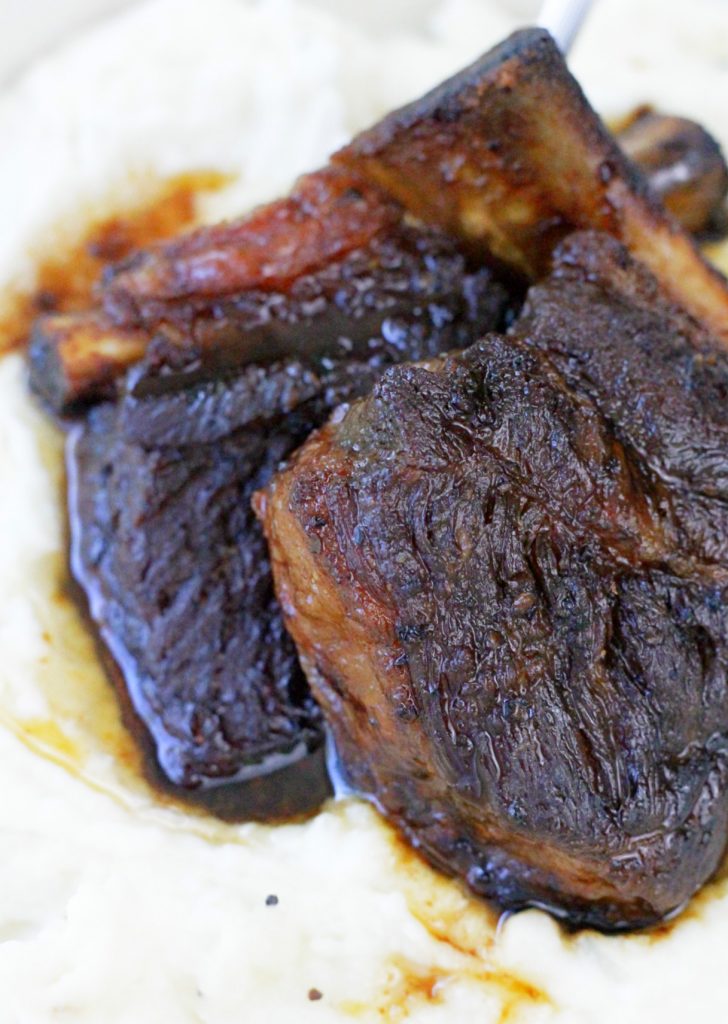 Let me back up. I've enjoyed a partnership with the Ohio Beef Council for two years now. I develop family-friendly recipes for them and they invite me on fun trips to visit Ohio beef farms and eat delicious food and drink amazing cocktails in some of Columbus, Ohio's finest restaurants (thanks Cameron Mitchell). I personally think I'm getting the better end of the deal.
Watch how to make Slow Cooker Short Ribs:
Before I tell you how to create these amazing short ribs in your own kitchen, I want to tell you about cows and the families who raise them. On my most recent trip with some fellow Ohio bloggers I visited two family-run farms.
Dusty Rose Farm
Jim and Dee Jespen own and operate Dusty Rose Farm in Fairfield County, Ohio where they manage 850 acres of crops and 60 beef cows. Their two daughters are recent college grads who plan to work in beef farming as well.
The Jespen's gave us a field tour and talked about herding the cows to greener pastures as they graze and the trust they build with the families who buy their freezer beef. They work hard and their farm is truly a labor of love. Their income is supplemented by Dee's position as a professor at The Ohio State University.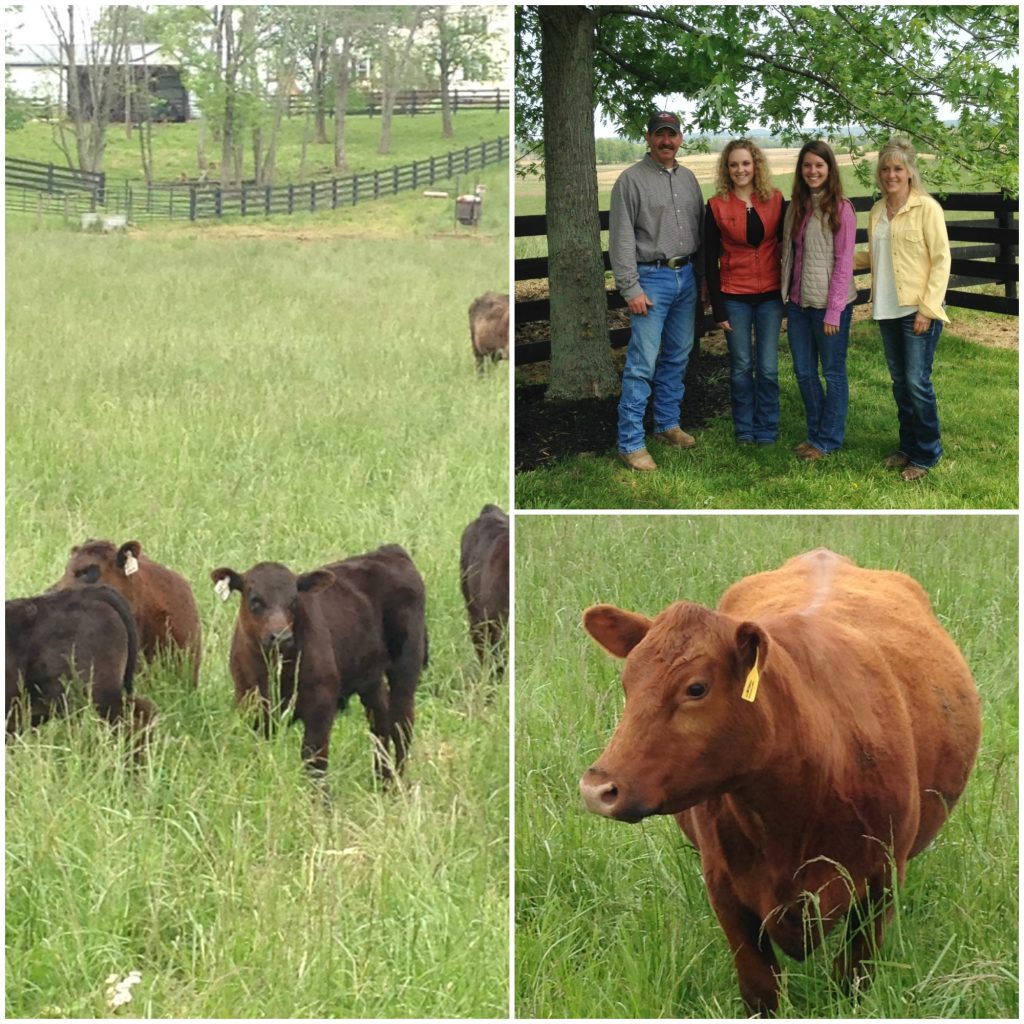 Hoffman Farms
We also visited Hoffman Farms. Christian Hoffman and his father operate their 700-head feedlot together. They grow the typical mix of corn and soybeans on their land to feed their beef cows. They tend to plant two crops per year in the same field. Double cropping allows the family to sell grain, while keeping enough on hand for feed.
The Hoffmans also grow barley, wheat and sorghum and experiment with mixes to optimize their cows' health while at the same time being good stewards of their land. It was fascinating to hear the effort that goes into feeding the cows and learning about silage – which is fermented grain. The various grains are packaged "wet" and ferment so they are soft and sweet – easier for the cows to digest.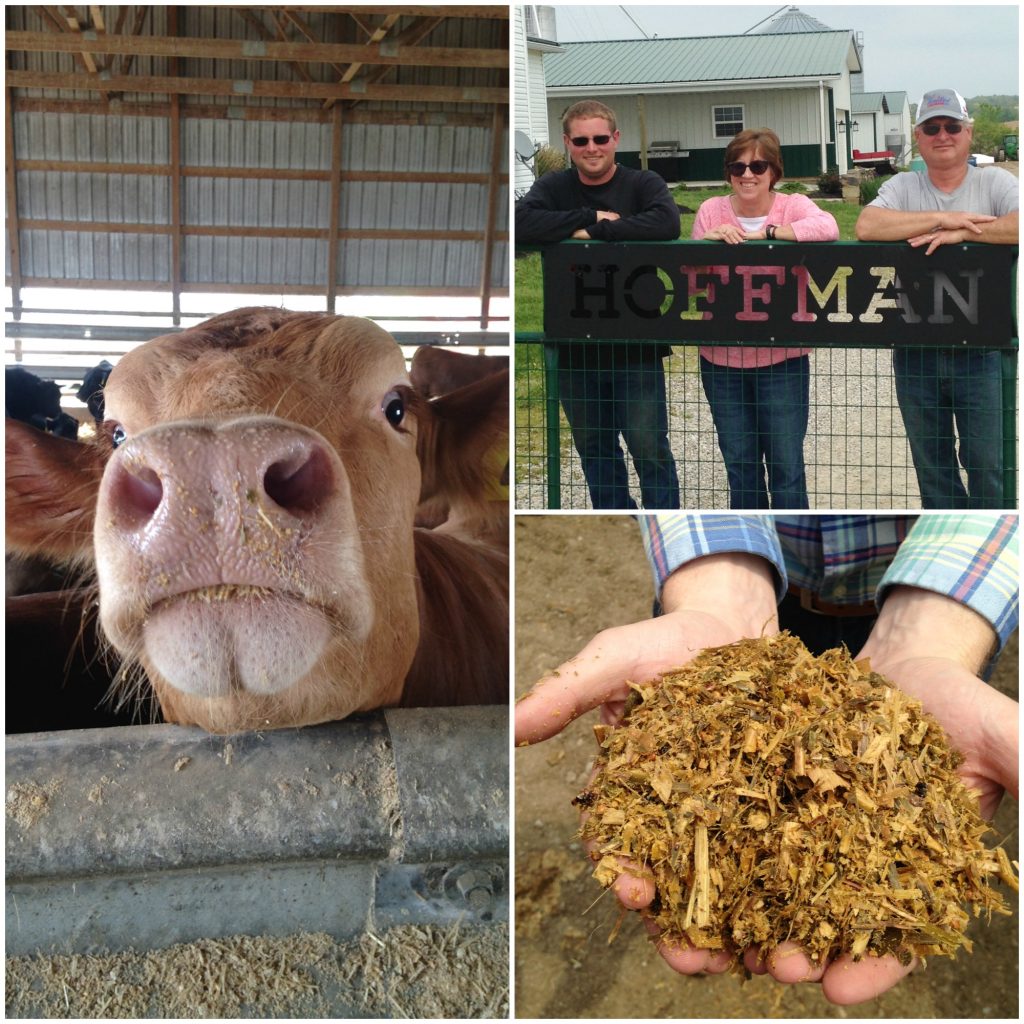 Both family farms addressed one of the biggest concerns of all farmers which is feeding an ever growing world population. Did you know less than two percent of the population is directly employed in agriculture? That's a very small amount of people growing a very large amount of food. When you start thinking about all these implications you realize there's a lot to consider in terms of managing all the pieces of the puzzle – for the health and well being of both people and animals. And I'd say Ohio beef farmers are managing it all very well.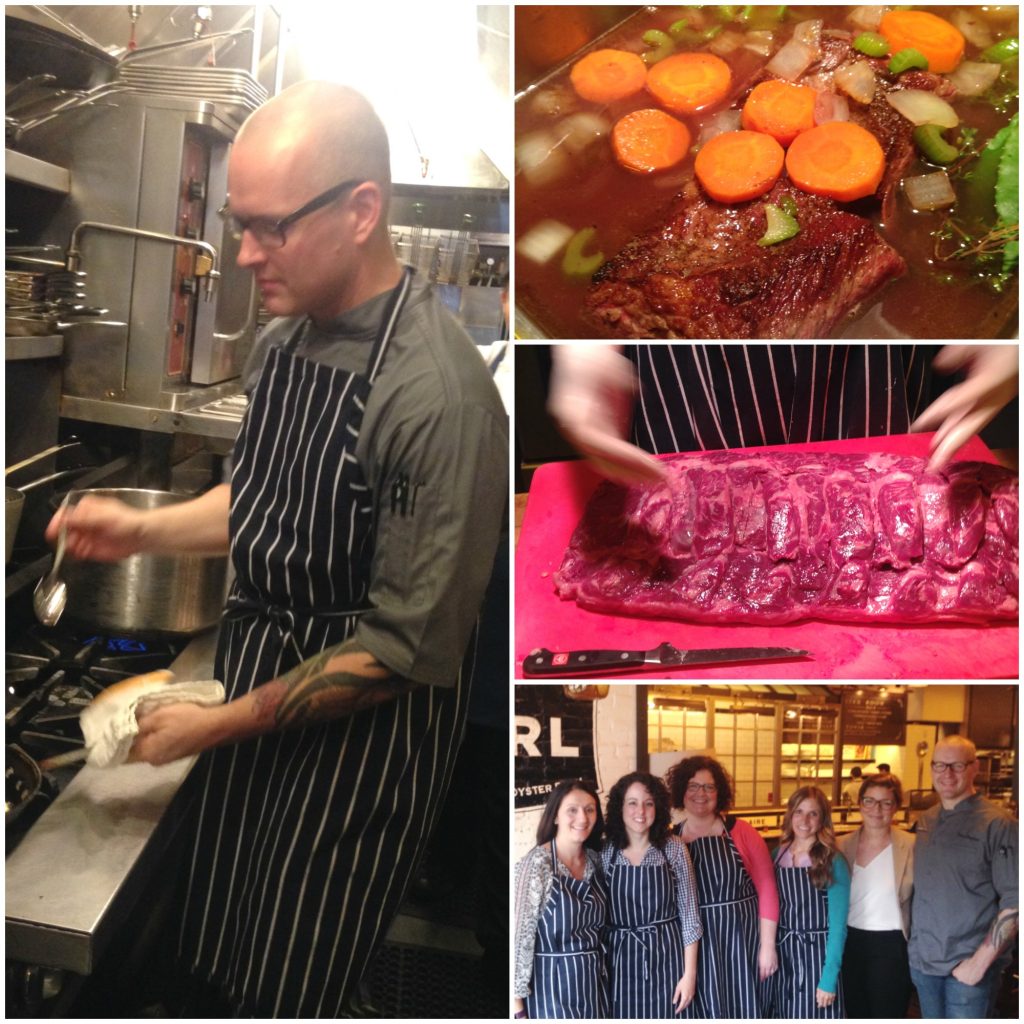 Restaurant Tour
After the farm visits we enjoyed an amazing progressive dinner at three of Cameron Mitchell's restaurants in downtown Columbus in the Short North – Marcella's, The Guild House and The Pearl. We were accompanied on our tasting of local beef dishes and the most amazing craft cocktail sampling I'd ever experienced by both Peter Chapman (head regional chef for Cameron Mitchell restaurant group) and Andrea Hoover (beverage operations manager).
Of all the dishes we sampled (and learned to cook the next morning) my favorite was the simply rustic yet perfectly prepared short ribs. I was provided the official restaurant recipe but I decided to convert it to a slow cooker recipe for home use.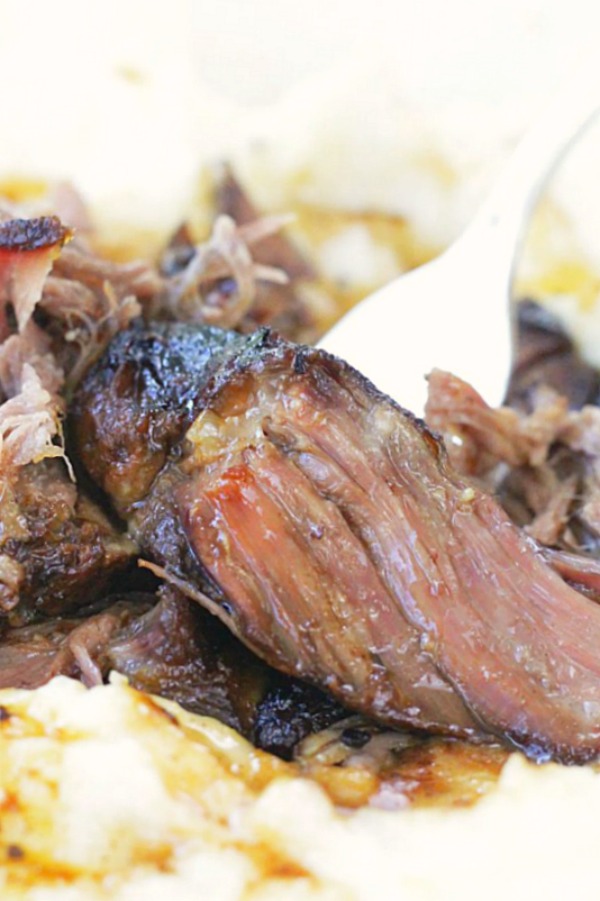 Beef is what's for dinner often in our household. And these short ribs are a simple to prepare dish that taste like fancy restaurant food. I hope you'll try them! And be assured the next time you are purchasing beef at your grocery store that it was thoughtfully prepared by family farmers dedicated to feeding you nutritious and delicious beef.
Tips for Slow Cooker Short Ribs:
Foodtastic Mom is a participant in the Amazon Services LLC Associates Program, an affiliate advertising program designed to provide a means for sites to earn advertising fees by advertising and linking to Amazon.com. Any highlighted, clickable Amazon link you see is an affiliate link that I may earn advertising fees on.
Thank you so much for being a faithful reader and supporter of Foodtastic Mom. Be sure to PIN and print this recipe!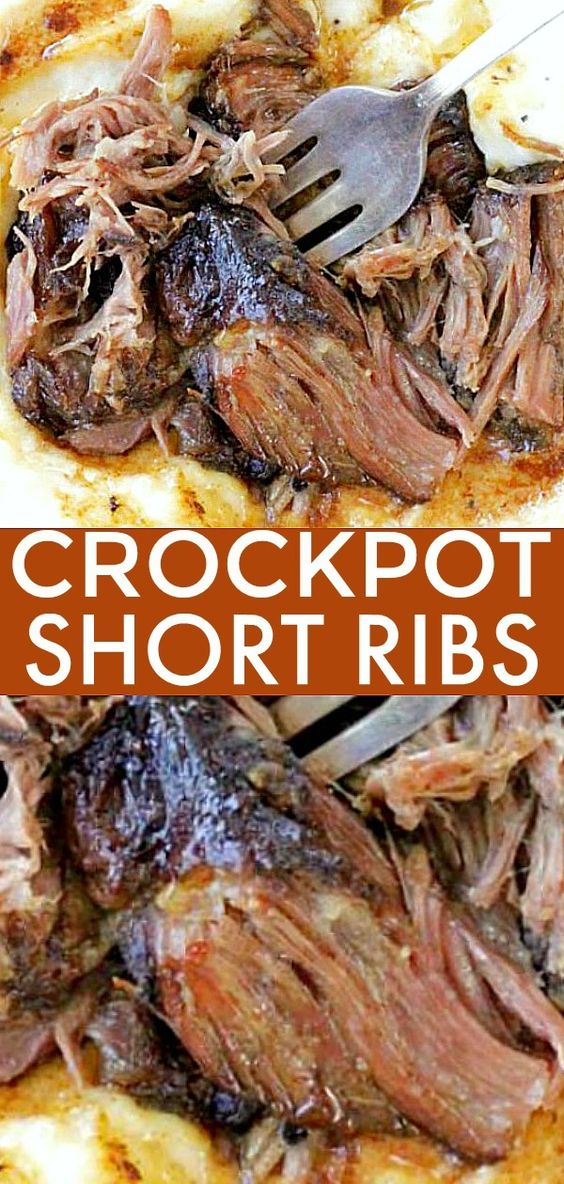 Slow Cooker Short Ribs
This recipe for slow cooker short ribs comes to you directly from an executive chef, adapted for your slow cooker at home.
Ingredients
8

beef short ribs

2

tbsp

vegetable oil

1/2

onion

chopped

1

large

carrot

chopped

1

rib

celery

chopped

1/2

apple

peeled and chopped

1/3

cup

red wine

1/4

cup

orange juice

2

tbsp

tomato paste

3/4

cup

chicken broth

salt and pepper
Instructions
Heat oil in a large, non-stick pan over medium-high heat.

Season the short ribs liberally with salt and pepper. Add the short ribs to the pan and brown on both sides. Cook in two batches so as not to crowd the pan.

Transfer the browned short ribs to a slow cooker set to LOW heat.

Drain the oil but do not wipe the pan clean. You want the browned bits left in for flavor.

Return the pan to medium high heat and add the chopped onion, carrot and celery and cook for a couple of minutes.

Add the apple and cook for one minute more.

Add the wine and orange juice and cook for one minute.

Add the tomato paste. Stir well to combine and cook for one minute.

Add the chicken broth and bring to a boil.

Remove the pan from the heat and stir in one half a teaspoon of both salt and pepper to the chicken broth and vegetable mixture.

Pour the chicken broth mixture over the browned short ribs in the slow cooker and cover with a lid.

Cook on LOW heat for 8 - 10 hours, or until ribs are fork tender. Serve over mashed potatoes.
Nutrition
More delicious recipes using Ohio Beef: