This Skillet Shepherd's Pie can be made with a shortcut for a simple and satisfying weeknight meal that bridges winter comfort food with spring vegetables.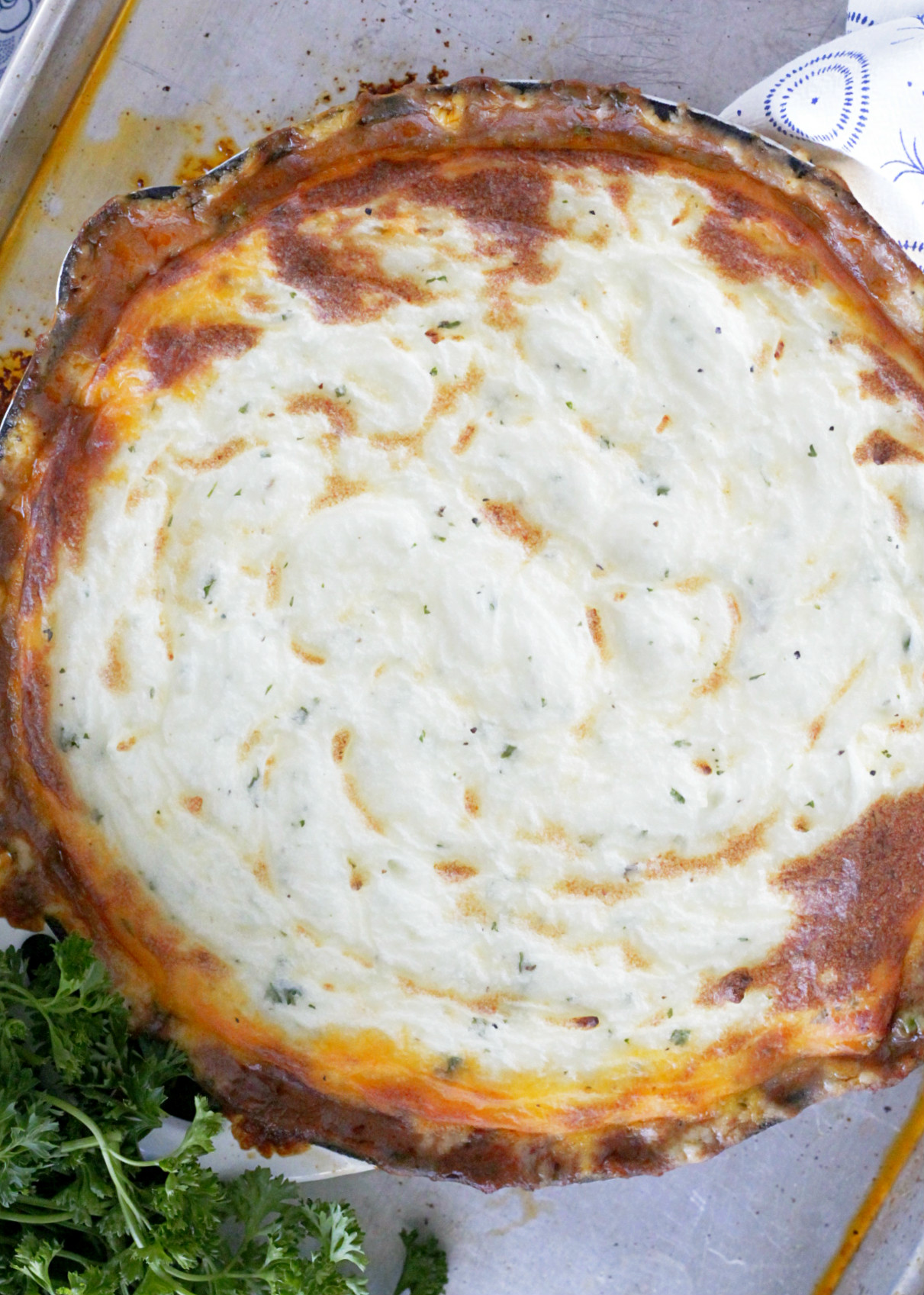 Skillet Shepherd's Pie is a seriously comforting meal. Ground beef and gravy are topped with hearty mashed potatoes and baked in the oven. But the addition of bright green sweet peas make me think of this as a springtime meal. A splash of Guinness Beer can even be added to the gravy if you desire for a dish served around the time of St. Patrick's Day.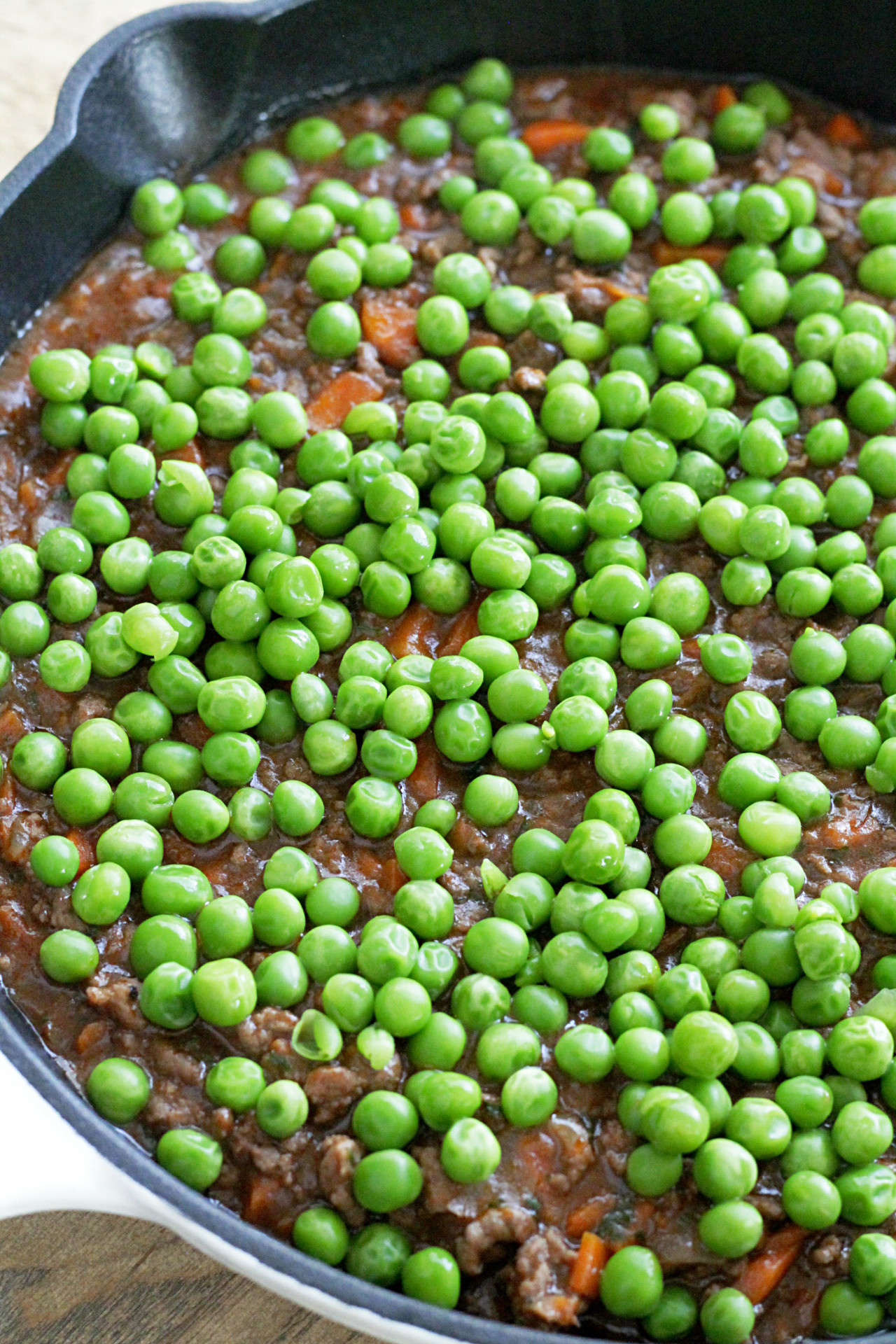 I make my Shepherd's Pie in a skillet so that I can cook the beef and vegetables on the stove top and then transfer the same dish to the oven for baking. When I am in a hurry I find no shame in taking help from the store in the form of pre-made mashed potatoes. However when I have a little more time to cook I make the mashed potato topping from scratch – which I am sharing below as part of the recipe.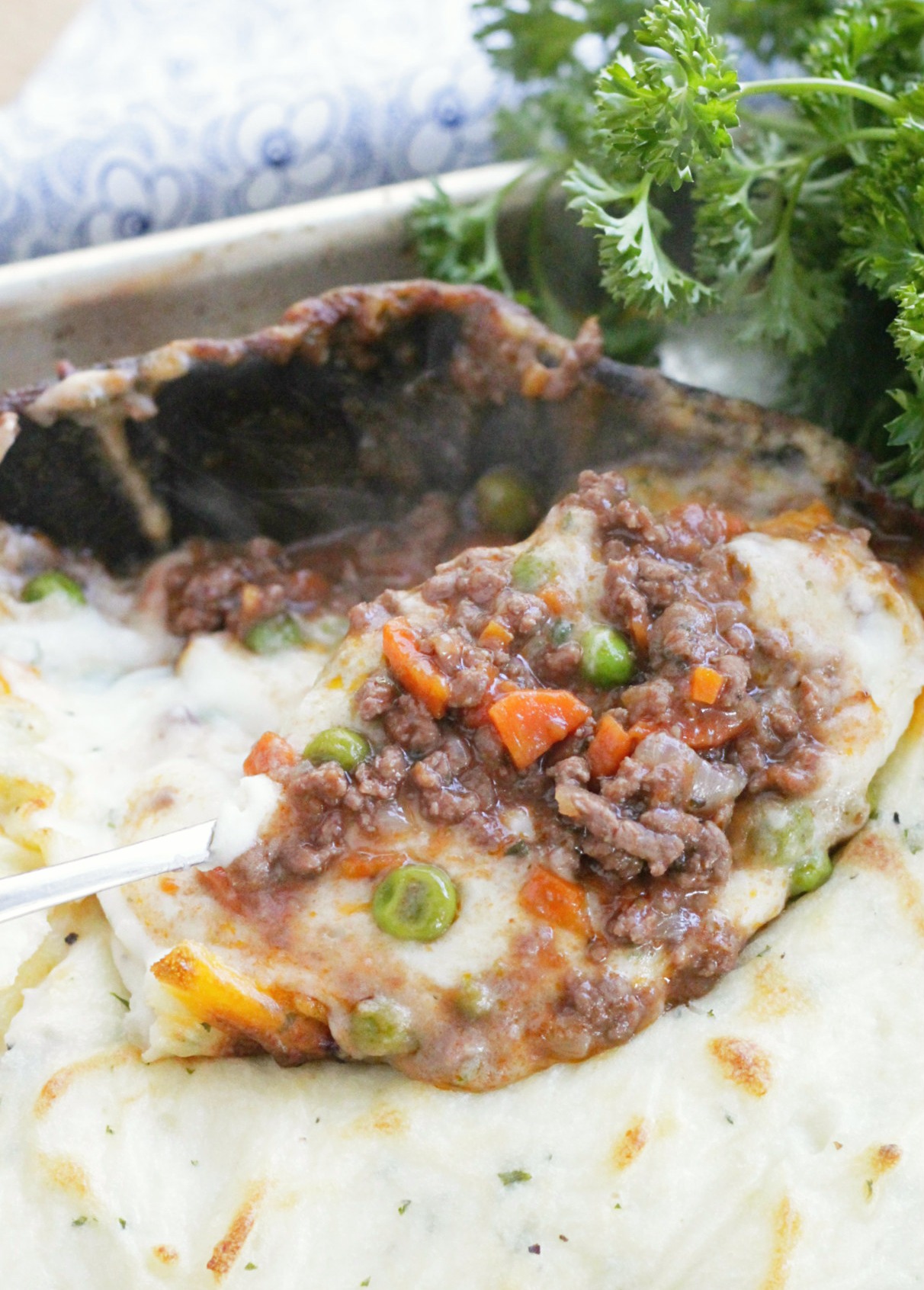 Besides comfort food and Spring, this Skillet Shepherd's Pie also makes me think of Harry Potter. I think my son would love this meal whether he was a Harry Potter fanatic or not. But he is and so when I make it he gets extra happy about his dinner that night as he remembers all his favorite characters from the books. We've watched the movies too but the books are how we all started with Harry Potter.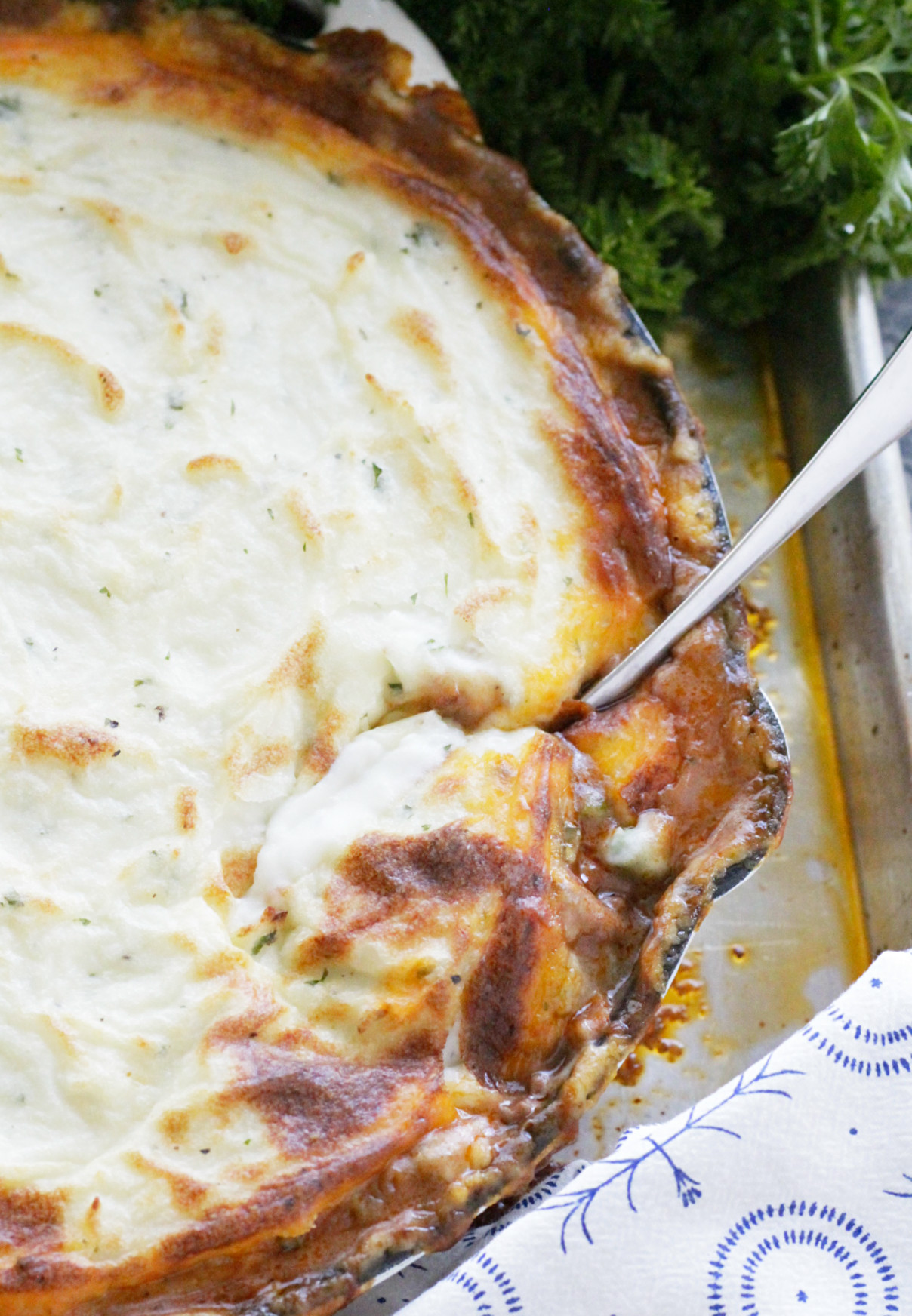 Tips for making Skillet Shepherd's Pie:
For the gravy you can use all beef broth or consommé if you want to leave out the red wine – or you can replace the red wine with an equal amount of Guinness beer
I used a skillet like this one to make Skillet Shepherd's Pie
Allow the pie to "set up" for about 10 minutes after baking and before serving
Add the peas on top of the beef mixture right before topping with the mashed potatoes – this will keep the peas from getting too mushy
Serve this Shepherd's Pie with crusty bread and a Caesar salad for a complete meal
Foodtastic Mom is a participant in the Amazon Services LLC Associates Program, an affiliate advertising program designed to provide a means for sites to earn advertising fees by advertising and linking to Amazon.com. Any highlighted, clickable Amazon link you see is an affiliate link that I may earn advertising fees on.
Thank you so much for being a faithful reader and supporter of Foodtastic Mom. Be sure to PIN and print this recipe!

Skillet Shepherd's Pie
This Skillet Shepherd's Pie can be made with a shortcut for a simple and satisfying weeknight meal that bridges winter comfort food with spring vegetables.
Ingredients
4

large

russet potatoes

peeled and cubed

8

tbsp

unsalted butter

divided

1/4

cup

fat free whipping cream

4

oz

cream cheese

1/4

cup

Parmesan cheese

finely grated

1/2

tsp

salt

1/2

sweet

onion

finely chopped

2

large

carrots

finely chopped

1

tbsp

tomato

paste

2

tbsp

all-purpose flour

1

tsp

salt

1/2

tsp

oregano

1/2

tsp

thyme

1/2

tsp

black pepper

1

lb

ground sirloin

90% lean

1/2

cup

red wine

use an equal amount of beef broth or beef consommé or Guinness to replace the wine if desired

1/2

cup

beef consommé

or beef broth

2

tbsp

fresh parsley

chopped

1

cup

sweet peas

frozen
Instructions
Cover the potatoes with cold water and bring to a low boil. Cook the potatoes until easily pierced with a fork. Drain the potatoes.

Add 6 tablespoons of butter, fat free half and half, cream cheese, Parmesan cheese and the half teaspoon of salt to the potatoes. Mash until smooth. Set aside. Alternately you can use leftover mashed potatoes or purchased mashed potatoes from the store. If you would like your mashed potato topping to be more firm, stir one egg yolk into the potatoes before topping the Shepherd's Pie and baking.

In an oven safe skillet add the remaining two tablespoons of butter and melt over medium heat. Add the onions and carrots and cook until starting to soften, about 7 or 8 minutes.

Add the tomato paste, flour and all the seasonings (salt, oregano, thyme and pepper). Stir until combined.

Add the ground sirloin and cook until no pink remains in the meat. Stir in the red wine and allow to simmer for a couple of minutes to allow the alcohol to cook off.

Add the beef consommé (or broth) and simmer again for a couple of minutes.

Remove the beef and gravy mixture from heat. Stir in the parsley and top with the peas.

Top the meat mixture with the prepared mashed potatoes.

Bake the Skillet Shepherd's Pie in a 400 degree F oven for 20 - 25 minutes, or until potatoes are starting to brown.

Allow the Shepherd's Pie to rest for about 10 minutes before serving.
Nutrition
More cast iron skillet recipes: