Gingerbread Dutch Baby with Lemon Whipped Cream is an impressive breakfast treat that takes just minutes to prepare with the help of the Oster® brand Classic Series Whirlwind™ Blender.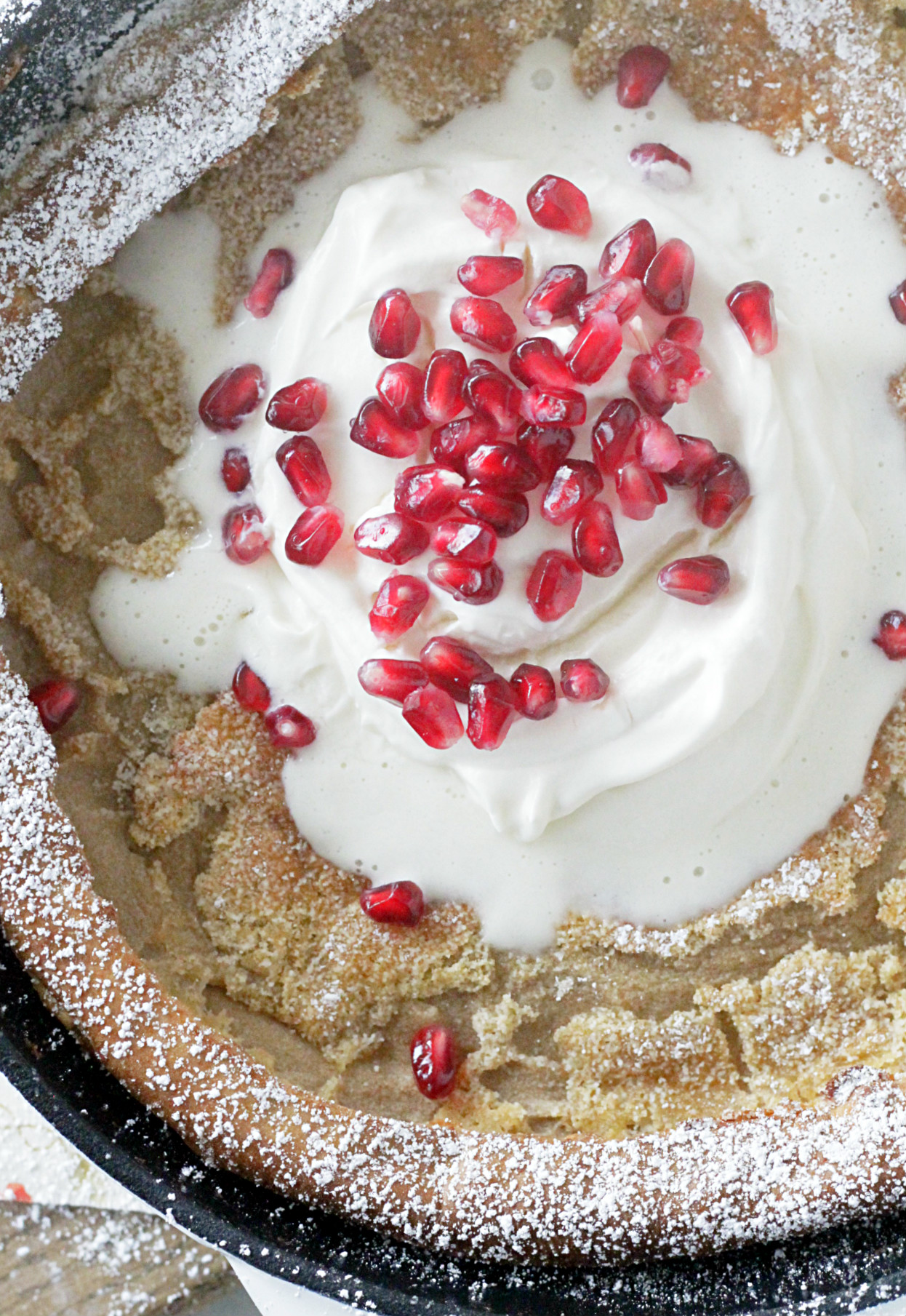 Have you ever made a Dutch baby? It's an oven puffed pancake that is served straight from the skillet it is baked in. The batter is blended to a light and frothy mixture and is then poured into a hot skillet coated with melted butter. Baking the Dutch baby in the oven makes it puff up impressively over the sides of the skillet.

The batter itself is not very sweet which makes a Dutch baby pancake the perfect vehicle for sweet toppings. Gingerbread is a classic flavor in the Winter and lemon and ginger pair really well together. So for my warmly spiced gingerbread Dutch baby I decided to make a quick lemon whipped cream to serve with it.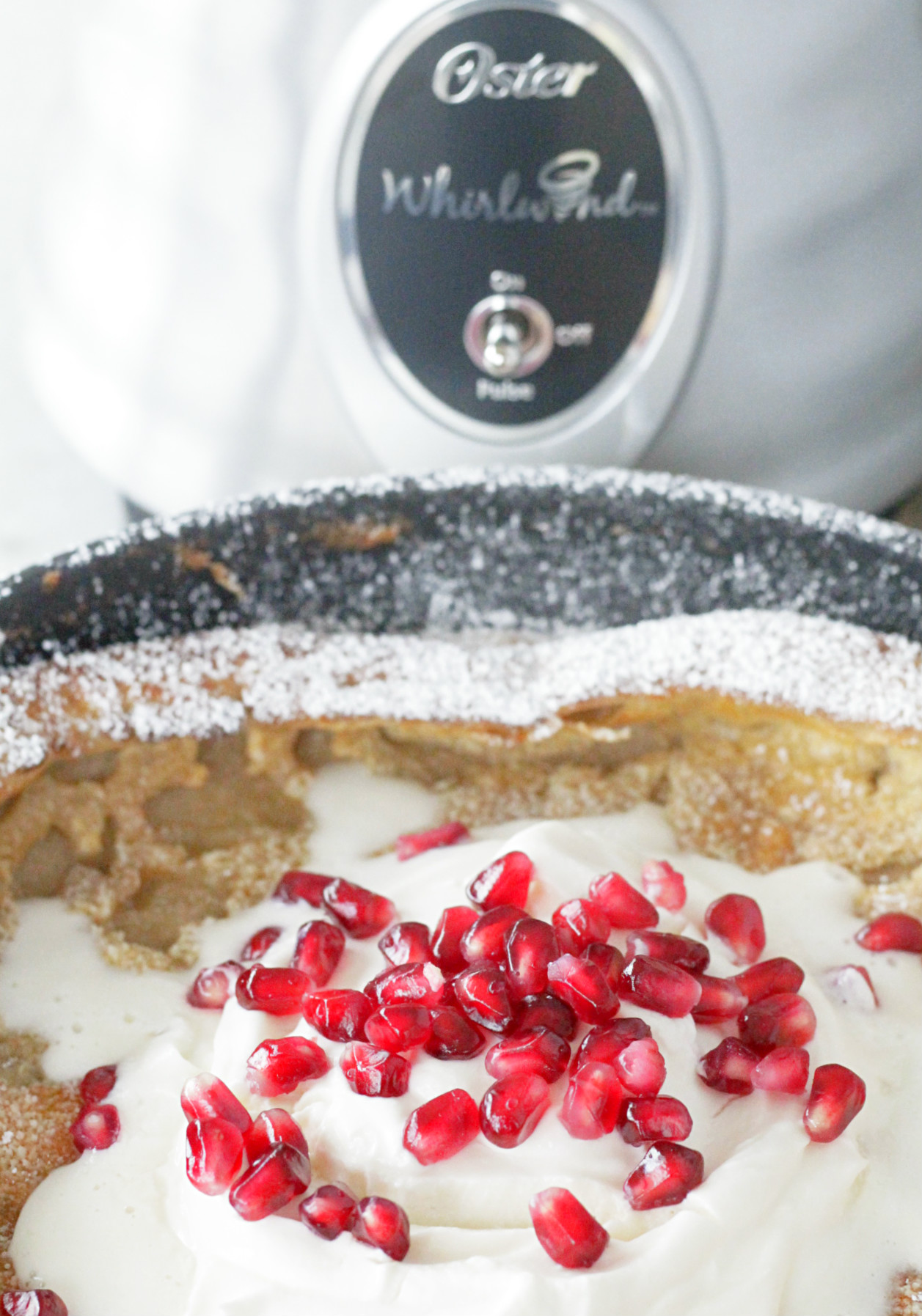 Making this impressive breakfast treat could not have been simpler thanks to Oster® and their Classic Series Whirlwind™ Blender. Both the Dutch baby batter and the whipped cream are ready in a flash. The blender does all the work. If you are looking for breakfast and brunch ideas for your holiday gatherings I'd very enthusiastically recommend this Gingerbread Dutch Baby!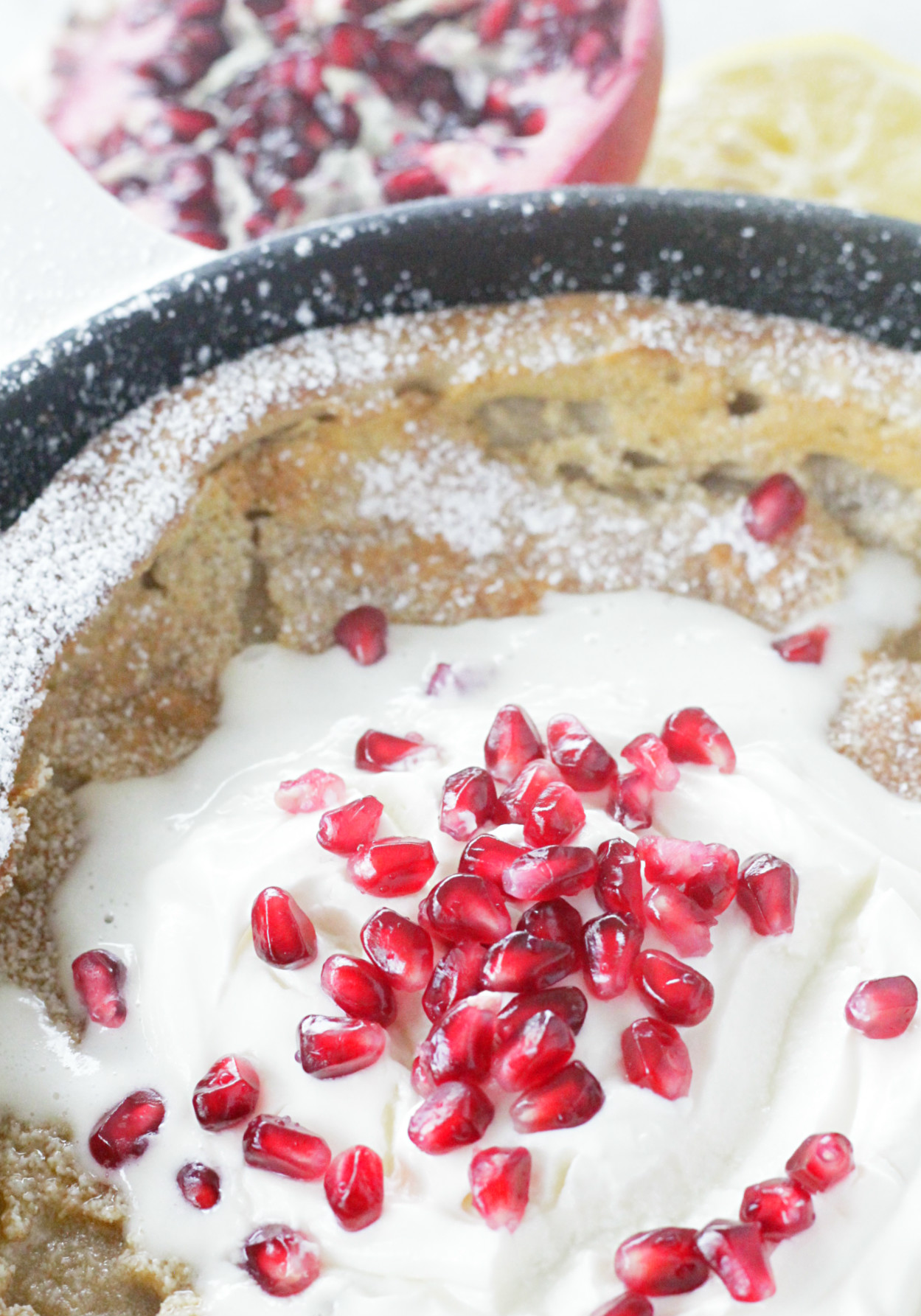 Thank you to the Oster® brand for sponsoring this post. As always all opinions are mine alone.
Gingerbread Dutch Baby with Lemon Whipped Cream
Ingredients
1/2

cup

all-purpose flour

3/4

cup

milk

1

tbsp

light brown sugar

2

tsp

ground ginger

1

tsp

ground cinnamon

1/2

tsp

ground nutmeg

3

large

eggs

3

tbsp

unsalted butter

1/3

cup

powdered sugar

plus extra for dusting

1 1/2

cup

heavy whipping cream

1

tbsp

fresh lemon juice

1/2

tsp

vanilla extract

pomegranate seeds to garnish

optional
Instructions
Preheat oven to 400 degrees F.

In an Oster® Classic Series Whirlwind™ Blender combine the flour, milk, brown sugar, spices and eggs. Blend until smooth.

Melt the butter in a (9 or 10 inch) cast iron skillet. Turn off heat and pour the batter into the skillet on top of the melted butter.

Bake the Dutch baby for 20 - 25 minutes until golden brown and puffed up.

Clean the blender. Now add the whipping cream, 1/3 cup of powdered sugar, lemon juice and vanilla. Blend just until peaks form in the cream, about 30 seconds.

Sprinkle the Dutch baby with powdered sugar. Top with a dollop of lemon whipped cream and pomegranate seeds. Slice and serve warm with more whipped cream at the table.