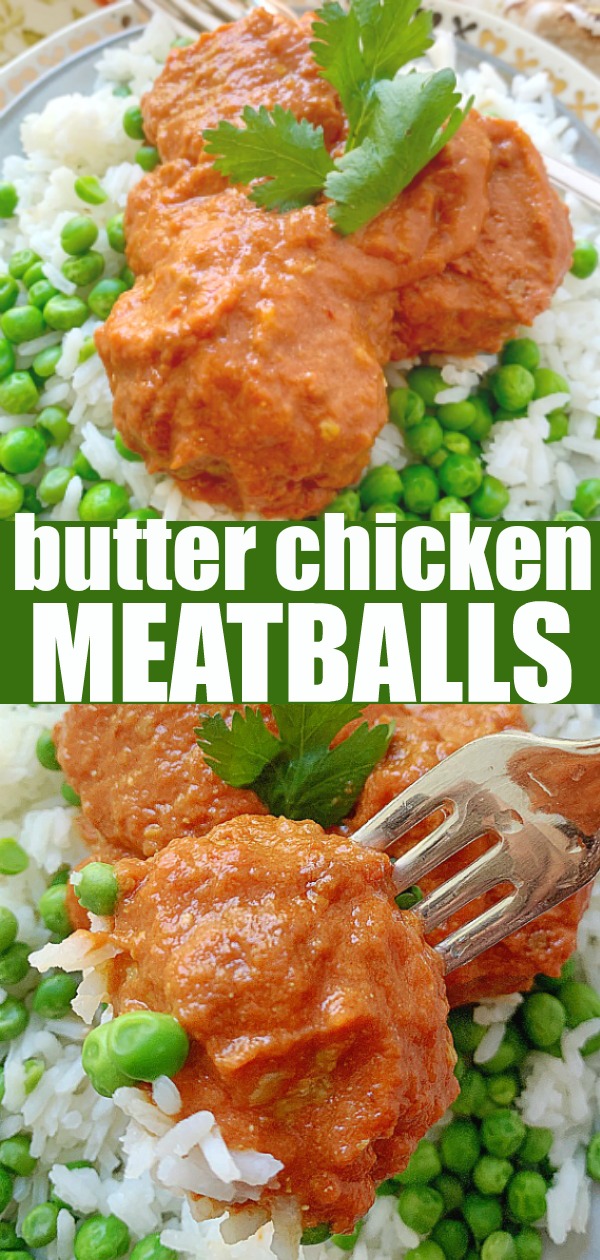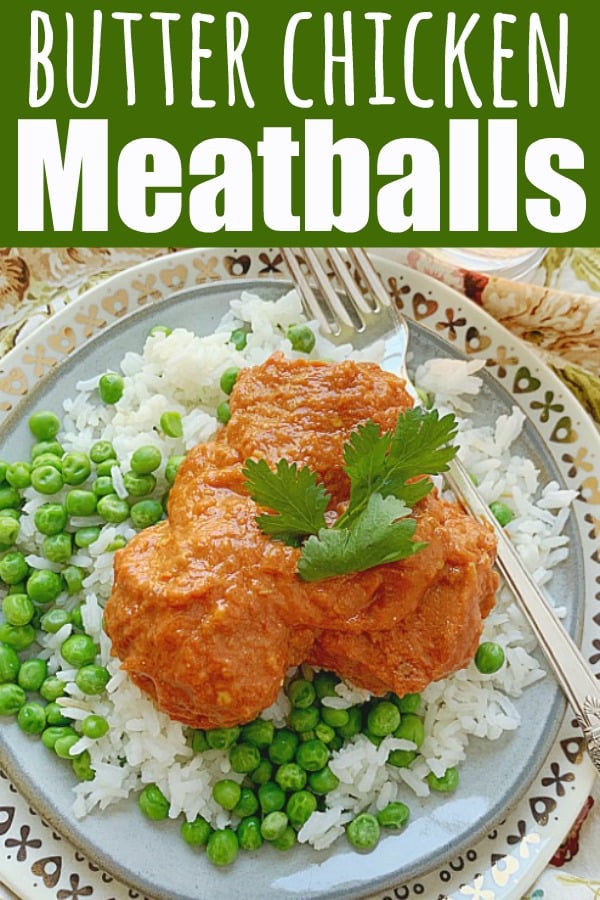 These Indian Butter Chicken Meatballs are ready in a flash for a comforting dinner with a twist.
I get out and about a lot more these days than I used to. Which means I am finding more dinner inspiration out in the real world instead of just in my head. A few weeks ago I was lunching at the Whole Foods salad bar and they had Indian Butter Chicken Meatballs on their hot bar and they were the best things I'd found at Whole Foods – and I've eaten quite a bit at their salad bar.
Anyway, I ate them that day over mashed sweet potatoes, which may sound weird but the spice from the sauce and the sweetness from the potatoes worked really well together. But in trying to recreate these meatballs at home for the first time, I totally failed. I over cooked the meatballs, making them hard as a rock. And the sauce I used (jarred) did not work at all with the sweet potatoes. So this recipe uses a completely homemade sauce (which is surprisingly quick to throw together) and tender meatballs. I also decided that these Indian Butter Chicken Meatballs actually work better served with rice.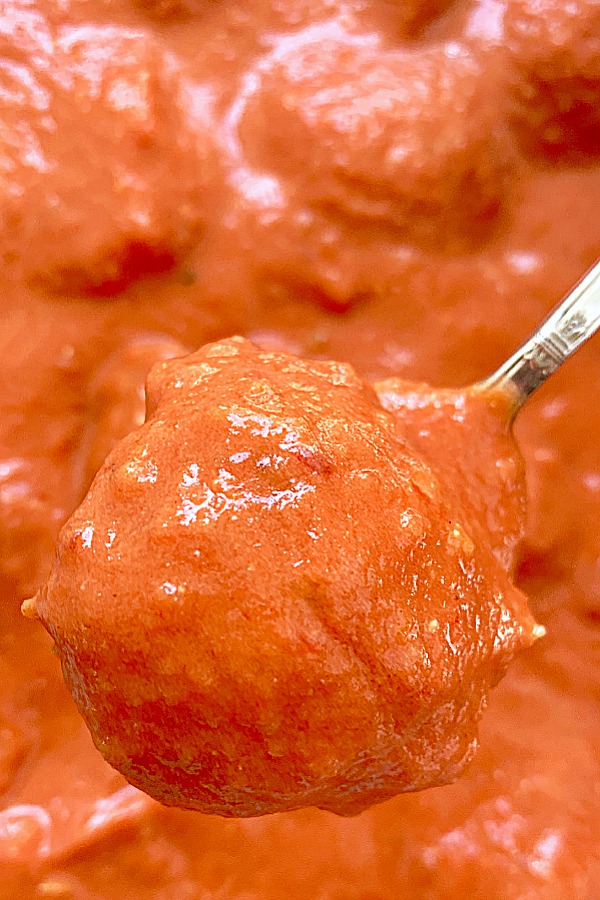 How to make chicken meatballs Indian-style:
My first try at making chicken meatballs was so bad that I had to search Google for help. This is the recipe for meatballs that I largely borrowed from. Thanks Pinch of Yum! The sauce is completely original. I started with a can of crushed tomatoes and started adding my seasonings, tasting, adding more, and tasting again until I liked what I had. Stir these ingredients together and simmer them a bit on the stove top – that's all there is to it!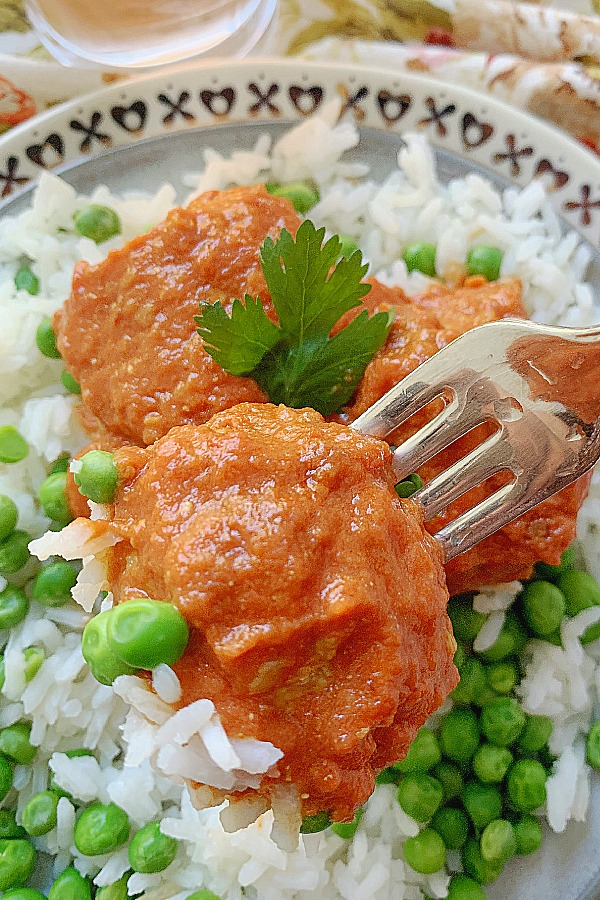 Kitchen Tips:
This is the brand of chili garlic sauce I use.
These meatballs could be baked and then put into a slow cooker with the sauce and cooked on LOW until you are ready to serve them.
I use this digital thermometer to check the temperature of my cooked meat. The meatballs need to be at least 165 degrees F to be cooked through.
This is the cookie scoop I use to form the meatballs.
Foodtastic Mom is a participant in the Amazon Services LLC Associates Program, an affiliate advertising program designed to provide a means for sites to earn advertising fees by advertising and linking to Amazon.com. Any highlighted, clickable Amazon link you see is an affiliate link that I may earn advertising fees on.
Thank you so much for being a faithful reader and supporter of Foodtastic Mom. Be sure to PIN and print this recipe!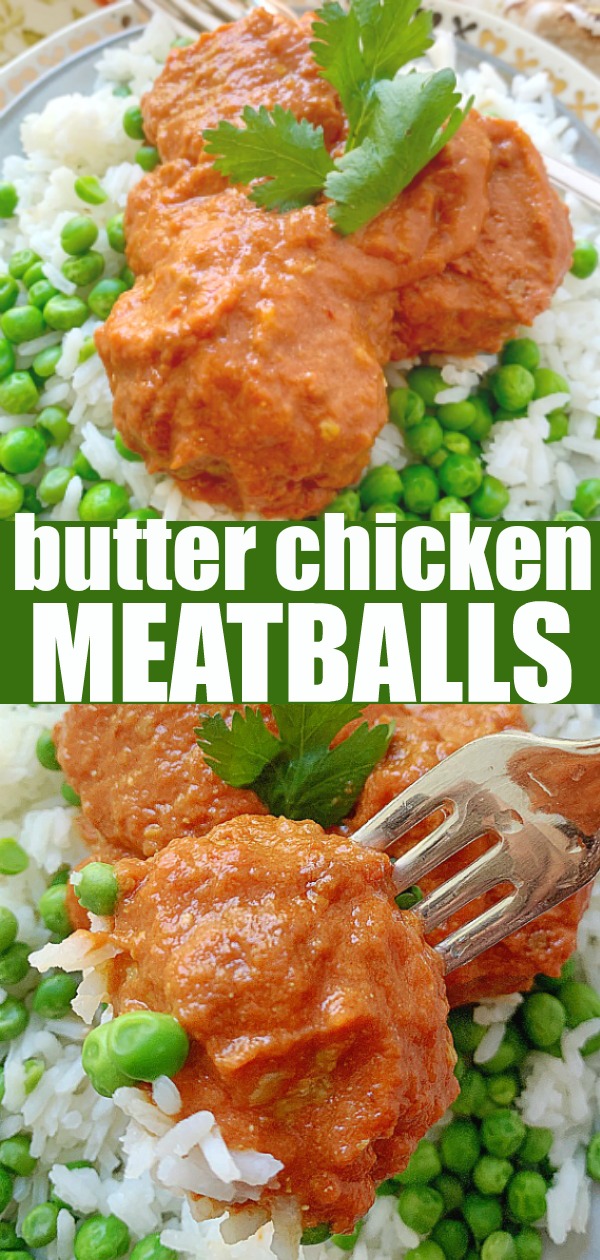 Indian Butter Chicken Meatballs
These Indian Butter Chicken Meatballs are ready in a flash for a comforting dinner with a twist.
Ingredients
1

lb

ground chicken or ground turkey

1

large

egg

1/2

cup

Panko breadcrumbs

2

tbsp

olive oil

1/2

tsp

Garam Masala

1/2

tsp

garlic powder

1/2

tsp

salt

28

oz

can crushed tomatoes

2

tbsp

sugar

2

tbsp

chili garlic sauce

1 1/2

tsp

Garam Masala

1

tsp

salt

1/2

tsp

cinnamon

2

tbsp

butter

1

cup

sour cream
Instructions
Preheat oven to 400 degrees F. Lightly oil a baking dish with olive oil and set aside.

In a clean bowl, lightly beat the egg. Stir in the Panko, olive oil, 1/2 tsp Garam Masala, garlic powder and 1/2 tsp salt. Add the ground chicken or turkey and stir together until well combined. Form the mixture into meatballs - it will make 16-20 meatballs. Place the meatballs into the baking dish and bake for about 20 minutes, or until the internal temperature of the meatballs is 165 degrees F.

Meanwhile, stir together the crushed tomatoes with the sugar, chili garlic sauce, 1 1/2 tsp of Garam Masala, 1 tsp salt, and cinnamon. Add the butter. Heat the sauce in a sauce pan until it is simmering. Remove the sauce from the heat and stir in the sour cream. Pour the sauce over the meatballs.

Reduce the oven temperature to 250 degrees. Cover the baking dish with foil and heat the sauce and meatballs together for at least 20 minutes, or up to one hour.

Serve the meatballs over rice.
Nutrition
More Meatball Recipes: