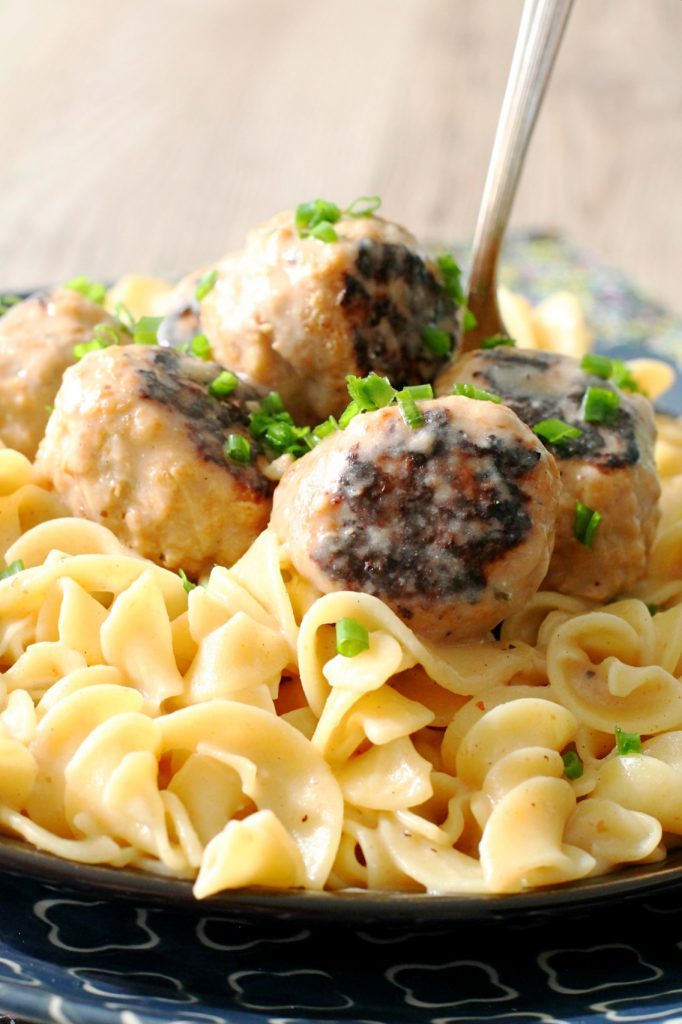 Remember last week when I made these Pork Apple Burgers? I decided to cook once and eat twice that day, so I doubled the meat recipe and made half the mixture into these little meatballs. Then I made a hard apple cider gravy and served them over egg noodles. Boom! Second dinner and it was delicious.
Even though around here the humidity and heat has decided to make an unwelcome appearance again, my brain is thoroughly planted in all things fall. Football has started and school is back in session so bring on autumn colors, pumpkin everything, apple picking, jeans, sweaters and just ALL THE FALL THINGS. I'm so ready… I like summer for about 8 weeks max, then I am just over it.
I browned these meatballs just a bit and finished cooking them in a bath of hard apple cider in the slow cooker before making the gravy and serving them over noodles. I gifted most of these to my friend who is getting ready to have her baby any day now and she and her husband really liked them… like REALLY liked them! So I know you will too.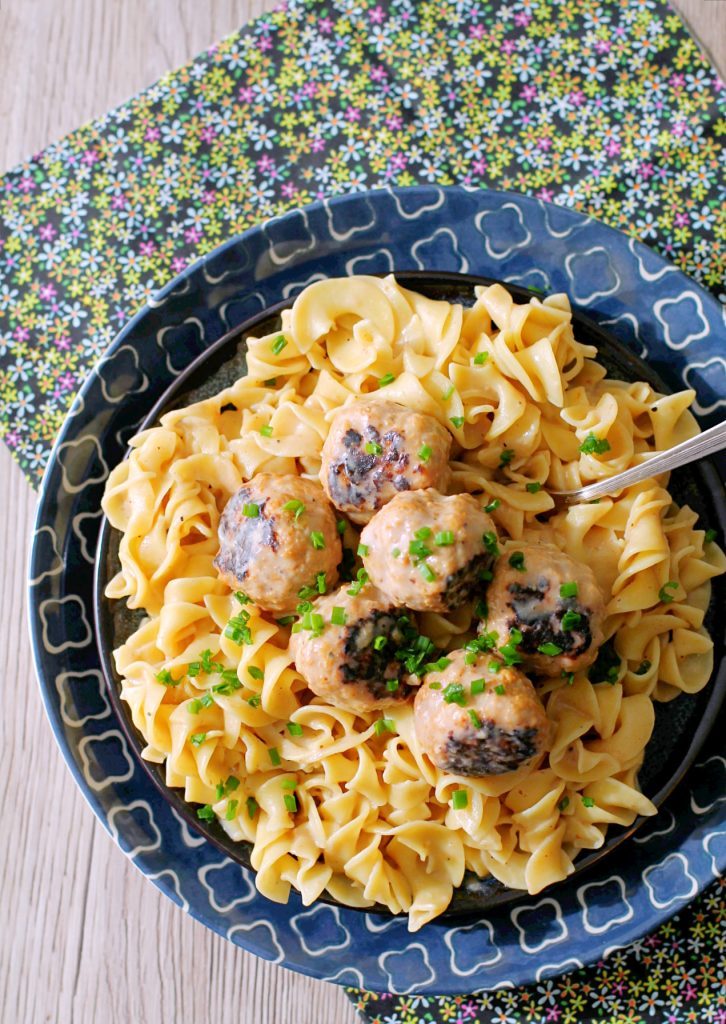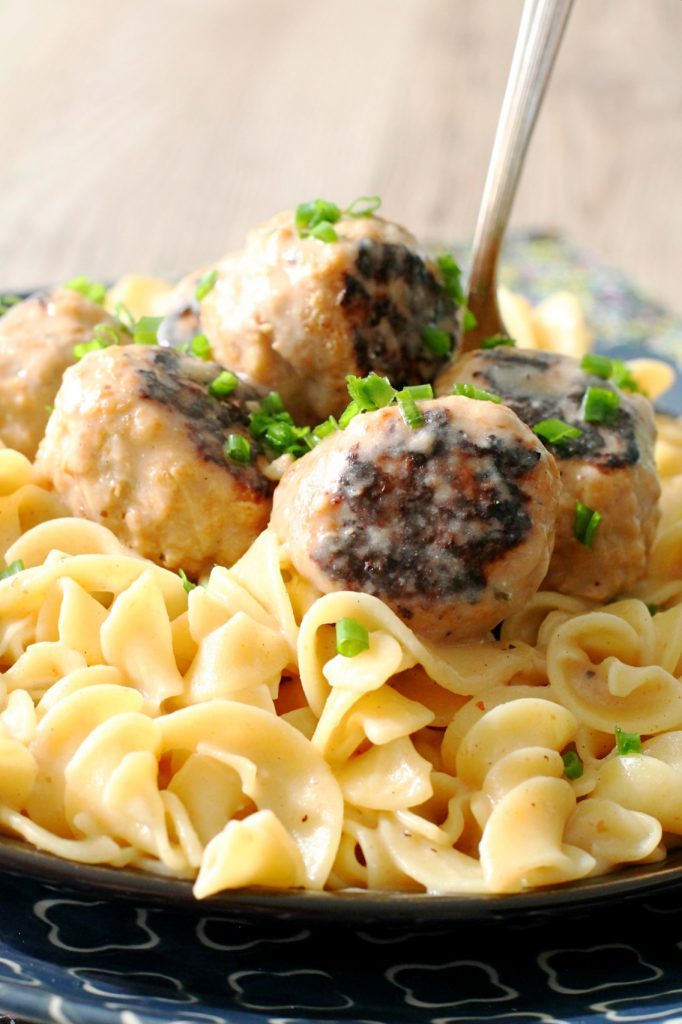 Pork Apple Meatballs with Hard Cider Gravy
2015-08-31 07:59:54
Ingredients
1 pound ground pork
1 Granny Smith apple, cored, peeled and shredded
1 large egg
1 T. yellow mustard
1 T. maple syrup
2 t. liquid smoke
1 t. salt
1 t. smoked paprika
1/2 t. black pepper
1/2 c. Panko bread crumbs
1 bottle (12 oz.) hard apple cider
4 T. unsalted butter
4 T. flour
2 c. chicken stock
1 t. salt
1 T. sugar
1/3 c. apple butter
1/4 c. sour cream
1 package egg noodles, cooked according to package directions
Instructions
In a large bowl, whisk together the egg, apple, mustard, maple, liquid smoke, salt, paprika and pepper. Add the ground pork and mix with your hands. Add the Panko bread crumbs and keep kneading until well mixed.
Using a cookie scoop (about 2 Tablespoon capacity) scoop and roll the meat mixture into 20 meatballs.
Heat a large, non-stick skillet over medium-high heat and brown the meatballs, flipping once, about 3 minutes per side.
Immediately transfer the meatballs to a slow cooker set on low. Add 1/2 bottle of the hard cider to the slow cooker insert with the meatballs and cook for at least 2 hours (or until internal temperature of meatballs is 160 degrees).
Meanwhile, to make the gravy, melt butter in a large sauce pan over medium high heat. Add the flour, whisk and cook for about one minute. Whisk in the other half bottle of hard cider and cook for about 1 minute. Whisk in the chicken broth. Bring mixture to a boil and turn down heat to simmer the gravy for about 5 minutes.
Add the salt, sugar, and apple butter and cook for about 5 minutes more. Off heat whisk in sour cream. Taste to adjust seasonings.
Gravy and meatballs can be made a day ahead... store in an air-tight container in the refrigerator.
Serve the hot meatballs and gravy over cooked egg noodles.
Foodtastic Mom https://www.foodtasticmom.com/