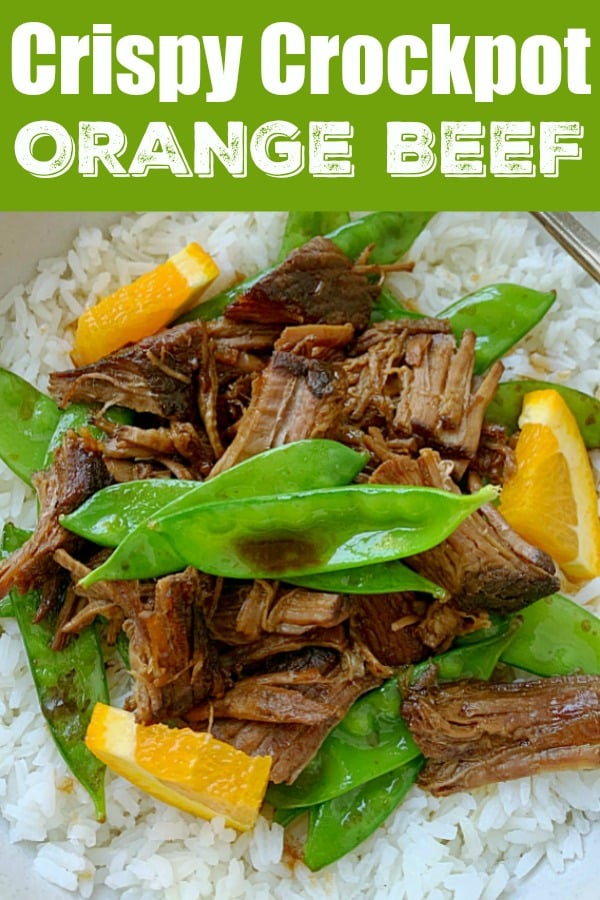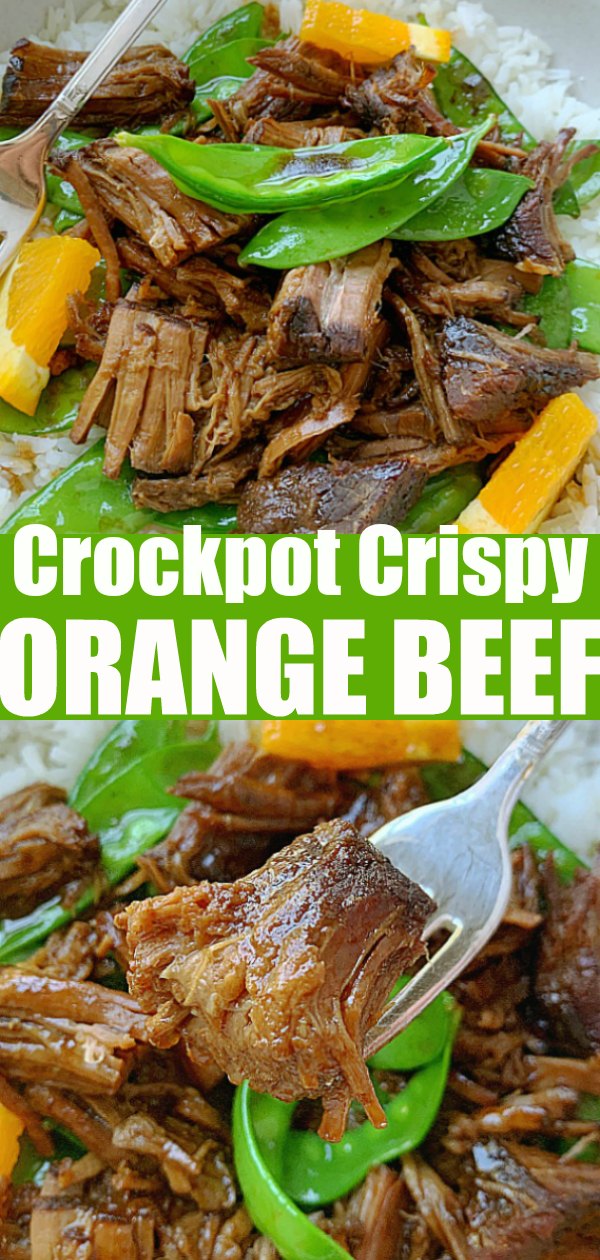 This Crispy Crockpot Orange Beef is the ultimate fake out take out recipe that is full of flavor and simple enough to serve for a busy weeknight dinner. This recipe is sponsored by the Ohio Beef Council. All opinions are mine alone.
I've partnered with the Ohio Beef Council now for many years to bring my readers family-friendly beef recipes that are equally delicious and nutritious. Ohio's beef farmers work hard year round to bring you a product that they are proud of. I'm thrilled to bring you both their stories and my recipes because I grew up with a Dad who farmed, and so I always appreciated the dedication that goes into raising livestock for food.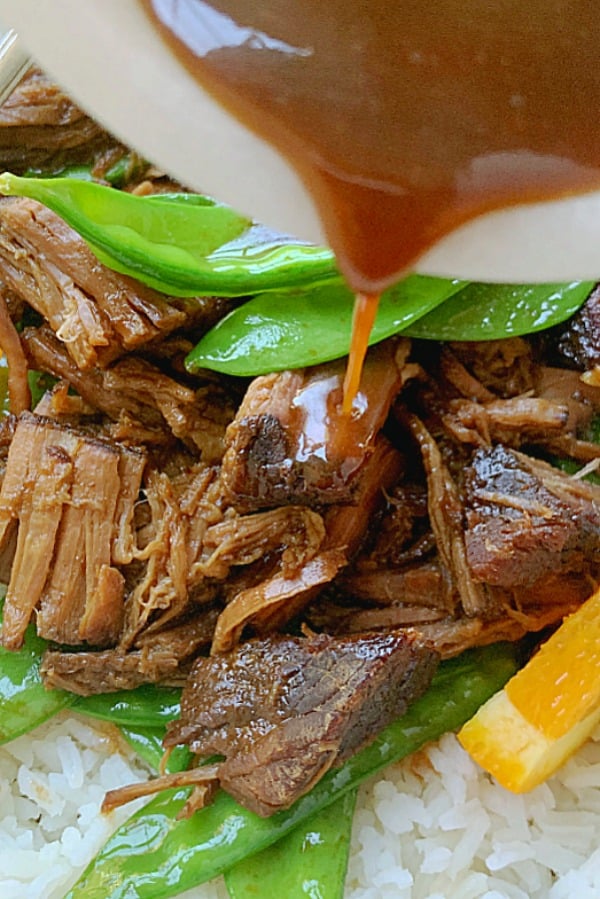 What is Crispy Orange Beef?
Crispy Orange Beef is a popular Chinese takeout dish that combines crispy, lean beef with dried tangerine peels. I decided that a slow cooker version of this dish would work well for the month of "Crocktober". The crispiness can actually be achieved by leaving the beef to cook in the slow cooker for a really long time. The cooking liquid is minimal, which means the beef will eventually develop a crispy crust on its exterior.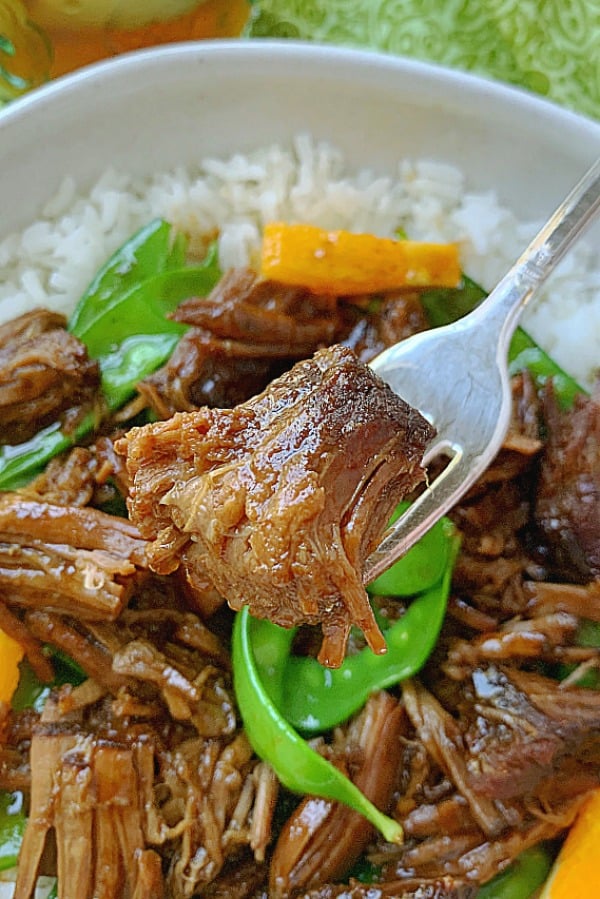 Ohio Beef Farming
Although many believe that industrial farming has taken the place of family farms and ranches, 97 percent of beef farms are family-owned and operated. Meet one of the 17,000 beef farming families in Ohio at www.OhioBeef.org. I was lucky enough to visit two local Ohio beef farms recently…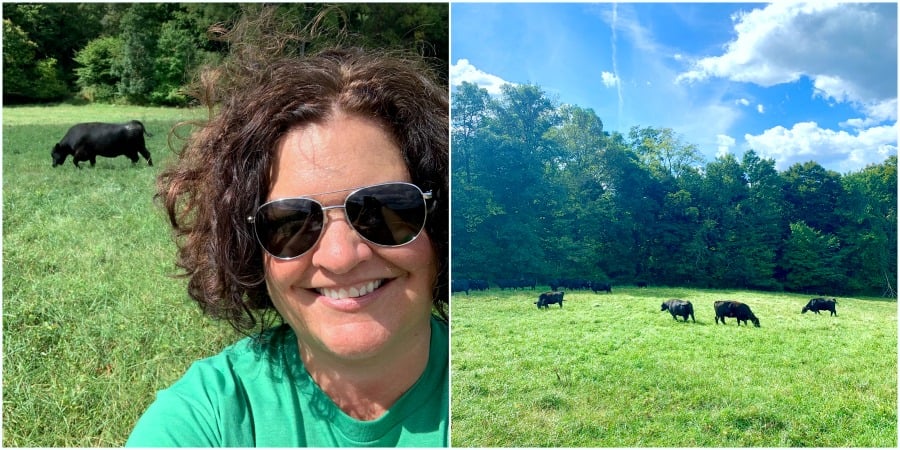 Cows grazing at Claylick Run Angus Farm
The Ohio beef community includes more than just farmers! Small business owners, community leaders, animal caretakers, nutritionists and environmentalists are all dedicated to producing safe, wholesome, nutritious beef.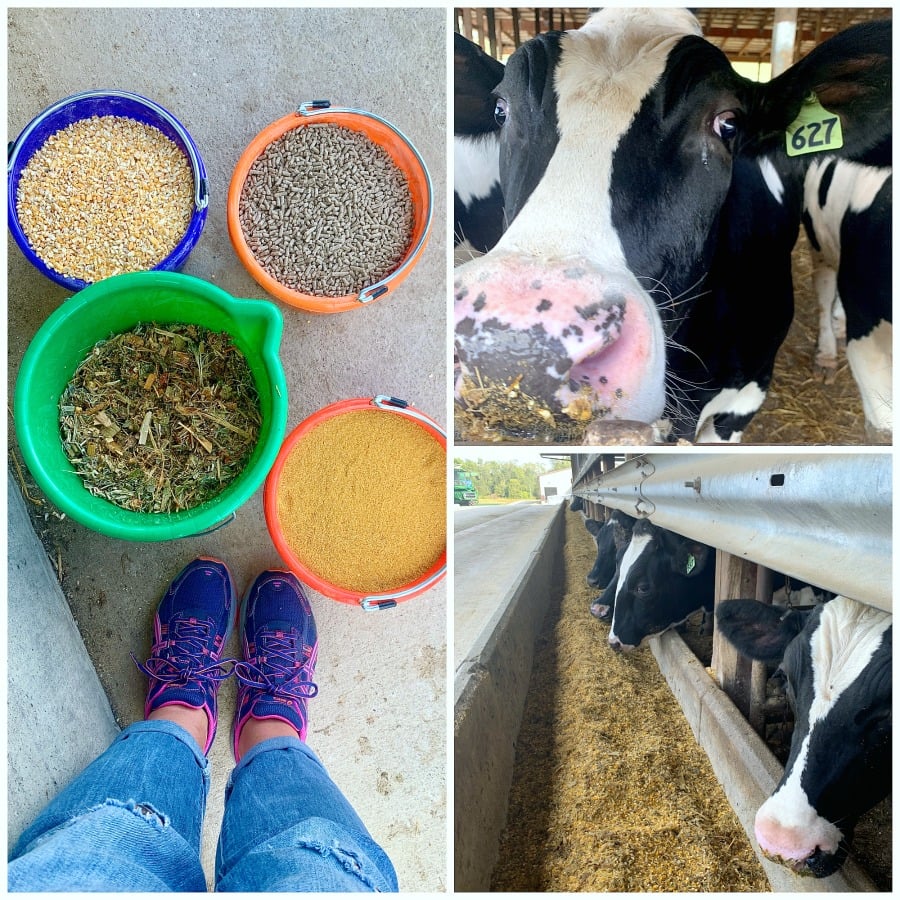 Learning about the science behind what cows are fed at Watts Farms Feedlot
Ohio beef farmers are committed to providing excellent care for their animals, protecting the environment for future generations and producing safe, healthy beef. Through improved animal care, nutrition and genetics, today's beef farmers produce about 20% of the world's beef with fewer cattle than ever before.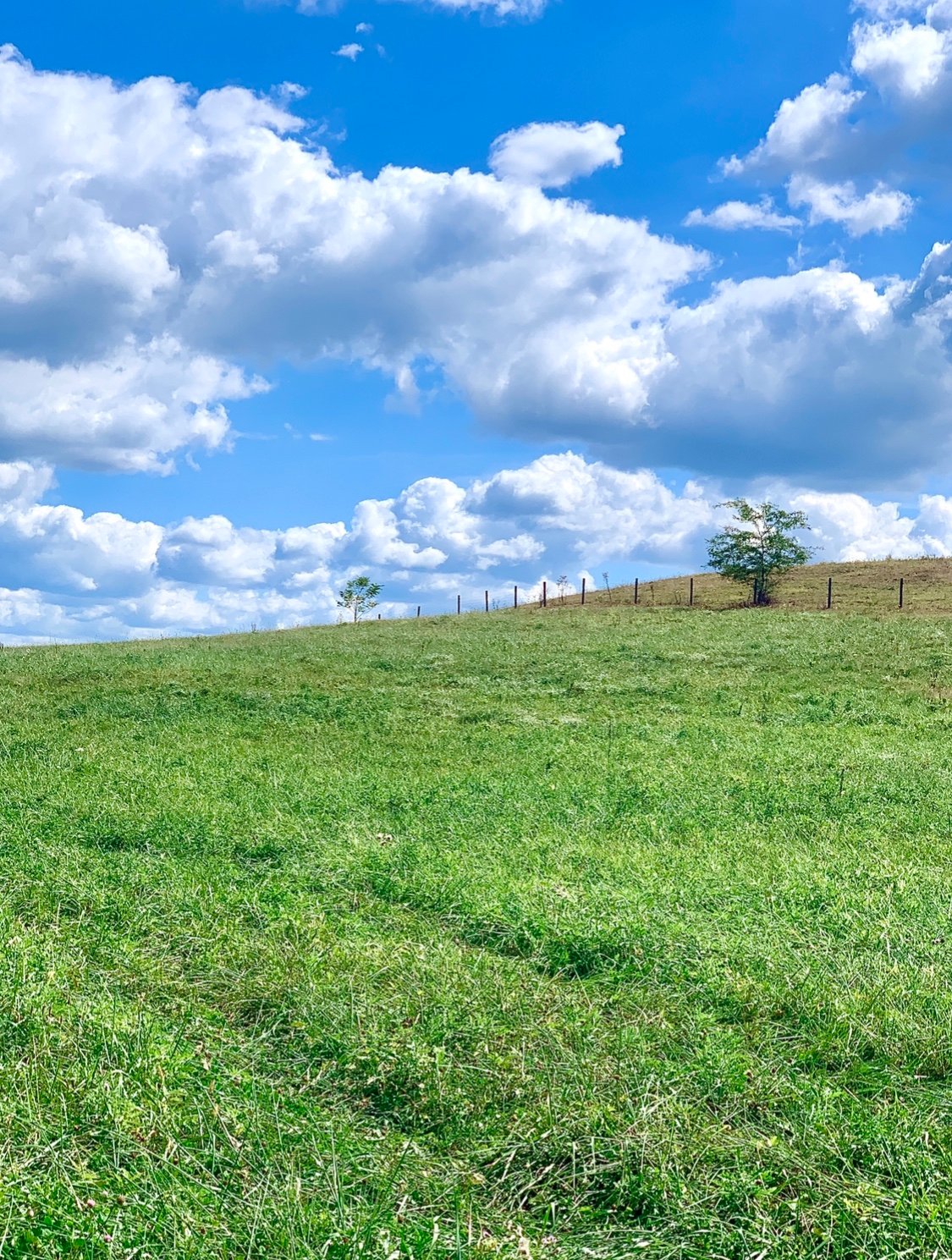 Claylick Run Angus Farm
Slow Cooker Tips
Spend more time around the table eating as a family and less time cooking by using a slow cooker to prepare dinner on busy weeknights. When preparing beef in the slow cooker, it should be cooked to 160 degrees, or until it is fork-tender.
When using a slow cooker, set the heat to low as often as possible. A slow and low heat brings out the best flavors.
Don't over-crowd the cooker! A slow cooker works best when it's between 1/2 and 2/3 full of
ingredients.
Don't forget to preheat the slow cooker. Rather than adding all the ingredients and then turning on the heat, give your cooker an extra 20 minutes to warm up first.
Resist the urge to peek when using a slow cooker. Keeping the lid shut prevents heat from escaping, which could lead to slowing the cooking process.
Foodtastic Mom is a participant in the Amazon Services LLC Associates Program, an affiliate advertising program designed to provide a means for sites to earn advertising fees by advertising and linking to Amazon.com. Any highlighted, clickable Amazon link you see is an affiliate link that I may earn advertising fees on.
Thank you so much for being a faithful reader and supporter of Foodtastic Mom. Be sure to PIN and print this recipe!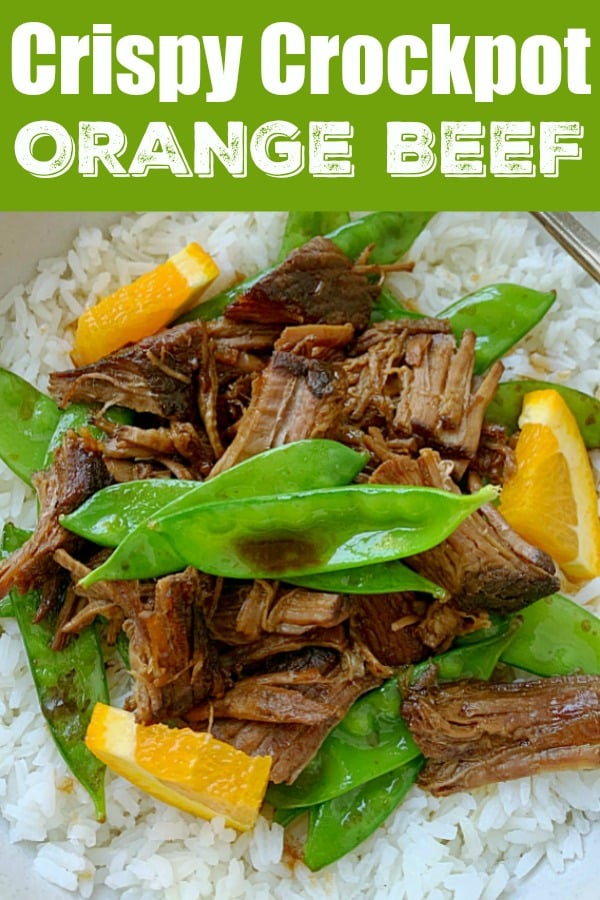 Crispy Crockpot Orange Beef
This Crispy Crockpot Orange Beef is the ultimate fake out take out recipe that is full of flavor and simple enough to serve for a busy weeknight dinner.
Ingredients
3

lb

pot roast

beef rib, loin or chuck roast

1

large

onion

sliced

1

large

orange

cut into sections, peel left on

1/2

cup

soy sauce

1/4

cup

chili garlic sauce

1/4

cup

light brown sugar

1/4

cup

orange juice
Instructions
Turn on the slow cooker to low heat.

Layer the slices of onion and sections of orange in the bottom of the slow cooker insert.

Cut the beef into large chunks and layer the beef over the onion and orange.

Whisk together the soy sauce, chili garlic sauce and brown sugar. Pour over the beef.

Cover and cook on low heat for 8 - 10 hours, or until the beef is fork tender and has begun to get crispy on its exterior.

Remove the beef and shred with forks.

Strain the broth and pour it into a a sauce pan. Add the orange juice and heat to boil. Reduce heat and simmer until the sauce has reduced by about half. Taste the sauce and season with more soy sauce if needed.

Serve the beef with rice and pea pods with the sauce poured over the beef.
Nutrition
More Recipes with Ohio Beef: