Take this Slow Cooker Short Rib Chili to a chili cook off and you just might win.
I have a lot of chili recipes on my blog. I love chili in all its variations – vegetarian, turkey, beef, pork – I enjoy them all. But this Slow Cooker Short Rib Chili is the first recipe I have created that I would feel confident in taking to a cut-throat chili competition. The taste and heat level are just right, and the short ribs provide such a perfectly meaty depth of flavor.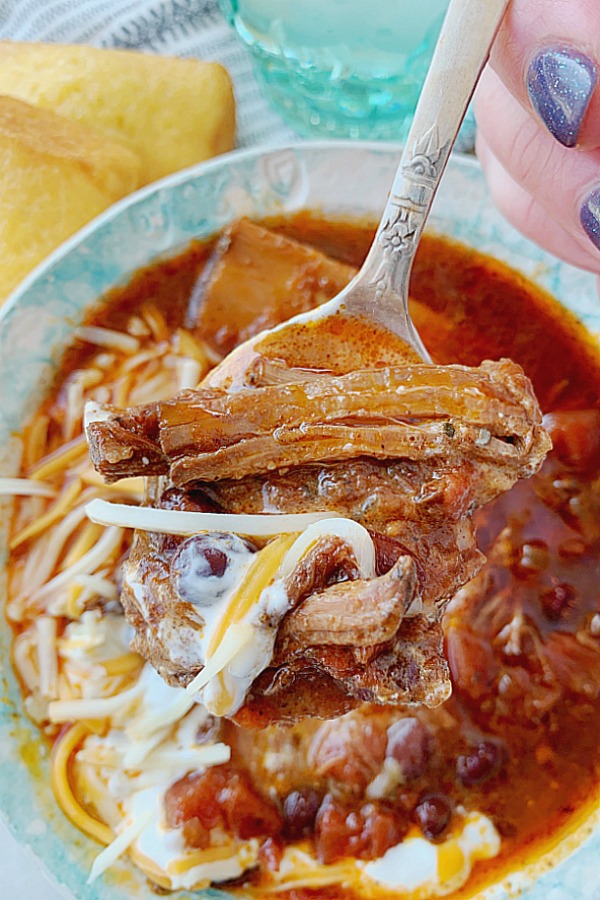 HOW MANY CHILI RECIPES DO YOU NEED?
A lot! Chili can be basic or creative. A variety of chili recipes means something for everyone. In looking at my chili recipe collection I didn't have one yet made with short ribs and so I just had to create one. Here's the links to all the rest of my chili recipes: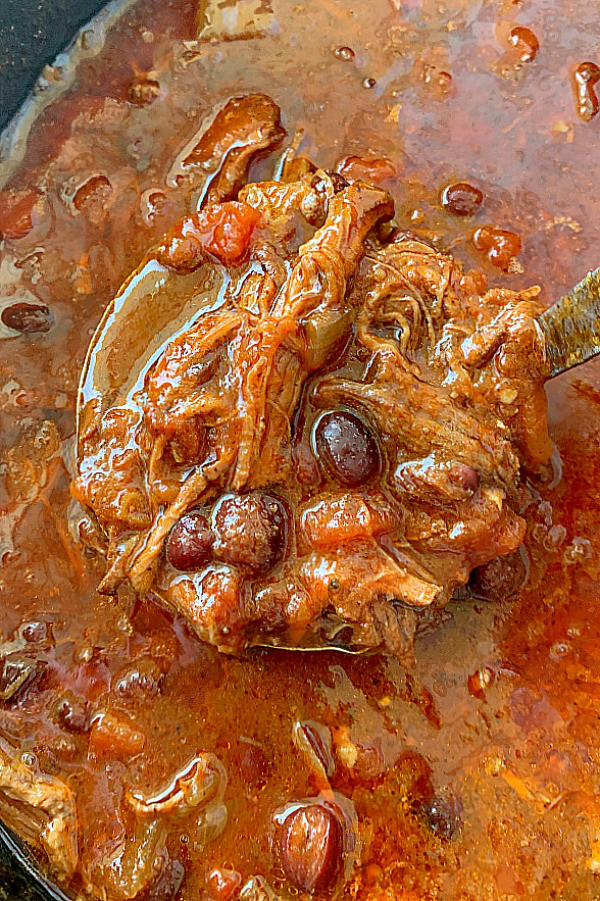 WHY SHOULD YOU COOK CHILI IN A SLOW COOKER?
All of my chili recipes are made for the slow cooker. This is because the chili powder and other seasonings blend and develop better flavor with slow cooking. They mellow! Which sounds like less flavor but you actually want the harsh bite of the chili powder to tone down a bit before eating. That's why people often say chili tastes better the next day. Making chili isn't a quick process but it's definitely simple.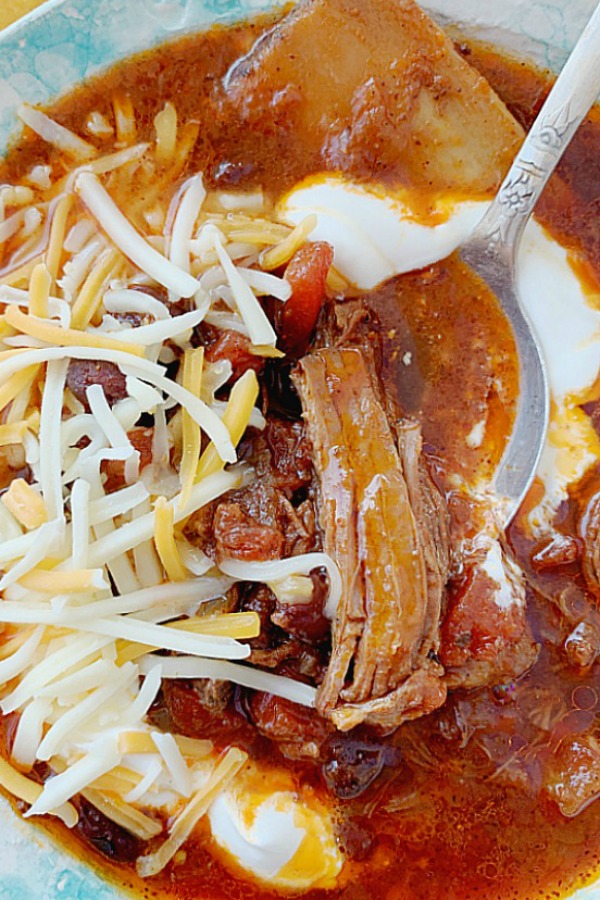 Tips for making Slow Cooker Short Rib Chili:
I use English cut short ribs for this recipe. I can find those in the meat section at my local grocery, already packaged, with 4 to 5 ribs per package.
Browning the short ribs in a non stick skillet similar to this means you don't have to add additional oil or butter. The short ribs have plenty of fat already.
You can make this chili one day ahead up through the step of shredding the meat off the bones. Add the beans and reheat the chili the next day in the slow cooker.
Serve this chili topped with shredded cheese and sour cream.
Use a 6 or 8 quart slow cooker similar to this one for this recipe.
Foodtastic Mom is a participant in the Amazon Services LLC Associates Program, an affiliate advertising program designed to provide a means for sites to earn advertising fees by advertising and linking to Amazon.com. Any highlighted, clickable Amazon link you see is an affiliate link that I may earn advertising fees on.
Thank you so much for being a faithful reader and supporter of Foodtastic Mom. Be sure to PIN and print this recipe!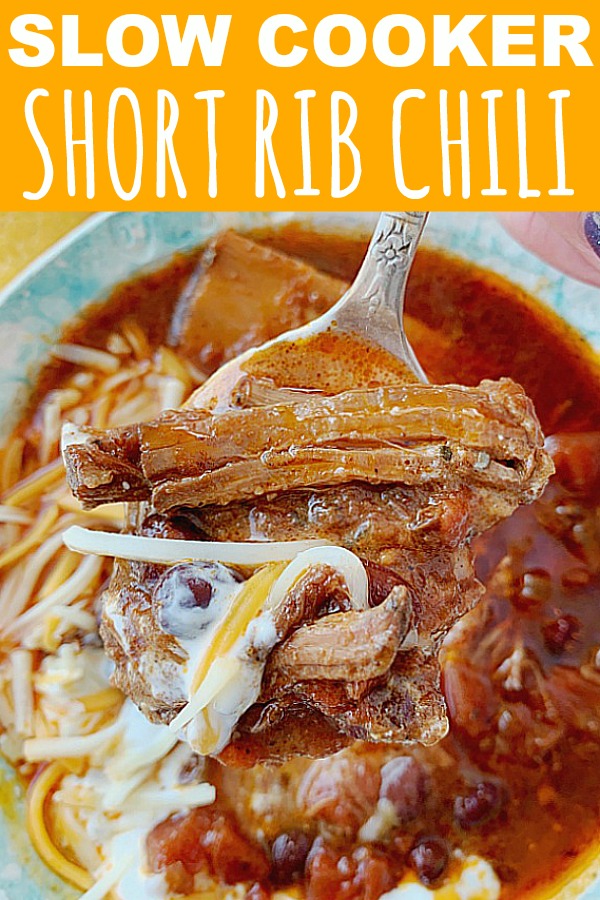 Slow Cooker Short Rib Chili
Take this Slow Cooker Short Rib Chili to a chili cook off and you just might win.
Ingredients
2 1/2

lbs

English-cut short ribs

1/2

large

onion

peeled and chopped

1

10 oz can

beef consommé (or beef broth)

I used Campbell's brand

1

15 oz can

diced tomatoes with green chilies (undrained)

I used Red Gold brand

1

15 oz can

crushed tomatoes

1/3

cup

apple butter

1

tbsp

yellow mustard

1

tbsp

hot sauce

1

tbsp

chili powder

1

tsp

smoked paprika

1

tsp

salt

1/2

tsp

black pepper

2

15 oz cans

black beans

drained
Instructions
Turn the slow cooker on to high heat.

In a large, non-stick skillet over medium high heat brown the short ribs (a few minutes per side). Transfer them to the slow cooker.

To the same skillet add the onion and cook, stirring occasionally, for about 5 minutes.

Add the beef consommé, tomatoes with green chilies, crushed tomatoes and all the seasonings. Bring to a simmer and add to the slow cooker so it covers the short ribs.

Put the lid on the slow cooker and cook for 6 to 8 hours.

Using tongs, remove the short ribs and bones from the chili. Using two forks, shred the meat and discard the bones and any obvious fat.

Return the shredded beef short ribs to the slow cooker and add the drained black beans. Stir well to combine. Cook for an additional 30 - 60 minutes. Serve the chili topped with shredded cheese and sour cream.
Nutrition