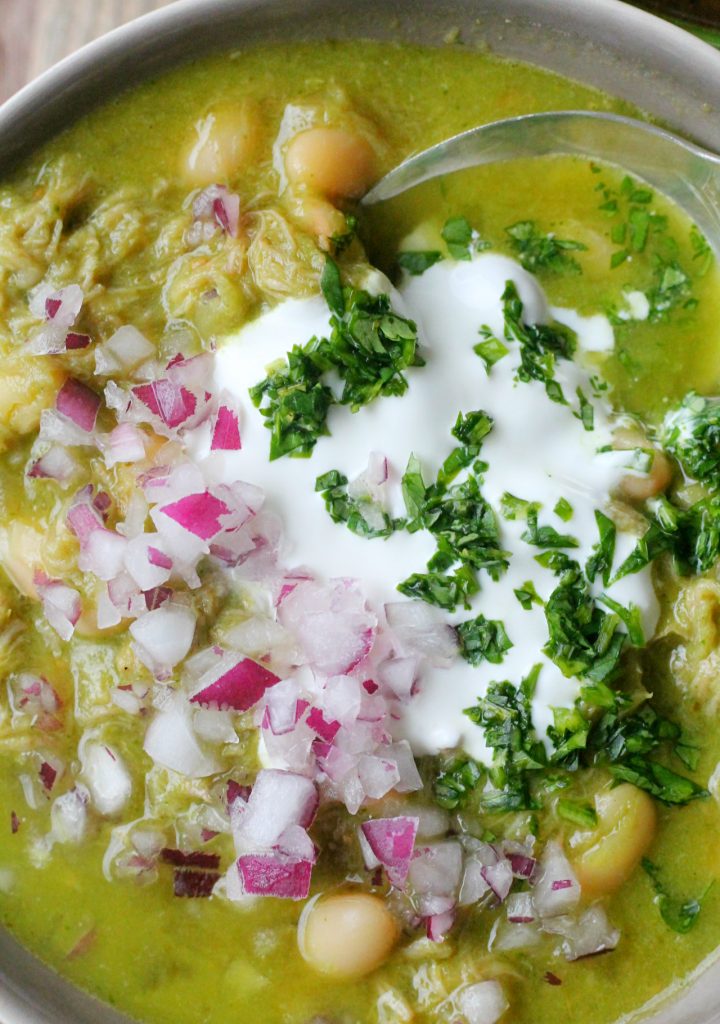 I love a good chili in the fall! This one starts with pork tenderloin slow cooked with tomatillo salsa and combined with a freshly roasted green sauce made with three types of peppers, onion, garlic and cilantro. I think you're really going to love this vibrantly green Slow Cooker Chile Verde!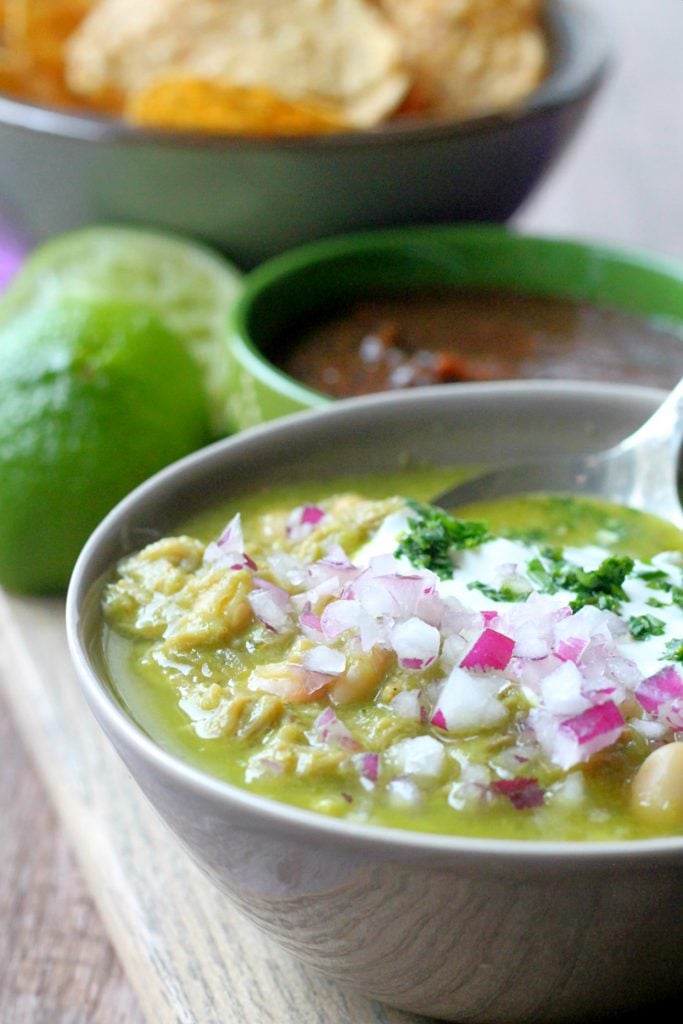 I've made quite a few chili recipes over the years with beef and chicken but never one with pork. My memory told me that chile verde is a pork based chili and in searching for recipe inspiration I ran across this one. It was just so pretty and green. And let's face it, while chili is a favorite meal for many, it's not exactly known for its good looks.

POPULAR VIDEOS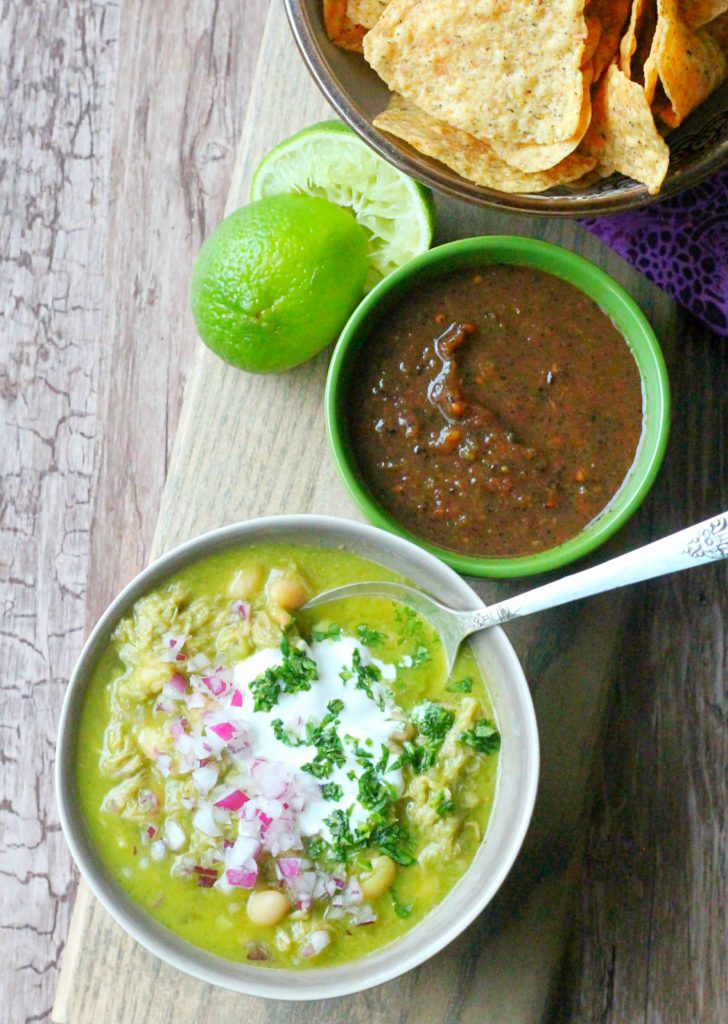 My recipe starts with a pork tenderloin slow cooked and shredded. In the final hour of cooking I add white beans and a green sauce that I roasted in the oven while the pork was in the slow cooker.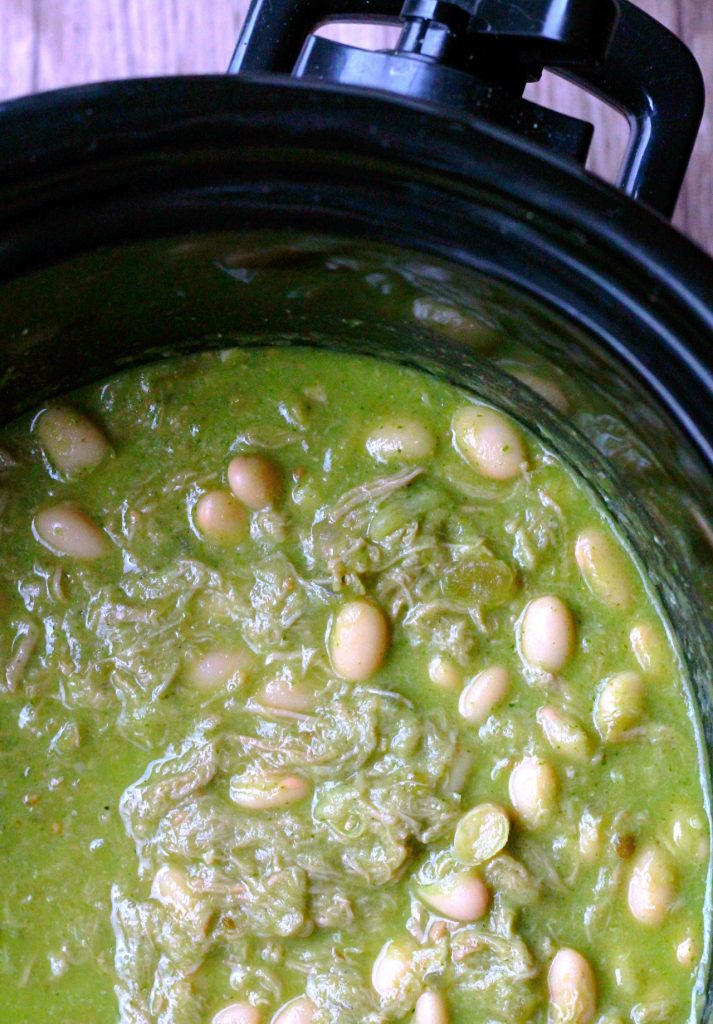 My sauce combines two poblano peppers, three anaheim peppers and one jalapeno. I wanted some heat but not so much that my two kids wouldn't want to eat it. I also roasted an onion and a head of garlic with the peppers. After roasting I pureed the pepper, onion and garlic mixture with a bunch of fresh cilantro, lime juice and a little olive oil.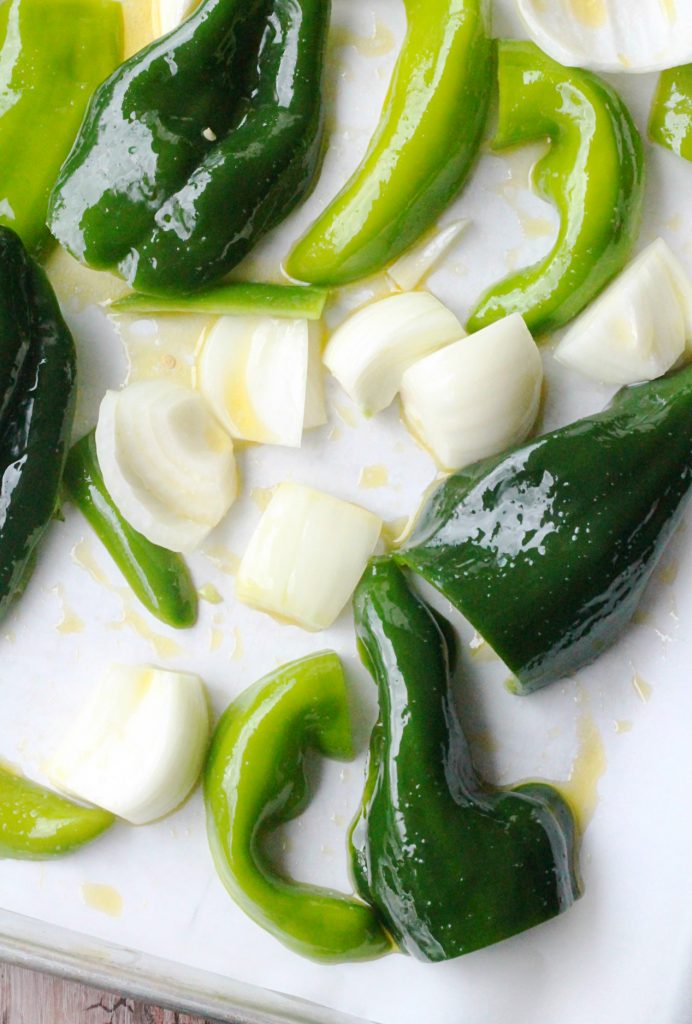 Mixing that sauce in and allowing it to heat up at the very end of the cooking time makes this slow cooker chile verde a fresh and appealing green color. If I'd started with the green sauce at the beginning it would not look quite so appetizing. I was really pleased with how this chile verde turned out. Pretty to look at and delicious to eat.

This recipe is featured on Meal Plan Monday. Meal Plan Monday is proudly hosted by Southern Plate, Southern Bite, A Southern Soul, and Big Bear's Wife.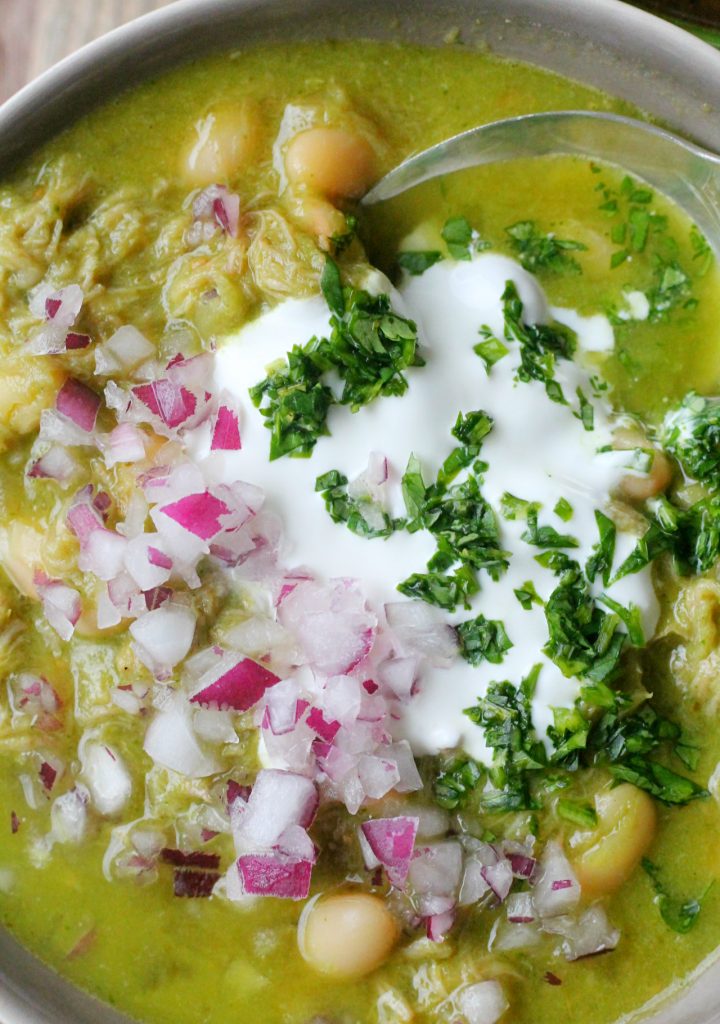 Slow Cooker Chile Verde
2016-10-20 08:51:13
Ingredients
1 (at least 2 pounds) pork tenderloin
1 c. jarred tomatillo salsa
salt
3 c. chicken broth
2 (15 oz.) cans navy beans, drained
2 poblano chiles, halved and seeds removed
3 anaheim chiles, halved and seeds removed
1 jalapeno chile, halved and seeds removed
1 onion, peeled and quartered
1 head garlic, top 1/3 cut off
3 T. olive oil, divided
2 c. fresh cilantro
juice of one lime
red onion and sour cream to serve
Instructions
Cut the pork tenderloin crosswise into three pieces. Add the pork, tomatillo salsa, chicken broth and 1 teaspoon of salt to the slow cooker and cook on low for 6 hours.
Preheat oven to 400 degrees.
Place all the peppers, onion and garlic on a sheet pan lined with parchment paper. Drizzle with 1 tablespoon of olive oil and sprinkle with a little salt.
Roast the peppers, onion and garlic until browned and softened, about 30 minutes. Allow to cool. Remove the skin from the poblano peppers and discard. Squeeze the roasted garlic cloves from the papery skin and discard.
Add the roasted peppers, onion, garlic cloves, cilantro, lime juice, 1/2 teaspoon of salt and remaining 2 tablespoons of olive oil to a food processor or high powered blender. Blend until smooth.
Remove the lid from the slow cooker and shred the pork. Stir the green sauce and the drained beans into the chile. Cover and allow to cook on low for 30 - 60 additional minutes.
Serve the chile verde topped with sour cream and chopped red onion.
Foodtastic Mom https://www.foodtasticmom.com/
This recipe is part of Food Networks' Fall Fest CHILI recipe roundup. For other tasty chili recipes check out the links below:
Creative Culinary: Chipotle Chile is the BEST Ever!
The Fed Up Foodie: Tortilla and Beans
The Mom 100: Game-Day Ground Beef Chili
Healthy Eats: 5 Turkey Chilis That Put Beef Out to Pasture
A Mind "Full" Mom: Wine and Mustard Braised Chili
Foodtastic Mom: Slow Cooker Chili Verde
Hey Grill Hey: Smokin' Hot Chili
Mom Loves Baking: Quick and Easy Chili
Taste with the Eyes: Korean Chili con Carne with Red Beans and Kimchi
Elephants and the Coconut Trees: Best Vegetarian Chili with 9 Beans
Devour: Warm Up Chilly Days with Genius Chili-and-Chip Combinations
In Jennie's Kitchen: French Lentil Chili
Swing Eats: Cincinnati Chili
FN Dish: 6 Next-Level Ways to Do Up a Batch of Chili