Slow Cooker Cincinnati Chili is for both aficionados of my city's famous chili and novices alike. Thank you to the Ohio Beef Council for sponsoring this post.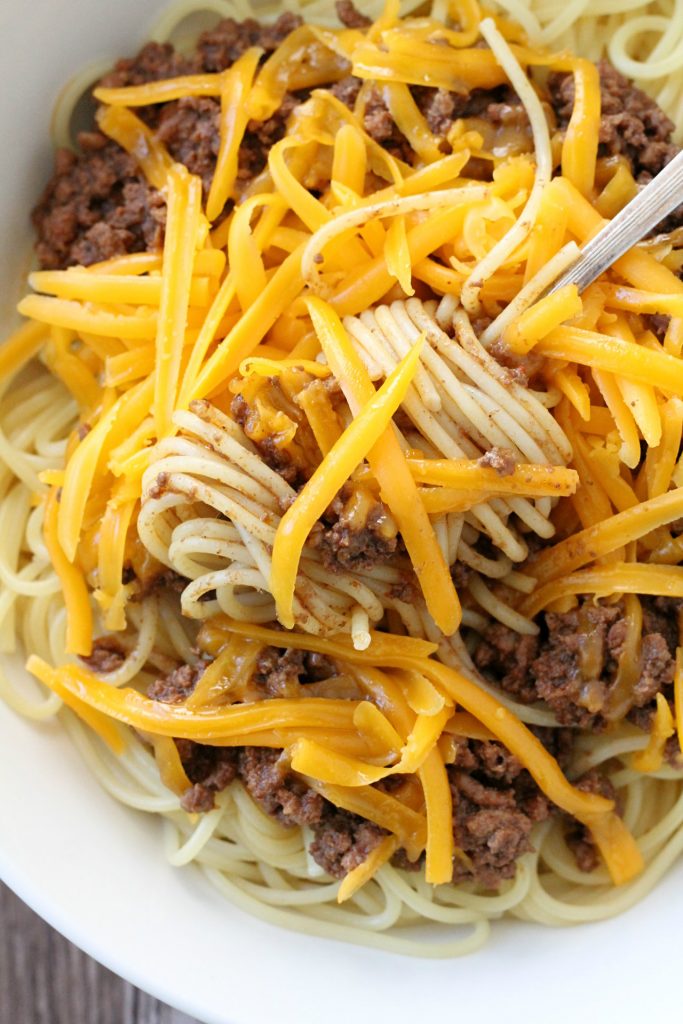 Raise your hand if you love Cincinnati Chili! And if you haven't tried it keep reading because I may just make a fan out of you too. I was not born and raised in Cincinnati. I'm a transplant by marriage. But I've lived here for 16+ years and I very much consider it my home now and love everything about my city including its version of chili.
Since moving here and becoming indoctrinated into the Cincinnati chili phenomenon I've tried numerous "copycat" recipes to underwhelming reviews from my family. I just like the idea of going to my butcher and choosing some fresh ground sirloin to be served atop the spaghetti and underneath the cheese instead of opening a can. I'm an American consumer and I like my choices. Actually when I visited a typical Ohio beef farm earlier this year the farmers agree. Choice is an important part of what they do and they want the thousands of families across Ohio who buy their beef to be happy.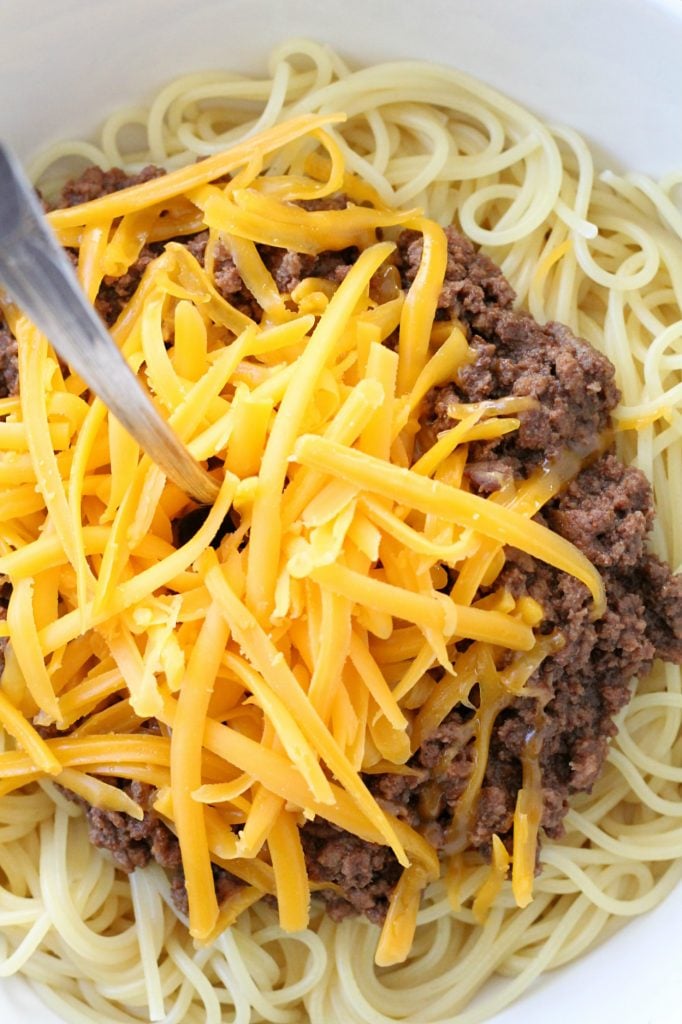 Did you know there are 17,000 beef farming families in Ohio, and 98 percent are family farms? Meet Ohio beef farmers who may live near you at www.OhioBeef.org.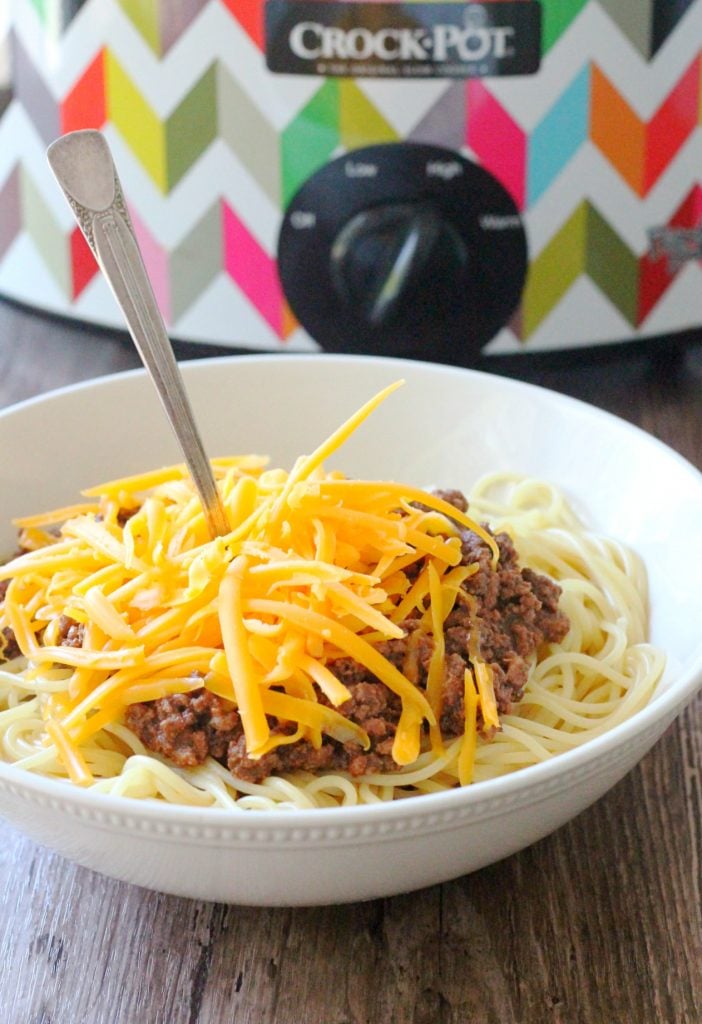 This slow cooker Cincinnati chili recipe makes my family happy! And I know it's going to make you happy too. Did you realize you don't need to brown your beef before putting it in the slow cooker? Some recipes I've read for Cincinnati chili actually call for boiling the beef in water before simmering it in all the spices. Um, no thanks. That sounds complicated and messy. I dump everything in at once (including the raw ground sirloin) and in just a few hours my kitchen smells wonderfully delicious and I have a big pot of beefy goodness that I know my family is going to just gobble up at dinner time. This is a perfect recipe for you to have on hand for game day too!

Visit www.OhioBeef.org, and follow the Ohio Beef Council on Facebook, Twitter and Instagram for beef nutrition facts, cooking tips recipes and to meet Ohio's beef farmers.
Slow Cooker Cincinnati Chili
Ingredients
2

lbs

ground sirloin

1

can (10 oz.)

beef broth

1

can (8 oz.)

tomato sauce

1

tbsp

apple cider vinegar

1

tbsp

Worcestershire sauce

2

tbsp

chili powder

1

tbsp

light brown sugar

1

tsp

garlic powder

1

tsp

cumin

1/2

tsp

cinnamon

1/2

tsp

salt

1/4

tsp

cayenne pepper

1/4

tsp

all spice

1/4

tsp

ground cloves

1

bay leaf

1

oz.

unsweetened chocolate

grated
Instructions
In a 6 or 8 quart slow cooker, add the beef broth, tomato sauce, vinegar and Worcestershire sauces, all the dry seasonings, bay leaf and grated chocolate. Whisk to combine.

Break up the ground sirloin into smaller pieces and add to the slow cooker.

Cover and cook on high for 4 hours or low for 8 hours.

Remove the bay leaf and use a potato masher to break up any larger pieces of the cooked beef.

Serve the slow cooker Cincinnati chili atop spaghetti and topped with plenty of freshly grated sharp cheddar cheese.
More Chili Recipes: