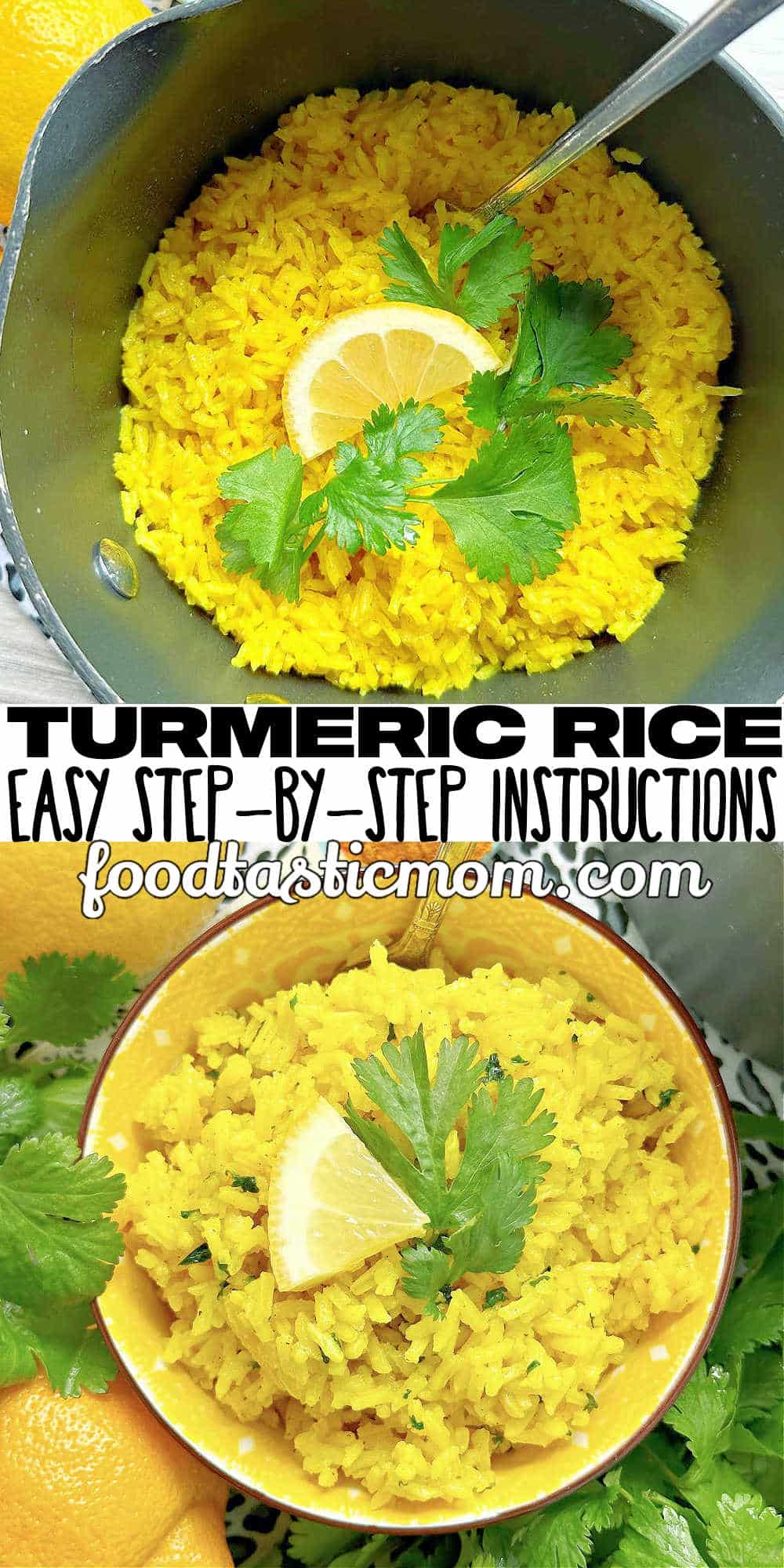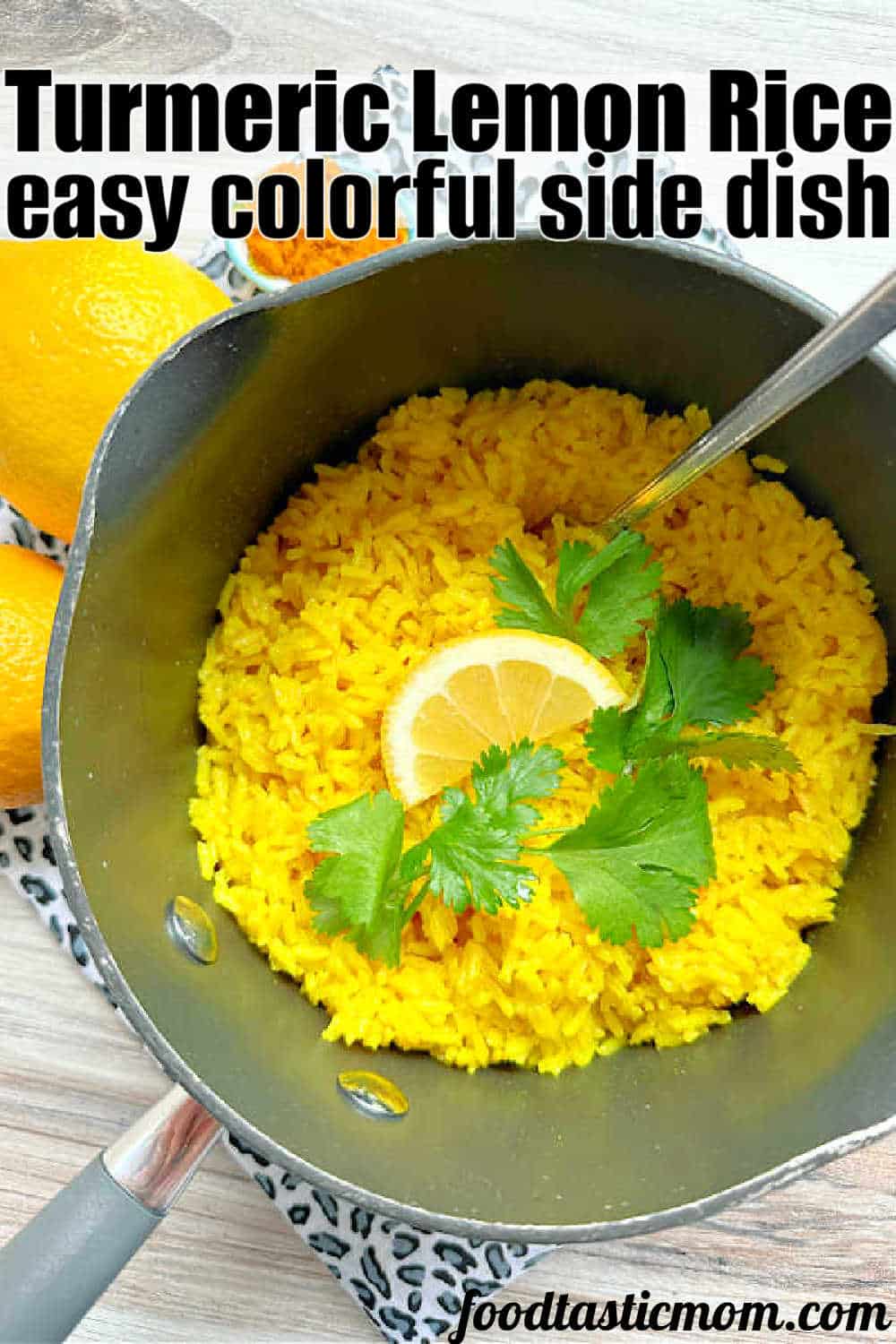 Turmeric Rice is an easy and colorful side dish. The rice is fragrant and delicious with turmeric, garlic, butter and fresh lemon juice.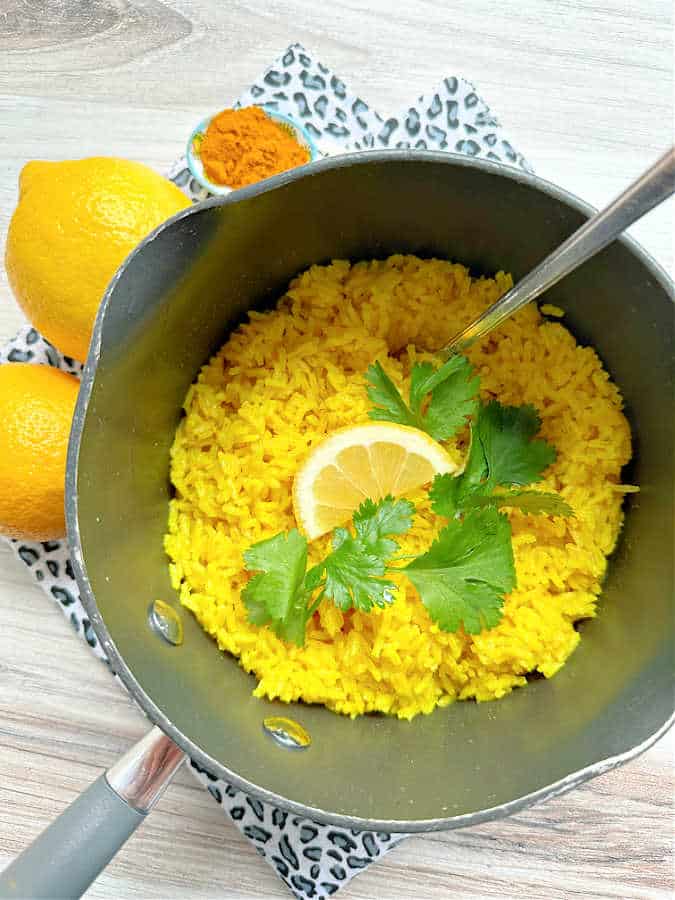 I love rice. There's so many ways to serve it. One of my all time favorite recipes that my Mom made each holiday season was her Rice Pilaf. So that's probably a reason I'm so fond of rice as a starch and serve it often here in my home. I have helpful tips for How to Cook Rice in another post. This Turmeric Rice is made basically the same way, just with different flavorings. The turmeric is so fragrant and makes my kitchen smell really good as it's cooking. Plus the bright yellow hue is really pleasing to look at on your plate or in a bowl.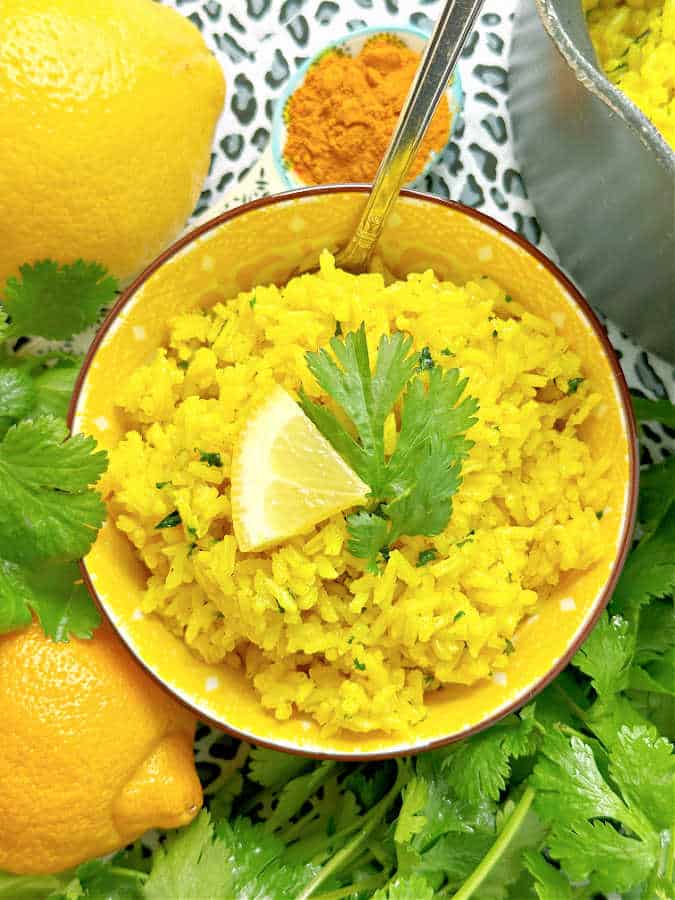 Why this recipe works
For me, this recipe works because my picky 18 year old devoured this rice when I was making it again to update this post (originally published on 2/1/18). Both my kids love it. The yellow rice grains are so pretty on a plate. And the aromas smell really good as the rice is cooking. What's not to love?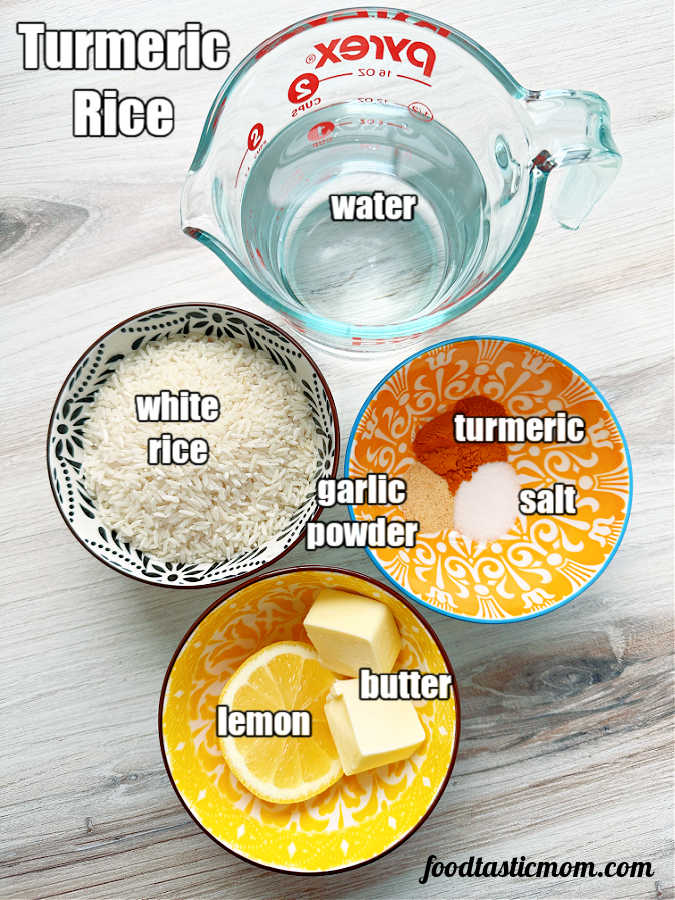 Ingredients for turmeric rice
Rice – Don't use a quick cooking rice for this recipe. For testing, I specifically use this brand of Texmati Rice. Other types of white rice like Jasmine rice or Basmati rice would also work well in this recipe.
Turmeric – Any brand of ground turmeric powder will work. I usually buy my Kroger brand of Private Selection of spices. They are good quality and less expensive than some of the name brands.
Garlic Powder – Pairs nicely with the turmeric flavor.
Salt – I always cook rice with salt to help add flavor.
Butter – Fat adds more flavor.
Lemon Juice – The bright flavor of lemon really compliments the warm flavor of the turmeric.
Water – You could use chicken stock or vegetable stock. But I prefer the clean flavor of water because it allows the other flavors and aromatics to really shine.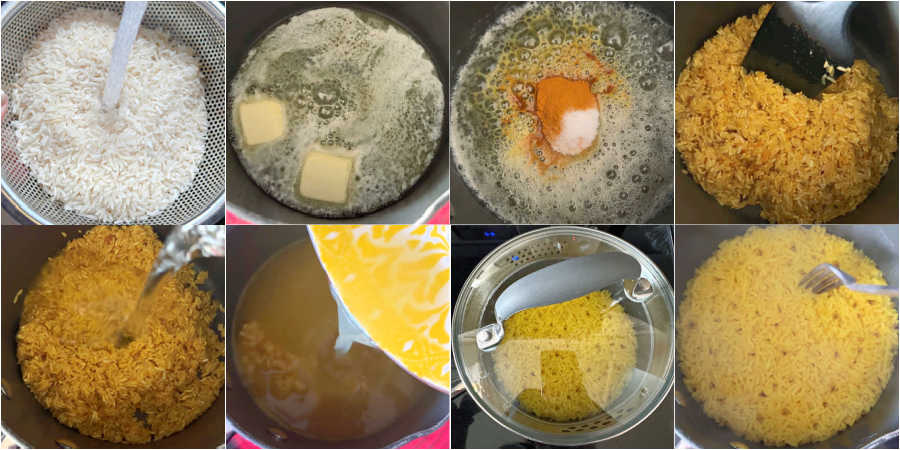 Instructions for how to make the turmeric rice recipe
I don't own an instant pot or rice cooker. I try to limit my "kitchen gadgets" – my air fryer, slow cooker and stand mixer have won that valuable space on my kitchen counter. So these directions are for cooking rice on the stove top. Keep scrolling if you'd like to see the video I made for how to cook rice.
Rinse your rice under cold water and allow it to drain. Melt the butter in a non stick sauce pan. Add the spices, salt and rice. Allow it to cook and toast to add flavor. Then add your water and lemon juice. Bring to a gentle boil. Lower to medium-low heat and cover the pan.
Allow the rice to simmer for at least 15 minutes, or until all the liquid is absorbed. Keep the pan covered and remove it from the heat. Allow the rice to rest for a few minutes. Then fluff it with a fork before serving. You can also stir some fresh chopped cilantro into your rice if you wish.
FAQ's
What is turmeric?
Turmeric, a plant in the ginger family, is native to Southeast Asia and is grown commercially in that region, primarily in India. Turmeric is a common spice and a major ingredient in curry powder. Curcumin is a major component of turmeric and is what gives turmeric its intense yellow color. Keep in mind when working with turmeric that it does stain. So be careful about what surfaces it comes into contact with.
Is turmeric healthy?
According to Healthline there are ten proven health benefits of turmeric. The one that jumps out to me the most is it may be useful in treating Alzheimer's disease. My Mom died from complications of dementia and Alzheimer's so I'm keenly aware of its devastating effects. Turmeric may also help to prevent cancer and lower your risk of heart disease.
Is turmeric a strong flavor?
It's fragrant and a little goes a long way. It's peppery, a bit reminiscent of fresh ginger and has a bitter undertone. It pairs well with lemon. It also goes well with other earthy, warm flavors like cinnamon. Too much will over power a dish, so one teaspoon of turmeric is plenty to flavor one cup of rice.
Storage directions
You can freeze cooked rice. Here's complete directions for how to store rice in your freezer. Otherwise, store any leftover rice in an airtight container in the fridge for up to two days.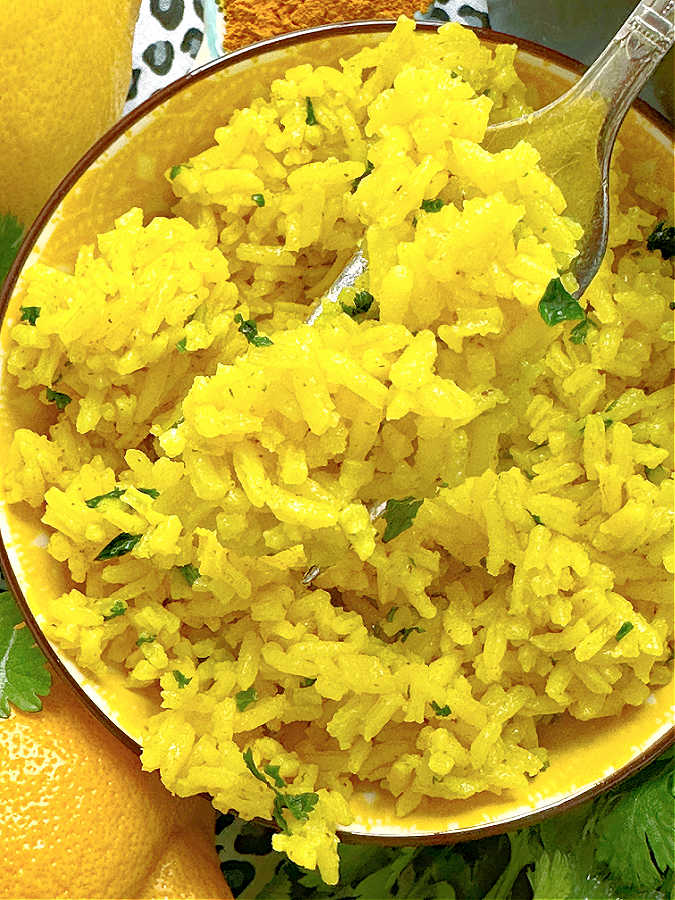 Serving suggestions
The other night I served turmeric rice with air fryer steak bites (my recipe for those will be published soon) and air fryer asparagus. The flavors worked really well together and it was a very satisfying meal. Here's some other main dish recipe ideas for serving alongside this perfect side dish of yellow rice…
Kitchen tools
More rice recipes
Turmeric Rice
Turmeric Rice is an easy and colorful side dish. The rice is fragrant and delicious with turmeric, garlic, butter and fresh lemon juice.
Ingredients
2

tbsp

Butter

1

tsp

Turmeric

3/4

tsp

Garlic Powder

3/4

tsp

Salt

1

cup

Rice

1 3/4

cups

Water

2

tbsp

Lemon Juice

1

tbsp

Cilantro

optional
Instructions
Put the rice in a metal strainer or colander and rinse under cold water. Drain well.

In a saucepan over medium-high heat melt the butter.

Stir in the turmeric, garlic powder and salt and mix until blended with the butter. Then stir in the rinsed rice. Cook for 1 or 2 minutes, stirring constantly, to toast the rice a bit.

Add the water and lemon juice to the saucepan and bring to a boil. Reduce heat to low or medium-low (you want the rice to be gently simmering) and cover the pan.

Allow the rice to cook until the water is absorbed, about 15 minutes.

Keep the pan covered and remove it from the heat. Allow the rice to sit for 2-3 more minutes.

Take the lid off the pan and fluff the rice with a fork. Stir in chopped fresh cilantro if desired. Serve immediately.
Nutrition
Calories:
224
kcal
|
Carbohydrates:
38
g
|
Protein:
4
g
|
Fat:
6
g
|
Saturated Fat:
4
g
|
Polyunsaturated Fat:
0.3
g
|
Monounsaturated Fat:
2
g
|
Trans Fat:
0.2
g
|
Cholesterol:
15
mg
|
Sodium:
489
mg
|
Potassium:
83
mg
|
Fiber:
1
g
|
Sugar:
0.3
g
|
Vitamin A:
182
IU
|
Vitamin C:
3
mg
|
Calcium:
20
mg
|
Iron:
1
mg
Foodtastic Mom is a participant in the Amazon Services LLC Associates Program (Amazon Associate), an affiliate advertising program designed to provide a means for sites to earn advertising fees by advertising and linking to Amazon.com. Any highlighted, clickable Amazon link you see is an affiliate link that I may earn advertising fees on when you click to purchase.
Thank you so much for being a faithful reader and supporter of Foodtastic Mom. Be sure to PIN to Pinterest and print this recipe! Also like and tag 'Foodtastic Mom' on Facebook and Instagram if you make this recipe!