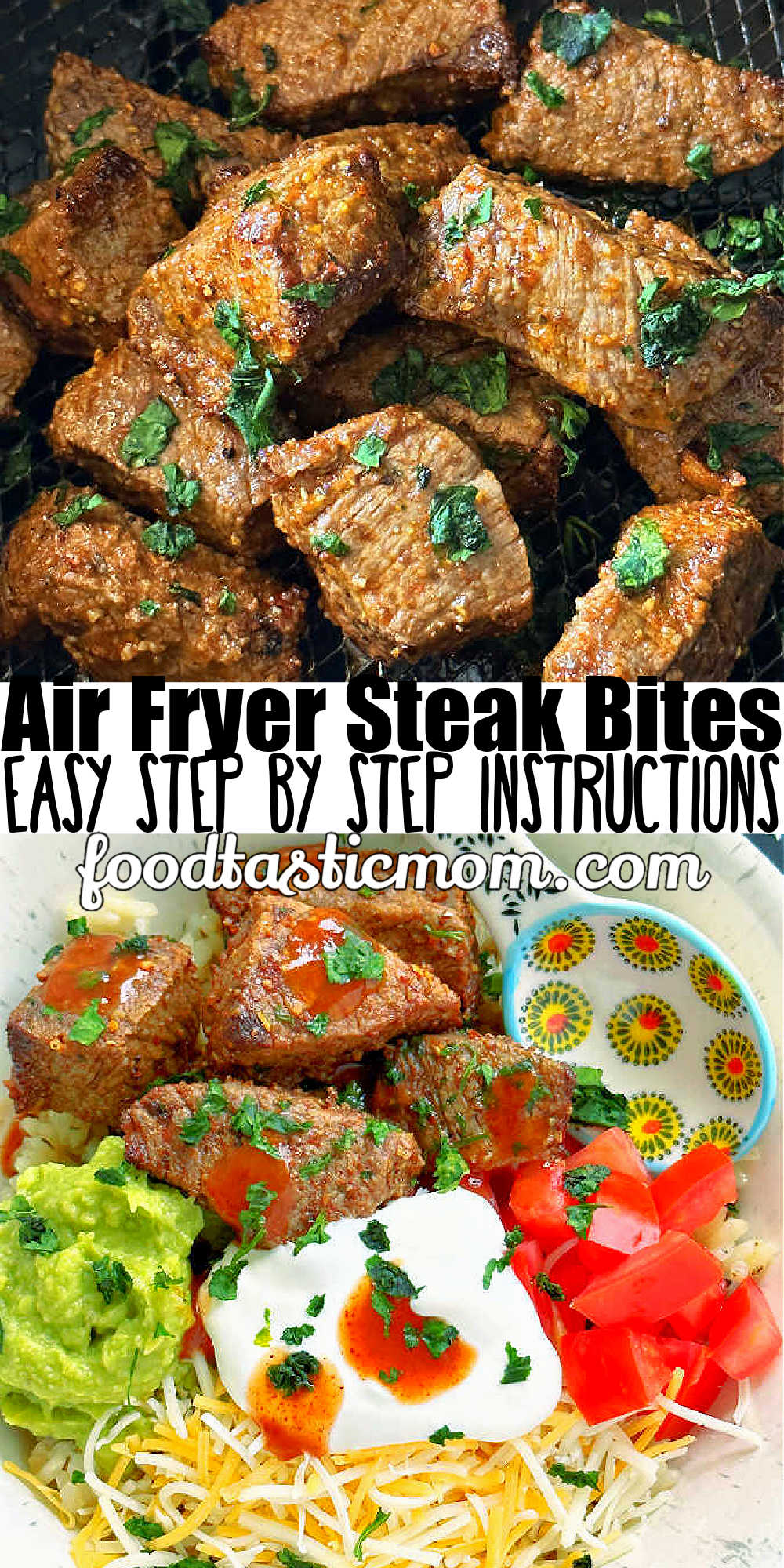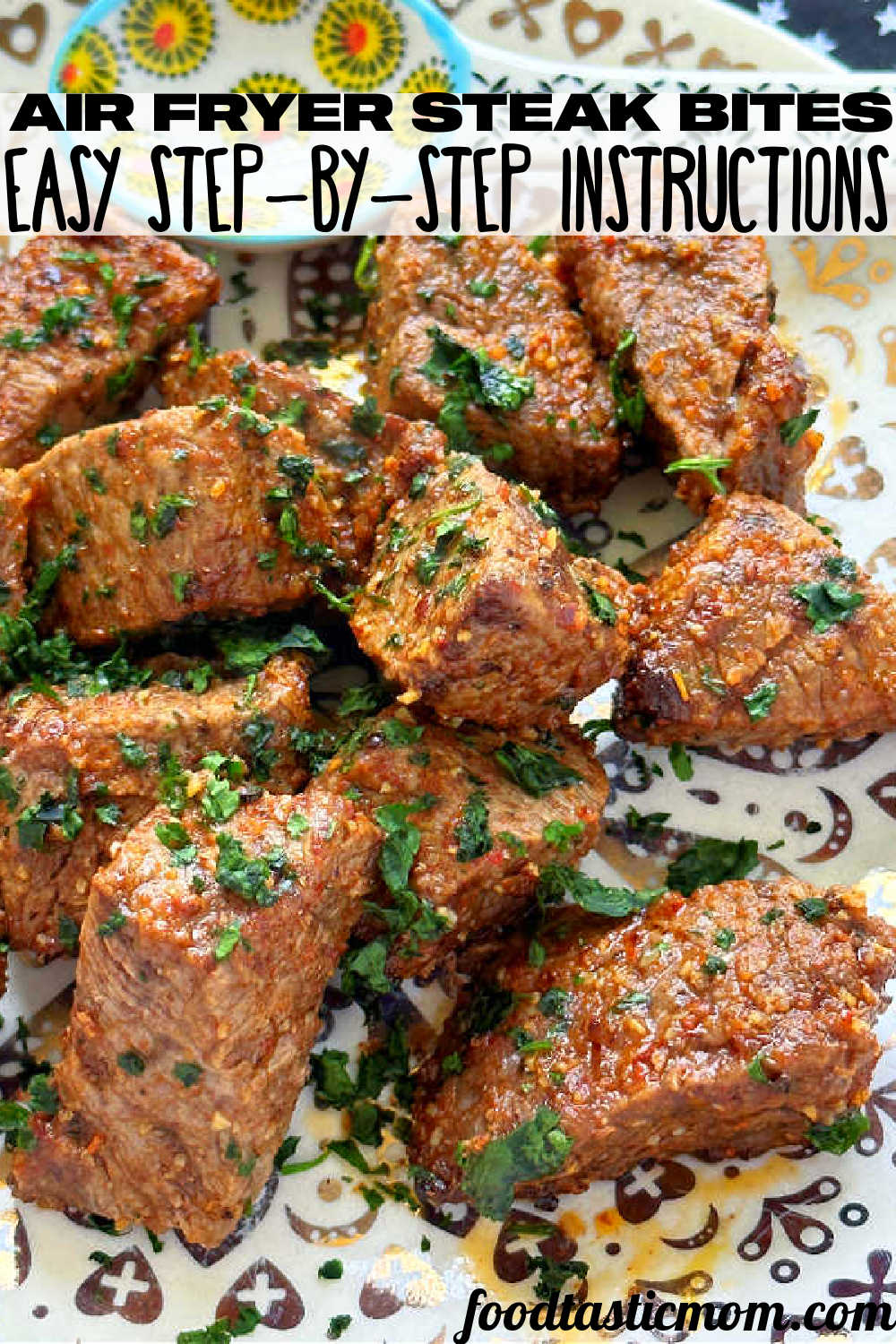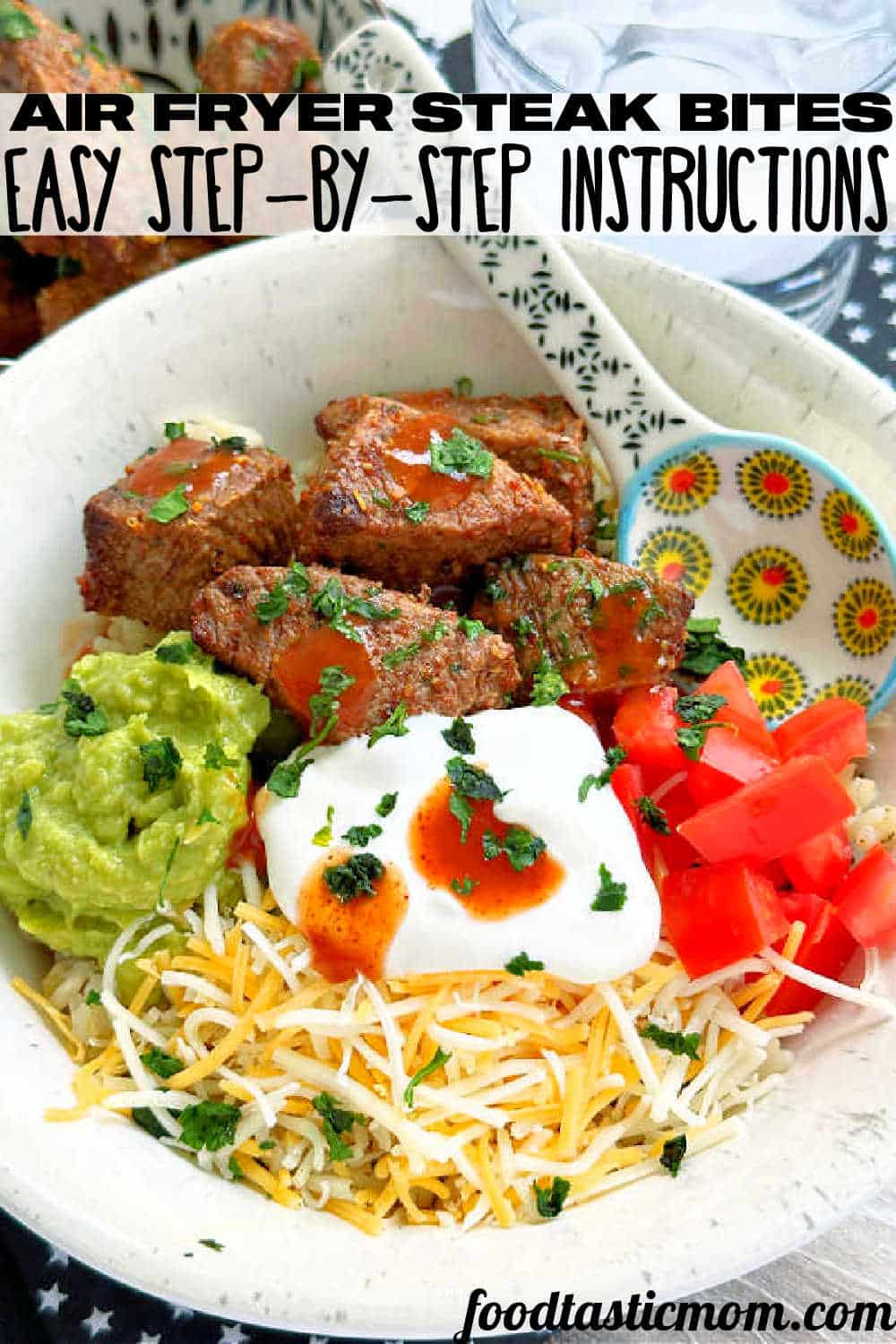 Air Fryer Steak Bites are an economical choice to make a pricier steak feed more people. They are so quick to make and perfectly cooked!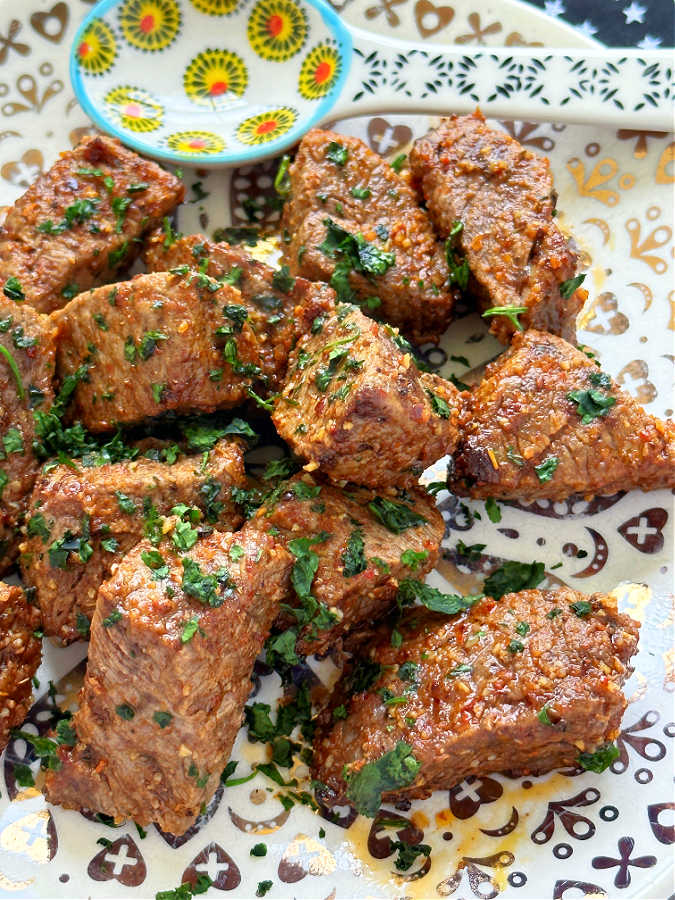 Are you a steak snob like me? If I'm going to cook steak I prefer filet mignon. But they are so expensive. I mean they're way cheaper to purchase and cook at home rather than eat at a restaurant. But still.
With steak bites, a large steak cut into bite sized pieces, you can save money and still enjoy that filet. This recipe works just as well for cooking sirloin steak, New York strip steak and ribeye. Plus your air fryer cooks those cubes of steak to perfection in a fraction of the time it takes to cook one big, thick steak.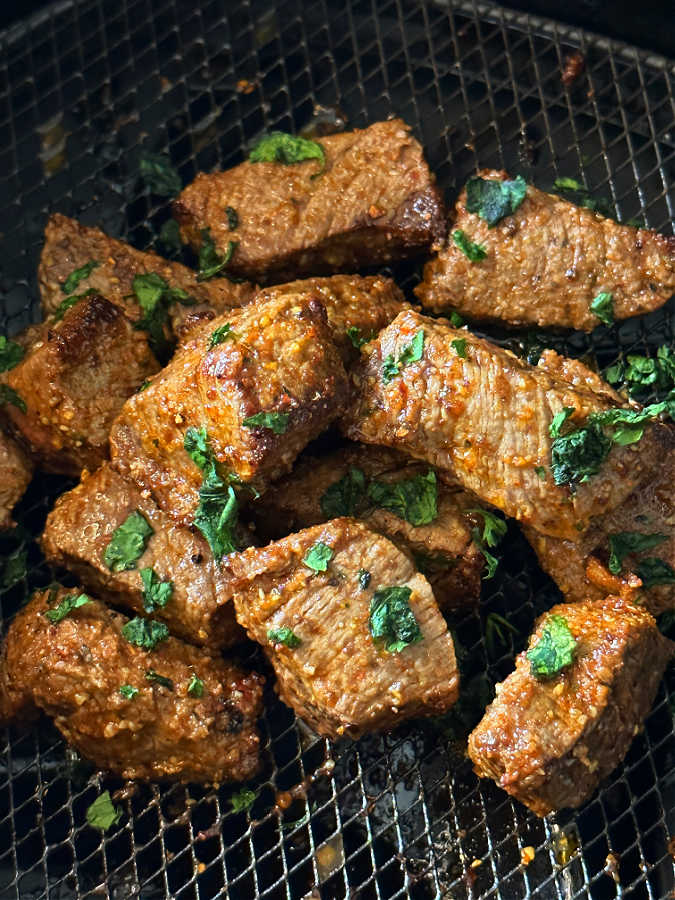 Why this recipes works
Cutting a steak into smaller, bite-sized pieces helps it cook quickly. The air fryer cooks the steak evenly on all sides, sealing in the juices for tender bites of steak. These steak bites are so versatile. You can build a variety of meals with them. Or they can just be a quick protein-packed snack.
My air fryer never ceases to amaze me! It remains my most used kitchen gadget. My kids use it often for after school snacks, or dinner if I'm not home. Here's some of my dinner time favorites I've created in my Foodtastic Mom kitchen so far…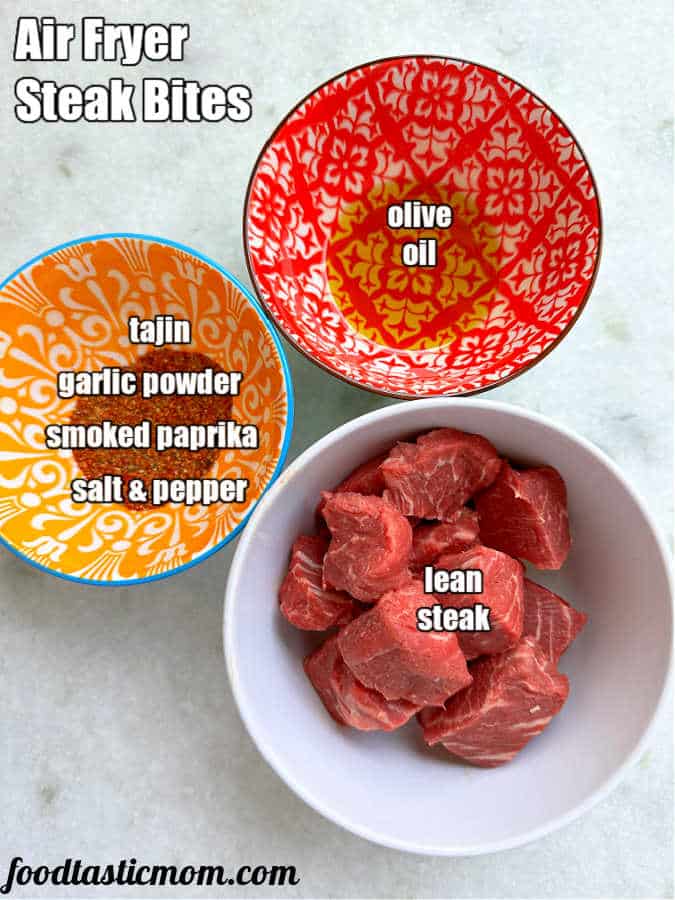 Ingredients for air fryer steak bites
Steak – When testing this recipe I used filet mignon steak. Other great cuts of beef are top sirloin, strip steak or ribeye
Olive Oil – Massaging a little olive oil onto the steak bites helps to make sure the seasonings adhere to the steak evenly
Seasonings – My favorite way to flavor steak bites is with a combination of Tajin, garlic powder (or sometimes I use this garlic citrus blend from Trader Joe's), smoked paprika and a little salt and pepper. You are welcome to season the steak with your own combination. Parsley, rosemary and thyme are also good choices. I like to sprinkle on some fresh herbs after cooking. But I prefer using dried herbs to season the steak before air frying.
Salt and Pepper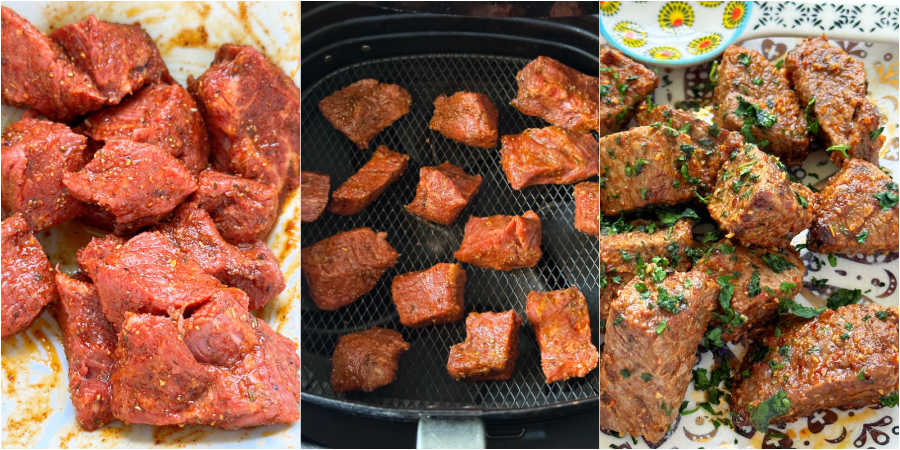 Instructions for air fryer steak bites
Cut steak into bite-sized pieces, about 1-inch cubes
Massage the olive oil into the steak
Combine the seasonings and stir them into the steak to evenly coat
Allow the steak to rest while you preheat your air fryer
Place the steak in an even layer in the air fryer basket
Cook the steak at 400 degrees F for about 8 – 10 minutes, or until cooked to your desired doneness
Steak cooked to a medium doneness will have an internal temperature of 140 degrees F. Be sure to use a meat thermometer to check the temperature before serving.
Pro Tips/FAQ's
What cut of steak is best for the air fryer?
Filet mignon, Strip steak, sirloin or top sirloin and ribeye steak are all good choices to cook in your air fryer.
Does air frying steak dry it out?
It does not dry out steak. In fact, cooking steak in the air fryer helps to seal in its natural juices. The air fryer sears the steak on the outside, leaving it tender and juicy on the inside.
Do you need to flip food in the air fryer?
I sometimes do, but most often I have found that it is not necessary to flip food. The air fryer forces very hot air on all sides of the food. You are welcome to shake the basket to move the steak around about halfway through cooking time. But you don't have to.
Storage directions
Store leftover steak bites in an airtight container in the refrigerator for up to three days. I don't recommend freezing cooked steak bites. I prefer to cook them for using the same day.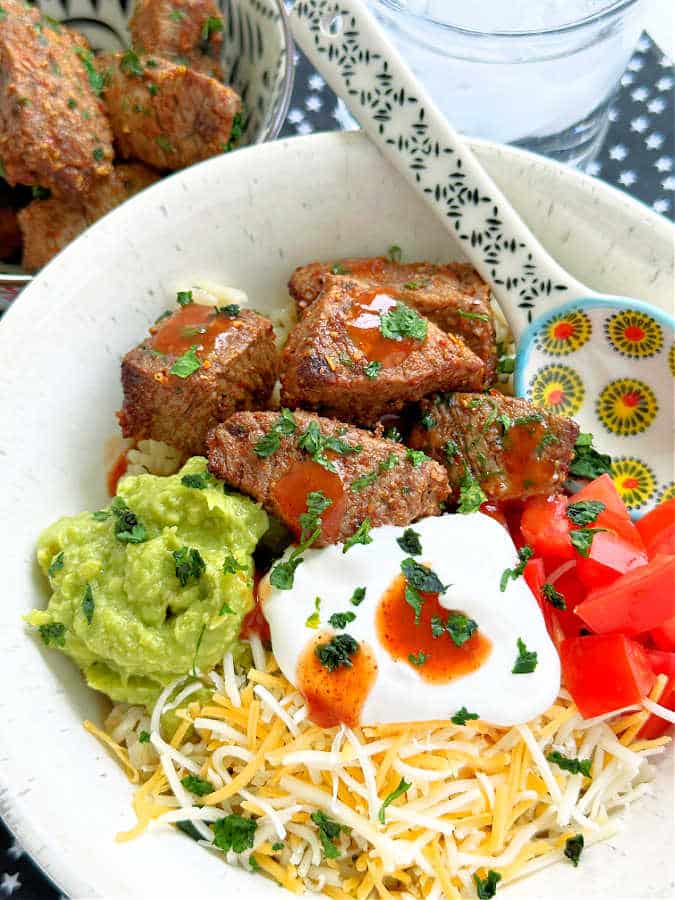 Serving suggestions
My favorite way to serve these air fryer steak bites is as part of a burrito bowl. You can customize these to your own tastes. I like rice, diced tomato, guacamole, cheese, sour cream, taco sauce and cilantro with mine. It's such a quick and easy dinner to make! Here's some other recipe ideas…
Kitchen tools
More steak recipes
Air Fryer Steak Bites
Air Fryer Steak Bites are an economical choice to make a pricier steak feed more people. They are so quick to make and perfectly cooked!
Ingredients
1 1/2

lbs

Steak

1

tbsp

Olive Oil

1/2

tsp

Tajin

1/2

tsp

Garlic Powder

1/2

tsp

Smoked Paprika

1/2

tsp

Salt

1/2

tsp

Black Pepper
Instructions
Cut steak into bite sized cubes, about 1-inch square.

Massage the olive oil into the steak bites.

Combine all the seasonings and then toss them with the steak bites so the steak is evenly coated.

All the steak to rest for about 10 minutes at room temperature.

Preheat the air fryer for about 3 minutes at 400 degrees F.

Add the marinated steak bites to the air fryer basket in an even layer.

Air fry the steak bites for 8 - 10 minutes at 400 degrees F, or until the steak is cooked to your desired doneness.

Check the steak bites with an instant read digital thermometer. Steak cooked to medium will be about 140 degrees F.

Garnish the cooked steak bites with some chopped fresh herbs of your choice before serving.
Nutrition
Calories:
387
kcal
|
Carbohydrates:
1
g
|
Protein:
34
g
|
Fat:
28
g
|
Saturated Fat:
11
g
|
Polyunsaturated Fat:
2
g
|
Monounsaturated Fat:
14
g
|
Cholesterol:
104
mg
|
Sodium:
380
mg
|
Potassium:
469
mg
|
Fiber:
0.2
g
|
Sugar:
0.04
g
|
Vitamin A:
150
IU
|
Vitamin C:
0.01
mg
|
Calcium:
14
mg
|
Iron:
3
mg
Foodtastic Mom is a participant in the Amazon Services LLC Associates Program (Amazon Associate), an affiliate advertising program designed to provide a means for sites to earn advertising fees by advertising and linking to Amazon.com. Any highlighted, clickable Amazon link you see is an affiliate link that I may earn advertising fees on when you click to purchase.
Thank you so much for being a faithful reader and supporter of Foodtastic Mom. Be sure to PIN to Pinterest and print this recipe! Also like and tag 'Foodtastic Mom' on Facebook and Instagram if you make this recipe!