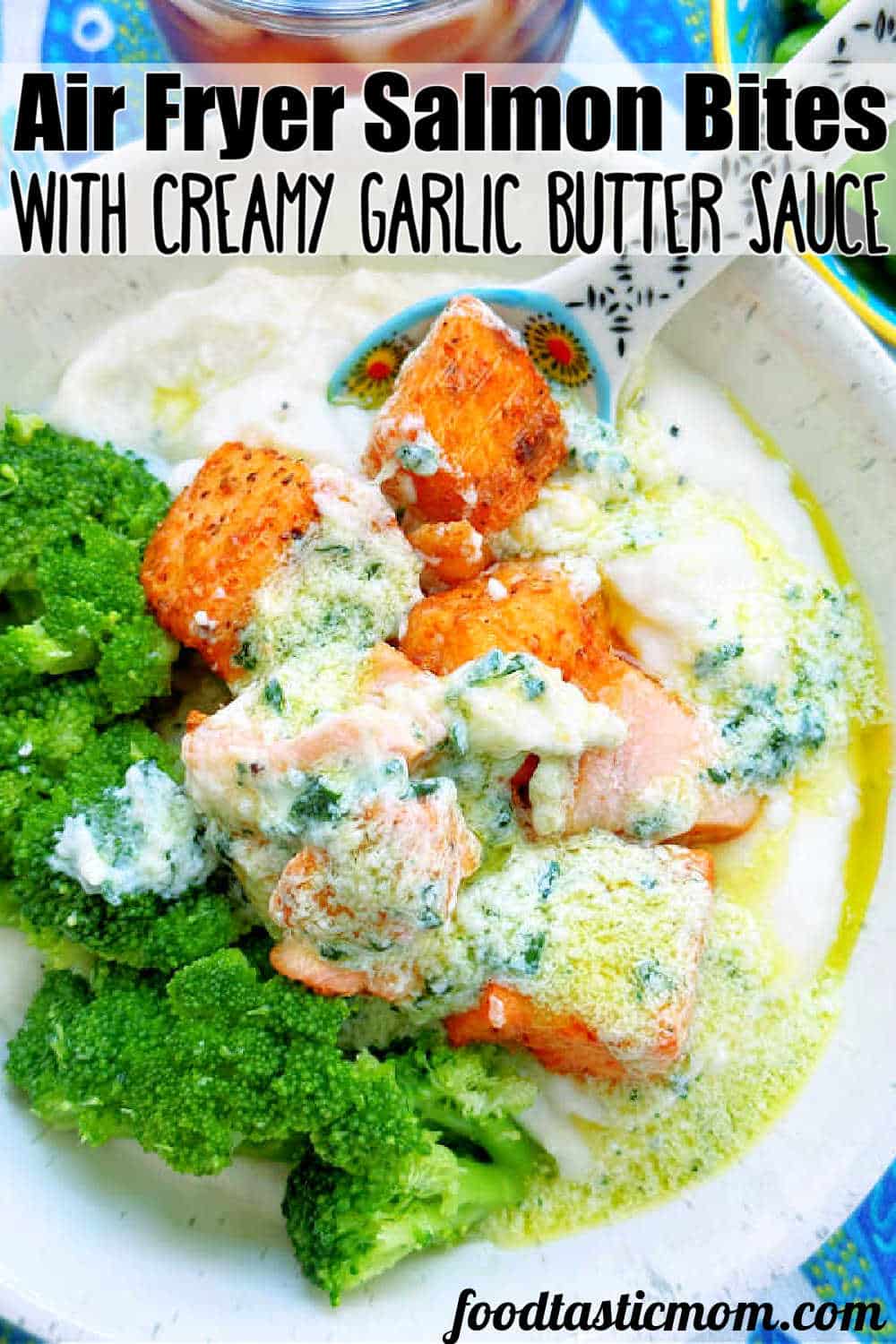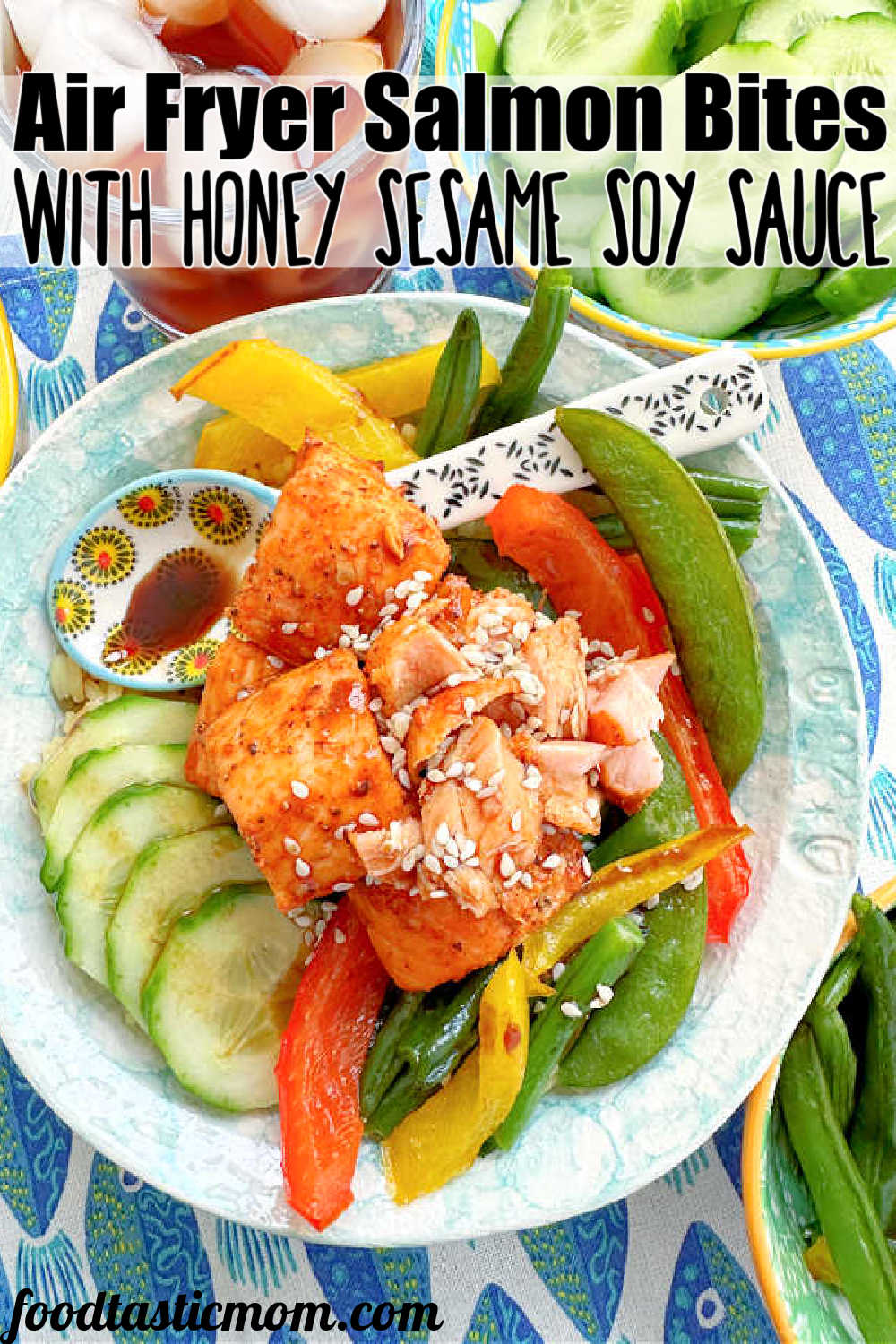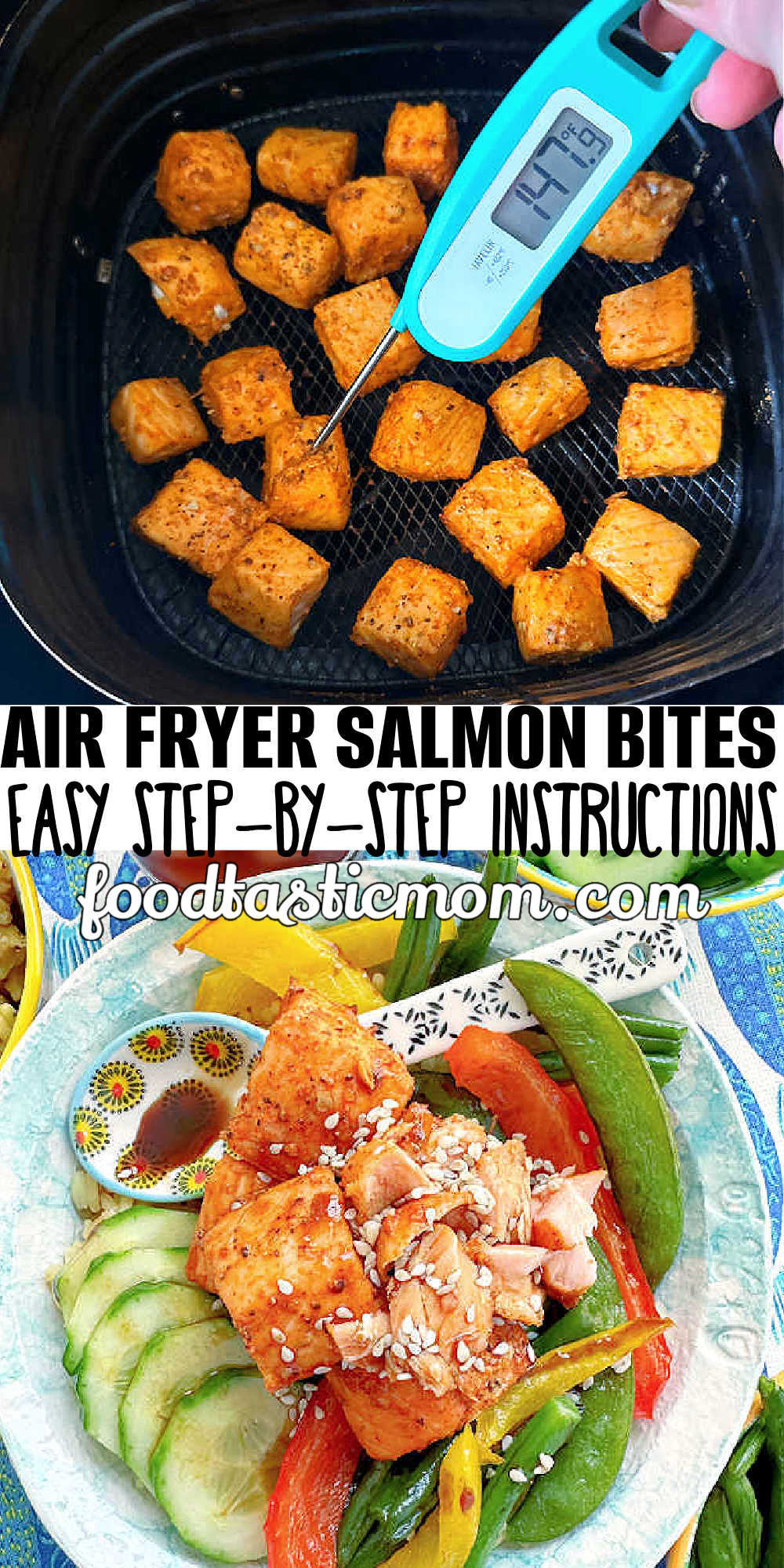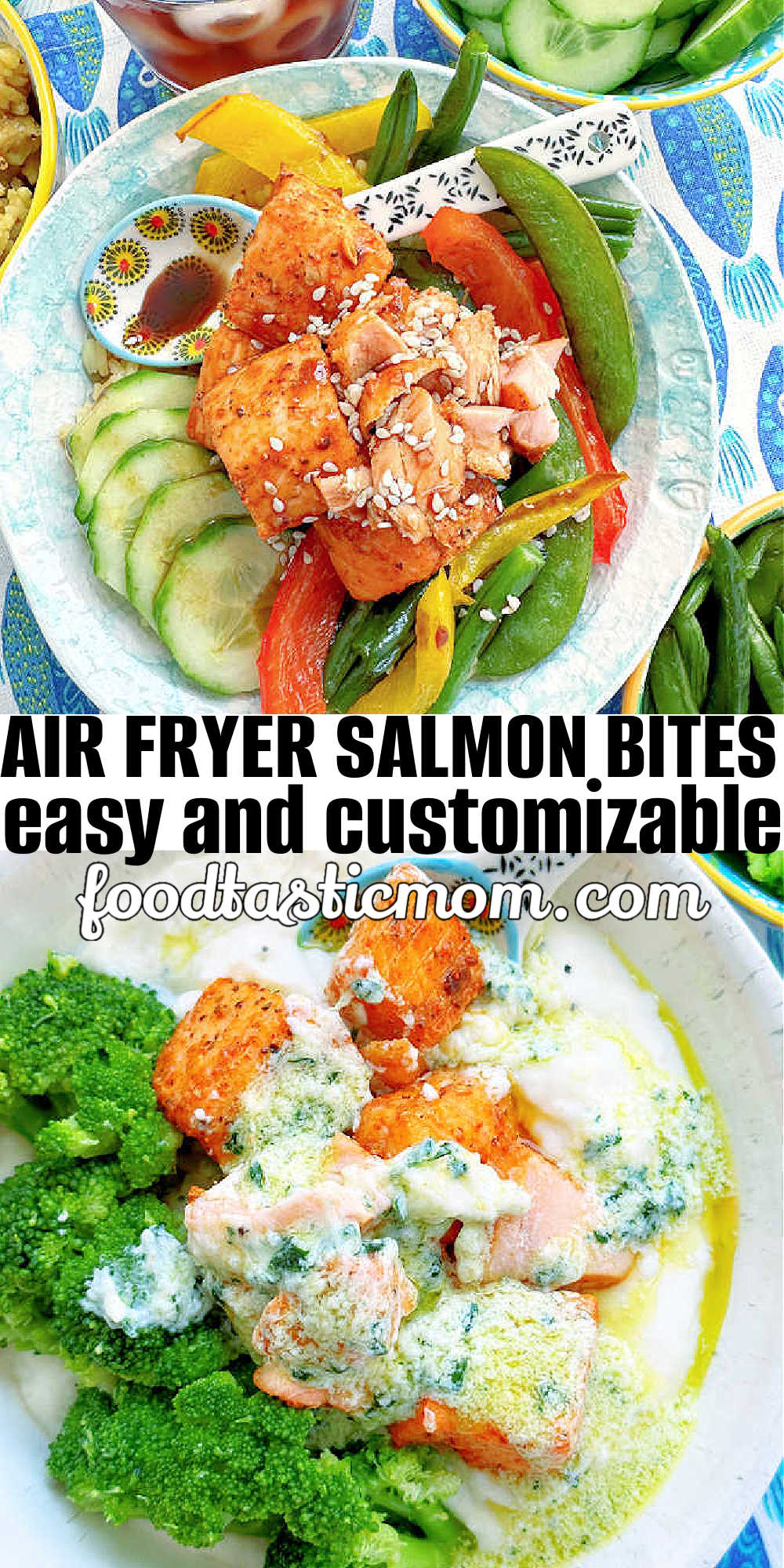 Tender air fryer salmon bites are seasoned with a simple spice rub and cook in just six minutes. Then drizzle them with your choice of sauce.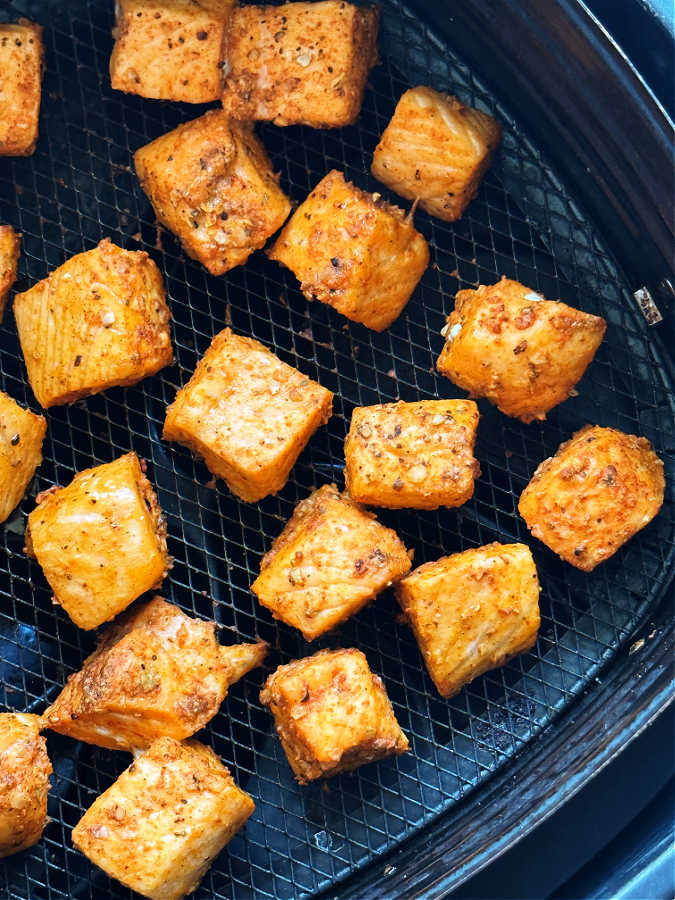 It may sound like I live under a rock, but I just recently became a Costco member. Our closest Costco is over 40 minutes away. So I don't get there very often. But one of my most favorite products is their frozen salmon filets. My daughter has cooked them in the air fryer a few times now with great success. The salmon is just perfect. So I've been looking for more ways to serve it. You're going to love these air fryer salmon bites as much as we do. They cook quickly. And then everyone can customize their salmon bites to their own tastes.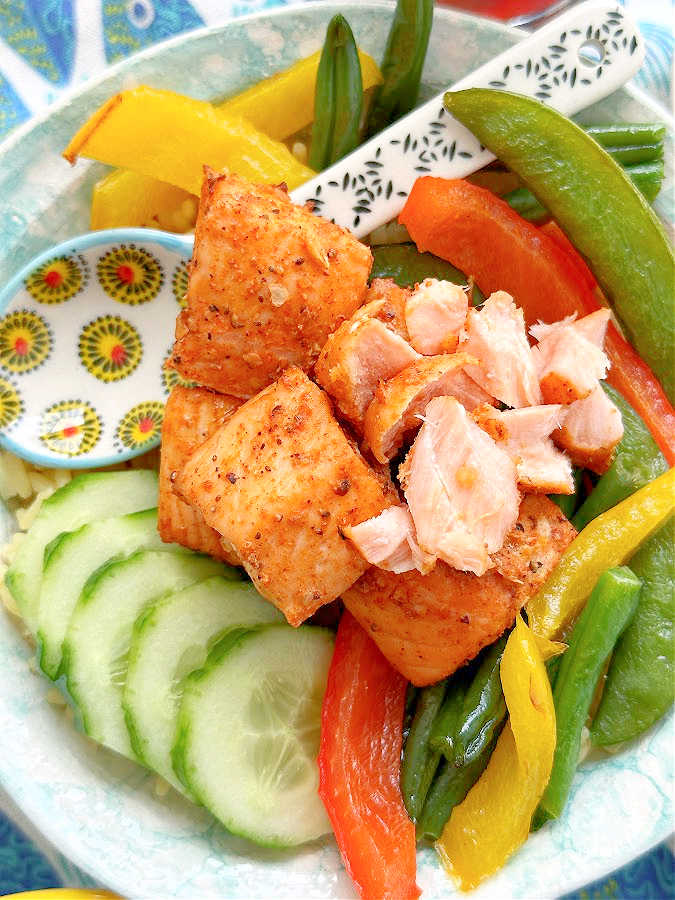 Looking for more seafood recipes? Here's my most popular fish and seafood recipes here on Foodtastic Mom…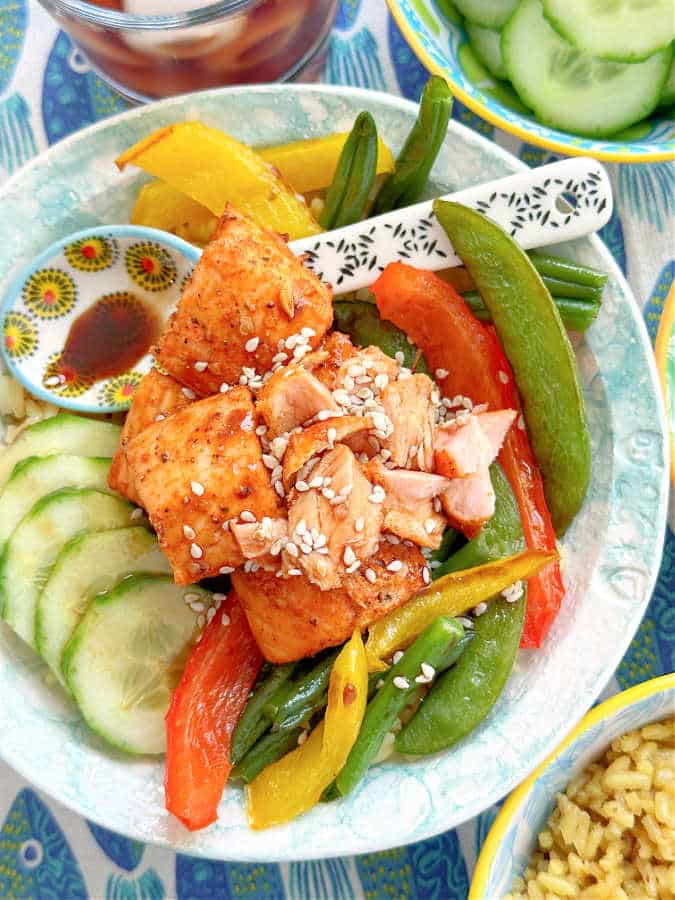 Why this recipe works
This recipe works because the salmon cooks so quickly – and without oil – in the air fryer. Air fryer salmon bites are especially perfect for when you may only have a couple of salmon filets left in the freezer. But you need to serve three or four people. Bite-sized salmon cubes give the illusion of more food so they are an economical choice. Simply seasoned, these tender salmon bites can be customized to most any tastes. They are really perfect for a bowl meal.
The great thing about frozen salmon filets is that they thaw pretty quickly in cold water. So these salmon bites can be a quick and healthy weeknight dinner. Salmon is a great source of quality protein. And the Omega-3 fatty acids in salmon provide well documented benefits for both your heart and your brain.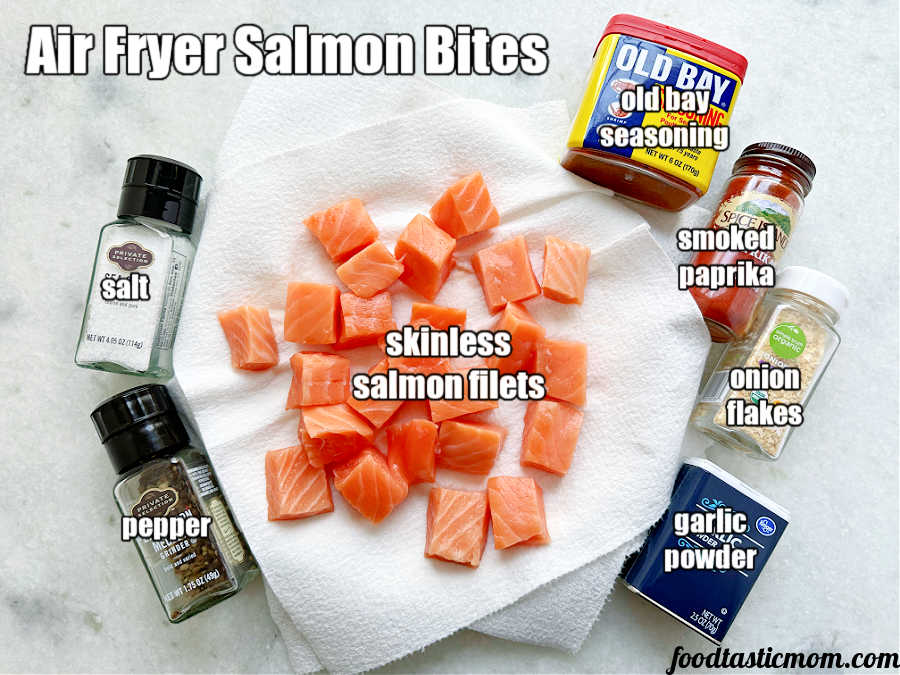 Ingredients needed for this air fryer salmon bites recipe
Honey Sesame Soy Glaze
For each bowl, whisk together 1 tablespoon of low sodium soy sauce, 1 tablespoon of honey and 1 teaspoon of sesame seeds. Pour the sauce over each bowl when ready to serve.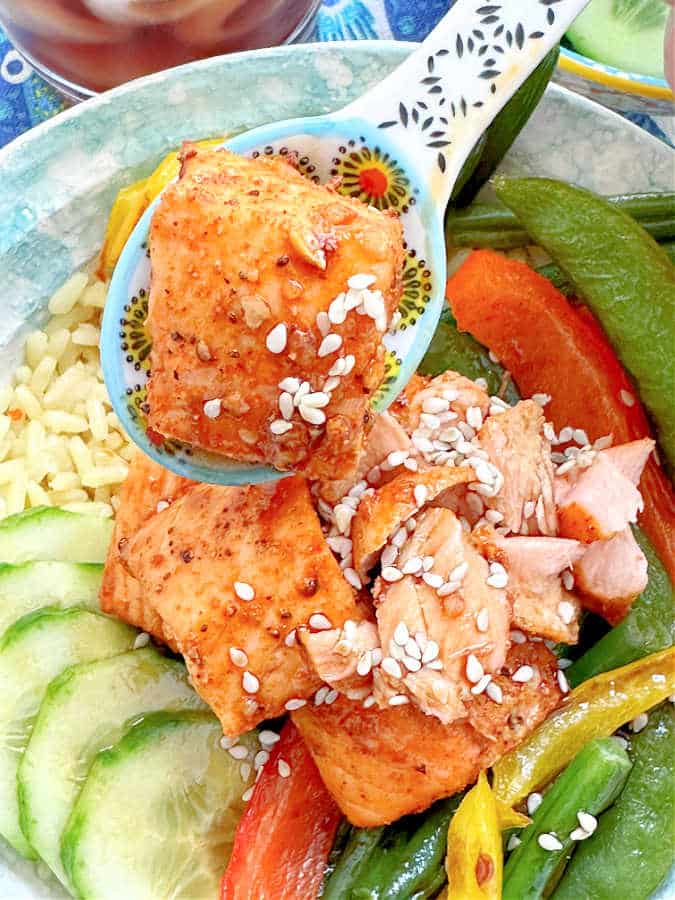 Creamy Garlic Butter Sauce
For each bowl, whisk together 1 tablespoon of melted butter, 1 tablespoon of sour cream, 2 teaspoons of lemon juice, one minced clove of garlic and 1 teaspoon of parsley. Drizzle the sauce over each bowl when ready to serve.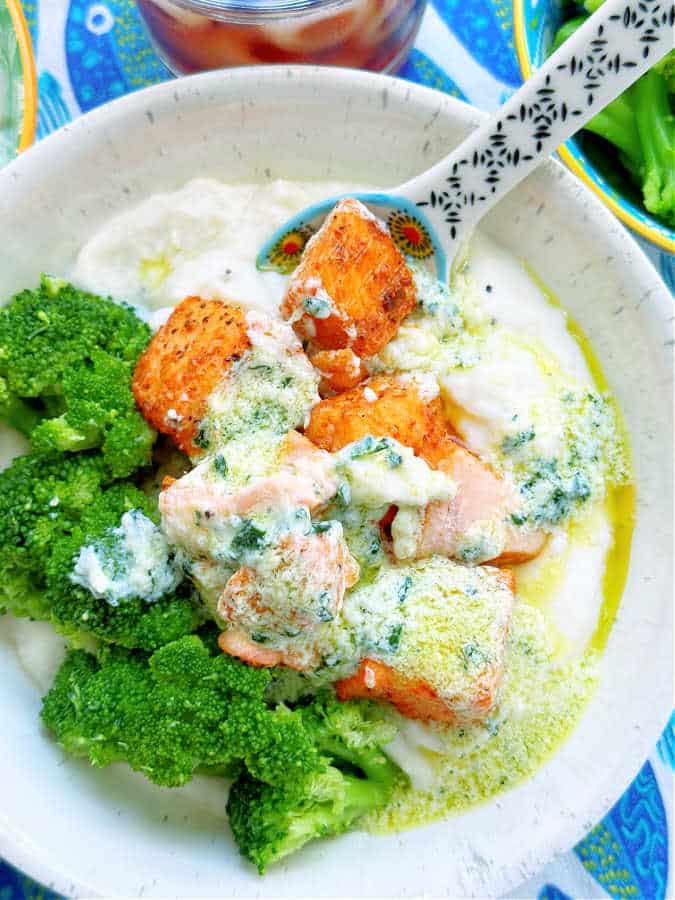 Instructions for making air fryer salmon bites
Once the salmon is thawed, gently pat it dry with paper towels. Cut each salmon filet using a very sharp knife into 1 inch cubes. Mix together all the seasonings until well blended. Gently coat the salmon cubes evenly with the seasoning. Spread the seasoned salmon in a single layer into the basket of your air fryer.
Air fry the salmon bites at 400 degrees F for 5 – 6 minutes. Salmon is ready to eat once it reaches a minimum temperature of 145 degrees F.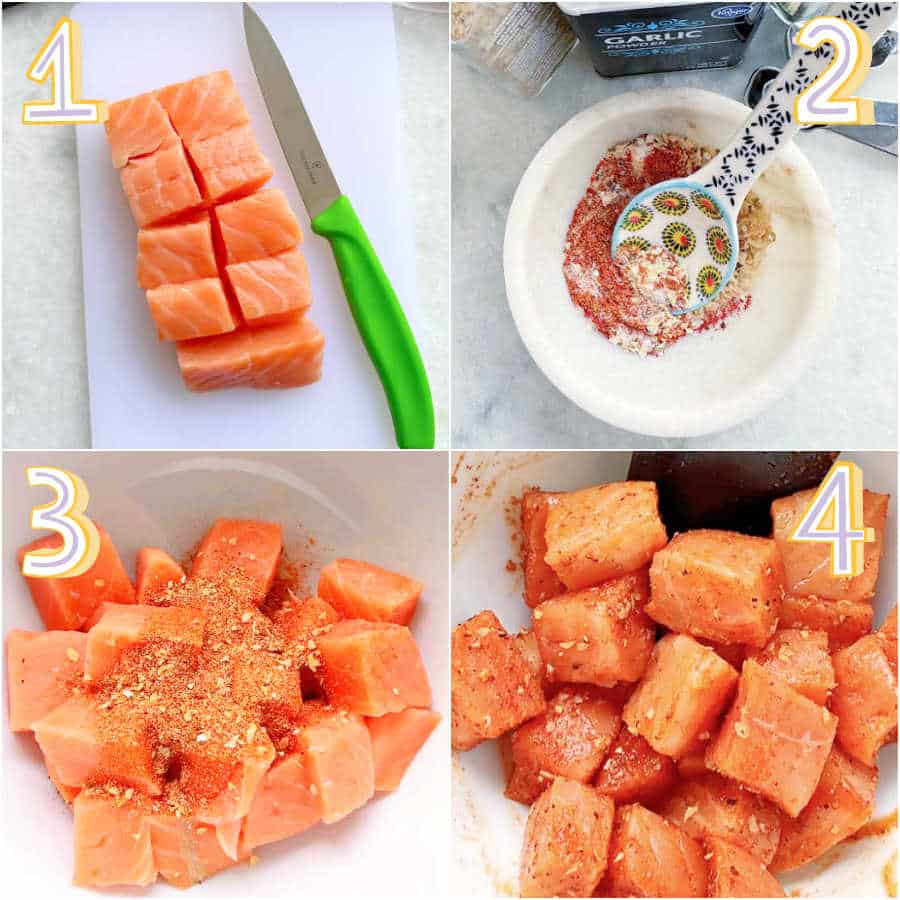 FAQ's
How do you know when salmon is done in the air fryer?
The best and only way I know if salmon (or any meat/seafood) is done is by checking the temperature with a meat thermometer. Always check a few areas in the basket to be sure all the salmon has reached a safe eating temperature. The USDA says that salmon must be 145 degrees F.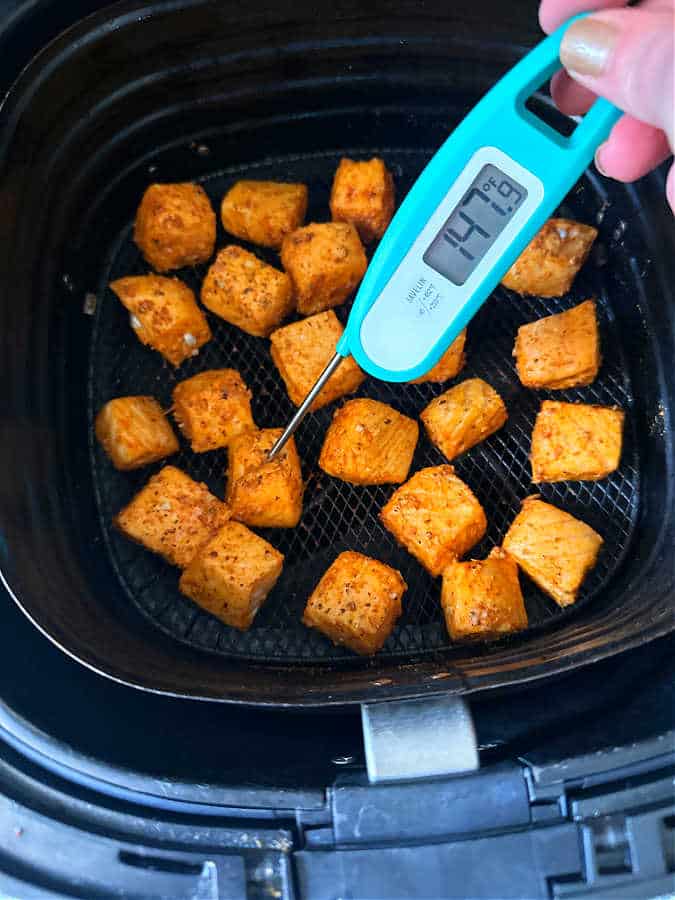 What herbs and spices go best with salmon?
Smokey or sweet paprika, garlic powder and onion powder are very popular with salmon. Brown sugar, chili powder, cumin, cayenne pepper or blackened style seasonings are also good choices. Dill, parsley, lemon and butter is another classic flavor combination for salmon.
Cooking Spray
I never recommend using an aerosol style cooking spray inside of your air fryer basket as it can damage the nonstick coating over time. I did not find it necessary to use oil at all for this recipe. But if you are worried about sticking, you can use a silicone pastry brush to coat your basket lighting with vegetable or olive oil before placing the cubed salmon fillets into the basket.
Storage directions
Store any leftover cooked salmon bites in an airtight container in the fridge for up to three days. Use your air fryer for reheating them. I would suggest putting them in an air fryer paper liner to prevent sticking. Reheat the salmon at about 360 degrees F for 5 minutes.
Serving suggestions
As I have already mentioned, I really like these salmon bites as part of a bowl meal. Serve them as I have pictured throughout my blog post. With the honey soy glaze I serve them with white or brown rice, air fried veggies (a mix of green beans, snow peas and bell peppers) and sliced cucumbers. With the creamy garlic butter sauce, I serve them with mashed potatoes and broccoli. Air fryer asparagus would also be a good choice instead of the broccoli. Here are some of my other favorite sides and dipping sauce that would go well with these air fryer salmon bites: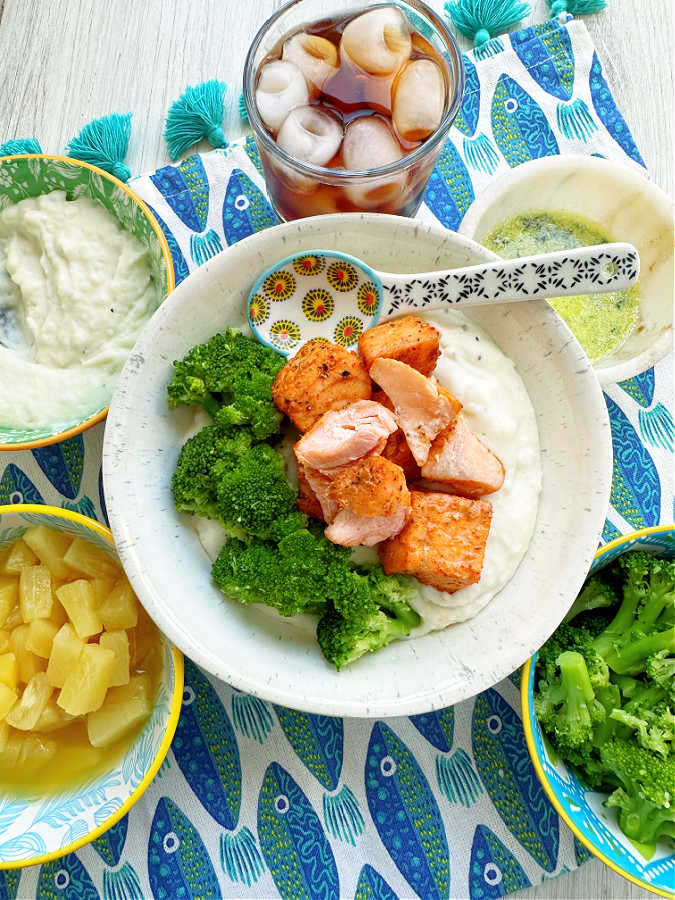 Kitchen tools
More air fryer recipes
Air Fryer Salmon Bites
Tender air fryer salmon bites are seasoned with a simple spice rub and cook in just six minutes. Then drizzle them with your choice of sauce.
Ingredients
18

oz

salmon

use frozen, boneless and skinless filets

3/4

tsp

Old Bay Seasoning

3/4

tsp

smoked paprika

3/4

tsp

garlic powder

3/4

tsp

onion flakes

1/2

tsp

salt

1/4

tsp

black pepper
Instructions
Thaw the salmon according to package directions.

Pat the outside of the salmon dry with paper towels.

Use a sharp knife to cut the salmon into one inch cubes.

Whisk together all the seasonings until evenly combined.

Pour the seasonings over the salmon bites in a medium bowl and gently toss them with a rubber spatula until they are evenly coated.

Place the salmon bites into the air fryer basket in an even layer.

Air fry the salmon at 400 degrees F for a total time of 5 - 6 minutes, or until the salmon reaches 145 degrees F when checked with a digital meat thermometer.

Use your own creativity to serve the salmon bites.
Nutrition
Calories:
252
kcal
|
Carbohydrates:
2
g
|
Protein:
34
g
|
Fat:
11
g
|
Saturated Fat:
2
g
|
Polyunsaturated Fat:
4
g
|
Monounsaturated Fat:
4
g
|
Cholesterol:
94
mg
|
Sodium:
464
mg
|
Potassium:
880
mg
|
Fiber:
0.5
g
|
Sugar:
1
g
|
Vitamin A:
329
IU
|
Vitamin C:
1
mg
|
Calcium:
31
mg
|
Iron:
2
mg
Foodtastic Mom is a participant in the Amazon Services LLC Associates Program (Amazon Associate), an affiliate advertising program designed to provide a means for sites to earn advertising fees by advertising and linking to Amazon.com. Any highlighted, clickable Amazon link you see is an affiliate link that I may earn advertising fees on when you click to purchase.
Thank you so much for being a faithful reader and supporter of Foodtastic Mom. Be sure to PIN to Pinterest and print this recipe! Also like and tag 'Foodtastic Mom' on Facebook and Instagram if you make this recipe!