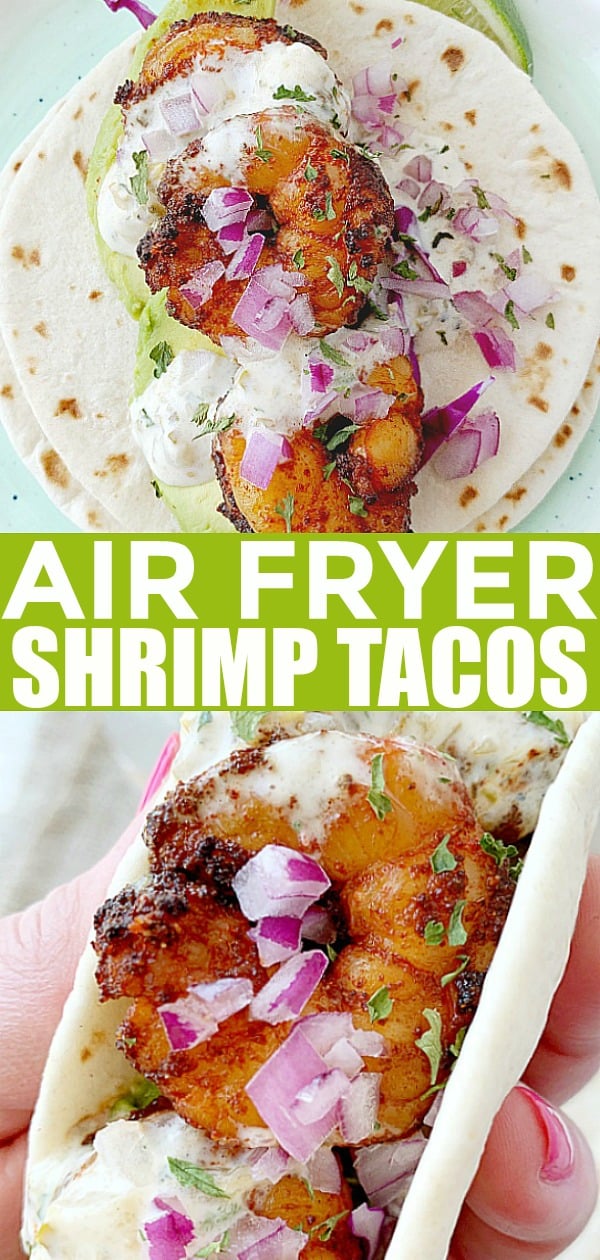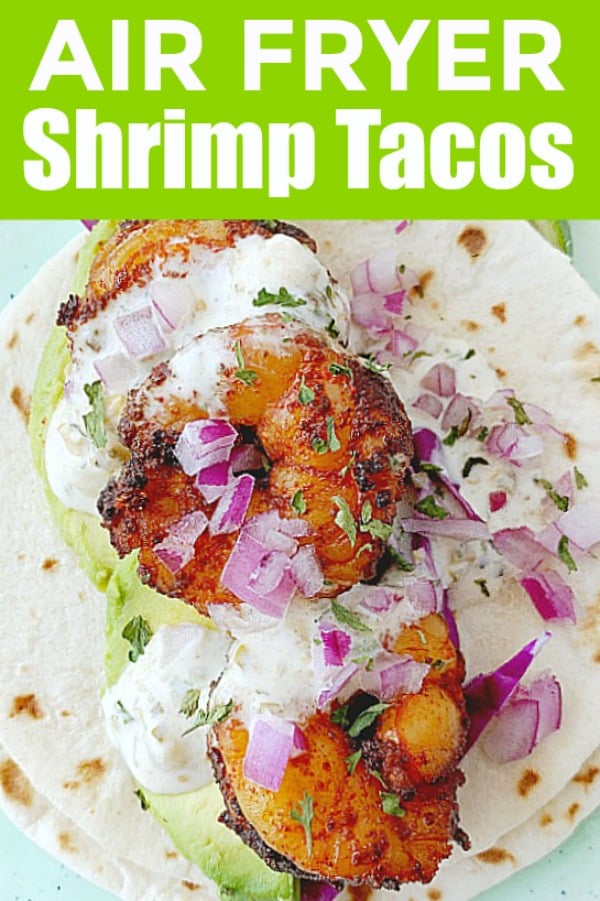 Turn your kitchen into the envy of all taco trucks with these Air Fryer Shrimp Tacos.
I got a serious compliment from my daughter when I was testing these air fryer shrimp tacos. If you have any experience with 12 year old girls you'll know that compliments are sometimes hard to come by from them. She said "it smells like a taco truck in here Mom!" I mean seriously. You know that means this recipe is a keeper!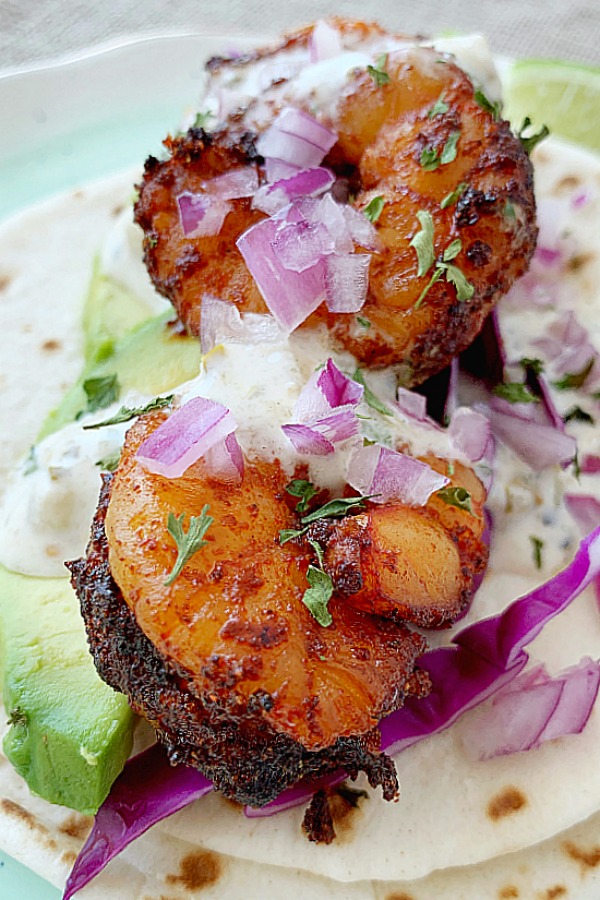 Are Air Fryer Shrimp Tacos healthy?
These shrimp tacos are for sure healthy. The shrimp taste completely indulgent with their spice rub but the air fryer keeps them light. The toppings are a mix of fresh avocado, purple cabbage, green salsa mixed with a little sour cream and red onion. I serve them with flour "street size" tortillas but feel free to wrap them in lettuce for an epic light and tasty meal in the warmer months.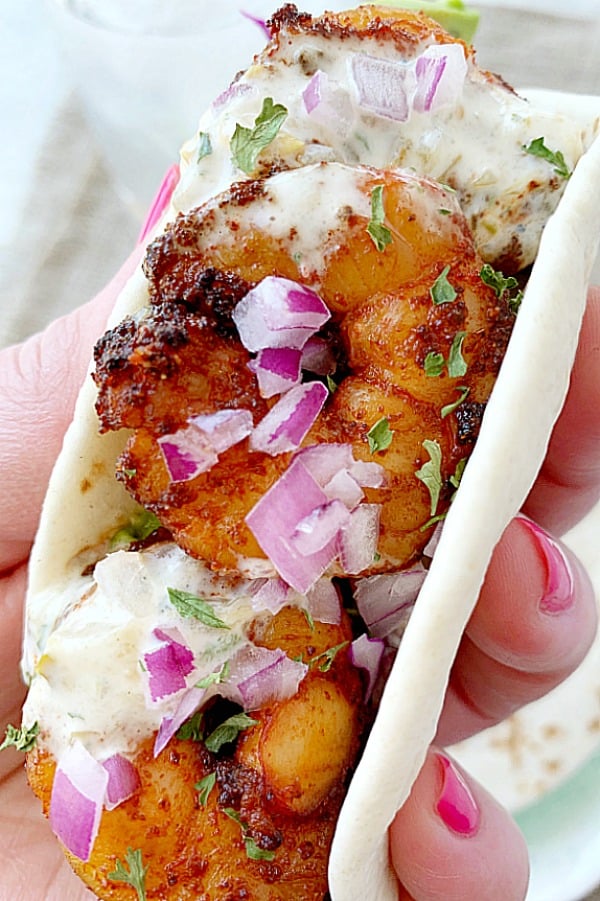 What goes with Air Fryer Shrimp Tacos?
I think chips and guacamole are an obvious choice as a side dish. To drink I think you should try my Watermelon Margarita or my Strawberry Daiquiri. And for dessert how about a Pretzel Crusted Margarita Cake?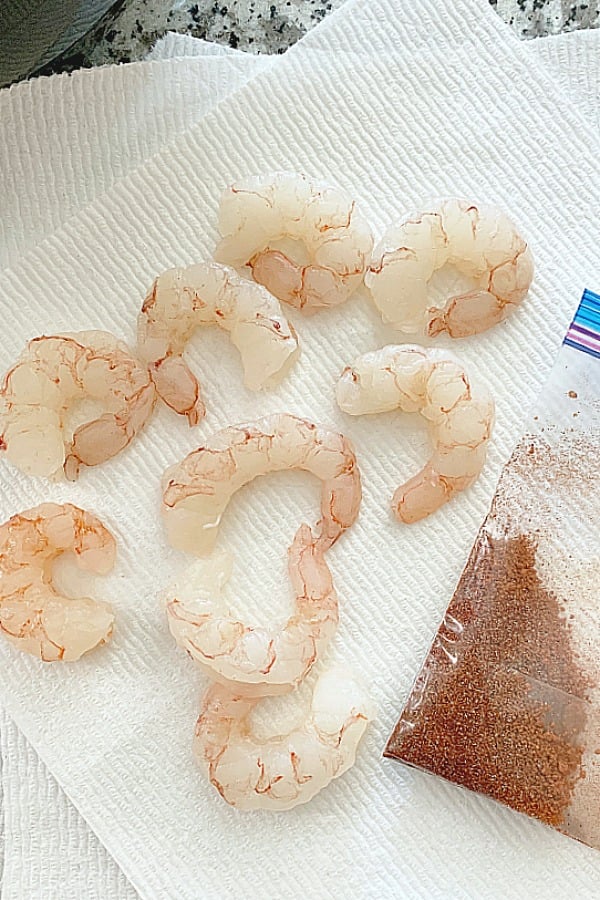 How do you air fry Shrimp?
Air frying shrimp takes the guess work out of cooking shrimp for me. I have been known to overcook shrimp in the past. These shrimp came out perfectly cooked and tender, not chewy. A light brush of oil on the air fryer basket and preheating the air fryer to 400 degrees are my two tips for air frying shrimp. Also, be sure to flip the shrimp halfway through cooking time – which only takes 6 to 8 minutes, depending on your model of air fryer and the size of your shrimp. I used jumbo, uncooked shrimp for this recipe. I purchased them frozen but thawed them under cold, running water before cooking them.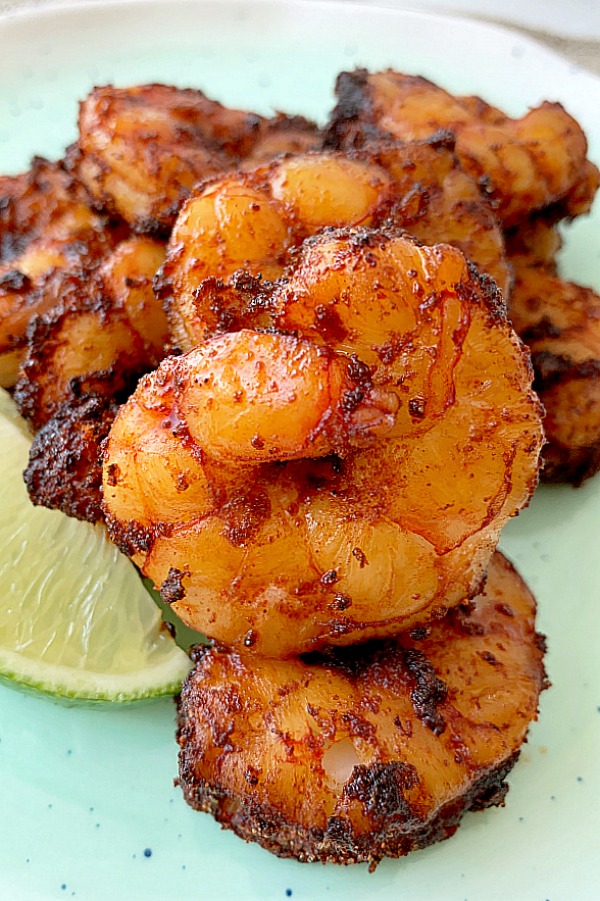 Kitchen Tips:
Gallon-sized zippered bags are great for mixing the spices and coating the shrimp.
Be sure and cook the shrimp in one layer. I was able to fit one dozen jumbo-sized shrimp in my air fryer basket.
This is the brand of air fryer I use to create my recipes.
I use a pastry brush like this one to brush my air fryer basket with oil.
Aerosol cooking spray will damage the coating of your air fryer basket. I do not recommend using it! You can use an oil mister like this one instead.
Foodtastic Mom is a participant in the Amazon Services LLC Associates Program, an affiliate advertising program designed to provide a means for sites to earn advertising fees by advertising and linking to Amazon.com. Any highlighted, clickable Amazon link you see is an affiliate link that I may earn advertising fees on.
Thank you so much for being a faithful reader and supporter of Foodtastic Mom. Be sure to PIN and print this recipe!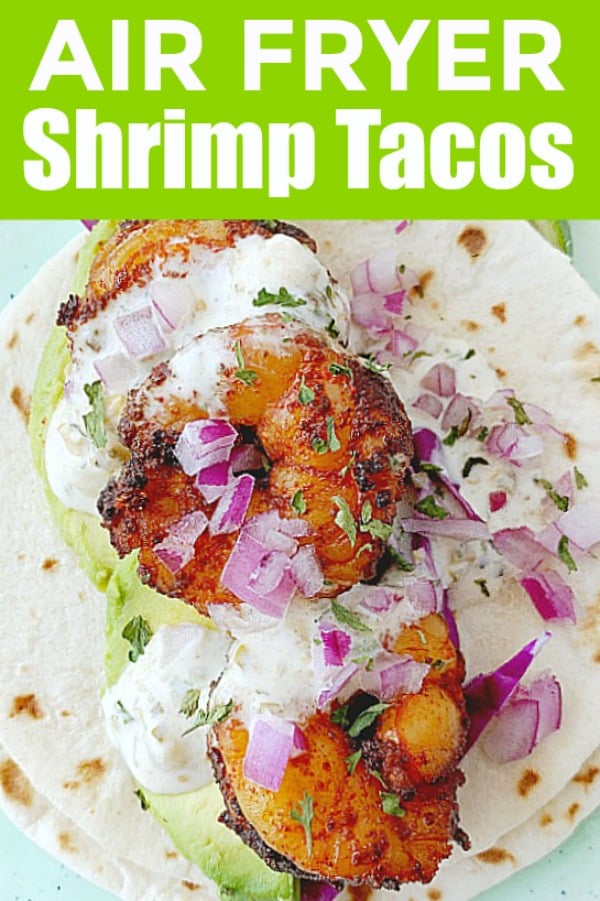 Air Fryer Shrimp Tacos
Turn your kitchen into the envy of all taco trucks with this Air Fryer Shrimp Taco Recipe.
Ingredients
1

tbsp

vegetable oil

24

jumbo frozen (raw) shrimp

peeled, deveined and without tail

1 1/2

tsp

light brown sugar

1

tsp

chipotle chili powder

1/2

tsp

smoked paprika

1/2

tsp

garlic powder

1/4

tsp

salt

1

cup

fresh avocado

sliced

1

cup

purple cabbage

chopped

1/2

cup

green salsa

1/2

cup

sour cream

1/2

cup

red onion

finely chopped

lime wedges

12

street sized flour tortillas
Instructions
Thaw the shrimp according to package directions. I used the quick thaw method, which is just rinsing the frozen shrimp under cold water.

Brush the air fryer basket lightly with the vegetable oil. Preheat the air fryer to 400 degrees F.

Stir together the brown sugar, chipotle chili powder, smoked paprika. garlic powder and salt.

Dry the shrimp with paper towels. Place the shrimp in a zippered plastic bag. Pour in the seasoning mixture and shake to fully coat the shrimp.

Place the shrimp in a single layer in the air fryer basket. You may need to fry them in two batches. Cook for 3 - 4 minutes. Turn the shrimp over and cook for an additional 3 - 4 minutes.

The shrimp will shrink in size quite a bit and they will be firm to the touch when cooked.

Mix together the green salsa and sour cream for your sauce. Serve the air fried shrimp with the rest of the ingredients and assemble as tacos. Tortilla, sliced avocado, purple cabbage, shrimp, sauce, red onion and a squeeze of lime.
Nutrition
More Taco Recipes: