This pretzel crusted margarita cake is the perfect end to any fun fiesta. It combines a salty caramel pretzel crust with a lime flavored white cake topped with fresh lime whipped cream for a non-alcoholic dessert to satisfy your margarita craving.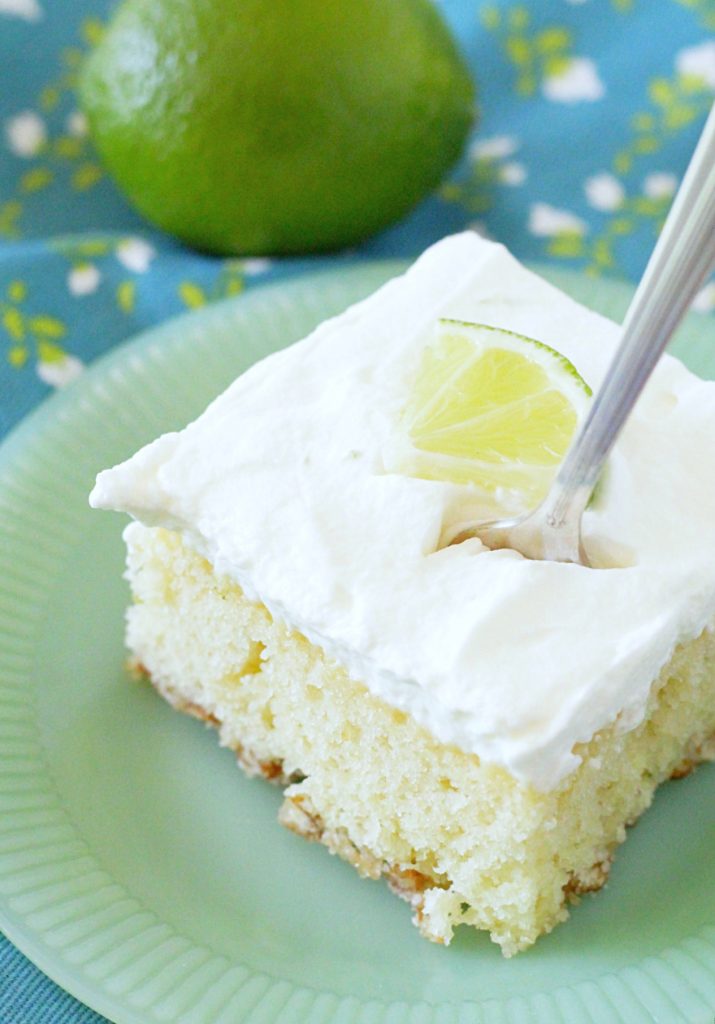 Cakes seem to be pretty popular here on my blog so I'm giving you a new one for Cinco de Mayo and beyond. You won't miss the tequila in this cake I promise. That means more tequila to put in your favorite margarita (for drinking) recipe.
But back to dessert. I originally had an idea for a Texas margarita sheet cake. Texas sheet cakes are usually chocolate and baked in a large, shallow sheet pan. So I found a recipe for a lime cake with a graham cracker crust and did some tinkering with it.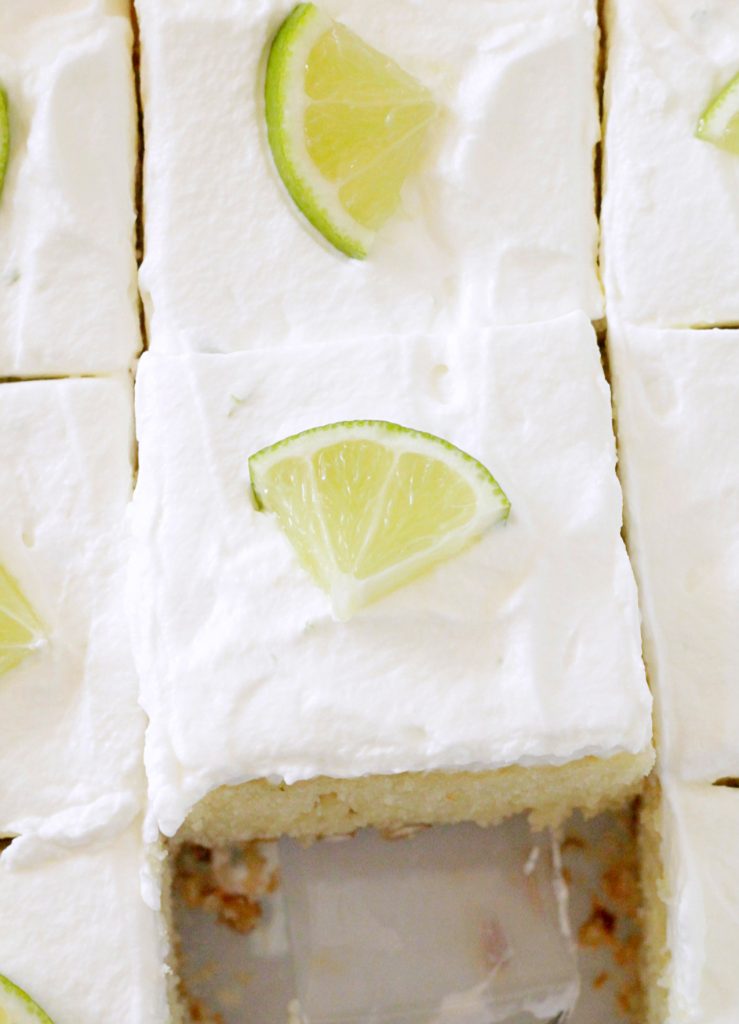 I ended up changing the portions completely to bake one square, 9-inch cake. The four of us just don't need a huge cake hanging around! But if you want to serve more people this cake is easily doubled and baked in a 9×13 pan.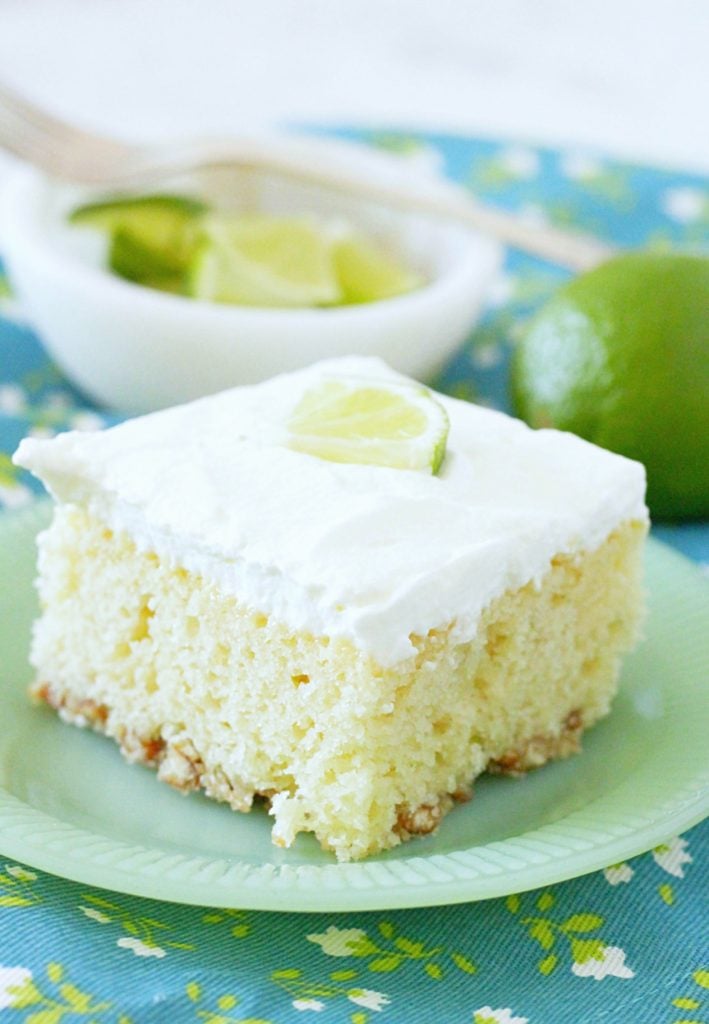 We're always eating Mexican around here. My kids probably wouldn't mind if I served them tacos every day of the week. And now we have this tasty cake when we're craving something sweet after our spicy meals.

Pretzel Crusted Margarita Cake
Ingredients
3/4

cup

crushed pretzels

1/4

cup

sugar

4

tbsp

unsalted butter

melted

Cooking Spray

4

tbsp

unsalted butter

softened

3/4

cup

sugar

1

tbsp

fresh lime zest

1

tbsp

fresh lime juice

1

tsp

vanilla extract

1

large

egg

1

large

egg white

1/2

cup

buttermilk

1

cup

all-purpose flour

1/2

tsp

baking powder

1/4

tsp

baking soda

1/4

tsp

salt

1 1/4

cups

heavy whipping cream

1

tsp

lime zest

1

tsp

lime juice

1/4

cup

powdered sugar
Instructions
Preheat oven to 350 degrees.

Spray a glass 9-inch square baking pan with cooking spray and set aside.

To get 3/4 cup of pretzel pieces you'll need to crush about 1 1/2 cups of pretzels.

Mix together the pretzel pieces, 1/4 cup of sugar and 4 tablespoons of melted butter.

Spread evenly in the bottom of the prepared baking dish.

With a hand or stand mixer, beat together the remaining 4 tablespoons of softened butter and 3/4 cup of sugar until pale and fluffy, high speed, 2 - 3 minutes.

Add the tablespoon of lime zest and juice, the vanilla, the egg and egg white and beat until smooth.

In a separate bowl, whisk together the flour, baking powder, baking soda and salt.

Add half the flour mixture to the batter and mix on low until combined. Add the buttermilk and mix on low until combined. And then add the remaining flour mixture to the batter and mix on low until a smooth batter is formed.

Spread the batter evenly on top of the pretzel crust.

Bake the cake until it just springs back gently in the center and/or a toothpick inserted into the center of the cake comes out clean.

Allow the cake to cool completely in the pan.

When ready to serve the cake, make the whipped cream.

With a hand or stand mixer, beat together the whipping cream, remaining lime zest and juice and powdered sugar on high until stiff peaks are beginning to form.

Top the cake with the whipped cream and fresh lime wedges.

Slice the cake and serve.