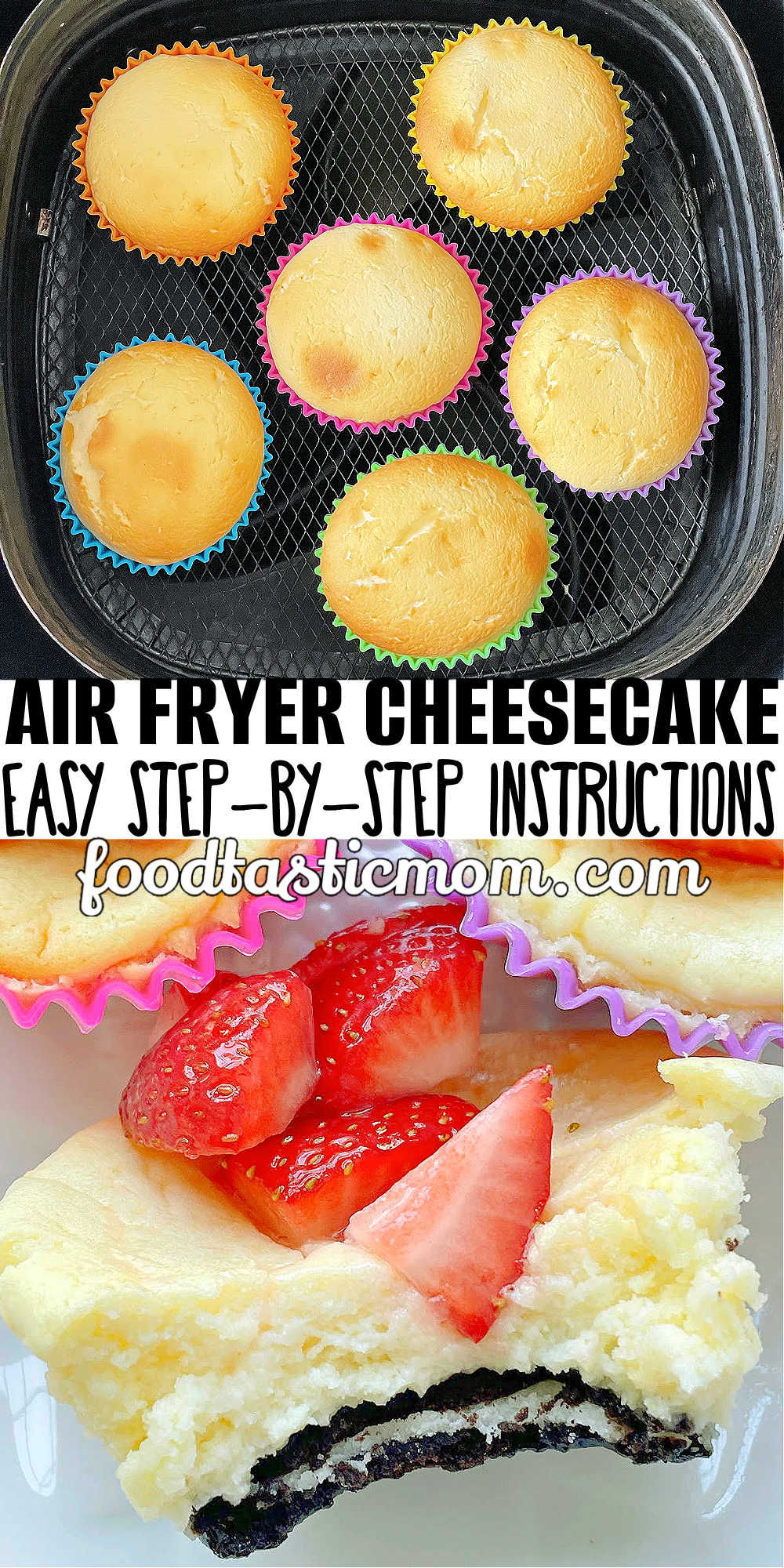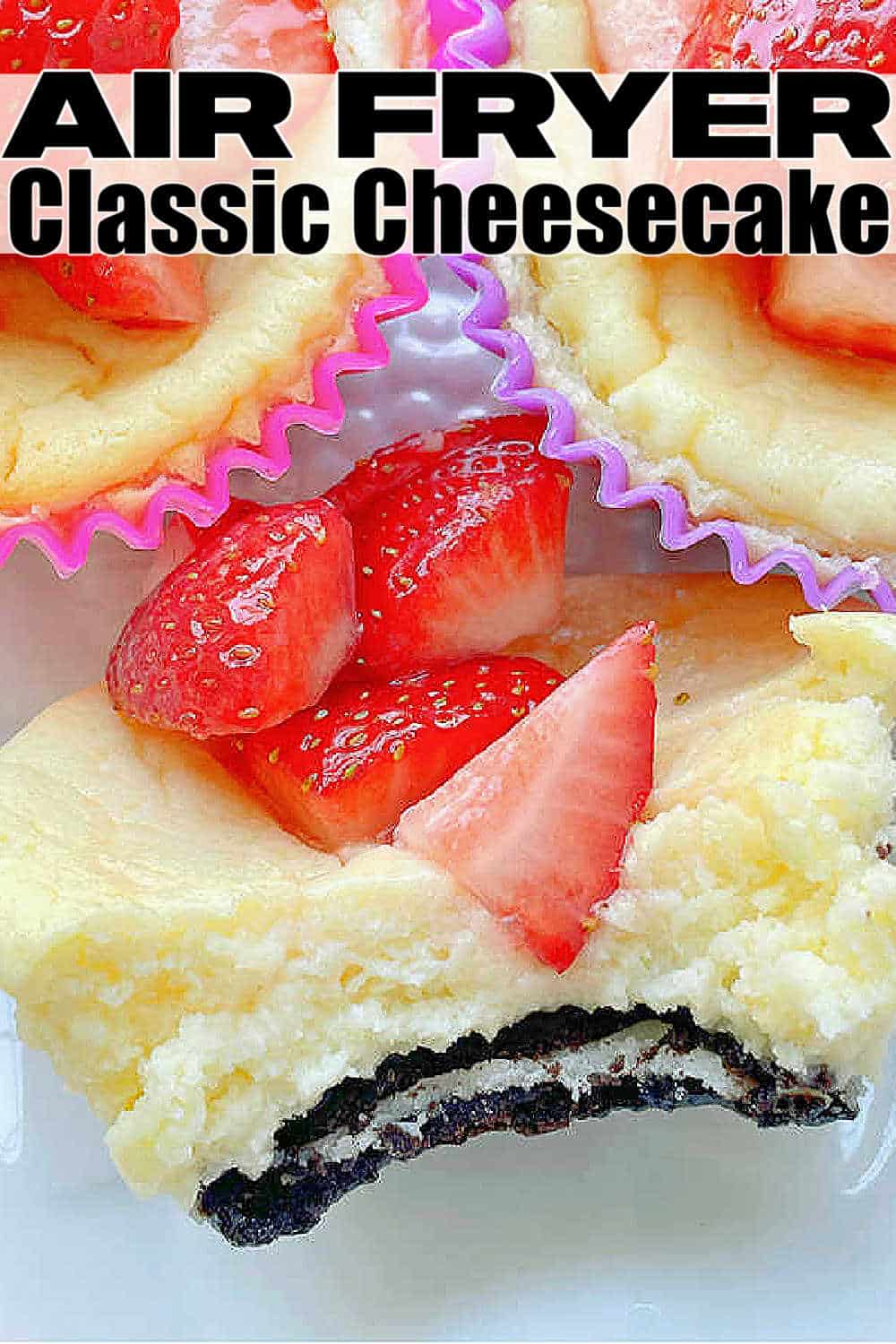 Air Fryer Cheesecake is perfect for when the craving for cheesecake hits but you are short on time. These are hand-held bites of perfection.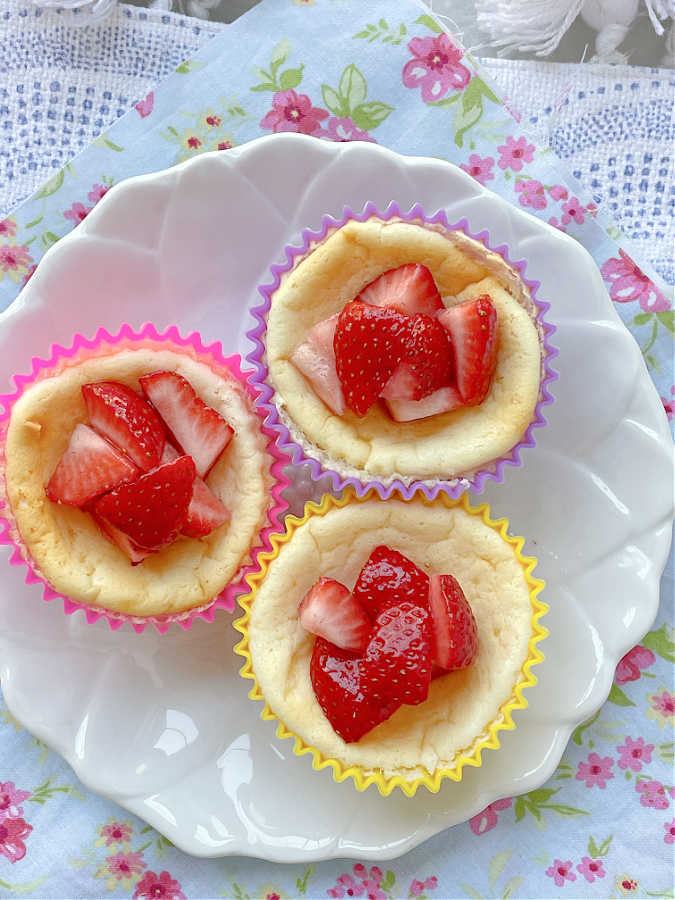 I bake so many variations of mini cheesecakes. So I had to try them in my air fryer. If forced to choose, I think I prefer cheesecake instead of regular cake. Unless it's my French Strawberry Cake! But I digress…
My recipe for air fryer cheesecake makes a small batch, meaning not as many leftovers. And they are ready to eat so quickly! An Oreo cookie provides the crust. Which is less fussy than combining graham cracker crumbs with melted butter. A couple of ounces of melted white chocolate makes this cheesecake filling extra creamy and delicious. Top them with some fresh fruit and you have a perfect, single-serving dessert.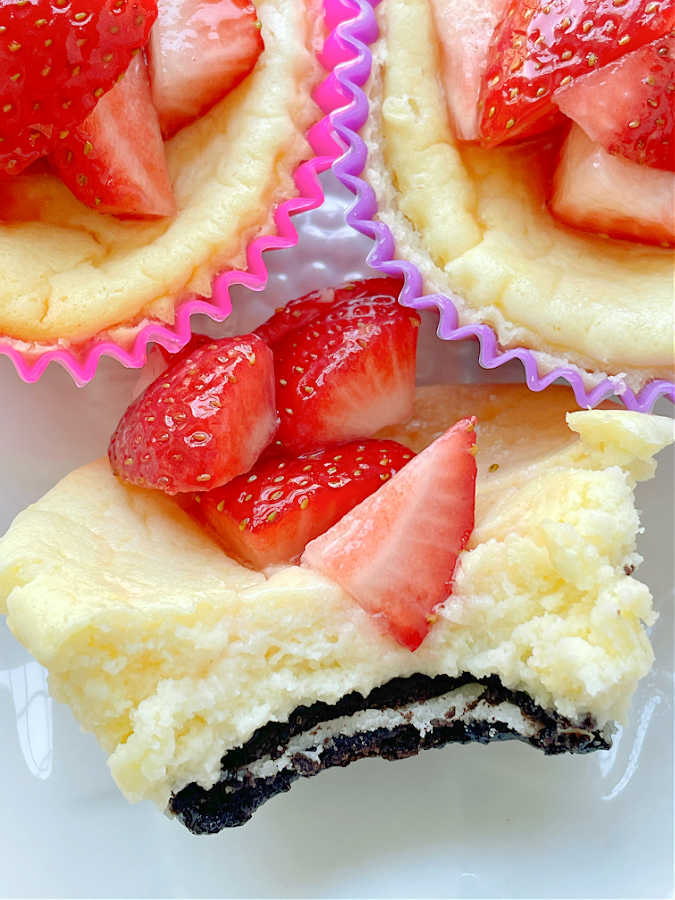 Why this recipe works
This cheesecake batter is quick and simple to make. Your air fryer cooks these little cheesecakes in just about 12 minutes. Chilling time is just about one hour in your refrigerator. These cheesecakes are ready to serve in significantly less time than a larger, oven-baked cheesecake. And yet the indulgent flavor profile and thick, creamy texture is just about the same. I've yet to find someone who doesn't love Oreos and cheesecake combined.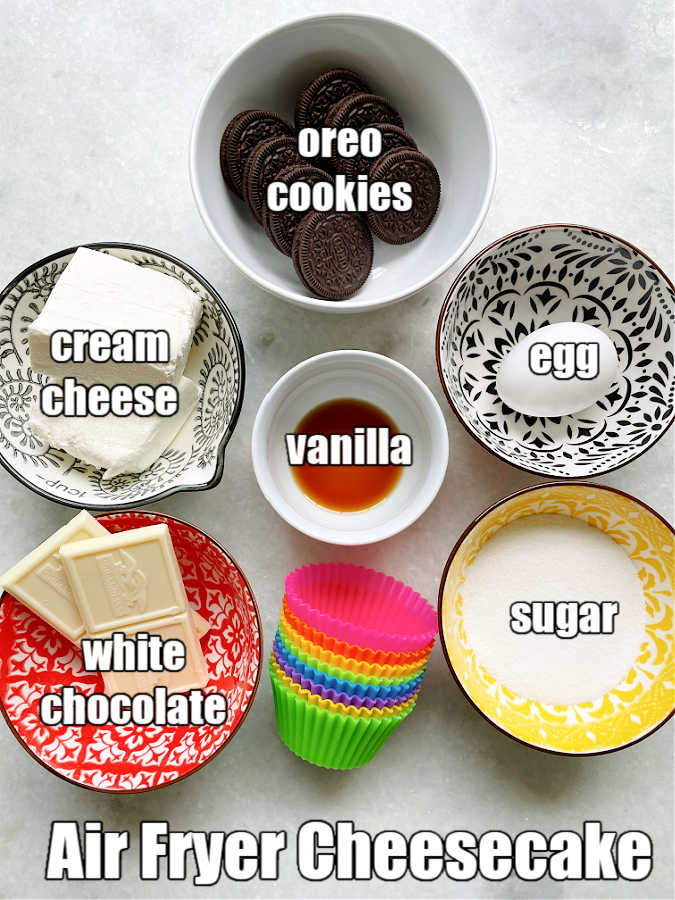 Ingredients for air fryer cheesecake recipe
Oreo Cookies – provide a delicious, no effort crust for the cheesecake
Cream Cheese – the star ingredient for all types of cheesecake
Sugar – necessary to sweeten the cream cheese batter
Egg – one large egg is necessary to thicken and provide a smooth texture
Vanilla Extract – a teaspoon vanilla extract helps round out the flavor of the cheesecake
White Chocolate – provides an extra rich flavor to these cheesecakes and pairs nicely with the chocolate Oreo crust
Fresh Strawberry – strawberries are a pretty and perfect topping for these air fryer cheesecakes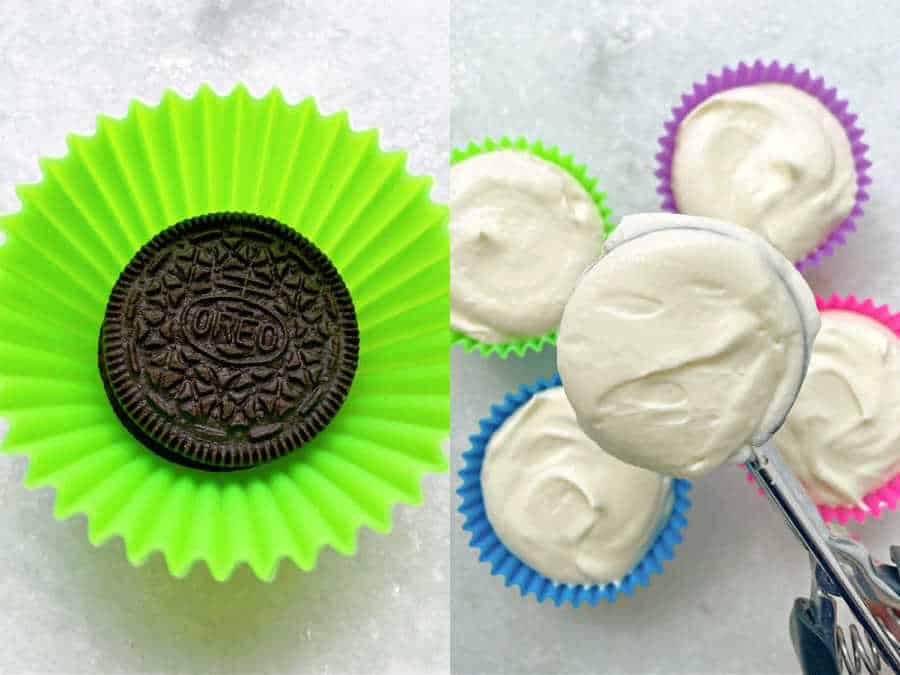 Instructions for how to make air fryer cheesecake
Chop the strawberries and set aside. Place a whole Oreo cookie in the bottom of each silicone baking cup. With a hand or stand mixer, beat together the cream cheese and sugar. Add in the egg and vanilla and beat until smooth. Melt the white chocolate in the microwave. Add it to the cream cheese mixture and beat until well combined.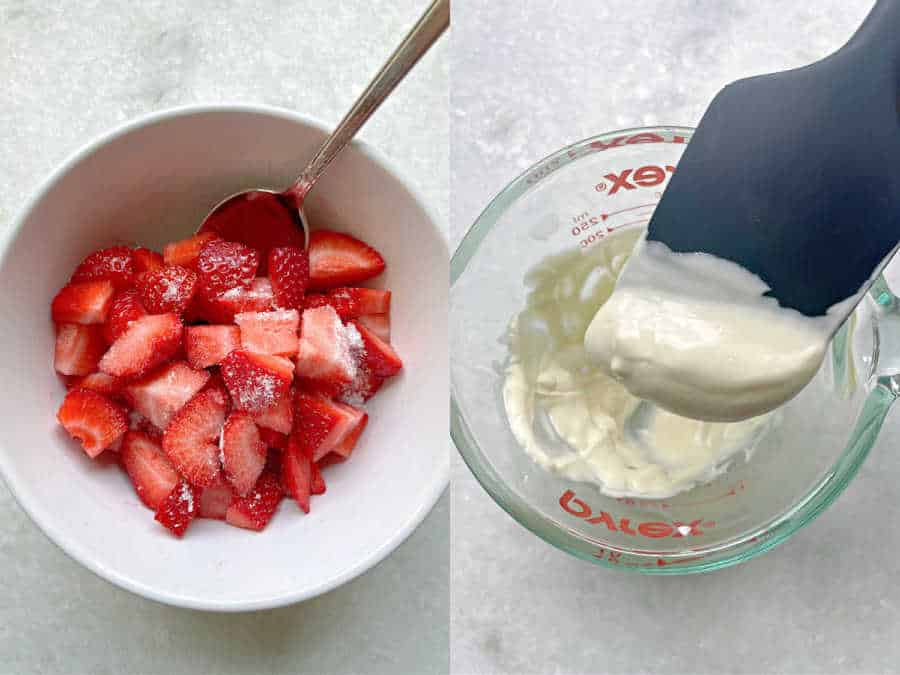 Use a large cookie scoop to pour the batter into each silicone baking cup. Place the cups in the basket of the air fryer. Air fry the cheesecake at 325 degrees F for 10-12 minutes. Allow the cheesecakes to cool a bit in the air fryer basket. Transfer them (in the silicone cups) to a plate and refrigerate for at least one hour. Take the cheesecakes out of the molds, top them with fresh strawberries and serve.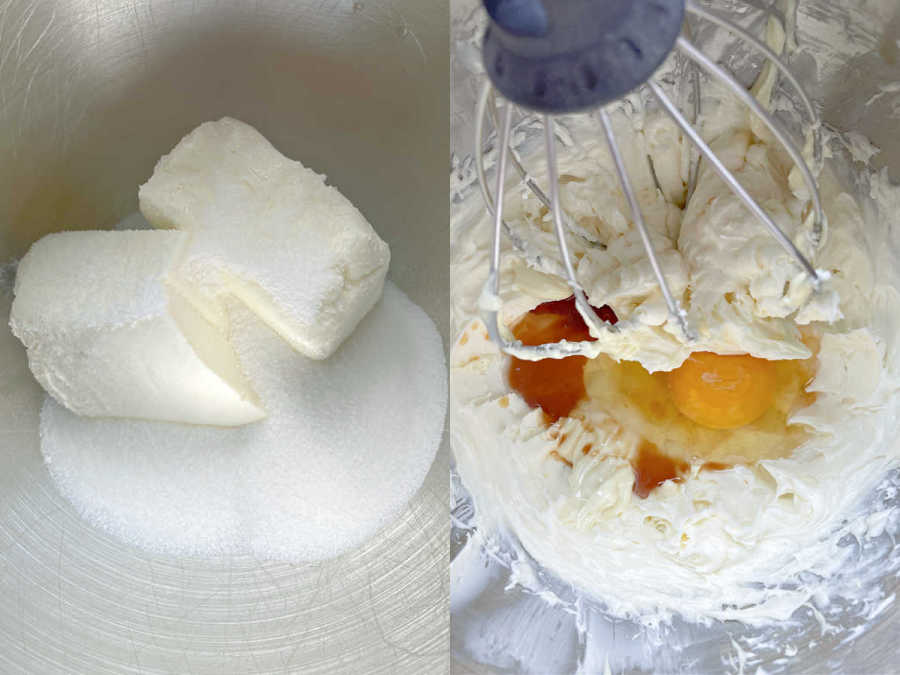 Frequently asked questions
Can I use my air fryer instead of the oven for baking?
Air fryers are really just countertop convection ovens. The constant circulation of hot air cooks and bakes things more quickly than a conventional oven. So far, anything that I have baked in my air fryer turns out just as well (and sometimes better) as it would in my oven. Here's some other air fryer 'baked goods' to try…
How long do I need to cool cheesecake?
A full-sized cheesecake baked in a springform pan in the oven needs at least one hour to cool on the counter and at least two hours to chill in the refrigerator. My recipe for Air Fryer Cheesecake significantly cuts down this cooling time. Just a few minutes to cool down in the air fryer basket. And one hour to chill in the fridge.
Why is an egg needed in cheesecake?
There's no starch in regular or New York cheesecakes. So cheesecake relies on eggs for thickening. When eggs cook, their proteins unwind and link together. Providing a thick, smooth texture to the cheesecake.
What does New York Cheesecake mean?
I classify these Air Fryer Cheesecakes as regular cheesecake. They contain white chocolate for flavoring. They have a classic cheesecake flavor but aren't quite as dense and creamy as New York style. A true, New York cheesecake is super dense and creamy, with just cream cheese, cream or sour cream, eggs, sugar and sometimes lemon juice in its batter. Here's a terrific recipe for an oven baked classic New York Cheesecake.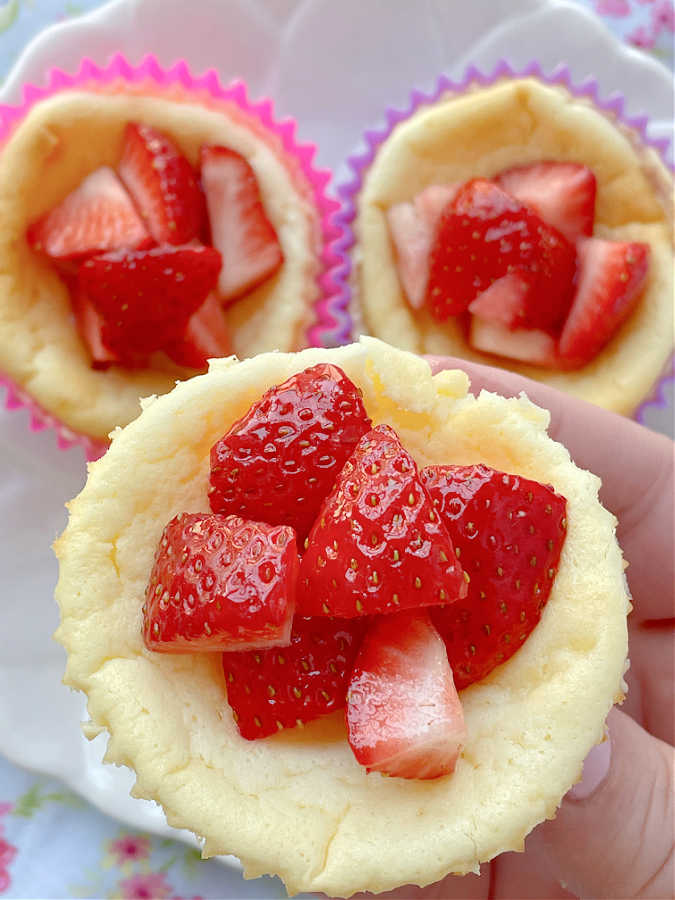 Serving suggestions
Storage directions
Place any uneaten cheesecakes in an air tight container and store in the refrigerator for up to three days. Allow the leftover cheesecake to sit at room temperature for about 30 minutes before eating.
I have not tried storing the air fried cheesecakes in my freezer. Please let me know in the comments if you freeze them and how they turn out! Also, please be sure and tag me on Facebook and Instagram when you try this recipe.
Kitchen Tools
More Air Fryer Recipes
Air Fryer Cheesecake
Air Fryer Cheesecake is perfect for when the craving for cheesecake hits but you are short on time. These are hand-held bites of perfection.
Ingredients
8

Oreo Cookies

8

oz

Cream Cheese

1/3

cup

Sugar

1

large

Egg

1

tsp

Vanilla Extract

2

oz

White Chocolate

melted
Instructions
Line each silicone cupcake cup with one Oreo cookie.

Melt the white chocolate in the microwave. Start with 45 seconds on high power. Then continue heating at 30 second intervals, stirring after each interval, until the white chocolate is smooth and melted.

Place the softened cream cheese and sugar in a large bowl. Use a hand or stand mixer to beat the cream cheese and sugar together until fluffy.

Add the egg, vanilla and melted white chocolate to the cream cheese and sugar mixture. Beat again on high. Stop the mixer and scrape down the bowl. Beat again until smooth.

Use a large cookie scoop to place about 1/4 cup of the cheesecake batter into each cupcake liner. They should be filled to the top.

Transfer the filled silicone cups to the basket of your air fryer.

Air fry the cheesecakes at 325 degrees F for 10-12 minutes.

Allow the cheesecakes to cool in the air fryer basket for a few minutes.

Transfer the cheesecake cups onto a large plate.

Refrigerate the cheesecakes for at least one hour.

Carefully remove the cheesecakes from the silicone baking cups.

Top each cheesecake with macerated fresh strawberries and serve.
Nutrition
Calories:
236
kcal
|
Carbohydrates:
23
g
|
Protein:
4
g
|
Fat:
15
g
|
Saturated Fat:
8
g
|
Polyunsaturated Fat:
1
g
|
Monounsaturated Fat:
5
g
|
Trans Fat:
0.01
g
|
Cholesterol:
53
mg
|
Sodium:
151
mg
|
Potassium:
95
mg
|
Fiber:
0.4
g
|
Sugar:
19
g
|
Vitamin A:
417
IU
|
Vitamin C:
0.04
mg
|
Calcium:
48
mg
|
Iron:
2
mg
Foodtastic Mom is a participant in the Amazon Services LLC Associates Program (Amazon Associate), an affiliate advertising program designed to provide a means for sites to earn advertising fees by advertising and linking to Amazon.com. Any highlighted, clickable Amazon link you see is an affiliate link that I may earn advertising fees on when you click to purchase.
Thank you so much for being a faithful reader and supporter of Foodtastic Mom. Be sure to PIN to Pinterest and print this recipe!