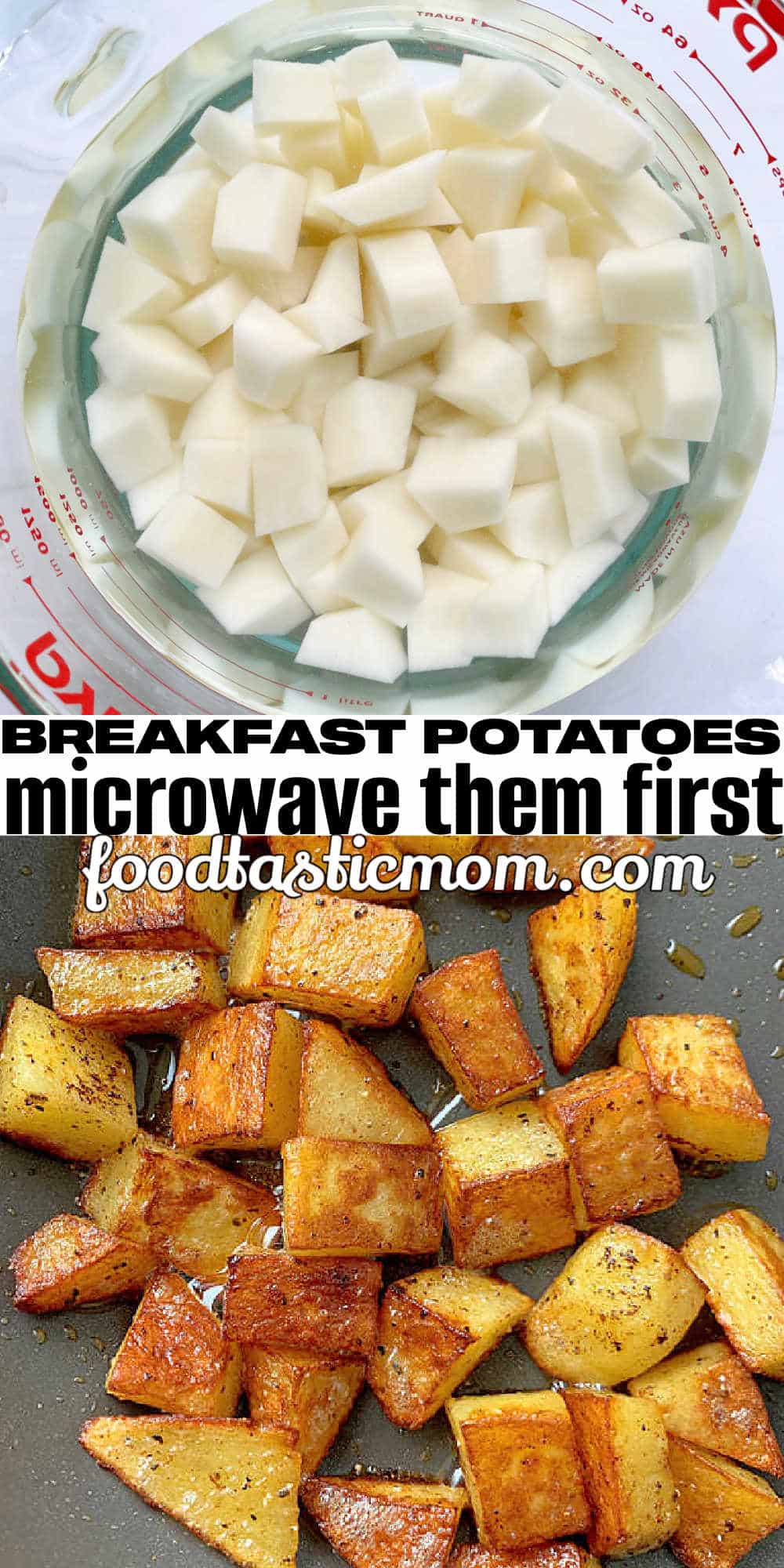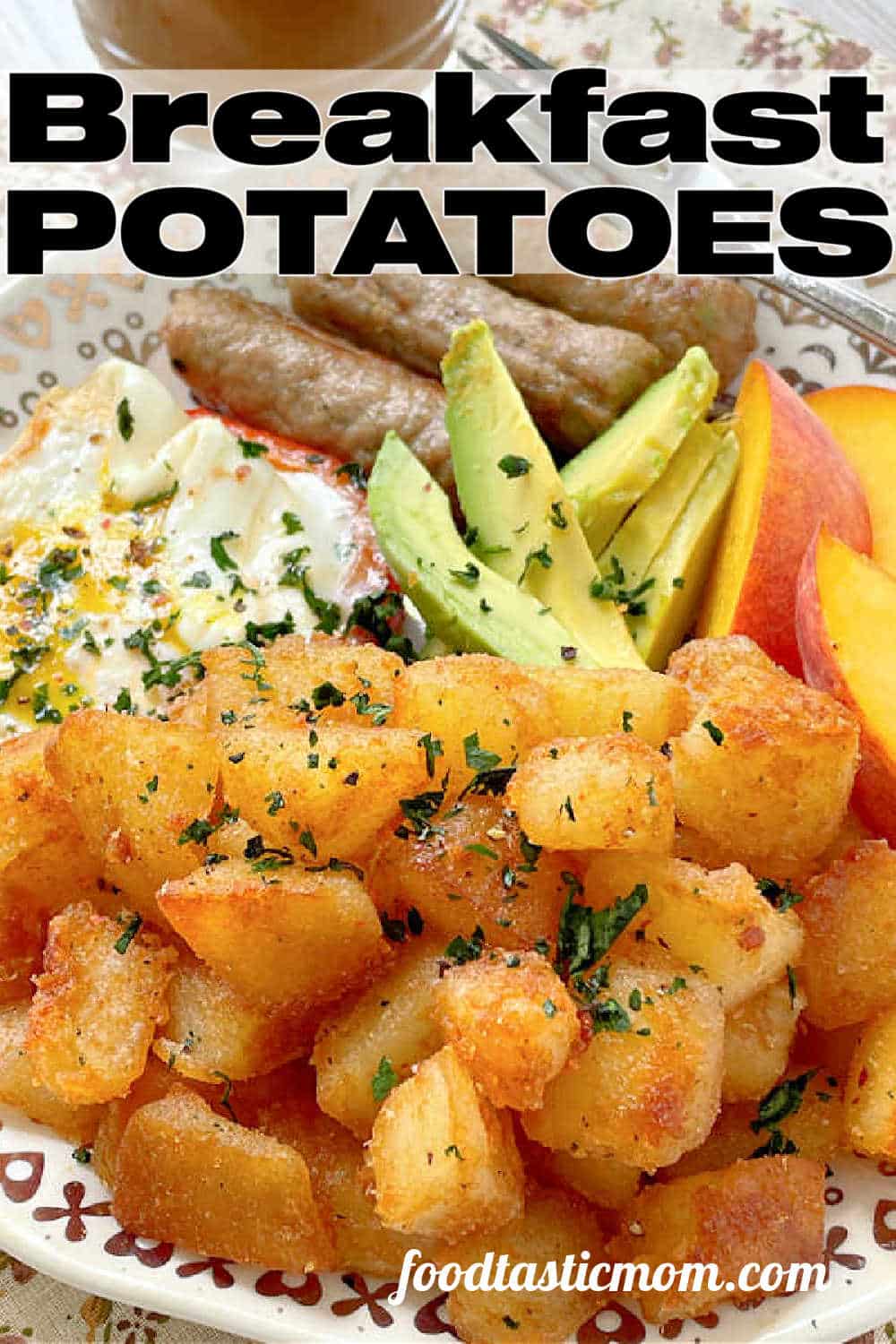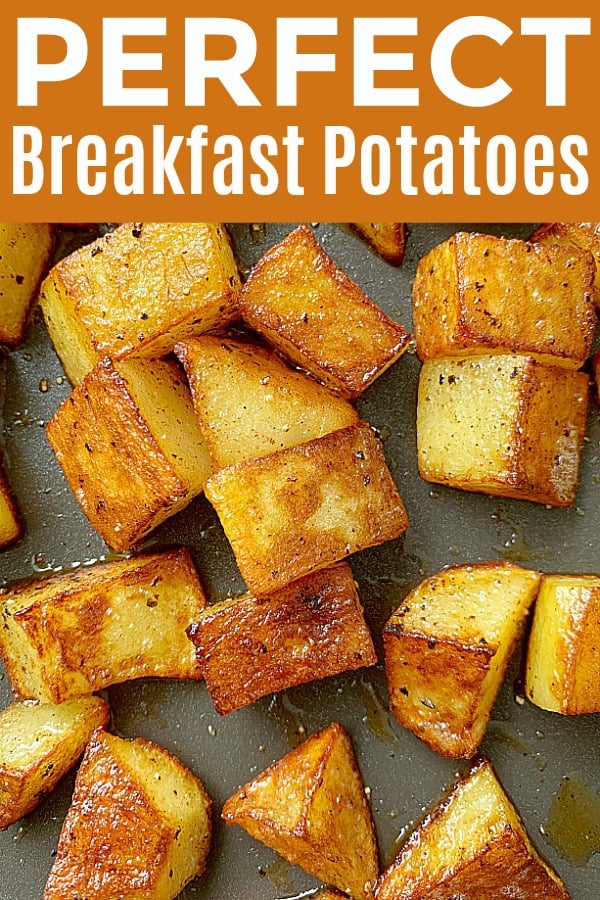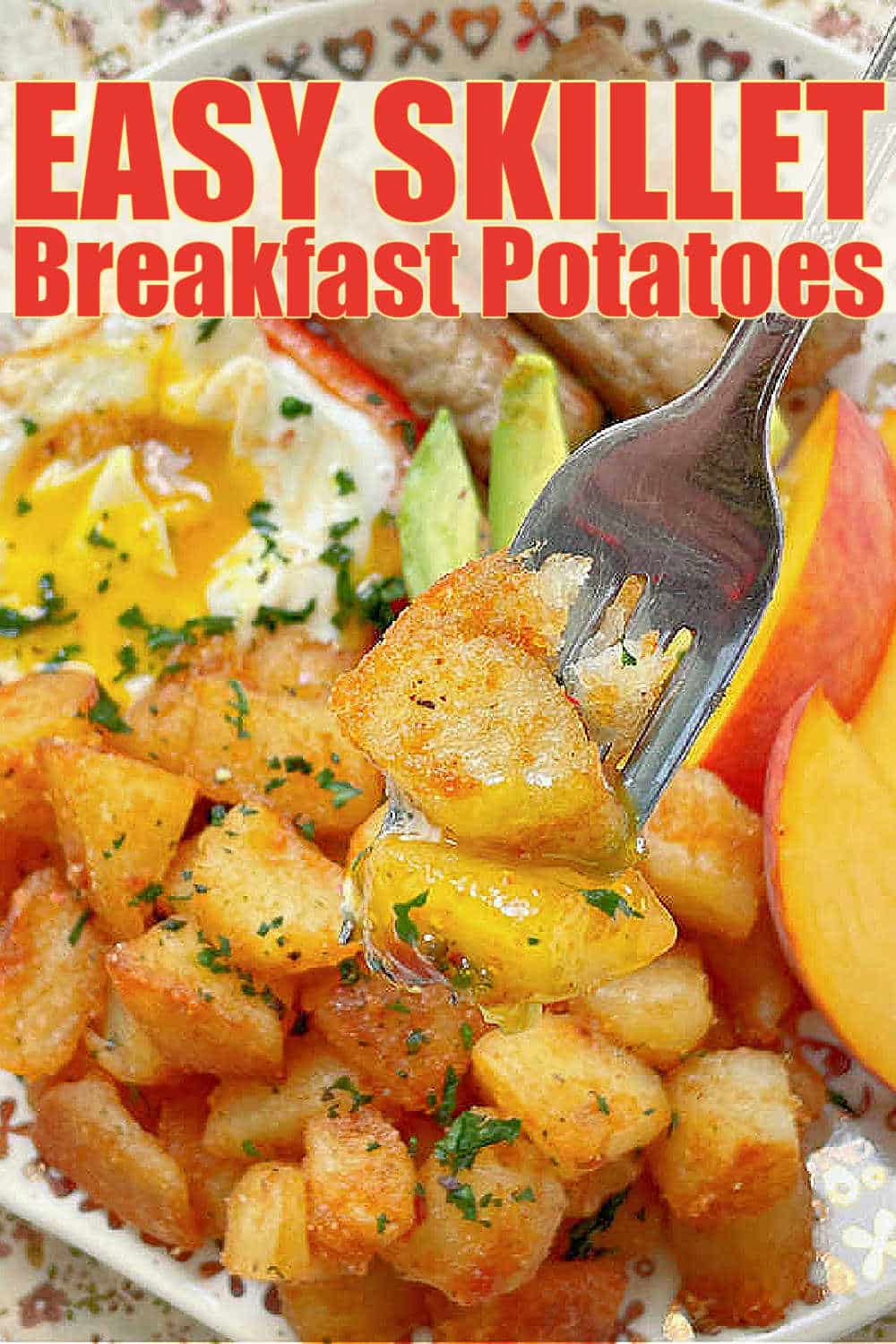 These easy breakfast potatoes are perfectly crisp on the outside and tender on the inside thanks to help from the microwave.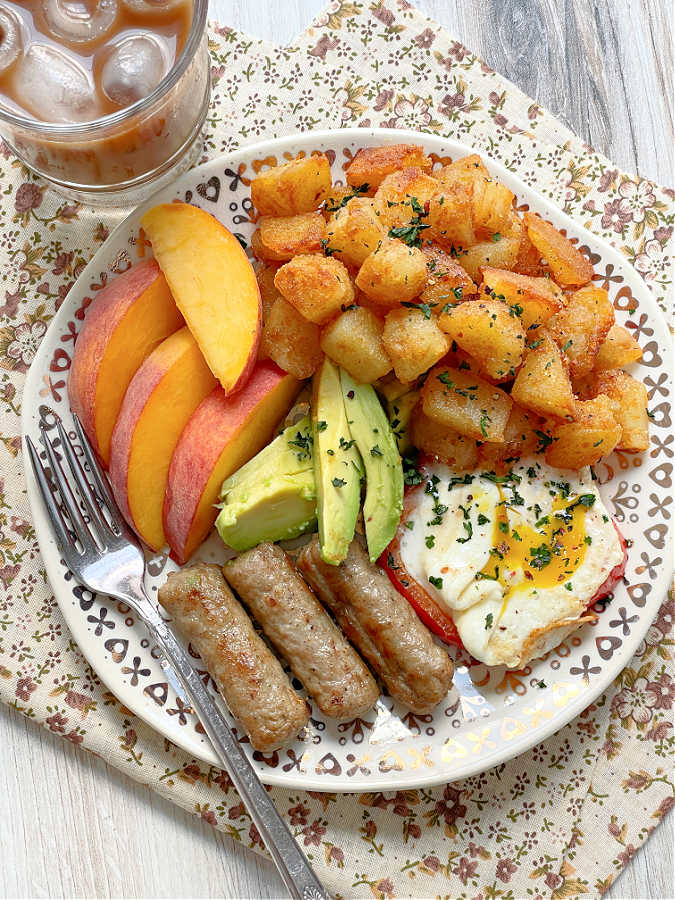 Besides bacon I think breakfast potatoes are my favorite indulgence in the morning. There's something about eating some crispy breakfast potatoes that settles my stomach. Is that weird? Getting older is making me weird!
Age is certainly changing how I eat. I tend to eat a big breakfast, a light snack for lunch, then a dinner centered around protein and vegetables. Dairy doesn't always agree with me anymore. I have to do plant-based cream in my coffee now, for example. Have you had to make any changes in your diet as you age? I'd love to hear from you in the comments.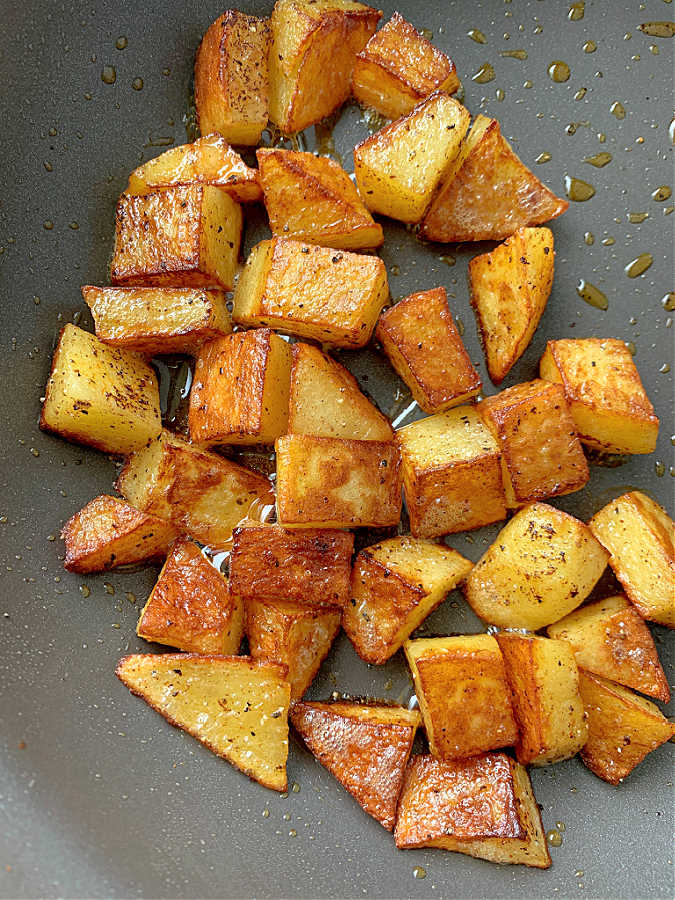 Why this recipe works
Microwaving the potatoes first starts the cooking process. So you can quickly crisp up the potatoes in some hot oil and butter. But ensure that they are tender in the middle.
How to keep fried potatoes from getting mushy
It sometimes happens. The potatoes still taste good, but they don't look as perfect. First, microwave the cubed potatoes until the water is hot, but not boiling. You just want to warm the potatoes to start them softening, not boil them, like you would mashed potatoes.
Second, make sure the oil and butter in the skillet are hot before adding the potatoes. Then allow them to cook and start to get golden brown before stirring. You want to occasionally toss the potatoes in the skillet to ensure even browning. But not over stir and break them up.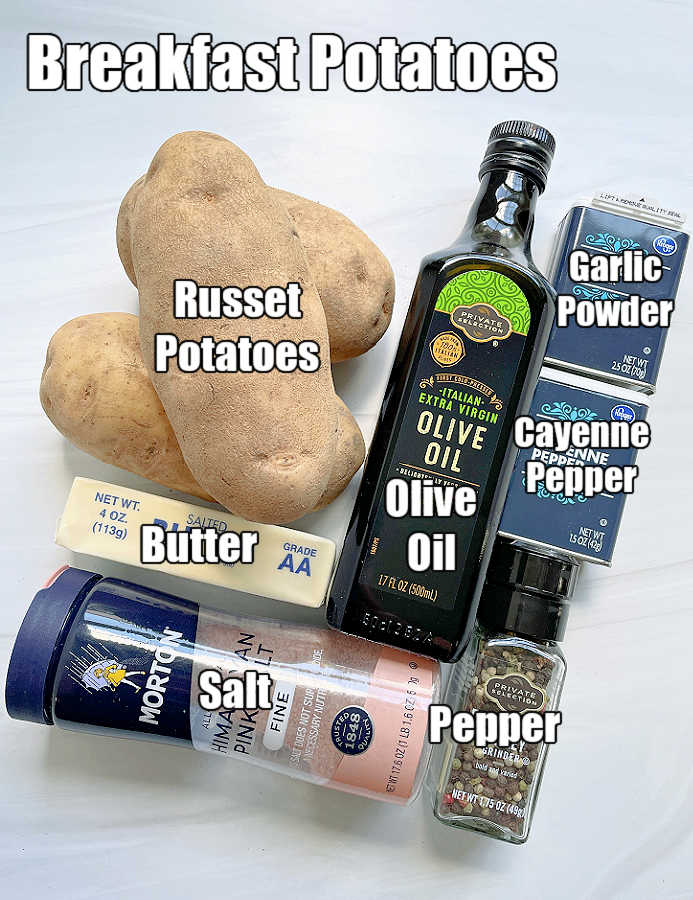 Ingredients for breakfast potatoes recipe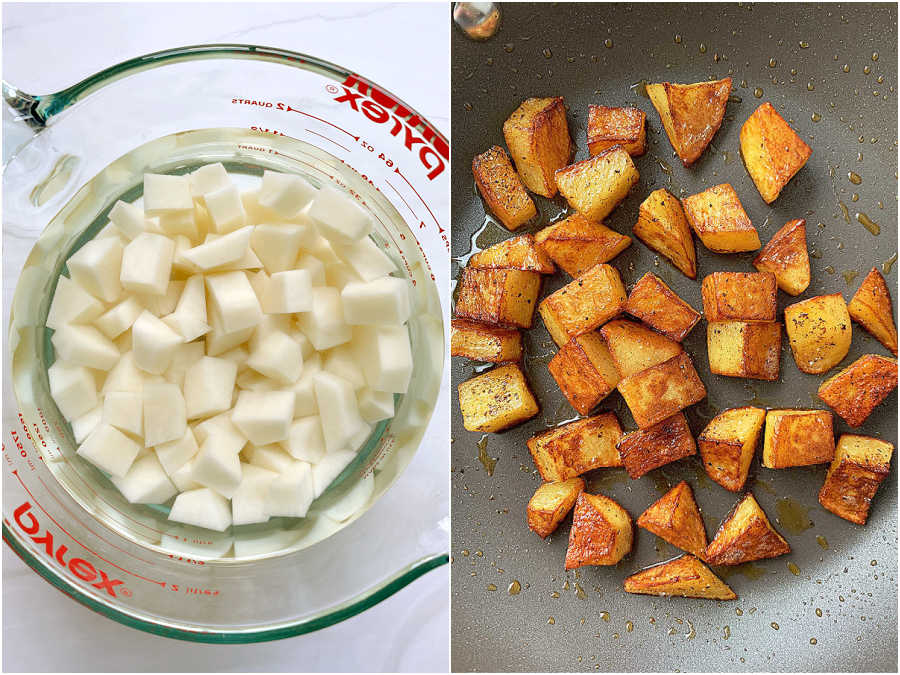 Instructions for how to make breakfast potatoes
You can't just toss some potatoes into a hot skillet and expect them to cook evenly – soft and velvety on the inside and perfectly crisp on the outside. They need a little help.
Peel and chop your potatoes into about 1/2-inch cubes. Even chopping ensures even cooking!
Rinse the starch away with cold water then put them into a large bowl or measuring cup and cover them with water.
Microwave the potatoes until the water is hot and they are just starting to cook. Melt oil and butter in a skillet over medium high heat. Add the potatoes in a single layer to the hot skillet and sauté, stirring occasionally, until they are brown and crisp on the outside. Season the potatoes about halfway through cooking them in the skillet.
Are breakfast potatoes healthy?
Yes. If you use a non-stick skillet, the cubed potatoes need only a small amount of vegetable oil and butter to develop their crispy exterior. Depending on what type of diet you are following, white potatoes may be off-limits. But potatoes are actually low in calories and contain a lot of nutrients.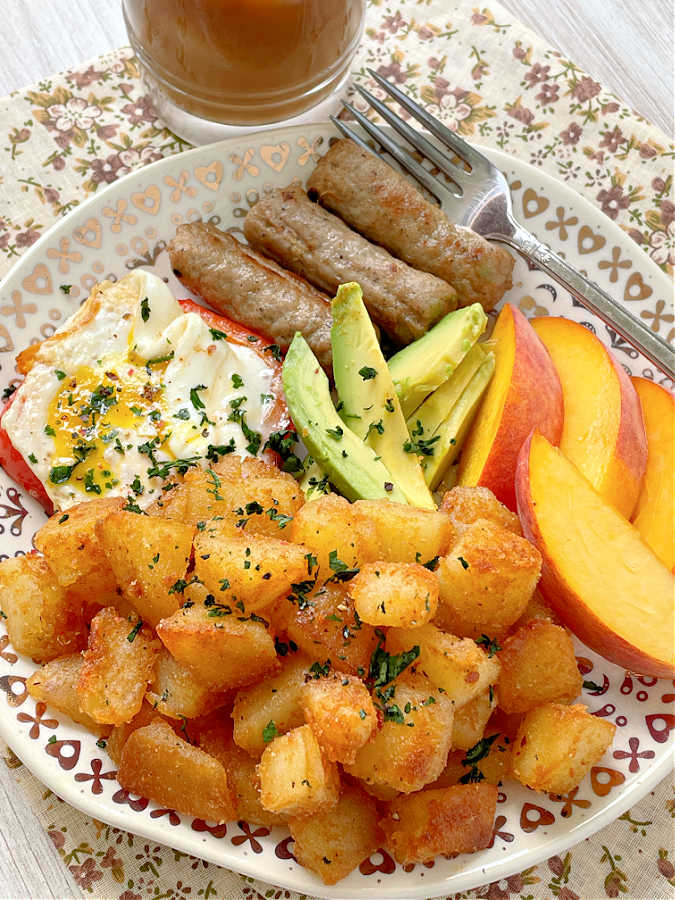 What to serve with breakfast potatoes
Storage directions
Store leftovers in an airtight container in the refrigerator for up to three days. To reheat, toss them with a little oil and spread them on a baking pan. Bake them in a 400 degree F oven for about 10 minutes, or until hot.
Can you freeze breakfast potatoes?
Technically you can but I'm kind of the opinion of why would you want to? If you freeze the cooked breakfast potatoes you then have to thaw them and re-crisp them in the skillet when you want to eat them. That's almost as much work as just making them fresh when you want them in the first place. My recommendation is to not freeze the potatoes.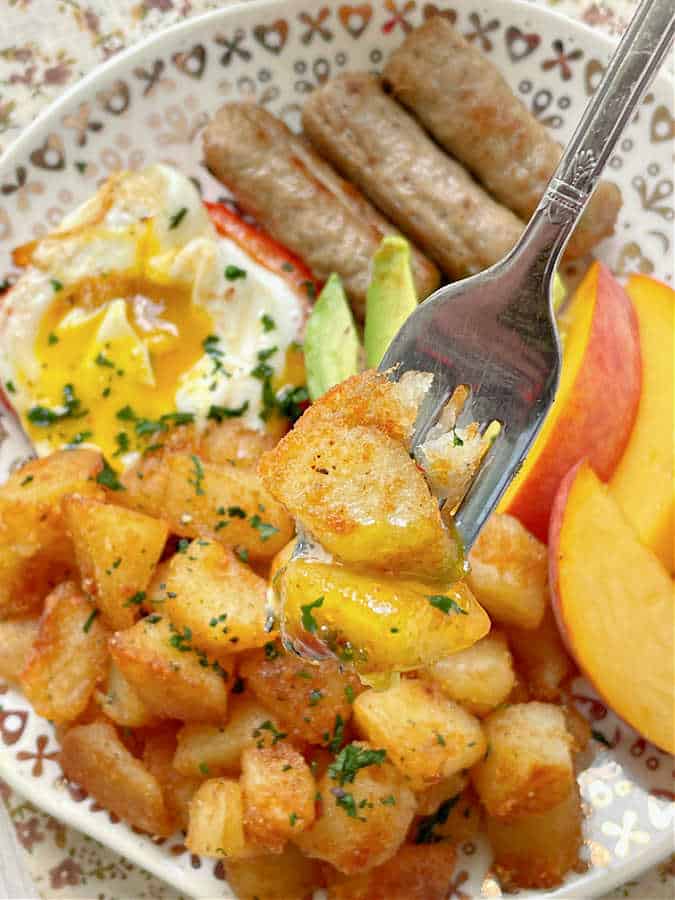 Kitchen Tools
More Potato Recipes
Breakfast Potatoes
These easy breakfast potatoes are perfectly crisp on the outside and tender on the inside thanks to help from the microwave.
Ingredients
4

medium

Russet Potatoes

peeled and cut into 1/2-inch cubes

1

tbsp

Extra Virgin Olive Oil

or vegetable oil

1

tbsp

Butter

1/2

tsp

Garlic Powder

1/2

tsp

Salt

1/4

tsp

Black Pepper

1/4

tsp

Cayenne Pepper

optional
Instructions
Rinse the potatoes under cold water and drain. Place them in a microwave safe measuring cup or bowl. Cover the potatoes with cold water.

Microwave the potatoes for 4 - 6 minutes on high power, stirring halfway through cooking time. You want them to be starting to soften but not so soft that they will fall apart in the skillet.

Heat a non-stick skillet (it must be non-stick) over medium-high heat. Add the extra virgin olive oil and butter. 

Once the oil and butter have melted, add the potatoes. Cook without stirring for 4 - 5 minutes. Stir the potatoes and add the seasonings. 

Continue to cook the potatoes until they have browned. Serve immediately.
Nutrition
Calories:
203
kcal
|
Carbohydrates:
39
g
|
Protein:
5
g
|
Fat:
4
g
|
Saturated Fat:
1
g
|
Polyunsaturated Fat:
0.5
g
|
Monounsaturated Fat:
3
g
|
Cholesterol:
0.4
mg
|
Sodium:
306
mg
|
Potassium:
902
mg
|
Fiber:
3
g
|
Sugar:
2
g
|
Vitamin A:
61
IU
|
Vitamin C:
12
mg
|
Calcium:
33
mg
|
Iron:
2
mg
Foodtastic Mom is a participant in the Amazon Services LLC Associates Program (Amazon Associate), an affiliate advertising program designed to provide a means for sites to earn advertising fees by advertising and linking to Amazon.com. Any highlighted, clickable Amazon link you see is an affiliate link that I may earn advertising fees on when you click to purchase.
Thank you so much for being a faithful reader and supporter of Foodtastic Mom. Be sure to PIN to Pinterest and print this recipe!