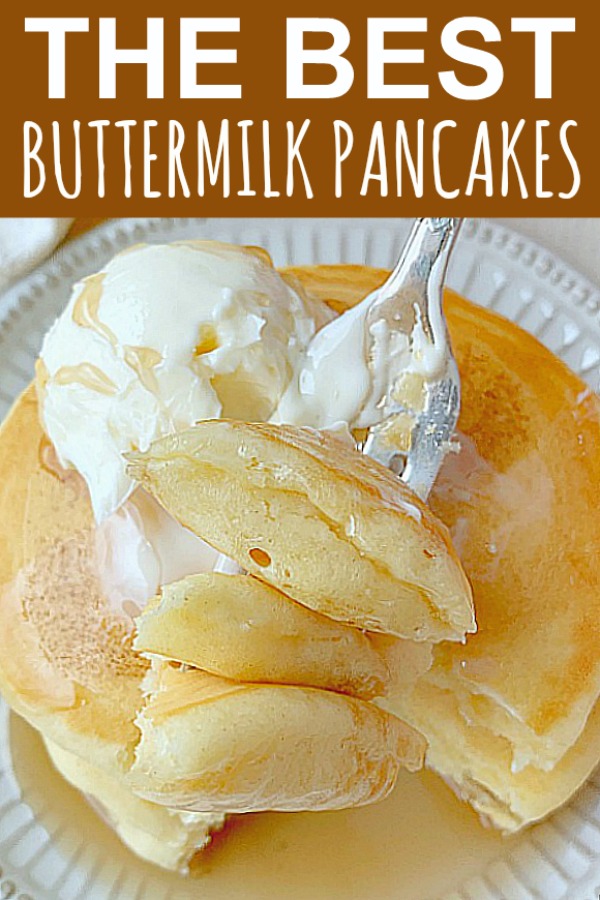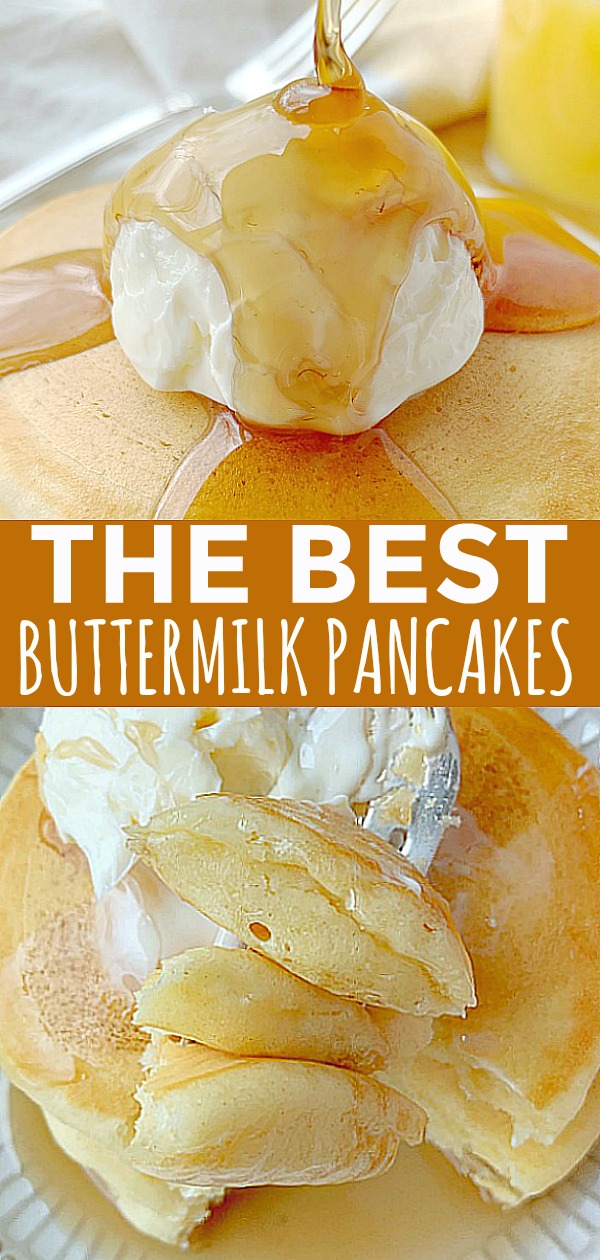 Full fat buttermilk and the correct ratio of ingredients are what you need to make The Best Buttermilk Pancakes. This post includes a video tutorial.
There is nothing so wrong in the world that a stack of pancakes can't fix it. There is nothing so right as waking up to buttermilk pancakes on a weekend morning. Problem is, there is a lot that can go wrong in mixing up what should be a simple, classic batter for buttermilk pancakes. So I'm here to help with my recipe for The Best Buttermilk Pancakes.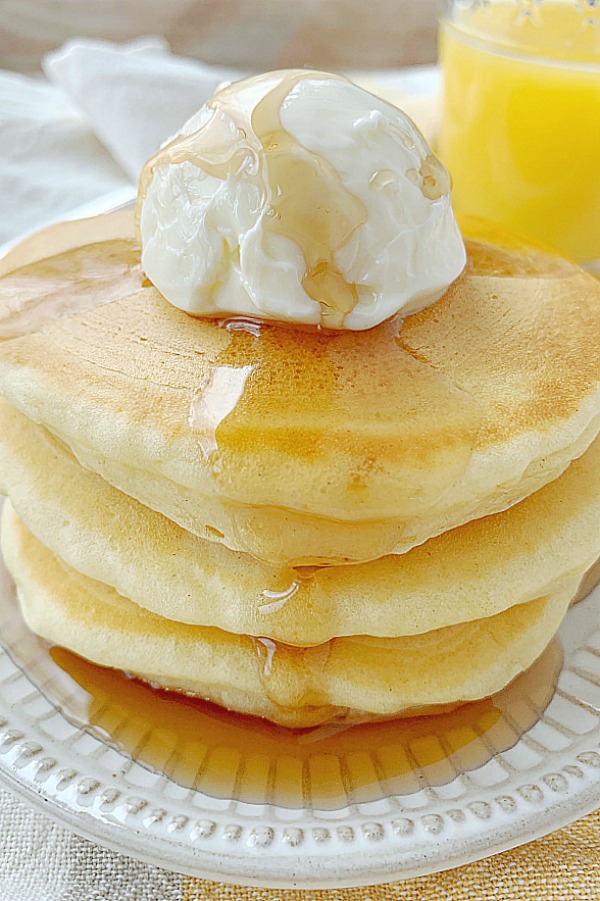 Thick pancake batter is best:
Runny pancake batter is the worst. If you see a recipe that calls for a higher or equal ratio of buttermilk to flour, run away. Thick and fluffy, perfect pancakes start with really thick pancake batter. And that means a little more flour than buttermilk.
Vegetable Oil instead of Butter:
So many recipes for "the best" buttermilk pancakes call for melted butter. I've used melted butter in pancake batter before, but it is not a good choice for this recipe. I'm not sure of the science behind it, but butter makes the pancakes look shaggy and unkempt. Plus the richness from the real buttermilk is the star of the show here so butter is just overkill. Oil does a much better job of making these pancakes perfect, fluffy pillows of awesomeness.
Save your calorie counting for another morning:
Buttermilk Pancakes are meant to be an indulgent treat reserved for weekend mornings. Full fat, real buttermilk makes the best tasting and most fluffy pancakes. Please don't try and substitute milk and lemon juice here. Or use fat free buttermilk.
Double acting baking powder makes these pancakes as fluffy as pillows:
I don't skimp on my baking powder. I always buy a name-brand double acting baking powder. Double acting means it bubbles both when it gets wet and when it gets hot. Which is why when you flip these pancakes you'll see them rise on the griddle.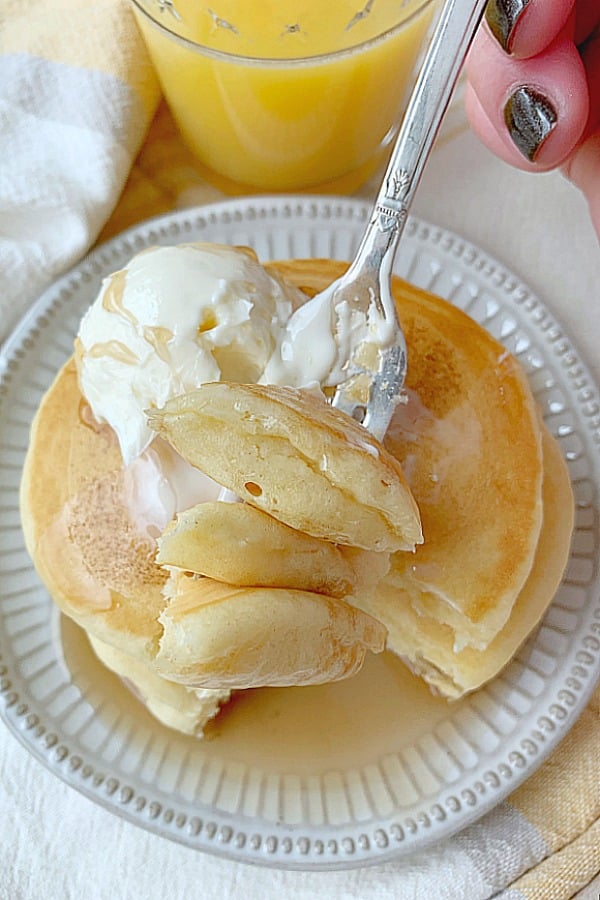 More tips for making The Best Buttermilk Pancakes:
Watch for bubbles in your pancake batter to know when they are ready to flip. Here's a picture to show what that means:
I prefer cooking pancakes on an electric griddle because the heat is consistent, and I have never burned a pancake on a griddle (but I have burned some on the stove top). This is the brand of griddle I use.
I use this cookie scoop (two tablespoon capacity) to make sure I evenly scoop the pancake batter onto the hot griddle.
You'll likely have leftover pancakes from this recipe. Allow them to cool completely and then toss them into a zippered bag to refrigerate. They'll keep for up to two days in the refrigerator and taste great reheated.
Foodtastic Mom is a participant in the Amazon Services LLC Associates Program, an affiliate advertising program designed to provide a means for sites to earn advertising fees by advertising and linking to Amazon.com. Any highlighted, clickable Amazon link you see is an affiliate link that I may earn advertising fees on.
Thank you so much for being a faithful reader and supporter of Foodtastic Mom. Be sure to PIN and print this recipe!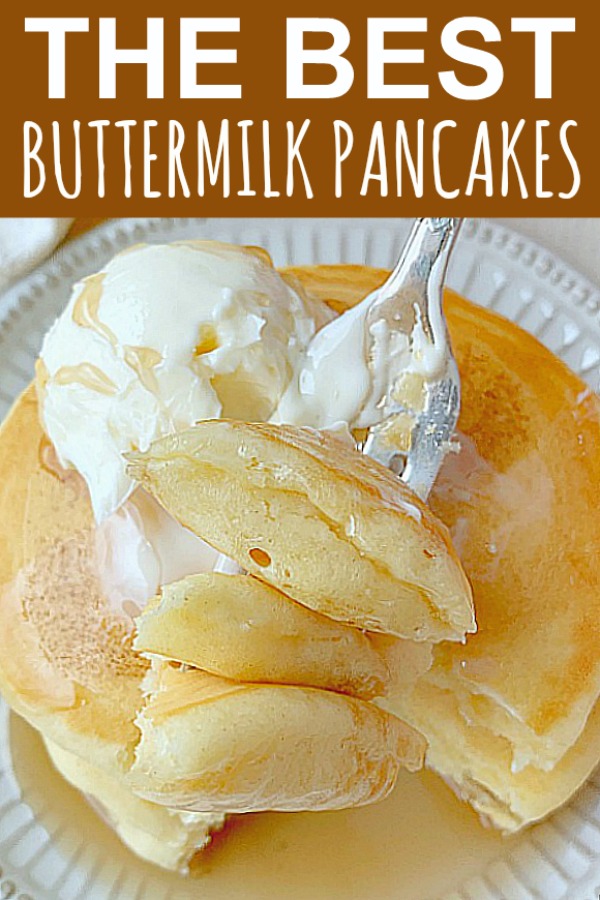 Watch how to make The Best Buttermilk Pancakes:

The Best Buttermilk Pancakes
Full fat buttermilk and the correct ratio of ingredients are what you need to make The Best Buttermilk Pancakes.
Ingredients
3

cups

all purpose flour

3

tbsp

granulated sugar

1

tbsp

baking powder

1 1/2

tsp

baking soda

1 1/2

tsp

salt

2 1/2

cups

full fat buttermilk

3

large

eggs

3

tbsp

vegetable oil

1 1/2

tsp

vanilla extract
Instructions
Preheat a non-stick, electric griddle to 350 degrees F.

In a large bowl, whisk together the flour, sugar, baking powder, baking soda and salt until well-blended.

In another bowl, whisk together the buttermilk, eggs, vegetable oil and vanilla until smooth.

Pour the buttermilk mixture into the flour mixture. Stir with a spatula or wooden spoon until the batter is blended. Some lumps are OK.

Scoop two tablespoons of batter onto the hot griddle per pancake. Flip the pancakes when you start to see bubbles in the batter. Serve hot with butter and maple syrup.
Nutrition
More Breakfast Recipes: