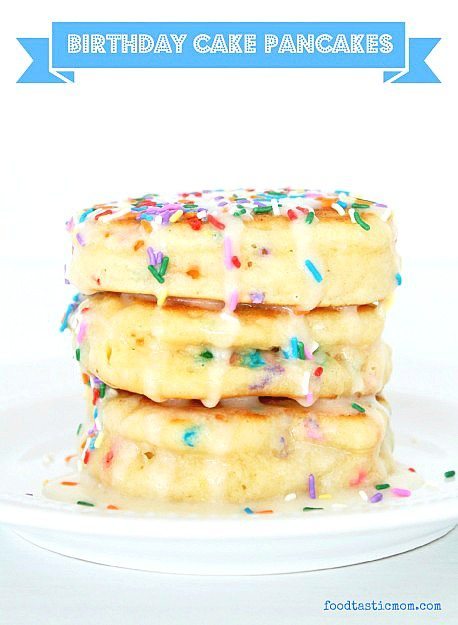 Today is our son's 9th birthday and so I had to make these fluffy and festive Birthday Cake Pancakes to celebrate! He's in third grade and the subjects he's currently excelling in are reading and writing. He is particularly fond of his writing journal and even has a diary he keeps by his bed. I just discovered this recently… he writes in it sometimes if he can't fall asleep right away. As an English major and former middle school Language Arts teacher, you can probably imagine how happy that makes me.
Nine years ago, I didn't dare to imagine him as such the creative, determined yet sensitive, boy he is now. Back then, I'd already been on hospital bed rest since 31 weeks of my pregnancy with him. For reasons still unknown, my water decided to break early, but I did not go into labor. I was a wreck being checked into first our local emergency room, then being transferred by ambulance to our city's hospital with the top-rated NICU, Good Samaritan. I couldn't help feel guilty somehow, thinking I'd done something to cause this potential harm to our baby boy. The two weeks on bed rest in the hospital were challenging for me, though when thinking of some of the soon-to-be-moms on my wing who'd been there since as early as 24 weeks gestation, ours was a lower-risk story.
Caleb came out tiny and screaming, 7 weeks early, weighing just 4 pounds, 5 ounces. So tiny in comparison to the baby I'd assumed I'd deliver. But now here we are, 9 years later, and he is over 95th percentile for both his height and weight. He's on the swim team, is obsessed with Legos and gets lost with them in his imagination for hours at a time, and is an avid Star Wars and Minion fan. We are so proud of him, especially of the student he is now becoming during his third grade year.

I try not to overly brag about my children on here, but I figure on birthdays I can get away with it. So about these pancakes. Caleb specifically asked if I was going to make him a special birthday breakfast. He requested cheesy eggs, but I got to thinking about pancakes and remembering the other versions of birthday pancakes I'd been liking on Pinterest. They were all super-cute, but they weren't any thicker than a typical pancake. I really wanted these to look like a birthday cake when stacked, so I wanted them tall.
I ended up altering my recipe for Carrot Cake Pancakes, and they turned out perfectly. The key to super-thick pancakes is a lot of baking powder and a very thick pancake batter. I could say it's that easy, but with thicker pancakes, I think it's essential to cook them on an electric griddle, so the temperature is controlled and they cook evenly. Also, a little swirl of melted butter under each fresh pancake, even on a non-stick surface, really gives these pancakes a nice texture and finish.
Needless to say, Caleb was thrilled with his birthday breakfast. And I was happy to do it!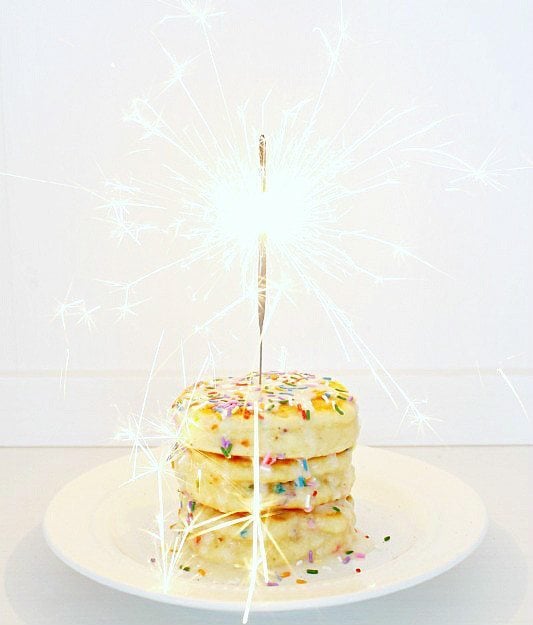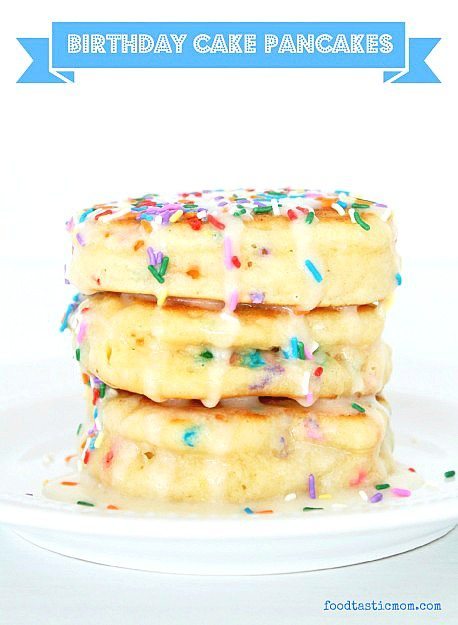 Birthday Cake Pancakes
2016-03-10 12:19:45
Ingredients
1 3/4 c. all-purpose flour
3 T. sugar
1 T. baking powder
1/2 t. salt
3 T. unsalted butter, melted and cooled a bit
1/2 c. skim milk
1/2 c. full-fat sour cream
2 eggs
1 t. vanilla
3 - 4 T. sprinkles
1 T. unsalted butter
2 - 3 T. skim milk
1/2 t. vanilla
pinch of salt
1 c. powdered sugar
Instructions
Heat an electric griddle to 375 degrees.
In a large bowl, whisk together the flour, sugar, baking powder and salt. In a separate bowl whisk together the milk, sour cream, eggs, melted butter and vanilla.
Pour the egg mixture into the flour mixture and stir together with a spatula until most of the flour is incorporated. Add the sprinkles and mix until batter is free of all flour streaks. Batter will be VERY thick.
Swirl a bit of butter under each place on griddle where you will be dropping the batter. Drop about 1/4 cup of batter onto hot griddle for each pancake. I used a muffin scoop for easy release of the batter. Cook until tops are beginning to look dry. You may see a few bubbles, but batter is thick, so you may not. I think these cooked for 6 - 8 minutes on one side before I flipped them. Flip and leave on griddle until cooked through.
To prepare the glaze, put the butter and milk in a glass bowl and microwave until melted. Add the vanilla and pinch of salt and whisk. Add powdered sugar, ¼ cup at a time, whisking after each addition. If glaze still seems too loose, add a little extra powdered sugar.
Serve the pancakes topped with glaze and more sprinkles.
Foodtastic Mom https://www.foodtasticmom.com/