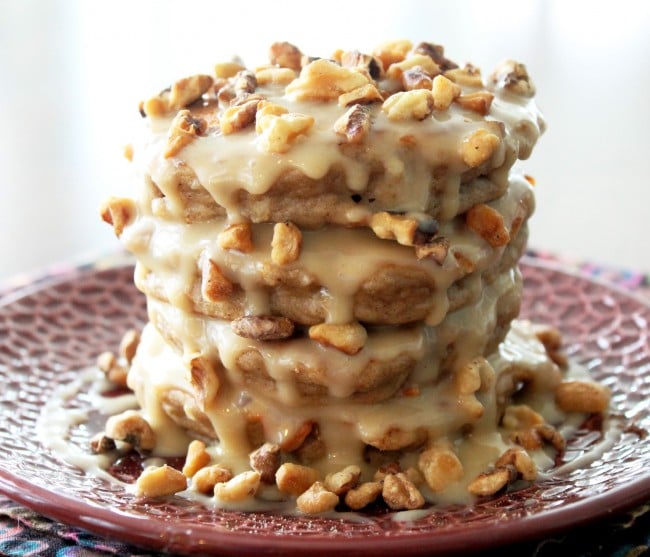 Sometimes, it's fun to go shopping in my fridge and pantry and see what I can come up with for dinner. No plan. Just see what I have to work with and go from there. This was the result for our breakfast for dinner last night. We all love the breakfast for dinner. When my kids saw me cooking up carrots for their pancakes, they were like, "Gross, Mom." However, that did not stop them from gobbling these up when it came time to eat.
This batter is thick, practically like for a muffin, and made tall, cake-like pancakes. They were so, so good and unlike actual carrot cake, capable of passing for a real meal. The syrup is not necessary and was the real experiment on my part. If you just want to drizzle on some pure maple, they would still be delicious. For the pancakes I doctored a recipe I found over at Broma Bakery. The syrup was because I had about 1/2 package of cream cheese in the fridge and some light coconut milk from Trader Joe's in the pantry. Brown sugar and fresh orange juice, plus some corn starch, rounded it out. We loved it. The toasted walnuts are also optional. Tom and I ate them, the kids did not.
Try these for your breakfast this weekend. You won't be sorry…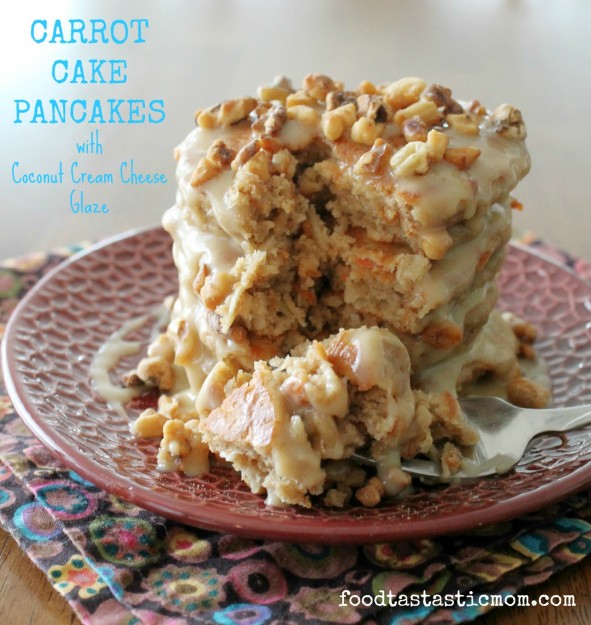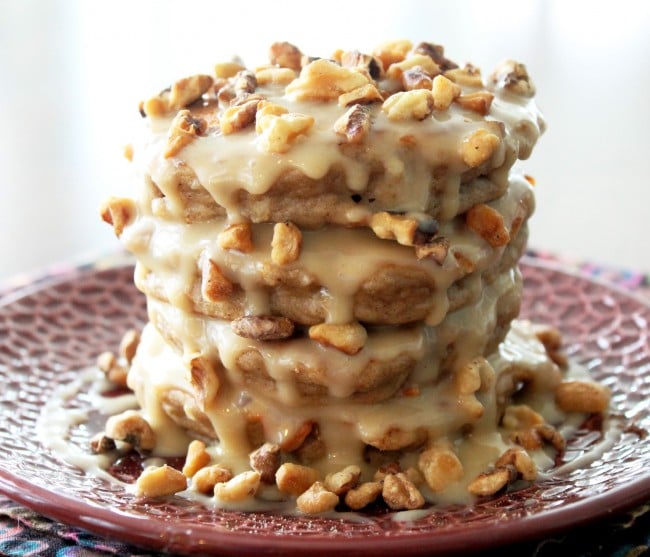 Carrot Cake Pancakes
2014-01-10 09:59:19
Ingredients
2 T. unsalted butter
2 c. shredded carrot (mine were the pre-shredded kind)
1 c. shredded coconut (sweetened or unsweetened, whatever you have)
1 c. all-purpose flour
3/4 c. + 2 T. oat flour (can use all regular flour if you don't have oat flour)
1/4 c. + 2 T. light brown sugar
1 T. baking powder
1 1/2 t. cinnamon
1/2 t. salt
pinch each of ginger, nutmeg and cloves
1/2 c. milk
1/2 c. full-fat sour cream
3 eggs
2 t. vanilla
Instructions
Melt butter over medium heat in a stock pot. Add carrots and cook, covered, for about 8 minutes, until they are softening. Stir in the coconut, recover the pot and continue to cook for 2 - 3 minutes more. Remove from heat.
In a large bowl, whisk together the flours, brown sugar, cinnamon, salt and other seasonings.
In a separate bowl, whisk together the milk, sour cream, eggs and vanilla. Whisk in the cooled carrot and coconut mixture.
Add the wet ingredients to the dry and fold together with a wooden spoon or spatula until all flour streaks are gone. Allow batter to rest for about 5 minutes. Then cook on a hot, buttered griddle. Each pancake is about 1/4 c. scoop of batter and makes 16 pancakes (thick, but smallish... about 3 inches round).
Adapted from Broma Bakery
Foodtastic Mom https://www.foodtasticmom.com/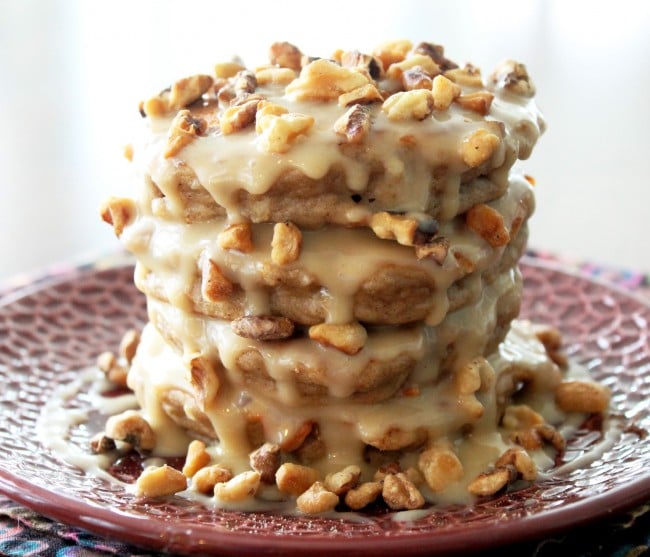 Coconut Cream Cheese Glaze
2014-01-10 10:05:02
Ingredients
1/2 can light coconut milk (I used Trader Joe's brand)
3 T. cream cheese, cut into small cubes
5 T. light brown sugar
3 T. fresh orange juice
1 T. corn starch
pinch of salt
Instructions
In a small sauce pan, combine the coconut milk, cream cheese, brown sugar and pinch of salt. Heat over medium heat, whisking occasionally. In a separate bowl, whisk the corn starch together with the orange juice.
Allow the coconut milk mixture to come to a simmer. Simmer while whisking for about 5 minutes. Add the corn starch and orange juice mixture and simmer while whisking for another minute. Remove from heat. Serve warm over the pancakes.
Foodtastic Mom https://www.foodtasticmom.com/