I just created this ultimate Ragú® #NewTraDish mash-up recipe your whole family will love as part of a sponsored post for SocialStars by Crowdtap. All opinions are my own.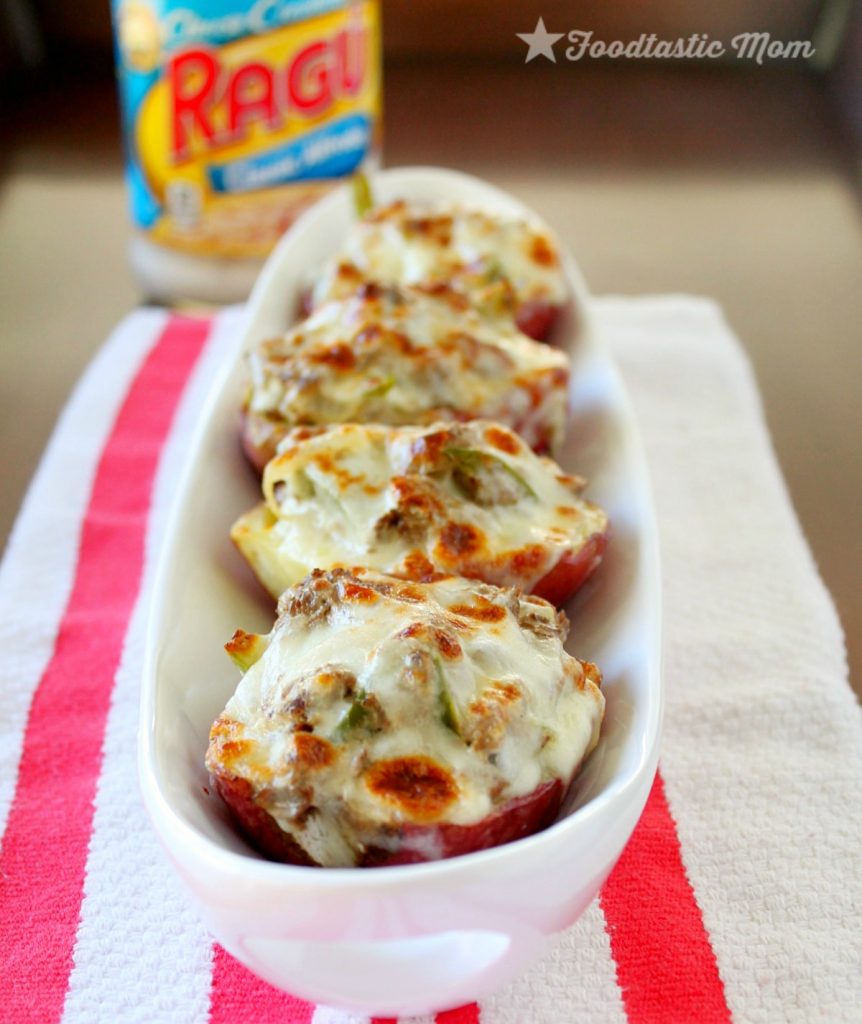 Football season is going strong, and I don't know about you, but I am always looking for quick and easy recipes to feed a hungry crowd on the weekends. So I was really excited when Social Stars and Ragú® approached me to help create some fun new recipes, combining two or more of their NewTraDish recipes. What is a NewTraDish, you might be wondering? It's a traditional Italian recipe, made more convenient with the inclusion of Ragú® sauces that have an authentic Italian taste American families love.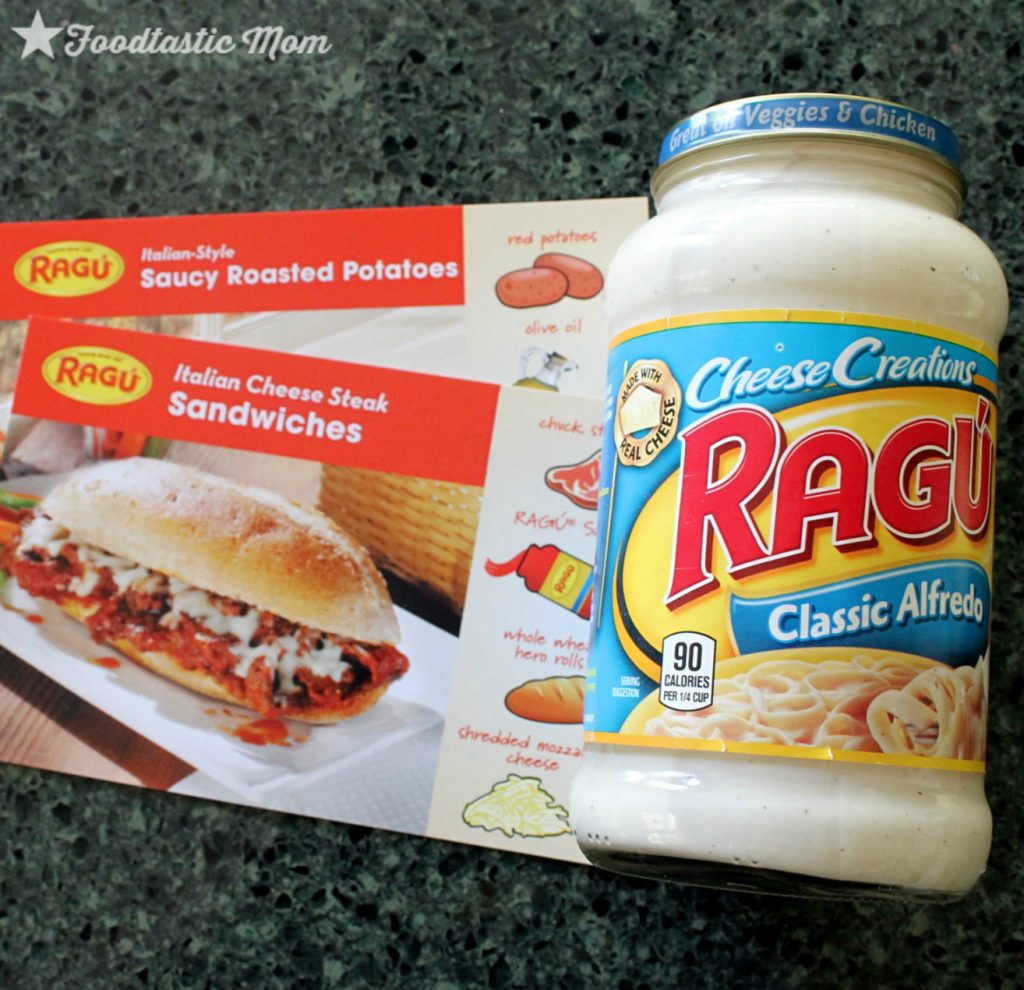 I love a good potato skin. And I discovered last year that they aren't difficult or time-consuming to make at home. Plus I think potato skins are just kind of fun things to eat when watching the old "pig skin" on TV. So for my unique creation, I used the red-skin potatoes from Ragú's® NewTraDish Italian-Style Saucy Roasted Potato recipe, combined with the roast beef and melty cheese from their Tuscan Style Sausage Sandwich recipe. I decided to go the Philly route with the skins, adding sautéed peppers and onions and using Ragú's® white, cheesy Classic Alfredo sauce to create a velvety filling to stuff the crisped red potatoes with.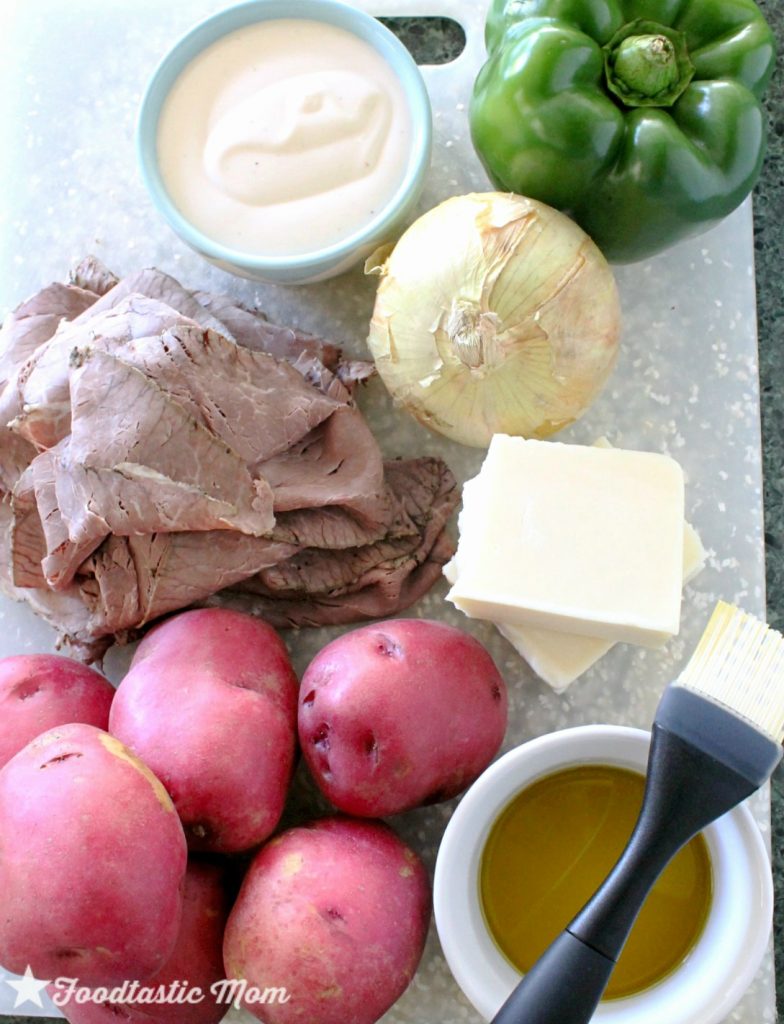 I made a practice-round for dinner and my family was more than happy to play guinea pigs. They gobbled them up so I'm glad I made the full dozen! These Philly Cheesesteak Potato Skins will definitely be making repeat performances in our house the rest of football season and beyond. They were a fun alternative to the traditional "loaded" style with bacon, cheese and sour cream, plus using help from the deli for the roast beef and the grocery aisle for the Ragú® sauce really made for a quick and easy recipe!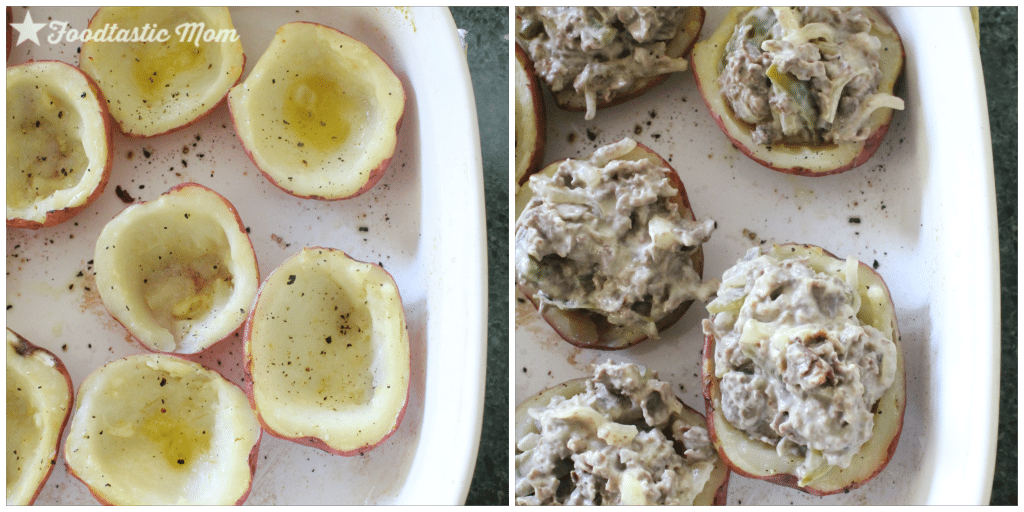 If you like my recipe, you'll want to be sure and visit Ragú® on Facebook, Pinterest and Twitter for many, many more mash-up NewTraDish recipes. I love cooking from scratch, but my reality with two busy grade-schoolers means I also love getting help for everyday and entertaining recipes that don't require a lot of kitchen time (much as I love it). I know you're going to love these potato skins too!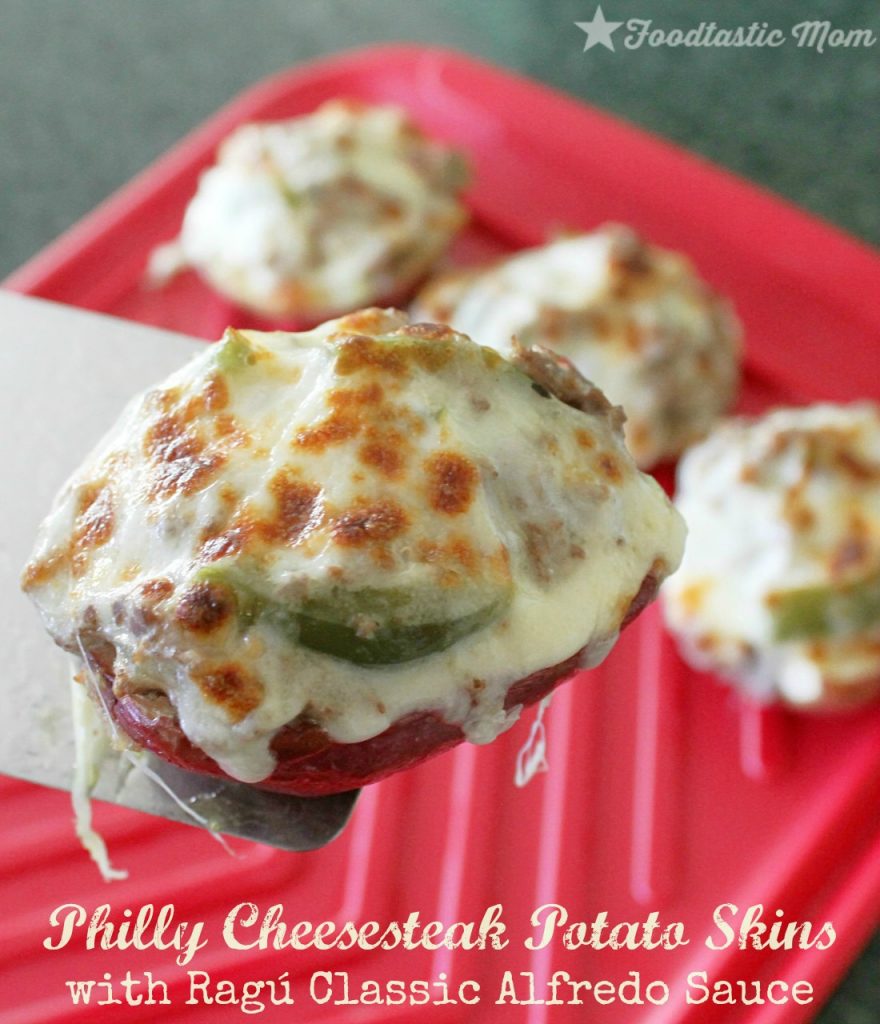 Philly Cheesesteak Potato Skins with Ragú® Classic Alfredo Sauce
Ingredients
6

red-skinned potatoes

scrubbed

2

T.

extra-virgin olive oil

1

sweet onion

peeled and sliced

1

green pepper

seeded and sliced

1/2

lb.

deli roast beef

chopped

2

T.

Worcestershire sauce

1

t.

salt

dash of fresh cracked pepper

<span class="mceItemHidden" data-mce-bogus="1">1 c. <span class="hiddenSpellError" pre="" data-mce-bogus="1">Ragú</span> Classic Alfredo Sauce</span>

2

c.

8 oz. mozzarella cheese, shredded
Instructions
Pierce the potatoes with a fork and microwave in a single layer on a plate for 14 minutes on high, or until fork tender (flipping the potatoes halfway through cooking time). Remove from microwave and place plate in refrigerator for about 10 minutes to cool quickly.

<span class="mceItemHidden" data-mce-bogus="1">Meanwhile, heat 1 tablespoon of oil in a large, non-stick skillet over medium-high heat. Add the onions and peppers, salt and pepper. Cook for 6-8 minutes, or until peppers and onions are beginning to brown. Add the beef and Worcestershire sauce and cook for an additional 2 minutes, until heated through. Stir in the <span class="hiddenSpellError" pre="the " data-mce-bogus="1">Ragú</span> Classic Alfredo sauce and stir until all the beef and vegetables are well-coated. Remove pan from heat.</span>

Preheat oven to 500 degrees, with oven rack in upper third of oven.

Cut potatoes in half so you have 12 "skins". Scoop out the potato flesh, so about 1/8-inch border remains. Save the potato insides for mashed potatoes at another meal.

Brush the inside of each of the 12 potato skins with the remaining tablespoon of olive oil. Sprinkle skins with additional salt and pepper if desired.

Place potato skins in a single layer in a glass dish, skin side down.

Bake for 15 minutes.

<span class="mceItemHidden" data-mce-bogus="1">Remove skins from oven and fill evenly with the Philly <span class="hiddenSpellError" pre="Philly " data-mce-bogus="1">Cheesesteak</span> filling. Top evenly with the shredded mozzarella cheese.</span>

Set oven to broil and broil the potato skins for about 5 additional minutes, or until the cheese is browned and bubbly.