I call these Julia Child Scalloped Potatoes – which is easier to say than their original name of Gratin Dauphinois.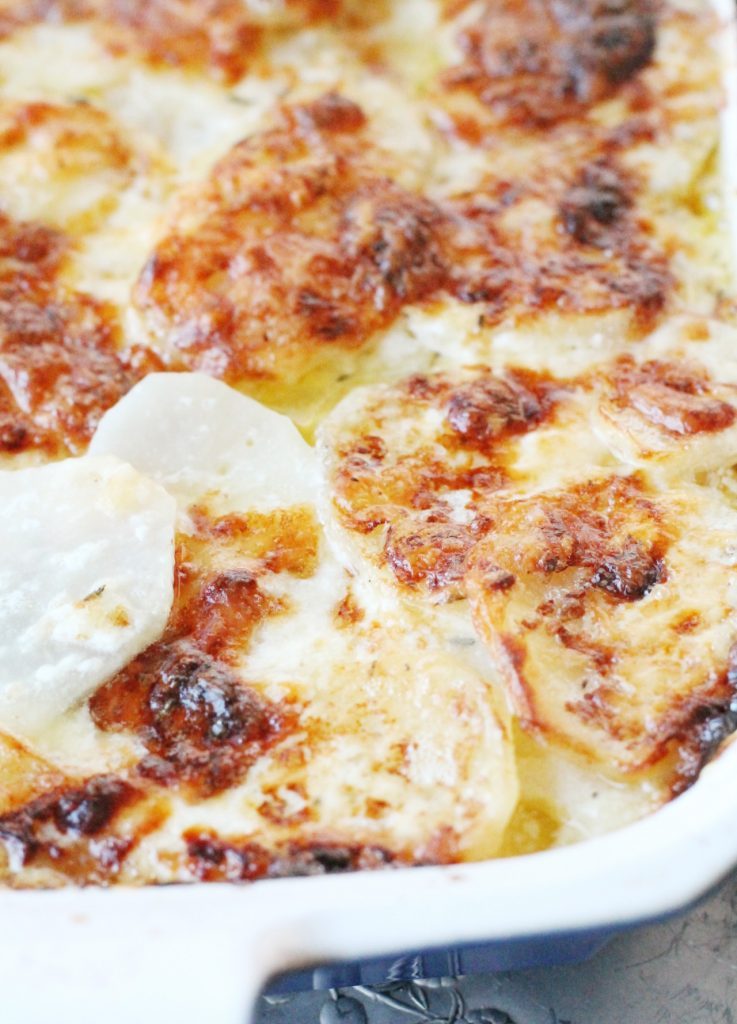 This potato dish made famous by Julia Child are basically a fancy version of scalloped potatoes. Thinly sliced potatoes are baked together with cream and cheese for a fabulous and crave-worthy side dish. To slice the potatoes, a hand-held mandolin is really a must. I happen to own and love this one.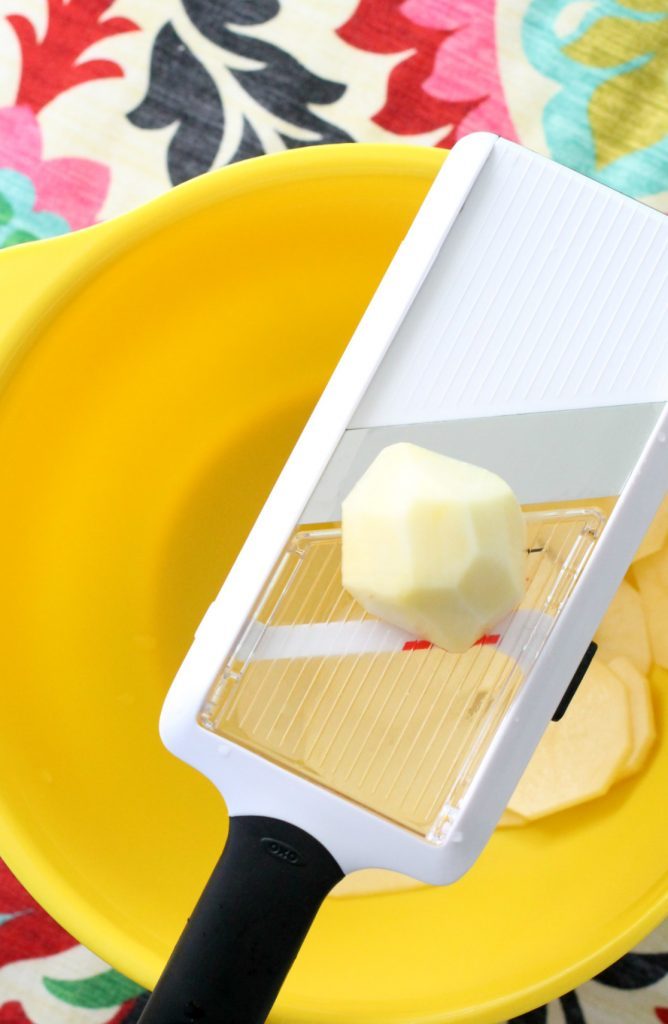 I made just a few minor adjustments to Julia's original recipe – I just can't help myself. Instead of a raw clove of garlic, I dry toasted several so there was a more pronounced garlic flavor in the dish. I used baby swiss instead of Gruyere (less expensive) plus some fresh Parmesan. And I added some dried thyme.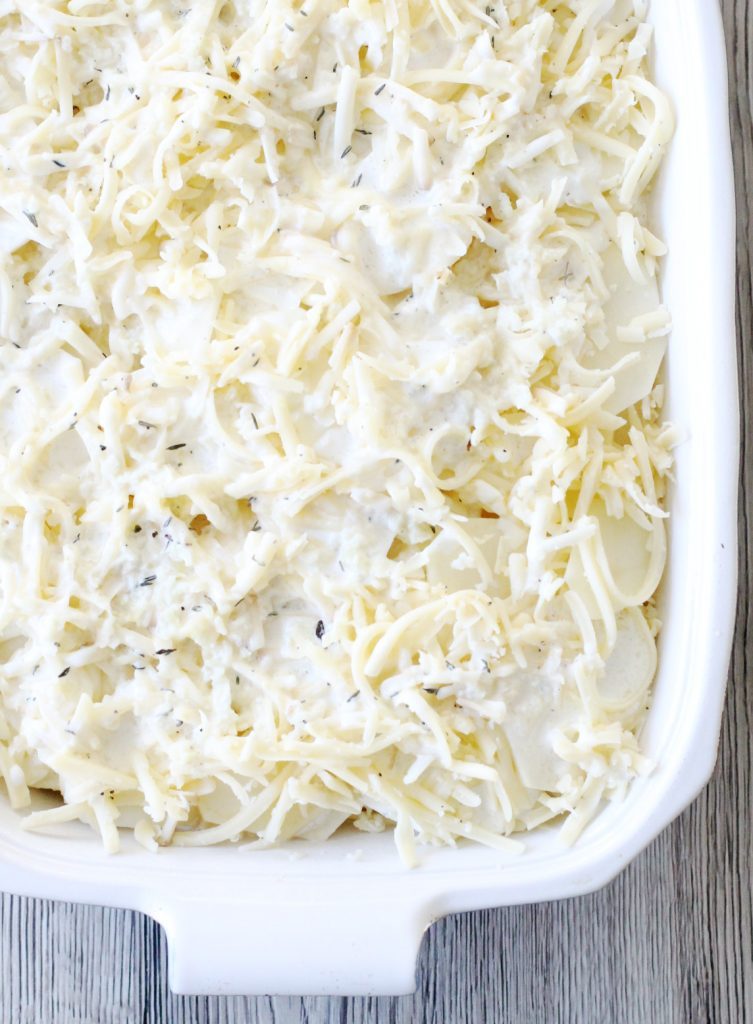 These potatoes are amazing! They got rave reviews from everyone. They are not an every day dish to be sure but you should definitely pin this recipe for a special occasion. You won't be sorry.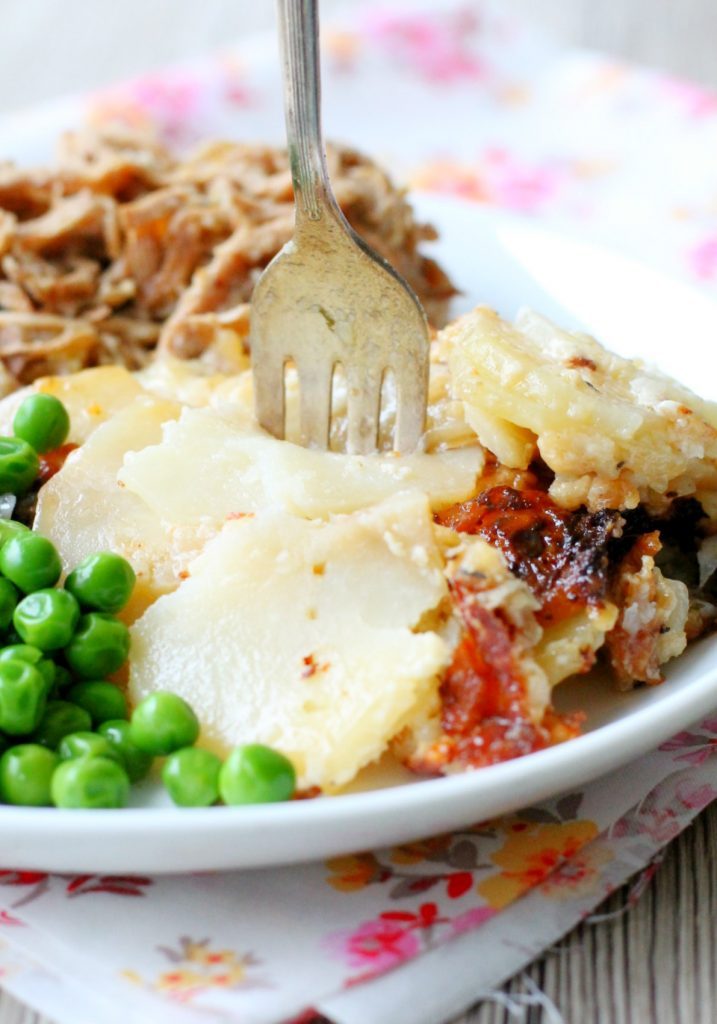 Julia Child Scalloped Potatoes
Ingredients
4

lbs

russet potatoes

4

cloves

garlic

8

oz

baby Swiss cheese

shredded

1/2

cup

Parmesan cheese

shredded

2

cups

heavy cream

1 1/2

tsp

salt

1/2

tsp

black pepper

1/2

tsp

thyme
Instructions
Preheat oven to 375 degrees.

Spray a 9x13 baking dish with cooking spray and set aside.

Peel and slice the potatoes to about 1/8-inch thick with a hand-held mandolin. Soak the potatoes in cold water after slicing for about 15 minutes, drain well.

In a non-stick skillet over medium heat, toast the unpeeled garlic cloves for about 15 minutes. Shake the pan occasionally to toast the garlic cloves evenly. Remove garlic from the pan and allow to cool a bit. Then peel and press the cloves through a garlic press.

Mix the pressed and toasted garlic cloves with the heavy cream in a glass measuring cup. Heat the cream for 2 minutes in the microwave so it is warmed through. Stir the salt, pepper and thyme into the cream and garlic mixture.

Layer half the potatoes evenly onto the bottom of the baking dish. Sprinkle evenly with 1 cup of the Swiss cheese and 1/4 cup of the Parmesan cheese.

Pour half the cream and garlic mixture over the potatoes and cheese.

Repeat layers - the other half of the potatoes, the remaining 1 cup of swiss and 1/4 cup of Parmesan and the remaining cream mixture.

Bake in the oven, uncovered, for 1 hour. The potatoes are done when they are easily pierced with a fork.