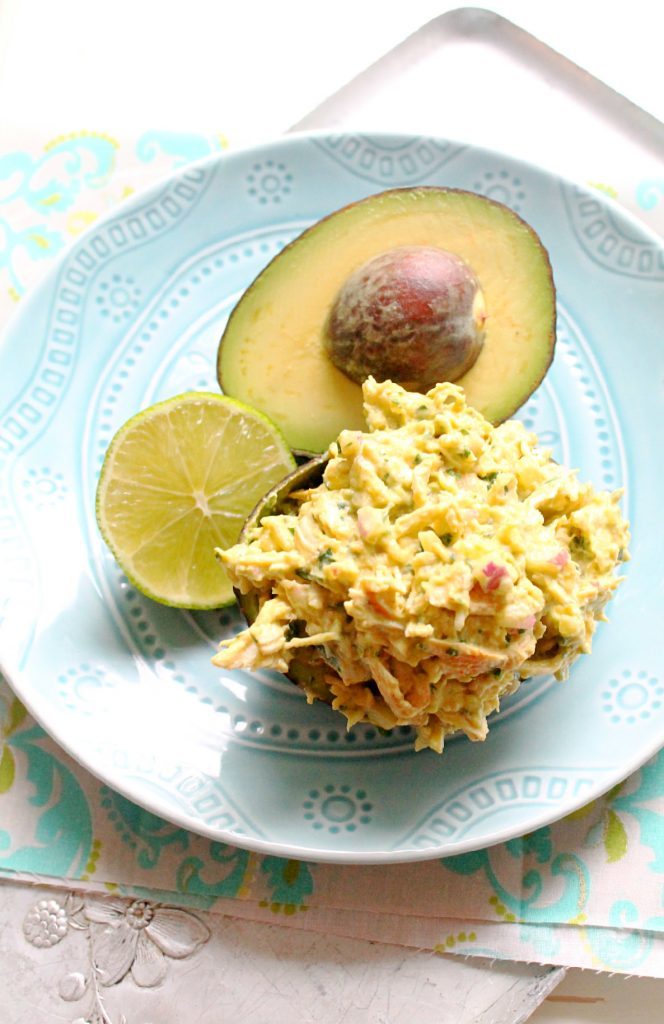 I have an entire HEALTHY category of recipes here at Foodtastic Mom but there is always room for more. After all, the blogs, magazines and restaurant ads I'm seeing on a daily basis offer plenty of mouth-watering ways for me to indulge. But sometimes I have to work a little to find recipes that are both healthy AND craveable. Thanks to Humana Vitality, I found another source to go to when I'm looking to lighten things up in the kitchen.
A few weeks ago, I got to play "celebrity blogger" as part of Humana Vitality's Recipe Refresh challenge. As captain of my own team, I created a "Satisfying Cauliflower and Sweet Potato Mash". And it really was not just satisfying but delicious. The veggies were steamed and then mashed together with some garlic, chicken broth and low-fat sour cream. I was a bit skeptical as to how it'd taste, but it's a side dish I'll love adding to my family's dinner rotations, especially this fall.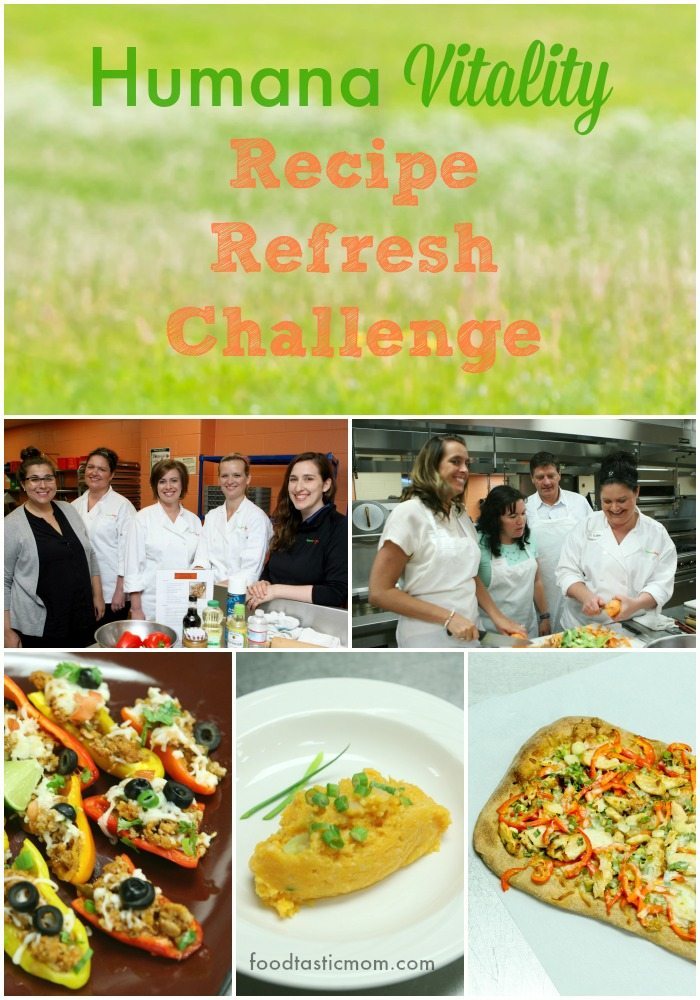 In addition to feeling a little like a big deal by getting to cook in an actual professional kitchen at my city's Midwest Culinary Institute, I got to meet and work with two other mom bloggers.
Kathy (who blogs at A Mom's Impression) and her team made a "Thai Chicken Pizza" that you'd never know was a lightened up version.
And Katie (who blogs at The Cutting Back Kitchen) and her team made "Bell Pepper Turkey Nachos". I'd have never thought to put nacho toppings in mini bell peppers, but I'm a convert. They were delish!
As for this chicken salad I'm sharing with you, it was made for us by local *real* celebrity chef Meg Gavin who both instructs at the culinary institute and develops recipes for the hugely popular SparkPeople.com
I had to come home and make this chicken salad, which relies on fat-free Greek yogurt, avocado and lime juice as its dressing, because it was my absolute favorite dish of the evening. Dipping baked tortilla chips into it, as you would a traditional guacamole, has become my new favorite snack. It tastes totally indulgent but your stomach and heart are still happy afterwards.
This event was so fun and I'm thankful to Humana Vitality for the invitation and even more so, for the access to some seriously yummy AND healthy recipes to add to my family's eating rotation. I encourage you to click all the recipe links to view these recipes and try them out for yourself. You will be so glad you did!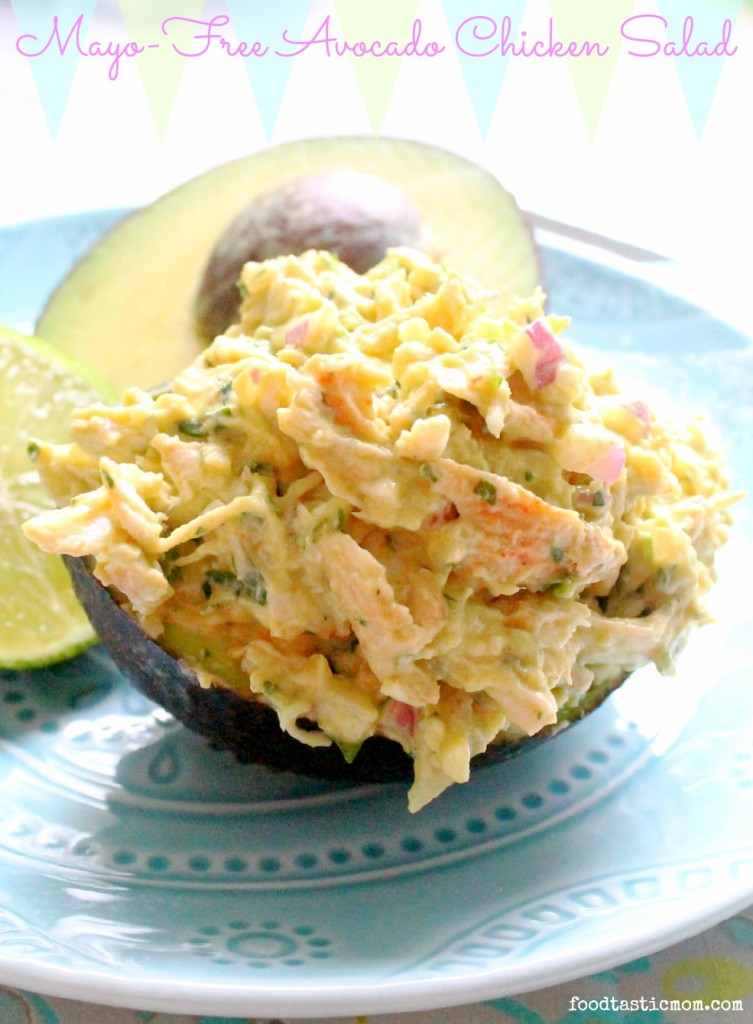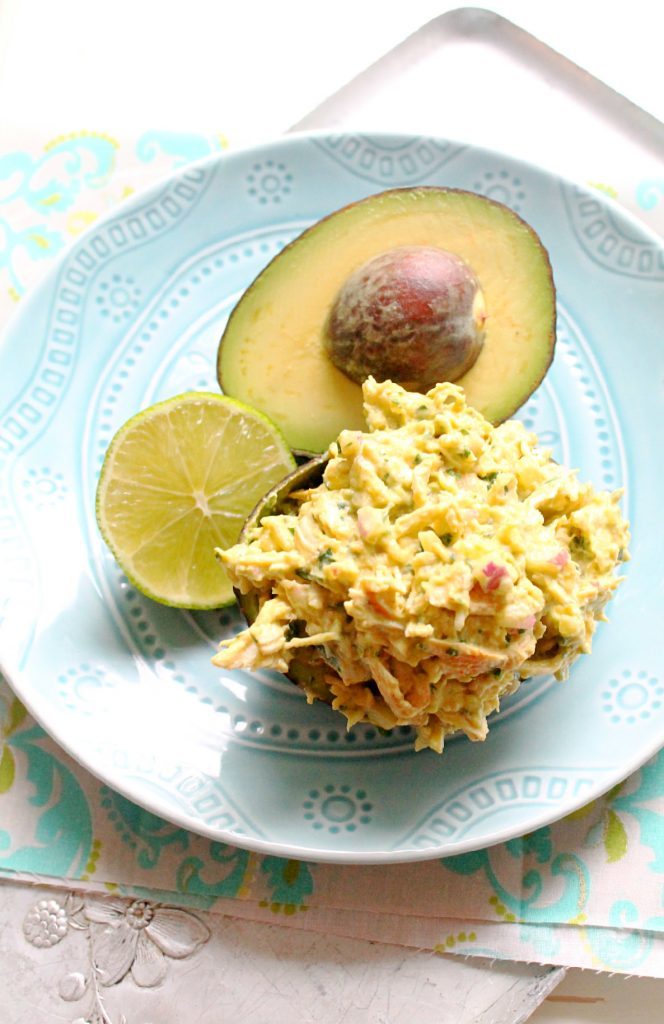 Mayo-Free Avocado Chicken Salad
2014-07-11 10:37:58
Ingredients
1/2 fresh avocado
1/2 c. fat-free Greek yogurt
1/4 c. fresh lime juice
12 oz. leftover chicken breast, shredded or cubed
3 celery stalks, diced
1/2 c. red onion, minced
1/2 c. cilantro, minced
1/2 t. smoked paprika
salt and pepper to taste
Instructions
In the bottom of a medium bowl, mash together the avocado, yogurt and lime juice. Toss in the chicken, celery, red onion, cilantro, smoked paprika, salt and pepper. Stir well to mix and refrigerate until ready to use.
Adapted from Humana Vitality
Foodtastic Mom https://www.foodtasticmom.com/