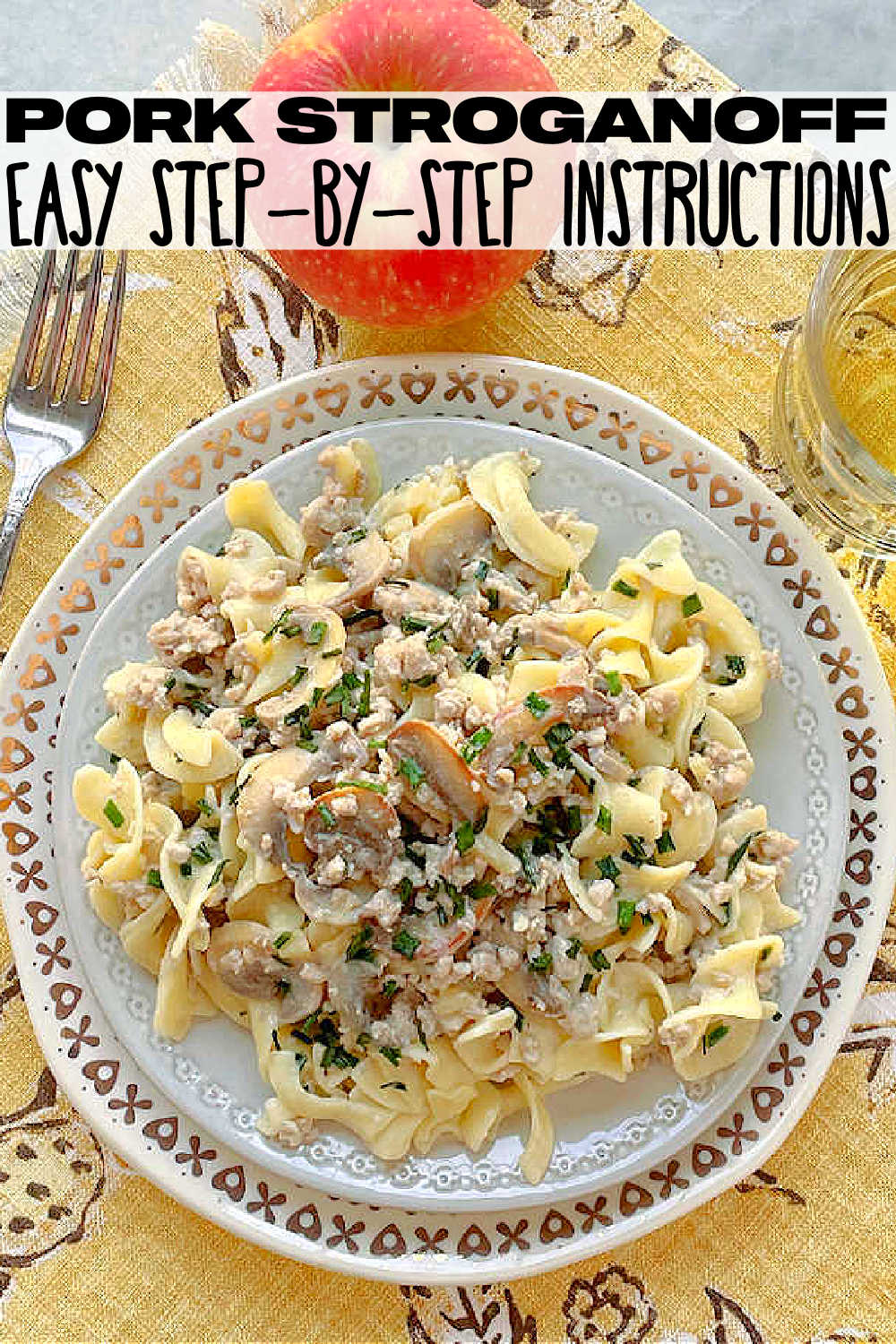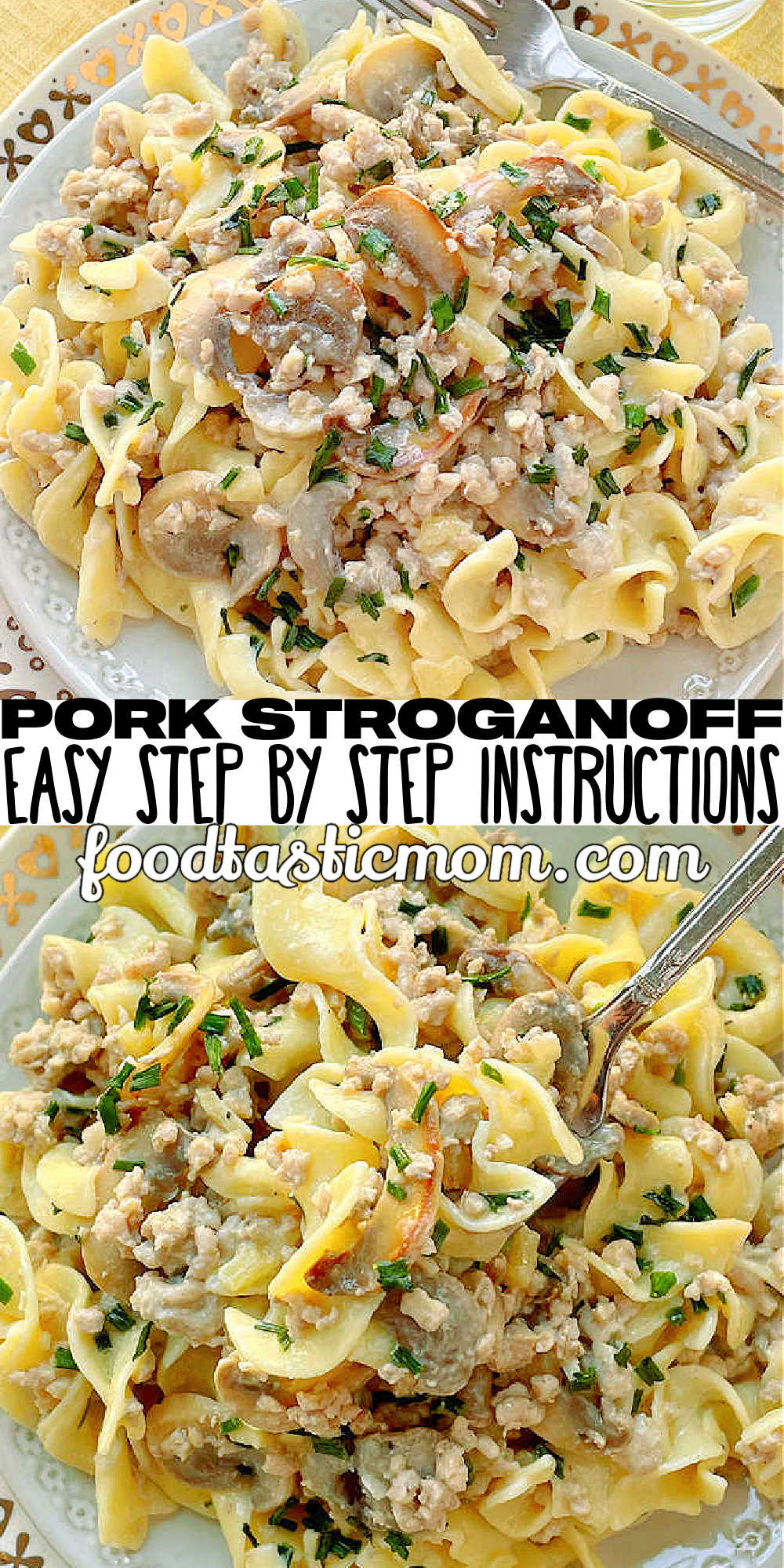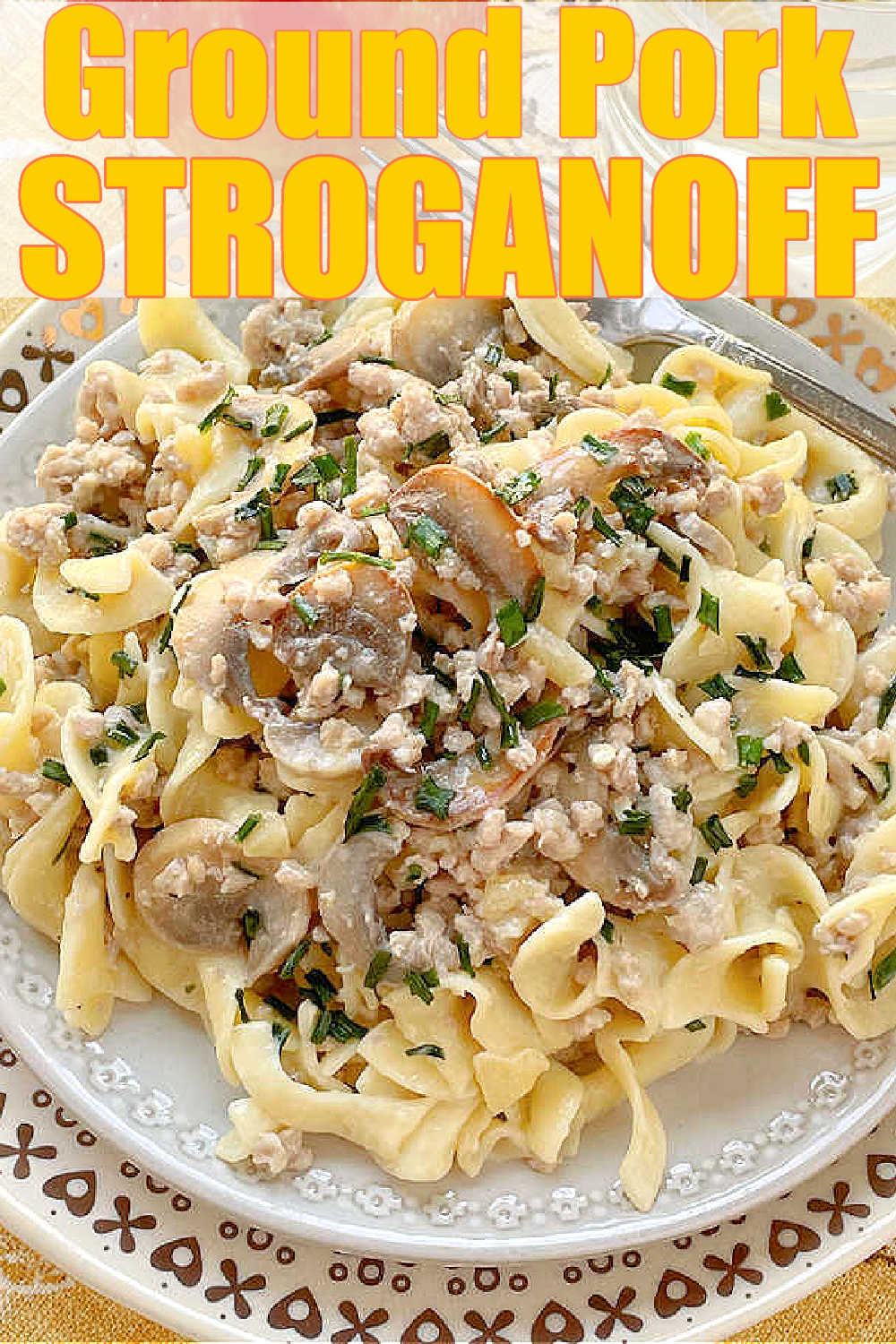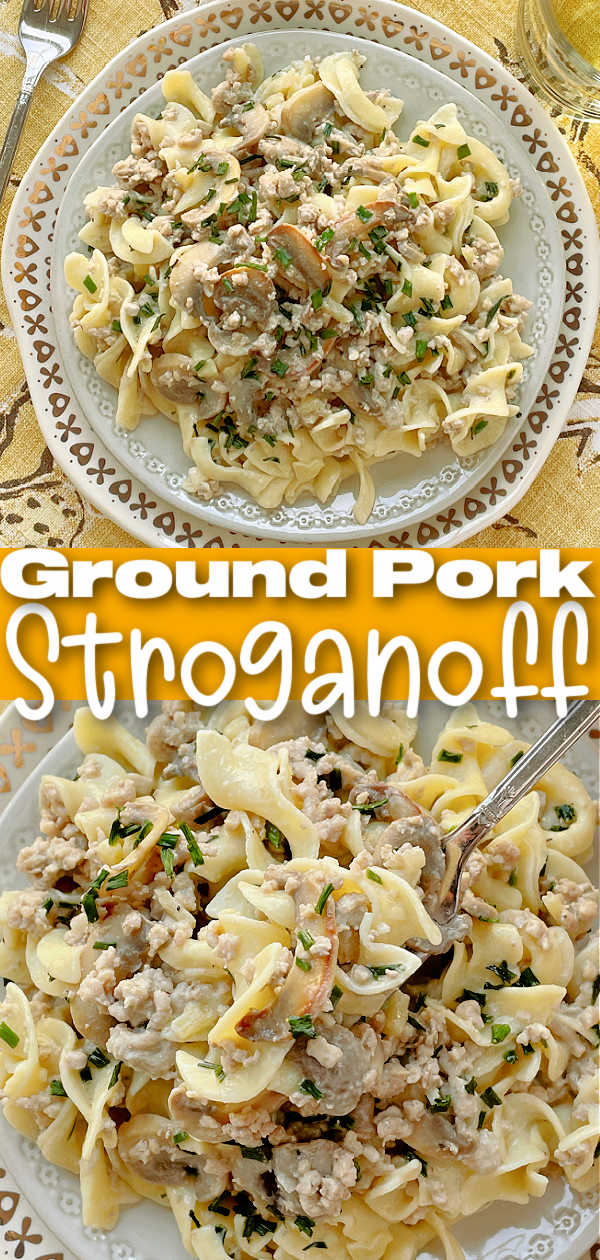 Pork Stroganoff is quick, creamy, comfort food with a lighter twist. Ground pork combines with buttery mushrooms and sweet apples in a tangy sour cream sauce.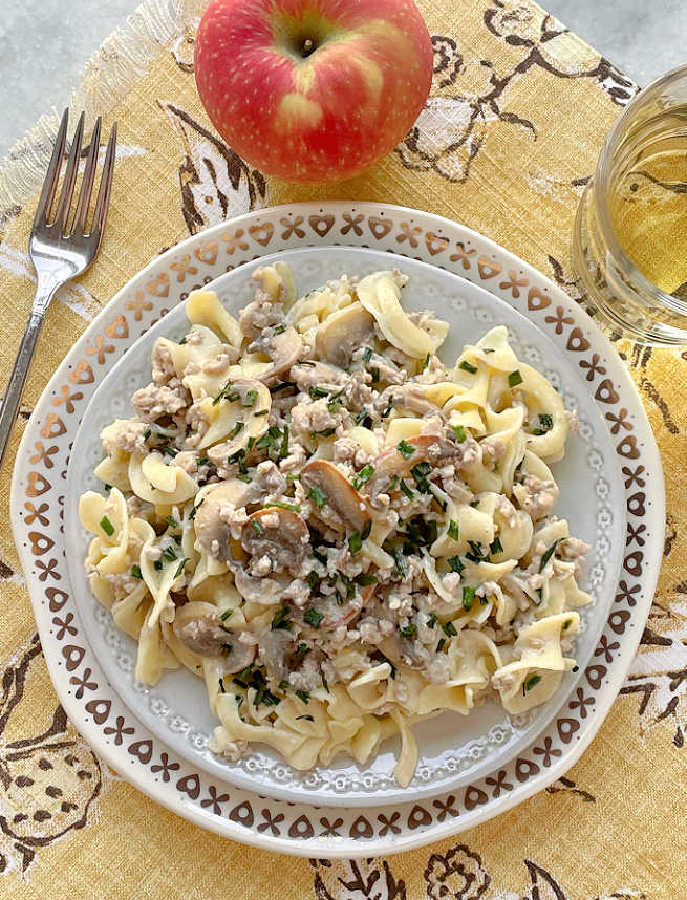 Several years ago, I created a recipe for pork meatballs to serve over buttered noodles. The dish has a sweet and savory flavor with a creamy apple cider gravy. Those meatballs have a cult following amongst some of my friends. I decided to eliminate the step of making meatballs and recreate that basic recipe into this scrumptious Pork Stroganoff. Usually I think of traditional stroganoff as cold weather comfort food. But I think this variation is perfect for going into Spring. My pork stroganoff has a short, simple list of ingredients. Your whole family is going to love it!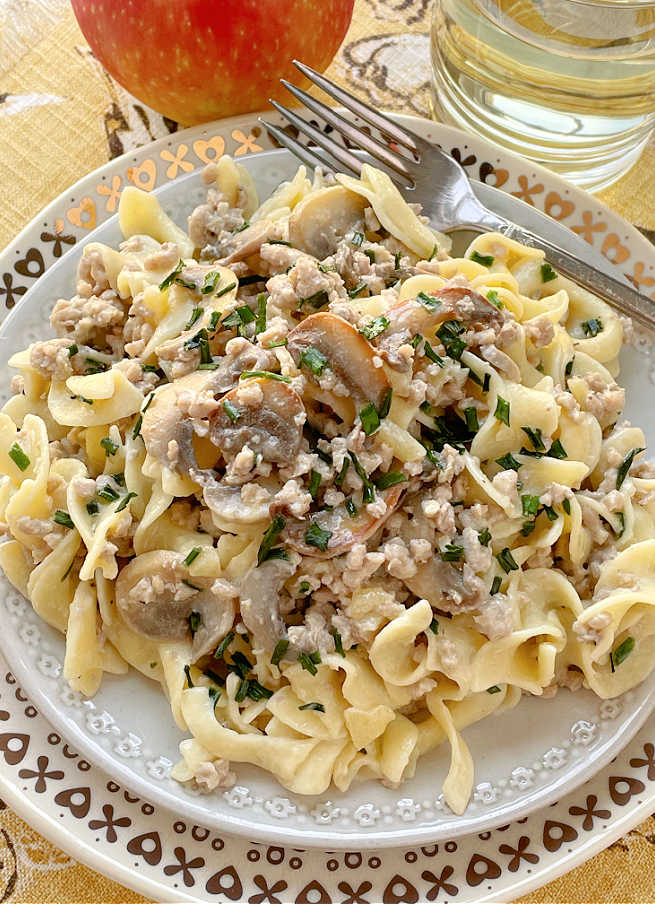 What is Pork Stroganoff?
Traditional beef stroganoff is a Russian dish with cooked beef in a sour cream sauce. For my recipe ground pork replaces the beef. The pork tastes lighter than beef, costs less per pound, and the ground meat is sure to be tender. The problem I run into when making stroganoff with sliced beef is the beef is sometimes chewy and tough. In my recipe, the ground pork is mixed with buttery mushrooms and fresh apple. I really like pairing a little sweet flavor (from the apple) with a savory dish. White wine, chives and sour cream round out the sauce.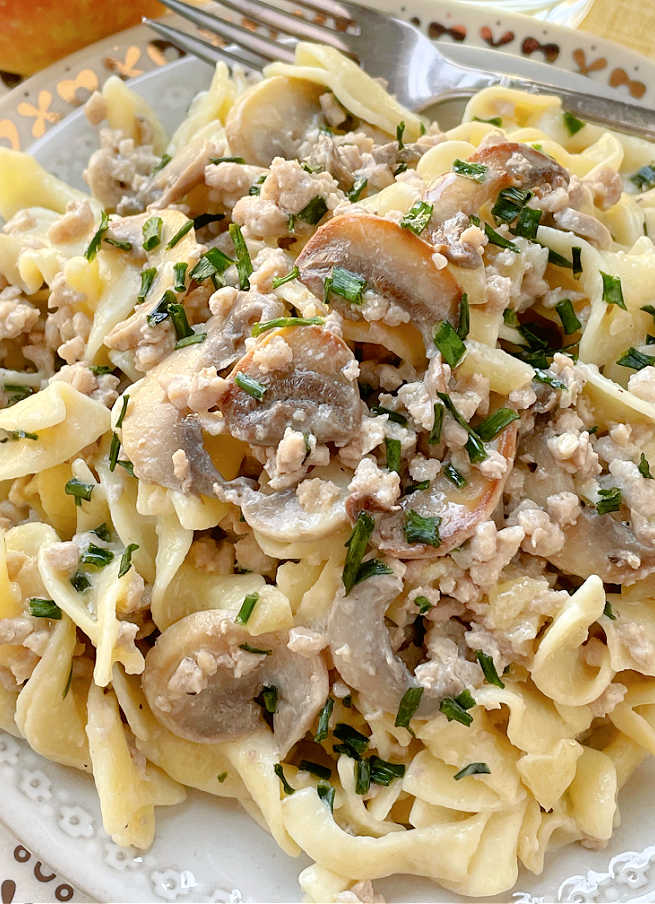 Ingredients for Pork Stroganoff
Ground Pork – use a one-pound package of lean ground pork, not sausage
Mushrooms – I like white button mushrooms, but you can also use baby bella mushrooms
Apples – the apples provide a nice sweetness to balance the earthiness from the mushrooms and the tart flavor from the sour cream
Butter – if you use salted butter, you won't need to season the dish with as much salt at the end
Sour Cream – when cooking, I always use full-fat sour cream, not low-fat
White Wine – choose a dry white wine, like Sauvignon Blanc or Pinot Grigio
Chives – for this recipe, I use this brand of lightly dried chives because it saves some time, but if you have fresh chives, use them
Onion Flakes – this is another time-saving step, you can use 1/2 a chopped, fresh sweet onion instead
Salt and Pepper – to taste
Egg Noodles – cooked according to package directions and drained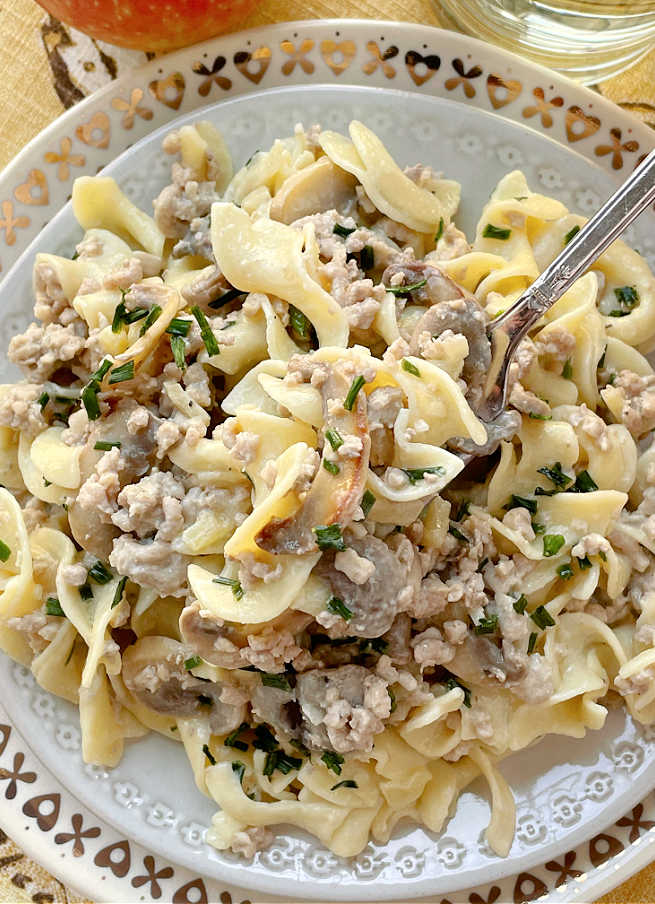 How to make Pork Stroganoff
Cook the ground pork in a large, non-stick, frying pan. Remove the pork to a clean bowl. To the same pan, melt some butter and cook the mushrooms until browned. Add the apple and cook until starting to soften. Add the wine and simmer for a couple of minutes to cook off the alcohol. Return the pork to the skillet. Season with salt, pepper and dried onion and simmer for a few minutes. Turn the heat to low and stir in the sour cream and chives.
Meanwhile, cook egg noodles according to package directions. Drain the noodles and return them to the pot. Stir in butter, sour cream, chives and salt until the butter is melted. Add the pork mixture to the buttered noodles and stir to combine. Serve immediately. Or store in an air tight container in the refrigerator for up to three days. This dish reheats well in the microwave. Just top with some additional sour cream to serve.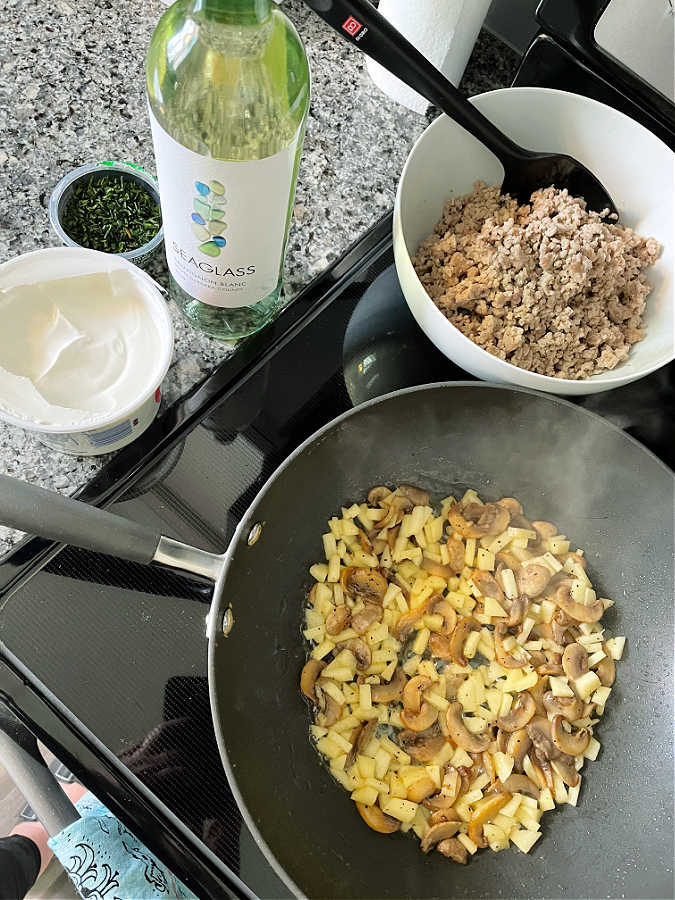 What wine goes with Pork Stroganoff
A dry white wine pairs well with this dish. I always cook with wine that is good to drink. For testing this recipe, I used a Sauvignon Blanc. Pinot Grigio or un-oaked Chardonnay are also good choices.
Can you freeze Pork Stroganoff?
I don't think this is a dish that would freeze well. I doubt you'll have many leftovers! Which can be stored in the refrigerator for up to three days. My Pork Apple Meatballs are a recipe that does freeze well.
Serving Suggestions
Since my Mom's passing from dementia complications, I'm always keen to find simple ways to support my own brain health and educate others to do the same. Organic Lions Mane Natures Rise is an organic mushroom extract powder that helps boost your brain's focus, cognition and memory. Add a couple of scoops to your stroganoff at the end when you stir in the sour cream.
Add a side of Air Fryer Asparagus or Skillet Green Beans for a complete, healthy meal.
Kitchen Tips and Tools
Foodtastic Mom is a participant in the Amazon Services LLC Associates Program, an affiliate advertising program designed to provide a means for sites to earn advertising fees by advertising and linking to Amazon.com. Any highlighted, clickable Amazon link you see is an affiliate link that I may earn advertising fees on.
Thank you so much for being a faithful reader and supporter of Foodtastic Mom. Be sure to PIN and print this recipe!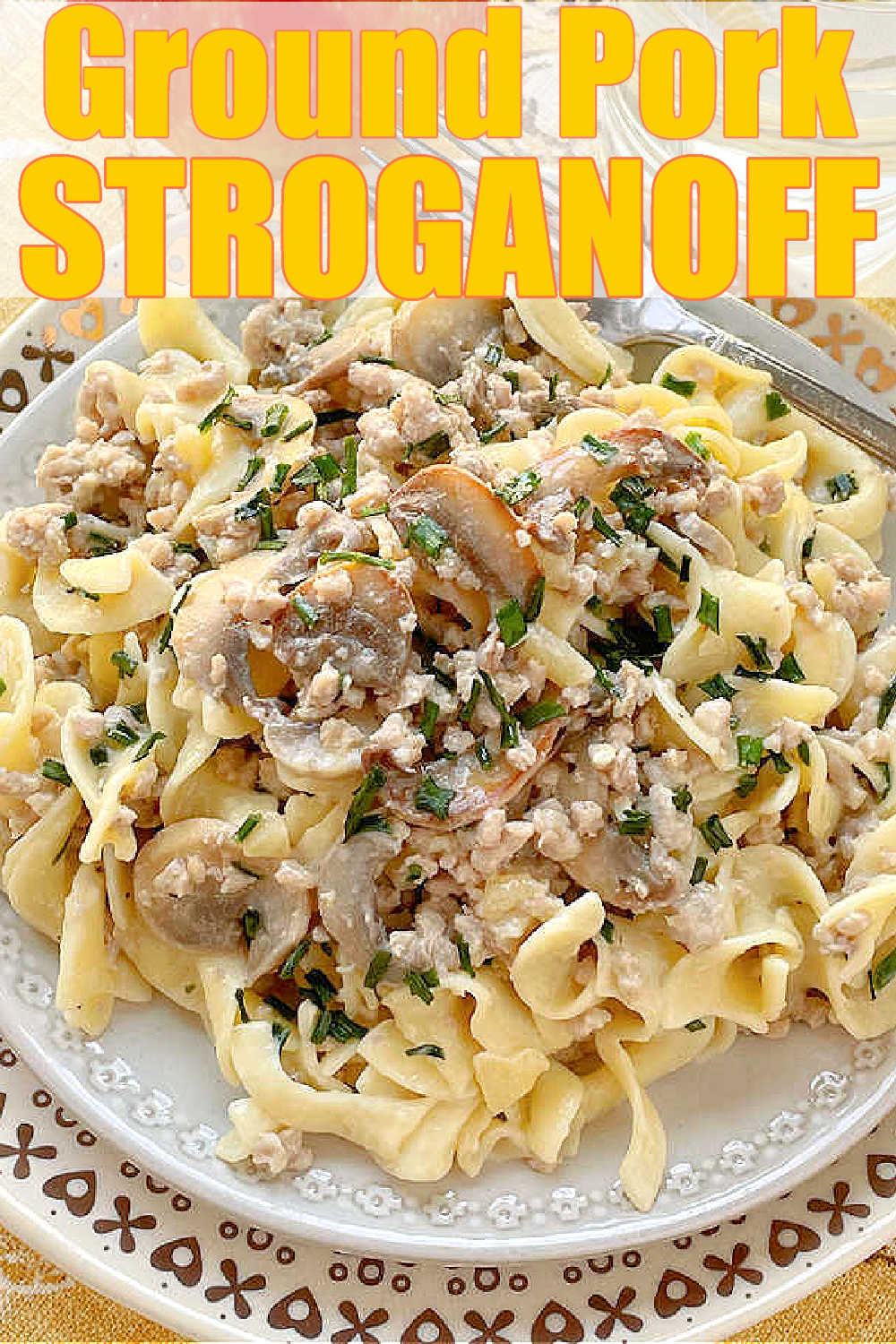 Pork Stroganoff
Pork Stroganoff is quick, creamy, comfort food with a lighter twist. Ground pork combines with buttery mushrooms and sweet apples in a tangy sour cream sauce.
Ingredients
12

oz

egg noodles

1

lb

lean ground pork

not sausage

8

oz

white button mushrooms

stems removed and sliced

2

apples

peeled, cored and chopped fine

1

cup

sour cream

6

tbsp

unsalted butter

1/2

cup

dry white wine

2

tbsp

lightly dried chives

or use fresh

2

tsp

dried onion flakes

1 1/2

tsp

salt

1/2

tsp

black pepper
Instructions
In a large, non-stick frying pan over medium heat, cook the ground pork until no longer pink, breaking up with a spoon or heat-proof spatula. Transfer the cooked pork to a clean bowl.

To the same pan, melt three tablespoons of the butter and add the sliced mushrooms. Cook until the liquid is mostly evaporated and the mushrooms are lightly browned.

Add the apples to the skillet and cook for a few minutes, until the apples are starting to soften.

Add the wine, bring to a simmer and cook for a minute or two, so the alcohol cooks off.

Add the cooked pork back to the pan, season with the onion flakes, one teaspoon of salt and 1/2 teaspoon of pepper. Cook for a few minutes, stirring often.

Reduce the heat to low and stir in 1/2 cup of the sour cream and 1 tablespoon of chives. Turn off the heat.

Meanwhile, boil a large pot of salted water and cook the noodles according to the package directions.

Drain the noodles and return them to the pot. Stir in the remaining 3 tablespoons of butter, 1/2 cup of sour cream, 1 tablespoon of chives and 1/2 teaspoon of salt. Stir until the butter is melted and the sour cream is blended into the noodles.

Stir the cooked pork mixture into the noodles and serve.
Nutrition
Calories:
365
kcal
|
Carbohydrates:
55
g
|
Protein:
11
g
|
Fat:
11
g
|
Saturated Fat:
5
g
|
Polyunsaturated Fat:
1
g
|
Monounsaturated Fat:
3
g
|
Trans Fat:
1
g
|
Cholesterol:
72
mg
|
Sodium:
625
mg
|
Potassium:
435
mg
|
Fiber:
4
g
|
Sugar:
11
g
|
Vitamin A:
333
IU
|
Vitamin C:
5
mg
|
Calcium:
88
mg
|
Iron:
1
mg
More Recipes with Ground Pork