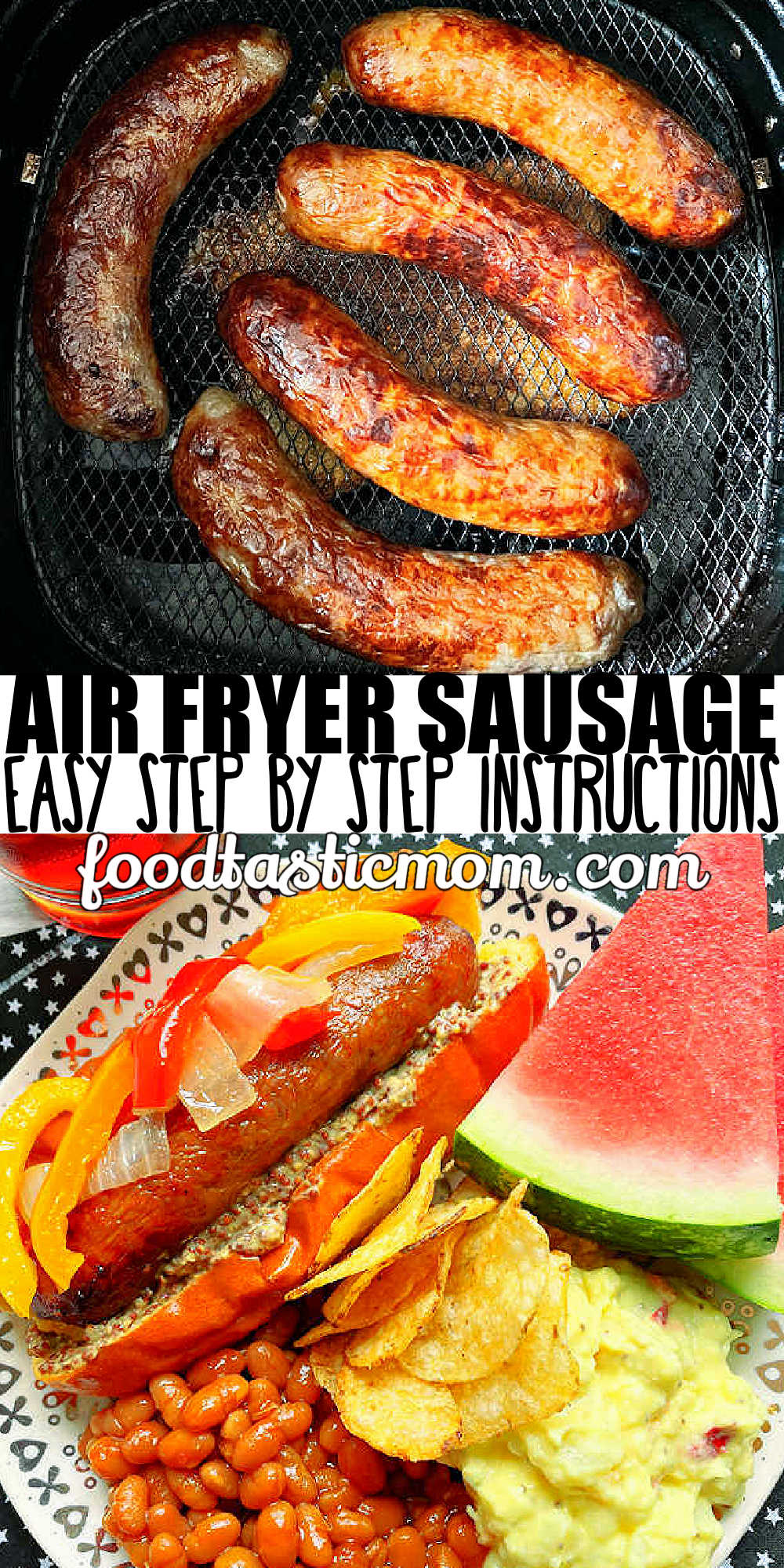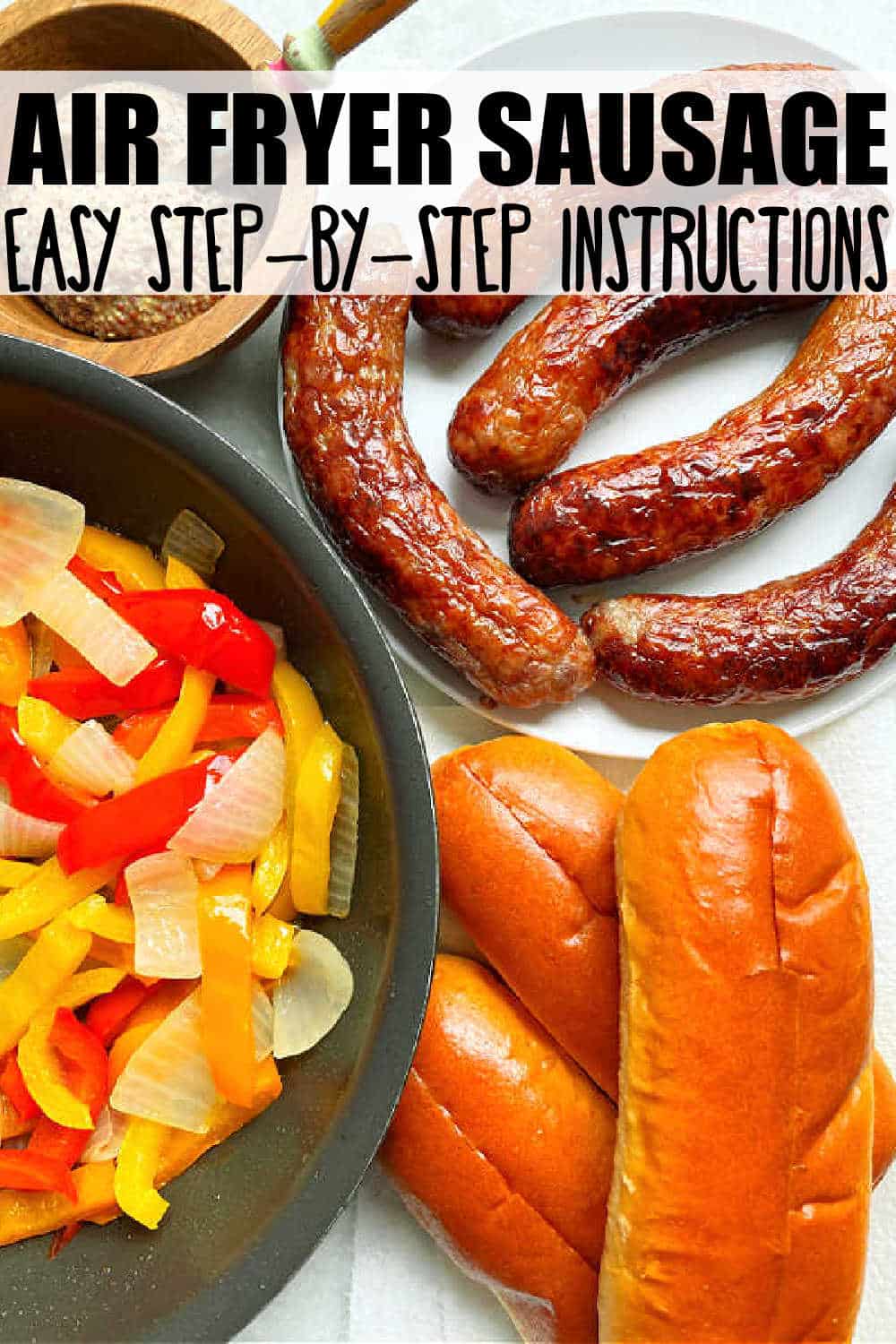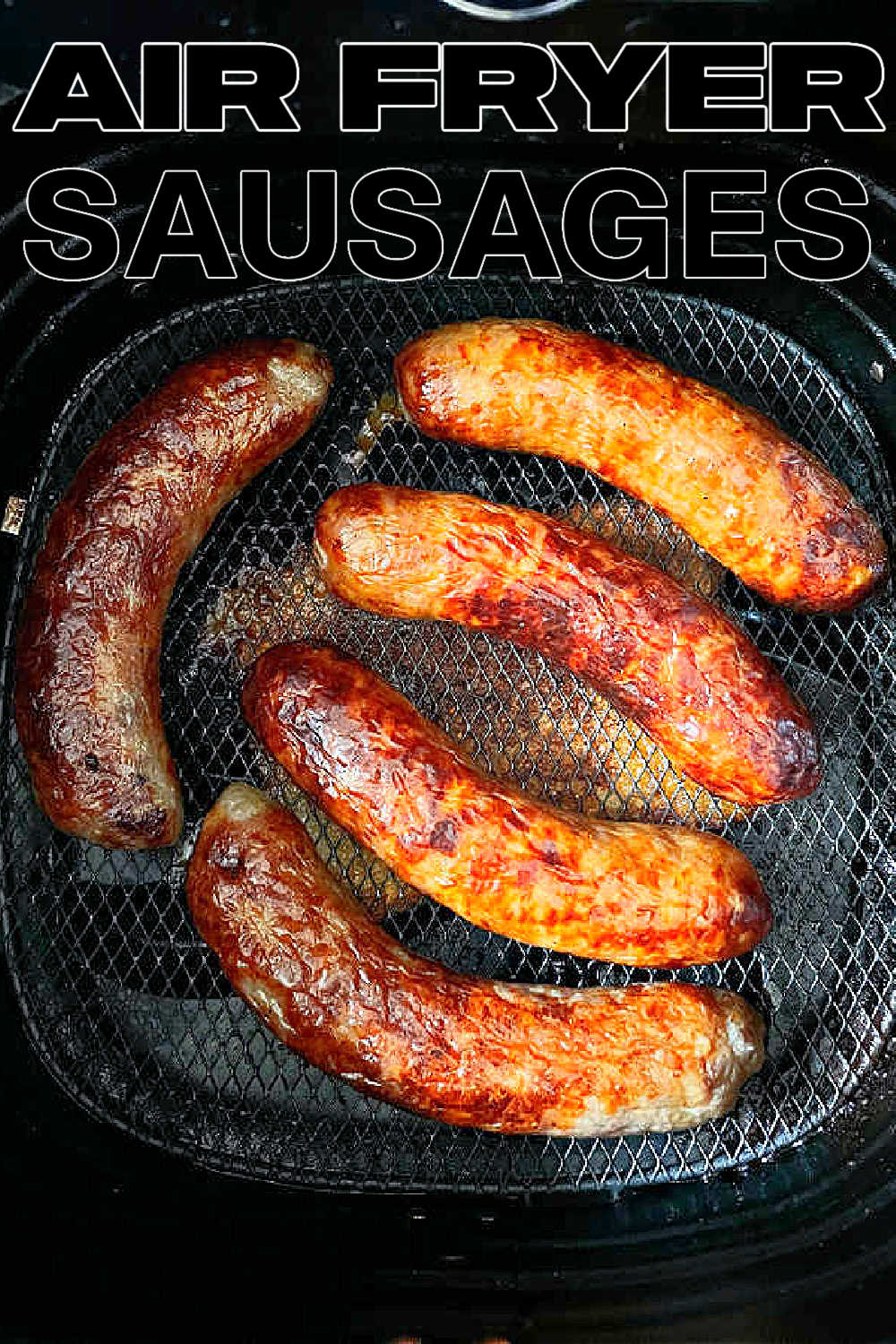 Enjoy easy Air Fryer Sausage for any occasion. Your air fryer is the hands off way to cook Bratwurst, Italian sausage or any other variety.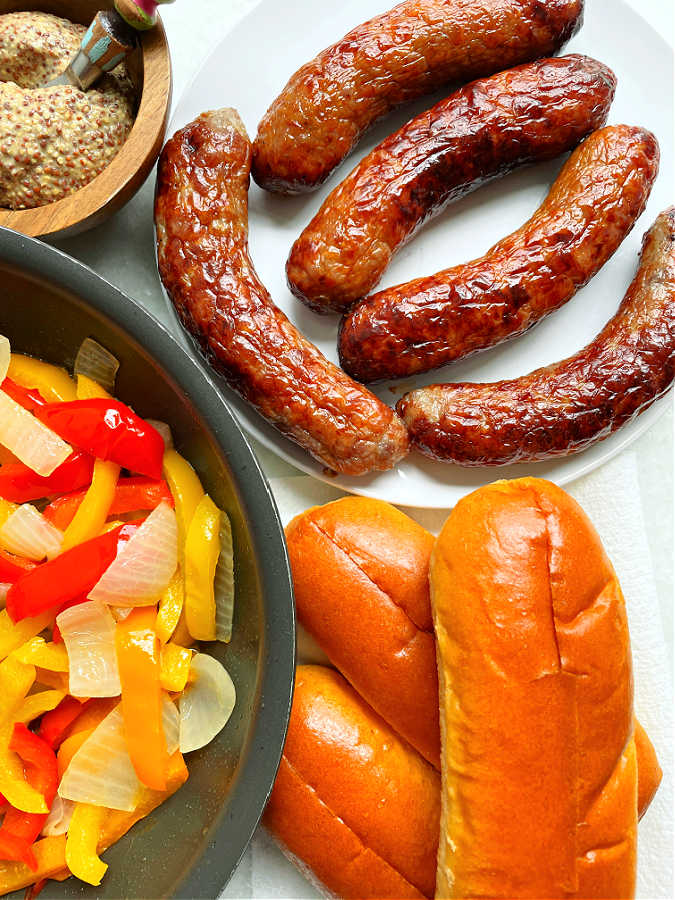 Making breakfast sausages in my air fryer is the best. So I had to cover all the rest of the types of sausage. Dinnertime is so easy when you know how to make air fryer sausages! Or you can have a picnic style meal or host a tailgate at home.
You don't have to turn on the grill for just a few sausages. I'm currently in a stage of life where I really don't grill anymore. But I'm happy to direct you to one of my favorite grilling websites if you're looking for how to grill sausage.
Instead, I have become an air fryer fanatic in recent years. When I'm dining solo especially, it's so simple to perfectly cook some protein and veggies in my air fryer basket. Be sure and check out all of my air fryer recipes in one spot HERE.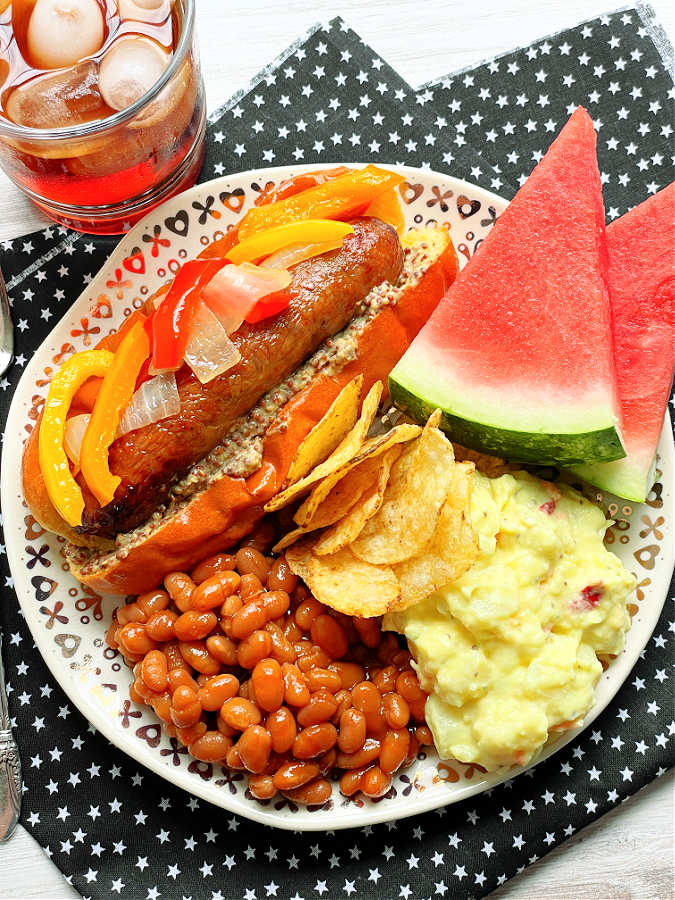 Why this recipe works
Air fryers are a one stop shop for cooking sausages – both raw and pre-cooked. The only ingredient needed for air fryer sausage is sausage! Without any added butter or oil, the air fryer makes any type of sausage juicy on the inside and perfectly browned on the outside. It eliminates the mess of splattered grease with pan or oven cooking. My basket style air fryer contains the mess instead and drains away the excess grease from the sausages. I can just toss the basket components in my dishwasher when I am finished for a simple clean-up. This is such an easy air fryer recipe with so many possibilities…
What types of sausage can you cook in the air fryer?
Literally all of them. Different brands, raw or pre-cooked, chicken sausage or turkey sausage, kielbasa, beef or pork sausage. Pictured are a few types and brands of sausages that I have tried in my air fryer. Both raw (Bratwurst and Italian sausage) and smoked sausage (precooked with cheddar cheese and Polish). All link sausages cook beautifully in your air fryer!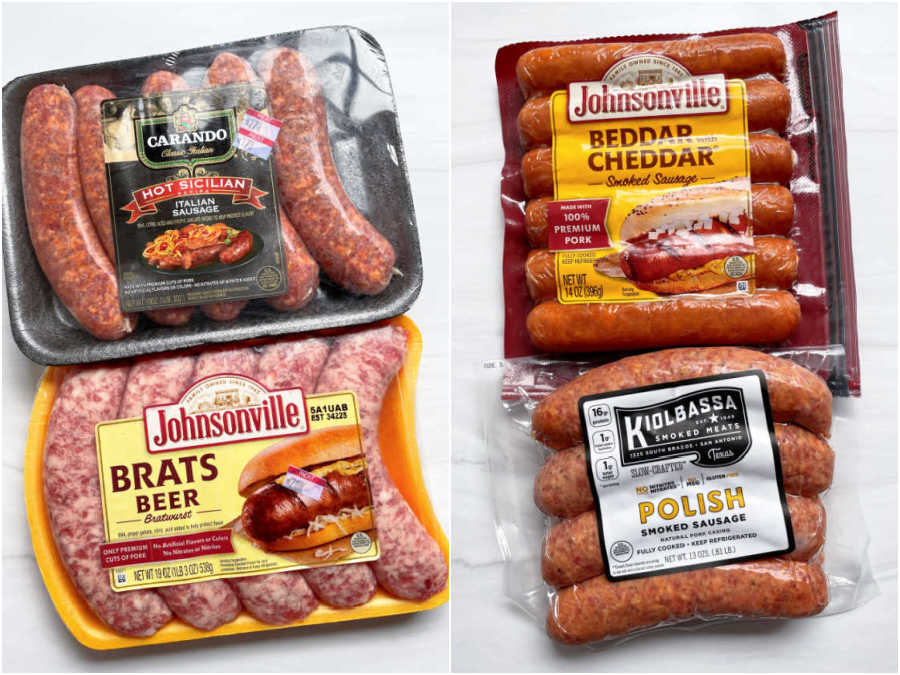 How long do raw sausages take in the air fryer?
Air fryers vary a bit, but raw sausages cook at 375 degrees F for 12 – 14 minutes. The most important thing is to make sure the internal temperature of each sausage reaches a minimum of 160 degrees F before eating. I always check the temperature with my instant read digital meat thermometer.
For raw sausages, do NOT poke any holes in them before cooking. You want to ensure the juices stay sealed inside the sausage so they stay tender. Also, to prevent smoking, place a slice of stale bread in the bottom of your air fryer basket.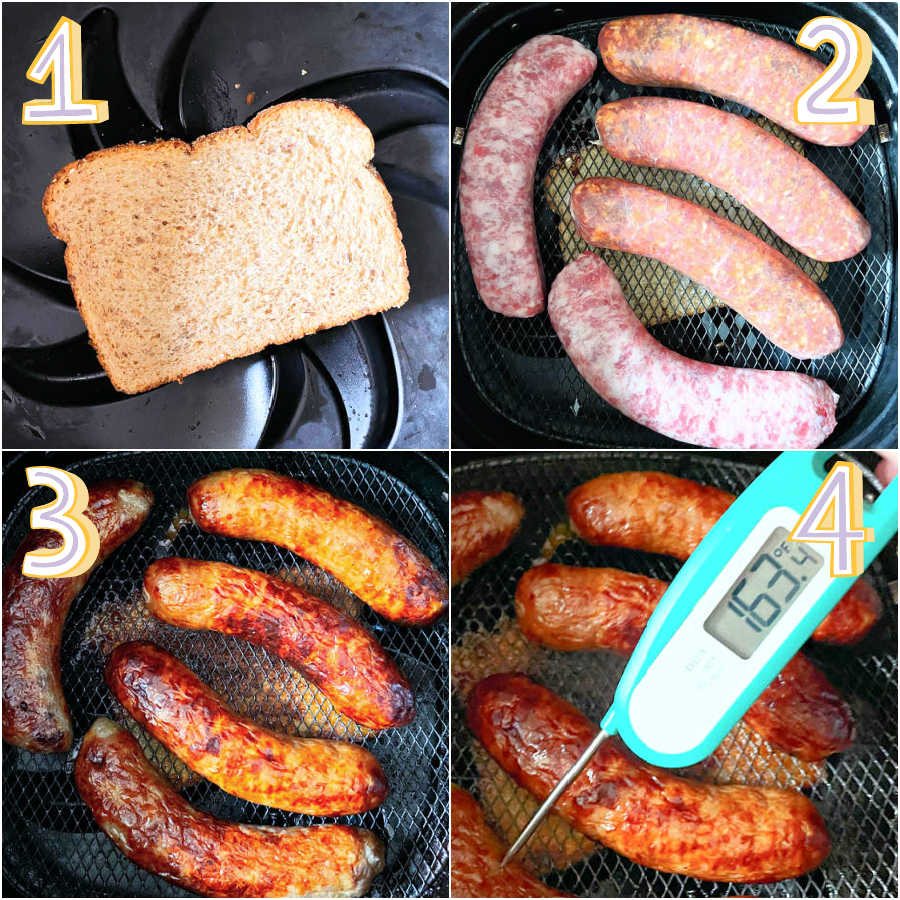 How to air fry cooked sausage
Directions are about the same as for raw sausages. Cook time for them at 375 degrees F for 10 – 12 minutes. Cook them a minute or two longer if you like a crispier, browned crust on your smoked sausage. Again, check the temperature of your sausages before consuming to make sure they reach a minimum of 160 degree F.
For smoked sausage (pre cooked) DO poke several holes in each with a fork or sharp knife, so the sausages do not explode in your air fryer basket. As illustrated in the photo.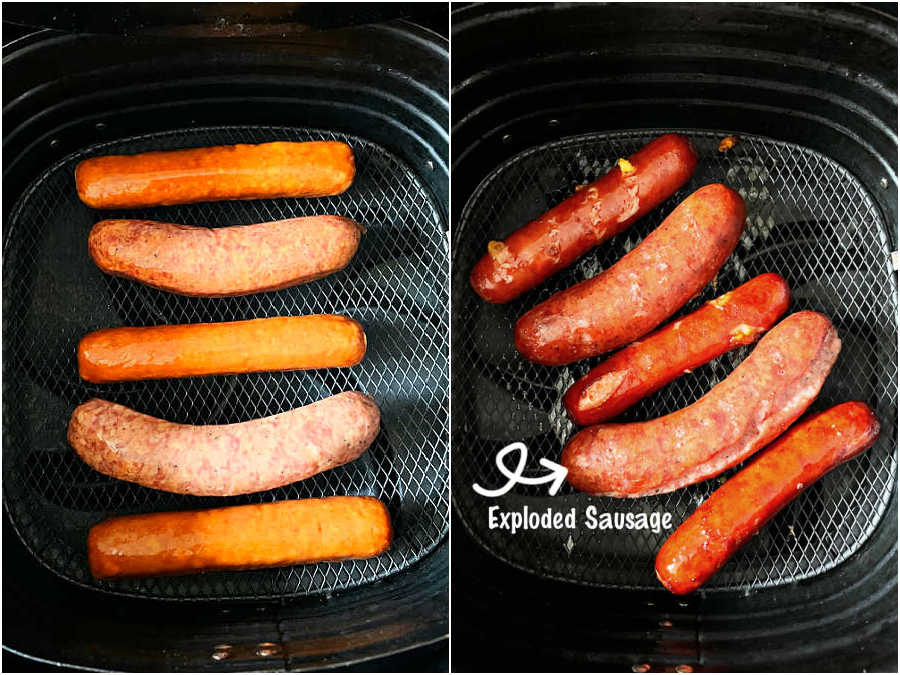 Serving Suggestions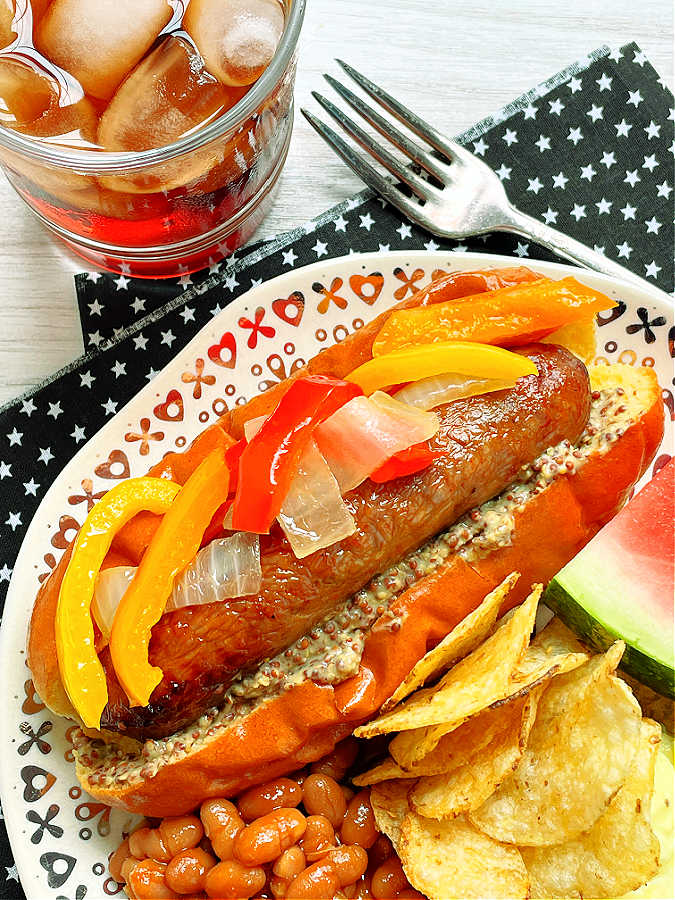 Tips for Success
This recipe works for any brand and type of sausage. However, it's best to not mix and match raw and pre-cooked sausages. Cook all raw together or all pre-cooked together.
Some air fryers, including mine, will smoke if too much grease builds up in the bottom of the basket. To prevent smoking, place a slice of stale bread in the bottom of your air fryer basket. Or place a small amount of water in the bottom.
Make sure the sausages are not touching so that they cook evenly.
Because air fryers vary, make sure to observe closely in the last few minutes so as not to overcook your sausages.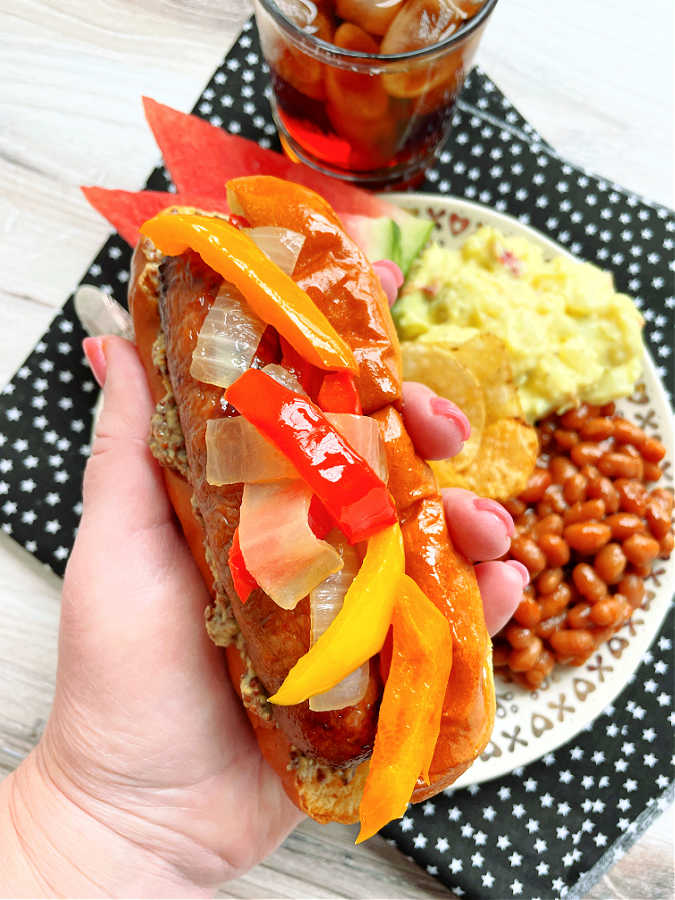 Storage Directions
Store air fried sausages in an air tight container in the refrigerator for up to three days. Or in the freezer for up to one month.
Kitchen Tools
More Air Fryer Recipes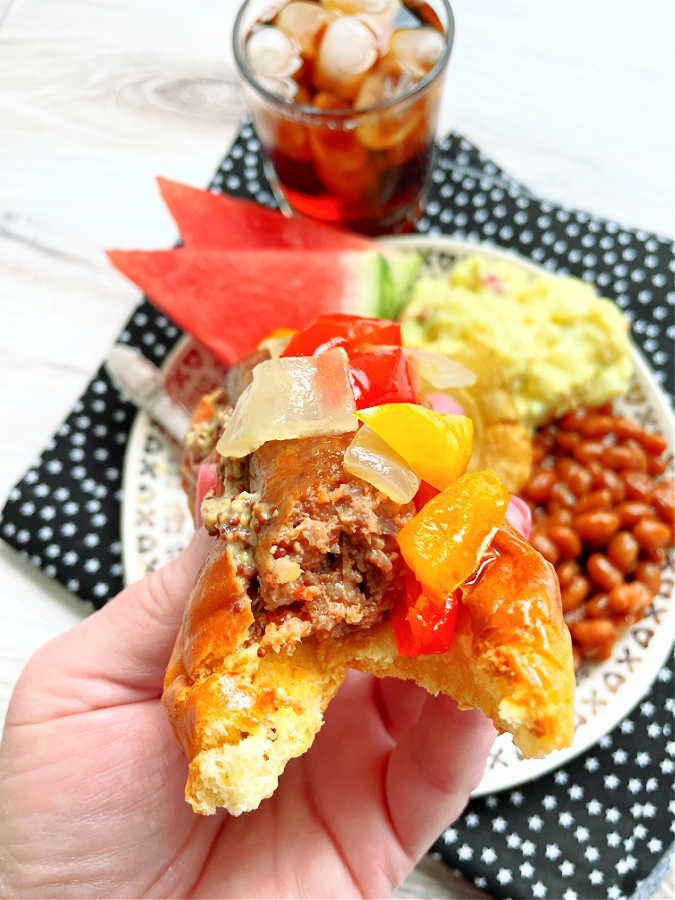 Air Fryer Sausage
Enjoy easy Air Fryer Sausage for any occasion. Your air fryer is the hands off way to cook Bratwurst, Italian sausage or any other variety.
Ingredients
5

raw

sausages

The nutritional information is based upon Johnsonville Beer Brats (raw). Nutrition will vary if you air fry different types of sausages.
Instructions
Place the sausage in a single layer (not touching) in the air fryer basket.

Cook the sausage at 375 degrees F for 12 - 14 minutes.

Flip the sausages halfway through cooking time to ensure even browning.

Check the internal temperature of the sausages. Once they reach a minimum of 160 degrees F, the sausages are safe to eat.

If air frying smoked sausages (pre-cooked) be sure to poke each one several times with fork so the sausages don't explode.

However, do NOT poke holes in raw sausages before cooking.
Nutrition
Serving:
5
g
|
Calories:
260
kcal
|
Carbohydrates:
2
g
|
Protein:
14
g
|
Fat:
21
g
|
Saturated Fat:
8
g
|
Cholesterol:
60
mg
|
Sodium:
680
mg
|
Sugar:
1
g
|
Iron:
4
mg
Foodtastic Mom is a participant in the Amazon Services LLC Associates Program (Amazon Associate), an affiliate advertising program designed to provide a means for sites to earn advertising fees by advertising and linking to Amazon.com. Any highlighted, clickable Amazon link you see is an affiliate link that I may earn advertising fees on when you click to purchase.
Thank you so much for being a faithful reader and supporter of Foodtastic Mom. Be sure to PIN to Pinterest and print this recipe!