This Kid Friendly White Chili Con Queso is a soup the whole family will love! It's like a mild queso dip (plus chicken) in soup form and topped with Goldfish Cheddar Crackers.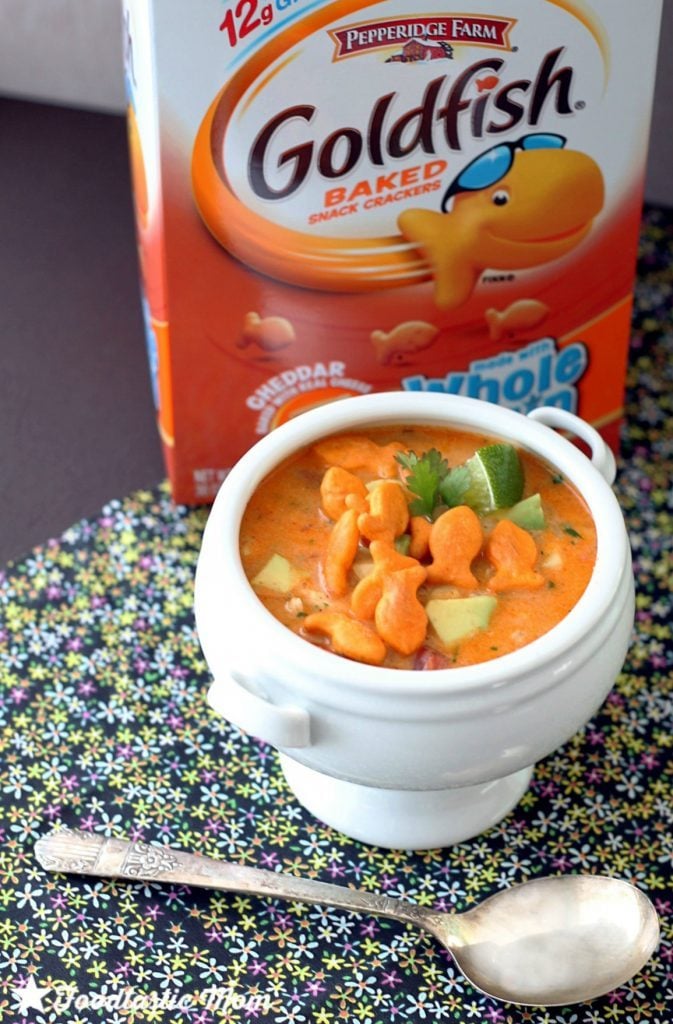 Kids. Why is it they always want to eat? I'm kidding of course, but even to me the task of keeping them well fed, day in and day out, seems daunting at times. We eat a lot of soup here because it's easy to throw together a big pot, which then can hang out in the fridge and be reheated for after school snacks (or my lunch). And Caleb has said since he was seven years old that he likes vegetables that don't crunch, and he's more likely to eat them in a soup. I like that logic.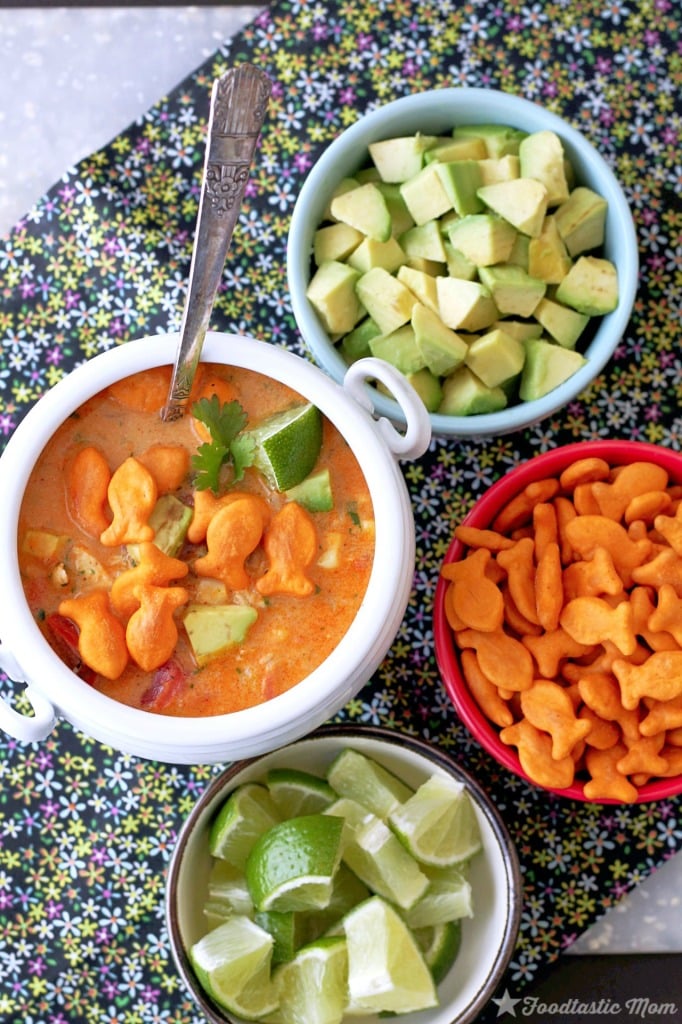 With that being said, who likes queso dip? Maybe the better question is who doesn't like queso dip? And, would your kids like a chili that tastes like queso dip for their snack or dinner? Mine sure would! A traditional queso with chips is a rare treat, but this chili is something you can feel good about feeding your family.
So this chili, it's very mildly spiced. Hannah does not like spice at all and she loved it. It's a mix of fresh onion, a little jalapeño (minus the seeds, where the heat resides), fire-roasted tomatoes, sweet corn, rice, chicken, some chili seasonings, jack and cream cheeses. From a quantity standpoint, the cheese is a relatively small part of the recipe equation, making the topper of whole grain Goldfish crackers totally not over the top.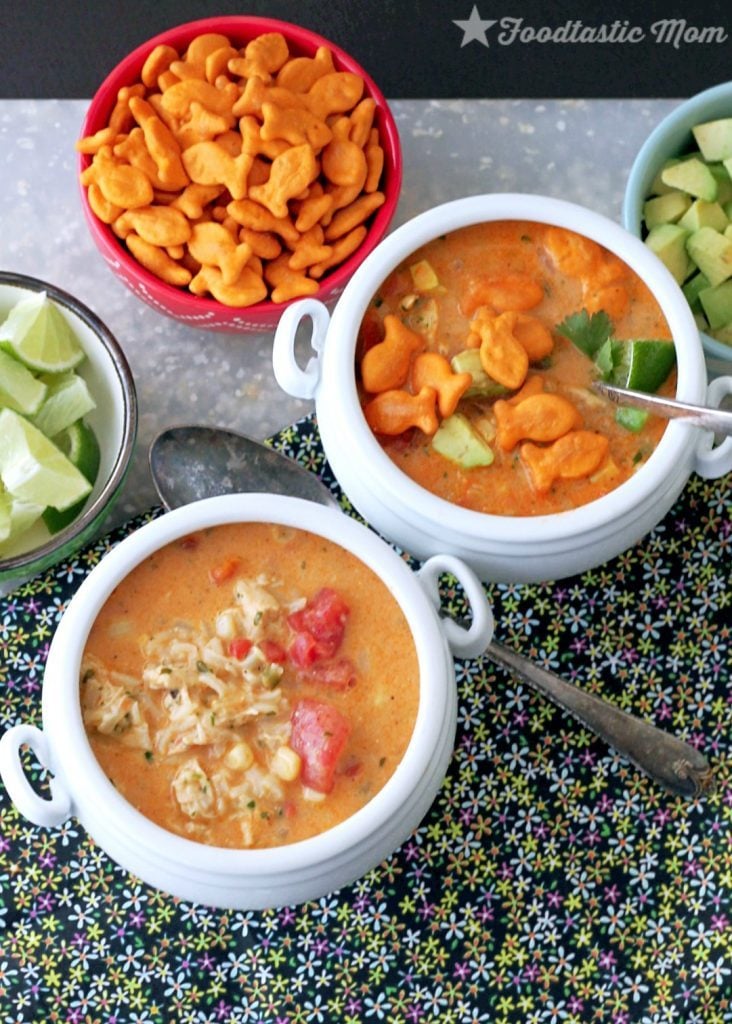 Whenever I make any type of chili, I set out several toppings to customize our bowls. How about you? When thinking about making this a truly kid friendly chili, Goldfish crackers seemed way more fun as a topper than other varieties of crackers. And the bonus is they really round-out the cheesy flavor of this Chili Con Queso!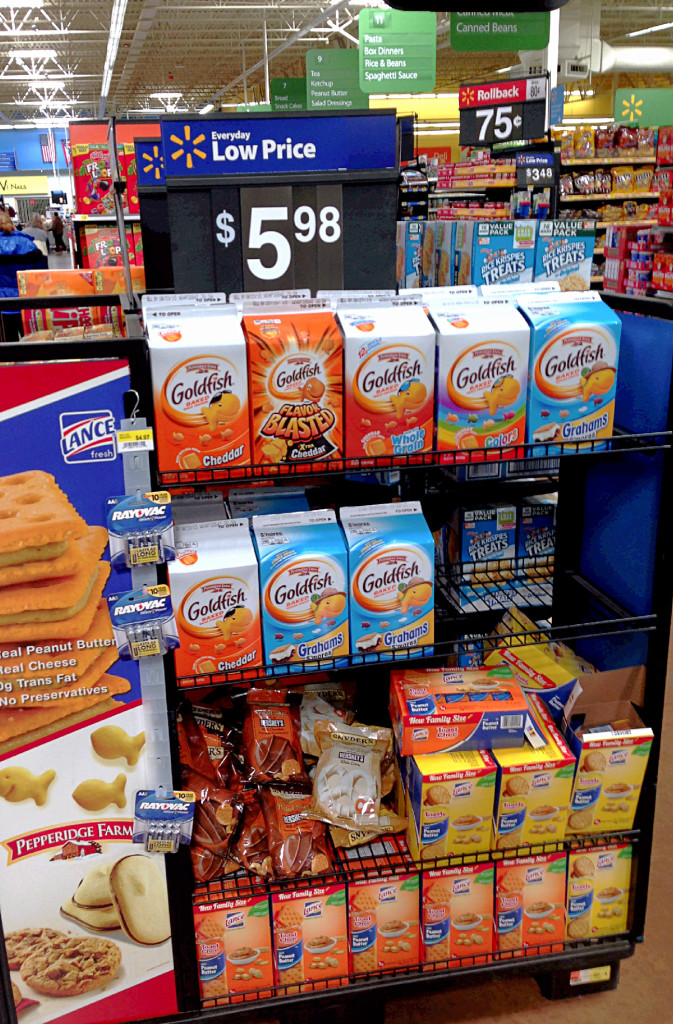 I was excited to find the large 30 oz. Goldfish cracker boxes on Rollback at our Walmart because as far as snacks go, the Goldfish crackers are a definite favorite in our household. I bought one box of whole grain cheese flavor to go with our chili and one box of the s'mores flavor because both Hannah and I are quite smitten with them. The trick with the s'mores flavor is keeping Hannah from eating all the marshmallows first. Can any of you relate?
What about kids who are seemingly always hungry? I know I can relate to that. Try this yummy chili and see if it helps.

Kid Friendly White Chili Con Queso
Ingredients
2

T.

unsalted butter

1

sweet onion

minced

2

jalapeño peppers

ribs and stems removed and minced

1

T.

chili powder

1

t.

smoked paprika

1/2

t.

cumin

1/2

t.

coriander

1

t.

salt

1

c.

rice

8

c.

chicken stock

1

28 oz. can fire-roasted diced tomatoes, drained

1

15 oz. can white sweet corn, drained

1

rotisserie chicken

meat pulled and shredded

2

c.

8 oz. Monterey Jack cheese, shredded

4

oz.

cream cheese

cubed

1/4

c.

fresh chopped cilantro
Toppings
Goldfish crackers

Diced avocado

Lime wedges
Instructions
Heat the butter over medium high heat in a large soup pot until melted.

Add the onion and jalapeño and cook until beginning to soften, about 5 minutes.

Stir in the spices (chili powder, smoked paprika, cumin and coriander) and salt.

Stir in the rice and toast for a couple of minutes.

Stir in one cup of the stock, bring to a simmer and cook for about 5 minutes.

Stir in a second cup of the stock, and keep simmering for about 10 minutes, or until the rice is cooked through.

Stir in the remaining 6 cups of stock, the drained tomatoes and corn and the shredded chicken.

Bring the soup to a simmer and allow to cook for another 10 minutes or so.

Stir in both the Monterey Jack and cream cheeses until they are completely melted into the soup.

Stir in the fresh cilantro.

Taste the soup and add more salt if necessary.

Serve the chili topped with Goldfish crackers, fresh avocado and lime.