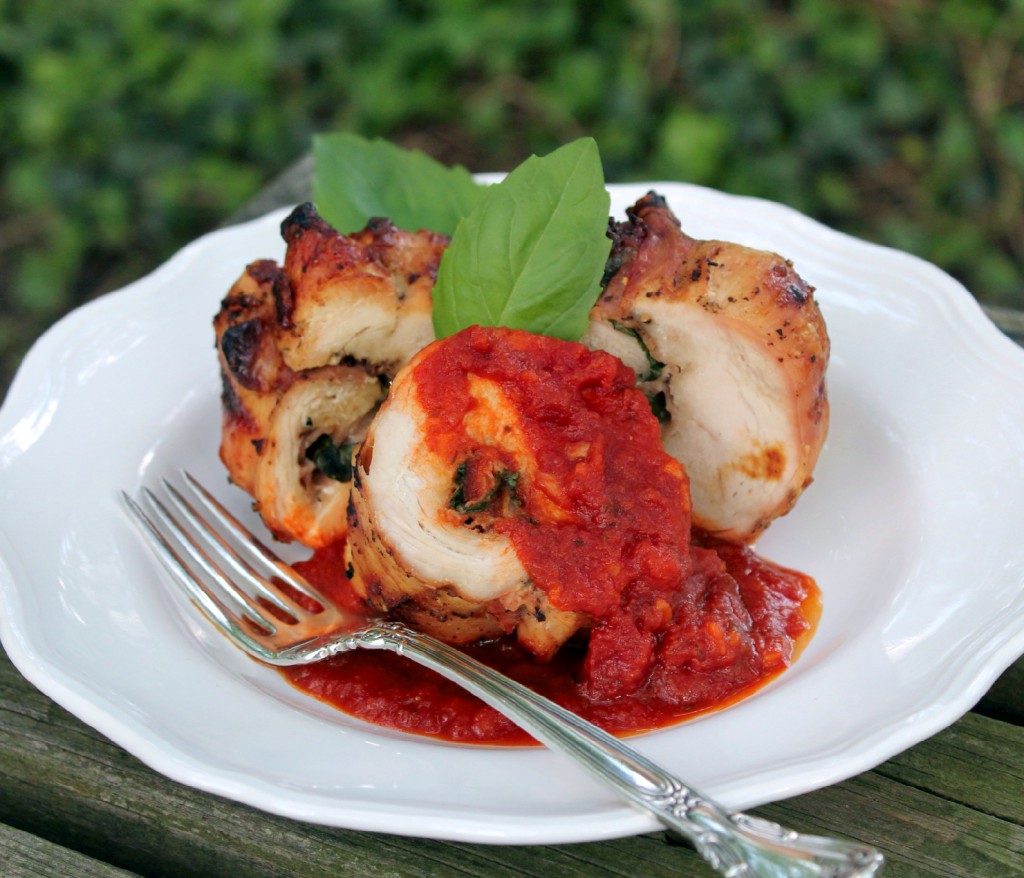 I had a pretty great weekend. Friday evening I scheduled a massage for myself. Saturday was spent at a fabulous food photography workshop (led by local photographer Gina Weathersby) during the day and a party with friends in the evening. And Sunday concluded with dinner prepared from start to finish by my husband… I was impressed with his results, and I'm not the easiest critic.
Tom had purchased Weber's Way to Grill cookbook when we bought our new grill and was eager to make something. In addition to these beautiful grilled chicken roll-ups, he made loaded baked potatoes, Caesar salad and chocolate lava cakes with vanilla ice cream and fresh raspberries. I suppose he's a keeper, as is this recipe!
Grilled Italian Chicken Roll-Ups
Ingredients
4

boneless

skinless chicken breast halves, about 8 oz. each, tenderloins removed

1

t.

kosher salt

1

t.

garlic powder

1/2

t.

fresh ground black pepper

4

very thin slices prosciutto

4

thin slices provolone cheese

halved

8

large basil leaves

Extra virgin olive oil

2

c.

good-quality pasta sauce
Instructions
Prepare your grill for direct cooking over medium heat.

For each piece of chicken, use about 12 inches of plastic wrap. Place chicken, smooth side down, to one side of plastic, about 2 inches from edge. Fold remaining plastic over the chicken leaving an inch or so from the folded edge. Starting from thick side, gently pound chicken with a heavy skillet to about 1/4 inch thickness.

Season each pounded piece of chicken evenly on both sides with the salt, garlic powder and pepper.

Lay one slice prosciutto on each piece of chicken. Top with 2 halves of provolone and 2 basil leaves. Carefully roll up the chicken, keeping it snug as you work. Tie each roll with 2 pieces of butcher's twine. Lightly brush each roll with extra virgin olive oil.

Brush cooking grates clean. Grill the chicken over direct medium heat, with lid closed as much as possible. Grill for about 12 minutes, turning each roll one quarter turn every three minutes so all sides get golden. Remove chicken from grill and let rest for 3-5 minutes before removing twine to serve.

While chicken is grilling, warm the pasta sauce in a small sauce pan over medium-high heat.

Cut each chicken roll-up in half and serve on pools of the warm pasta sauce.
Notes
Tom got free twine by asking for it at the butcher counter of our local Kroger.
Chicken must be 165 degrees, internal temperature, to be safe to eat. Always check with a meat thermometer.
Adapted from Chicken Involtini from Weber's Way to Grill