Grilled Lemon Chicken Alfredo takes help from the grill for both the chicken and the fresh lemon used in the Alfredo sauce for a fresh and bright twist on a classic.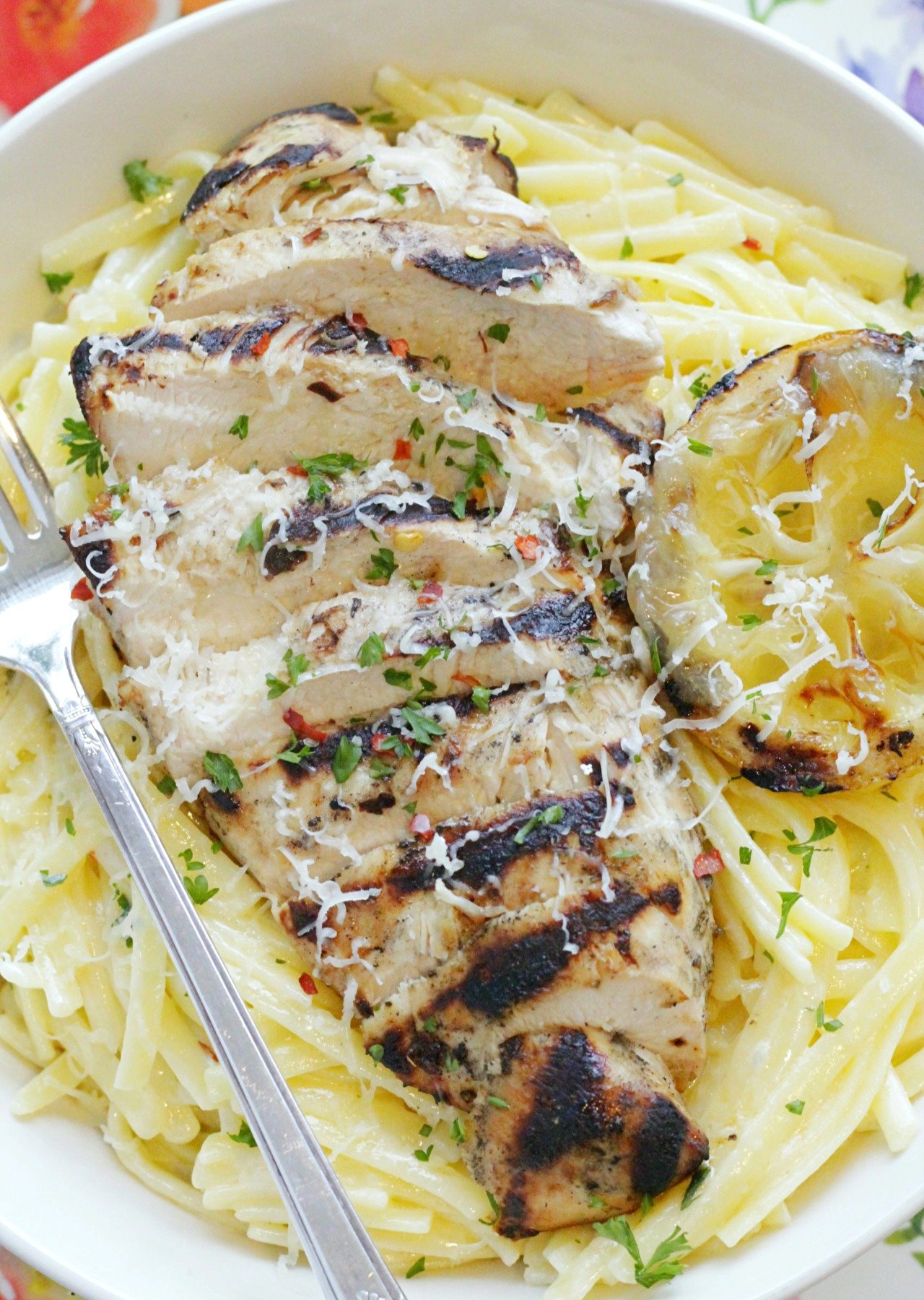 Have you ever tried a grilled lemon? My neighbor turned me on to them last year and I am hooked. So when I ran across this recipe using a grilled lemon as part of a lemony Alfredo sauce I knew I needed to use it for inspiration. I dare say that now I've made this Grilled Lemon Chicken Alfredo I may never go back to just plain old Chicken Alfredo ever again.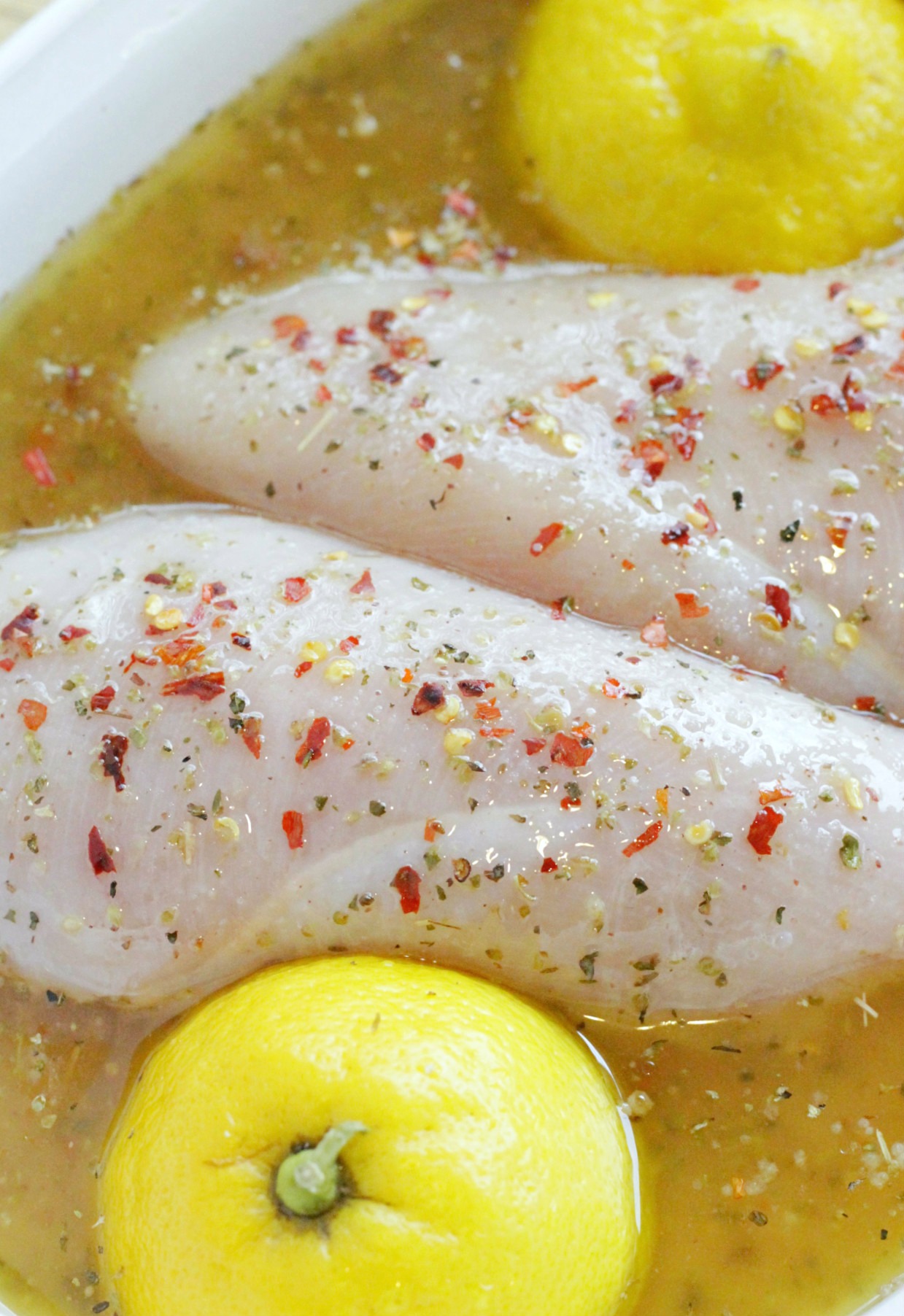 There's something about the lemon cutting through the richness of the butter, cream and cheese that just works. Bright citrus always work well with heavy, fatty flavors. And grilling the lemon before using the juice just makes it even better. If you've never tried a grilled lemon taste it first before adding it to your sauce. You will be amazed by the flavor the grill gives – deepening and sweetening the tart lemon enough so that you can actually taste it without risking a pucker.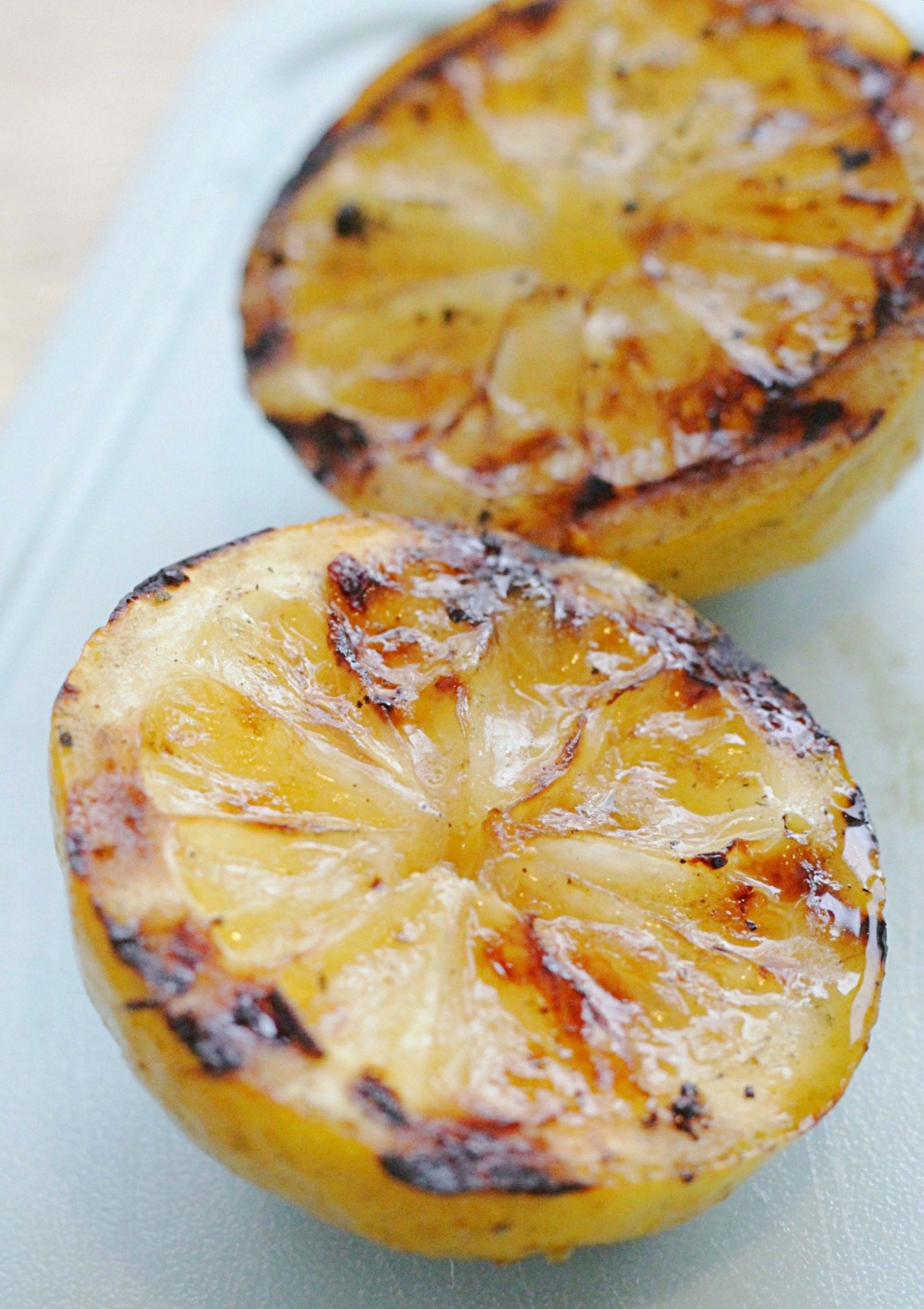 I'm telling you, add this to your meal plan right now. A lemony pasta dish topped with grilled chicken is such a good meal to welcome Spring with. Can warmer weather still inspire comfort foods? If so I think I've found my new comfort food in this dish.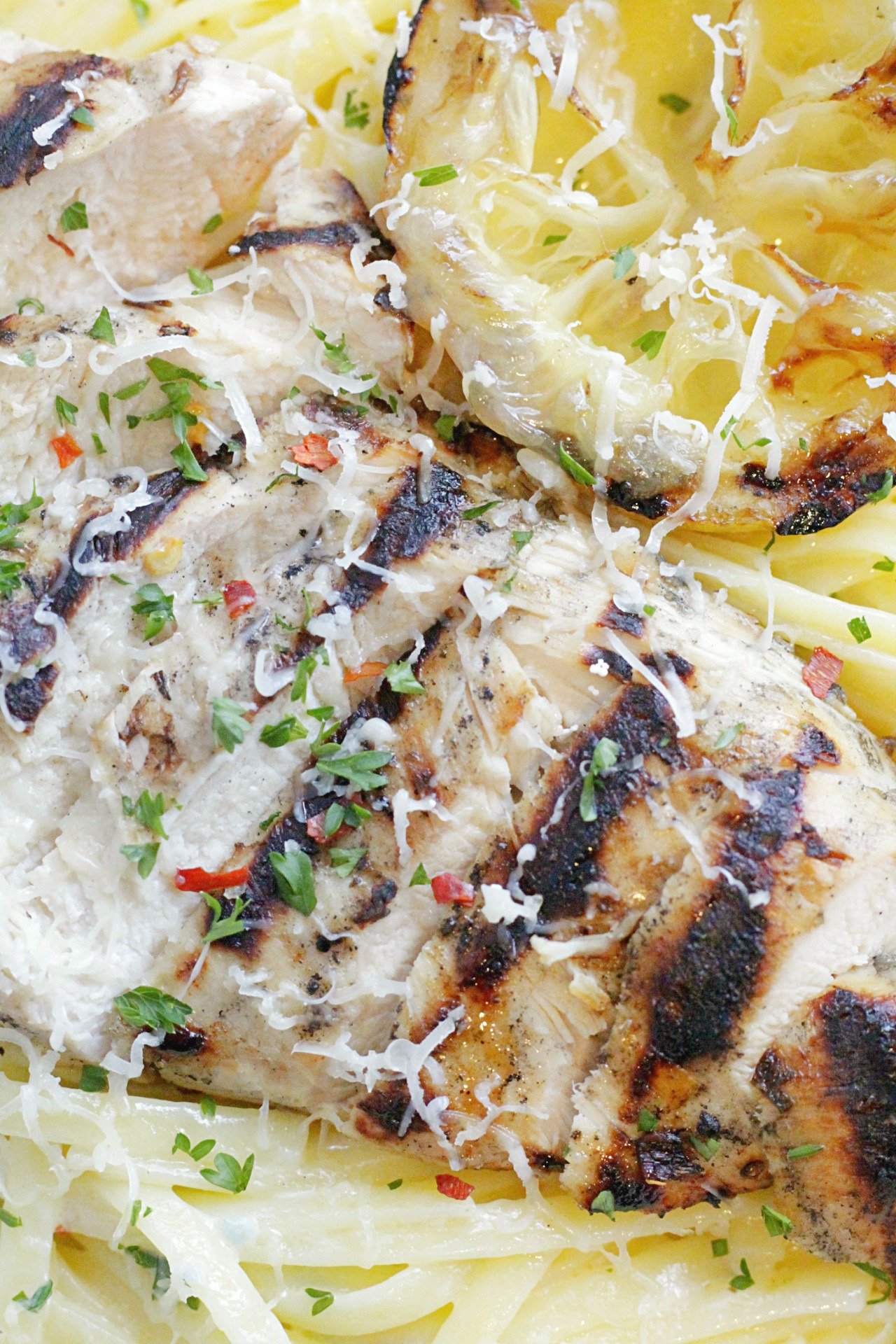 Tips for Grilled Lemon Chicken Alfredo:
Get the chicken marinating before prepping the other ingredients – shredding cheese, mincing garlic, warming the pasta water, chopping parsley
Use a wedge of Parmesan and freshly grate it for the best flavor
I use a microplane grater like THIS ONE to grate hard cheeses like Parmesan
Grill the chicken to an internal temperature of 165 degrees F
I use THIS instant read digital thermometer to make sure my meat is safe to remove from the grill
Foodtastic Mom is a participant in the Amazon Services LLC Associates Program, an affiliate advertising program designed to provide a means for sites to earn advertising fees by advertising and linking to Amazon.com. Any highlighted, clickable Amazon link you see is an affiliate link that I may earn advertising fees on.
Thank you so much for being a faithful reader and supporter of Foodtastic Mom. Be sure to PIN and print this recipe!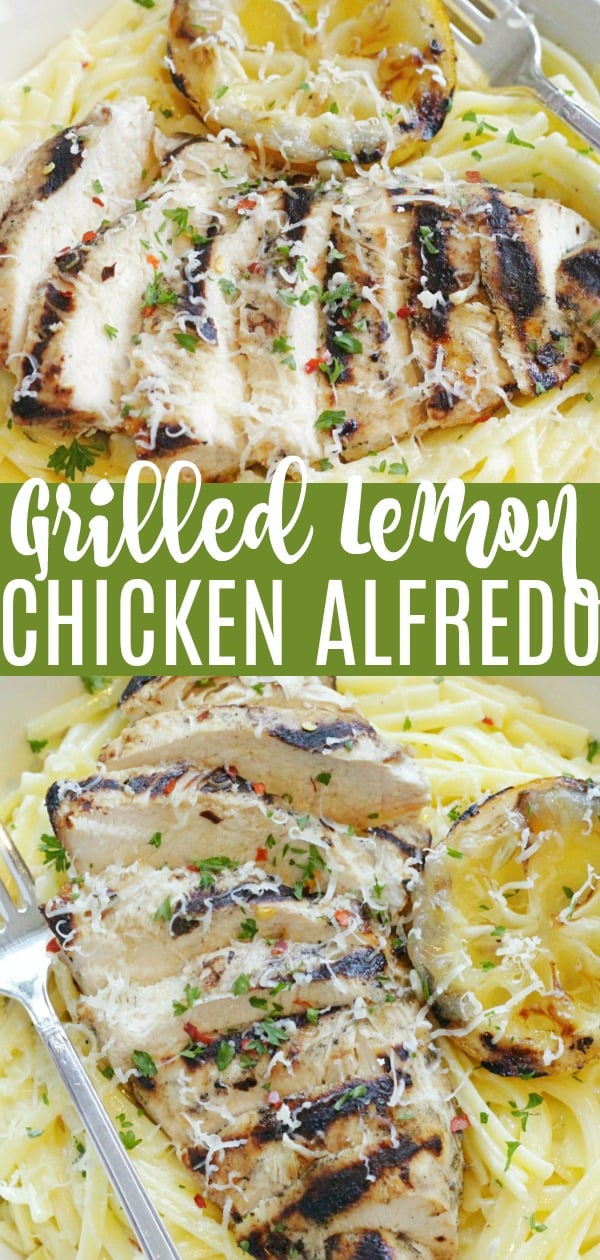 Grilled Lemon Chicken Alfredo
Grilled Lemon Chicken Alfredo takes help from the grill for both the chicken and the fresh lemon used in the Alfredo sauce for a fresh and bright twist on a classic.
Ingredients
4

boneless, skinless chicken breasts

1/3

cup

extra virgin olive oil

1/4

cup

lemon juice

2

tbsp

red wine vinegar

1 1/2

tsp

salt

1

tsp

sugar

1

tsp

garlic powder

1

tsp

oregano

1

tsp

red pepper flakes

1

large

lemon

cut in half

12

oz

fettuccini pasta

4

tbsp

unsalted butter

1

clove

garlic

minced

3/4

cup

whipping cream

1

cup

Parmesan cheese

grated and divided

1/2

tsp

salt

1/2

tsp

red pepper flakes

2

tbsp

fresh parsley

chopped
Instructions
Heat a grill on high. Keep one side on high and then set the other side to low heat. Scrape the grates clean if necessary.

Whisk together the olive oil, lemon juice, red wine vinegar, 1 1/2 tsp salt, sugar, garlic powder, oregano and 1 tsp red pepper flakes. Add the chicken breasts and the lemon (cut side down) to the marinade and allow to marinate for at least 20 minutes, turning the chicken a few times to coat.

Grill the chicken starting on the hot side of the grill for about 5 minutes. Flip and continue to cook on the low heat side of the grill until the internal temperature reaches 165 degrees F. Remove the chicken to a plate and tent with foil until ready to slice and serve.

Place the lemon halves on the hot side of the grill, cut side down, and grill for about 5 minutes. Remove the lemon halves from the grill and set on a plate, cut side up, until ready to use.

Cook the pasta according to package directions. While pasta is cooking heat a large sauce pan over medium heat and melt the butter. Add the clove of garlic and cook for about one minute until fragrant.

Squeeze the juice from the grilled lemons into the butter and garlic mixture.

Stir in the cream and cook until simmering. Stir about 3/4 cup of the Parmesan cheese, salt and red pepper flakes into the lemon cream. Stir until cheese is melted and turn heat to low.

Drain the pasta except for about 1/2 cup of the pasta cooking water. Stir the reserved pasta water into the Alfredo sauce and add the pasta to the pan, tossing to coat the pasta with the Alfredo sauce.

Transfer the grilled lemon Alfredo pasta to a large serving bowl and top with the remaining 1/4 cup of Parmesan cheese and chopped parsley.

Slice the grilled chicken and place on top of the pasta to serve.
Nutrition
More pasta recipes: