Chicken Marsala Casserole is in the oven baking in less than 30 minutes, making it a terrific family dinner option that tastes like a fancy restaurant meal.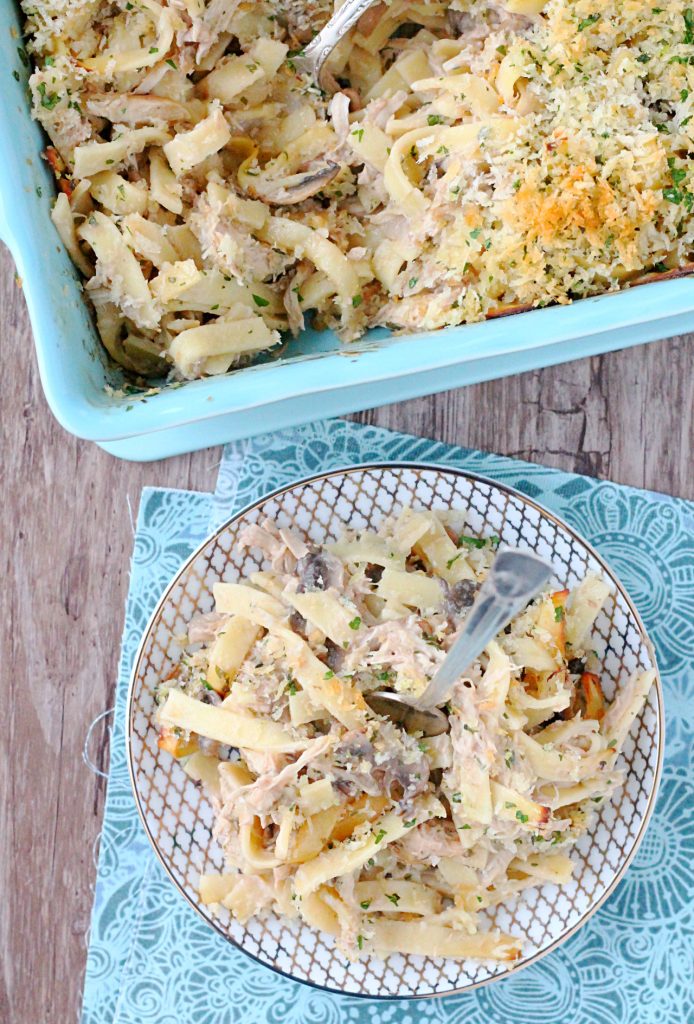 Apparently chicken marsala is a popular dish because it was in the Top 10 most searched recipes on Google for 2016. I know I enjoy the dish and used to order it at our favorite local Italian restaurant (which has since closed – sad face).
I decided to take the flavors of a classic chicken marsala and turn it into a family-pleasing casserole that uses help from a store-bought rotisserie chicken for convenience. I am a huge fan of the rotisserie chicken. I use it a lot in recipes like THIS and THIS.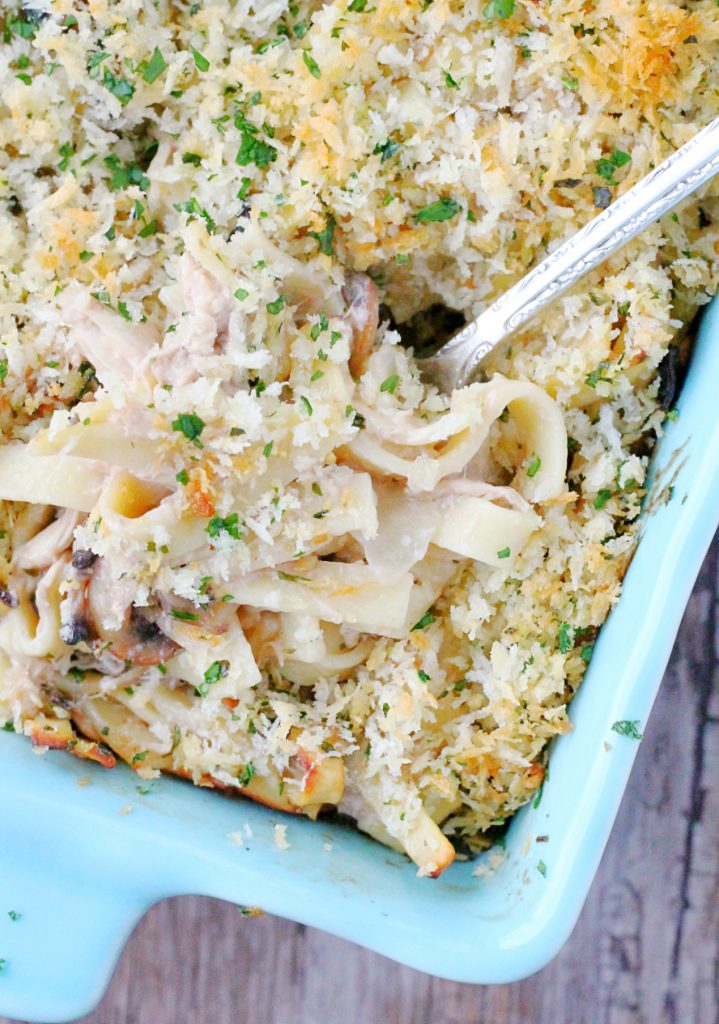 While I'm quite confident in my cooking and recipe creating abilities there's no way I could have been a chef. For one thing I'm just not that bad-ass. I'm an introvert who enjoys my couch and fuzzy blanket. But for another I get squeamish around raw chicken. Beef and pork don't bother me so much. But with chicken my gag reflex is kinda strong when I'm trimming them for cooking. Am I just weird? Can anyone else relate?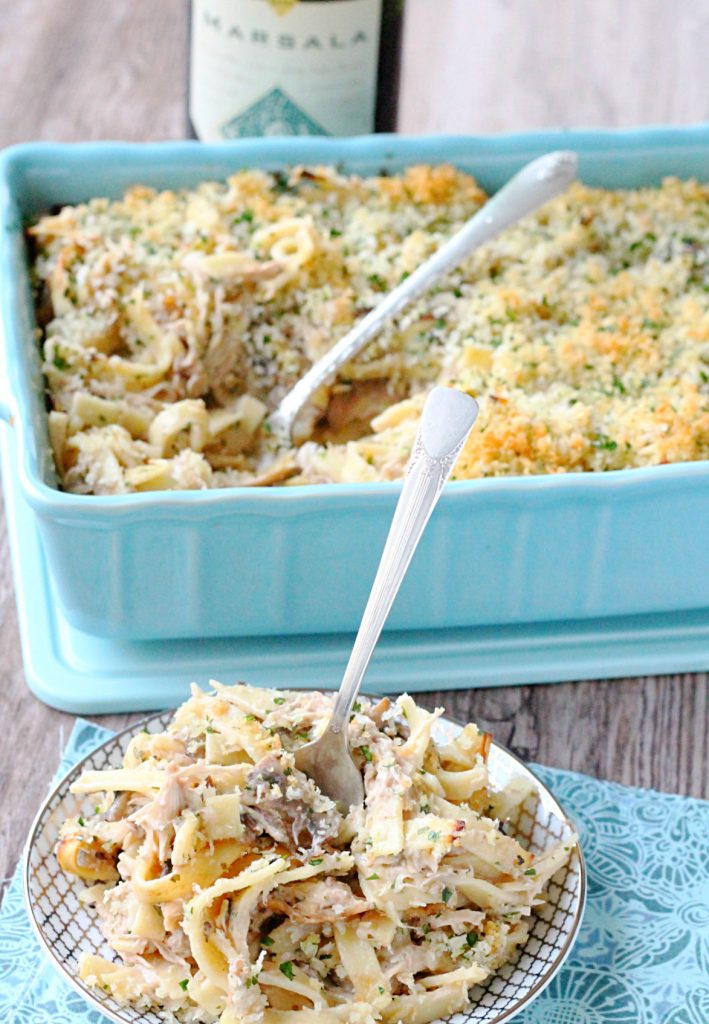 There is nothing to be squeamish about with this recipe though. Onions and mushrooms are browned in butter and olive oil. Cooked chicken is stirred in followed by a healthy amount of Marsala wine (the alcohol cooks out). I thickened the mixture with a bit of cornstarch and then stirred it into egg noodles that had been cooked in chicken broth. Sour cream gives it an extra creamy texture and it's topped with buttered bread crumbs and fresh parsley. Sounds good, right? You've gotta try it!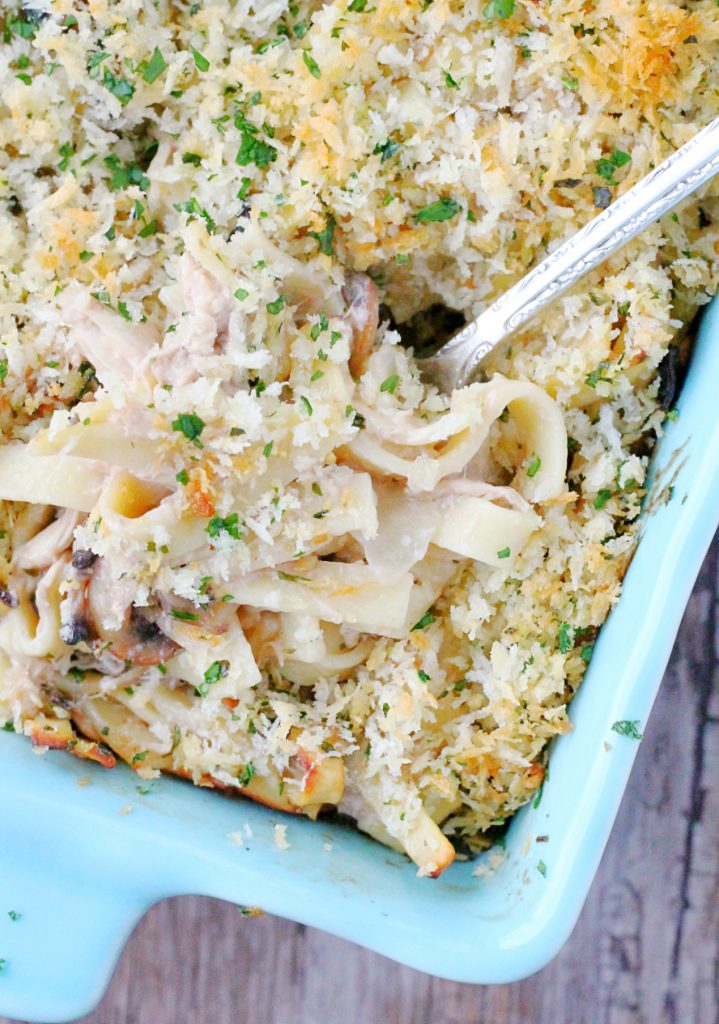 Chicken Marsala Casserole
2017-02-20 17:17:29
Ingredients
4 cups (8 ounces) egg noodles
4 cups chicken stock
2 cups water
2 tablespoons olive oil
3 tablespoons butter, divided
1 sweet onion, chopped
16 ounces button mushrooms, stemmed and chopped
meat from one rotisserie chicken, shredded
1 cup Marsala wine
1 teaspoon salt
1/2 teaspoon black pepper
1 tablespoon cornstarch
1 tablespoon water
1/3 cup sour cream
1/3 cup Panko bread crumbs
1/4 cup parsley, chopped
Instructions
Preheat oven to 375 degrees.
Butter a casserole dish and set aside.
Bring the chicken stock and water to a boil. Reduce to simmer, add egg noodles, and cook according to package directions until tender. Drain most of liquid (leave about 1/2 cup in with the noodles). Cover and set aside.
In a large, non-stick skillet over medium-high heat, add the olive oil and 2 tablespoons of butter to melt.
Add the onions and mushrooms and cook until browned, about 8-10 minutes. Add the chicken, salt and pepper and stir to combine.
Add the Marsala wine and allow to simmer for 5 minutes.
Whisk together the cornstarch and water and stir into the chicken Marsala mixture.
Add the chicken Marsala mixture to the cooked noodles.
Add the sour cream and stir until completely combined.
Spread the casserole evenly into the dish.
Microwave the remaining tablespoon of butter.
Stir the melted butter into the Panko bread crumbs. Add the parsley and stir to combine.
Top the casserole with bread crumb mixture.
Bake the casserole for 20 minutes.
Serve immediately.
Foodtastic Mom https://www.foodtasticmom.com/