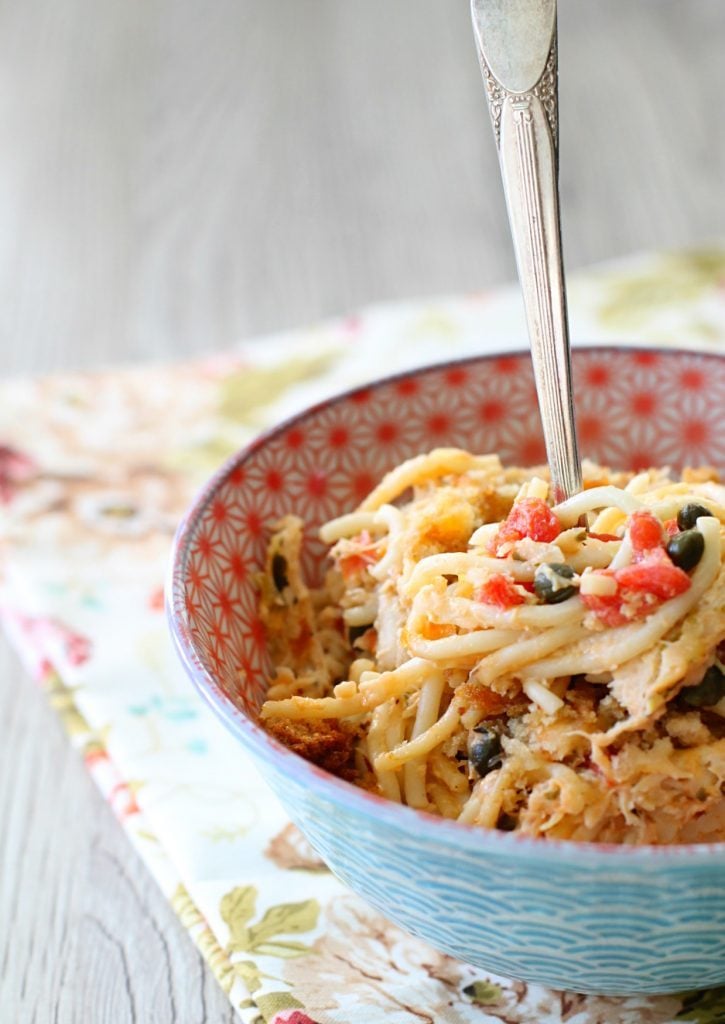 I made a lot of delicious food over the holiday break that I plan to share with you and I am excited about it! This recipe was something I came up with on the fly because I had a craving for capers. My whole family loves olives so capers aren't a stretch for them to enjoy. This casserole brings the classic flavors of chicken piccata into a family friendly dinner that can easily be served on a busy weeknight.
I've made this casserole twice now and I am sharing the recipe for the second version. The first time I made it, I completely indulged with a sauce of butter, heavy cream and white wine. Last night for dinner I dialed it back with chicken broth (in place of wine) and whipped cream cheese (in place of heavy cream) and it was still just as comforting and satisfying.
All four of us enjoyed this Chicken Piccata Casserole that is simple and quick to make. The best part, I think, of pasta and casserole dishes are they provide leftovers for work lunches or even after school snacks.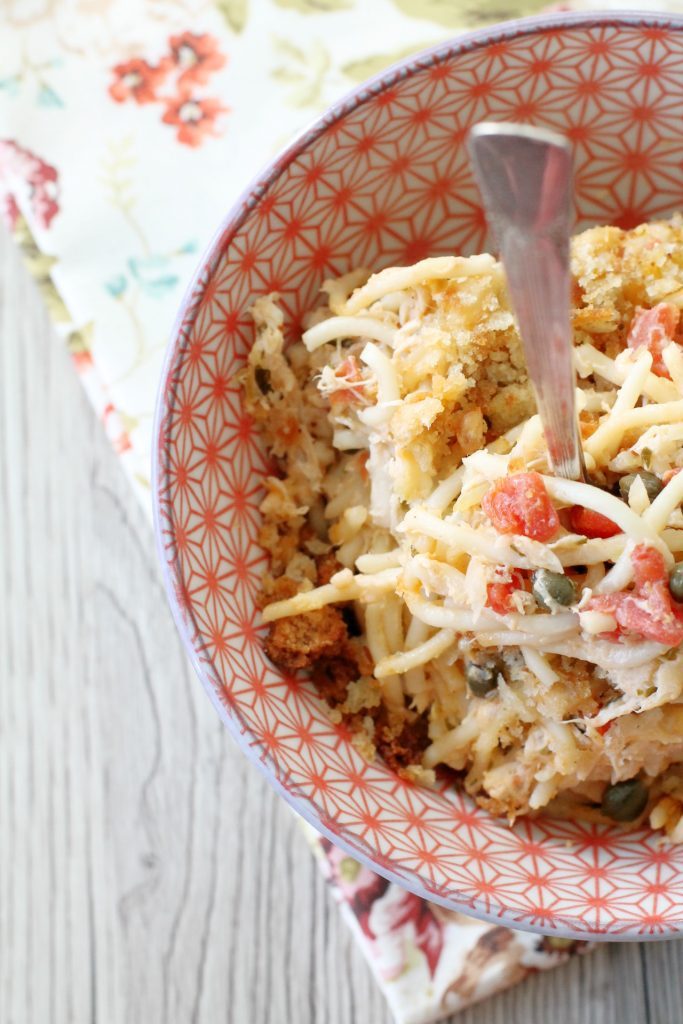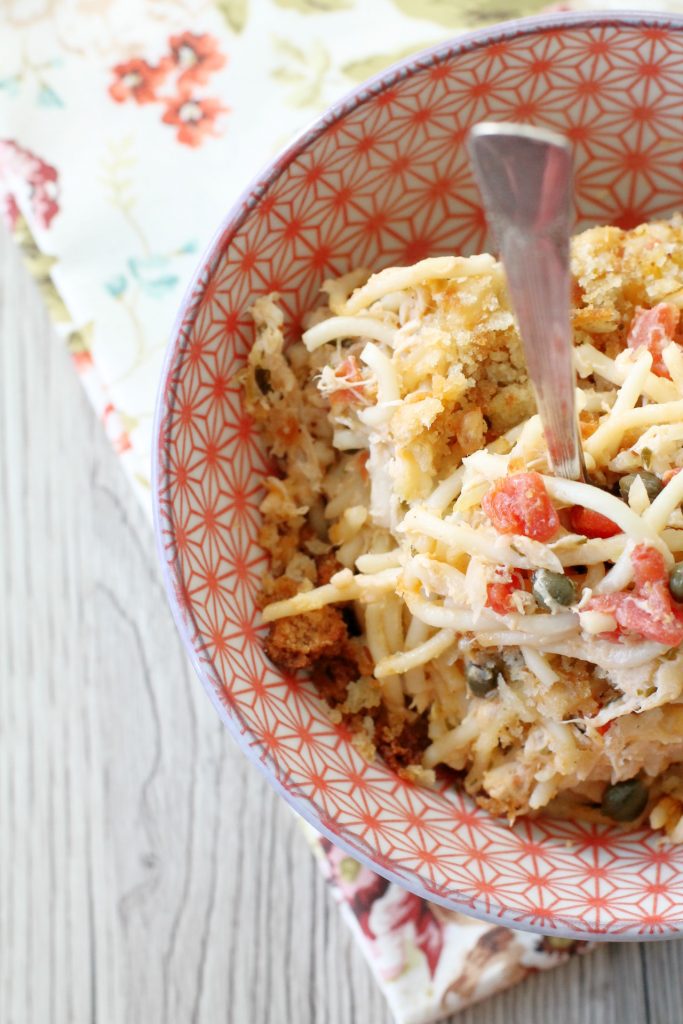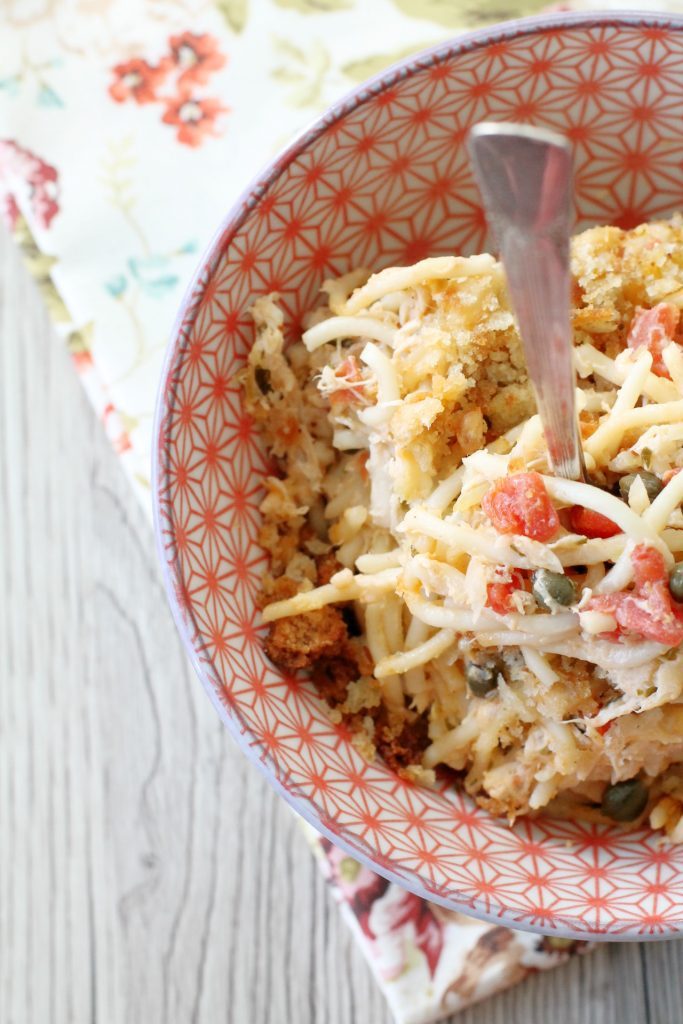 Chicken Piccata Casserole
2016-01-06 09:05:47
Serves 8
Ingredients
1 box (12 oz.) spaghetti ( I used Barilla White Fiber pasta)
4 T. unsalted butter, divided
1 medium zucchini, peeled and shredded
1 sweet onion, peeled and shredded or minced
1 rotisserie chicken, white and dark meat skinned and shredded
juice of 1/2 lemon
1 (14 oz.) can chicken broth
1/2 c. fresh chopped parsley
1 can (14 oz.) petit cut diced tomatoes, drained
1 jar capers, drained and rinsed
1 t. garlic powder
1 t. salt
1 t. black pepper
4 oz. whipped cream cheese
1 c. fresh grated Parmesan cheese, divided
3/4 c. dry stuffing mix (or crushed croutons)
Instructions
Preheat oven to 400 degrees and spray a 9x13 casserole dish with cooking spray.
Heat 2 tablespoons of the butter over medium high heat in a stock pot. Add the zucchini and onion and cook until liquid is evaporated and vegetables are just starting to brown, stirring occasionally.
Add the chicken, lemon juice, chicken broth, parsley, tomatoes, capers, garlic powder, salt and pepper. Stir to combine and cook for about 5 minutes until simmering. Stir in the cream cheese and continue to simmer until melted into the mixture.
Meanwhile, boil water and cook the pasta according to package directions. Once pasta is done, add about 1 ladle of the pasta water to the chicken piccata mixture simmering on the stove. Drain the pasta and add the pasta and 1/2 cup of the Parmesan cheese to the chicken and caper mixture. Stir well to combine and allow to simmer for about 5 more minutes.
Melt the remaining 2 tablespoons of butter and toss it with the stuffing mix (or croutons).
Pour the pasta mixture into the prepared baking dish.
Top with the remaining 1/2 cup of Parmesan cheese and the butter coated stuffing mix.
Bake for about 20 minutes until casserole is nice and bubbly and top is beginning to brown.
Foodtastic Mom https://www.foodtasticmom.com/