Perfect for the winter months this Creamy Chicken Cacciatore Stew will wrap you in a warm blanket of flavor and nourishment after a long day's work.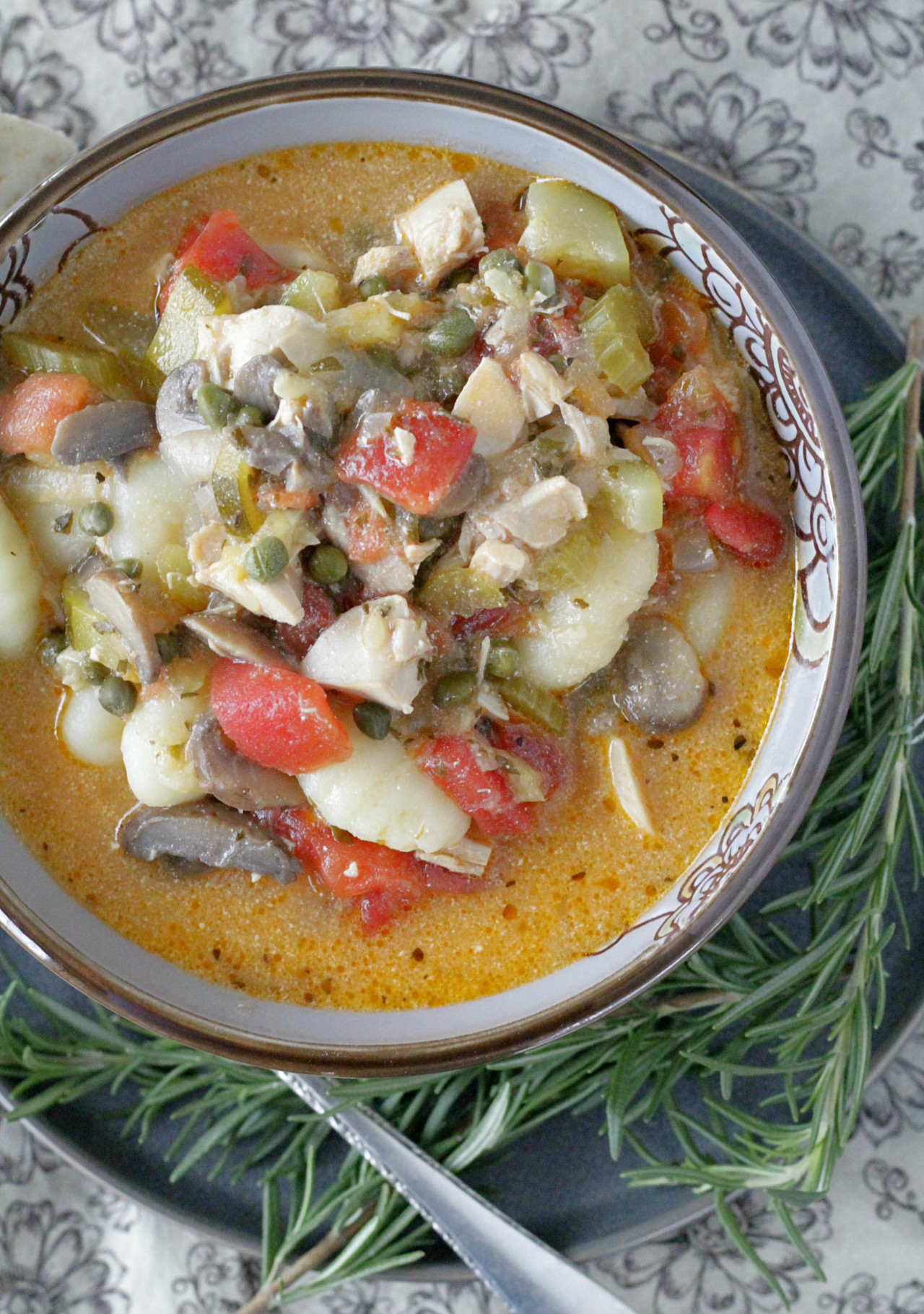 Cacciatore means hunter in Italian. Maybe you already knew that. I didn't. I've not made a traditional cacciatore dish before but I tend not to be too traditional around here so I decided to turn my first effort into a creamy stew.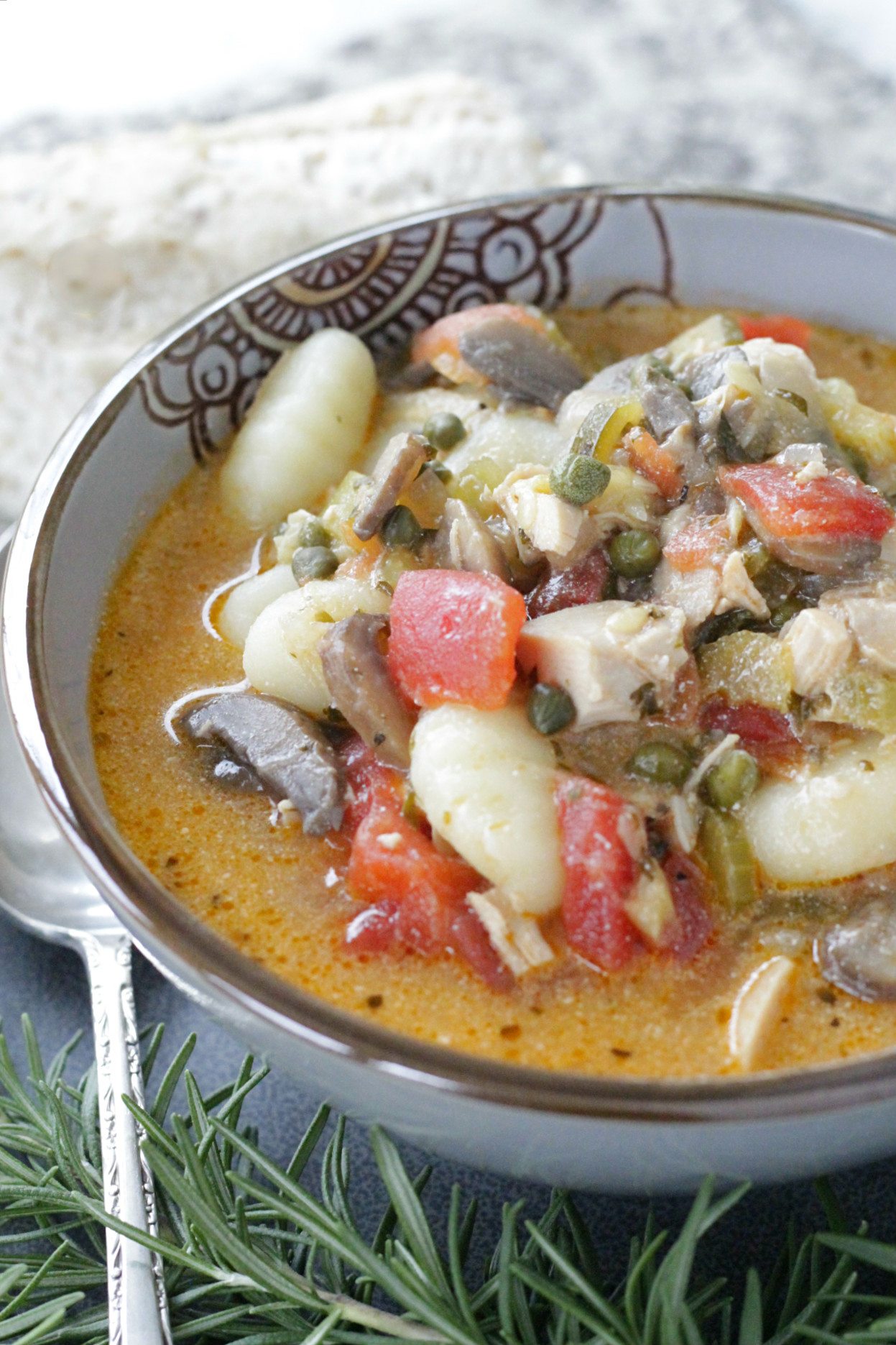 I'm a fickle mushroom eater. I can eat them but they need to be well-browned. So my stew starts with a lengthy sautee of fresh mushrooms in some butter. From there it's layers upon layers of flavor. Vegetables, diced tomatoes with Italian flavors, capers, rotisserie chicken and gnocchi. It's the potato gnocchi that made me decide to make this a creamy stew by stirring in some sour cream at the end. It's just one more layer of flavor and texture and it really adds to the finished dish.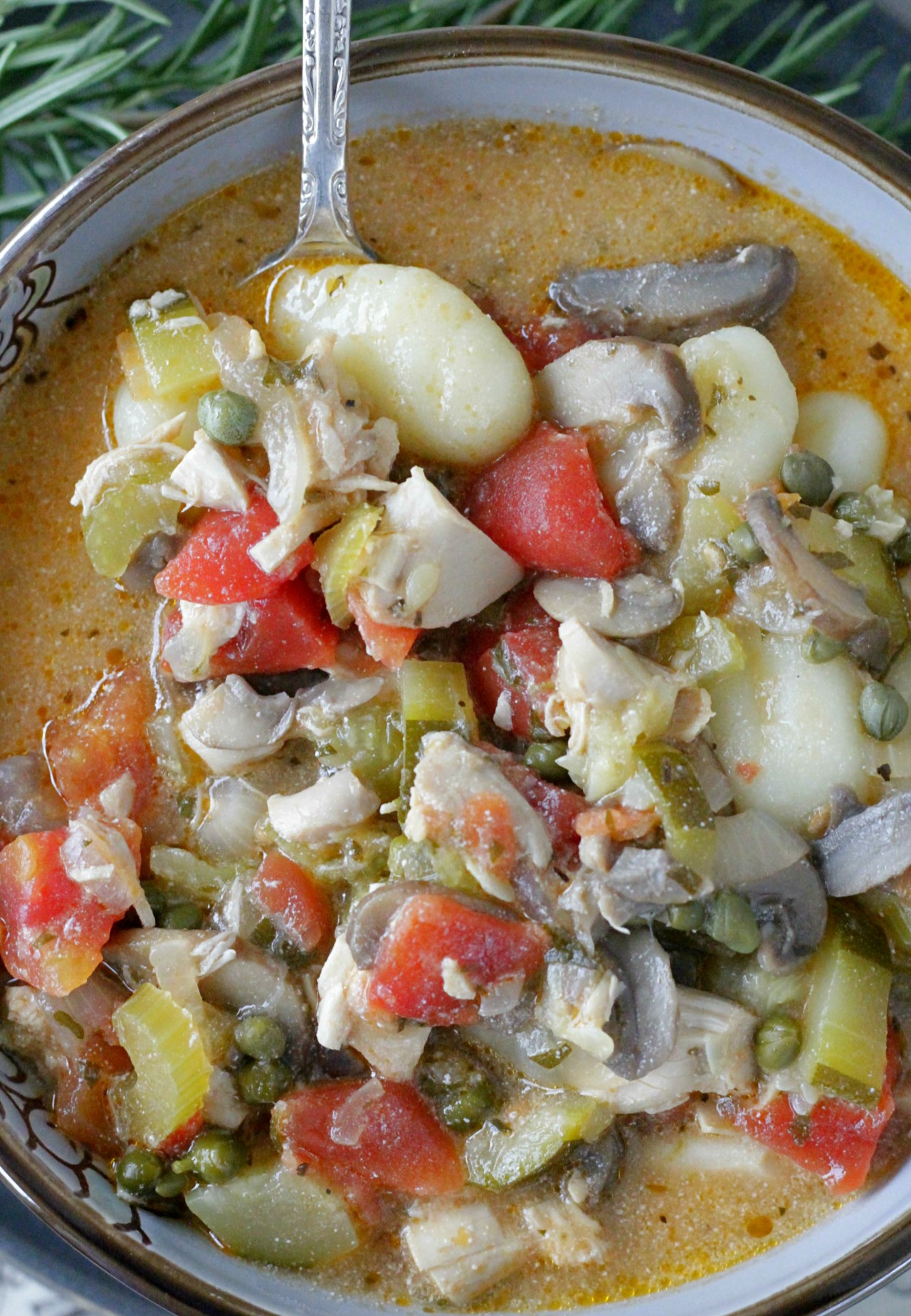 Speaking of rotisserie chicken it's a starting point for lots of my main course recipes. Chicken and Dumplings, Kentucky Hot Brown Mac and Cheese and Chicken Piccata Casserole. I love a good shortcut and this is one of mine. Stick around and check out some more of these recipes. You'll be glad you did.

Creamy Chicken Cacciatore Stew
Ingredients
3

tbsp

unsalted butter

divided

1

rotisserie chicken

2

cups

baby portabella mushrooms

stemmed and sliced

3

stalks

celery

diced

1/2

onion

thinly sliced

1/4

cup

fresh parsley

chopped

2

small

zucchini

diced

2

(15 oz) cans

diced tomatoes with garlic, basil and oregano

drained

1/3

cup

capers

drained

6

cups

chicken broth

1

(16 oz) pkg

potato gnocchi

3/4

cup

sour cream

salt to taste
Instructions
Pour any juices from the rotisserie chicken into a large soup pot. Skin and shred the meat from the chicken. Discard the skin and bones.

Over medium heat add two tablespoons of the butter to the chicken juices.

Add the sliced mushrooms and cook until almost of all of the liquid is evaporated and the mushrooms are browned.

Add the remaining tablespoon of butter. Once melted add the celery, onion, parsley and zucchini. Cook, stirring occasionally, until the vegetables are softening, 6 - 8 minutes.

Add the chicken, drained tomatoes and capers and chicken broth. Bring to a low boil.

Add the potato gnocchi and simmer until the gnocchi floats to the top. Stir well and gently simmer for an additional ten minutes. Stir in the sour cream at the end of cooking time and season to taste with salt. Serve the stew with crusty bread.