What could possibly be better than a warm chocolate chip cookie? A slice of this gooey and oh so chocolatey Chocolate Chip Cookie Pie!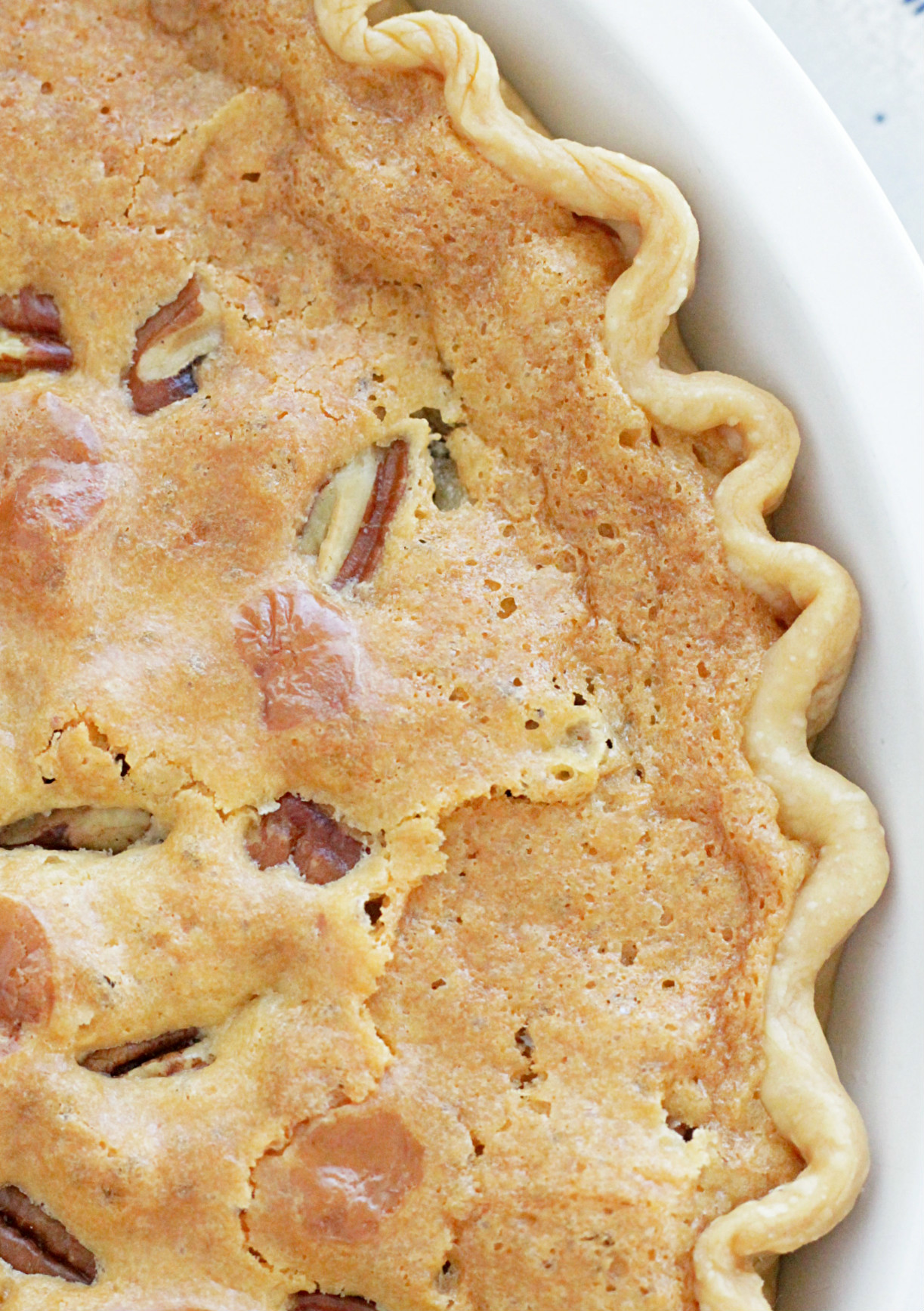 Full disclosure, I discovered this recipe HERE and no the crust is not homemade. But when the filling is this amazing the crust is really kind of an after thought. Don't get me wrong, the crust is important and provides the vessel to hold this luscious chocolate chip cookie filling in order to be topped with a big scoop of vanilla ice cream. It's just that with this Chocolate Chip Cookie Pie I can still say I baked a pie but not admit my one true cooking weakness.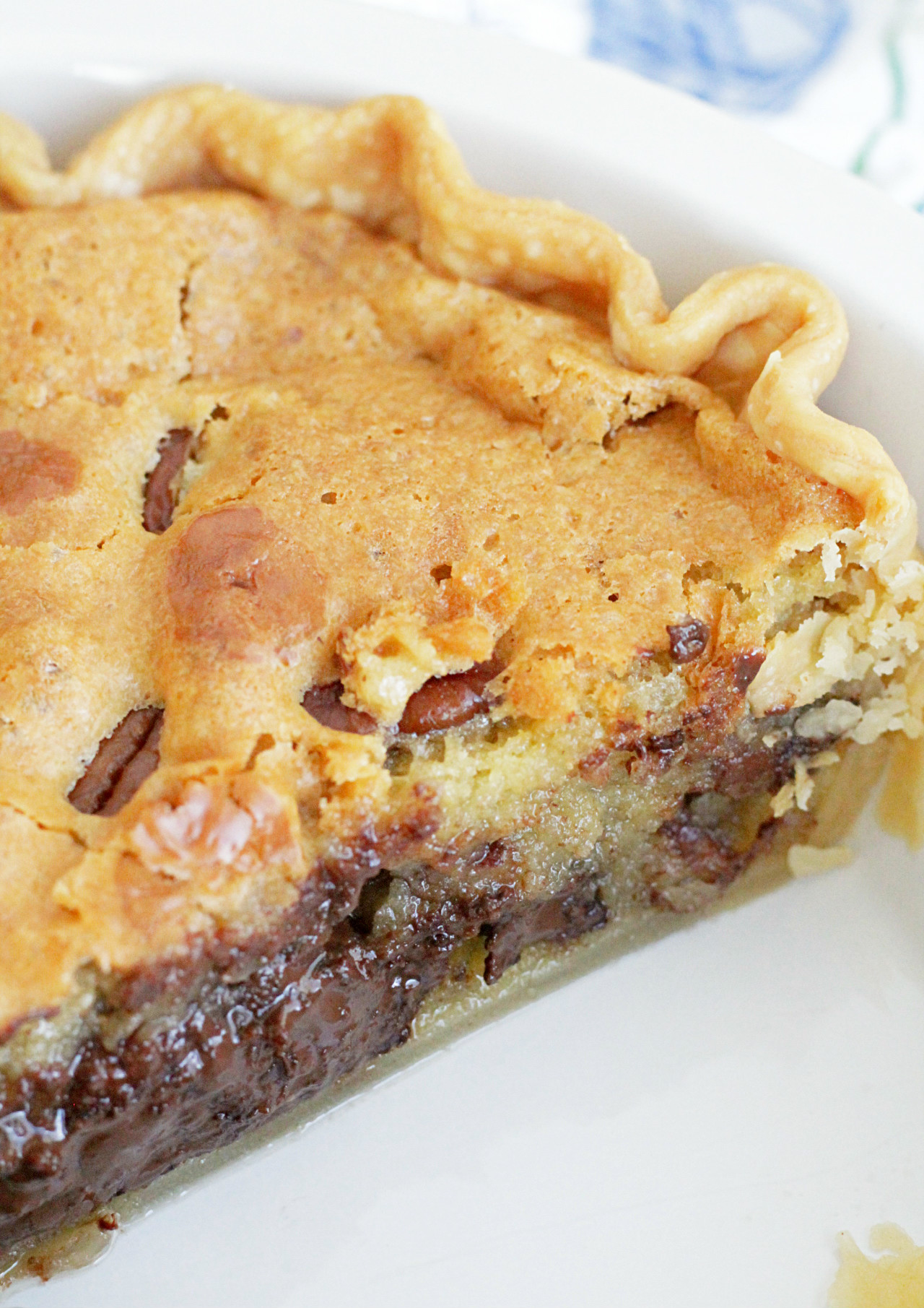 One of these days I'm going to spend a day on my new granite counter tops and finally perfect a homemade pie crust. I think I'm just impatient with the whole process of making crust. If you'll notice, the edges on my store-bought pie crust aren't even that pretty. I mean all I had to do was unroll it into a dish and crimp it. But I was more concerned about getting my filling going so the pie could bake and I could dive in.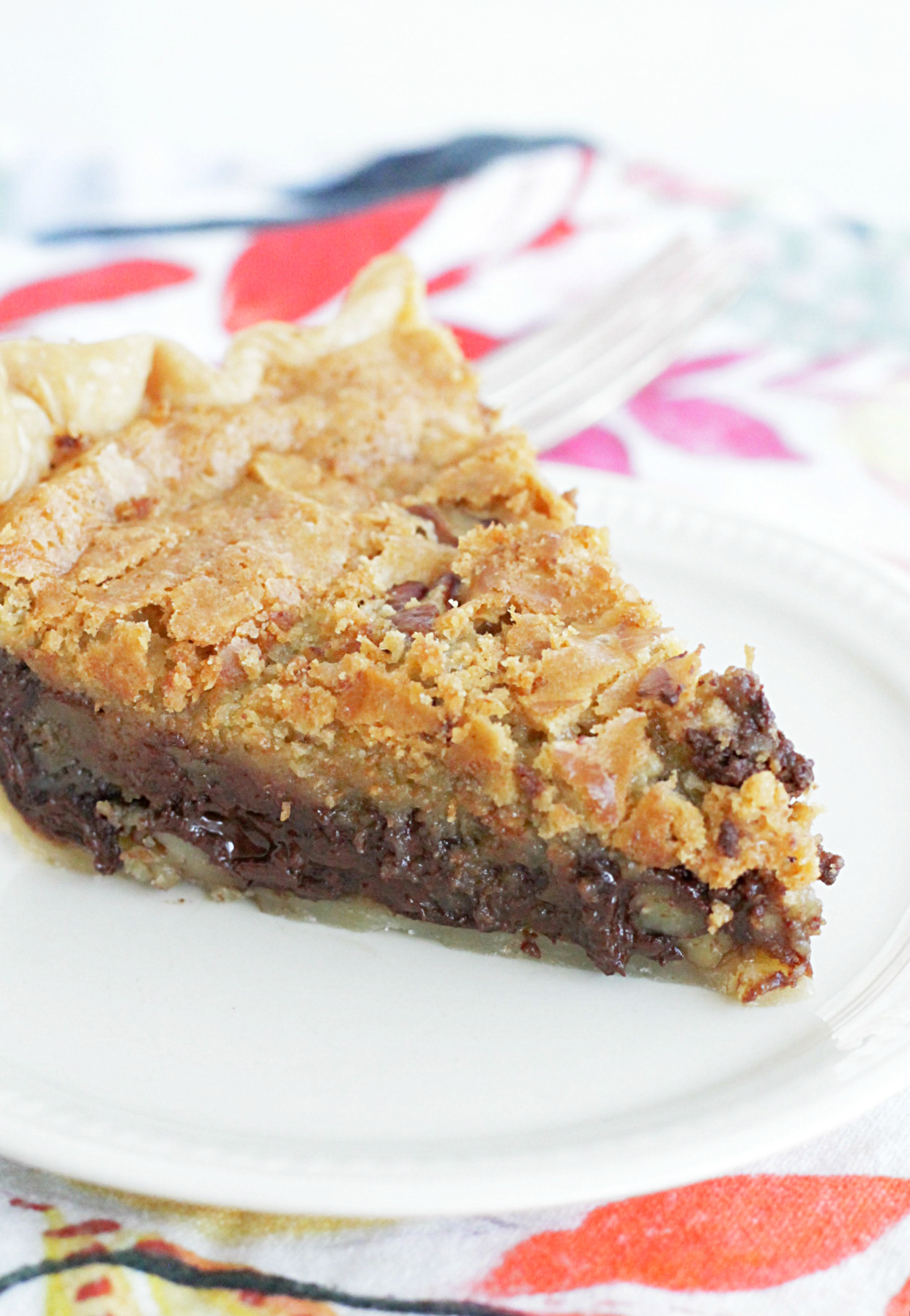 Speaking of granite, it's a great surface for kneading dough which I happen to be much better at. Give me a bread or pizza crust recipe and I am not intimidated at all. Also when it comes to French cuisine I can manage to create cream puffs and cheese soufflés with the best of them. So what is it about pie crust that has me so hung up? Beats me.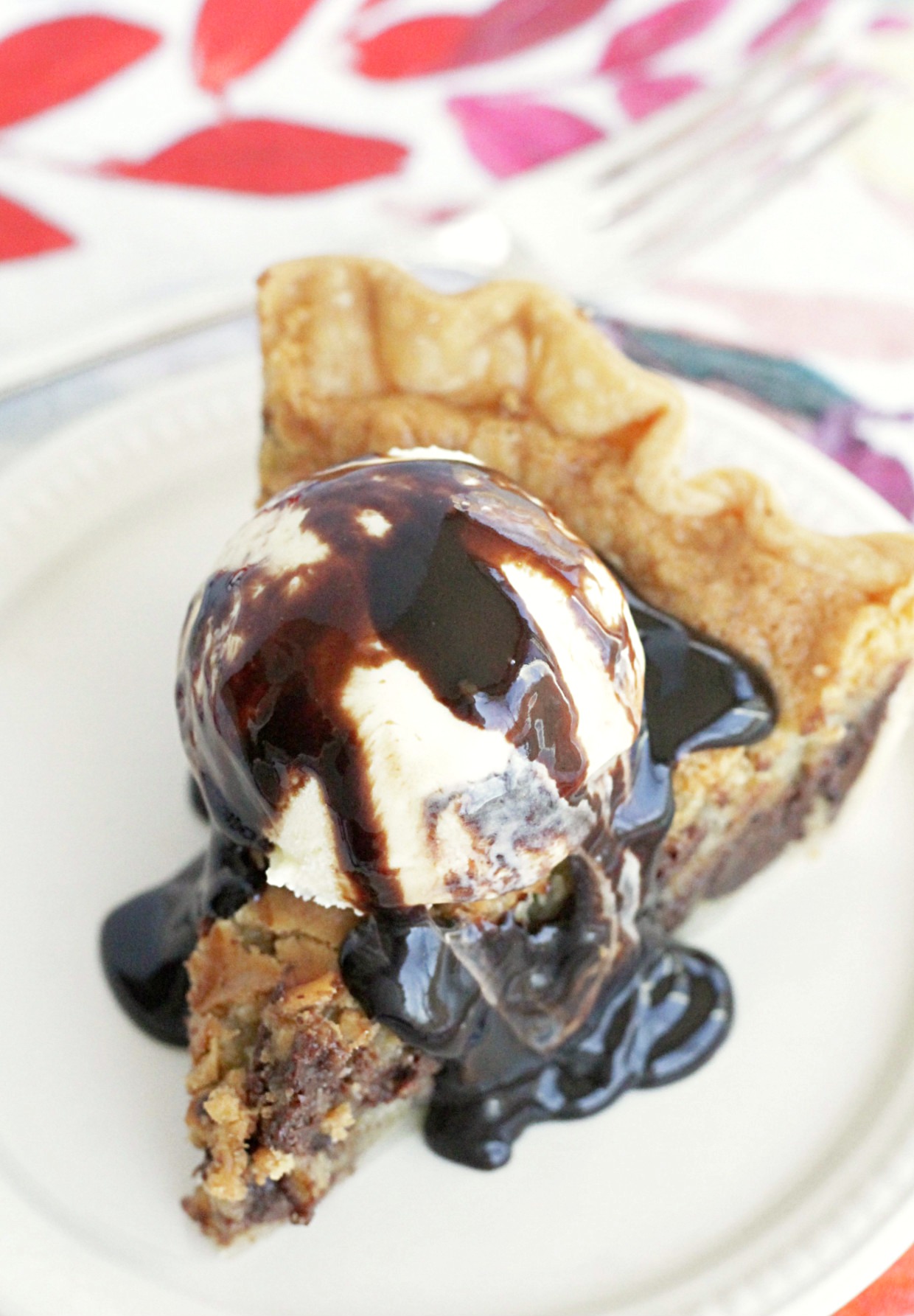 But back to this pie. I decided to finally share it on the blog because the Kentucky Derby is coming up. Apparently what is know as a "Derby Pie" can't be posted about because it is trademarked. But it's basically a chocolate chip cookie with walnuts (or pecans) baked in a pie crust and usually with a little bourbon in the batter. So this chocolate chip cookie pie is the next best thing that I can share. Do you watch the Derby? I do simply because of our close proximity to Kentucky. It's fun and basically an excuse to eat some good food and drink bourbon.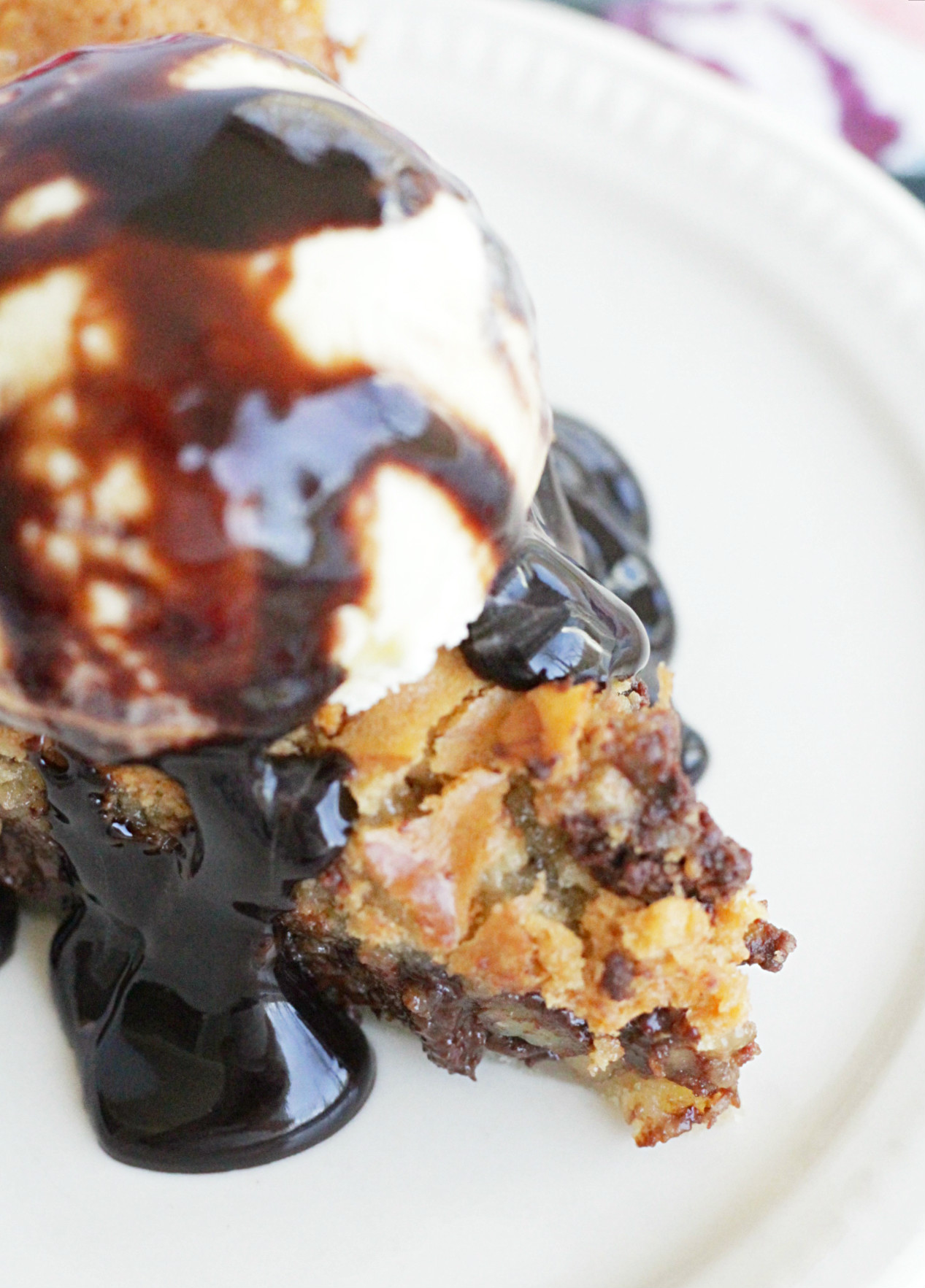 Tips for making Chocolate Chip Cookie Pie:
I use this brand of pie crust
Please make your own crust if you are experienced and have a good recipe (no blind baking necessary)
I bake my chocolate chip cookie pie in a 9-inch pie plate similar to THIS
I personally like my pie with pecans but you can use walnuts or leave the nuts out altogether
This pie is best if it's a little under baked – just leave time for it to cool before serving – about 60 minutes
Foodtastic Mom is a participant in the Amazon Services LLC Associates Program, an affiliate advertising program designed to provide a means for sites to earn advertising fees by advertising and linking to Amazon.com. Any highlighted, clickable Amazon link you see is an affiliate link that I may earn advertising fees on.
Thank you so much for being a faithful reader and supporter of Foodtastic Mom. Be sure to PIN and print this recipe!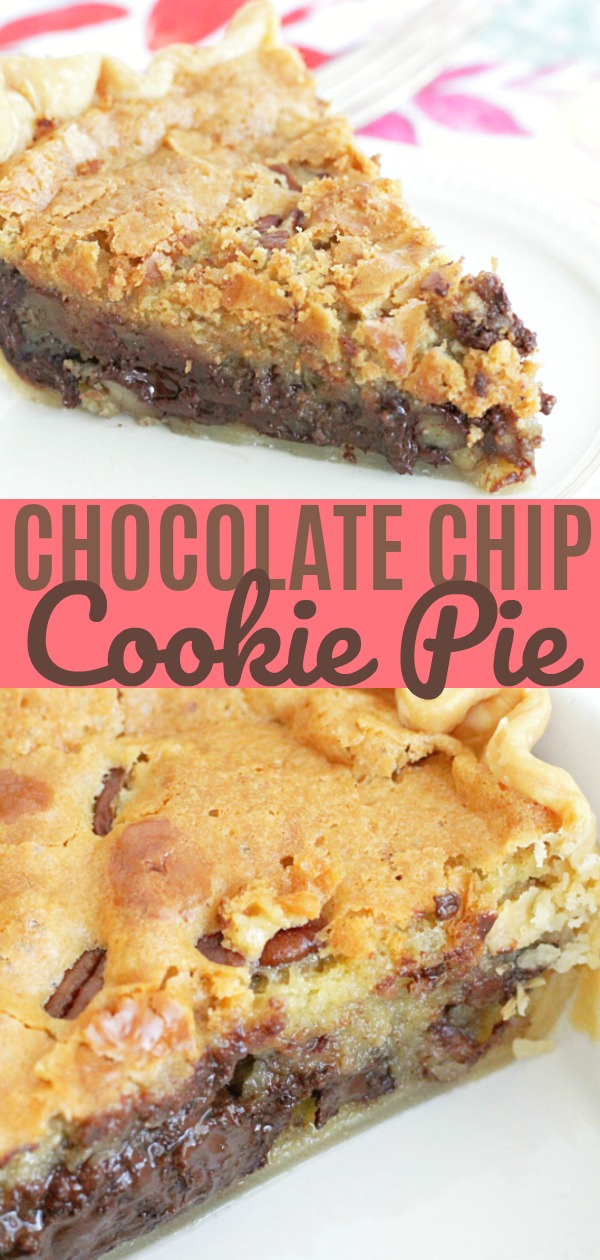 Chocolate Chip Cookie Pie
What could possibly be better than a warm chocolate chip cookie? A slice of this gooey and oh so chocolatey Chocolate Chip Cookie Pie!

Ingredients
1

9-inch

unbaked pie crust

2

large

eggs

1

tsp

vanilla extract

1/2

cup

granulated sugar

1/2

cup

light brown sugar

1/2

cup

all-purpose flour

12

tbsp

butter

softened

1

cup

bittersweet chocolate chips

1

cup

pecans

chopped

vanilla ice cream
Instructions
Preheat oven to 325 degrees F.

Unroll pie crust into deep dish, 9-inch pie plate. Crimp edges.

With a hand or stand mixer, beat the eggs until pale and fluffy - high speed for about 1 minute.

Stop the mixer and add the vanilla extract, sugar, brown sugar and flour. Beat on low speed until incorporated into the eggs. Increase speed and beat until smooth.

Add the butter and beat until pale and fluffy.

Stir in the chocolate chips and pecans with a spatula.

Spread the chocolate chip cookie batter into the prepared pie crust.

Bake for 55 - 60 minutes until the crust and top of the pie are browned and the filling looks firm.

Cool on a wire rack for about 60 minutes, slice and serve topped with vanilla ice cream.
Nutrition
More delicious dessert recipes: