The classic Ohio Buckeye candy gets all dressed up for the holidays as Buckeye Cream Puffs. I am proud to have partnered with Ohio Eggs to bring you this fabulous dessert recipe.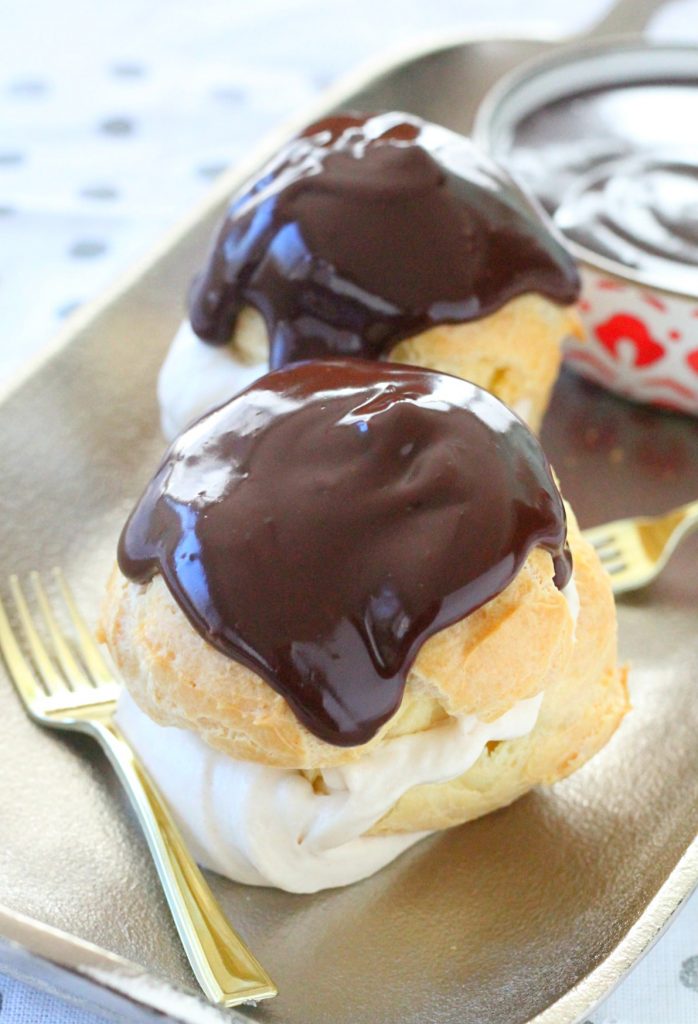 I think it is safe to say that even if you don't live in the Buckeye state that you've likely heard of Buckeye candies. Peanut butter dough dipped in chocolate to mimic the appearance of the nuts on Ohio's state tree – the Buckeye. I grew up indulging in them. My mom always made the classic Buckeye candies at the holidays. And so I decided to turn that classic candy into Buckeye Cream Puffs.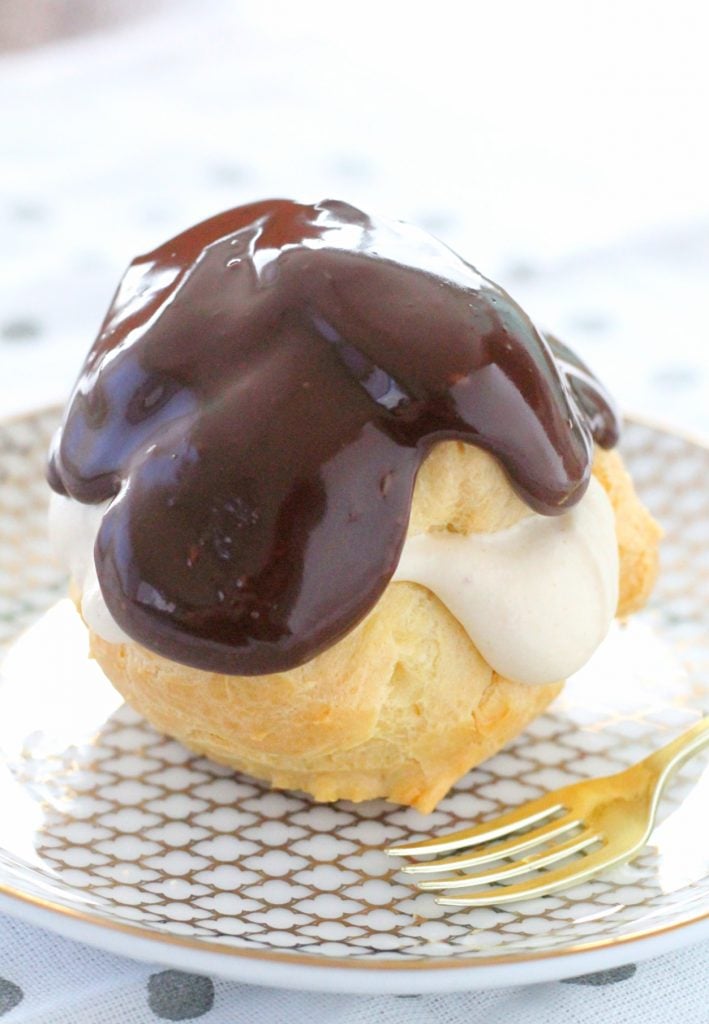 I was excited to offer Ohio Eggs a recipe using the always crowd-pleasing flavors of chocolate and peanut butter of the Buckeye but in a dessert that included eggs. Four of them. Did you know my home state of Ohio is the second largest egg farming state in the nation? Ohio produces more than 9 billion eggs a year!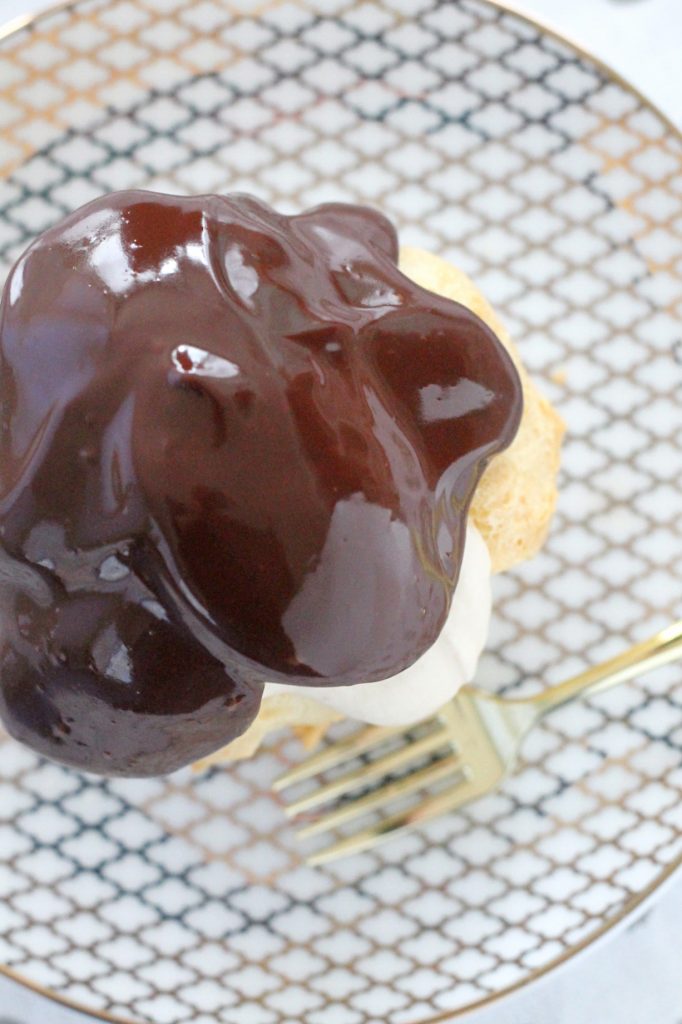 Have you ever thought about making cream puffs? A classic French pastry might seem intimidating but I promise you they are simple enough for even a beginning baker. The dough starts with boiling water and butter and then adding flour – it's kind of similar to making cooked play dough.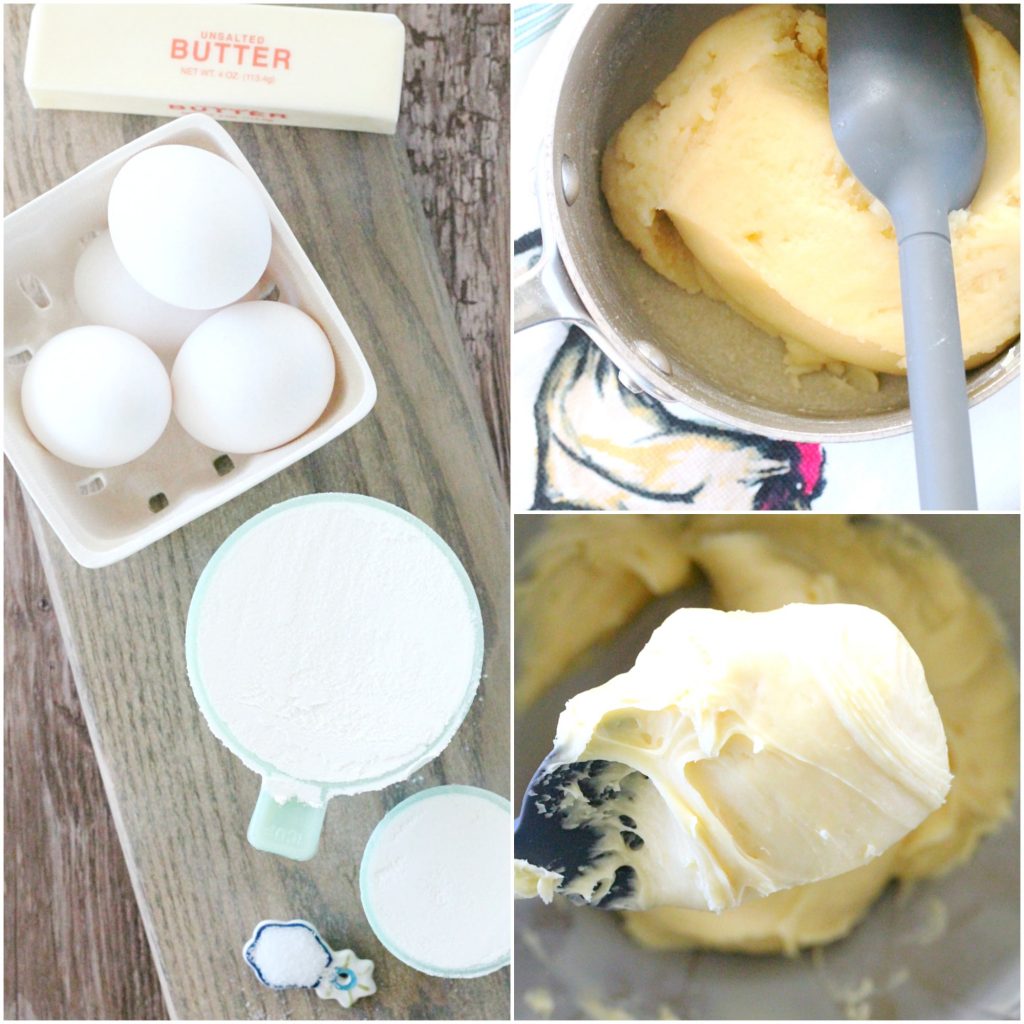 Once the dough cools a bit you mix in four eggs, one at a time to be sure they don't clump together, and then use a large cookie scoop to transfer the dough to baking sheets. And when they bake they puff up like magic. It's really a fun recipe to have your kids help you with!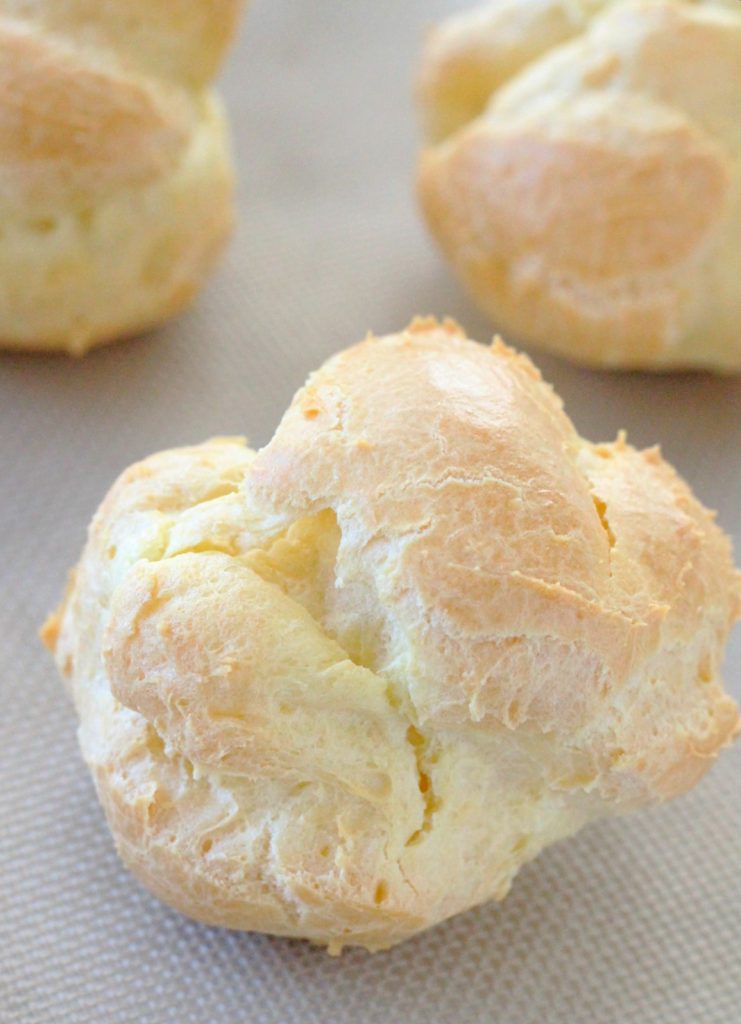 Watch how to make Buckeye Cream Puffs:
Tips for making Buckeye Cream Puffs:
Use large eggs in holiday baking! Using a different size egg, without making an adjustment, will affect texture, flavor and consistency. If you don't have large eggs, use

this conversion chart

to see how to substitute a different size.
Be patient and add the eggs one at a time, mixing the dough well after each addition.
I used THIS large cookie scoop to make the cream puffs.
I used THIS digital thermometer to make sure my dough was below 125 degrees before adding the eggs.
Foodtastic Mom is a participant in the Amazon Services LLC Associates Program, an affiliate advertising program designed to provide a means for sites to earn advertising fees by advertising and linking to Amazon.com. Any highlighted, clickable Amazon link you see is an affiliate link that I may earn advertising fees on.
Thank you so much for being a faithful reader and supporter of Foodtastic Mom. Be sure to PIN and print this recipe!

Buckeye Cream Puffs
Homemade cream puffs with the classic flavors of Buckeye candies. The puffs are filled with peanut butter whipped cream and topped with chocolate ganache.
Ingredients
1

cup

water

8

tbs

unsalted butter

1/4

tsp

salt

1 1/4

cups

all-purpose flour

4

large

eggs

1/4

cup

peanut butter

1/2

cup

powdered sugar

1/2

tsp

vanilla extract

1/8

tsp

salt

2

cups

heavy whipping cream

1 1/4

cups

bittersweet chocolate chips

3/4

cup

heavy whipping cream
Instructions
Preheat oven to 425 degrees. Line two baking pans with silicone baking mats or parchment paper.

Put the water, butter and salt in a medium sauce pan and heat over high heat until it boils. Remove from heat and pour the flour in all at once, using a heat-safe spatula to stir the flour and water mixture together. Place the pan back on medium heat and stir until the dough is smooth, just about one minute.

Transfer the dough to the bowl of a stand mixer fitted with the paddle attachment and allow to cool for about 10 minutes, or until the dough reaches a temperature of below 125 degrees.

With the mixer on low speed add the four eggs, one at a time, mixing well between the addition of each egg. Once all eggs have been added turn the mixer to medium speed and beat for 2 minutes.

Use a large cookie scoop (3 tablespoon capacity) to transfer the dough to the prepared baking pans. You'll have six cream puffs per pan.

Bake the puffs for 15 minutes at 425 degrees. Rotate the pans in the oven and lower the temperature to 350 degrees. Continue baking the puffs for 25 minutes. Remove the puffs from the oven and allow to cool completely.

In a clean bowl of a stand mixer fitted with the whisk attachment, beat together the peanut butter, powdered sugar, vanilla and salt. Add the cream and beat on low, scraping down the bowl with a spatula to make sure the peanut butter mixture doesn't stick to the bottom and sides of the bowl.

Turn the mixer speed to high and whip the peanut butter cream mixture until whipped cream is formed. This will take a minute or two on high speed.

Place the chocolate chips in a clean, glass bowl. Heat the cream in a microwave-safe measuring cup until the cream is hot and almost boiling, at least 2 minutes.

Pour the hot cream over the chocolate chips and allow to sit for 1 minute. Use a spatula or spoon to stir together the melted chocolate chips and cream until completely smooth.

Gently pull apart each cooled cream puff so you have a top and a bottom half for each. Use a spoon to fill each puff generously with the peanut butter whipped cream. Top each puff generously with chocolate ganache. Refrigerate until ready to serve.
More recipes made with Ohio Eggs: