Bake up some Irish Oatmeal Bread for your St. Patrick's Day breakfast!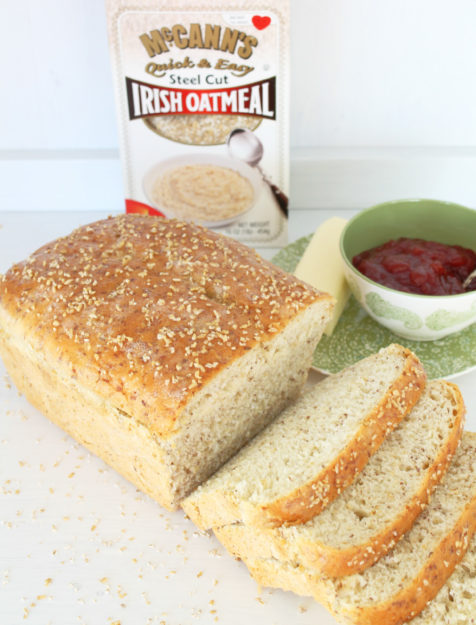 We had a crazy weekend. Not only did our daughter Hannah turn 7 on Saturday, but also our son Caleb had his single A swimming tournament all weekend at our local YMCA. It was his final meet for this season and he managed to drop 18.97 seconds combined over his five events, and was a first-place finisher in all his heats but one! So between volunteering at the snack booth, cheering him on and hosting Hannah's birthday party at our house Saturday night, my refrigerator and pantry were looking pretty bare come Monday.
Determining what I needed to restock led me to an unopened box of McCann's Irish Oatmeal that had gotten shoved to the back of our cereal shelf. I found a couple of recipes to post using it and this bread is the first. I'd have to honestly say this is the best yeast bread I have ever baked. I love it when a post that says the husband kept raving about how amazing the bread was turns out to be true. It. is. so. good. The only "hard" part is microwaving some oatmeal beforehand so it's cooked before mixing it into the dough. I simply followed the McCann package microwave instructions to fix 1/3 (dry) cup of the oats. Once it was cooked, it gave me just a little more than the 3/4 cup cooked oatmeal called for in the bread recipe – found HERE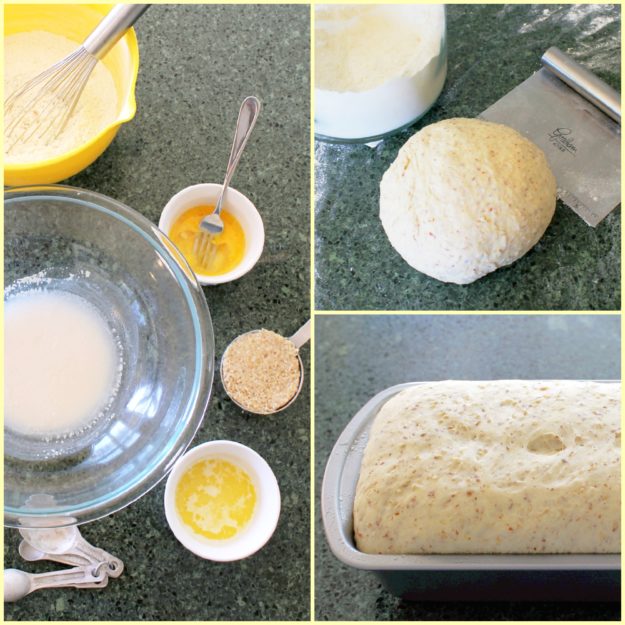 This bread was a joy to work with. I mixed and kneaded it all by hand. It was a little sticky to start, but adding flour (and using a gentle hand as I was kneading) made it nice and soft. It rose in the bowl for one hour, then the bread pan for about 45 minutes, just as instructed in the original recipe.
It of course smelled lovely as it was baking in my oven. I held off eating my lunch, so I'd be ready to sample the bread as soon as it came out of the oven. The bread is soft to slice, yet sturdy. It's a bit sweet, yet has a nice complexity to it thanks to the oats and flax. Cooled completely, it holds up as a sandwich slice. In fact, I can't wait to try it tomorrow as grilled cheese! Spread with butter and strawberry jam it was scrumptious as both bread and toast. I highly recommend making this bread anytime, but especially as we lead up to St. Patrick's Day, when everyone is a little Irish.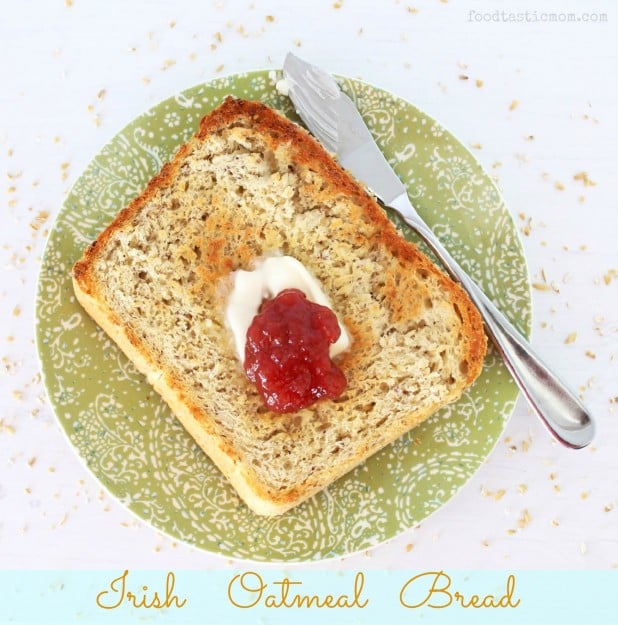 Featured on Bloom Designs Lovely Little Link Party
Irish Oatmeal Bread
Ingredients
1/2

c.

water

lukewarm

1

envelope rapid rise yeast

I used Red Star Platinum

1

egg

2

T.

unsalted butter

melted

1/4

c.

skim milk

3/4

c.

prepared Irish Oatmeal

1

T.

light brown sugar

1

t.

salt

3

T.

ground flax meal

3 1/2

c.

bread flour
Instructions
Prepare oats according to package directions (microwave instructions). Measure out 3/4 cup and set aside to cool.

In a large bowl, add the water and sprinkle the yeast on top. Allow to rest for about 5 minutes.

Whisk in the egg, melted butter, milk, cooked Irish oatmeal, brown sugar, salt and flax meal. Add half the bread flour and mix well with a spatula. Add the other half of flour and mix.

Turn dough out onto a floured surface and knead by hand, sprinkling with flour as you go until dough is nice and soft, about 5 minutes.

Form dough into a ball and place in a clean bowl sprayed with cooking spray. Turn dough to coat.

Cover dough bowl loosely with a clean towel and allow to rise in a warm spot for about an hour, until dough has doubled in size.

Spray a 9x5 bread pan with cooking spray. Punch down dough and place into loaf pan. Allow to rise in loaf pan about 45 minutes more, until a little less than doubled in size.

Preheat oven to 350 degrees.

Bake loaf on center rack for 35 - 40 minutes, or until golden brown and hollow sounding.

Remove bread from loaf pan and place on a cooling rack. Spread top with a little more butter and sprinkle with some uncooked Irish oats. Cool and slice.