I'm sharing what I think is the best pizza crust recipe plus hints for making the best pizza.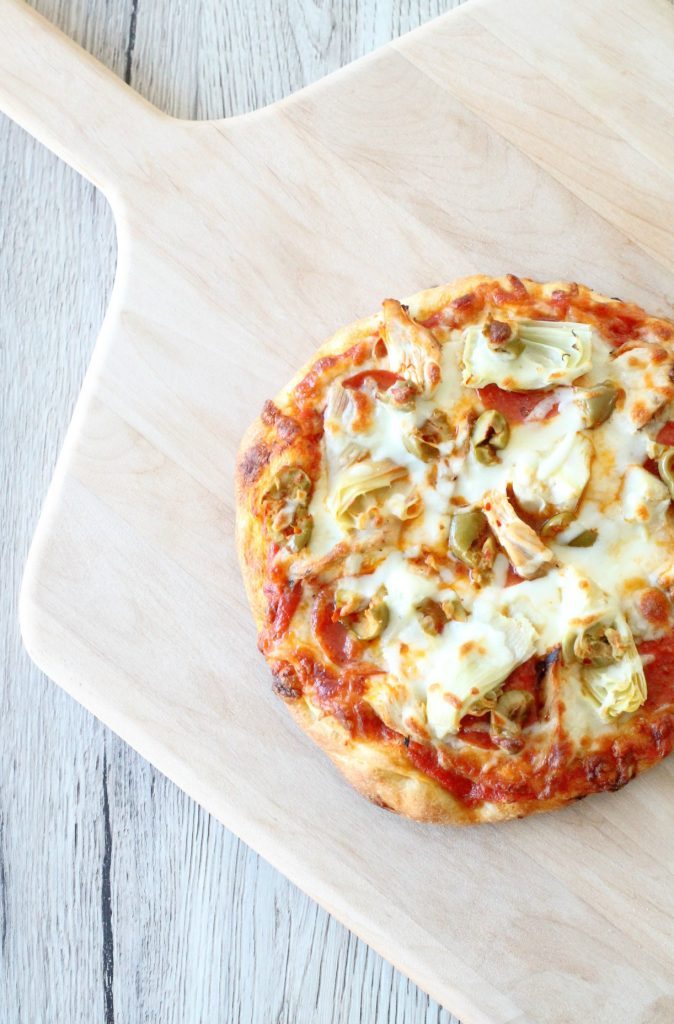 My son told a friend of ours a few weeks ago (when asked what his favorite kind of pizza was) that his absolute favorite pizza was mine – on our make-your-own-pizza nights. If that doesn't make a mom feel good, I don't know what does. So that's why I'm sharing what I have found to be the best pizza crust recipe plus hints for making the best pizza at home.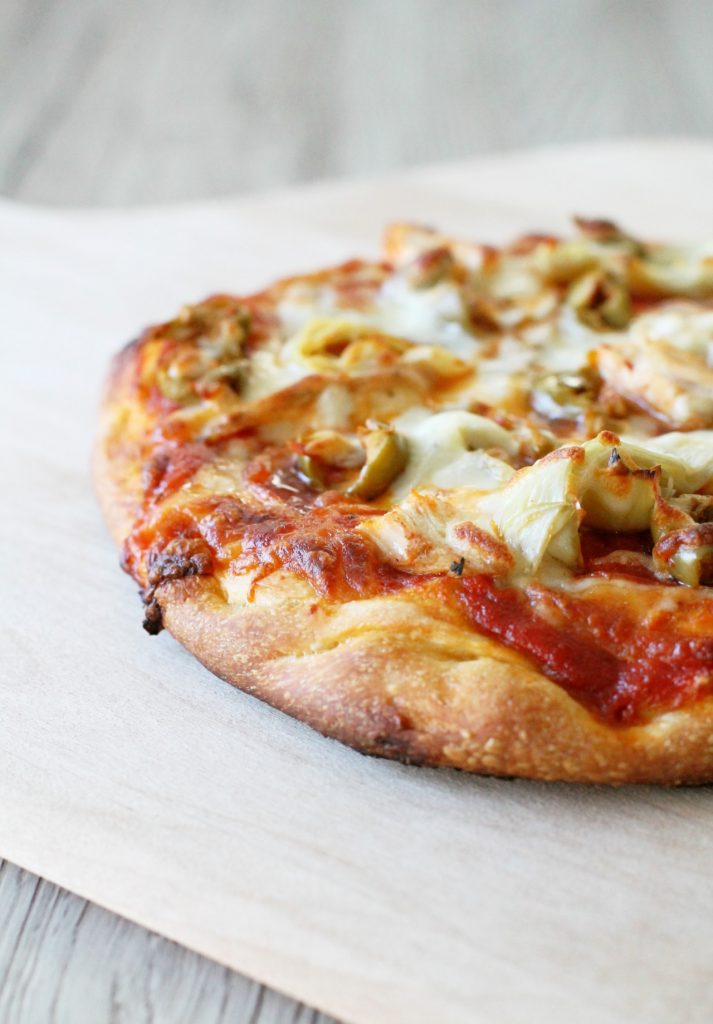 The more we make pizza the more I want to perfect the crust. The recipe I've settled on is an original recipe from the cookbook Baking Illustrated (from America's Test Kitchen) and since they test the heck out of every recipe they publish I feel good about republishing it here (with some minor changes I've made based on numerous times making it in my own kitchen).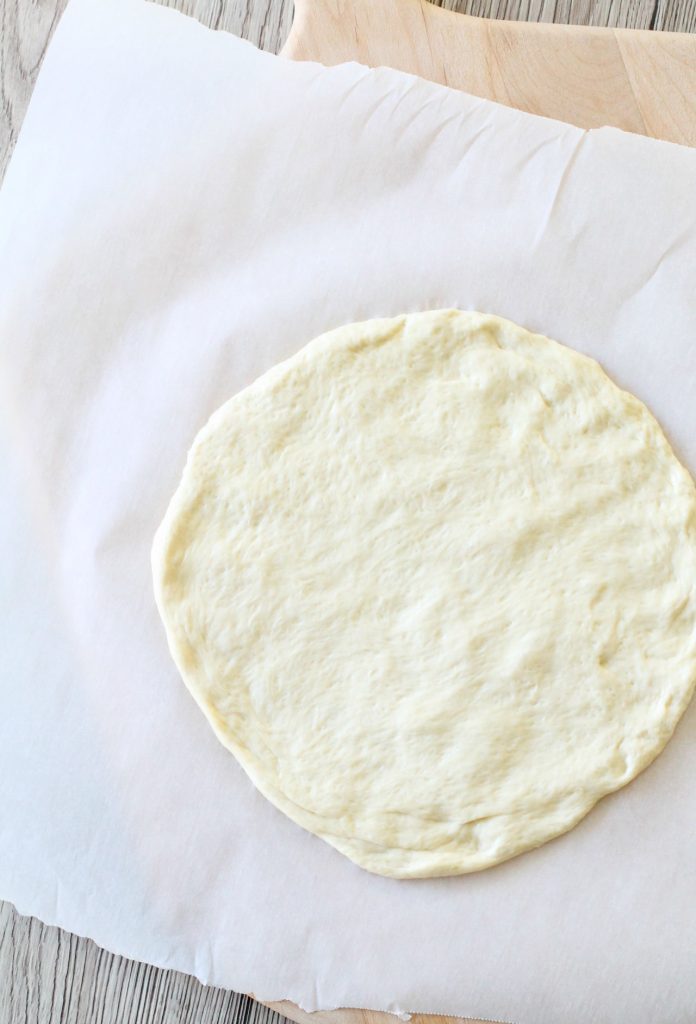 Once the crust is rising I prepare bowls of toppings for everyone to share. Sometimes we use a pizza sauce but often times I melt some butter and add a clove of fresh garlic to the butter before brushing it lightly over the crust. We usually have two protein choices (chicken, pepperoni, a variety of sausage, bacon); a selection from my grocery's "olive bar" (olives, artichoke hearts, roasted red peppers, sun dried tomatoes) and sometimes sliced fresh vegetables (bell peppers, onions, mushrooms, broccoli). For the cheese I shred a big ball of mozzarella. Not fresh mozzarella, just vacuum-sealed, grocery store variety cheese. For most applications, I will argue that freshly shredded cheese is best. It just tastes and melts much better than the pre-shredded variety.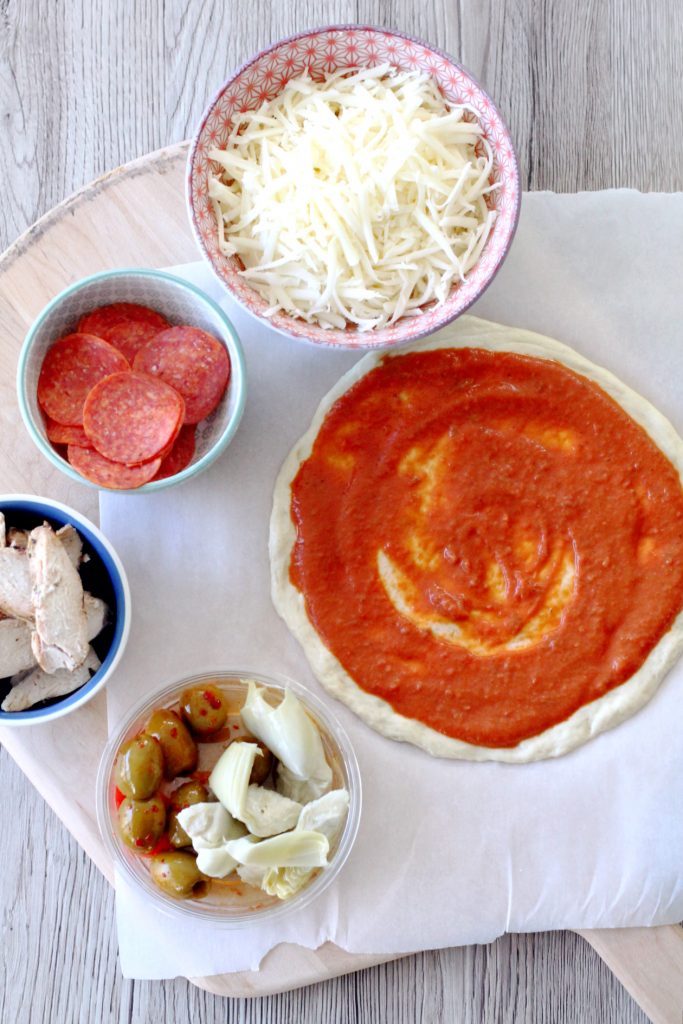 Everyone gets a sheet of parchment paper and a ball of dough. After shaping and topping the pizzas, we take turns baking our individual pizzas on a preheated baking stone in the oven. I'm not going to pretend this doesn't take a while – it does. But it's a great time for conversation and interaction – a terrific activity for family movie night or a social gathering with friends. Now go make some pizza!
Pizza Crust
Ingredients
1 1/2

cups

warm water

105 - 110 degrees F

1

envelope

quick rise yeast

4

cups

bread flour

plus more for dusting

1 1/2

tsp

salt

2

tbsp

extra virgin olive oil
Instructions
Sprinkle the yeast over the top of the warm water and allow to rest for at least 5 minutes, until yeast is foamy. In the bowl of a stand mixer fitted with the dough hook, combine the bread flour and salt, mixing briefly to blend. With the mixer on low speed, pour in the yeast and water mixture as well as the olive oil. Mix until a cohesive dough is formed and knead on low speed until the dough is smooth and elastic, about 5 minutes.

Remove dough from the mixing bowl and place on a clean and lightly floured surface. I like to finish hand-kneading the dough. If it is still sticking to your hands (which is possible - I don't weigh my flour so the texture of the dough is a little different every time) add a little more flour and knead into a smooth ball.

Transfer the dough ball to a lightly oiled bowl, turning once to coat. Cover with a clean kitchen towel and let dough rise until doubled in size, at least 1 hour.

Press down the dough to deflate it. Transfer the dough to a lightly floured work surface. Divide the dough into 4 equal pieces. Form each piece of dough into a smooth, round ball. Cover with a damp cloth. Let the dough relax for at least 10 minutes but no longer than 30 minutes.

To bake, preheat the oven and pizza stone (the pizza stone should be placed on the center rack of your oven) to 500 degrees for at least 30 minutes. Transfer each ball of dough to a piece of parchment paper. Shape the dough into circles with lightly floured hands. Top as desired. Transfer each pizza (with parchment) onto the pizza stone. After each pizza has baked for about 5 minutes, carefully remove the parchment paper from under the crust (so the paper doesn't scorch in the oven) and continue baking until the crust and cheese are browned, 10 - 15 total minutes.
CREATIVE PIZZA RECIPES: